This pan-seared coulotte steak with mushroom sauce is ready in under 30 minutes. It's the perfect one-pan dinner made from simple ingredients, but it's anything but simple in terms of flavor!
This unbelievably flavorful coulotte steak is perfect for family meals and dinner parties alike. Tender fillets are pan-seared to form a crust that locks in the juices and flavor, then continuously basted in melted butter with fresh herbs until cooked to a perfect medium rare. We'll finish things off by combining the leftover pan drippings with butter and red wine to make a buttery mushroom sauce that melts into the juicy fillets.
The best part? Your coulotte steak and sauce is prepared all in one pan & ready in about 30 minutes from sear to finish. Pair this saucy beef with buttermilk mashed potatoes for a cozy weeknight dinner, or dress up this meal with easy sides like roasted vegetables for entertaining.
Why You'll Love This Coulotte Steak Recipe
Easy ingredients. This recipe uses simple ingredients that come together in a luxurious steak dinner that's totally restaurant-worthy. Apart from the steak and mushrooms, all you really need is salt and pepper to season, plus some fresh herbs and butter.
Quick to make. One pan and about 30 minutes are all you need to make this succulent seared steak smothered in a rich homemade mushroom sauce.
The sauce. Speaking of mushroom sauce: prepare to be blown away by the flavors in this silky, buttery wine and mushroom sauce. It's like a decadent mushroom gravy. You'll never want to serve steak without it!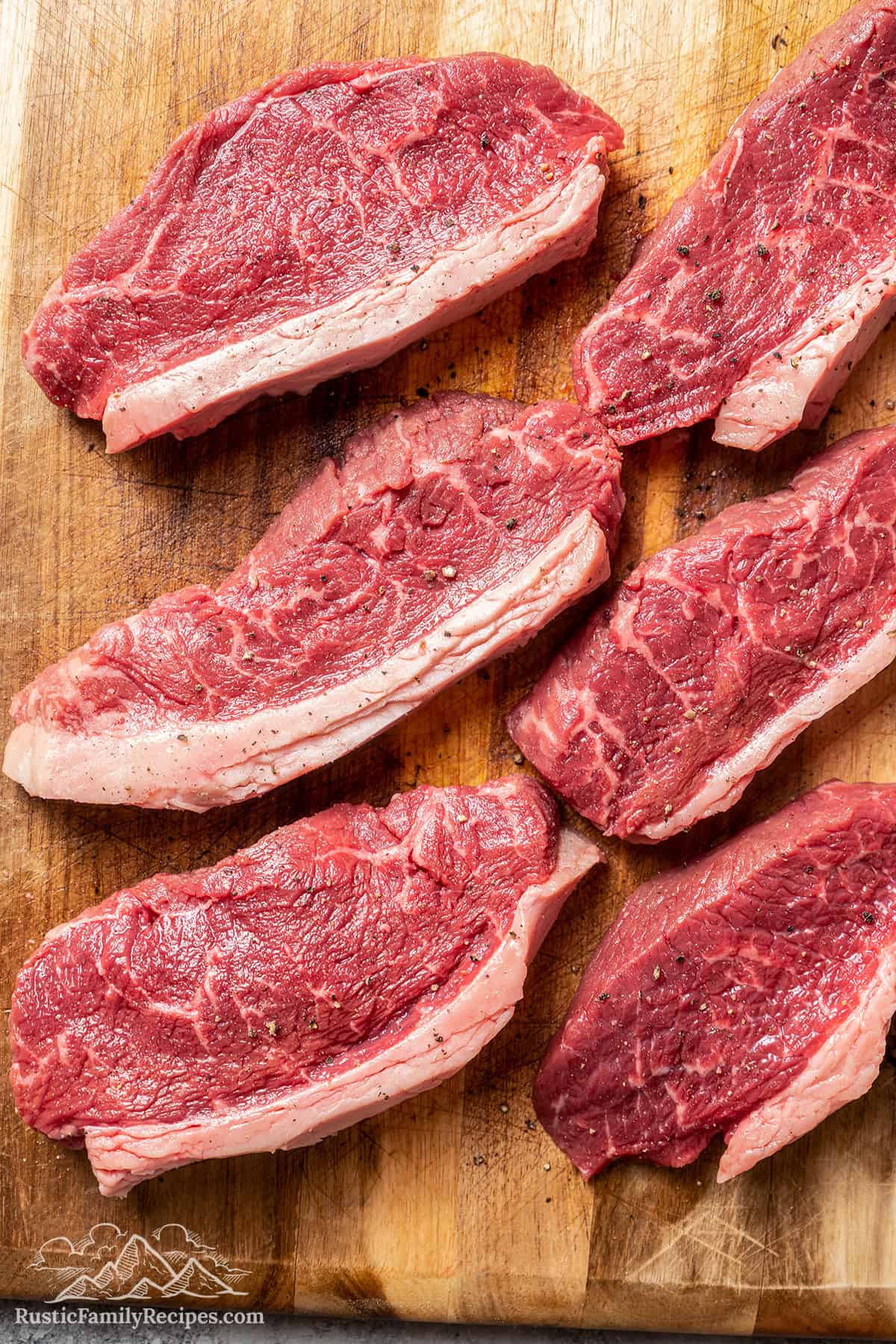 What Is Coulotte Steak?
Also known as a "cap" steak, beef coulotte is a cut of sirloin. It's tender and flavorful while being on the leaner side (and relatively inexpensive!). Coulotte steak doesn't require hours of cooking to become tender, making it my cut of choice for easy steak dinners. This recipe pairs seared and basted coulotte steak with a deliciously buttery mushroom sauce, which sounds fancy, but is actually very simple to make.
Is Coulotte Steak Expensive?
Coulotte is cut from the best section of the "top sirloin" and is shaped like NY strip steak. However, it is less expensive than a strip steak. This makes it a great option for a fancy steak dinner that won't break the bank!
You'll likely need to go to your local butcher shop to find this cut of meat. In the US, butchers also call this cut of meat picanha, fat cap, rump cap, or top sirloin cap.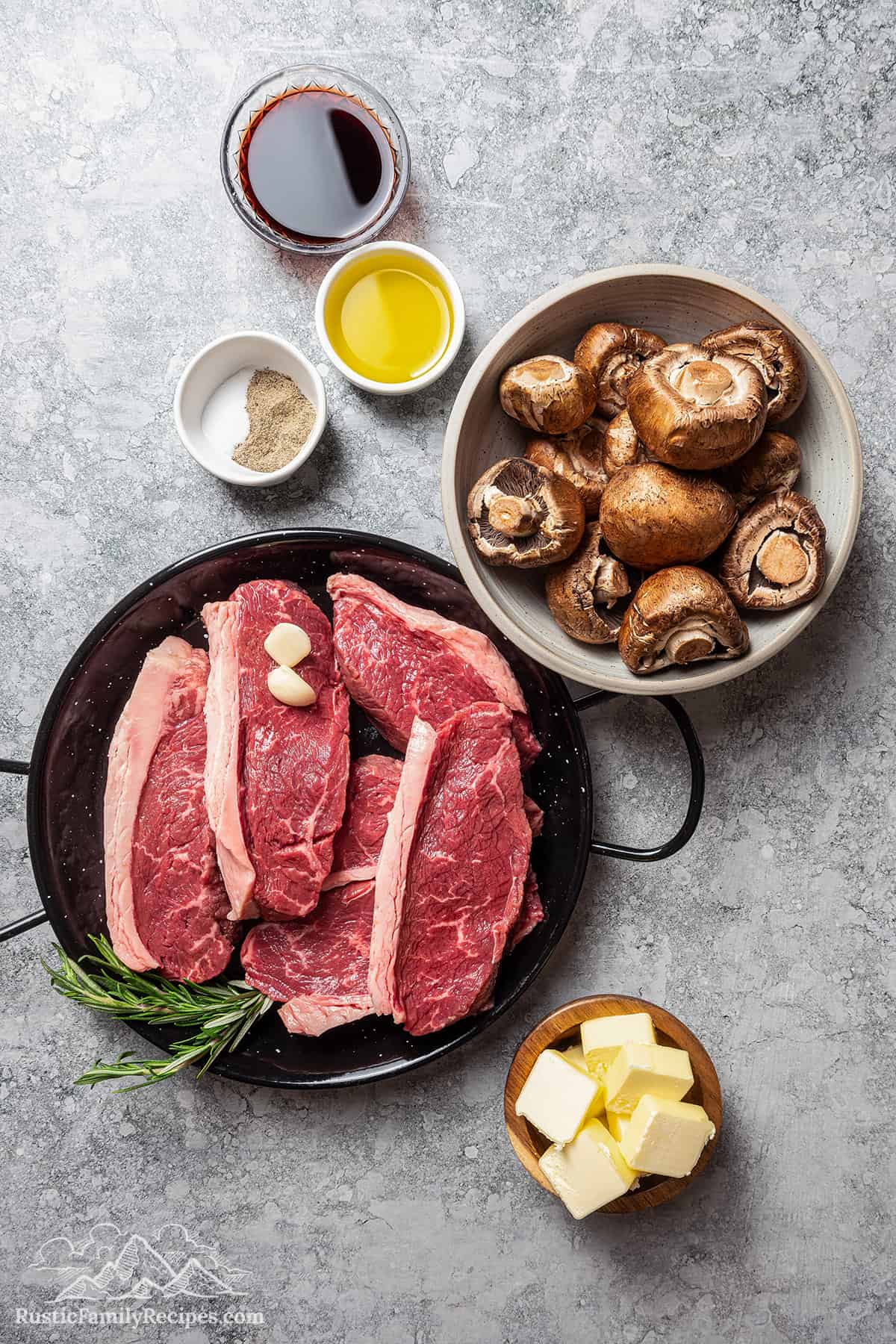 What You'll Need
The beauty of this flavor-filled steak recipe is in its easy-to-come-by ingredients. Below is an overview of what you'll need, with the full recipe details found in the recipe card below the post.
For the coulotte steak:
Coulotte Steak – You can buy a whole beef coulotte and portion it into six fillets, or buy the steaks already cut. Ask your local butcher for guidance. Before you start, take the beef out of the fridge and let it come to room temperature so that it'll cook evenly.
Salt and Pepper
Oil – I use avocado oil, but olive oil (or another good-quality oil with a high smoke point) will also work for searing the steak.
Butter – Basting the steak in melted butter with herbs locks in the flavors while it cooks.
Garlic and Rosemary – The perfect combination that complements the steak and sauce.
For the mushroom sauce:
Steak Drippings – You'll use the drippings, garlic, and rosemary leftover from cooking the steak as the base for your sauce.
Butter
Mushrooms – You can use any mushroom variety you'd like. I make this recipe with sliced cremini mushrooms, or white button mushrooms would also work.
Salt and Pepper
Red Wine – I find that a dry, bold red, like chianti, is best in mushroom sauce for steak. However, the wine you choose is up to you. For a lighter sauce, try a shiraz, or use an oaky cabernet sauvignon for a more earthy flavor.
How to Cook Coulotte Steak
If you've ever watched a cooking show where the chef is spooning melted butter over steak in a hot pan, that's called basting. And it's the key to locking in moisture and flavor! As an added bonus, you don't need to be a professional chef to do it. Here's how to pan-sear and baste your fillets to juicy, golden perfection: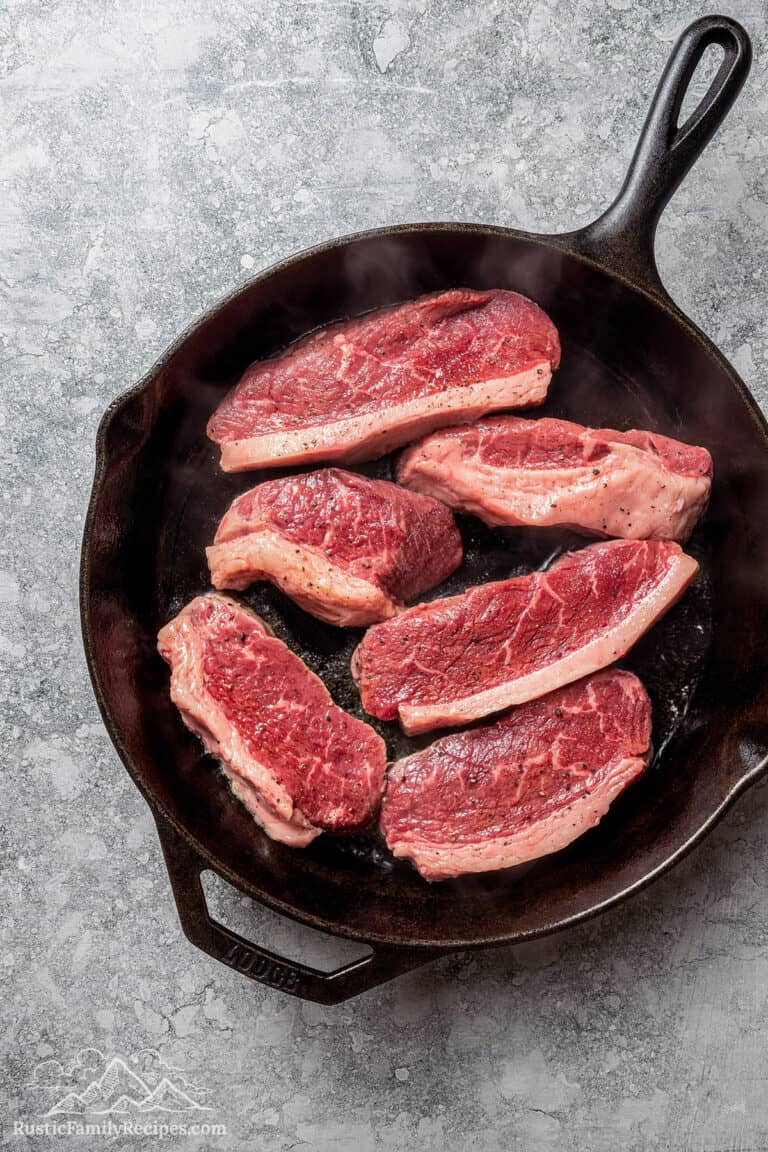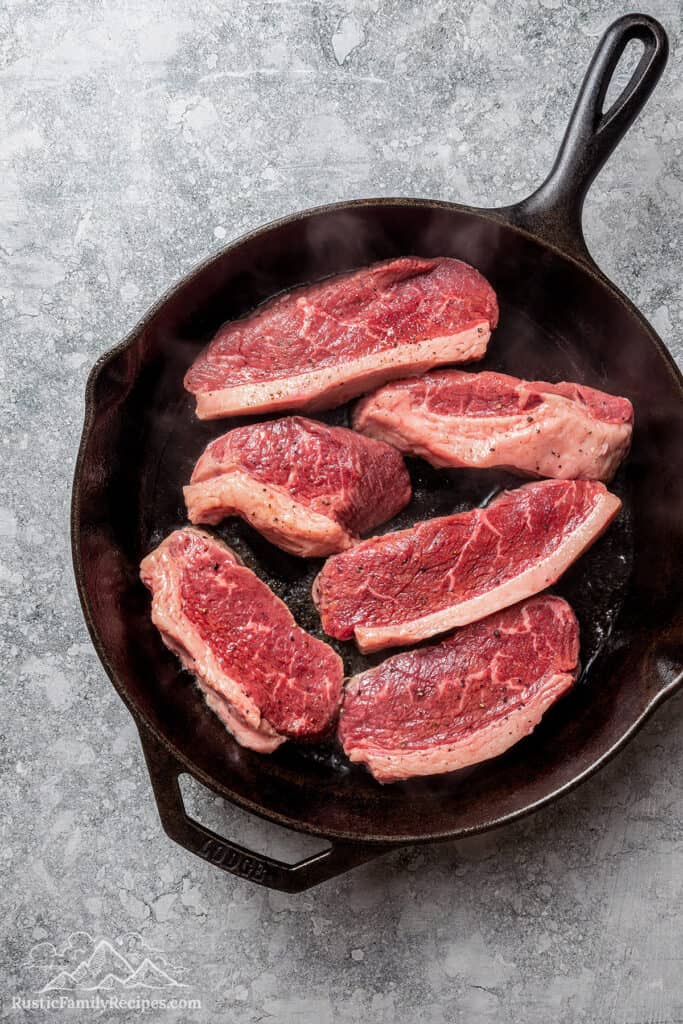 Sear the steak. First, season the steaks on all sides with a generous sprinkle of salt and pepper. Get your skillet nice and hot, then heat the oil and add the steaks. Sear for 4 minutes, then flip.
Add butter and herbs. Next, add butter to the pan to melt, along with fresh garlic cloves and rosemary sprigs.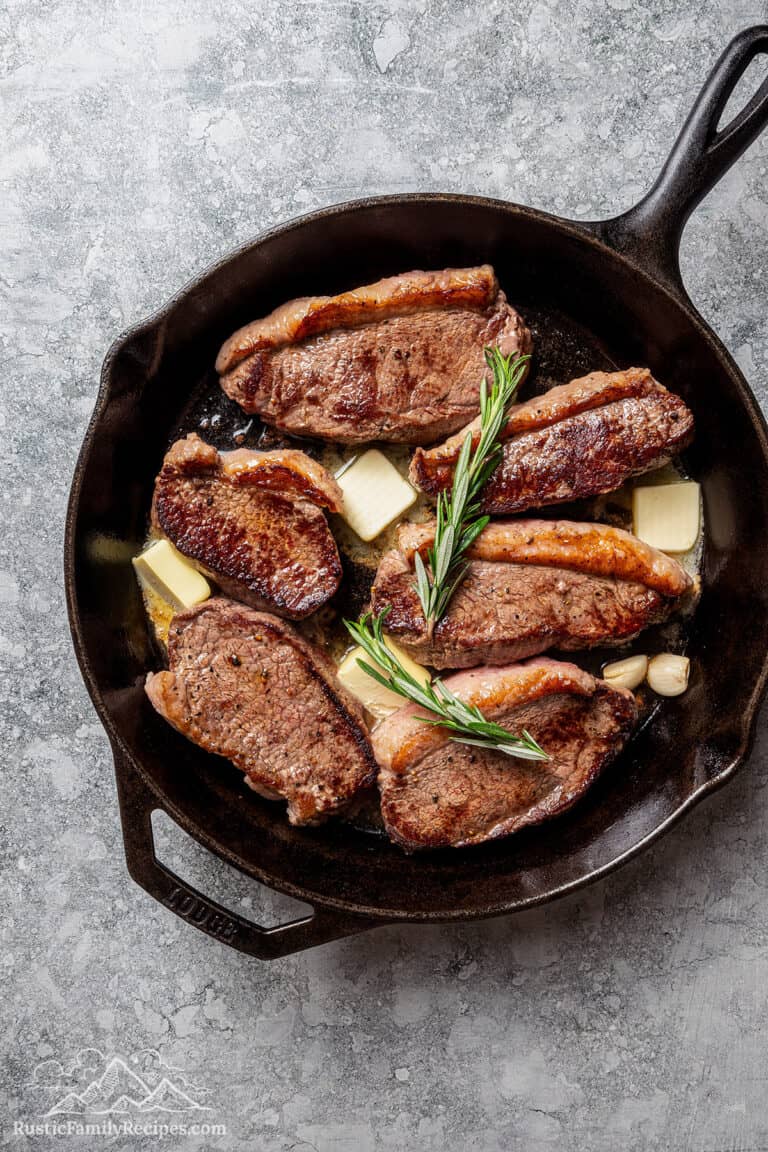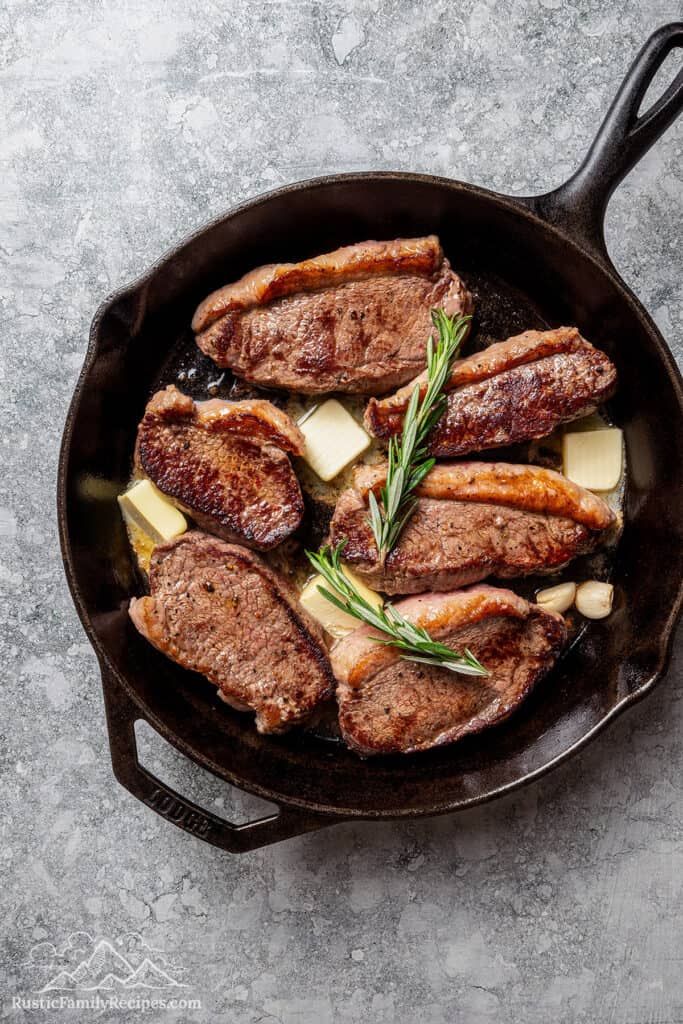 Baste. Tilt the skillet to gather the melted butter and juices, then spoon these over the steak while it continues to cook, about 6 minutes. Flip, then baste again while the steak cooks for another 2 minutes or so.
Check the temperature. At this point, use a meat thermometer to check the temperature at the thickest part of the fillet. If it's below 120ºF, continue cooking and basting until the internal temperature of the steak reaches 130-135ºF.
Rest the steak. Once the steak reaches the right temperature, remove the fillets from the pan and leave them to rest for 5-10 minutes. Resting is key to redistributing the juices for a succulent, tender steak. It also leaves you just enough time to prepare your mushroom sauce.
Make the Mushroom Sauce
See all those drippings, juices, and herbs left over in the pan? Leave them right where they are. We're about to turn them into the most mouthwatering mushroom sauce for your steak.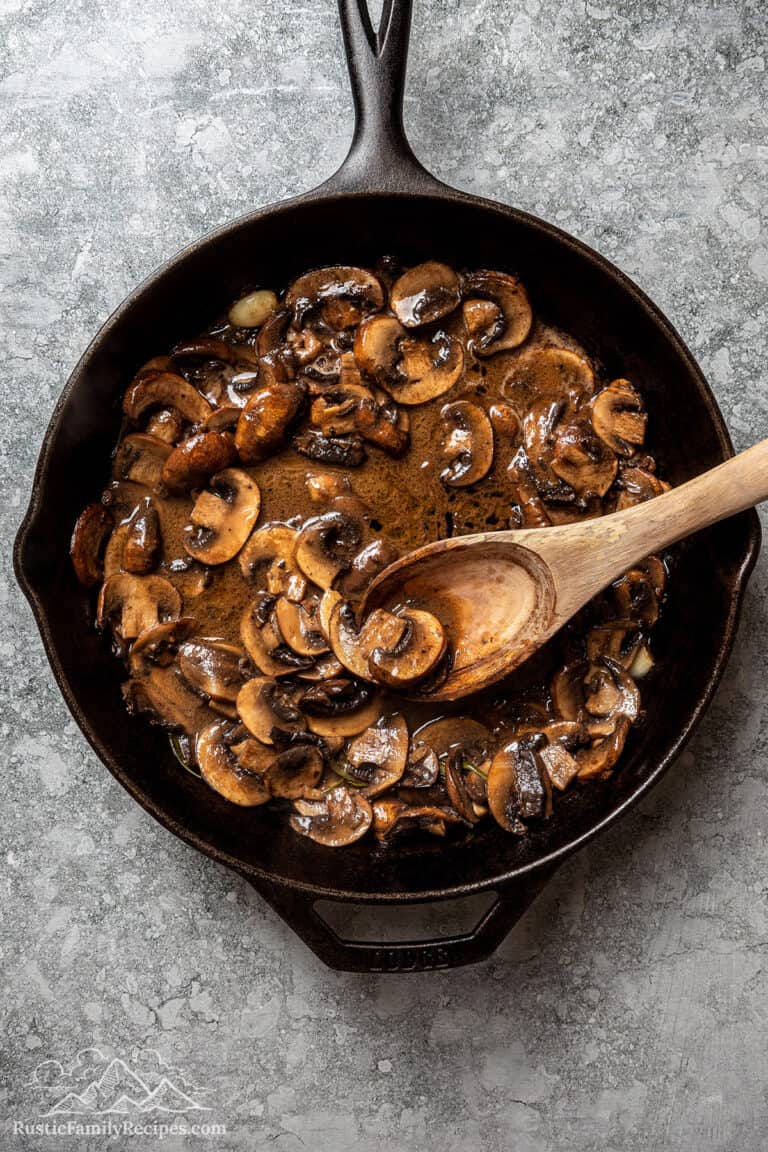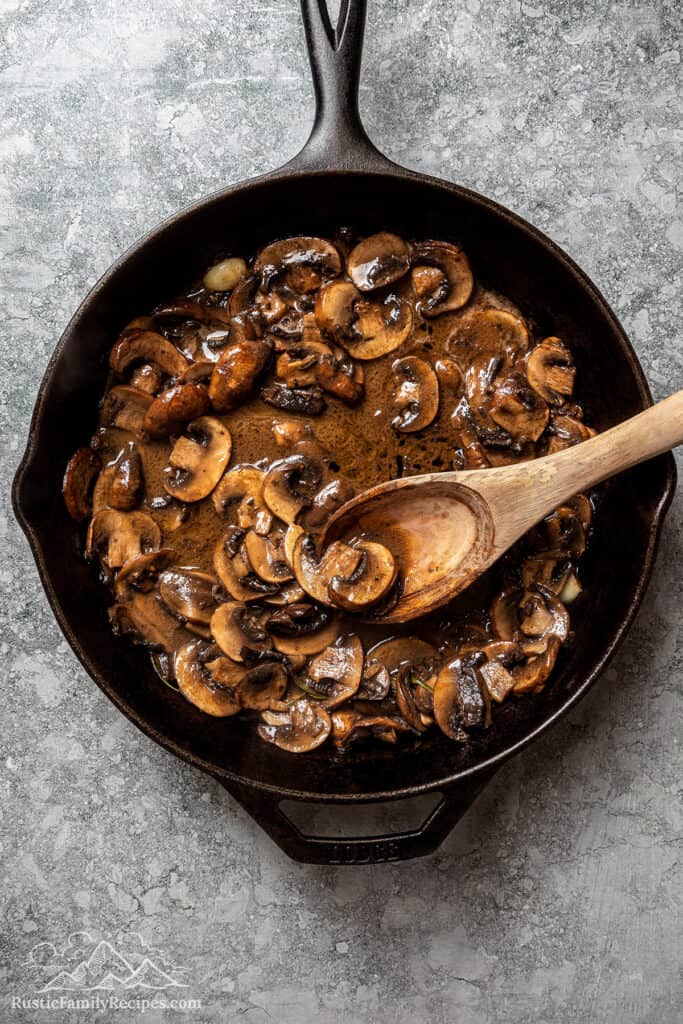 Heat the pan. With the drippings, garlic, and rosemary still in the pan, heat the skillet again and melt in the butter.
Add mushrooms. Next, toss in your mushrooms and give them a light seasoning with salt and pepper. Cook down the mushrooms for about 5 minutes, until caramelized and golden.
Add wine. Pour in the red wine and continue to cook the sauce while it evaporates. Finally, pluck out the rosemary and garlic, and your sauce is ready to serve.
To serve, spoon the finished sauce over the top of your coulotte steak. You can also dice up the fillets and serve them covered with sauce, in the style of beef tips. It's up to you! See below for more serving ideas.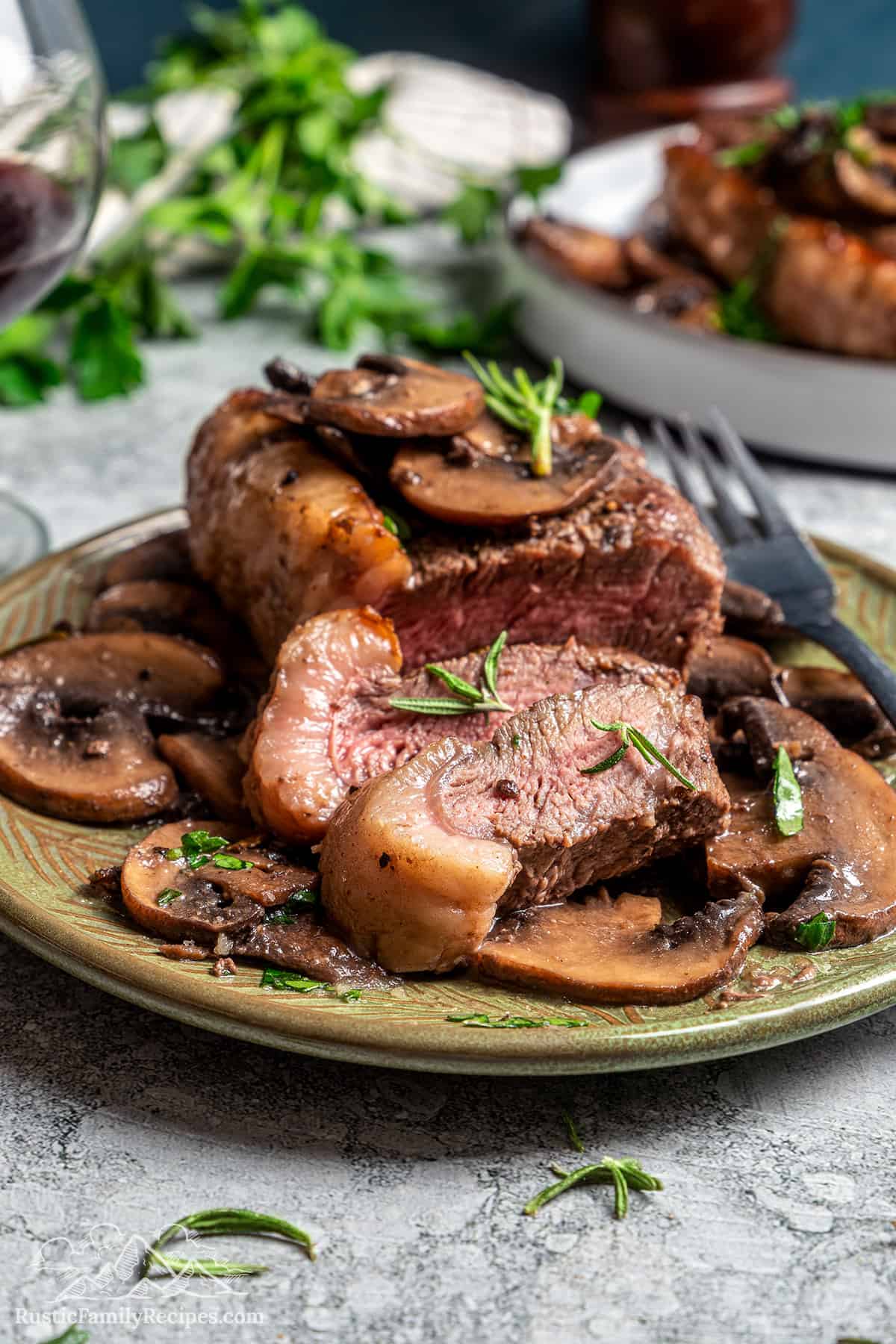 Recipe Tips and Notes
Below are some final tips for cooking coulotte steak:
Cook the steak to your preference. I prefer my steak on the rarer side of medium-rare, as I find it has the best tenderness and flavor. However, feel free to cook your meat to taste. It will be delicious no matter what!
Make sure your pan is hot enough. You don't need to cook coulotte steak for long, but the key is to have your pan preheated beforehand. A quick sear for a few minutes per side is all it takes, and the steak will stay juicy.
Go by temperature. Keep in mind that the exact cooking times may vary depending on the cut and thickness of your steaks. The best way to tell if your meat is done is to check the internal temperature using a meat thermometer. (See list below.)
Use a cast-iron pan for best results. I love my cast-iron skillet, and it's perfect for one-pan recipes like this coulotte steak with mushroom sauce.
Use different herbs. Go ahead an experiment with different herbs like thyme, shallot, whole peppercorns, etc. when basting the steak.
Steak Doneness Temperatures
125F – Rare. Center of the steak will be red and cool to the touch.
135F – Medium rare. The center will be red and warm to the touch.
145F – Medium. A warm pink center.
150F – Medium well. The center of your steak will be slightly pink.
160F – Well done. Little to no pink in the center of your steak.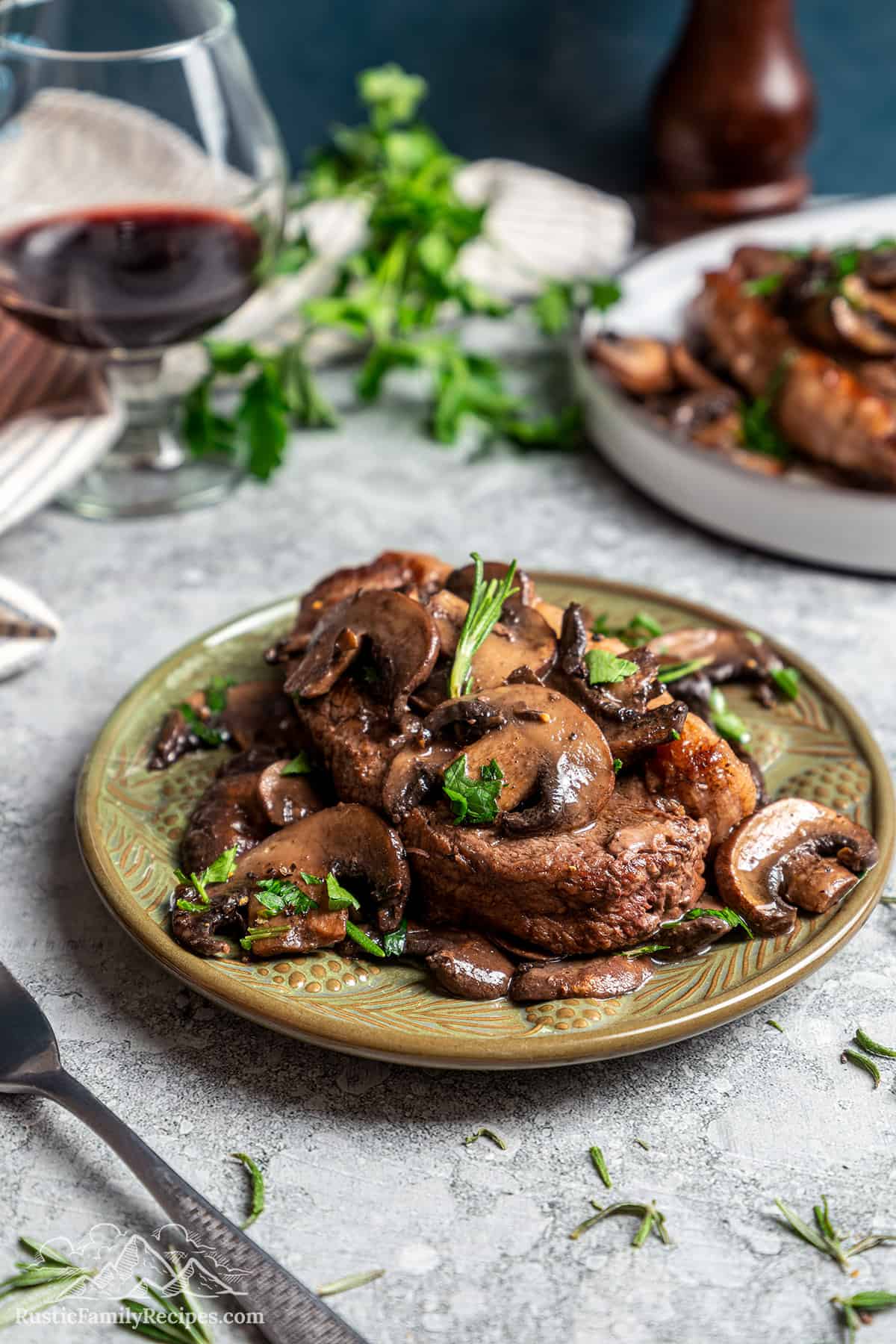 Serving Suggestions
We love this tender coulotte steak with mushroom sauce dished up over a bed of creamy mashed potatoes. It's a flavorful, stick-to-your-ribs dinner that's easy to make on weeknights. Buttermilk mashed potatoes are another delicious combo!
This recipe is also wonderful to make on nights when we entertain. We'll lead into the meal with an appetizer of baked camembert and serve our steaks with, mashed potatoes, roasted asparagus or roasted broccoli. A side of buttermilk biscuits is perfect for sopping up the extra sauce.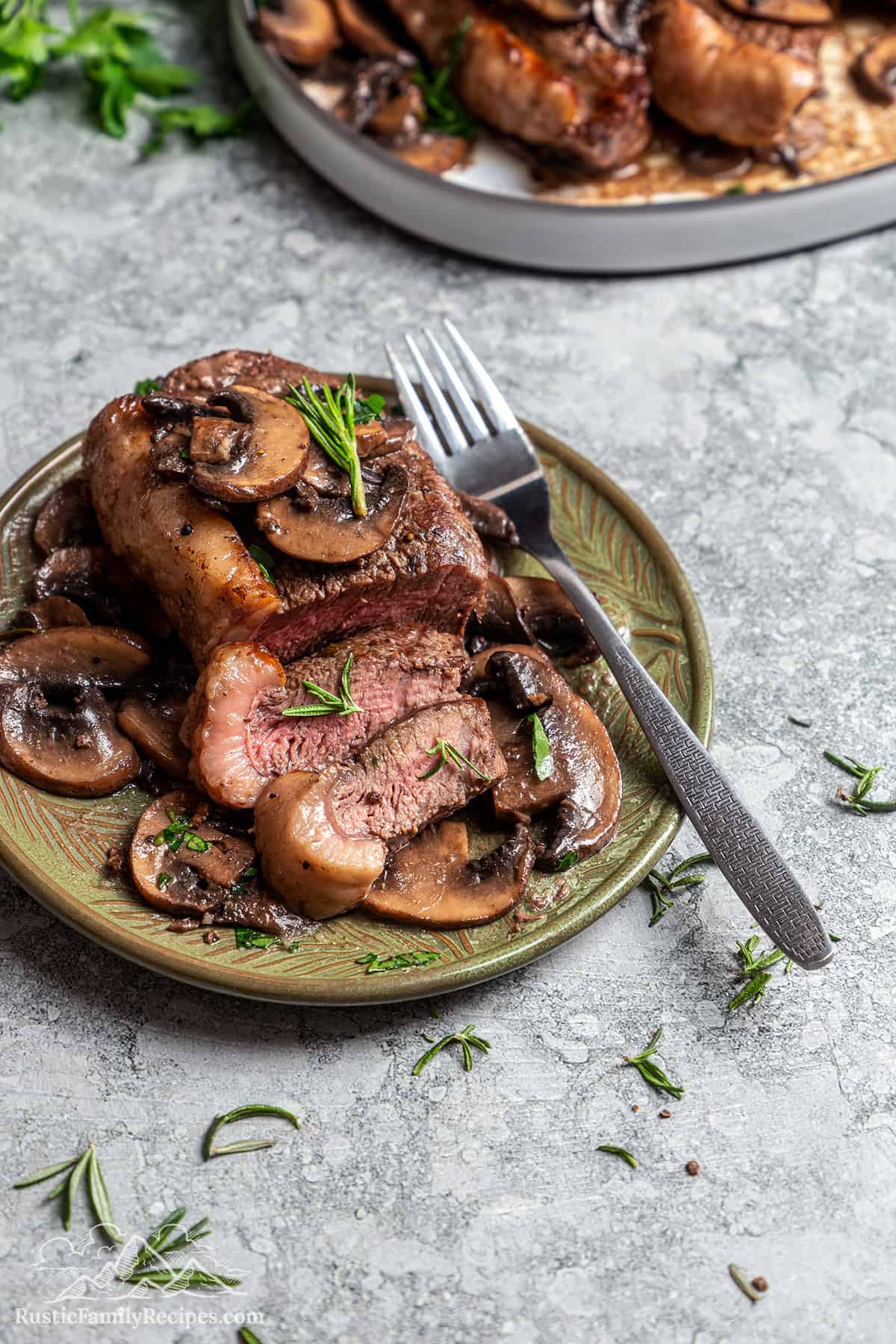 Storing and Reheating Leftovers
Fridge: Store any leftover coulotte steak and mushroom sauce together or in separate containers. Both can be kept airtight in the fridge for up to 4 days.
To reheat: Warm the steak in a skillet on the stovetop or in a 350ºF oven until heated through. Leftover sauce, if stored separately, can be warmed in a skillet too, or in the microwave.
Can I Freeze Steak with Mushroom Sauce?
Yes, the steak and mushroom sauce both freeze well. I like to freeze the cooked and cooled meat and sauce altogether to help preserve the flavor and moisture on the reheat. Thaw the steak in the fridge overnight before reheating and serving.
More Easy Beef Dinner Ideas
Print
Coulotte Steak with Buttery Mushroom Sauce
Tender pan-seared coulotte steak smothered in rich homemade mushroom sauce is an easy one-pan dinner, ready in just 30 minutes!
Author: Rustic Family Recipes
Prep Time:

5 minutes

Resting Time:

10 minutes

Cook Time:

12 minutes

Total Time:

27 minutes

Yield:

6 servings

Category:

Dinner

Method:

Stovetop

Cuisine:

American
For the steak:
2.5

lbs of coulotte steak sliced into

6

fillets; come to room temperature

2.5 teaspoons

sea salt

1.5 teaspoons

ground black pepper
Avocado oil

4 tablespoons

butter

2

cloves of garlic

2

sprigs of rosemary
For the mushroom sauce:
Drippings, garlic, and rosemary from cooking the steak

4 tablespoons

salted butter
Sliced cremini mushrooms
Sea salt ground black pepper to taste

¼ cup

red wine
Instructions
For the coulotte steak
Prep the steak. Season the steak on all sides with sea salt and ground black pepper.
Sear the steak. Heat a heavy-bottomed skillet over high heat for 1 minute. Add the avocado oil to the skillet and allow it to heat up for 30 seconds. Arrange the fillets in the pan and sear for 4 minutes. Flip the fillets.
Melt the butter with herbs. Add butter, garlic, and rosemary to the skillet and allow the butter to melt (this should take about 20 seconds).
Baste the steak. Tilt the skillet to gather all of the cooking juices and melted butter to one side and begin spooning the mixture over the steak (this is called basting). Continue to cook for another 6 minutes, continually basting. Flip again and cook for an additional 2 minutes, continually basting.
Check the temperature. Insert a meat thermometer into the thickest part of the largest fillet. You are looking for 130-135 degrees F for a medium-rare steak. Continue to cook if the temperature is below 120 degrees F. (See steak doneness chart in my post.)
Rest the steak. Once the steak has reached the proper internal temperature, transfer it to a cutting board and let rest for 5-10 minutes while you make the sauce. Do not remove the drippings, garlic, and rosemary. They will be used in the sauce.
For the mushroom sauce:
Warm up the steak drippings. Heat the skillet (with all of the drippings, garlic, and rosemary) to medium-high heat and melt the butter.
Add mushrooms. Add the mushrooms to the pan. Season with sea salt and ground black pepper. Sauté for about 5 minutes or until the mushrooms cook down to golden brown.
Add wine. Pour the wine into the pan and continue to sauté until it evaporates. Lastly, remove the rosemary and garlic.
To serve:
Transfer the steak to a serving platter and spoon the mushroom sauce over the fillets. Alternatively, you can cut the filets into 2-inch cubes and cover them in the sauce.
Last Step:
Please
share a rating and comment
if you enjoyed this recipe! Your feedback helps this little blog thrive and continue providing free, high-quality recipes for you.
Keywords: coulotte steak, steak dinner ideas, mushroom sauce for steak
Filed Under:
This post may contain affiliate links. Please read our disclosure policy.