These homemade enchiladas are a scrumptious way to use up leftover birria meat! Lightly fried corn tortillas are stuffed with tender shredded beef and melty cheese, then topped with more sauce and cheese.
For more ways to use extra birria beef, check out these Birria Quesadillas and this Birria Ramen.
These homemade beef enchiladas are one of my favorite ways to use up leftover birria meat (and also pot roast meat!). I always have some enchilada sauce in the freezer and whenever I make tacos or pot roast I also store extra meat in the freezer for later. So, these enchiladas are the perfect example of how making extra sauce and saving leftover meat can equal a scrumptious Mexican dinner later. Even if I only have a bit of meat leftover, I freeze it. Eventually I'll have a few ziploc baggies with the perfect amount of meat for an easy meal.
The recipe for these enchiladas features the smoky chipotle enchilada sauce I use to make these Avocado Enchiladas and these Black Bean Enchiladas. The birria meat is packed with flavor, so when you tuck that tender shredded meat into a lightly fried corn tortilla with just the right amount of Monterey Jack cheese, then top it all off with homemade enchilada sauce and more cheese? Truly mouthwatering. You'll feel like you're at a fancy Mexican restaurant!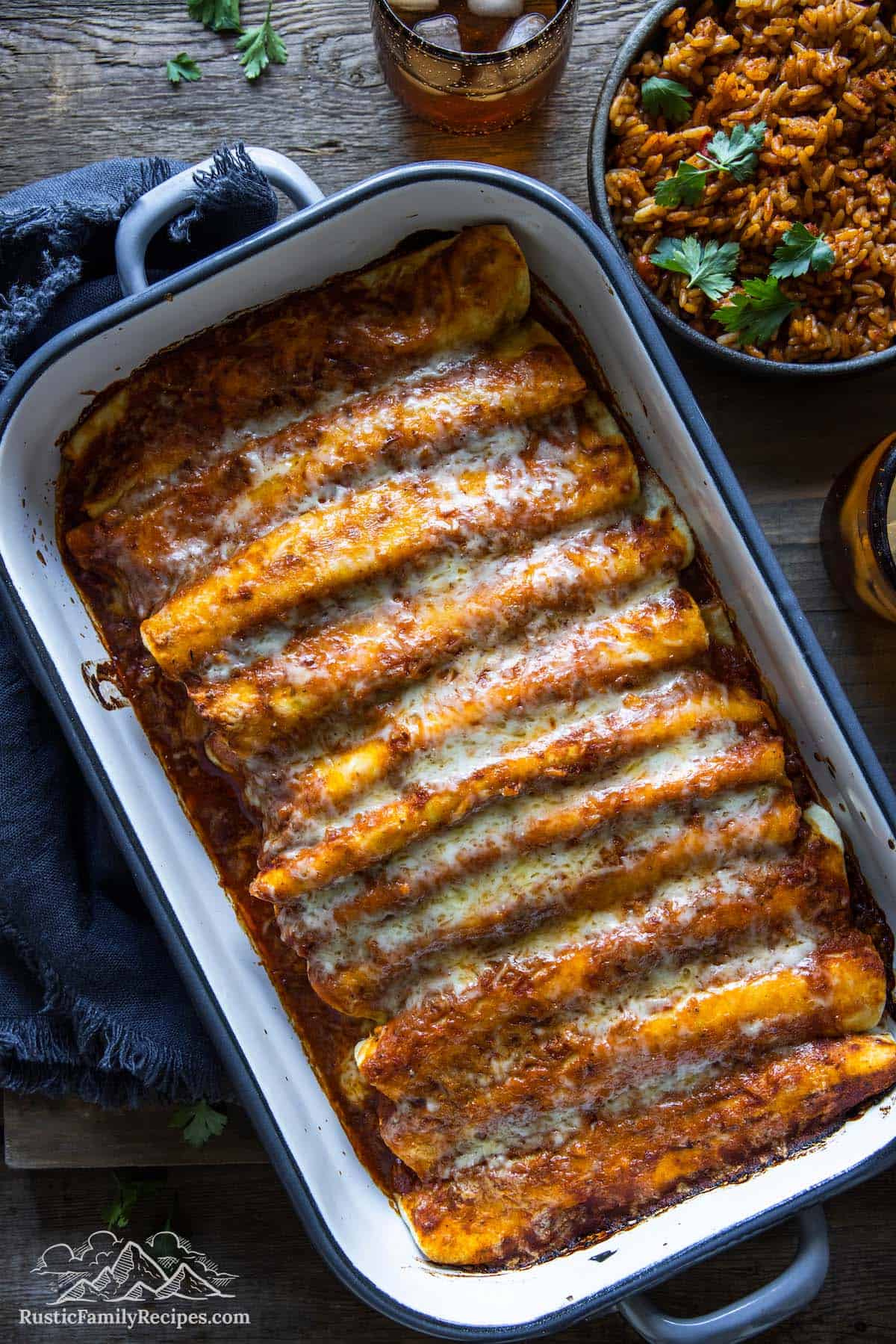 Tips for the Best Enchiladas
Drain the tortillas after you fry them. It is important to give the tortillas a chance to drain on paper towels after you have fried them. You don't need to set a timer or anything, just place them on a plate lined with paper towels as you cook them and by the time you're ready to make your enchiladas they'll be ready.
Don't skip the frying! Speaking of which, don't skip frying the tortillas. This is an important step because it softens the tortillas and makes them easier to roll around the enchilada filling.
Place the rolled tortillas seam side down. This is a simple trick that prevents your enchiladas from unrolling while you assemble them and also during baking. Just place the rolled tortillas seam side down in the baking dish.
Tuck the rolled tortillas together snuggly. This is another trick to prevent the enchiladas from unraveling. In a regular 9×13 sized baking dish you should have just enough room to fit 12 rolled and filled tortillas if you place them snuggly against each other.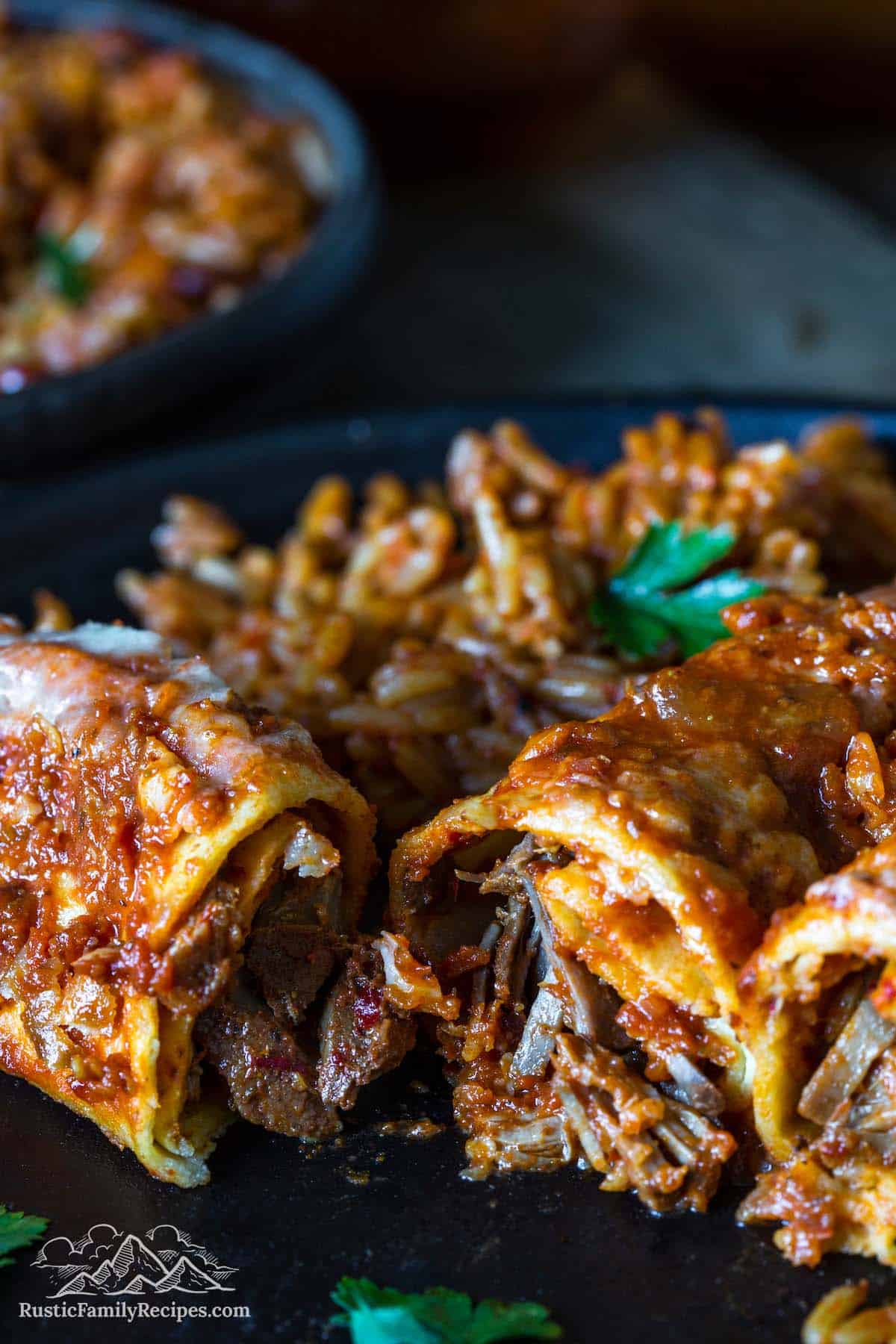 Variation Ideas & Serving Suggestions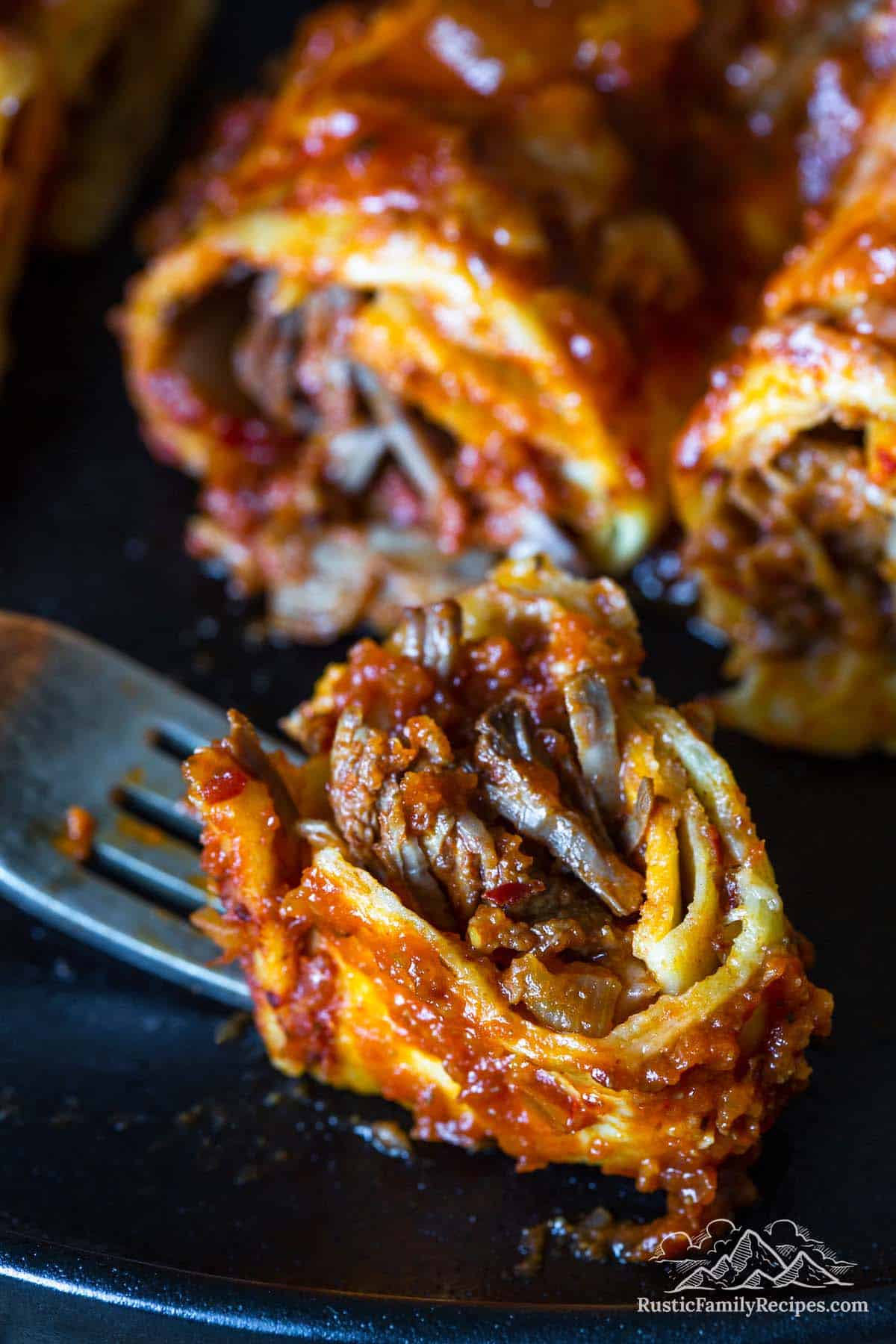 Storing and Reheating Leftovers
Let your enchiladas cool to room temperature, then place them in an airtight container and store them in the fridge for up to 3 days.
To reheat, simply place the amount of enchiladas you want to eat on a plate and zap them in the microwave until heated through. For more than a couple enchiladas I recommend cutting them in half for more even reheating.
Print
Cheesy Birria Beef Enchiladas
These homemade enchiladas are a scrumptious way to use up leftover birria meat!
Author: Rustic Family Recipes
Prep Time:

20 minutes

Cook Time:

30 minutes

Total Time:

50 minutes

Yield:

12 enchiladas

Category:

Dinner

Method:

Oven

Cuisine:

Mexican
1

batch of homemade enchilada sauce

12

corn tortillas*

½ cup

olive oil
Birria stew meat (about 2 cups)

1½ cups

shredded Monterey Jack cheese

1/2

–

1

cup shredded double cheddar cheese, depending on how cheesy you want it to be
Instructions
Fry the tortillas. In a large frying pan heat the ½ cup olive oil over medium-high heat. It's ready for frying when a small bit of tortilla sizzles immediately when added to the pan. Fry each corn tortilla for about 5-8 seconds per side, turning with tongs. Place the fried tortillas on a plate lined with paper towels to drain.
Preheat oven to 400F. Get a 9×13 baking dish and spoon half of your enchilada sauce on the bottom of your baking dish.
Assemble the enchiladas. Divide the stew meat among the tortillas, spooning about 2-3 tablespoons worth down the center of each tortilla. Sprinkle with about 2 tablespoons of Monterey Jack cheese, then roll up and place in your baking dish, seam-side down. Press each filled and rolled tortilla snuggly up against the others when placing them in your baking dish.
Top with enchilada sauce. Ladle the rest of the enchilada sauce on top of them and sprinkle with the double cheddar cheese.
Bake. Spray a sheet of aluminum foil lightly with PAM or olive oil, then loosely cover the enchiladas sprayed side down. Bake for 25-30 minutes, until the sauce, is bubbly and the enchiladas are heated through. Remove the foil and bake another 5 minutes or until the cheese is melted. Serve immediately.
Notes
Store cooled enchiladas in an airtight container in the fridge for up to 3 days.
Reheat in the microwave until warmed through.
*I used 8-inch corn tortillas but you can use taco-sized corn tortillas too. For 6-inch tortillas simply do a row of enchiladas in your baking dish. Then use the extra space in your baking dish by adding a couple more enchiladas perpendicular to the row you just made.
Keywords: birria enchiladas, beef enchiladas, enchiladas rojas
This post may contain Amazon affiliate links to products that I use, which can earn a small commission on qualifying purchases.