About Me: I have more than 20 years of cooking experience & share my favorite recipes on this blog.
Have a question? Please post a comment, I'm happy to help. 🙂
This gorgeous zucchini tart is a light dinner or lunch brimming with summer ingredients! Topped with fresh zucchini blossoms, smoky bacon, pine nuts, and a touch of honey and rosemary.
Summer is here and that means it's time to heap our plates with all its bounty. (Plus, in this case, a bit of bacon, why not?)
Zucchini is one of my favorite warm weather veggies and I grow prodigious amounts of it in my garden. I love making zucchini cornbread, zucchini muffins, zucchini cake, zucchini parmesan, zucchini brownies…. I literally start sounding like Bubba from Forrest Gump this time of year. I use everything except the tops (which go to the chickens) when I cook with zucchini, and that includes harvesting the blossoms and cooking with those too! If you've never tried zucchini blossoms, I recommend it.
This zucchini tart topped with bacon and pine nuts is a true celebration of seasonal ingredients. Tender slices of zucchini are layered with bright zucchini blossoms, along with smoky bacon, cheese and crunchy pine nuts over a bed of crispy puff pastry. Add a touch of honey and rosemary, and this tart recipe is one of my favorite easy meals to enjoy al fresco in the summertime.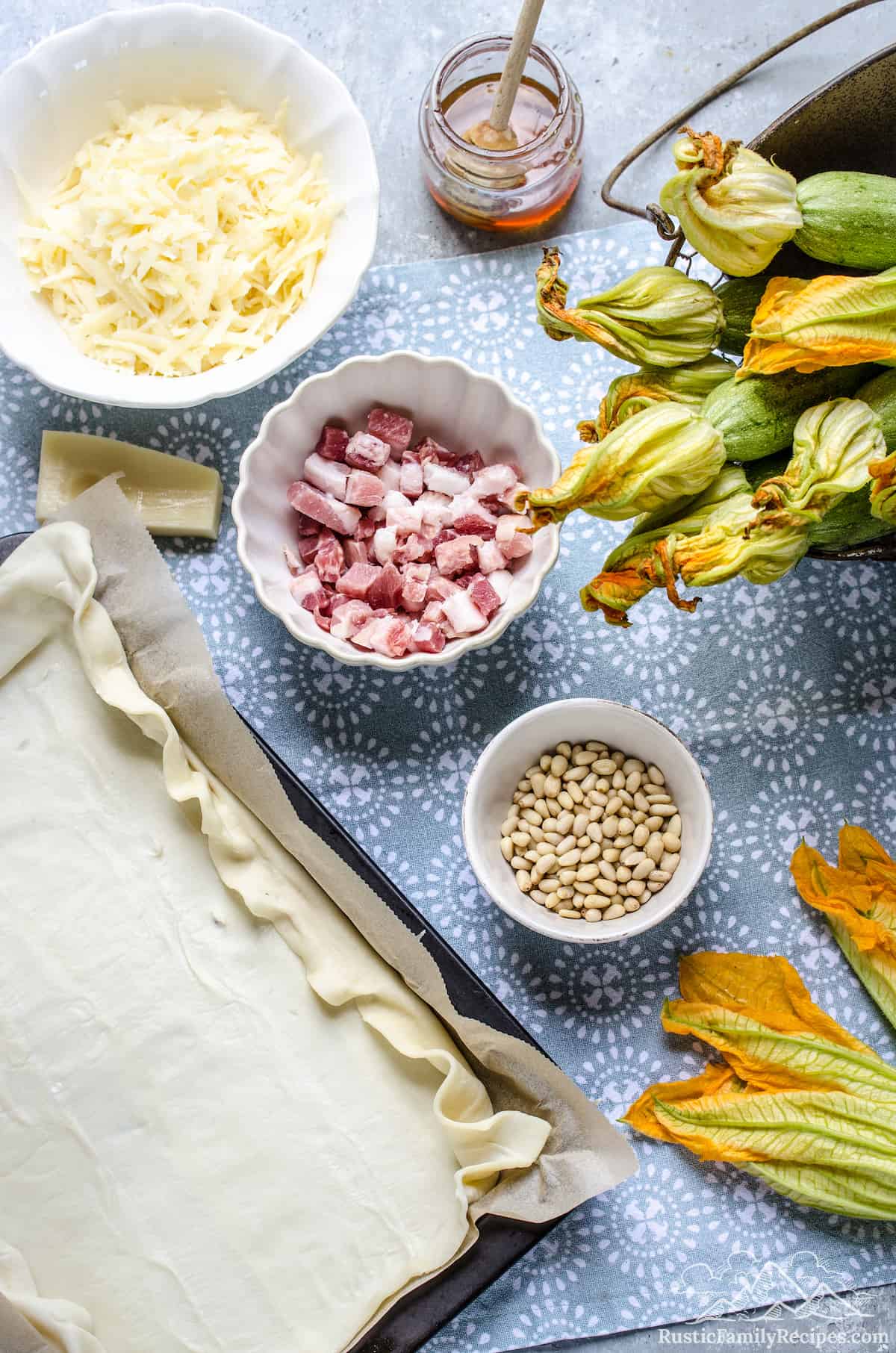 What You'll Need
I get all giddy when I see ingredients lists like the one for this tart. It really doesn't get better than simple, fresh, seasonal ingredients that come together into something extra special. You'll find an overview of what you'll need below, with the full amounts in the recipe card.
Puff Pastry – Frozen and thawed puff pastry works great.
Zucchini – You'll need 4 to 5 zucchini depending on the size, with the blossoms intact. You can also harvest the blossoms directly from the plant. Otherwise, you may need to source the blossoms separately. See below for recommendations on where to buy zucchini flowers.
Bacon – I use thick-cut smoky bacon, chopped into cubes.
Pine Nuts – If you can't find pine nuts, chopped walnuts or pecans are a good alternative. If you're allergic to nuts, substitute pumpkin seeds or pepitas instead for a nice crunch.
Swiss Cheese – Shredded.
Honey – I love the sweet-salty contrast of the honey and bacon in this recipe. The combo also compliments the earthy, green flavors of the zucchini and pine nuts nicely.
Rosemary – Fresh is best!
Kosher Salt and Pepper
Can You Eat the Flowers on a Zucchini?
Yes! Zucchini flowers, or zucchini blossoms, are a popular edible flower in Italy. Their popularity is spreading in the United States, too. The bright yellow flowers grow on the zucchini plant, and they can be eaten raw, or cooked like in this tart. The flavor of a zucchini blossom isn't overly flower-y, and the texture is silky smooth.
Italian recipes often involve stuffing the blooms with ricotta, parmesan, and herbs, then dipping them in batter for pan-frying. In the US, it's common to find zucchini flowers battered and fried also, or served raw in salads when they're in season.
Where to Buy Zucchini Flowers
Zucchini flowers are seasonal, popping up at farmer's markets for short periods in the summer months. The blossoms usually aren't too expensive. Of course, if you have a home garden, the best and most sustainable option is to grow them yourself! Zucchini blossoms are best when they're fresh, and they're easy to grow.
The male flowers will grow on a thin stalk, while the female flowers bear the zucchini fruit. Both are edible, but harvest the male flowers if you want to give the female ones time to grow into zucchinis.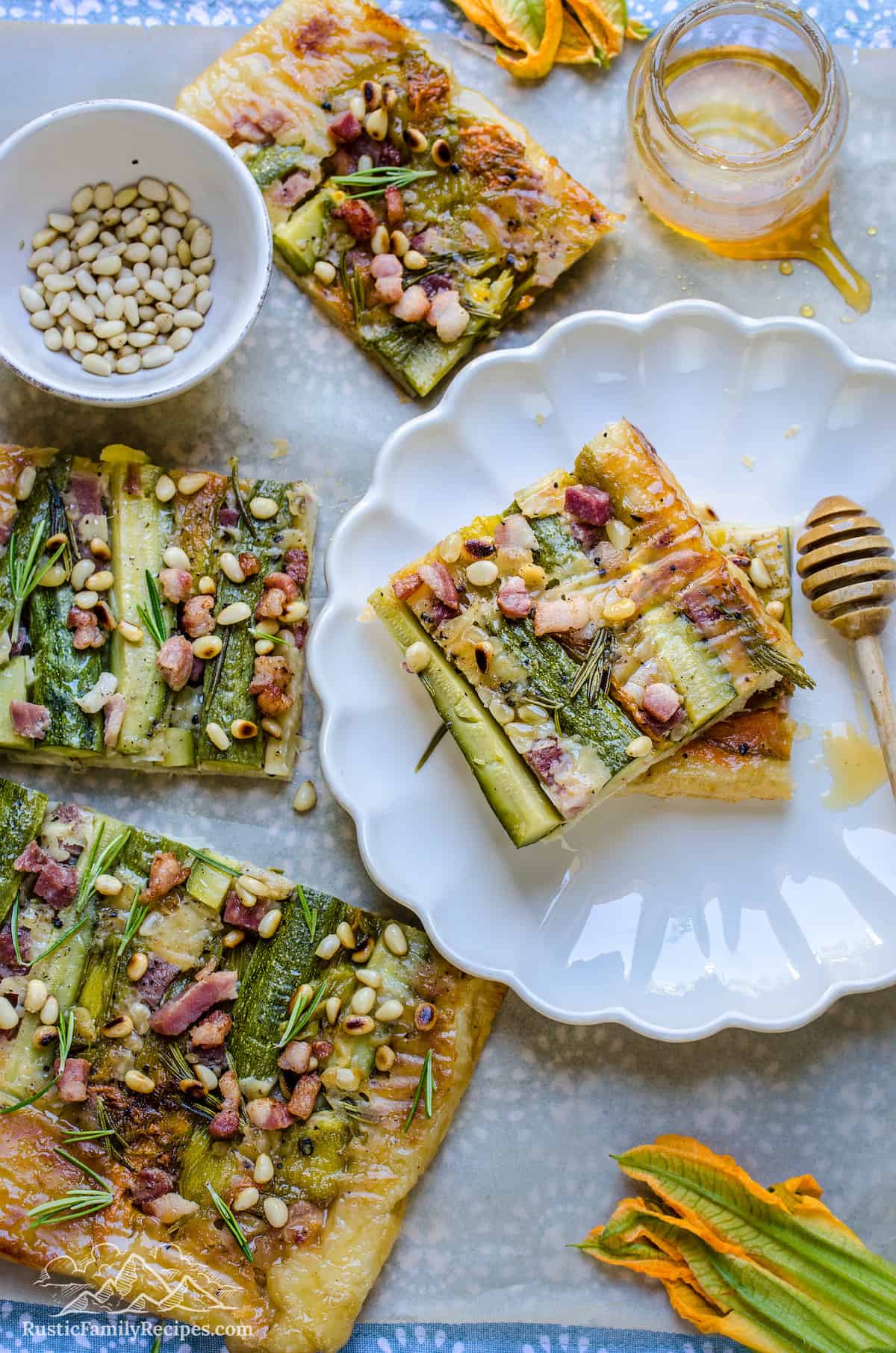 How to Make this Zucchini Tart With Bacon
This zucchini tart is actually assembled upside down, and then inverted after baking. So you'll need two baking sheets at your disposal, with one set aside for now. Now, let's get started on making a perfect homemade tart:
Prep your tools. While the oven is preheating to 375ºF, take one of your baking sheets and line it with parchment paper.
Prep the zucchini and blossoms. Give the zucchini a good rinse, then dry and slice the squash lengthwise. Next, remove the pollen stamens from the zucchini blossoms. Once your zucchini and flowers are prepped and ready, it's time to put together the tart.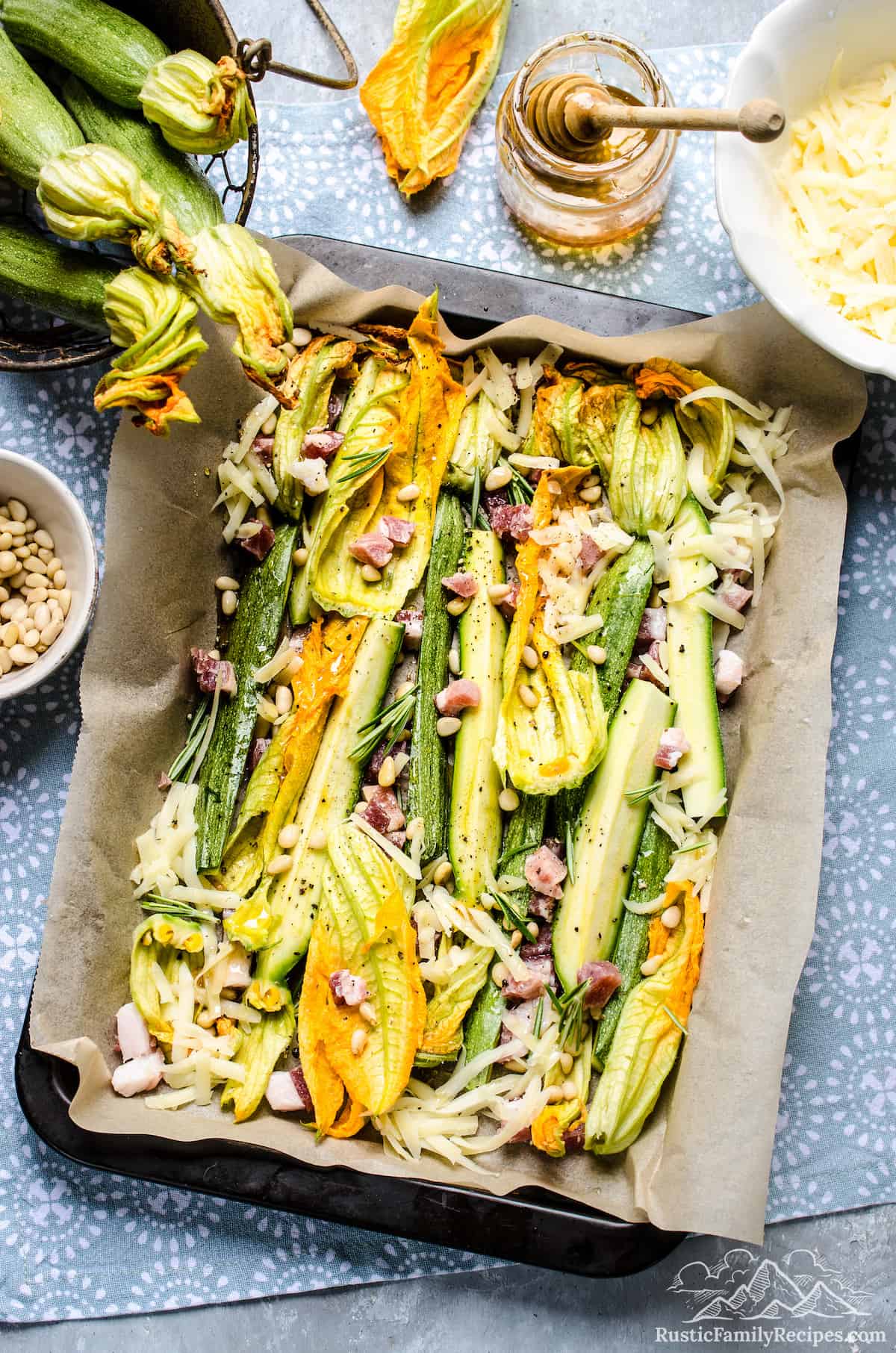 Assemble the tart layers. First, sprinkle your lined baking sheet with salt and pepper, and add a drizzle of honey. Spread half the bacon and pine nuts evenly over the sheet, followed by some rosemary leaves. Next, arrange the zucchini and zucchini blossoms over top, with another layer of bacon and pine nuts. Finally, top everything with the Swiss cheese.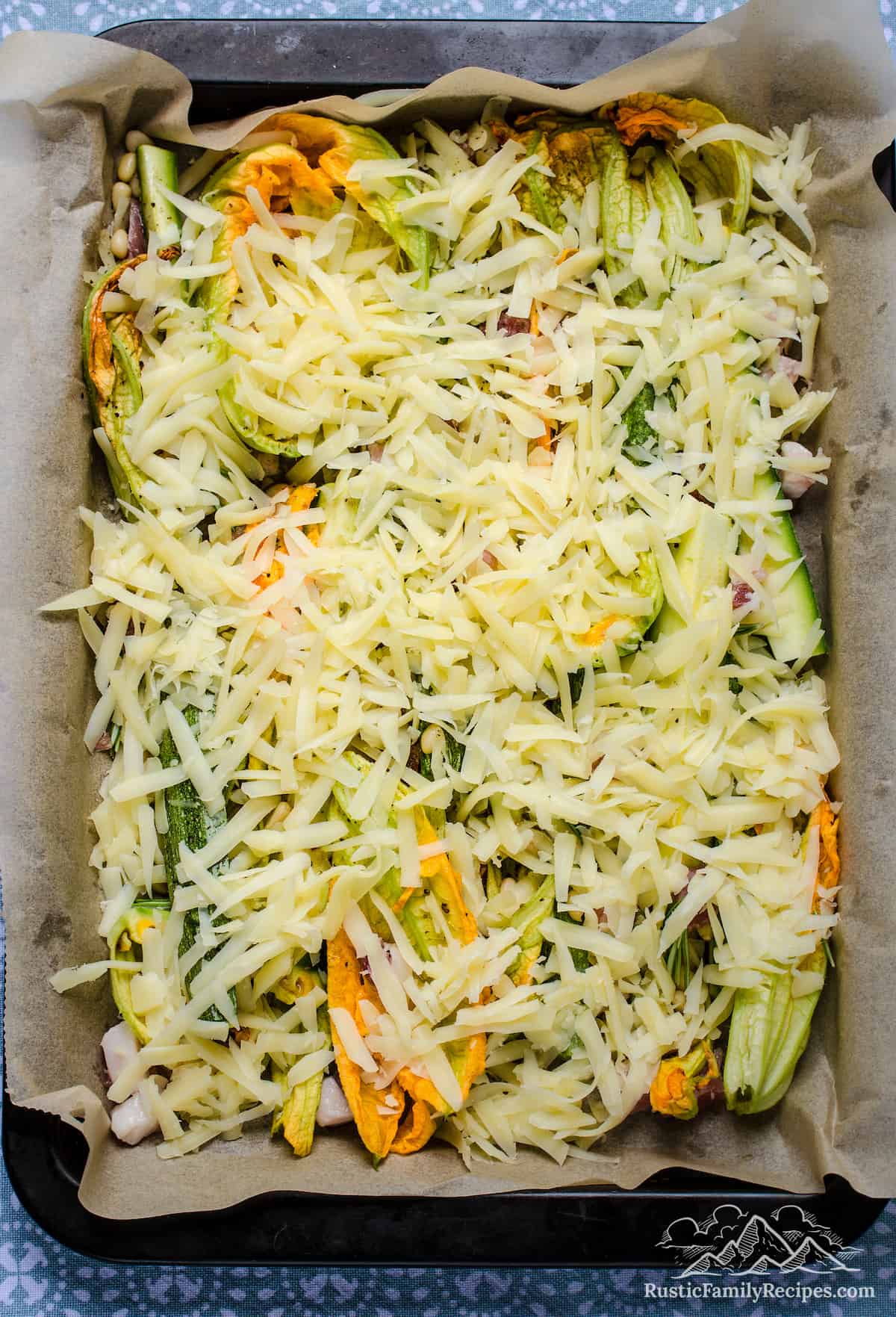 Add the puff pastry on top. Take a rolled out sheet of puff pastry and carefully place it over the veggies in the pan. Give the top of the pastry a few pricks with a fork or a knife for ventilation.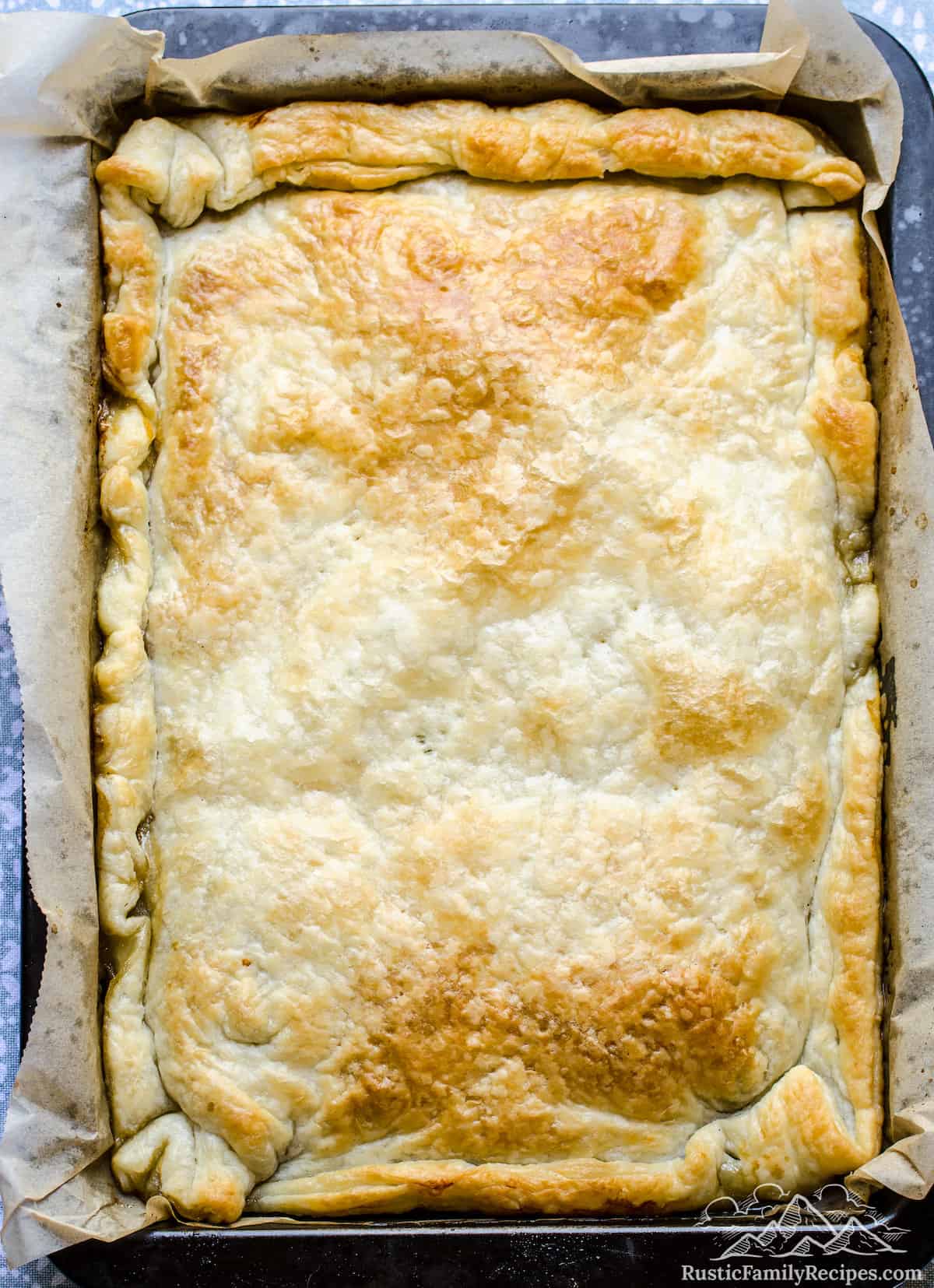 Bake. Place the tart into the preheated oven. After 15 minutes, you'll take it out and cover the top with another layer of parchment, followed by a second baking sheet. This second pan acts as a weight to keep the pastry from blowing up, and doubles as the pan you'll invert the tart onto. Bake the tart for another 10 minutes or so, until the pastry is golden.
Cool and serve. Once your tart has cooled for a bit, invert the tart onto the second baking sheet. Slice and then serve the tart drizzled with more honey if you'd like.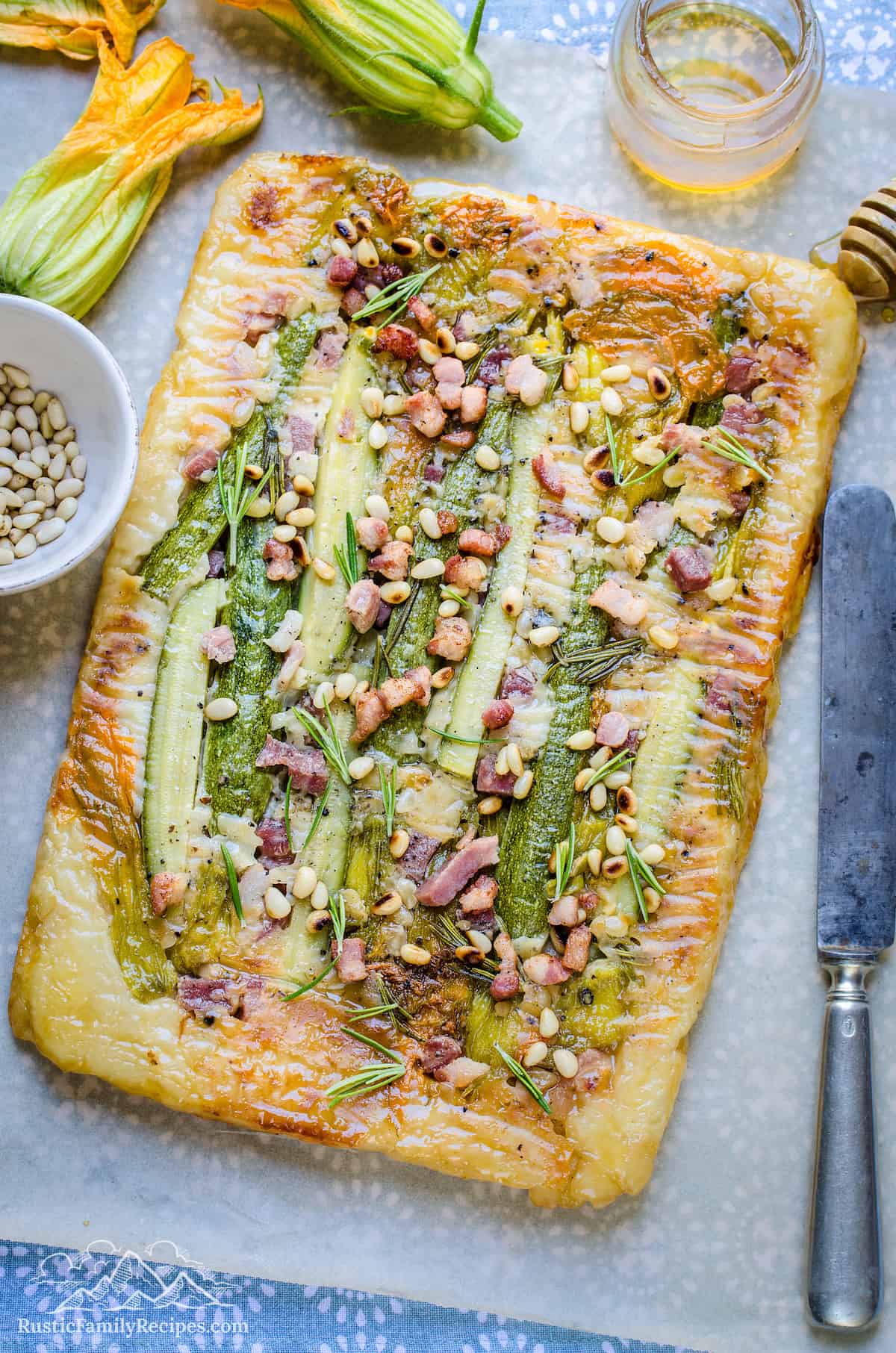 Tips for Success
This zucchini tart bakes up easily. But here are a few tips to get the best results:
Make it vegetarian. Simply leave off the bacon if you're making this recipe veggie-friendly.
Fully thaw the puff pastry. To prevent tearing as you unfold it.
Double up the recipe. If your puff pastry sheets come in pairs of two, make a second tart to freeze for another day. See below for more freezing and storage details.
Use fresh zucchini blossoms. Because the flowers are so perishable, use them within a day or two of buying or harvesting. You can store them as needed in a pinch, see the section later in the post for more details.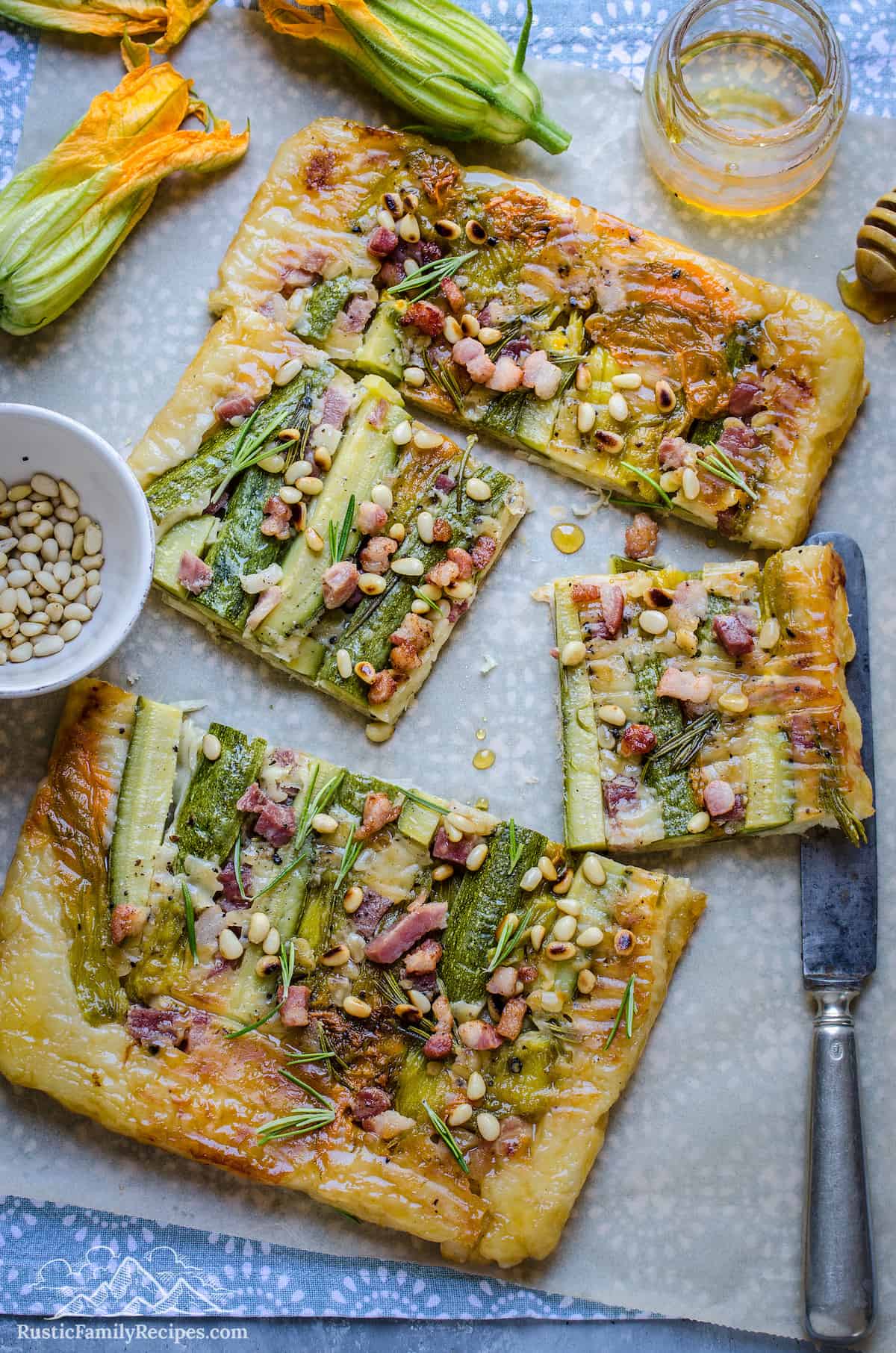 Variation Ideas
One of my favorite things about this savory tart recipe is, like a pizza or flatbread, it's really versatile. You can adapt the ingredients to fit almost any preference or season. Here are some ideas for different toppings to try:
Nuts. Walnuts, pecans, pistachios, slivered almonds
Seeds. Sesame seeds, sunflower seeds, poppy seeds, pumpkin seeds or pepitas.
Cheese. Shredded cheddar, mozzarella, crumbled goat cheese, ricotta, blue cheese, or feta.
Protein. Parma ham, salami, prosciutto (even smoked salmon, get those omega 3's!)
Herbs. Basil, thyme, sage, parsley, cilantro, garlic.
Greens. Arugula leaves, baby spinach, kale.
Vegetables. Thinly sliced tomatoes, onions, olives, beetroot.
Salsa matcha (for a good spicy kick)
Quick pickled red onions
Storing and Reheating Extras
The tart itself will keep fresh for up to 5 days when stored airtight in the fridge.
If you have leftover zucchini flowers, these should be used as soon as possible. They make a wonderful addition to a summer salad! If you need to store them briefly, place the blooms between damp paper towels and store them in a resealable freezer bag in the fridge (ideally in the crisper drawer). Be sure to find a spot where they won't be crushed by other items in the fridge. In a pinch, freeze the flowers for longer storage, see below.
Can I Freeze This?
You can freeze the tart whole, or in slices to save room in the freezer. Store individual slices in plastic wrap or freezer bags, or layered in a freezer-safe container with parchment paper in between the slices.
It's also possible to freeze the zucchini flowers for up to 6 months. A perfect way to brighten up a winter day down the road! To freeze, store the flowers in a freezer-safe container in single layers, with paper towels in between to absorb moisture. Be sure to place paper towels as the first and last layers.
Use the flowers directly from frozen, as they defrost quickly (we're talking seconds, here) and will oxidize when left out for too long.
More Zucchini Recipes
Sfougato (Crustless Zucchini Quiche)
Buttermilk Zucchini Cornbread
Zucchini Tart with Bacon and Pine Nuts
This zucchini tart recipe is a celebration of seasonal ingredients! A light dinner or lunch brimming with the flavors of summer, topped with fresh zucchini blossoms, smoky bacon, pine nuts, and a touch of honey and rosemary.
Ingredients
1

sheet frozen puff pastry

,

thawed

4-5

medium zucchini with blossoms

½

cup

thick-cut bacon

,

cut in cubes

½

cup

pine nuts

1 ½

cup

shredded Swiss cheese

½

tablespoon

honey

1

rosemary sprig

Generous pinch kosher salt

A few shakes of ground black pepper
Instructions
Prep your tools. Preheat the oven to 375F degrees. Line a baking sheet with parchment paper.

Prep zucchini and blossoms. Rinse the zucchini to remove any dirt. Remove pollen stamens from the blossoms, cut zucchinis lengthwise.

Assemble tart layers. Sprinkle the lined baking sheet with honey, salt and pepper. Add half of the bacon and half of the pine nuts. Remove some of the rosemary leaves and sprinkle them on top, then arrange the zucchini slices and zucchini blossoms on the baking sheet. Add rest of bacon and pine nuts. Sprinkle with shredded cheese.

Add puff pastry on top. Roll out puff pastry and place on the top of the veggies in the baking sheet. With a knife, prick a few holes in the pastry to allow steam to escape.

Bake for 15 minutes. Then cover with another piece of parchment paper and place another baking sheet on the top to keep the pastry from puffing.

Bake for another 10 minutes. Or until golden.

Cool and serve. Let the tart cool then invert the tart onto the second baking sheet. Slice and serve drizzled with more honey, if desired.
Last Step:
Please
share a rating and comment
if you enjoyed this recipe! Your feedback helps this little blog thrive and continue providing free, high-quality recipes for you.
Nutrition
Serving:
1
slice
|
Calories:
258
kcal
|
Carbohydrates:
13
g
|
Protein:
8
g
|
Fat:
20
g
|
Saturated Fat:
6
g
|
Polyunsaturated Fat:
4
g
|
Monounsaturated Fat:
8
g
|
Trans Fat:
0.01
g
|
Cholesterol:
19
mg
|
Sodium:
146
mg
|
Potassium:
246
mg
|
Fiber:
1
g
|
Sugar:
3
g
|
Vitamin A:
248
IU
|
Vitamin C:
12
mg
|
Calcium:
134
mg
|
Iron:
1
mg
Nutritional info is an estimate and provided as a courtesy. Values may vary according to the ingredients and tools used. Please use your preferred nutritional calculator for more detailed info.
Did you make this recipe?
💖 I love hearing how my recipes came out for others! If you tried this recipe, please share a comment. 💖
Filed Under: