This simple homemade zhoug sauce is spicy, garlicky, and oh-so-tasty. You'll only need a few fresh ingredients to whip up a batch of this flavorful Middle Eastern sauce that can be used in many ways.
If you're a fan of spicy and garlicky, let me introduce you to your new favorite condiment: zhoug. I first discovered zhoug at Trader Joe's and quickly became hooked. It looks similar to pesto but adds an irresistible kick to everything from eggs to grilled meats. When I have some of this sauce in the fridge I will plan my menu around ways to use it. Yes, it's that good.
Why make zhoug from scratch? Well, why not? It's so easy it almost doesn't qualify as a recipe. If you don't feel like driving to Trader Joe's or the sauce is out of stock, you'll only need a few minutes to whip up a batch of zhoug at home.
Why You'll Love This Zhoug Recipe
Easy. You'll need fresh herbs, garlic, jalapeños, and some spices to make zhoug. That's it! Your food processor does all the work so just blend and store in the fridge.
Spicy. Zhoug is not for the faint of heart. Similar to salsa macha, this sauce adds a super spicy punch with heat to whatever you drizzle it on. You have been warned!
Flavorful. Thanks to all the fresh herbs and garlic, even the smallest bite of zhoug is bright and herbaceous.
Flexible. You can adjust the heat to your liking by using more or less jalapeños. Experimenting with the amount of herbs and spices is also a great way to find your perfect balance of spice + heat.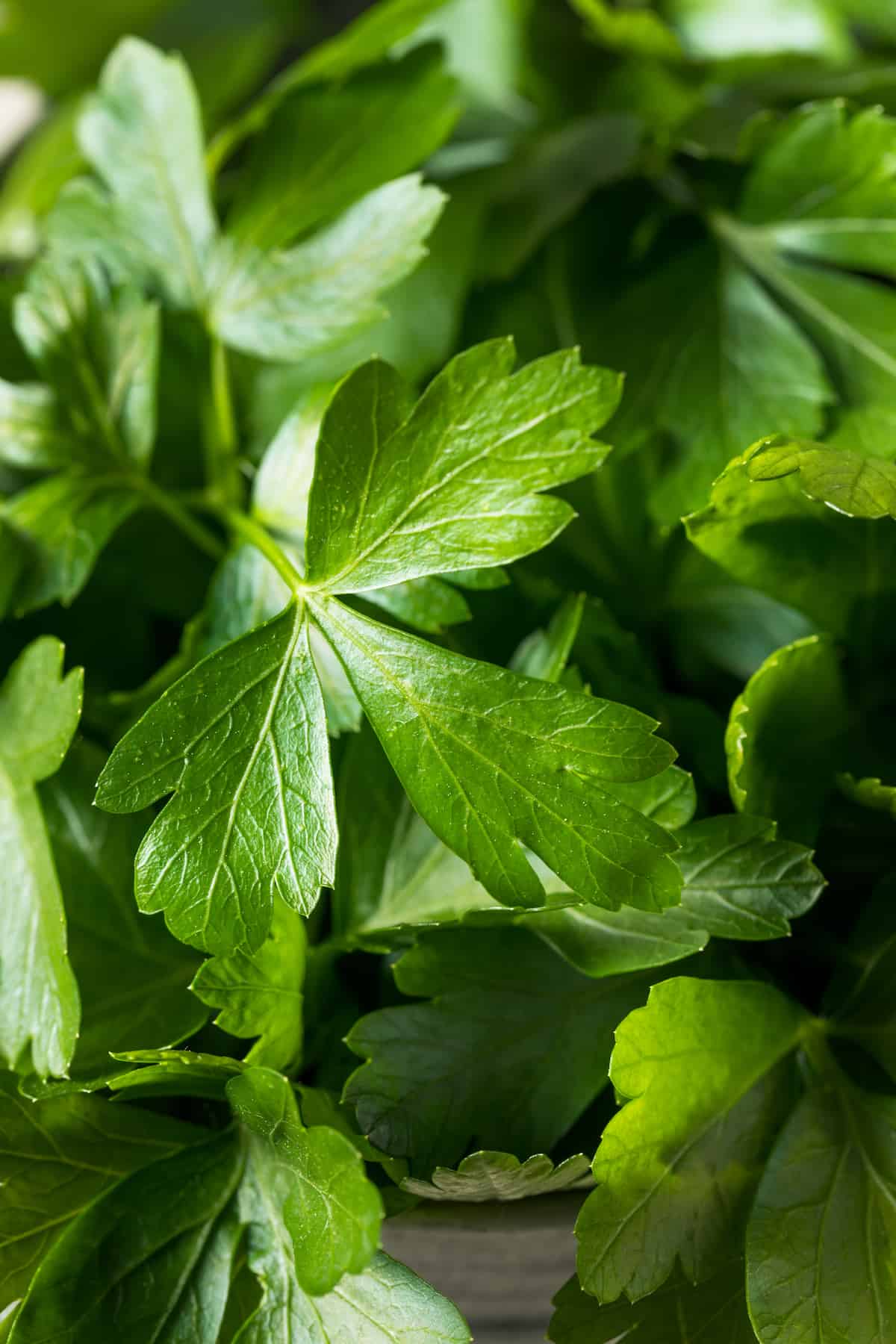 What is Zhoug?
Zhoug, also spelled as "zhug" or "skhug," is a spicy condiment originating from the Middle East, specifically Yemen and Israel. The key ingredients in zhoug sauce are typically cilantro, parsley, spices, and jalapeño or other hot chili peppers.
The sauce has a bold, fiery flavor profile and is known for its intense spiciness. The fresh herbs provide a bright and aromatic quality, while the chili peppers deliver heat.
Zhoug is usually pronounced as "zoo-g" with a hard "g" sound at the end. The "zh" sound at the beginning is similar to the "s" sound in the word "measure." So, when pronouncing zhoug, it would be "ZOO-g" with the emphasis on the first syllable.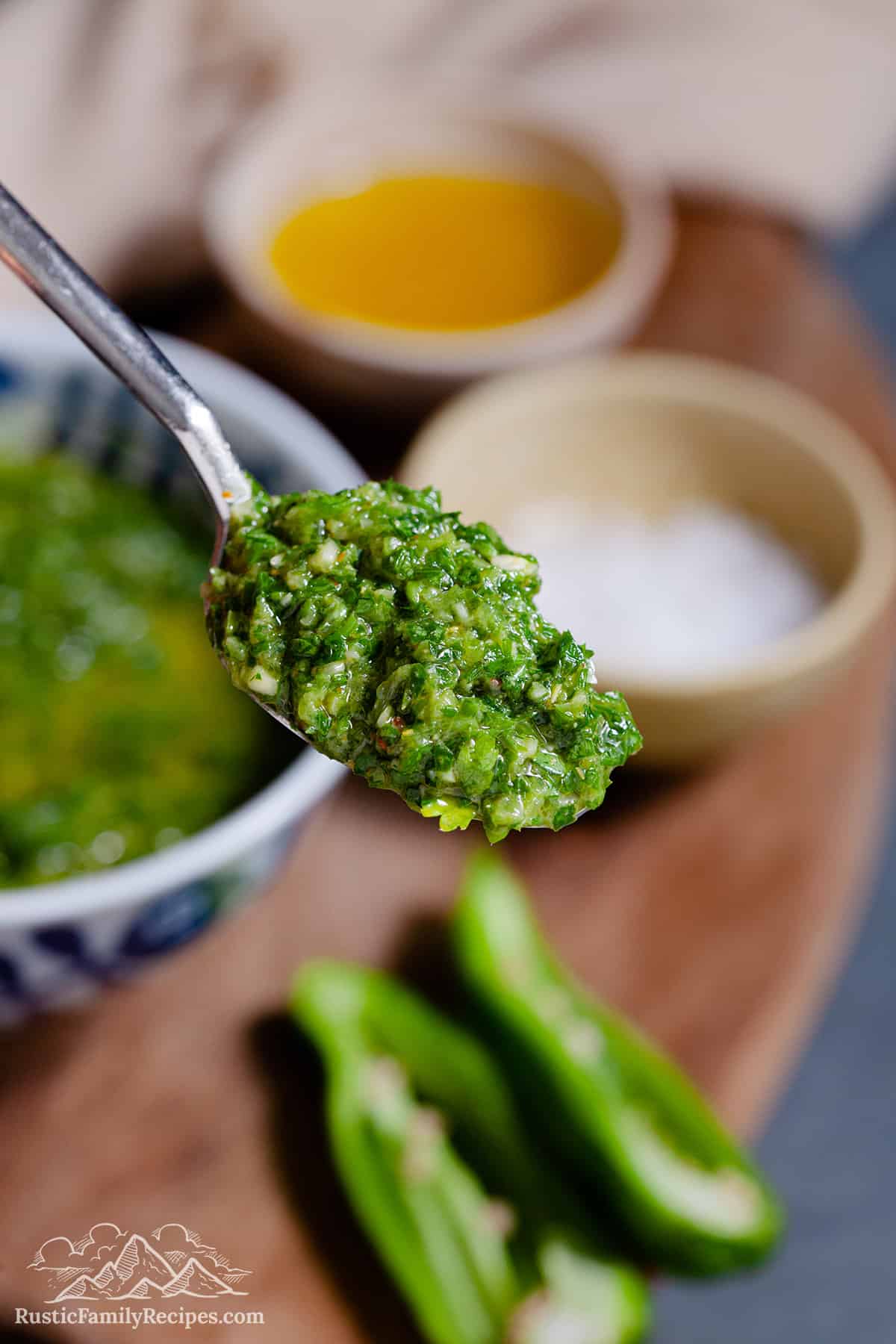 Tips for Success
Use fresh ingredients. Using fresh herbs and garlic is non-negotiable. Fresh herbs contribute to the vibrant and bright character of the sauce and can't be replaced with dried equivalents or garlic paste.
Adjust spiciness to taste. If you prefer a milder version, remove the seeds from the jalapeños before blending. For extra heat, include the seeds or add more jalapeños.
Blend to desired consistency. Depending on your preference, you can blend the ingredients into a smooth sauce or leave it slightly chunky for more texture.
Allow flavors to develop. Like many sauces, zhoug benefits from some resting time to allow the flavors to meld together. After preparing the sauce, refrigerate it for a few hours to enhance the taste before using it.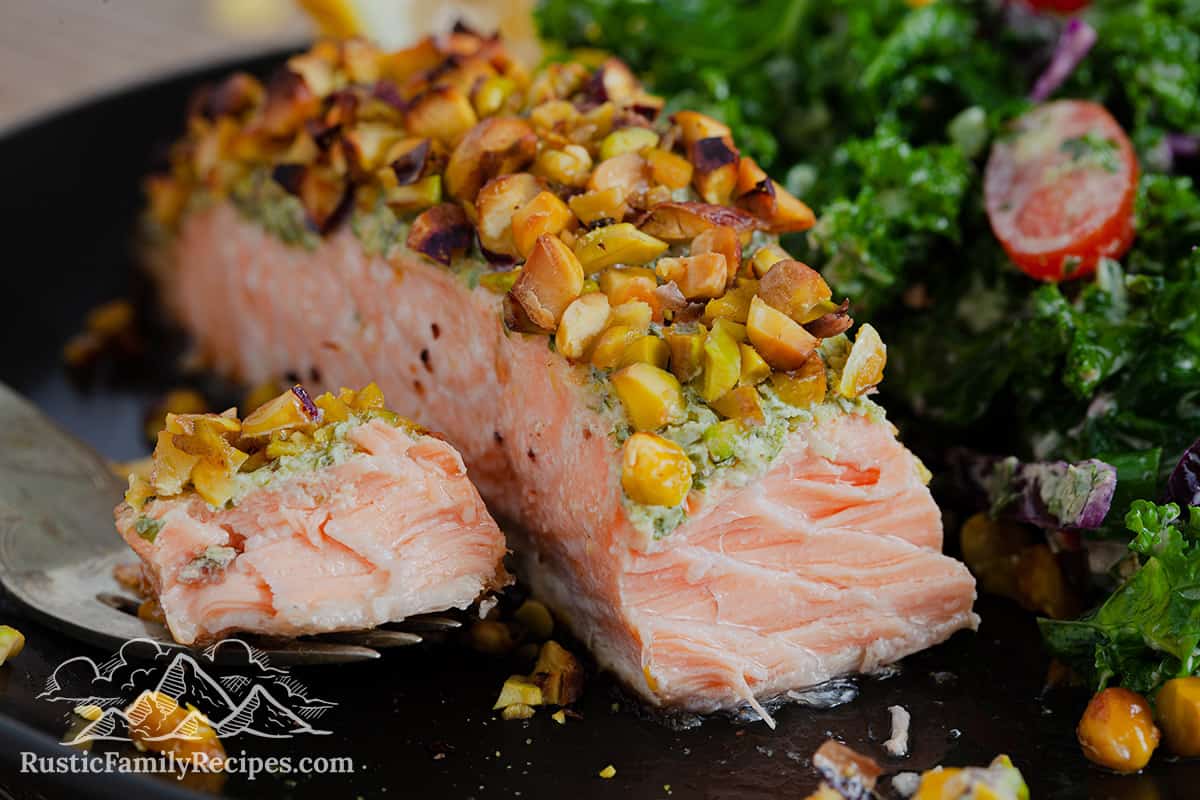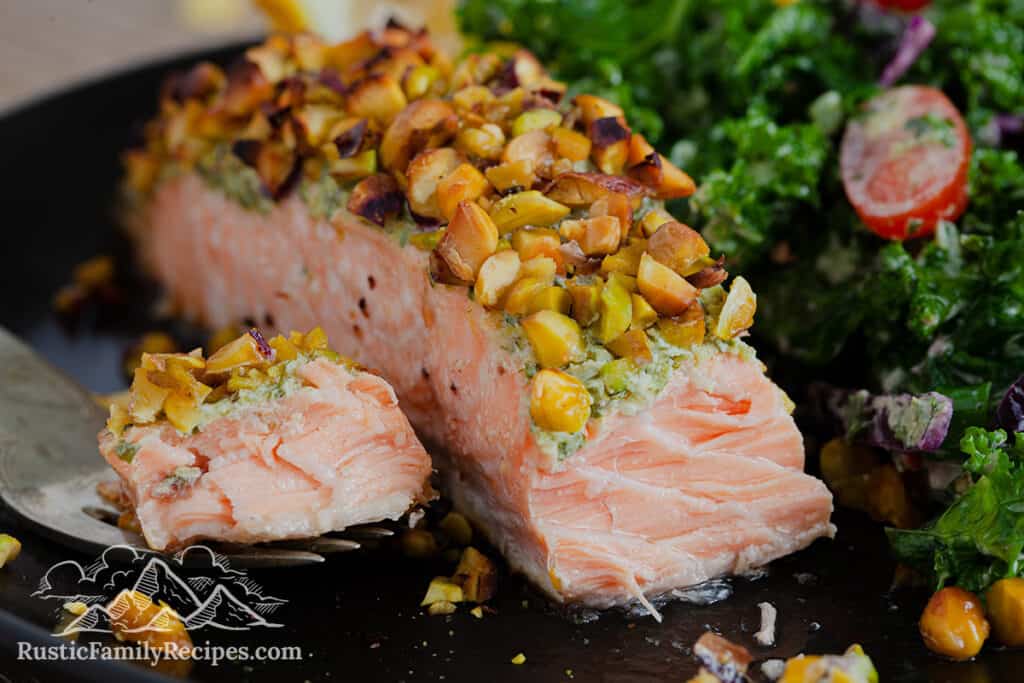 Ways to Use Zhoug
One of the best things about skhug sauce is all the tasty ways you can use it! Here are some ideas:
Eggs. Drizzle in on top of scrambled eggs, fried eggs or even onto your avocado toast.
Meats. Add a spoonful of zhoug sauce over grilled chicken or beef to infuse it with a burst of flavor and heat. Or, add a dollop on the side with your coulotte steak or Instant Pot pot roast.
Mix into marinades. Incorporate zhoug sauce into marinades for chicken, fish, or tofu. Let the ingredients marinate for a while to allow the flavors to penetrate the protein before cooking.
Serve with falafel. Zhoug sauce is a fantastic accompaniment to falafel, enhancing its taste and providing a zesty contrast. You can spread it on pita bread or use it as a dip for the falafel balls.
Add to salads. Use zhoug sauce as a dressing or drizzle it over salads to add a spicy and aromatic element. I love using it to massage kale leaves before making a kale salad with some kick.
Sandwiches or wraps. Elevate your sandwiches or wraps by spreading zhoug sauce on the bread or tortilla. It adds a burst of flavor and heat to cold or grilled sandwiches.
Mix into dips and spreads. Add zhoug sauce into dips and spreads like hummus, yogurt dips, or mayonnaise-based sauces. It will add a distinctive Middle Eastern flair and a ton of flavor.
Roasted vegetables. Drizzle zhoug sauce over roasted vegetables such as cauliflower, carrots, or potatoes to give them a spicy kick. The flavors of the sauce work well with the caramelized and roasted notes of the vegetables.
Tacos. Zhoug is delicious on tacos! Use it the same way you would use salsa on everything from quesabirria tacos and chicken birria tacos to beef tacos and tacos dorados.
How to Store It
Store your zhoug sauce in an airtight container in the fridge where it will last for about 7 days.
If you want to extend its shelf life, you can freeze it in small portions and thaw it as needed. An ice cube tray is perfect for this! Just freeze the sauce in cubes then pop them all into a ziploc bag and store for up to 3 months in the freezer.
More Homemade Condiments to Try
Print
Zhoug Sauce
Zhoug sauce is incredibly easy to make and can be used in so many different ways. Whip up a batch of this spicy condiment and use it on everything from eggs to tacos.
Author: Rustic Family Recipes
Prep Time:

10 minutes

Total Time:

10 minutes

Yield:

8-10 servings

Category:

Condiments

Method:

Food Processor

Cuisine:

Middle Eastern
4

large jalapeño peppers, stems and seeds removed, sliced in half

6

cloves garlic

1 cup

coarsely chopped fresh parsley

1 cup

coarsely chopped fresh cilantro

1 tablespoon

lemon juice

1 teaspoon

kosher salt

1 teaspoon

ground cumin

1/2 teaspoon

ground coriander

1/2 teaspoon

ground cardamom

1/2 teaspoon

red pepper flakes

1/2 cup

olive oil
Instructions
Place everything except the olive oil in the bowl of a food processor. Pulse until everything is chopped and starting to come together.
With the food processor running, pour the olive oil in through the top of the lid. (Through the opening where you can add liquid while the food processor is running.) Once all the olive oil has been added, turn off the food processor.
Scrape down the sides and pulse a few more times until a thick sauce is formed.
Taste and adjust seasonings if needed. You can add more salt if you want it saltier, more red pepper flakes if you want it spicer. Add these adjustments 1/4 tsp at a time, mixing between additions, until you achieve your desired flavor.
Last Step:
Please
share a rating and comment
if you enjoyed this recipe! Your feedback helps this little blog thrive and continue providing free, high-quality recipes for you.
Keywords: zhoug sauce, skhug sauce, zhoug recipe, skhug recipe
Filed Under:
This post may contain affiliate links. Please read our disclosure policy.