This post may contain affiliate links. Please read our disclosure policy.
This easy Walking Tacos recipe is perfect for parties, cookouts, and even camping trips. Made with your favorite kind of chips and taco meat, plus your fixings of choice! Everyone loves this easy-to-customize dinner idea.
I still remember the first time I told Nana about a walking taco. "¿Que que?" she said, confused. "I don't understand mija. You make a taco, you pick it up with your hands, and you can walk while you eat it. That is a taco." When I explained to her that a walking taco was a bag of chips with taco meat and fixings, she all but crossed herself and called it sacrilege. To her, all tacos were walking tacos. After all, this is the lady I ate quesabirrias with while shopping at market stalls in Tijuana.
I'm not going to tell you that Nana came around to the idea of a walking taco. BUT, that doesn't make them any less tasty. Perhaps it borders on anarchy when it comes to traditional tacos, but this easy recipe is a no-fuss meal that's fun to make and eat. We usually make walking tacos on scout camping trips because the kids can customize their meals with whatever they want. They're also great for tailgate and game day parties for the same reason.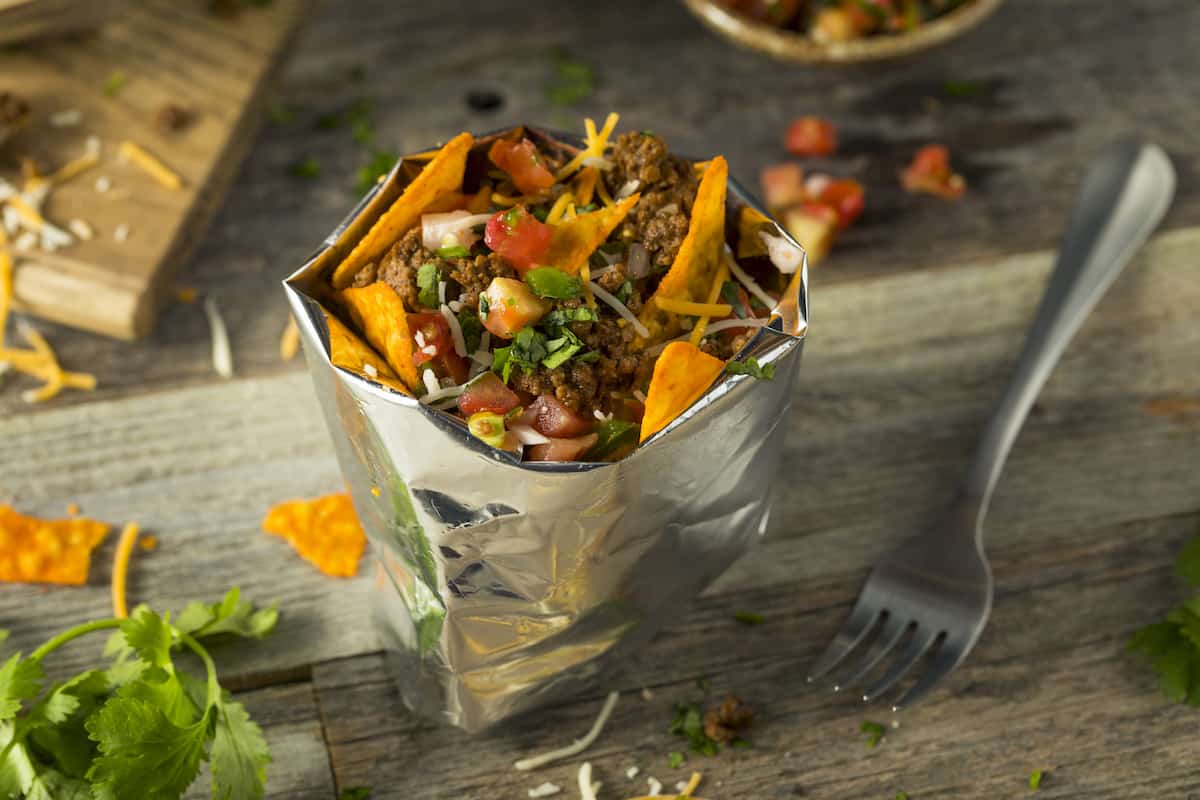 What Are Walking Tacos?
A walking taco is essentially a bag filled with chips, taco meat, and taco fixings. It is called a walking taco because you don't need to use a plate, you just hold your chip bag, grab a fork and then walk around while you eat it.
You can use any kind of taco meat as well as any kind of chip. You can also go to town with whatever fixings rock your world. Truly this recipe is a "make it your own" kind of meal.
Recipe Ingredients
When making these for a get-together, I will usually put out a spread of various kinds of taco meat, chips and taco toppings for people to choose from. In the recipe card below I have pulled out one specific combination, but below are ideas that you can easily swap out without any fuss.
The main ingredients:
Chips – This is an essential part of the walking taco experience. I personally like to use Fritos and Doritos. During our last camping trip one of the scouts decided to use Cheetos, which made absolutely no sense to me but he loved it so that worked! Use whatever makes you happy.
Taco Meat – There are many options here. I like to use gordita crunch taco meat or a simple ground beef taco meat. You can also use instant pot pork carnitas or leftover birria meat. For a vegetarian twist, I have used the scrambled tofu from my tofu breakfast tacos recipe.
Add toppings:
This is where the walking taco experience really shines because all you need to do is lay out a bunch of fixings and then everyone can DIY. Here are my favorite offerings:
Shredded Lettuce – Any kind of lettuce works, just make sure it is shredded into small pieces so that it is easy to mix up with the chips and taco meat.
Diced Tomatoes – Cut them into small pieces.
Cheese – Any kind of cheese works. My favorites are the Mexican cheese blend from Sargento, shredded Oaxaca cheese and crumbled Cotija cheese.
Guacamole – You can use storebought or my chunky homemade guacamole.
Pico de Gallo Salsa – This is a classic salsa that is a must if you ask me. You can use storebought or homemade pico de gallo salsa.
Salsa Macha – Also called "black magic oil," this spicy sauce will add a kick to your walking tacos!
Spicy Ranch Taco Sauce – I made this for my gordita crunch tacos, but it's also super tasty with walking tacos.
Sour Cream – If you want to make it easier to use, add a splash of milk and mix well so that you can drizzle the sour cream.
Fresh herbs – Chopped fresh cilantro is great sprinkled on top.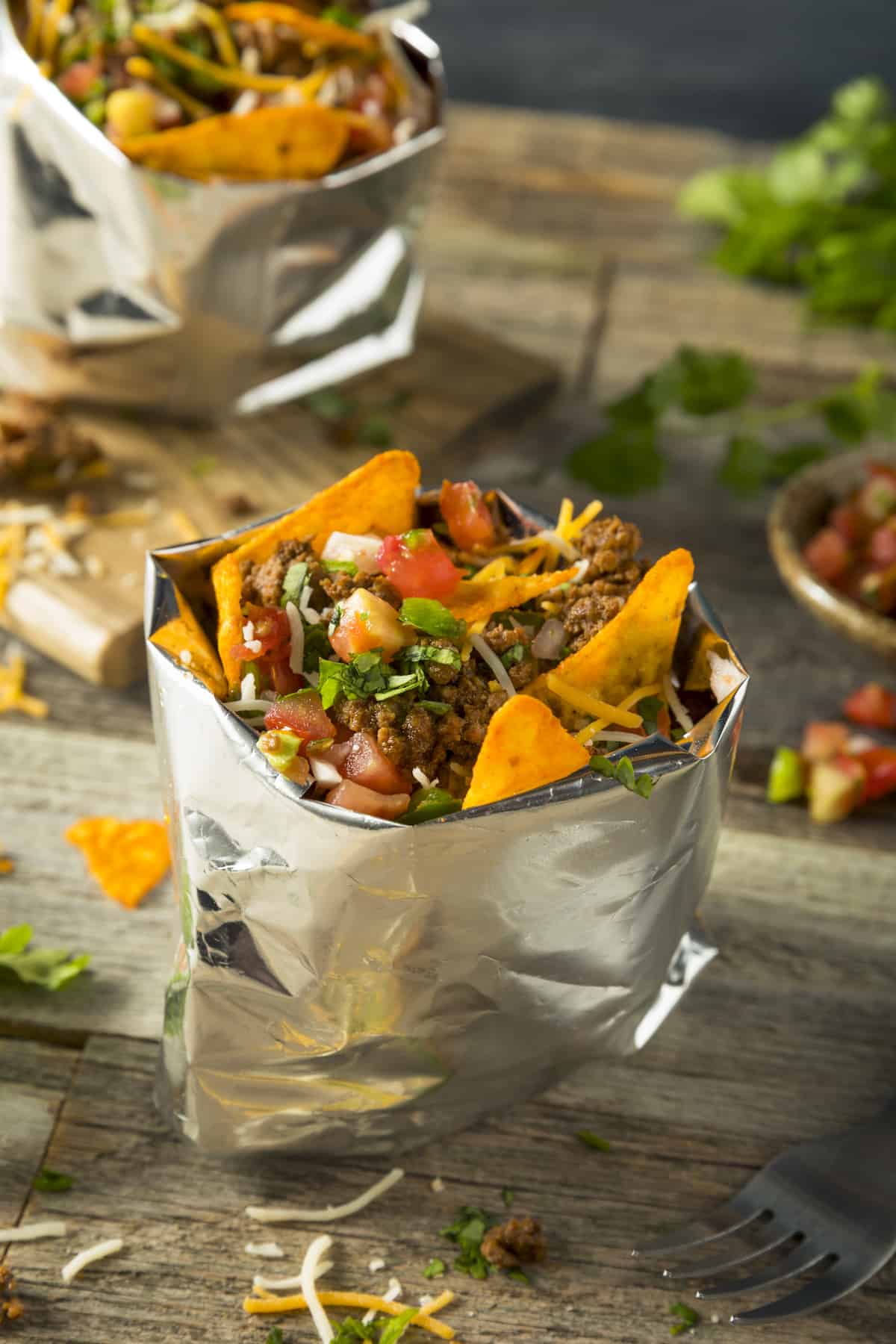 How to Make Walking Tacos
It is so easy to make walking tacos! Here's how to do it:
Make your taco meat of choice. You can do this the day before, or the day of, depending on your timing. See earlier in this post for some options.
Grab a bunch of chip bags. Choose whatever varieties you like best. I prefer Fritos or Doritos.
Assemble the base layer. Make a little well in the center of chip bag, then spoon in as much taco meat as you want.
Add fixings. Layer your preferred fixings on top.
Dig in. Grab a fork and dig in! And feel free to walk around while you do it.
Tips for Success
It doesn't get much easier than this recipe, but I do have a few tips:
Make your taco meat in advance. Especially if you are going to offer people a few options, I recommend making the taco meat the day before.
Same for the fixings. If you are going to make any of the homemade condiments mentioned above, I also recommend making them in advance. The one exception is the guacamole which should be made right before you set it out.
Leftovers. Once assembled, a walking taco needs to be eaten. You can't really store extras for later. But you can store extra taco meat and condiments for later use. In each of the recipes linked above, there are instructions at the bottom of the post telling you how to store extras for later.
Have fun friends!
Print
Walking Tacos
This easy Walking Taco recipe is perfect for parties, cookouts, and even camping trips. Made with your favorite kind of chips and taco meat, plus your fixings of choice!
Author: Rustic Family Recipes
Prep Time:

10 minutes

Cook Time:

20 minutes

Total Time:

30 minutes

Yield:

6-8 servings

Category:

Dinner

Method:

Stovetop

Cuisine:

American
For the Taco Meat
2 tablespoons

olive oil

1

lb ground beef

1

yellow onion, finely chopped

1 teaspoon

paprika

1 teaspoon

chili powder

2 teaspoons

cumin

1 teaspoon

garlic powder

1/8 teaspoon

cayenne pepper

1/2 teaspoon

dried oregano

1 teaspoon

sea salt

1/2 cup

water
To assemble the walking tacos:
Instructions
Make the Taco Meat
Cook onions and beef. In a large skillet or frying pan, heat 2 tablespoons of oil and add the onion and ground beef. Brown the hamburger and onions for about 6-7 minutes or until cooked through.
Add spices and finish taco meat. Add the paprika, chili powder, cumin, garlic powder, cayenne, oregano, sea salt and water. Stir to combine and reduce the heat to a simmer. Cook for an additional 5 minutes or until the liquid starts to thicken. Keep on very low heat to keep warm while you prepare your fixings.
Assemble the Walking Tacos
Grab a bag of chips. Make a well in the center.
Add the meat. Scoop your preferred amount of taco meat into the center of the chip bag.
Top with fixings. Add your fixings of choice. I recommend shredded Mexican blend cheese, shredded lettuce and diced tomatoes at a minimum. You can also add guacamole, sour cream, pico de gallo salsa, salsa macha or whatever else your heart desires. 🙂
Last Step:
Please
share a rating and comment
if you enjoyed this recipe! Your feedback helps this little blog thrive and continue providing free, high-quality recipes for you.
Keywords: walking tacos, tailgate recipe, game day recipe
Filed Under: