About Me: I have more than 20 years of cooking experience & share my favorite recipes on this blog.
Have a question? Please post a comment, I'm happy to help. 🙂
This vegetarian chorizo recipe has all the spicy flavors of authentic chorizo but is accessible for vegetarians in your family. It comes together in minutes and just needs to "age" for 2 days before you cook it up.
I have a few recipes coming up that will use chorizo as a main component, so I thought it'd be a good time to share my favorite way to make vegetarian chorizo at home. This homemade version has all the flavor you would expect from traditional chorizo and can be used in all sorts of delicious Mexican recipes.
If you are a meat eater, you won't need to use this recipe because you can simply buy pre-made chorizo at the market. But I've found that a really good vegetarian chorizo is almost impossible to find at the store. That's where this recipe comes in!
What is Chorizo?
Mexican chorizo is a kind of sausage usually made from pork, or from a combination of pork and ground beef. It is highly seasoned with chili and spices like paprika, oregano, cumin, and cinnamon. Garlic and cloves are also commonly used in chorizo. This vegetarian version has all the authentic seasonings but replaces the pork/beef with a vegetarian ground beef substitute.
Tips for Success
Is this recipe vegan? This recipe is not vegan because it uses eggs as a binder. If you want to make it vegan, I recommend using a chia egg. For each egg substitute, combine 1 tablespoon of chia seeds with 2.5 tablespoons of water. Let the mixture sit for 5 minutes so that the chia seeds have a chance to absorb the liquid, then use just like you would an egg.

There are 2 eggs in this recipe so you'll need 2 tablespoons of chia and 5 tablespoons of water total.

Do I have to use fresh spices? I recommend using a mortar and pestle to grind the spices. Technically you could use pre-ground spices, but you will get more intense flavor if you take a few minutes to grind things up yourself as directed in the recipe below.
Give the chorizo time to develop flavor. This chorizo needs to "age" for 2 days in the fridge before you cook it up. Can you skip this step? Yes, but you won't get the same flavor. I recommend sticking with the 2 days!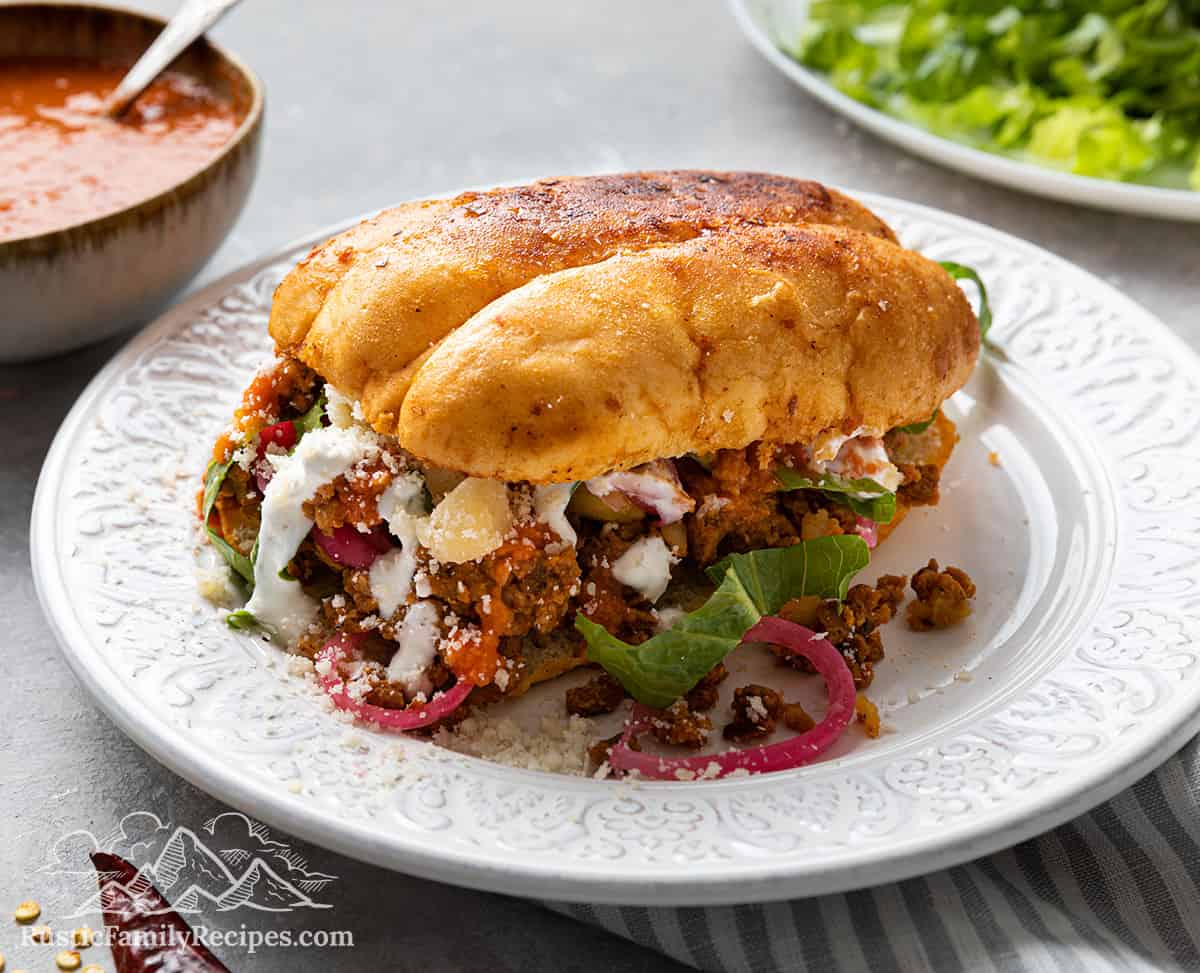 Ways to Use Chorizo
There are so many ways to eat chorizo that I won't be able to list them all, but here are my favorites! This is also a preview of those upcoming recipes I mentioned
Breakfast Tacos – I love cooking up chorizo and serving it with scrambled eggs in breakfast tacos. Filling and flavorful!
Pambazos – These are Mexican sandwiches similar to tortas ahogadas. Pambazos are made with telera bread and chorizo that's been cooked up with potatoes. So good!
Mexican Pizza – This is similar to my birria pizza recipe, which is made with leftover meat from quesabirria tacos. In this version, chorizo is added to a homemade pizza crust along with Mexican cheese, black beans, jalapenos, and pickled red onions.
Burritos – A classic way to serve chorizo, especially if you add scrambled eggs or breakfast potatoes to the mix.
Queso – I love adding chorizo to queso dip. It's the perfect party appetizer, all you need to add are tortilla chips.
Huaraches – Sprinkle cooked chorizo onto huaraches instead (or in addition to) taco meat.
How to Store and Reheat Leftovers
Once your chorizo has been cooked let it cool, then store it in an airtight container in the fridge for up to 2 days. I recommend reheating it in a small skillet with a bit of olive oil.
Print
Vegetarian Chorizo
This vegetarian chorizo recipe has all the flavor you would expect from traditional chorizo and can be used in all sorts of delicious Mexican recipes.
Author: Rustic Family Recipes
Prep Time:

5 minutes

Aging Time:

48 hours

Cook Time:

5 minutes

Total Time:

48 hours 10 minutes

Yield:

4-5 servings

Category:

Breakfast

Method:

Stovetop

Cuisine:

Mexican
4

garlic cloves

1 teaspoon

cumin seeds

1 teaspoon

black peppercorns

1/4 cup

balsamic vinegar

3 tablespoons

chili powder

1 teaspoon

dried oregano

1/2 teaspoon

smoked paprika

12 ounces

Yves Veggie Ground Meat (found at Whole Foods and most health food stores, or other vegetarian ground meat substitute.)

1 tablespoon

+

1/2 tablespoon

olive oil, divided use

2

large eggs
Instructions
Make the chorizo mixture. Put the garlic, cumin and peppercorns into the mortar. Mash to a paste with the pestle. Transfer the paste to a separate bowl, drizzle in the vinegar. Add the chili powder, oregano, paprika, and veggie meat, and mix well.
Let it age. Cover the bowl with plastic wrap and let sit in the refrigerator for 48 hours.
Cook the chorizo. After the chorizo has aged, mix 2 large eggs into the chorizo. Heat 1/2 tablespoon of olive oil in a medium skillet over medium heat and cook the chorizo, stirring constantly, until it looks like ground beef, about 5 minutes.
Serve. You can serve the chorizo with scrambled eggs on the side, or combine the two into a breakfast burrito.
Notes
Note: To make this chorizo recipe vegan, substitute the eggs with 2 tablespoons of chia seeds and 5 tablespoons of water. Combine them in a bowl and let the mixture sit for 5 minutes so that the chia seeds can absorb the liquid, then use just like you would use eggs.
Last Step:
Please
share a rating and comment
if you enjoyed this recipe! Your feedback helps this little blog thrive and continue providing free, high-quality recipes for you.
Keywords: chorizo recipe, what is chorizo, plant based chorizo, how to cook chorizo
Filed Under: