This post may contain affiliate links. Please read our disclosure policy.
Pudding, but make it fancy! Vanilla Budino with Strawberry Sauce is a fresh take on a classic Italian dessert. This budino recipe is gorgeous and creamy, delightfully wobbly and topped with juicy strawberries.
Whenever I feel like making something simple yet impressive for dessert, I find myself gravitating to this creamy vanilla budino. Since strawberries are in season, I thought it only fitting to give this wiggly, pudding-like dessert the Royal treatment with a drizzle of homemade strawberry sauce.
Budino is what you call a pantry dessert: a treat that you can make using common pantry items, often without a trip to the shop. The end result is fancy enough for special occasions like parties, and low effort enough to whip up whenever you feel like it.
What is Budino?
Fair question. Traditional budino is an Italian dessert that's a bit like a custard (the word "budino" is actually Italian for custard or pudding). The texture is rich and creamy thanks to ingredients like milk and egg yolks, sometimes thickened with cornstarch – a bit like flan.
Budino can be prepared in a mold, or in jars as a single portion dessert. I make my homemade budino in molds with gelatin, for the perfect wobble!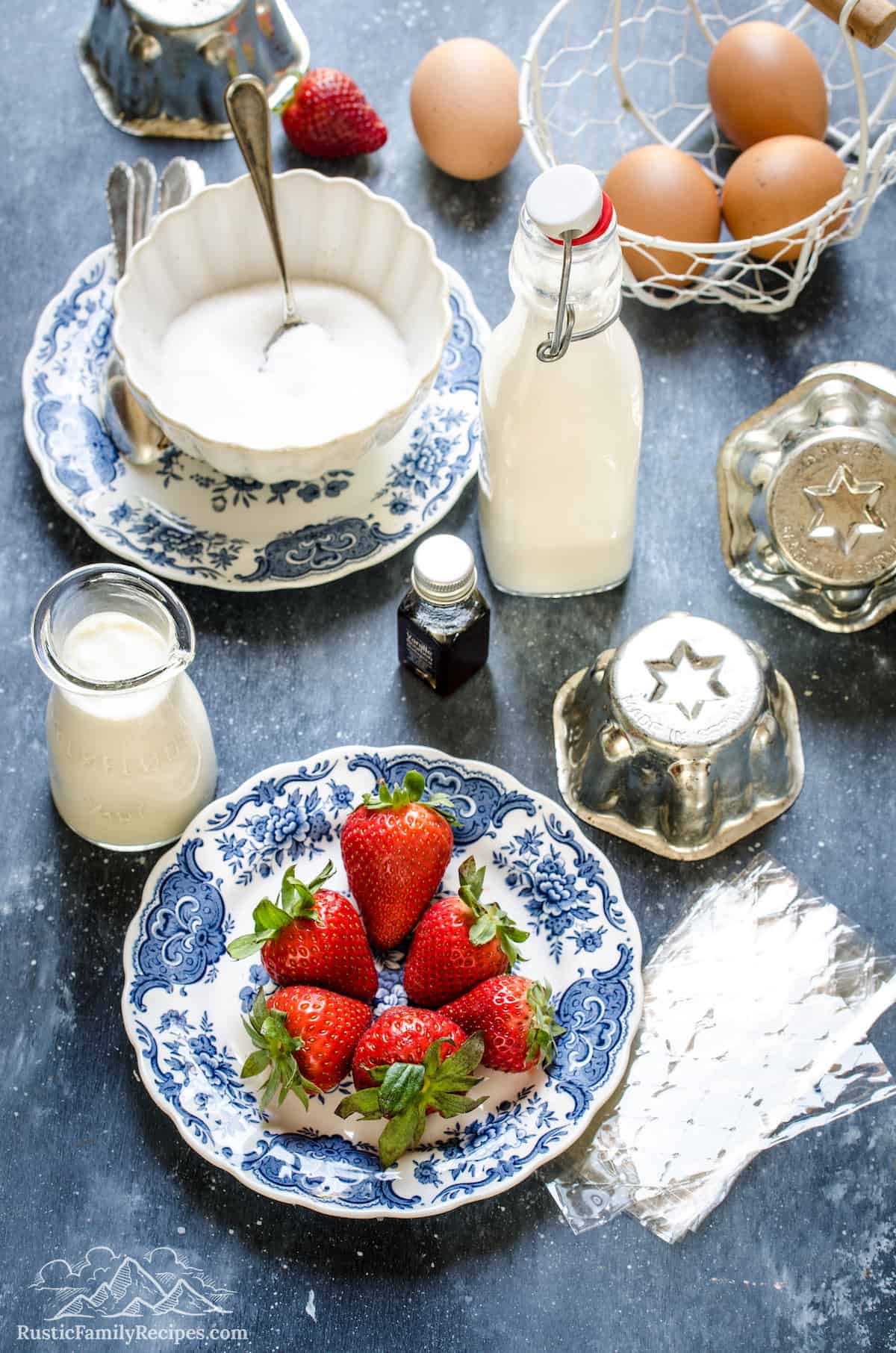 Key Ingredients
Here is what you'll need for the pudding as well as the strawberry sauce. Remember to check the recipe card later in the post for the full amounts.
For the Budino
Whole Milk – I use whole milk, but 2% milk will also work.
Sugar – Regular granulated white sugar is best, and won't discolor the white pudding.
Heavy Cream – This gives your budino an unbeatable richness and creaminess.
Vanilla Extract – Nothing beats pure vanilla extract in this recipe, for its lovely natural flavor.
Egg Yolks – Egg yolks give the pudding a custard-like texture.
Gelatin – Gelatin comes in sheets or powder, both will work.
For the Strawberry Sauce
Strawberries – Fresh, ripe strawberries are best. However, you can use frozen strawberries if fresh ones are not in season.
Sugar
Lemon Juice – Use freshly squeezed lemon if you can.
What Is Gelatin and What Does It Do?
Gelatin is a tasteless, clear collagen protein that's used as a thickener and gelling agent in food like jellies and gummy candies. The powder that you combine with hot water when making classic boxed Jell-O? Yep, gelatin powder. It's also used in recipes like panna cotta and marshmallows to give them their signature jiggle.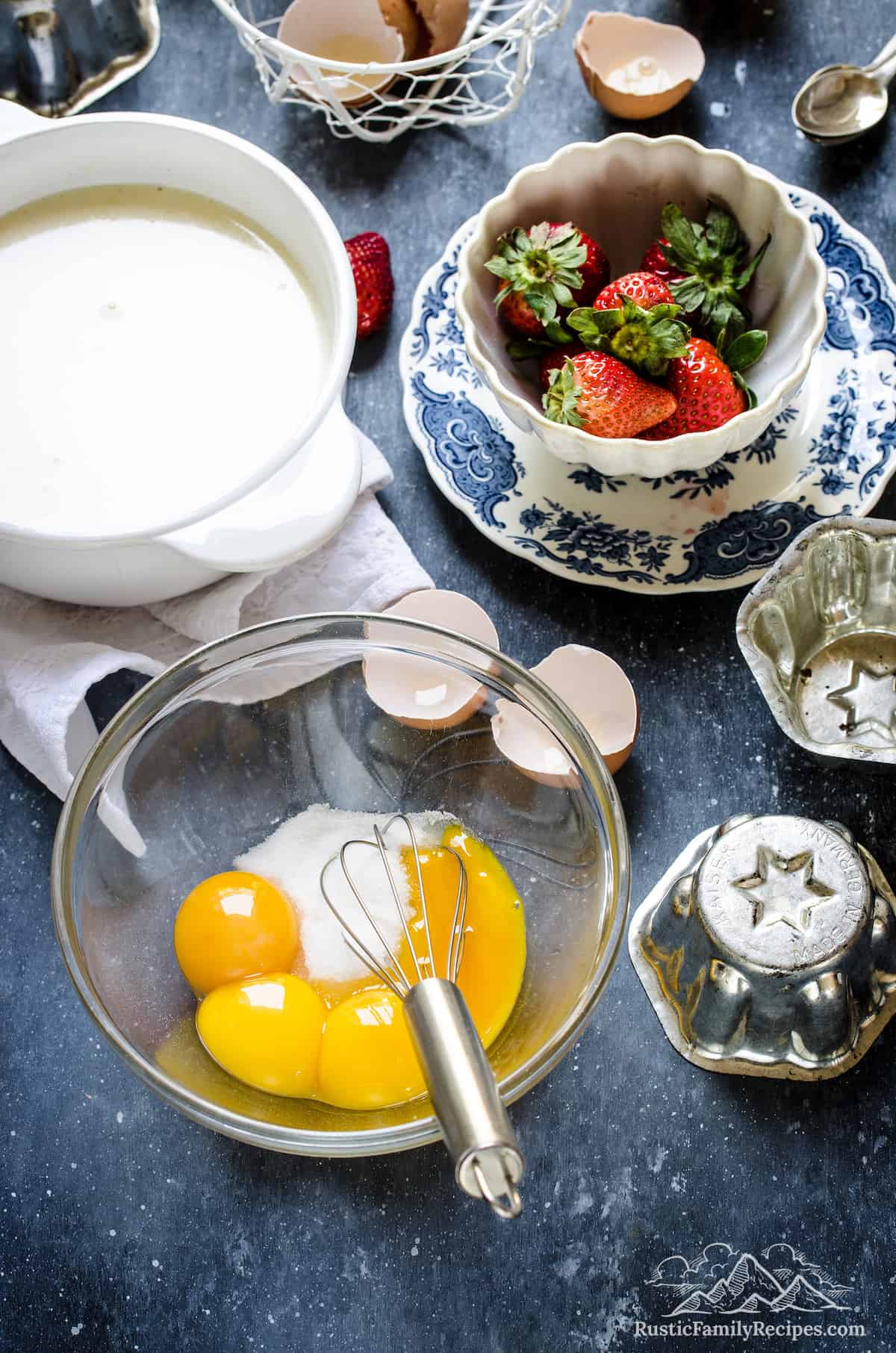 How to Make the Vanilla Budino
Making these beautiful, custardy vanilla budinos (budini?) is easier than you'd think. If you've never worked with gelatin before, no need to worry. Let's walk through how to make your homemade pudding:
Prepare the gelatin. First, you'll need to get your gelatin ready by combining it with cold water. If you're using gelatin sheets, soak them in a bowl of cold water for about 15 minutes. If you're using gelatin powder, whisk the powder into a small bowl of cold water. Let it "bloom" for 5 minutes, then stand the bowl in a hot (not boiling!) water bath and continue to whisk until the powder is dissolved.
Prepare the cream. Set aside the gelatin while you combine the cream ingredients in a saucepan. Add in the vanilla, then bring the cream to a simmer.
Add the gelatin to the cream. Take the saucepan off the heat before you add the gelatin. If you're using gelatin sheets, lift them out of the water and stir them into the cream until they're fully dissolved. If you've used powder, let the cream cool to about the same temperature as your gelatin mixture before combining the two (this is what avoids clumping!).
Add the rest of the ingredients. In a separate bowl, whisk together the sugar and egg yolks. Stir this into the cream mixture, and then it's time to shape your budino!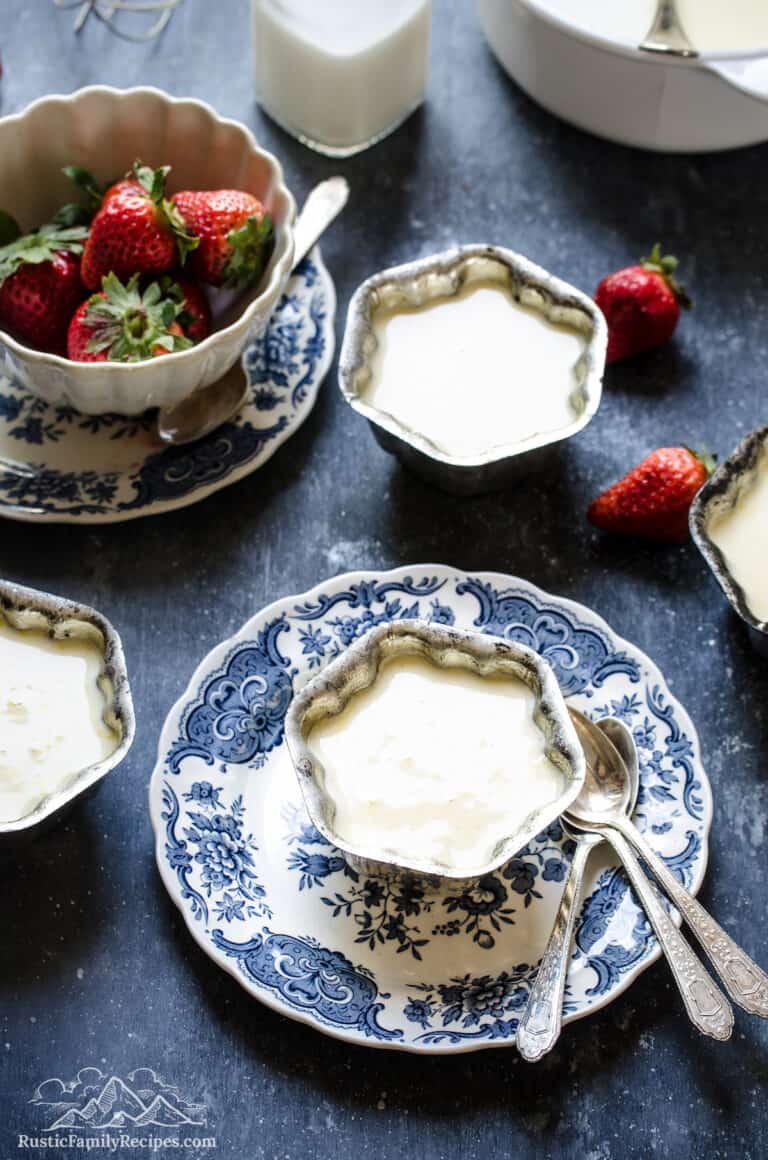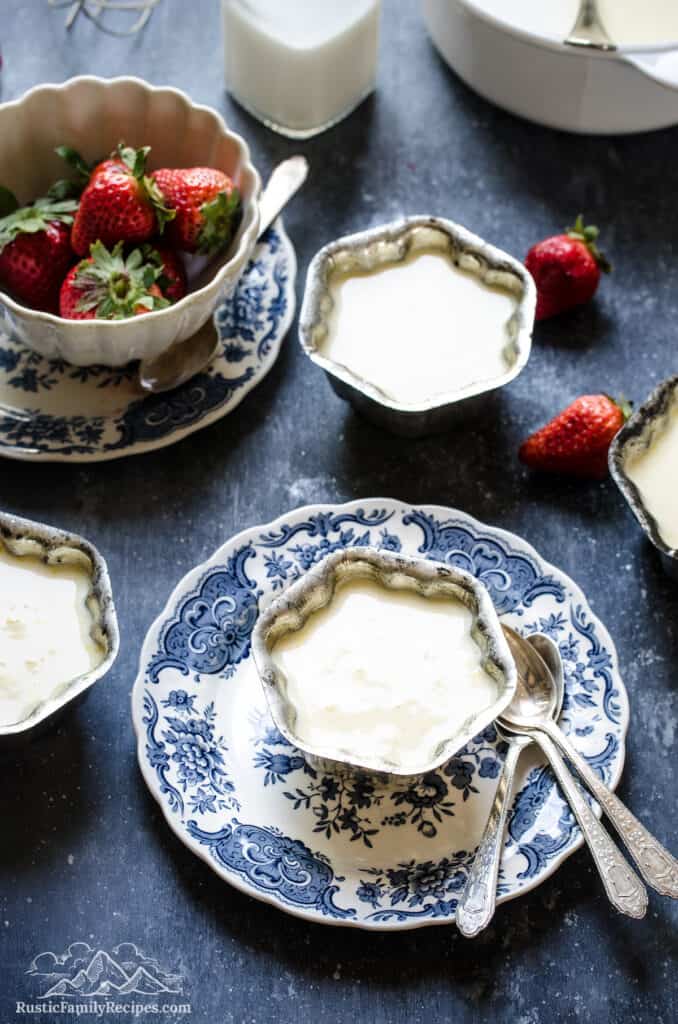 Shaping Your Budino
Now comes the even easier part. Pour your budino mixture into single portion molds. I use a mini bundt cake mold that I've had for ages to shape my budino, but you can find similar molds online (here's another option). (Affiliate links.)
Once your pudding is in the molds, place it in the fridge. The budino needs to chill for at least 4 hours before serving. For this reason, this recipe is a great dessert to make a day ahead so that it can chill overnight, too.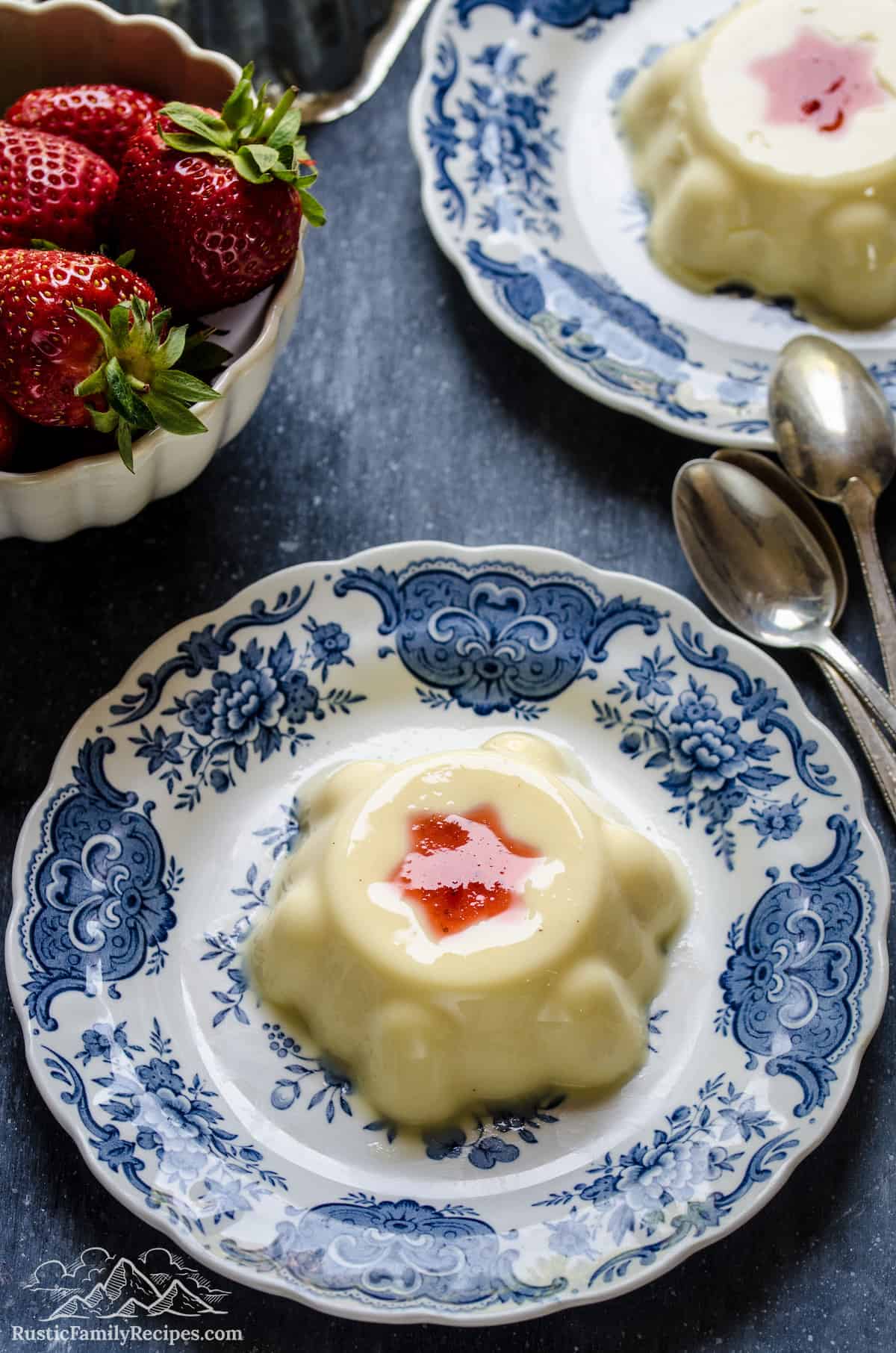 Making the Strawberry Sauce
While your pudding is setting up in the fridge, go ahead and prepare the strawberry sauce. I make mine by hulling and cubing the strawberries before placing them in a pan with sugar and lemon juice. Cook the berries until they reduce down to a pulp.
When it comes time to serve your budinos, invert the molds onto a plate and then garnish the pudding with strawberry sauce and fresh chopped berries. See the section below for more serving suggestions.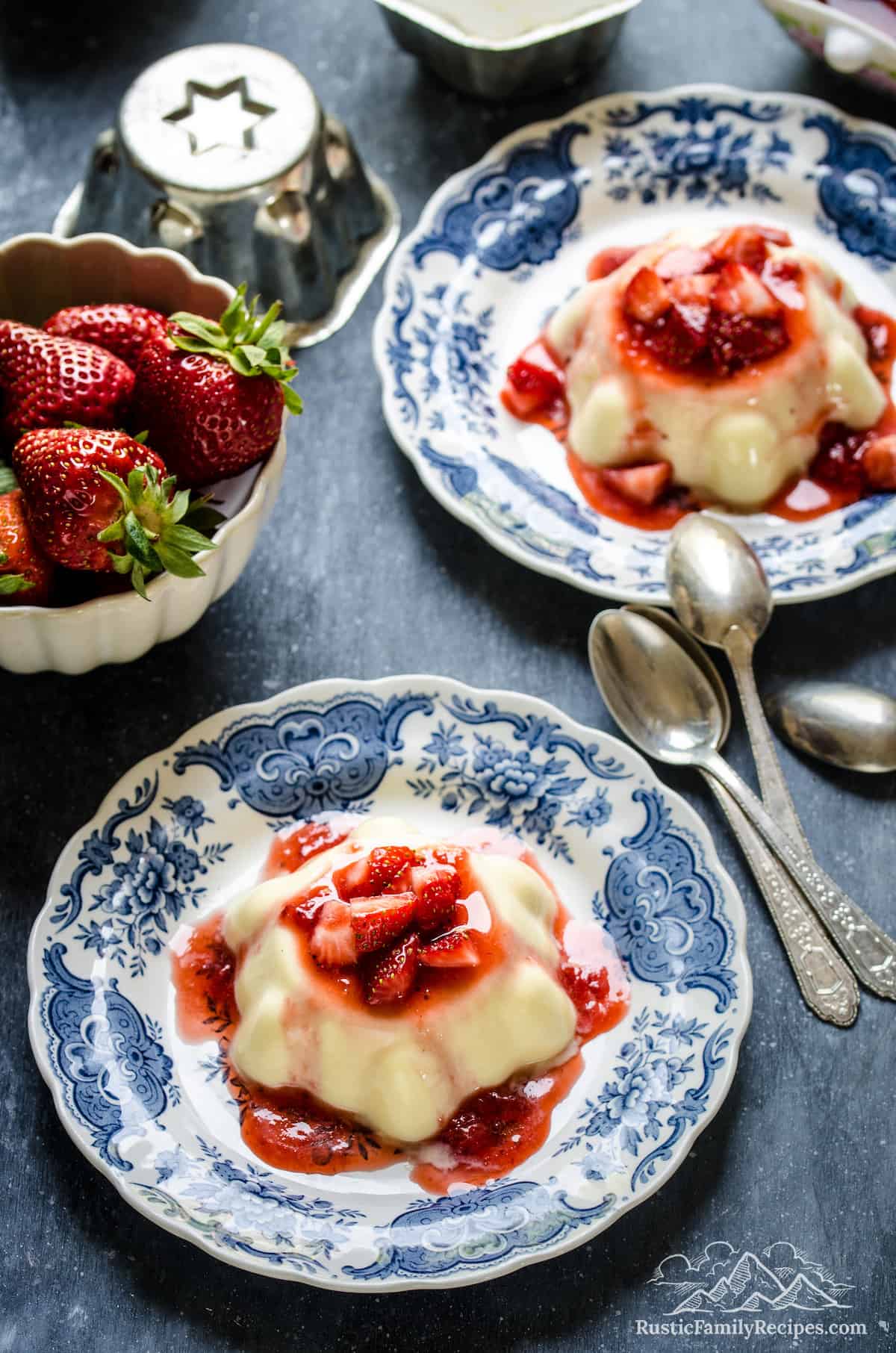 Tips for Success
Don't boil the gelatin. When preparing the gelatin powder (if that's the kind you're using), be careful to not overheat the warm water bath. Boiled gelatin will become stringy, so warm it just enough so that it will dissolve smoothly in the warm cream.
Give the budino enough time to chill. I repeat: this vanilla budino needs to chill in the fridge for a minimum of 4 hours before serving. No shortcuts! If you know you'll be pressed for time, rather plan to make your budino 1-2 days ahead.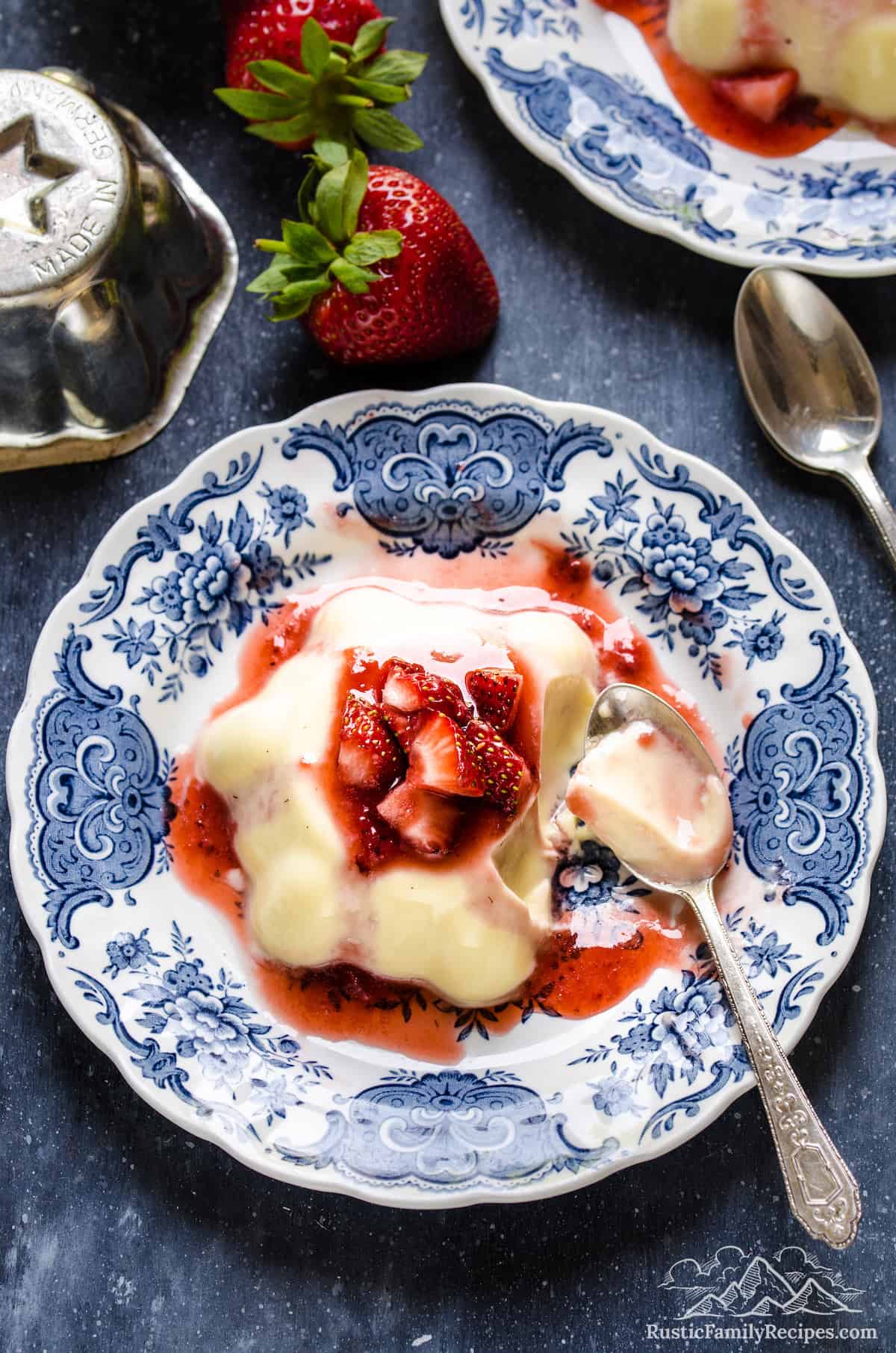 Serving Suggestions
No matter the season or occasion, there's always the option to customize this Italian pudding. Top your vanilla budino with any of the following:
Whipped cream – Either store bought or homemade.
Blueberry sauce – In place of strawberry sauce, if you prefer.
Fresh fruit – You can use any kind of berry or even fresh mango and peach.
Caramel sauce or chocolate fudge sauce
Nuts – Toasted and chopped pecans, almonds or pistachios. You can see how to toast pistachios in my Spumoni Ice cream recipe.
How to Store Budino
Vanilla budino will keep fresh in the fridge for up to 4 days. Be sure to store the pudding covered tightly in plastic wrap or in an airtight container.
Vanilla Budino with Strawberry Sauce
Vanilla budino with homemade strawberry sauce is a fresh take on a classic Italian pudding dessert. Gorgeous and creamy, delightfully wobbly and topped with juicy strawberries!
Ingredients
For the Budino
cold water

,

measurements in recipe below

1 ½

cups

whole milk

¾

cup

+ 1 tablespoon heavy cream

2

teaspoons

vanilla extract

4

gelatin sheets

,

or 2 teaspoons powdered gelatin

½

cup

granulated sugar

4

egg yolks
For the Strawberry Sauce
1 ½

cups

fresh strawberries

2

tablespoons

sugar

Juice of half a lemon
Instructions
Prepare the cream. Add the milk, cream, and vanilla into a saucepan. Stir to combine and bring to a simmer, then remove from the heat and allow to cool for 5-10 minutes.
Prepare the Gelatin
The gelatin needs to be prepped by combining it with cold water before you begin making the budino.

For gelatin sheets: Soak sheets of gelatin in a bowl with 4 cups cold water for 15 minutes.

For gelatin powder: Place 1⁄4 cup cold water in a small bowl and sprinkle with gelatin whisking with a fork. Set aside for 5 minutes.
Add Gelatin to the Cream
If you used gelatin sheets: Take the gelatin out of the cold water and squeeze out the excess, then add to the cream mixture. Stir until completely dissolved.

If you used gelatin powder : Add the gelatin to the slightly cooled cream mixture and whisk together until all of the lumps are dissolved.
Finish Making the Budino
Add the rest of ingredients. Add sugar and egg yolks into a bowl and mix well with a whisk. Pour about 1 cup of the warm cream into the egg mixture and whisk together to temper the eggs. Continue to add the cream a little at a time and mix following each addition, until all the cream has been added.

Prepare the molds. Skim any bubbles off the top of the pudding mixture. Pour the mixture into a single portion pudding molds, and let it cool in the refrigerator for at least 4 hours before serving. Overnight is better.

Prepare the strawberry sauce. Cut 1 cup strawberries into cubes, put in a pan with 2 tbsp sugar and the lemon juice and cook for 10 minutes or until strawberries reduce to pulp.

Serve. Garnish your pudding with a tbsp strawberry sauce and fresh strawberries cut into small pieces.
Last Step:
Please
share a rating and comment
if you enjoyed this recipe! Your feedback helps this little blog thrive and continue providing free, high-quality recipes for you.
Notes
Vanilla budino can be stored in the refrigerator for 3-4 days at most, well covered with plastic wrap, or in an airtight container.
Nutrition
Serving:
1
budino
|
Calories:
276
kcal
|
Carbohydrates:
28
g
|
Protein:
6
g
|
Fat:
16
g
|
Saturated Fat:
9
g
|
Polyunsaturated Fat:
1
g
|
Monounsaturated Fat:
5
g
|
Cholesterol:
171
mg
|
Sodium:
40
mg
|
Potassium:
191
mg
|
Fiber:
1
g
|
Sugar:
26
g
|
Vitamin A:
714
IU
|
Vitamin C:
21
mg
|
Calcium:
117
mg
|
Iron:
1
mg
Nutritional info is an estimate and provided as a courtesy. Values may vary according to the ingredients and tools used. Please use your preferred nutritional calculator for more detailed info.
Did you make this recipe?
💖 I love hearing how my recipes came out for others! If you tried this recipe, please share a comment. 💖
Filed Under: