About Me: I have more than 20 years of cooking experience & share my favorite recipes on this blog.
Have a question? Please post a comment, I'm happy to help. 🙂
This tortas ahogadas recipe = ultimate Mexican sandwich bliss. Crusty bolillo bread rolls are stuffed with pork carnitas, then smothered in a red chili sauce. Top with guacamole, pickled red onions, and cotija cheese, then finish it all off with a squeeze of fresh lime juice.
When I was a teen growing up near the border, my uncle owned a Mexican restaurant where I liked to hang out after school. Why hang out at a restaurant? Well for the food of course! My cousins and I could order anything we wanted on the house, which is a pretty sweet deal when you're 14. I always ordered a machaca burrito or a torta ahogada like the one you see here. Add a couple of Jarritos sodas or maybe a cold glass of horchata on the side? Perfection.
I won't tell you how many years ago this was (ahem, a lot), but that restaurant has long since closed. And now, in my rural neck of the Northeast woods, it's impossible to find authentic Mexican food like I remember. So, what's a gal to do but roll up her sleeves and get busy in the kitchen? That's exactly what we're going to do here folks! Get ready to make some tortas ahogadas and meet your new favorite Mexican sandwich.
Watch How To Make It
See how to make the chili sauce and then assemble your tortas ahogadas:
Why You'll Love this Tortas Ahogadas Recipe
Authentic. If you are looking for the kind of flavors you'd get at a good Mexican restaurant, this tortas recipe is exactly what you want to be making.
Flavorful. Between the tender carnitas with perfectly crisp edges, the bread rolls and the salsa, every bite of this sandwich is bursting with flavor. Add even more by topping the torta with your favorite fixings.
Uses leftovers. You can use pork carnitas meat as directed below, or you can use leftover birria meat or even extra pot roast. If you have extra meat sitting in the fridge, then tortas ahogadas are a delicious way to use them up!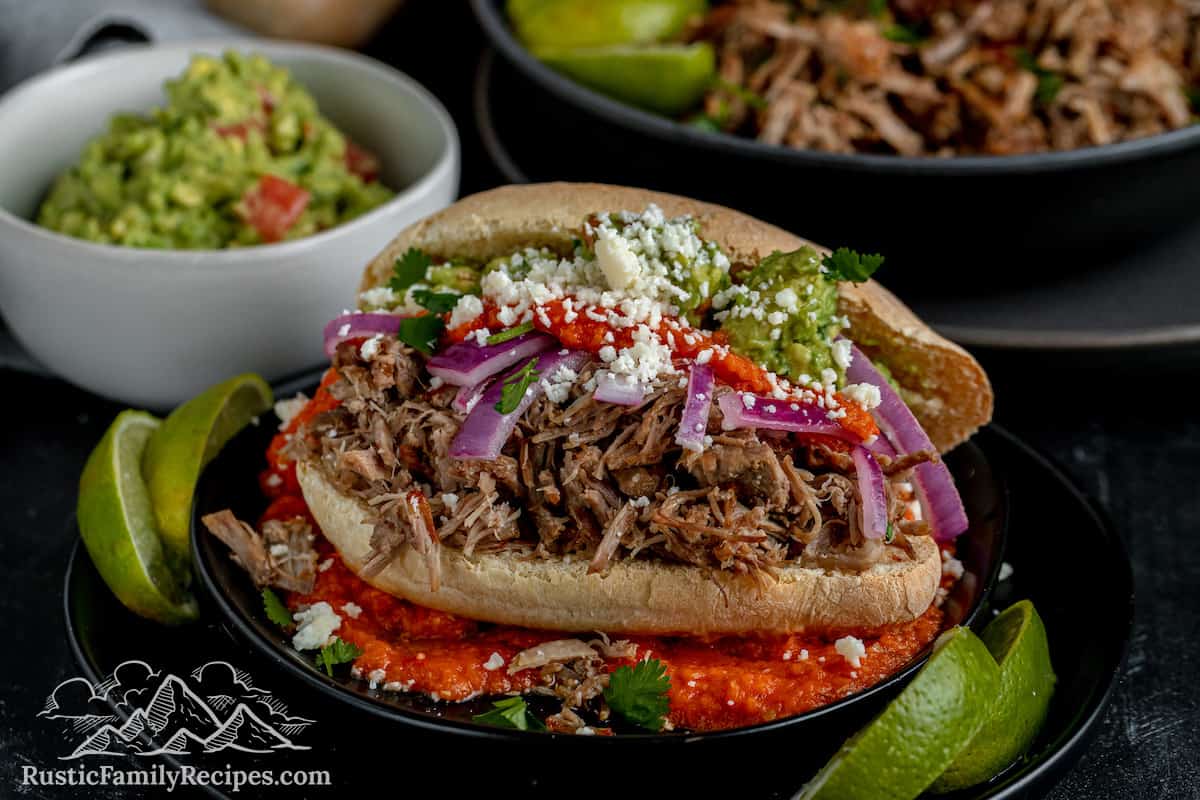 What Are Tortas Ahogadas?
Tortas ahogadas literally means "drowned sandwiches." Essentially, these are tortas (sandwiches) that are smothered in red chili sauce. The sauce can be spicy or mild depending on where you order it from. (My chili sauce below is medium-spicy.) According to legend, this kind of sandwich was created by mistake when a street vendor accidentally dropped a torta into a bowl of salsa.
There are two ways to eat a torta ahogada:
Media ahogada – This means "half drowned" and that is the way I made my tortas here. The sauce is spooned under the sandwich, inside the sandwich, and then you dip the sandwich in the sauce on the plate before taking each bite.
Bien ahogada – This means "well drowned" and here the sandwich is dipped entirely in chili sauce. I usually don't do that because I like to eat my tortas with my hands and it gets a bit too messy for me. I also like to add a lot of filling to my sandwiches, which makes fully submerging the torta difficult. If you want to make your torta bien ahogada, use less filling and then dip the entire sandwich in your chili sauce before plating it.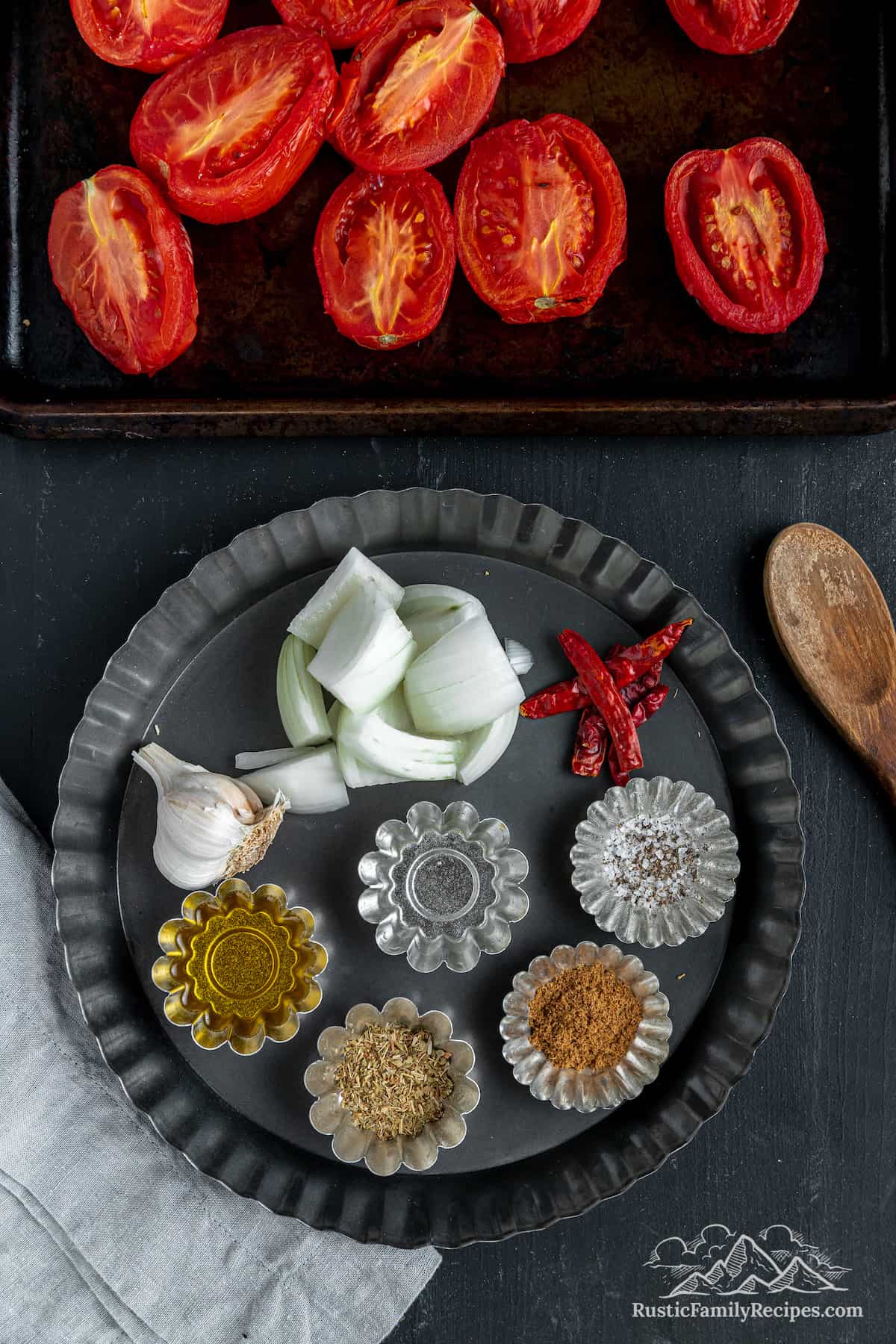 What You'll Need
Here's a quick overview of what you'll need to make tortas ahogadas. Be sure to scroll down to the recipe card for full amounts.
For the Sandwiches
To Make the Chili Sauce
The chili sauce is simple to make. You just rehydrate the chili peppers, roast Roma tomatoes, then blend them with the other sauce ingredients. Simmer the sauce for a bit, then voila! Homemade chili sauce. Here's what's in the sauce:
Roma tomatoes – I recommend using these kinds of tomatoes because they deliver superior flavor when made into a sauce. They also don't have many seeds, which means you don't have to fuss with removing the insides of the tomatoes before roasting them.
Chili de arbol peppers – This is a small, spicy Mexican chili also known as a "bird's beak chile." They are between 15,000 to 30,000 Scoville units on the heat scale, which means they are about as hot as a serrano chili. If you don't want your sauce to be too spicy, use less chilis than what's in the recipe below. You can find these chilis dried in the ethnic aisle of the grocery store, or on Amazon.
Onion and garlic
White vinegar
Dry spices: Cumin, oregano, sea salt and ground black pepper.
Extra virgin olive oil
Toppings
Red onions – Sliced, or pickled red onions
Guacamole – Store bought or homemade guacamole
Cotija cheese – You can also use any other kind of cheese, cotija is just the most authentic.
Lime wedges – For squeezing on your sandwich when you are ready to eat it.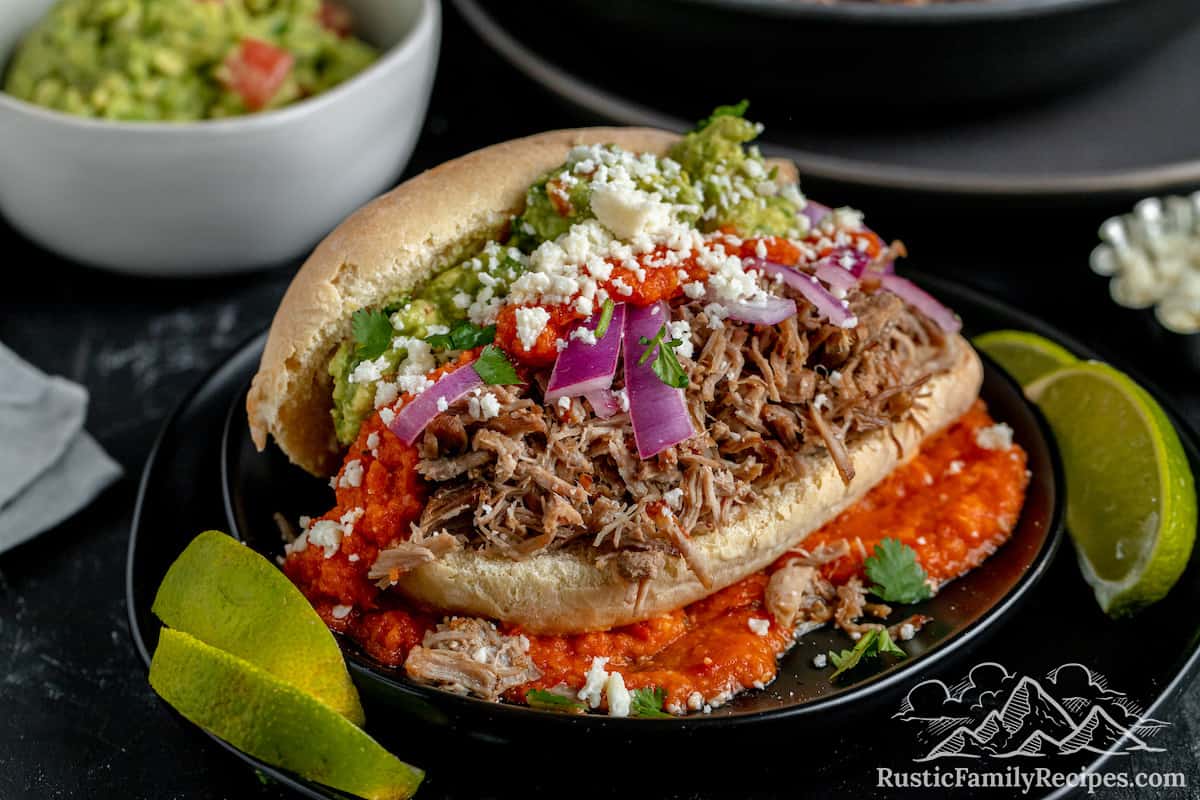 How to Make Tortas Ahogadas
Before you assemble your sandwiches, you'll first need to gather your ingredients and make the chili sauce. You should also gather your fixings, whether they are homemade or store bought.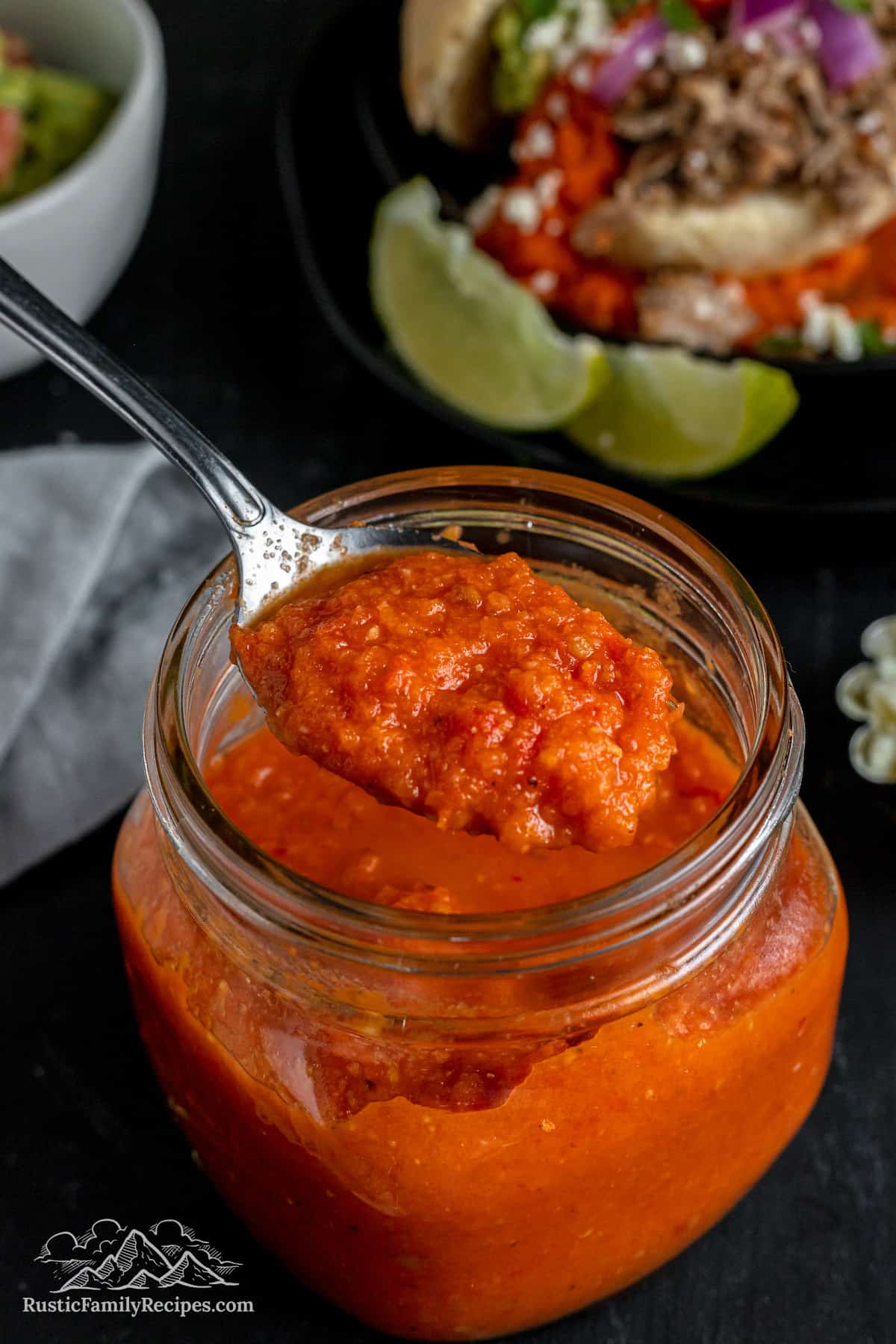 Make the bolillos. Or get some crusty bread rolls.
Make the pork carnitas. You can also use birria meat here!
Make the chili sauce. Rehydrate the chilis in boiling water, then roast the roma tomatoes. Lastly puree everything together in a blender. (Full instructions in the recipe card below.)
Assemble your tortas. Slice each bolillo in half, then add a generous amount of carnitas meat. Spoon a generous amount of sauce inside the sandwich. Spoon even more sauce on a plate and then place the torta on the plate. You can also spoon sauce on top of the sandwich.
Add your fixings. You can do whatever you like here! I like red onions, guacamole and Cotija cheese with a couple wedges of lime to squeeze fresh lime juice on top of the sandwich. You could also add pico de gallo salsa, a drizzle of sour cream, or use other kinds of cheese.
Do I Have to Use Bolillos?
No, you don't have to use bolillos. In fact, in Guadalajara these sandwiches are made with birotes, which are essentially sourdough bolillos. (I will share a birote recipe soon!)
You can also use a sourdough roll or a French baguette. The key is that you want a crusty bread that will hold its shape reasonably well when you add the wet chili sauce on top of it. This is especially important if you want to eat the torta with your hands – if you use a roll that is too soft, it will fall apart after it's been drowned in the sauce.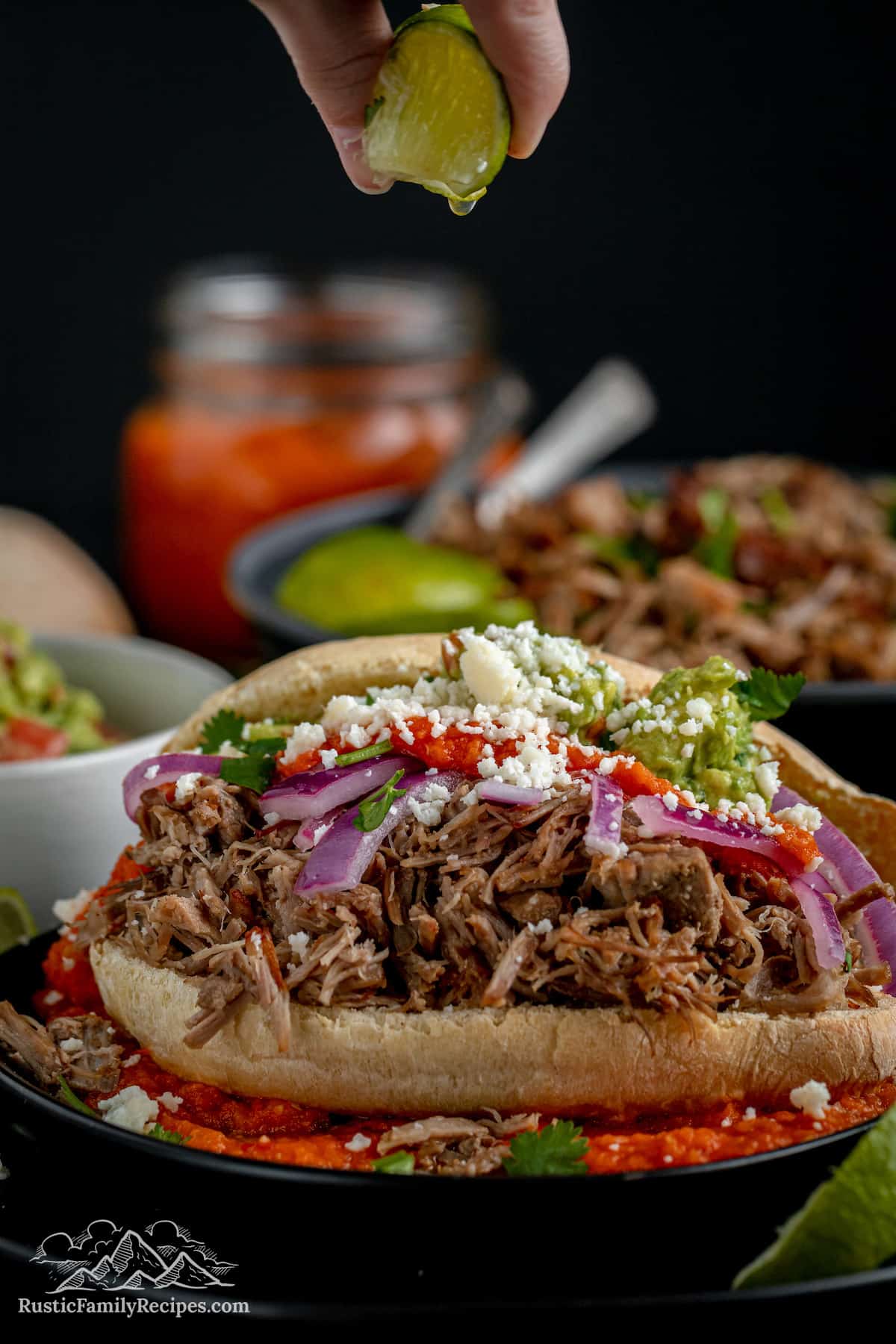 What Goes with Tortas Ahogadas?
These are pretty much a meal on their own, but a nice cocktail is always a good idea in my opinion. These tortas would go well with a Blood Orange Margarita or Pineapple Margarita.
For non-boozy options, I'd recommend a horchata, Mango Lemonade, or a Roy Rogers drink. If you find Jarritos in your area, I highly recommend serving some of those chilled with tortas ahogadas.
Can I Store Extras For Later?
Extra tortas: You can store the separate components of the sandwich in order to make another one later, but the assembled torta does not keep well. The bread will become too soggy if it's allowed to sit in the fridge and the guacamole will brown. So instead store your bolillos on the counter, the carnitas and chili sauce in the fridge etc., then assemble another sandwich when you're ready to dig in.
For the chili sauce: You can store the chili sauce in an airtight container in the fridge for up to 1 week. You can also freeze it for up to 3 months. Make sure you freeze it in an airtight, freezer-safe container and leave at least one inch of room on top so the sauce has room to expand in the freezer.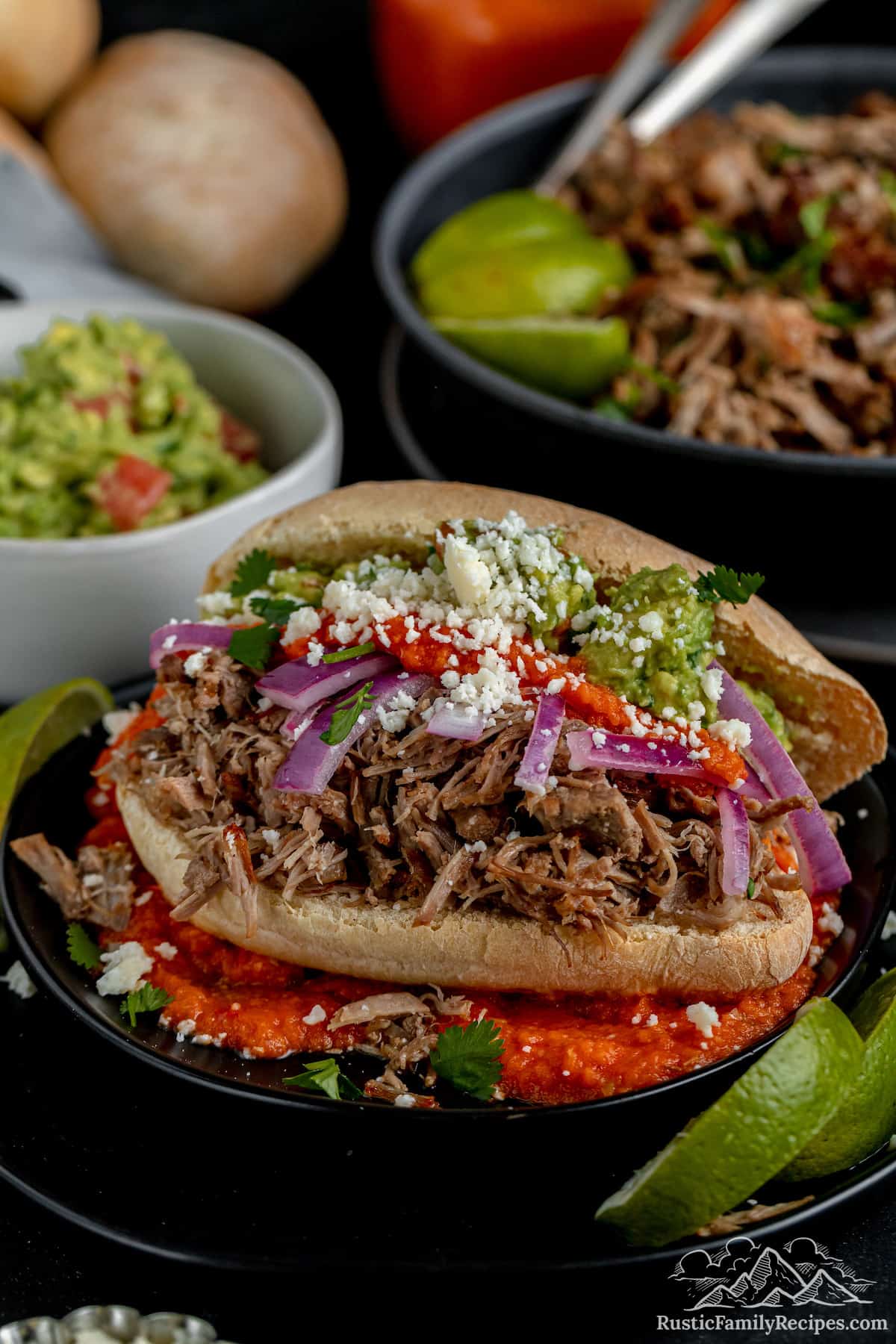 More Authentic Mexican Recipes to Try
Print
Tortas Ahogadas
This tortas ahogadas recipe = the ultimate Mexican sandwich bliss. Crusty bolillo bread rolls are stuffed with pork carnitas, then smothered in a red chili sauce. Top with guacamole, pickled red onions, and cotija cheese, then finish it all off with a squeeze of fresh lime juice.
Author: Rustic Family Recipes
Prep Time:

10 minutes

Cook Time:

20 minutes

Total Time:

30 minutes

Yield:

8 tortas

Category:

Dinner

Method:

Oven

Cuisine:

Mexican
For the Chili Sauce
6

–

8

large roma tomatoes, cut in half

4

–

5

dried chili de arbol peppers, deseeded and stems removed

3

cloves garlic

1

small onion, chopped

3 tablespoon

white vinegar

1/2 teaspoon

cumin

1/2 teaspoon

dry oregano

1/4 teaspoon

sea salt

1/4 teaspoon

ground black pepper

3 tablespoons

extra virgin olive oil
For Serving
Instructions
Gather your ingredients. Make the bolillos or get some crusty bread rolls. Make the pork carnitas. Get out your guacamole and pickled red onions if using. (See recipes linked above.)
Make the chili sauce
Rehydrate the chilis. In a shallow saucepan, bring 1-2 cups of water to a low boil, add the chili peppers and remove from heat to allow the peppers to soak and rehydrate. Once soft in texture, remove the stems and interior seeds.
Roast the tomatoes. On a medium-sized baking sheet. Place the halved tomatoes face side up on the pan. Drizzle with olive oil and place under the broiler for about 10 minutes on low, or until they are soft in the middle and the skin is slightly roasted.
Blend everything together. In a blender or food mixer, place the roasted tomatoes, softened chilis, garlic, onion, vinegar, cumin, oregano, salt, pepper, and olive oil. Blend until desired texture.
Simmer the sauce. Pour in a small saucepan and simmer for 10 minutes.
Assemble the Tortas Ahogadas
Assemble the sandwiches. Slice the bolillo rolls lengthwise and top with the generous helping of pork carnitas meat. Slather with the desired amount of chili sauce and then top the sandwich off with pickled red onions, homemade guacamole, and fresh cotija cheese. (Plus whatever other fixings you want.) Spoon sauce onto your plate and place the sandwich on top of the sauce. Serve with a few lime wedges.
Last Step:
Please
share a rating and comment
if you enjoyed this recipe! Your feedback helps this little blog thrive and continue providing free, high-quality recipes for you.
Keywords: Mexican sandwiches, tortas ahogadas, bolillo sandwich, carnitas sandwich, red chili sauce
Filed Under: