This easy tiramisu recipe is one of my favorite no-bake desserts. This simple Italian dessert hits the spot when you're craving something cold, creamy, caffeinated, and a little bit boozy! It's the perfect pick-me-up.
Tiramisu is one of the best desserts for when you want to indulge in a creamy, decadent treat without turning on the oven. The flavor combination is perfect. It's like your favorite morning coffee went on a trip to Italy and married spiked mascarpone cream, soft ladyfingers, and bittersweet chocolate shavings. As fancy as it sounds, it's actually easy to make. And what's not to love about that? In fact, I love the tiramisu flavor profile so much that I even made an elegant tiramisu cake. 😋
It takes less than an hour to put this tiramisu recipe together. Then it just needs to chill in the fridge for at least 5 hours, during which time the ladyfingers will soak up all the flavors. The end result is creamy and spongy goodness bursting with coffee and chocolate flavor. You'll feel like you're dining at a fancy restaurant when you tuck into this elegant dessert.
Watch the Step-by-Step Video
Want to see how to make tiramisu? Check out this video:
What is Tiramisu?
Tiramisu is a traditional Italian dessert that's often enjoyed on summer afternoons with a glass of wine. The name means "pick me up" in Italian, and the flavors do the name justice. It's light, airy, creamy, and decadent.
The dessert consists of layers of crunchy ladyfingers soaked in strong coffee. These are hugged in between a rich mascarpone-based cream that's been lightly sweetened and carries a hint of Grand Marnier. All of that is topped off with bittersweet chocolate shavings. Unlike other desserts, tiramisu is best a day or two after it's made because then the ladyfingers have had a chance to soak up tons of flavor.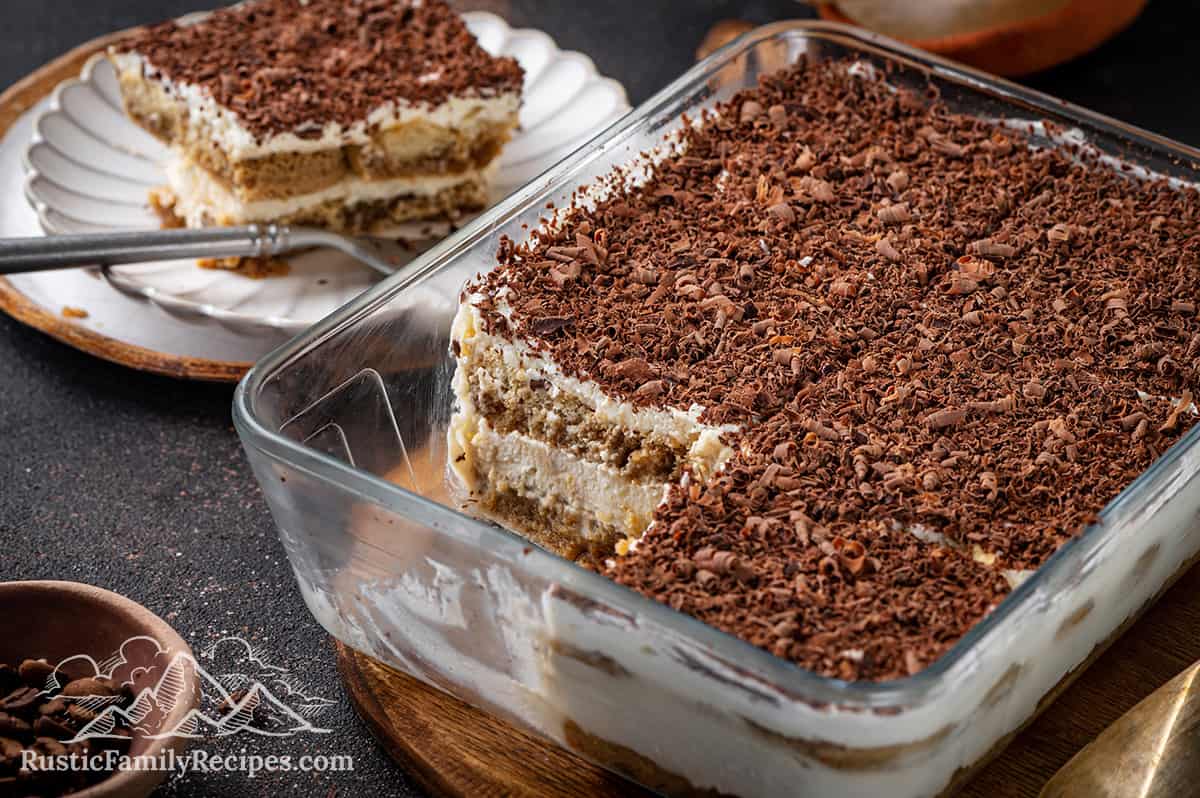 Tiramisu Ingredients
The ingredient list is shorter than you'd expect. Thus, the key to making good tiramisu is in using high-quality ingredients. Here's a quick rundown of everything you need. Make sure to scroll down to the recipe card for specific amounts.
Egg yolks – You'll need 3 eggs for this recipe.
Granulated sugar – Light brown sugar is an okay substitute, but dark brown sugar isn't.
Mascarpone cheese – I prefer full-fat mascarpone because it makes a much more luscious and velvety cream, but a low-fat version will work, too.
Heavy cream – Look for one with at least 36% fat for the perfect whipped peaks.
Strong-brewed coffee – Decaf is the perfect substitute if you don't want to have caffeine in your tiramisu.
Grand Marnier – Feel free to use dark rum, brandy, or marsala wine instead. If you'd like an alcohol-free dessert, leave it out completely.
Ladyfingers/savoiardi – Bonomi and Bell'Amore carry the best ones, but feel free to use whichever ones you can find. Make sure they aren't cake-style because they soften too easily.
High-quality bittersweet chocolate bar – Scharffen Berger and Valrhona are some of my favorites, but other brands with at least 70% cacao are fine too.
What Are Savoiardi?
Savoiardi, also referred to as Pavesini, is the Italian name for ladyfingers. These are long, thin biscuits resembling the shape of a woman's delicate fingers. They're made with sponge cake batter. Piped into short lines and then dusted twice with confectioners' sugar before baking, this creates a slightly crunchy exterior that guards a soft and spongy interior.
Do I have to Use Grand Marnier?
Grand Marnier, an orange-flavored liqueur, is used in most tiramisu recipes, but you don't have to use it. If you can't find it or prefer to use a different type of alcohol, you can substitute it for one of the following: dark rum, brandy, or marsala wine. These create similar flavor profiles that won't leave you wondering where the taste of Italy went. However, you can also make it alcohol-free and just leave it out if you prefer.
Does Tiramisu Have Caffeine?
Yes. Tiramisu's signature flavor comes from coffee, so it does have caffeine. If you prefer not to have caffeine in your tiramisu, simply use decaf coffee.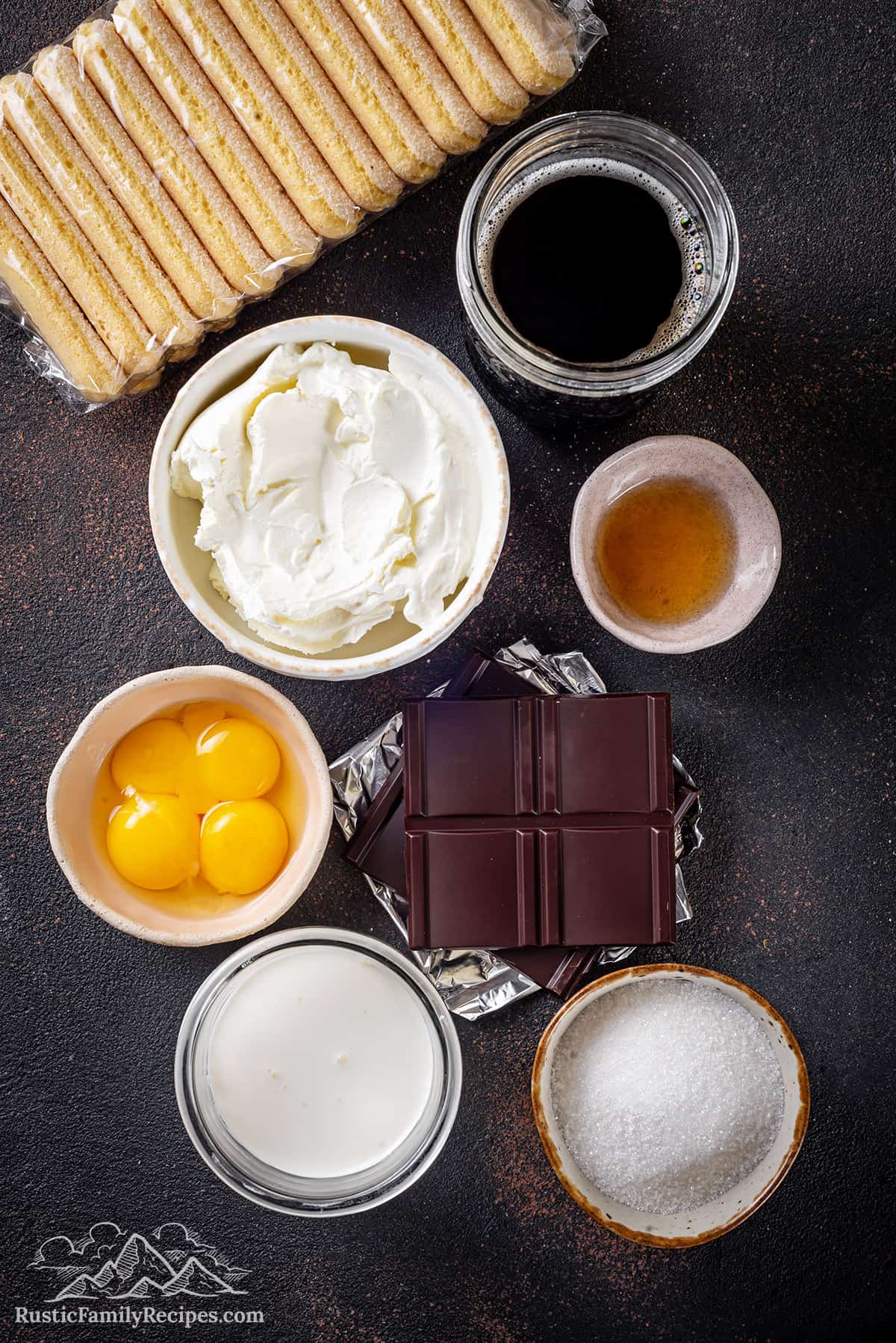 How to Make This Easy Tiramisu Recipe
Tiramisu is easier to make than you think, especially because it's a no-bake dessert:
Brew the coffee and let it cool. Brew your favorite strong or decaf coffee and set it aside to cool completely.
Make the egg yolk mixture. Add water into a pot until it's 1/4 full. Bring it to a gentle simmer over low heat. In a separate mixing bowl, whisk the yolks, 1/2 cup of sugar, and Grand Marnier, until they're well combined. Place the bowl over the pot, making sure the bottom doesn't touch the water. Keep whisking the mixture for 5-7 minutes as it cooks, or until it becomes pale and increases in volume. Remove it from the heat and set it aside.
Fold in the mascarpone. Once the egg yolk mixture has cooled, gently fold in the mascarpone until you get a smooth mixture. Set it aside.
Beat the cream. In a separate chilled bowl, beat the cream until soft peaks form. Add the remaining sugar and continue beating until it holds stiff peaks.
Fold the cream into the egg yolk mixture. Gently fold about 1 cup of cream at a time into the egg yolk mixture until it's well combined. Do not over-mix.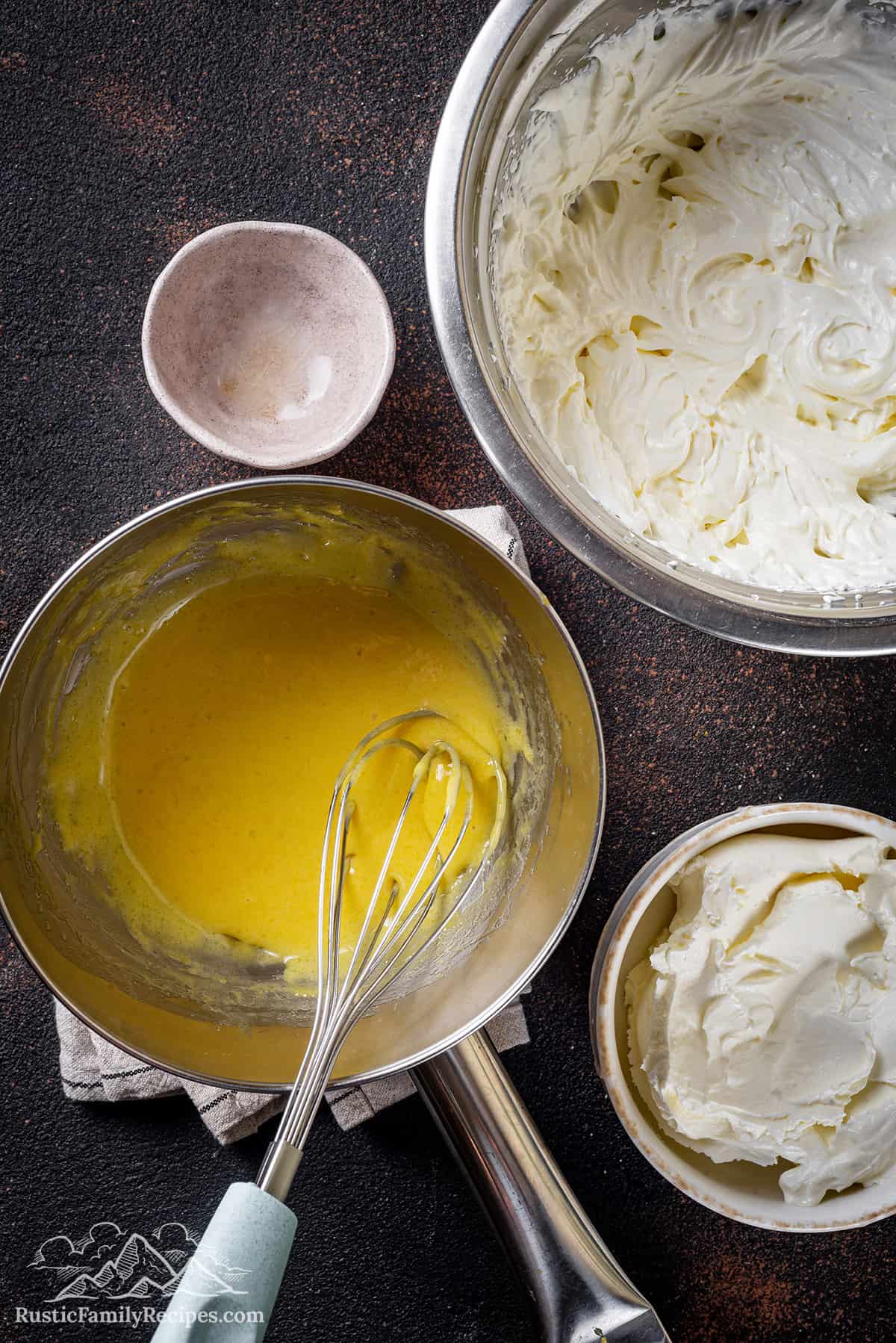 Soak the ladyfingers. Dip each ladyfinger into the cooled coffee for 3-4 seconds. Line the bottom of your container with them.
Assemble the tiramisu. Spread half of the mascarpone cream over the ladyfingers. Place another layer of coffee-soaked ladyfingers on top and cover with the remaining mascarpone cream.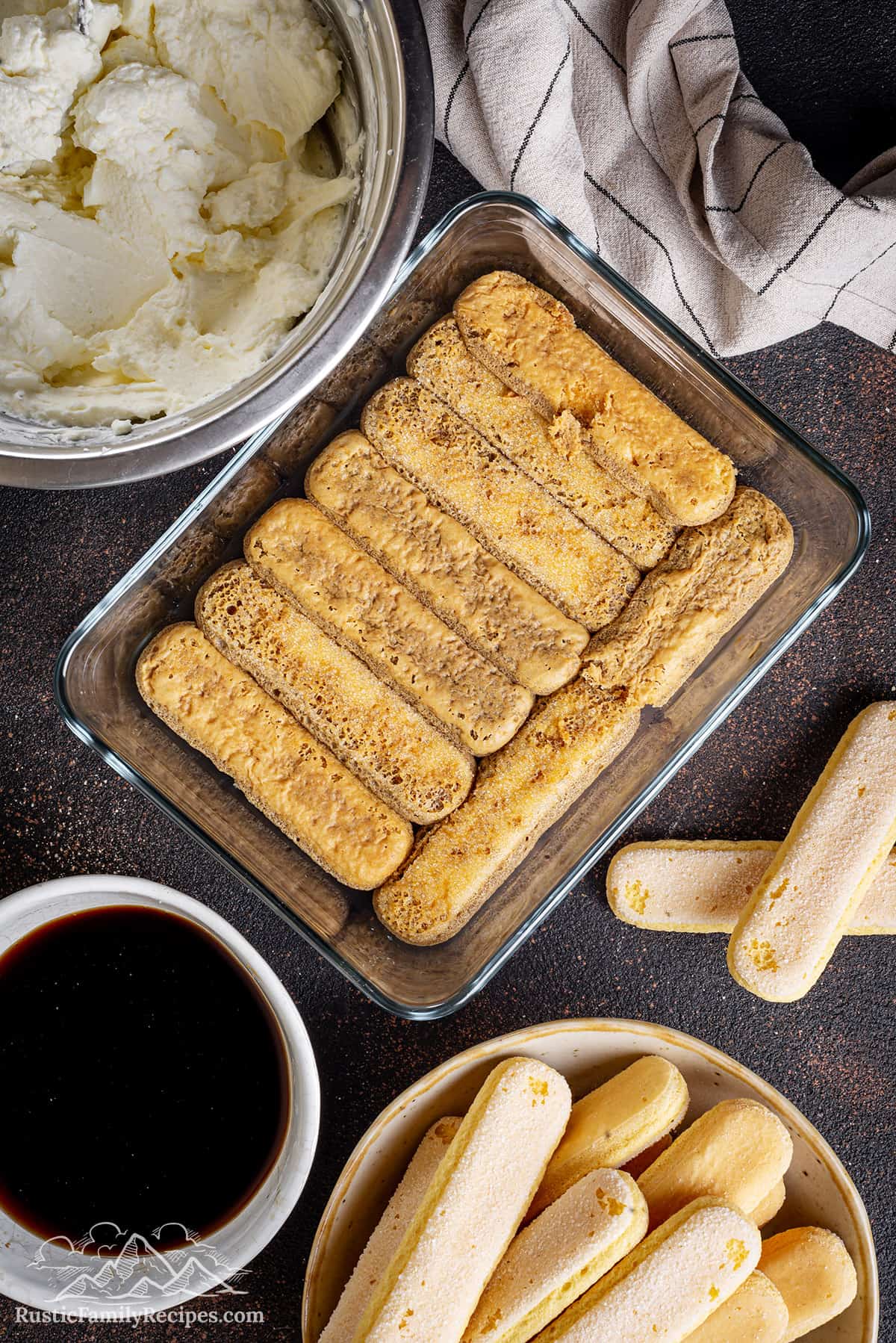 Refrigerate. Cover the container with plastic wrap or a lid and refrigerate for 5 hours. I recommend overnight so that it absorbs all the flavors.
Grate the chocolate. Use a box-grater to shred some high-quality chocolate on top right before serving.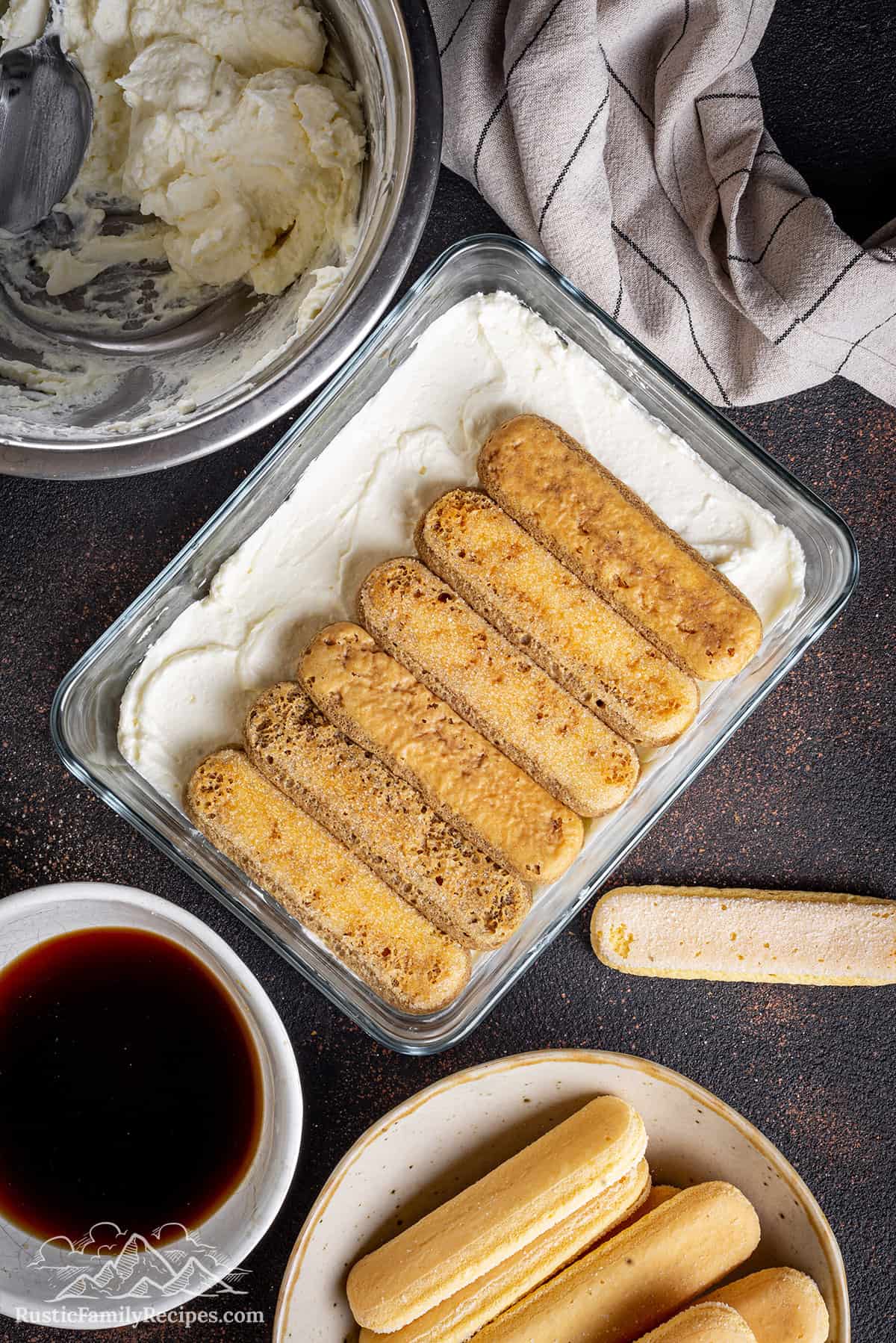 Slice. Cut it into squares or rectangles, serve, and enjoy it with your favorite glass of wine.
Tips for Success
Success is just around the corner for this classic no-bake dessert that'll make you feel like you're in the middle of Rome. As long as you follow these tips, you'll have no trouble plating the perfect slice of tiramisu:
Use cold mascarpone. Most recipes call for room temperature ingredients, but mascarpone should never be one of them. If it's not cold, it's much more likely to curdle and split because of its fat content and the way it reacts with heat. If you've had it out for more than 10 minutes, pop it back into the fridge to make sure your cream turns out silky and smooth.
Use a non-reactive bowl. If you've ever spent more than 10-15 minutes trying to beat your heavy cream and it still won't form peaks, chances are you're using the wrong type of bowl. Some ingredients react with the bowl's material and decide they don't like it. However, this doesn't happen with non-reactive ones like stainless steel bowls.
Chill your bowl. Aside from using chilled heavy cream, you can speed up the process by placing your mixing bowl in the freezer for 15 minutes before you use it. This helps the cream stay cold much longer and lets you create those beautiful peaks.
Only use crunchy savoiardi. Look for ones with a slightly crunchier exterior so they can hold up longer in between all the moisture. Cake-style ladyfingers soften too much, resulting in an unpleasant texture.
Place your double boiler under low heat. The presence of egg yolks means that the mixture will be extremely heat-sensitive. I recommend placing it under very low heat until the water reaches a gentle simmer; otherwise your egg yolks could cook and scramble. Another way to avoid cooking the yolks is to make sure the bottom of the bowl isn't touching the water.
Don't stop whisking. Don't stop whisking the egg yolk mixture as it cooks in the double boiler. Make sure to scrape the sides and bottom of the bowl constantly so that it doesn't form a film or begin to clump together.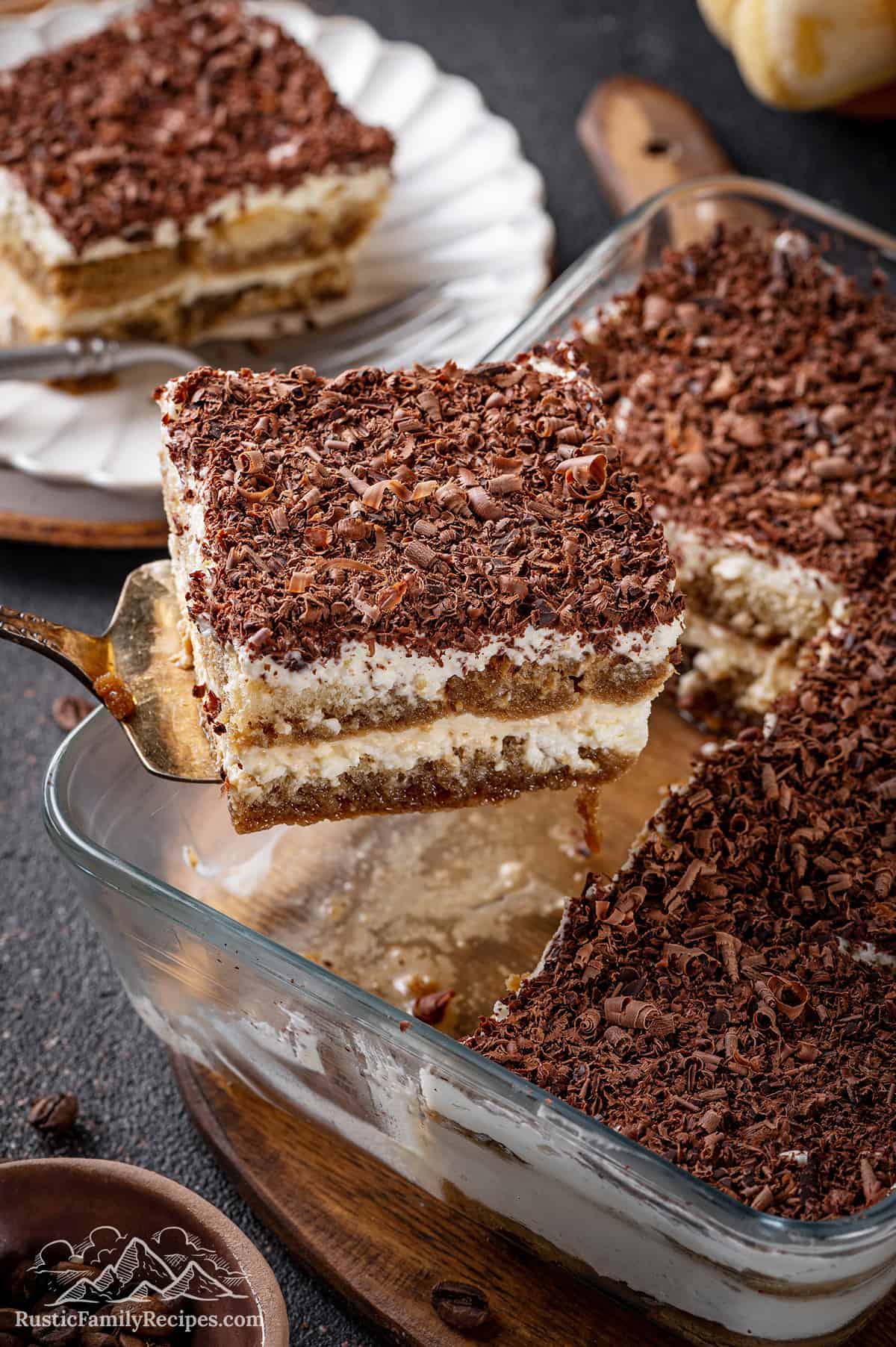 How to Store
Tiramisu has a very delicate flavor so don't refrigerate it uncovered. If you're using a glass baking dish to assemble it, then make sure to cover it with plastic wrap. However, I recommend storing tiramisu in an airtight container to avoid any transferring of odors or flavors from other foods. It will last 2-3 days in the fridge. It might last another day, but the ladyfingers will be too soft by then.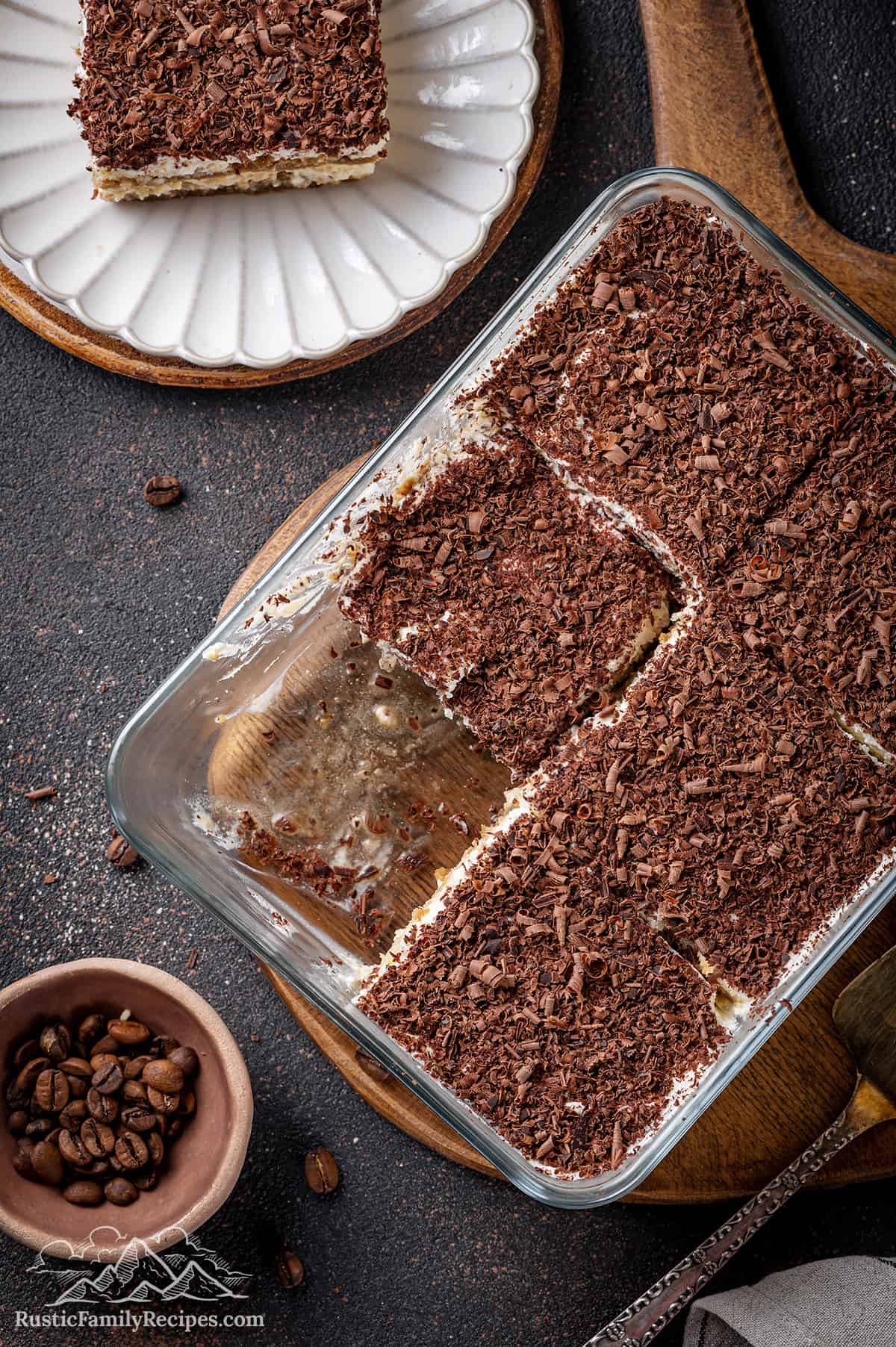 Can I Freeze It?
Yes! Just don't top the tiramisu with chocolate shavings yet as they won't freeze well. When you're planning to eat it, let it thaw in the fridge overnight and add the chocolate right before serving.
In a glass baking dish: Carefully wrap the container all the way around with plastic wrap twice. Then wrap it in aluminum foil once. Make sure there aren't any parts through which ice crystals could seep through. This method applies to any freezer-friendly container that doesn't come with a lid. Freeze for up to 3 months.
In an airtight container: Before placing the lid on, wrap the container in plastic wrap once. Then seal the lid in place and wrap the closed container in aluminum foil once. Freeze for up to 3 months.
More No-Bake Dessert Ideas
Print
Tiramisu
A no-bake classic Italian dessert, this tiramisu is the perfect treat for when you need a pick-me-up. Filled with lots of coffee, alcohol, and a little bit of chocolate, how could anyone resist?
Author: Rustic Family Recipes
Prep Time:

45 minutes

Chill Time:

5 hours

Total Time:

5 hours 45 minutes

Yield:

6-8 servings

Category:

Dessert

Method:

No-Bake

Cuisine:

Italian
3

large egg yolks

3/4 cup

sugar

8 ounces

mascarpone cheese

1 cup

chilled heavy cream

2 1/2 cups

strong brewed coffee

2 tablespoons

Grand Marnier

24

Italian ladyfingers/savoiardi

1

6-oz fine quality bittersweet chocolate bar, such as Scharffen Berger
Instructions
Brew the coffee. Make strong coffee using 7 tablespoons of good quality (preferably freshly ground) coffee and 2 1/2 cups of water. Brew according to your coffee maker's instructions or even better, in a French press. If using a French press, brew the coffee for 5 minutes before straining it into a large, wide bowl. Set aside to cool.
Make the mascarpone layer. In the top of a double boiler set over simmering, not boiling, water, combine the egg yolks, 1/2 cup of sugar and Grand Marnier, stirring constantly. (I used a large pot of simmering water and a large metal bowl to make my "double boiler." Fill the pot about 1/4 full, bring to a simmer, then place your metal bowl into the pot – there should be a fair amount of space between the water and the bottom of your bowl and the bowl should form a seal with the pot.) Cook the yolk mixture about 5 minutes. It will become pale yellow in color and increase in volume.
Remove from the heat and set aside. Once you remove the yolk mixture from the heat, gently whisk in the mascarpone until combined. Set aside.
Beat the heavy cream. In a chilled metal bowl or the bowl of a stand mixer, beat the heavy cream until soft peaks form. Gradually add the remaining 1/4 cup of sugar while continuing to beat the cream. The cream is ready when it holds stiff peaks (this will happen very quickly after the soft peak stage). Fold the cream into the egg yolk mixture.
Assemble the tiramisu. One at a time, dip the ladyfingers into the coffee for 3-4 seconds per side, then transfer them to an 8-inch glass baking dish. Line them up so they are touching each other. Trim the ladyfingers as needed to ensure a snug fit. Spread half of the whipped cream mixture over the ladyfingers, then layer the remaining ladyfingers after dipping them in the coffee. Top with the rest of the whipped cream mixture.
Cover and chill. Cover the container with plastic wrap and chill for at least 5 hours before serving. Using a vegetable peeler, grate bittersweet chocolate over the top of the tiramisu just before serving.
Notes
The tiramisu can be made up to 1 day in advance and will keep for 2 -3 days in the fridge.
Last Step:
Please
share a rating and comment
if you enjoyed this recipe! Your feedback helps this little blog thrive and continue providing free, high-quality recipes for you.
Keywords: tiramisu recipe, best tiramisu, easy tiramisu
Filed Under:
This post may contain affiliate links. Please read our disclosure policy.