This post may contain affiliate links. Please read our disclosure policy.
Luscious and sophisticated, this tiramisu cake is the perfect afternoon treat with a glass of wine or even more coffee. Fluffy genoise vanilla sponge cake soaked in espresso and decadent mascarpone cream, all dusted with cocoa powder. What more could you want? It's like my tiramisu recipe but in cake form!
Calling all coffee-lovers. This tiramisu cake is bound to be your next favorite baking project because nothing compares… except a great tiramisu, of course! This showstopper of a cake is made of creamy, caffeine-packed dreams even though the ingredients are fairly simple.
With three layers of irresistible genoise sponge cake soaked in espresso and a light mascarpone whipped cream, this layer cake recipe is as impressive as it is easy to make. It has just the right amount of sweetness in the filling, the sponge cake is moist and fluffy, and the coffee isn't overpowering. Overall, this tiramisu cake has a beautiful balance of textures and flavors.
I've frosted this cake in the fashion of a "naked cake," similar to my Naked Blue Velvet Cake. This just means that the layers of cake are intentionally visible beneath a thin layer of mascarpone frosting. I love the rustic, simple look that comes with this style of cake decorating.
What Makes this Recipe So Good?
The secret to this cake lies in the genoise sponge cake. Genoise is a French word, referring to the Italian Genoese or Genovese cake. It's enriched with butter and has no leavening agents. The "sponge" comes from a mixture of eggs and sugar that has been warmed over a water-bath and is then beaten until foamy. Carefully folded into the batter, it provides enough airiness to make the cake rise during baking.
Regular cakes rely on conventional leavening agents like baking powder and baking soda. While this also makes them rise, they don't turn out as soft and springy. Genoise sponge cakes are light and fluffy because an important part of their structure comes from air. This makes them inevitably porous, an ideal characteristic for when you're trying to get your cake to soak up lots of coffee to create an extra moist and flavorful sponge.
The second thing that makes this tiramisu cake the best? It's filled and coated with velvety mascarpone cream instead of buttercream frosting. It might not seem like a big difference but it is. The mascarpone whipped cream is extremely light, just like the one found in traditional tiramisu, whereas buttercream tends to be too rich and needs lots of sugar. With the genoise sponge cake and mascarpone whipped cream, though, you get the best of both worlds: delicious cake and a lick-the-spoon filling.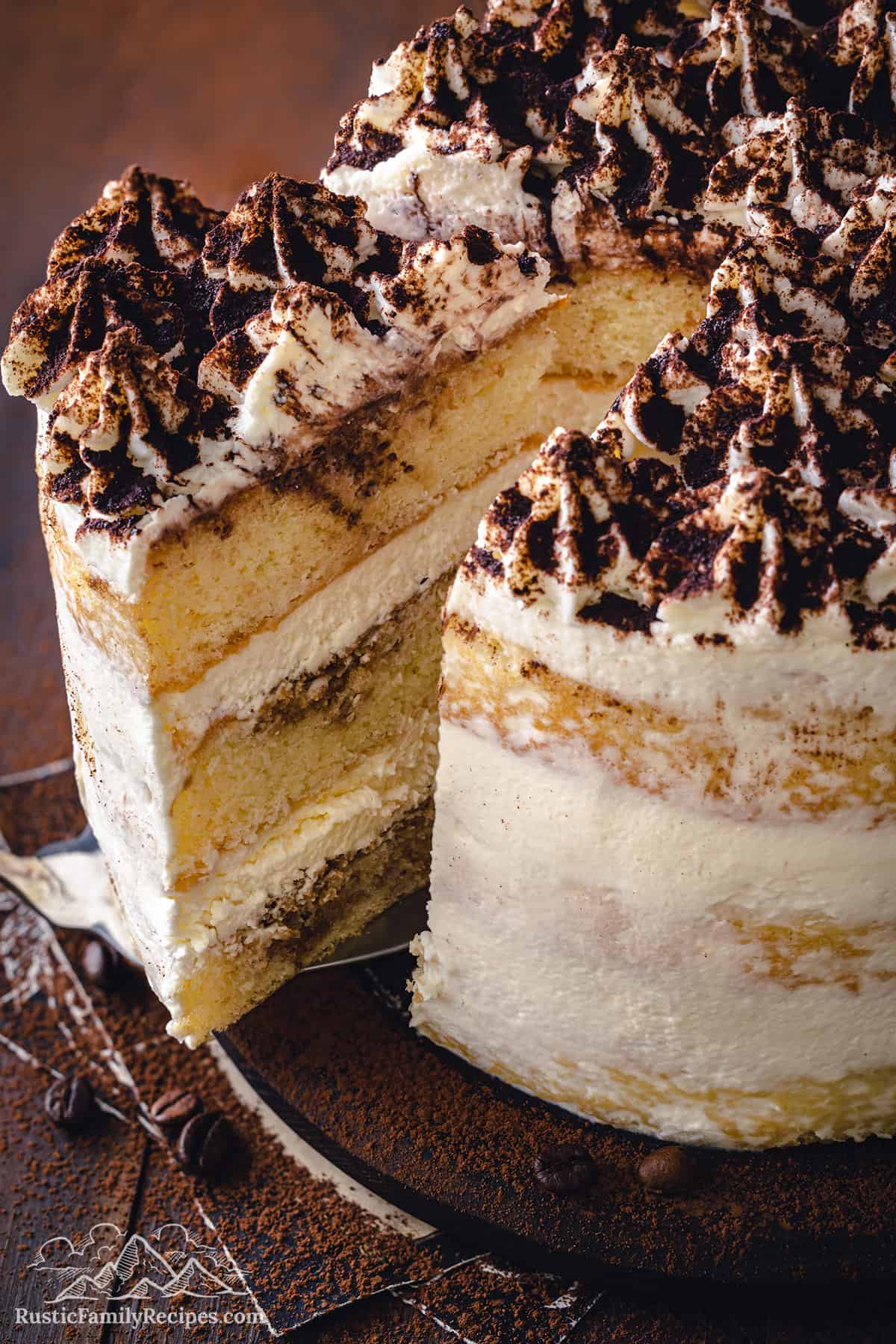 Recipe Ingredients
Despite how fancy its different elements might sound, making tiramisu cake is actually quite easy. Requiring only 12 ingredients, I'm sure you have most of them already at home. Here's what you'll need:
For the Genoise Sponge Cake
Eggs
Flour – Use all-purpose flour. Don't try to sub a whole grain flour here, it won't work for the genoise cake.
Cornstarch – Helps create a fluffy, tender cake texture.
Sugar
Butter – I always go for unsalted butter. It's the only way to make sure the cake doesn't turn out salty. It also helps you keep full control over the amount of sodium in the recipe.
Vanilla extract – I recommend 100% pure vanilla extract.
Kosher Salt
For the Mascarpone Whipped Cream
Mascarpone – Make sure it's full-fat. Low-fat mascarpone tends to split and separate during beating.
Whipping cream – Make sure it has at least 35% fat, otherwise you won't get stiff peaks. Without enough fat, the cream won't rise.
Confectioners' sugar – Don't swap it out for white, light brown, or dark brown sugar. Granulated sugars don't dissolve the same way and will make your whipped cream very grainy.
You'll Also Need
Espresso or Coffee – Since most of the flavor comes from coffee beans, espresso is my go-to. However, any strong coffee like the Robusta bean will work too. If you'd like to go easy on the caffeine, use decaf.
Cocoa powder – This is for decoration but it also provides a nice bitterness. Try to get a hold of Dutch-processed unsweetened cocoa powder. This is different from regular kinds because it's been alkalized, becoming darker in color and with a mellowed astringency. If you can't get a hold of it, regular unsweetened cocoa like Hershey's will work just fine.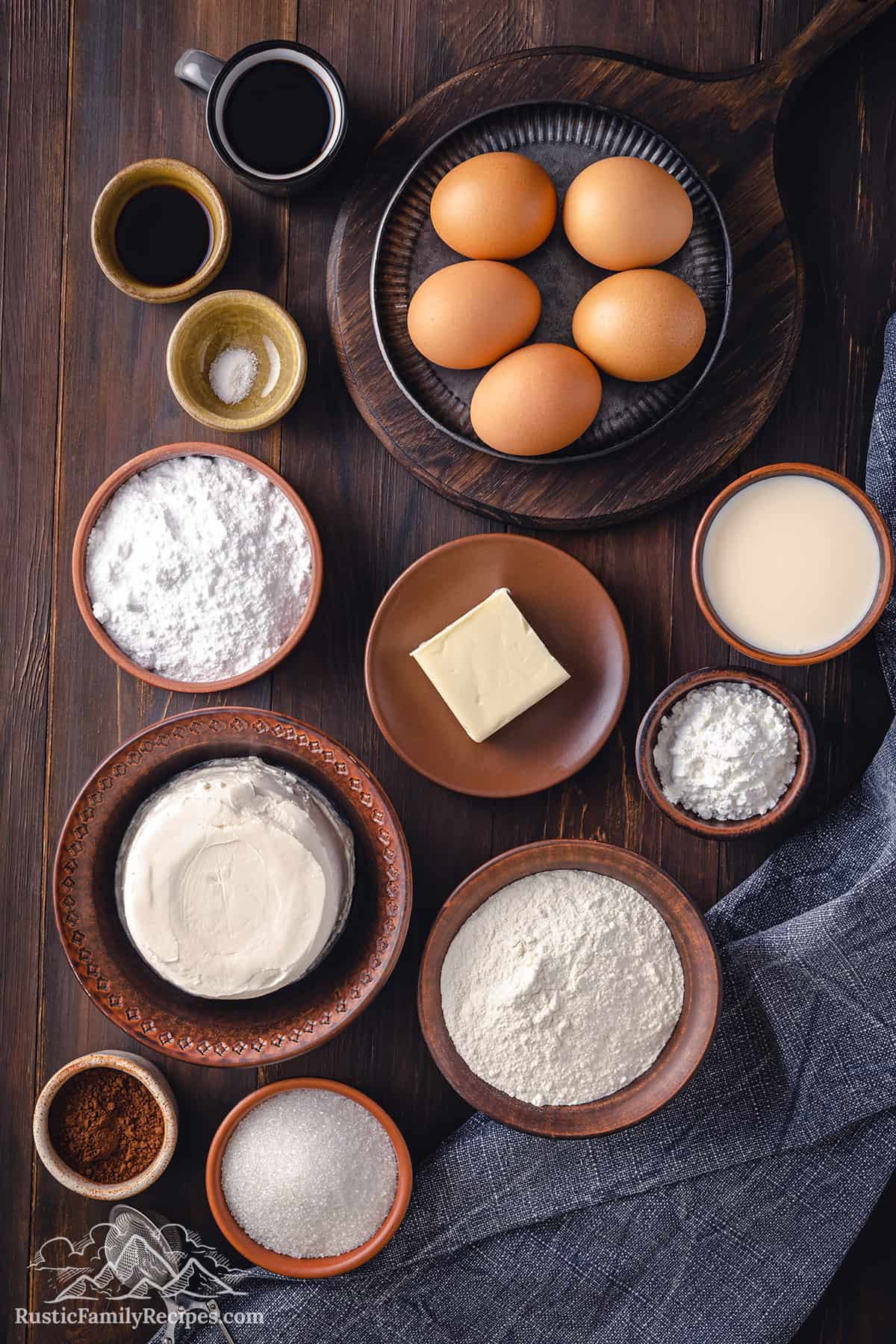 How to Make Tiramisu Cake
All you need are a hand-mixer and a couple of bowls so don't let the sound of "double boiler" and "mascarpone cream" scare you from trying this recipe out. You'll love how easy it is.
Preheat the oven and prepare the pans. Preheat the oven to 325F. Line three 7" round cake pans with parchment paper. If you don't want to line them completely, just line the bottoms of the pan because this is the largest surface area and where most cakes tend to stick.
Prepare the double boiler. Add water into a pot until it's ¼ way full. Bring it to a boil and then reduce the heat to let it simmer gently. In a separate heat-proof bowl, whisk the eggs, salt, and granulated sugar until well combined. The bowl should be as wide as the pot because you're going to place it on top and whisk vigorously. Don't stop whisking or your eggs will cook and scramble. Also, make sure the bottom of the bowl isn't touching the hot water or the eggs will also scramble. Once the mixture heats up, remove it from the heat.
Beat the eggs. Add the egg mixture into a large stainless steel bowl. Beat it on medium-high speed for about 10 minutes, or until it reaches the ribbon-stage. This happens when egg and sugar are beaten together and the mixture becomes very airy (doubling or tripling in volume), turns pale yellow, and has thickened into a frothy mixture. To check if it's ready, scoop some of the mixture and let it fall back into itself. You should be able to make ribbons with it that take at least a couple of seconds to sink into the mixture again.
Finish the egg mixture. Gently mix the melted butter and vanilla extract in.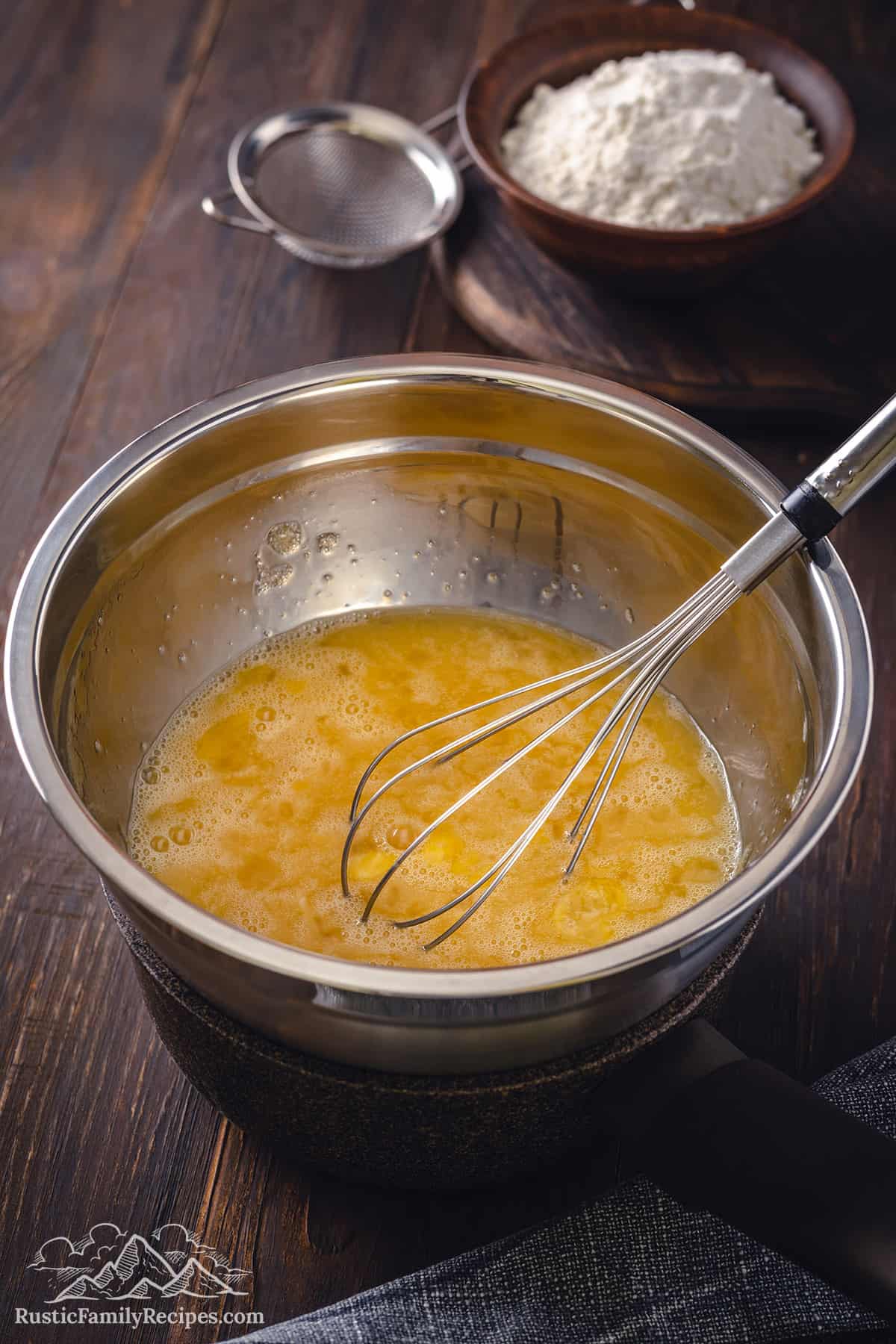 Add the dry ingredients. Whisk the cornstarch and all-purpose flour until they're well combined. Sift half of the dry ingredients into the egg mixture at a time. Use a rubber spatula to gently fold them in until just combined. Make sure there are no large clumps of flour. Don't over-mix, otherwise, the egg mixture will deflate.
Divide the batter. Carefully pour the batter into the prepared cake pans. Spread the batter out evenly.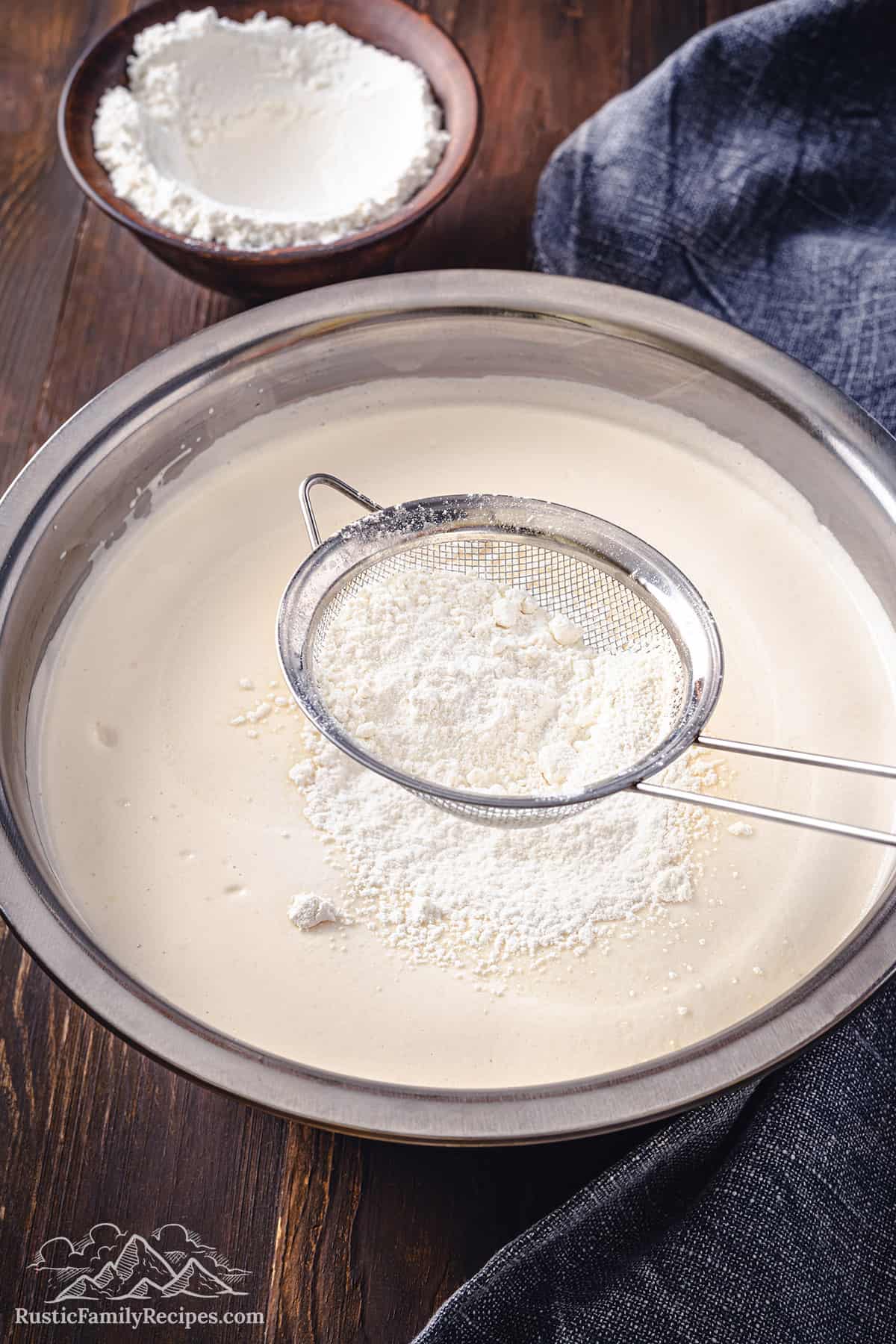 Bake. Place them in the oven for 35-40 minutes, or until a toothpick inserted in the center comes out clean. Remove them from the oven and let them cool for at least 10 minutes (but I recommend 15-20) before unmolding them. Warm cakes crumble much more easily when removing them from pans.
Whip the cream. Combine the cold whipping cream and confectioners' sugar in a stainless steel bowl. Beat on high speed until soft peaks form. Add the mascarpone and continue beating until it's well incorporated into the mixture and the whipped cream forms stiff peaks. Transfer the mascarpone cream into a piping bag.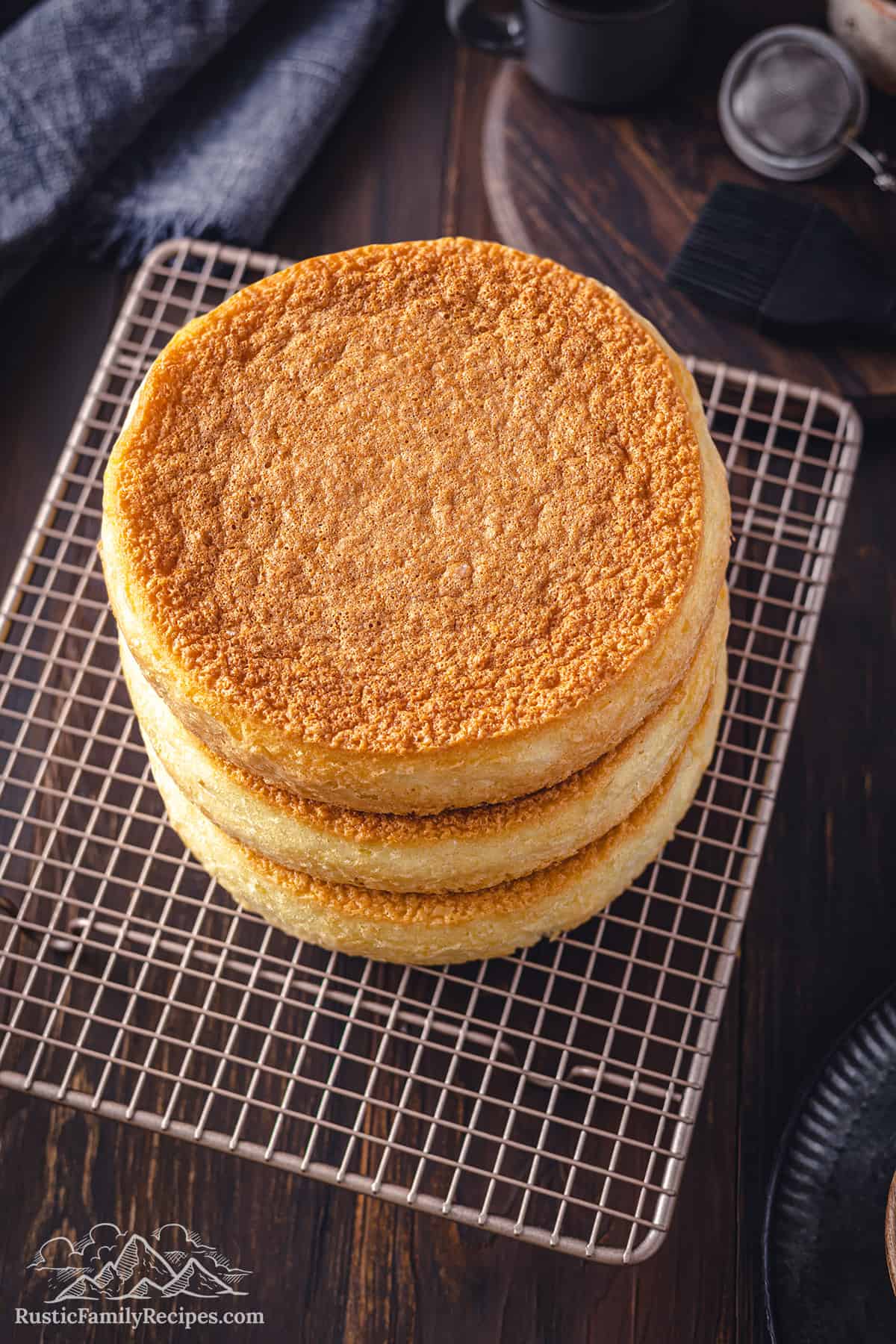 Assemble the cake. Use a pastry brush to spread the coffee over the bottom layer of the cake. Add about 1 cup of mascarpone cream and spread it out evenly. Repeat this step for every layer.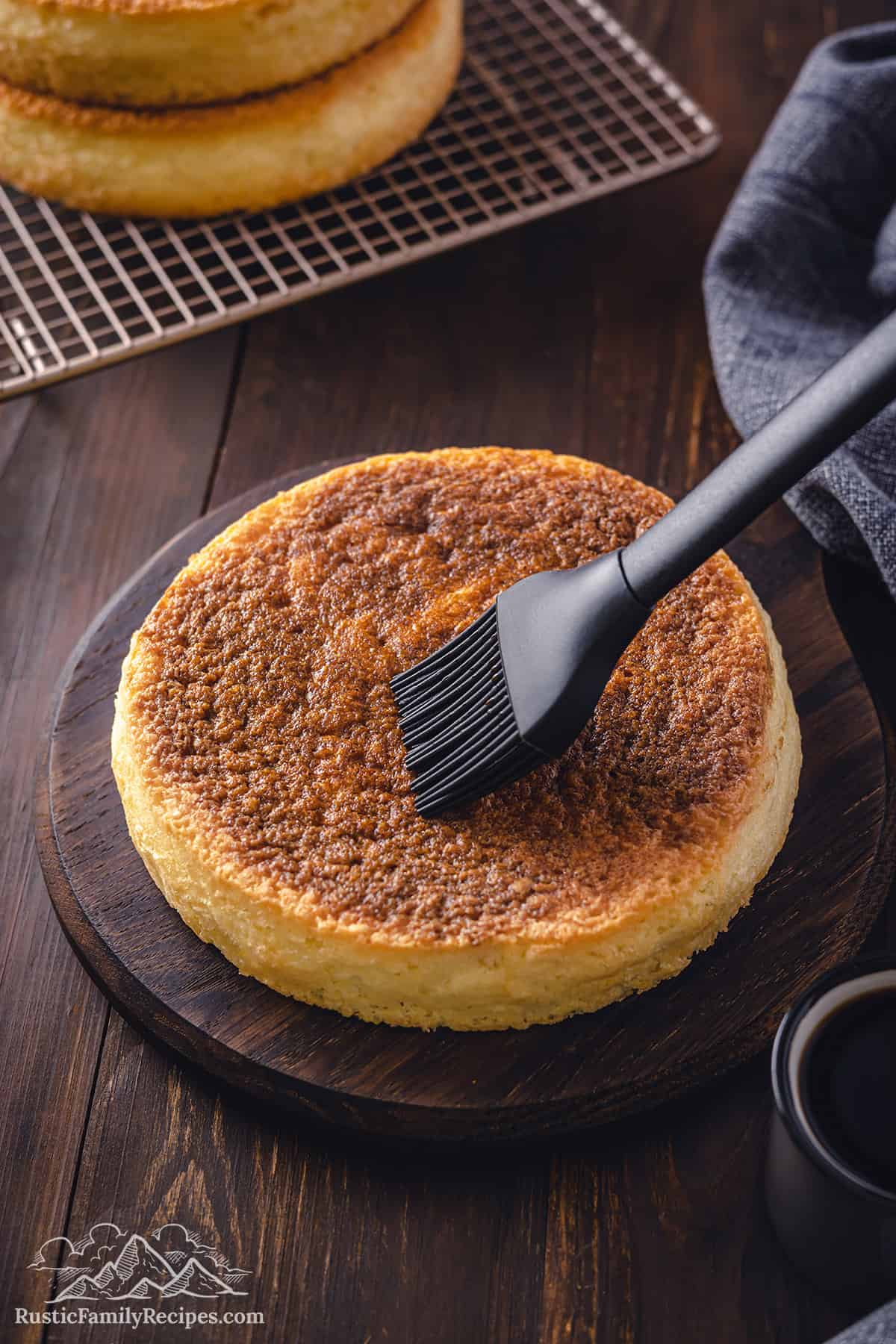 Frost the cake. Apply a thin layer of mascarpone cream to the sides . Use a large bench-scraper or offset spatula to spread it around and remove any excess cream. It should be like a naked-style cake, with most of the cream being in between the cake, not around the sides. Decorate the top of the cake with more mascarpone cream.
Refrigerate. Pop the cake into the fridge for at least 1 hour so that the cake and cream firm up.
Serve. Dust with cocoa powder and serve. Enjoy!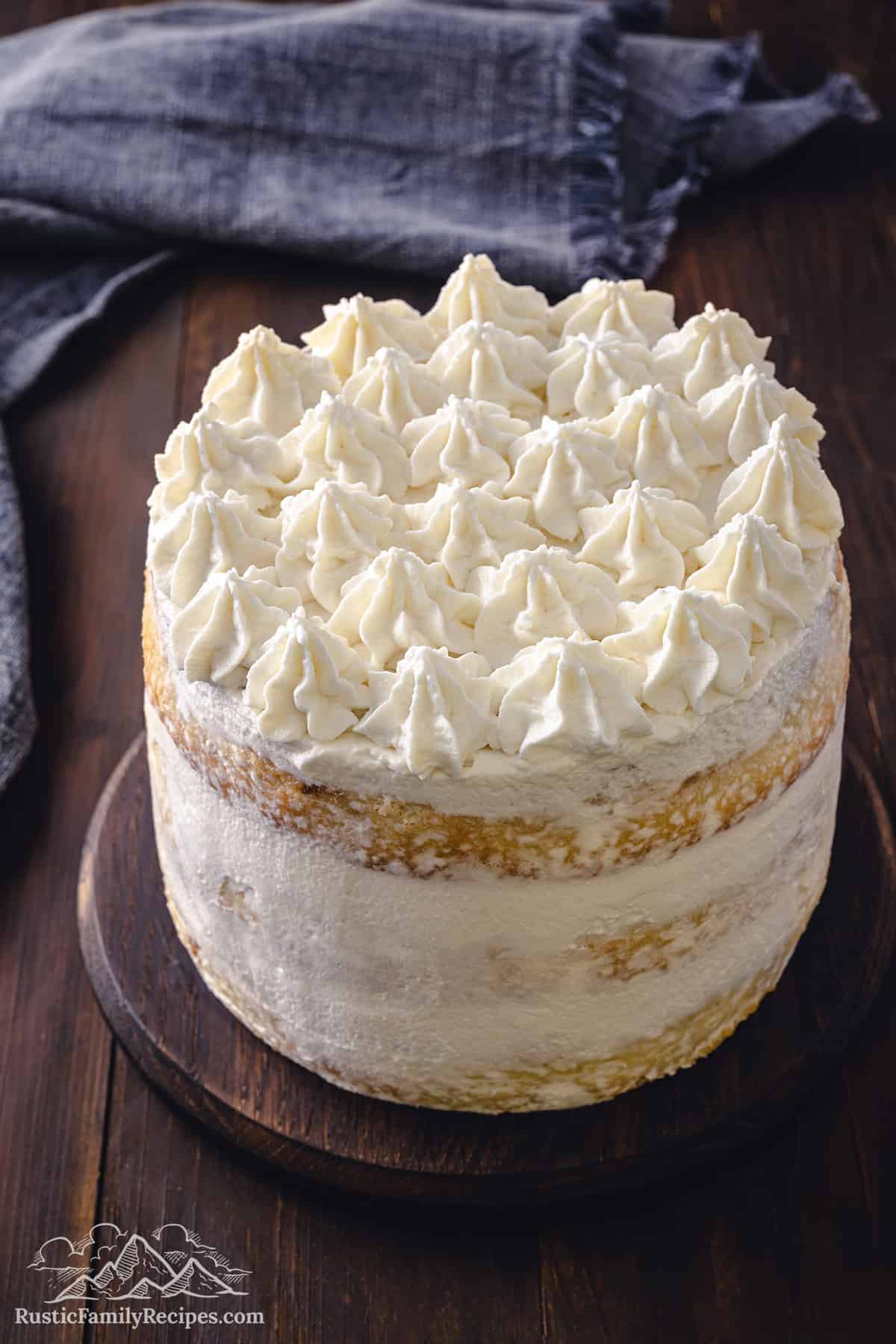 Tips for Success
As you've seen, making this cake isn't as difficult as it seems. However, here are a couple of tips that will help you masterfully make it (and improve it), even if you're no baker:
Chill the whipping cream and mascarpone. Don't take these out of the fridge until the very minute you're going to use them. No matter how long you beat the cream, it will never form any kind of peaks unless it's perfectly chilled. Additionally, if the mascarpone isn't cold, it will split and you won't get a lovely, smooth whipped cream.
Use a non-reactive bowl. Glass and stainless steel bowls should be your go-to for whipping cream because they are non-reactive. Other kinds of bowls, especially those made of plastic and copper, can cause an undesirable chemical reaction with the mixture's ingredients to the point where your cream will never rise.
Freeze the bowl. To help you maintain the whipping cream and mascarpone cold for longer, throw the bowl into the freezer when you start preparing your cake. By the time you're ready to use it, it should be nice and cold. This will also make the whipping process faster.
Add some booze. Classic tiramisu has alcohol in it, which I did not include in the recipe as written in order to make the cake more accessible. However, if you want you can add Grand Marnier, dark rum, brandy, or marsala wine to this tiramisu cake. Mix 1-3 tablespoons of your preferred alcohol with the coffee and then use the mixture to coat the genoise sponge cake.
Add almond extract. You can substitute half of the vanilla extract for the almond extract to add an elegant twist to the flavor profile. Don't leave out the vanilla completely, though, because an excess of almond extract tends to taste very artificial.
Make it kid friendly. If you're not into feeding your kids (or anyone's kids) a caffeine bomb from the espresso, you can substitute the coffee in the recipe for chilled hot cocoa. It won't be 100% like tiramisu, but it'll make the cake family-friendly if you're concerned about giving children coffee. You can also use decaf coffee.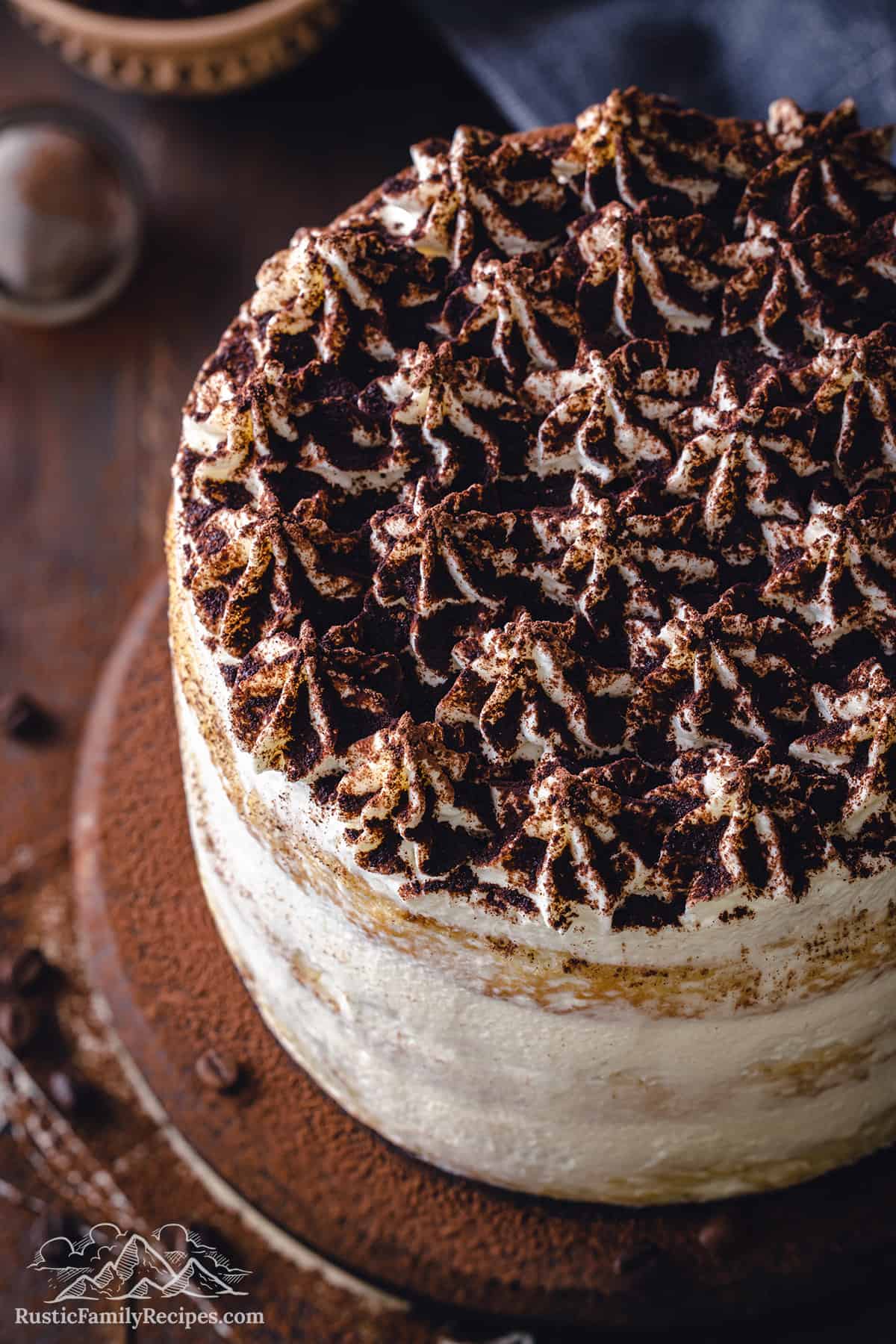 How to Store
Unfortunately, tiramisu cake can't be stored at room temperature because the mascarpone cream isn't shelf-stable. Whether you want to store it whole or in slices, you'll need to refrigerate it. Not only that, but I also recommend doing so in an airtight container to avoid the transfer of odors from other foods.
It will keep in the fridge for 2-3 days in tip-top shape. After the third day, the cake will have absorbed more moisture from the coffee and mascarpone cream, making it lose texture and structure.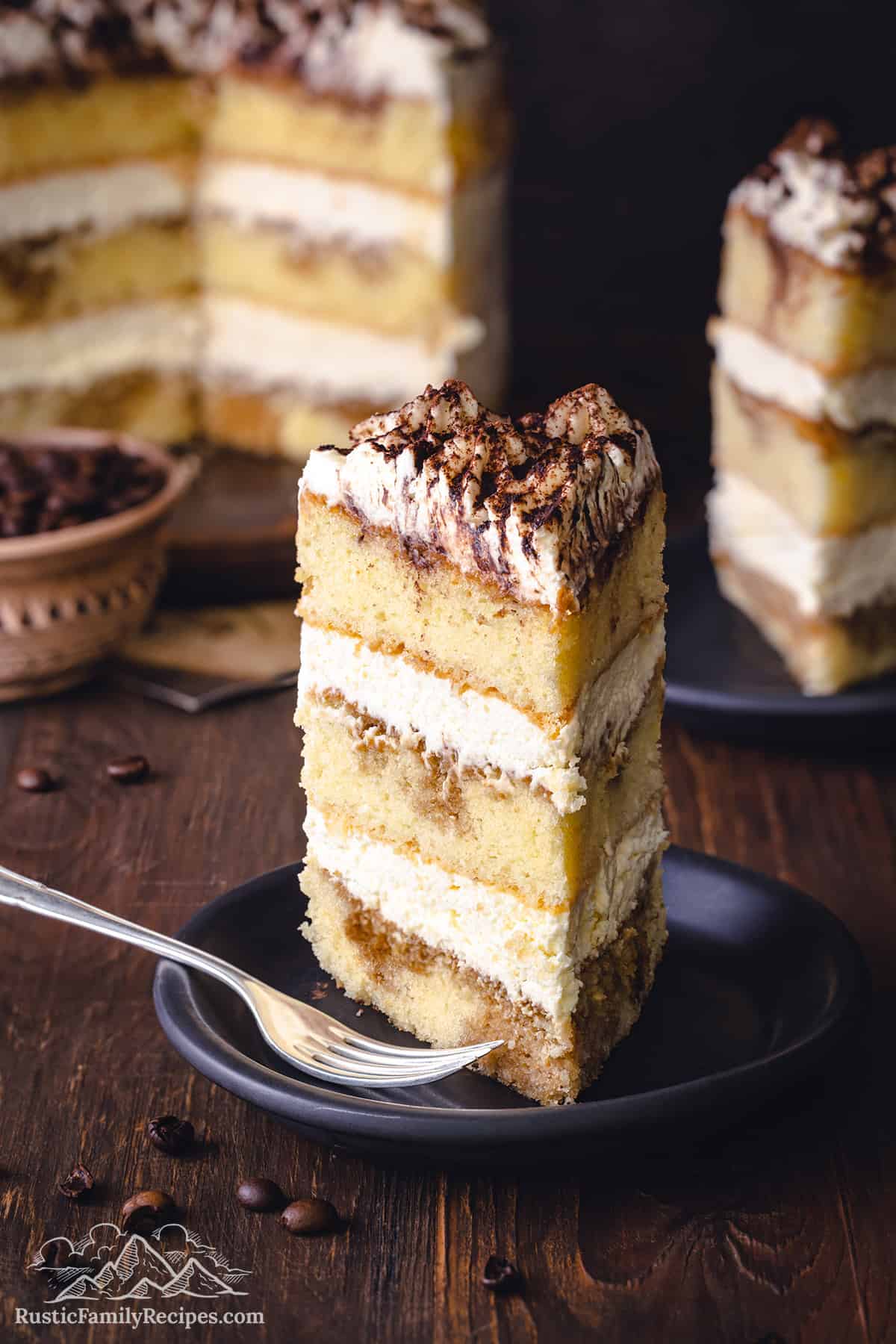 Can I Freeze This?
Sadly, no. No part of this cake freezes well, except the coffee. But why would you want to freeze that?
The genoise sponge cake gets its structure from the airiness of the beaten egg mixture. When frozen, ice crystals inevitably make their way inside the cake and change its composition when thawed. This will result in a loss of moisture, loss of texture, and less spongy cake.
Likewise, the mascarpone whipped cream doesn't freeze well either. Although most recipes will suggest freezing it for 1-3 months, I don't recommend it at all. Just like the fats and oils in whipping cream tend to separate when frozen and thawed, mascarpone cheese is affected in the same way. By the time you're ready to make it, it'll likely split and there's no coming back from that when it comes to whipped cream.
Print
Tiramisu Cake
Light, creamy, and decadent from the mascarpone and espresso mixture, this tiramisu cake is what dreams are made of.
Author: Rustic Family Recipes
Prep Time:

40 minutes

Cook Time:

35 minutes

Total Time:

1 hour 15 minutes

Yield:

10 servings

Category:

Dessert

Method:

Oven

Cuisine:

Italian
Genoise Sponge Cake:
5

eggs

1 cup

all-purpose flour

3 tbsp

cornstarch

¾ cup

granulated sugar

3 tbsp

unsalted butter, melted

1 tbsp

vanilla extract

¼ tsp

salt

½ cup

strong espresso (with

2 tsp

of sugar)
Mascarpone Whipped Cream:
1

package (16 oz) Mascarpone

1 ½ cups

whipping cream (with at least 35% fat)

¾ cup

confectioners' sugar
Cocoa powder for decoration
Instructions
Preheat the oven and prepare the pans. Preheat the oven to 325 ̊F and line three 7-inch cake pans with parchment paper. Set aside.
Prepare the double boiler. Place eggs, salt, and sugar in a large bowl and slightly beat with a whisk. Place the bowl over a pan with hot water to make a double boiler. Continuing whisking, warm the mixture. The egg mixture should be slightly warm, but make sure it's not hot. Remove the bowl from the double boiler. (Careful, it will be hot.)
Beat the eggs. Using a mixer, beat the eggs for about 10 minutes until the ribbon stage. Add melted butter and vanilla extract to the egg mixture, carefully mix.
Add the dry ingredients. Combine the flour with cornstarch, and sift it into the egg mixture half at a time. Gently mix with a rubber spatula.
Divide the batter and bake. Pour the batter into 3 prepared pans. Bake the cakes for about 35-40 minutes until the toothpick comes out clean. Remove from the oven, and let it cool for 10 minutes before taking it out of the pans.
Whip the cream. It's important to use cold whipping cream and mascarpone to make the frosting. Add the heavy whipping cream and powdered sugar to a large bowl and whip on high speed until light and fluffy. Add mascarpone to the whipped cream and whip until just combined, be sure not to over-beat. Transfer frosting into a piping bag.
Brush the cake with coffee and assemble. Using a pastry brush, spread the espresso all over the first sponge cake. Pipe a large amount of frosting over the first layer cake. Top with the second cake and brush it with coffee. Repeat with the second layer of frosting. Place the last sponge cake over it, and brush it once again.
Decorate the cake. Spread a thin layer of frosting over the sides. Using the bench scraper, smooth and remove excess frosting. Transfer the remaining mascarpone whipped cream into a piping bag fitted with a tip and decorate the top of the cake. Refrigerate it for at least 1 hour to firm up. Dust with cocoa powder.
Notes
Cool the cake layers for more than ten minutes to avoid them crumbling when you remove them from the pans.
Feel free to use decaf if you don't want to add espresso.
Keywords: tiramisu cake, tiramisu dessert, genoise cake, sponge cake, mascarpone cream
More Dessert Ideas