Teddy Bear Challah is an easy way to bake my Honey Vanilla Challah recipe into a cute shape that's as fun to make as it is to eat. You can actually make the dough into any shape you want – imagination is the only limit.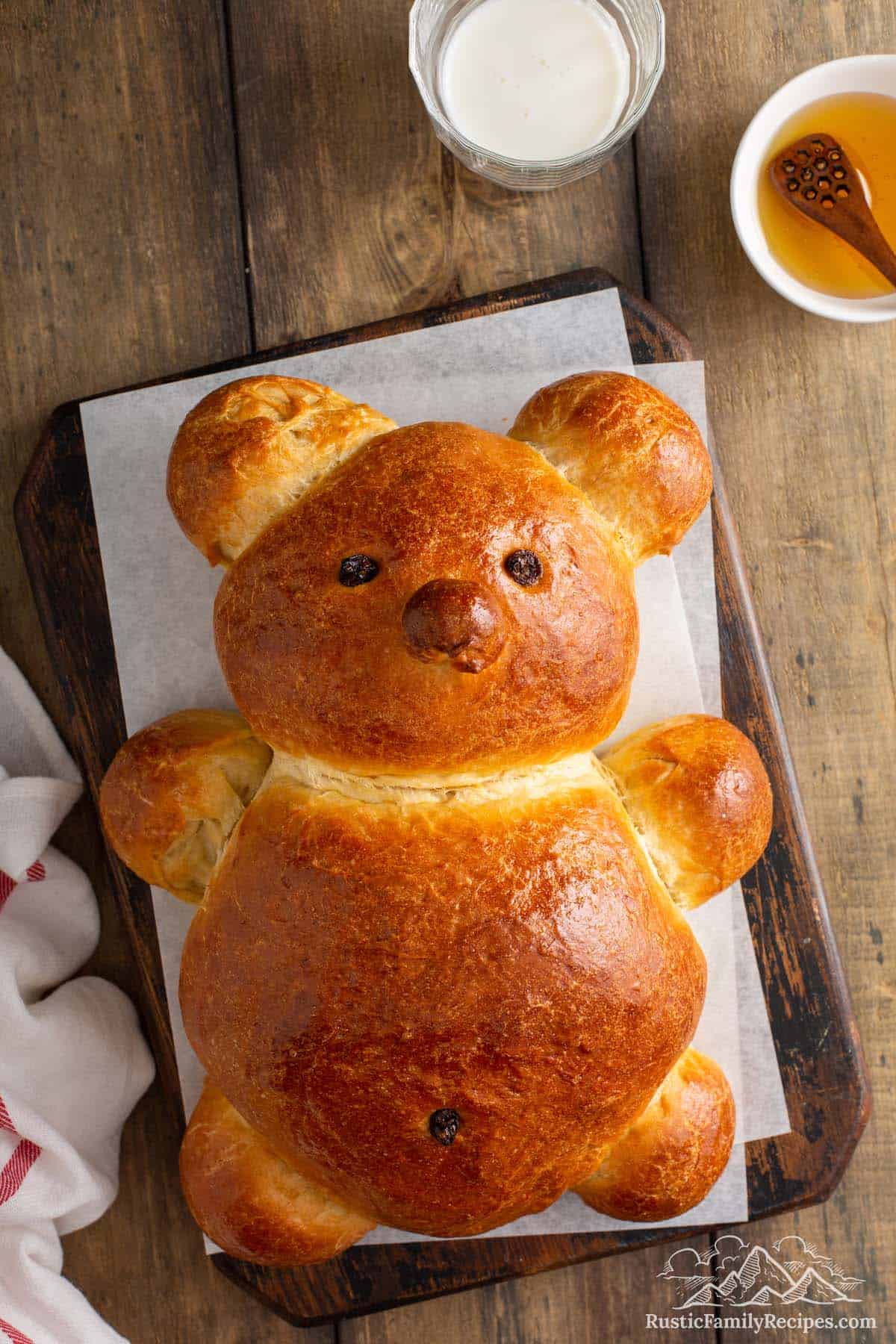 Today I would like to share with you not a new recipe, but a different way to make one of the recipes I have already posted. My Honey Vanilla Challah to be exact.
I have been making this same loaf of challah bread on the regular for almost 20 years. It's fluffy, slightly sweet, and goes perfectly with just about any meal. It also happens to be easy to make into all sorts of beautiful shapes, including animal shapes. And that is exactly what I used to do, so many years ago, when I had little hands helping me in the kitchen. My son used to love eating the raisins first, then tearing off an ear and dipping it in honey before taking a big bite.
Sometimes I still make my challah into fun shapes just for the heck of it. I mean, who doesn't enjoy eating a teddy bear?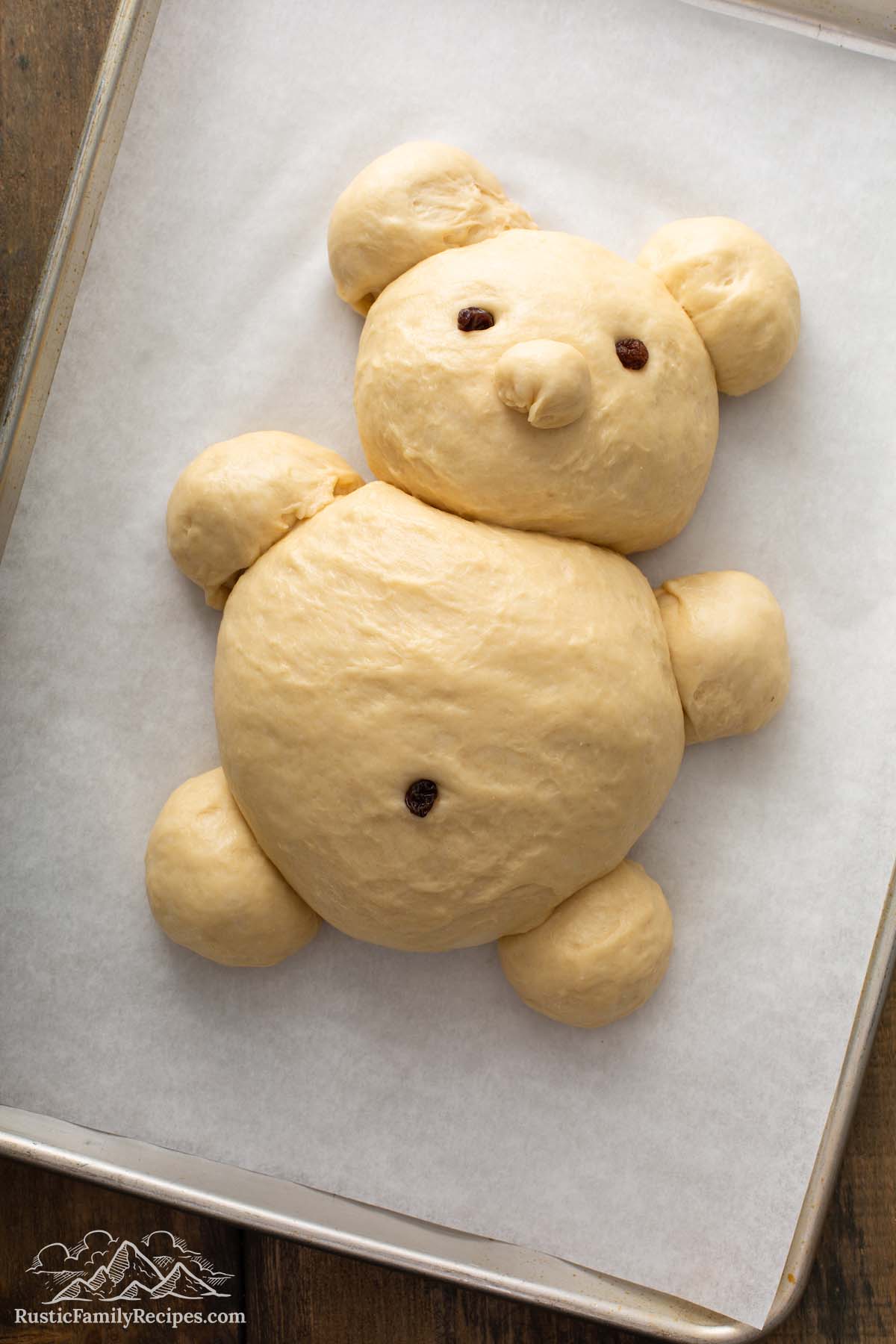 Pictured here is, of course, Teddy Bear challah. But there are many other ways you can shape this bread. I've made it into a giraffe, a tiger, a horse, flowers, even an alligator once. You can even do fun geometric patterns the represent a mandela. Your creativity is the only limit.
If you do something like a tiger that needs markings, you can use a simple glaze like this one used on my pumpkin scones or this one from my blueberry scones. Just let the bread cool completely, then add your stripes by drizzling the glaze over the bread. Give it about an hour to set afterward.
To come up with the shapes all you need to do is take out a piece of blank paper, grab a pencil, and figure out how to form a bunch of circles into a shape. Each circle represents a ball of dough. Once you have your design, divide the dough into however many pieces you are going to need, then roll each piece into a ball and assemble your bread. You can rub a bit of water between each piece to help them stick together.
How to Make Teddy Bear Challah
Here's how to shape challah dough into a Teddy Bear. No matter what shape you make, the process will be about the same. Note that if you are using small balls of dough your bake time will likely be shorter, so be sure to keep an eye on your bread.
Make the challah dough. First, you are going to make a batch of my Honey Vanilla Challah. Then after the first rise, you're going to assemble the bear.
Get a sharp knife. To assemble the bear you'll need to cut the dough using a sharp knife (so divide the dough before working with a toddler or young child if that is what you are doing).
Cut the dough in half.
One half of the dough is going to be the teddy bear's body. Shape it into a large ball and place it in the center of your lined baking sheet.
Cut the remaining piece of dough in half. One half of this piece is going to be the teddy bear's head. Shape it into a ball and place it just above the body, using a little bit of water to help the two pieces stick together if necessary.
Cut off about 1/3 of the remaining piece of dough. Divide into two small balls (the ears) and one smaller ball (the nose).
The last piece of dough will form the arms and legs. Cut it into four pieces, roll into balls, then attach to the teddy bear's body. You can make the legs bigger if you want by using more of this portion of dough for the legs.
Preheat your oven to 350 degrees F.
Let the dough do a second rise. Cover the bear loosely with plastic wrap and let rise until almost doubled in bulk, 30 to 40 minutes.
Add the eyes and belly button. With a sharp knife cut small slits where the eyes and belly button will be, then insert raisins, dried cranberries, or dried blueberries. (Any kind of dried fruit will work.) Stick a raisin or blueberry on the nose. You can also make a series of little holes vertically down the belly and insert raisins or dried cranberries/blueberries like the teddy bear is wearing a sweater and these are the buttons.
Add the egg glaze. Whisk together 1 egg and 1 teaspoon of olive oil, this is going to be the glaze for your bread. Gently brush the dough with a thick layer of it. (This is the same process as if you were making a regular challah.)
Place the dough in the oven and bake for 30 to 35 minutes, or until the bread is a deep golden brown and sounds hollow when you thump it on the bottom.
Transfer to a baking rack to cool. Allow to cool completely before slicing – or at least wait until it's warm, not hot – then enjoy!