Turn your favorite fruit into crunchy and delicious, sugar-coated Tanghulu! This simple recipe for candied fruit skewers is inspired by a popular form of Chinese street food that I recently tried at our local county fair.
One of my favorite things about this time of year is the local county fair. I love fun shows and especially all the food vendors! Every year, while my family is checking out the show schedule and deciding what they want to see, I'm checking out the food listings and deciding what I want to EAT. A girl must have priorities, right?
One of my favorite food discoveries this year? Tanghulu. Walking by a stand with dozens of bamboo skewers studded with candied fruits I just had to find out more. So while munching on strawberries, mandarin orange wedges, and grapes covered in a crunchy sugary coating I chatted with the vendors and found out how they make them. Because you know I wanted to recreate these goodies at home.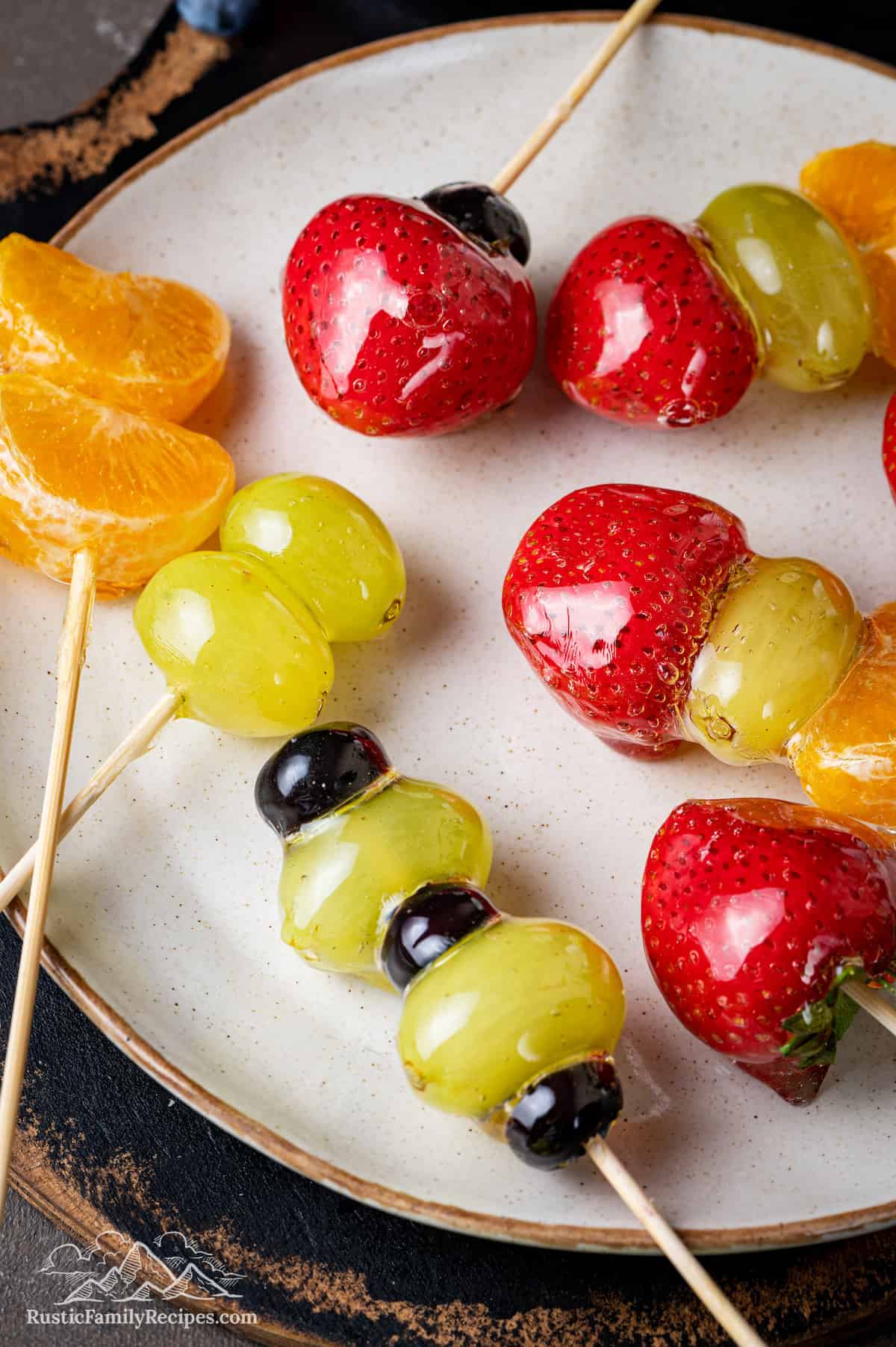 What is Tanghulu?
Tanghulu, also called bingtang hulu, is a popular street snack in Northern China. Nowadays, the sweet treat consists of various fruits arranged on a bamboo skewer, then dipped in a rock sugar candy coating. It's a bit different than your typical candied fruit, in that the sugar syrup hardens into a crunchy, clear shell. It reminded me a bit of candied apples, except that the fruit is bite-sized with multiple pieces on one skewer.
Traditional tanghulu recipes feature sugar-coated Chinese hawthorn, a fruit found in Asia. It's a sweet and sour recipe that dates back to the Song Dynasty! I've adapted my tanghulu to include a maker's choice of fruits, coated in an easy sugar syrup that hardens into a beautiful, glass-like glaze. Hawthorn is not available where I live, and the fair vendor said that's why he uses a variety of fruits when he makes these dessert sticks for fairgoers.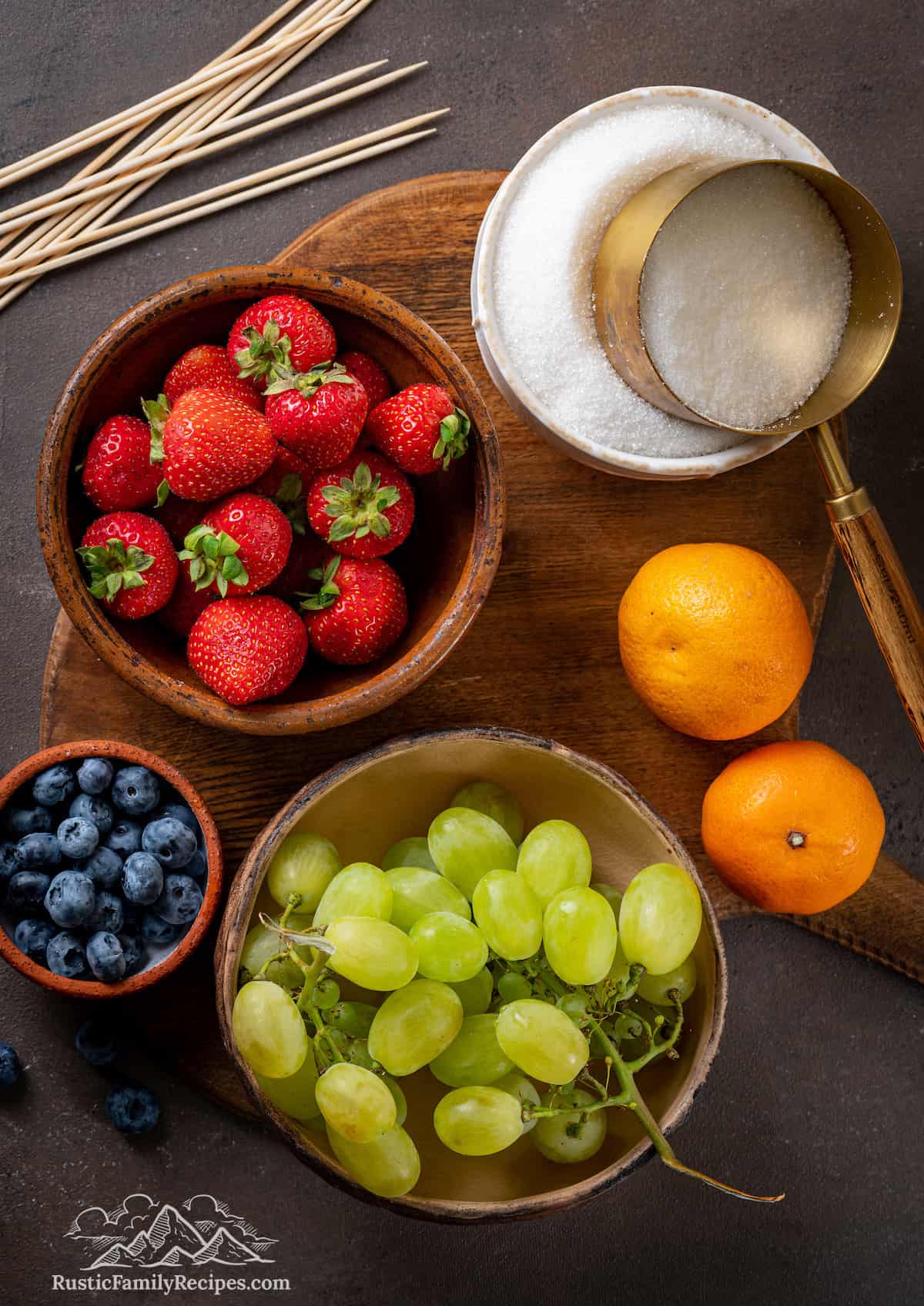 Recipe Ingredients
Below is the short list of what you'll need to make easy, deliciously crunchy, sugar-dipped tanghulu. Be sure to scroll down to the recipe card for specific amounts:
Fruit – Chances are you won't readily find Chinese hawthorn in your local grocery store! So, for this recipe, use any fruit of your choice. Strawberries turn out great in tanghulu recipes. Other good options are mandarins, berries, pineapple, banana, oranges, and grapes.
Sugar – I recommend using white granulated sugar for a clear, glassy glaze.
Water
Corn syrup – Some tanghulu recipes don't call for corn syrup, but I like to include it. Corn syrup gives the candy coating a smooth, even texture and is less likely to burn at higher temperatures.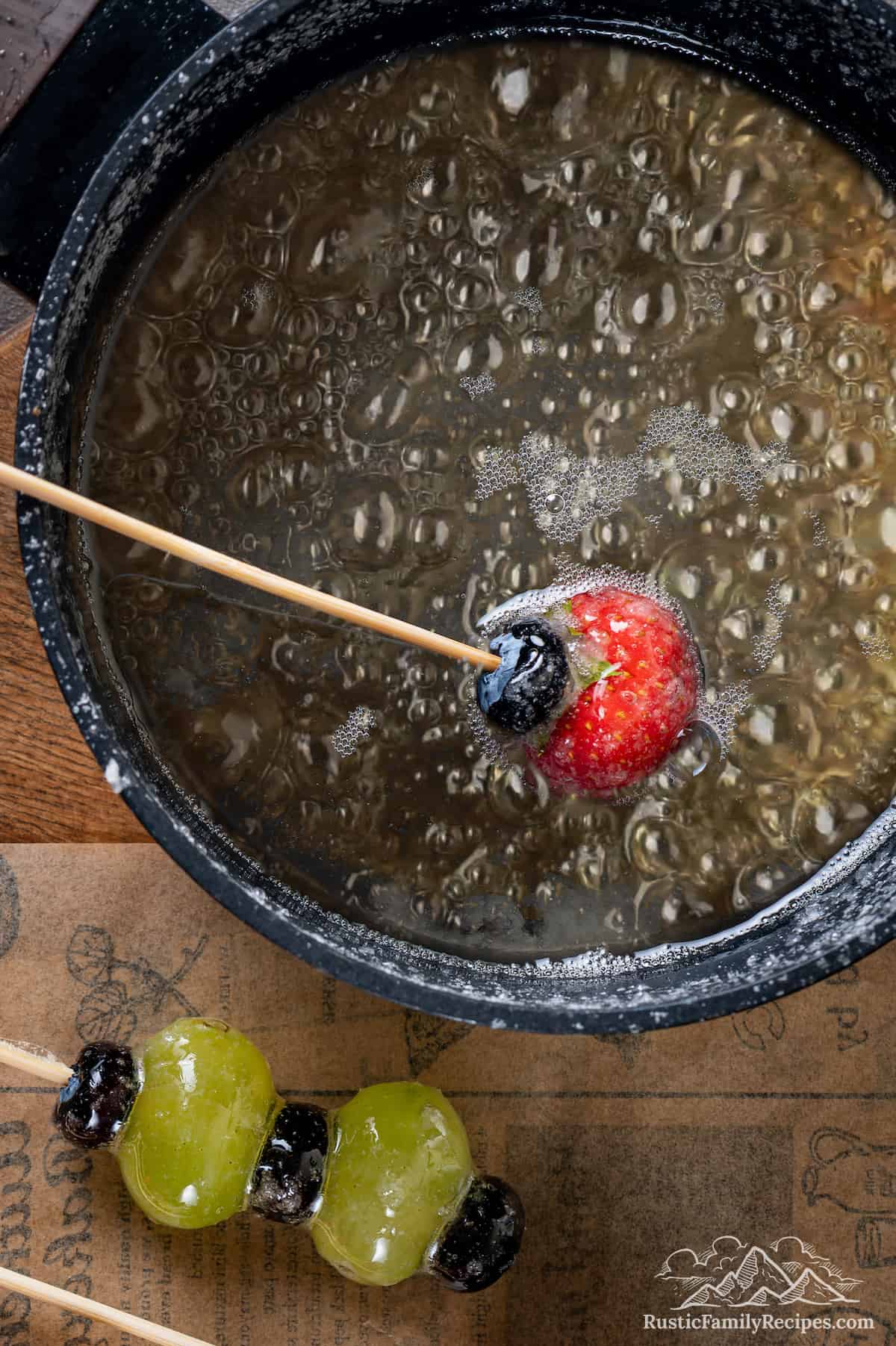 How to Make Tanghulu
This is a basic recipe that calls for precision but not much fussing. The key is to have everything ready in advance, so you can get your fruit skewers candied without the sugar syrup cooling too much. Here's how you'll do it:
Prep the fruit. First, give the fruits you're using a good wash and pat them dry. Next, you'll assemble your fruit skewers, aiming for about 1-3 pieces of fruit per bamboo skewer.
Bring the sugar mixture to a boil. Bring the sugar, water, and corn syrup to a boil in a saucepan. You'll need to boil the mixture for about 5-10 minutes, or until it reaches 290ºF. Once the sugar syrup comes to temperature, it's a good idea to turn the heat down to avoid burning.
Dip. One at a time, dip your prepared fruit skewers into the hot syrup to coat. Be careful not to let your hands get too close to the boiling sugar. The sugar coating should harden almost as soon as it leaves the pot. Lay the finished skewers on a sheet of parchment while you dip the rest, then enjoy right away!
Do I Need a Thermometer?
Because the temperature of the sugar mixture is so important to get the right texture on your tanghulu, I do recommend using a candy thermometer. I have one by Polder that clips to the side of my pot and as of right now, is only $11 on Amazon. I've had this thermometer for about 10 years and it's still going strong!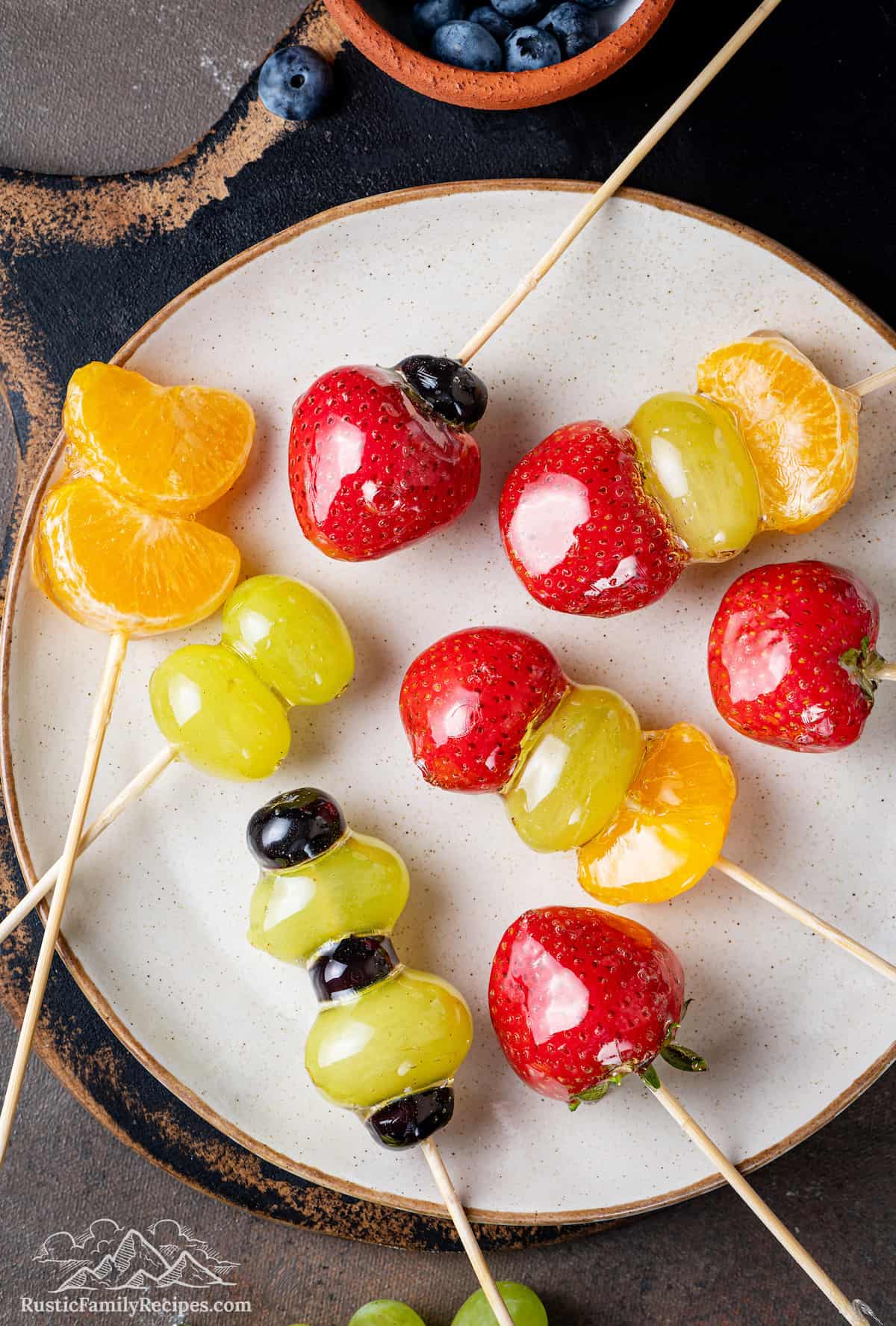 Tips for Perfectly Candied Fruit
As long as you boil your ingredients correctly, making perfectly glassy and crunchy tanghulu is a breeze! Here are some additional tips to keep in mind when making glazed fruit:
Keep an eye on the syrup temperature. Make sure to monitor the temperature of the sugar syrup once it reaches a boil. One, because you want it boiling at the perfect temperature so that it hardens right away. Secondly, you don't want to burn the mixture! Turn the heat down once the sugar reaches the correct dipping temperature, and adjust as needed.
Why is my tanghulu sticky? This is most likely because your sugar syrup was not hot enough. Make sure you get it to a rolling 290ºF! Another reason could be that your fruit wasn't completely dried off after you rinsed it. Be sure to thoroughly dry fruit pieces like strawberries, grapes, etc. before you dip them.
Work quickly. Have your fruit skewers and parchment paper laid out and ready to go before the sugar reaches a boil. This way you can work quickly and cleanly when coating the fruit!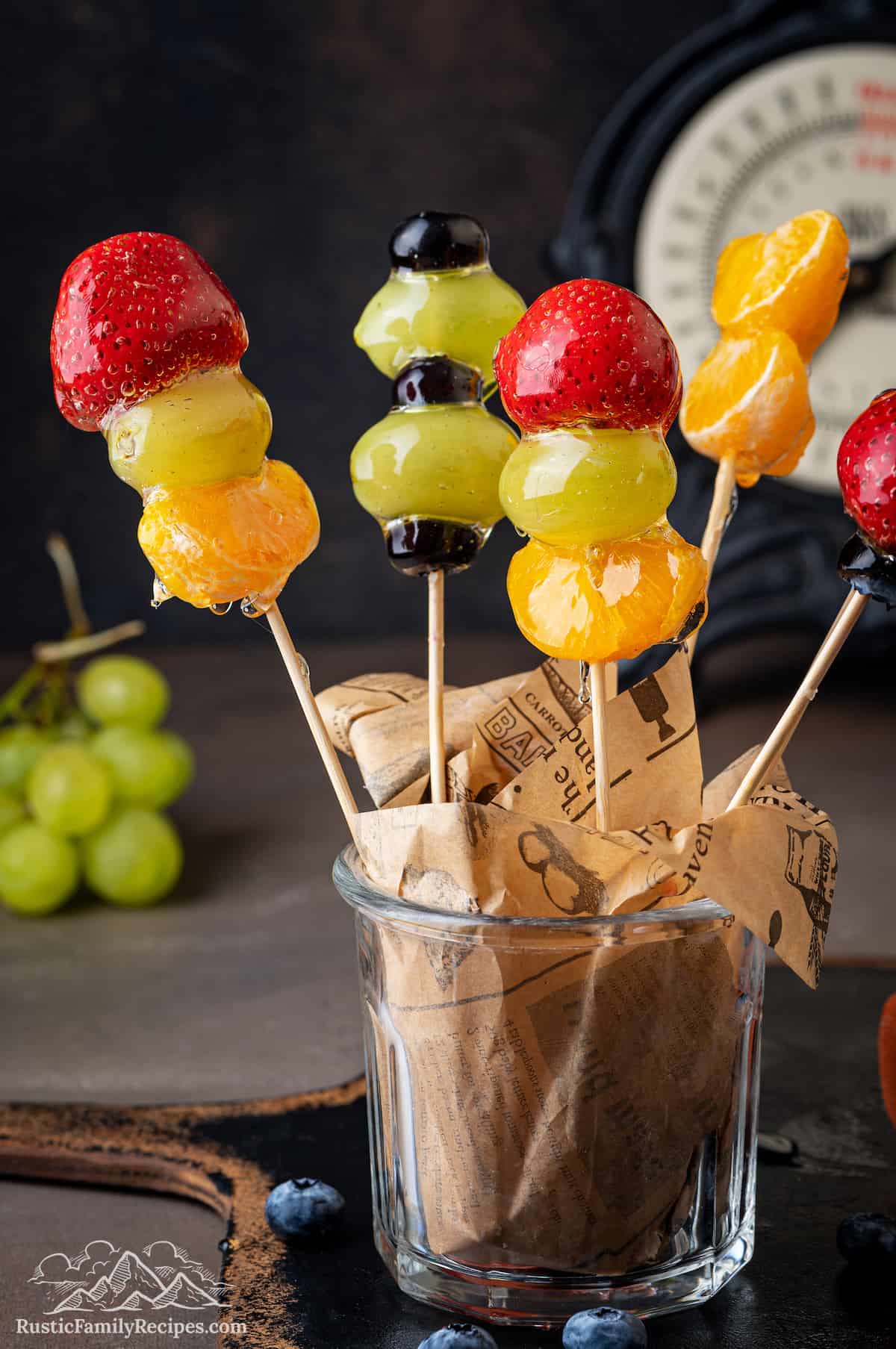 How to Store Tanghulu
Tanghulu is best enjoyed right away to take advantage of that fresh and crunchy shell. However, if you need to store your skewers, place them in an airtight container or wrap them in plastic wrap. Storing your tanghulu in the fridge will help preserve the sugar coating for a short while, though they will start to break down and get sticky, so it's better to eat them as soon as possible.
Print
Tanghulu
Turn your favorite fruit into crunchy, sugar-coated tanghulu! A simple recipe for candied fruit skewers inspired by popular Chinese street food.
Author: Rustic Family Recipes
Prep Time:

10 minutes

Cook Time:

15 minutes

Total Time:

25 minutes

Yield:

10 servings

Category:

Dessert

Method:

Stovetop

Cuisine:

Chinese
2

pounds fruits of your choice

2 cups

sugar

¼ cup

water

⅓ cup

corn syrup
Instructions
Prep the fruit. Wash and dry all fruits you'll use.
Assemble the skewers. Arrange fruit on a bamboo skewer, 1-3 pieces per skewer.
Combine the ingredients for the sugar syrup. Combine sugar, water and corn syrup in a medium saucepan and bring the mixture to a boil.
Boil. Boil until the temperature reaches 290 degrees Fahrenheit. This will take approximately 5-10 minutes. When the sugar and water mixture has reached the desired temperature turn the temperature down slightly to prevent burning.
Dip the fruit skewers. Dip your fruit skewer into the sugar mixture to coat the fruit.
Cool and serve. Place each fruit skewer on a silicone baking sheet or parchment paper. The coating should harden almost immediately. This recipe is best eaten right away.
Last Step:
Please
share a rating and comment
if you enjoyed this recipe! Your feedback helps this little blog thrive and continue providing free, high-quality recipes for you.
Keywords: how to make tanghulu, candied fruit, chinese street food
Filed Under:
More Fruity Desserts to Try
This post may contain affiliate links. Please read our disclosure policy.