About Me: I have more than 20 years of cooking experience & share my favorite recipes on this blog.
Have a question? Please post a comment, I'm happy to help. 🙂
Sweet Potato Buttermilk Biscuits are tender and flaky, with just a touch of sweetness that lends itself to topping with homemade jam or a smear of honey butter.
When you add sweet potatoes to buttermilk biscuits, magic happens. You'll get a sweeter biscuit, of course, but that's not all! The sweet potatoes make these biscuits tender and pillowy — in other words, they're pretty much irresistible.
If you're a fan of biscuits, you may also want to try my buttermilk biscuits recipe or these cathead biscuits!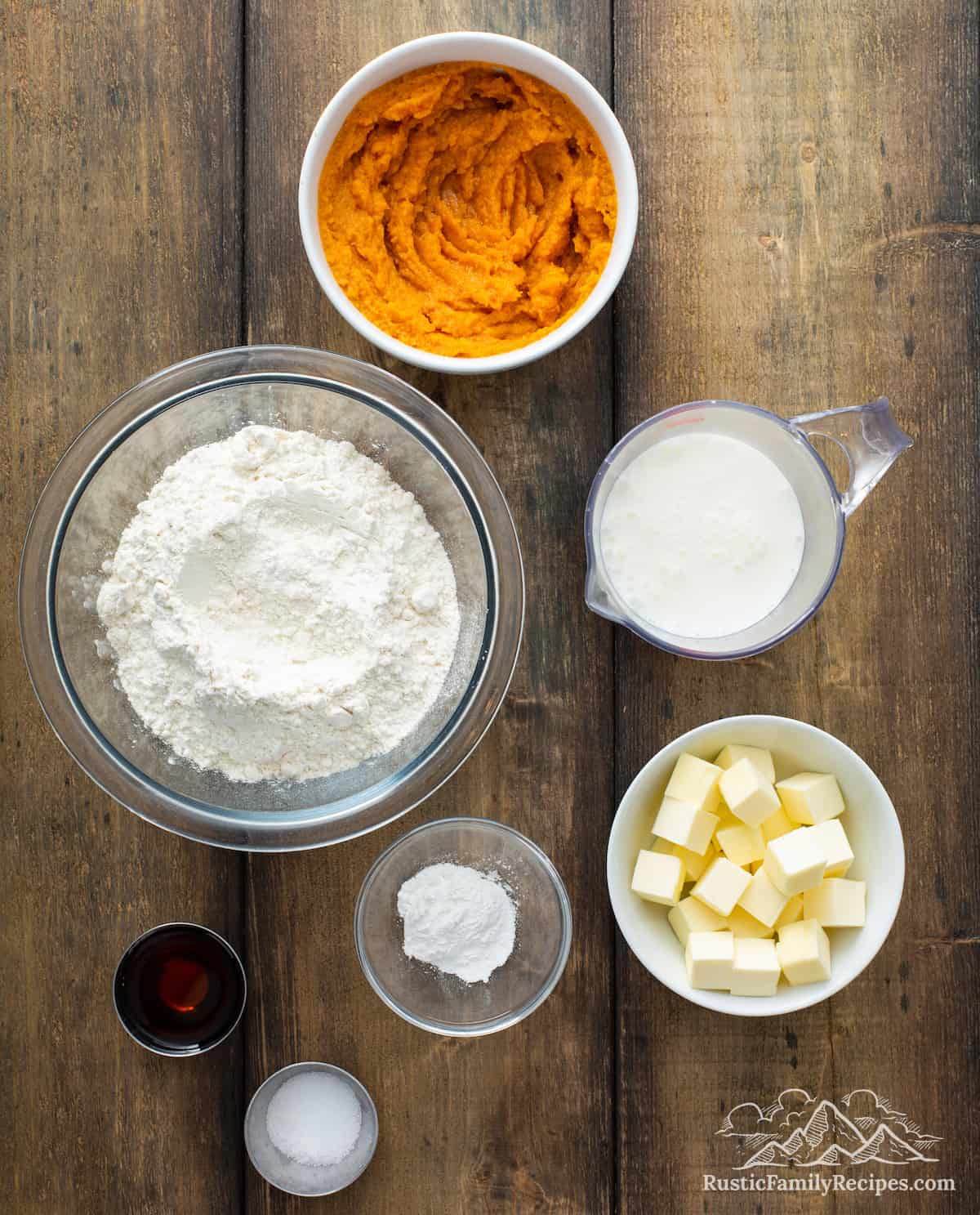 What You'll Need
Sweet Potato Buttermilk Biscuits have a relatively short ingredient list — and you probably have most of the ingredients in your pantry already. Here's what you'll need:
Sweet potato – Please, I beg you, don't microwave the sweet potato for this recipe! Here's how to bake a sweet potato, which yields the tender, caramelized insides that make for the best sweet potato biscuits.
All-purpose flour
Maple syrup – Just to amp up the sweetness a bit. Use a rich, dark syrup (formerly known as Grade B) for best results.
Baking powder
Kosher salt – Kosher salt has larger crystals than table salt, so if you don't have kosher salt on hand, use a scant 1/2 teaspoon of table salt instead of a full 1/2 teaspoon.
Unsalted butter – Want to make your sweet potato biscuits vegan? Avocado oil butter or another plant-based substitute works just as well as dairy butter.
Buttermilk – For vegan sweet potato biscuits, substitute 1/2 cup of unsweetened soy milk and a tablespoon of lemon juice.
How to Make Sweet Potato Buttermilk Biscuits
Making your own sweet potato biscuits is easier than you think! Let's get started.
Get everything ready. Bake your sweet potato, if you haven't already, and let it cool. Preheat your oven to 425º, then line a baking sheet with parchment paper or a Silpat.
Puree the sweet potato. You can do this in a food processor or use a fork, but either way, make sure it's smooth. You'll need 3/4 cup for the recipe.
Whisk together the dry ingredients. Combine the flour, baking powder, and salt in a medium bowl.
Mix in the butter. Cut it into pea-sized pieces and drop them into the dry mixture. Use a pastry cutter or your hands to mix the butter into the dry ingredients, until it reaches a breadcrumb-like texture.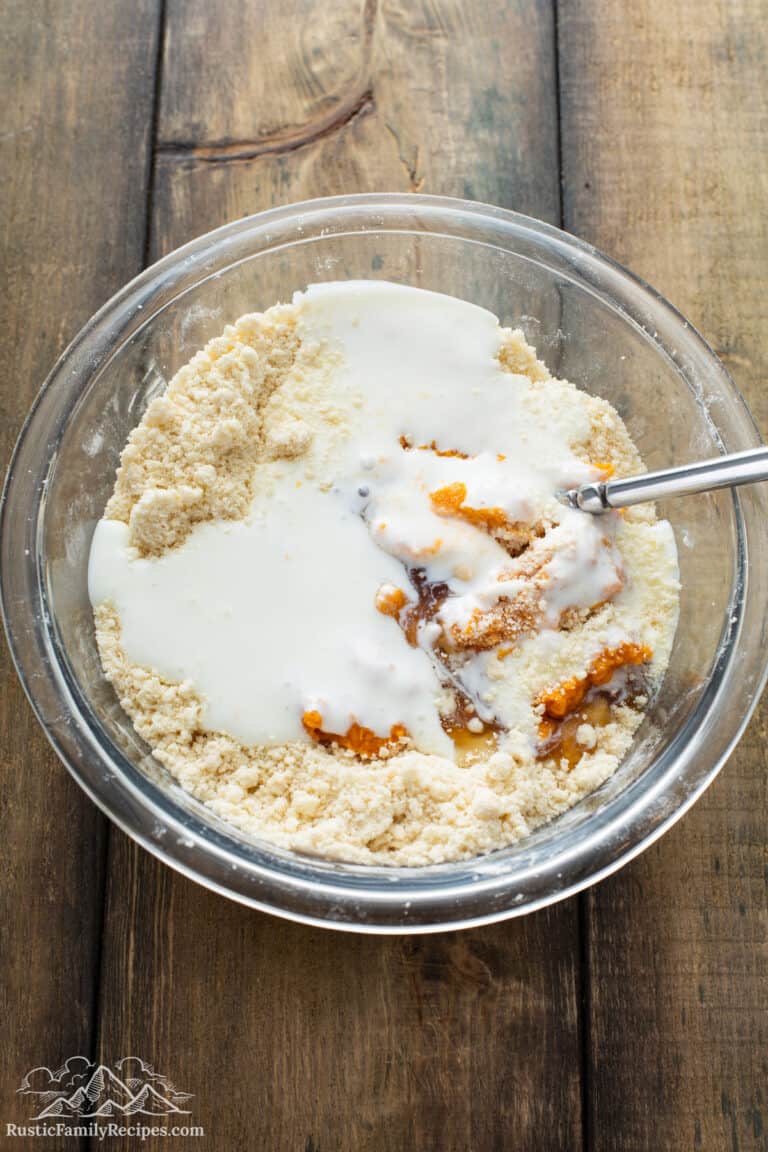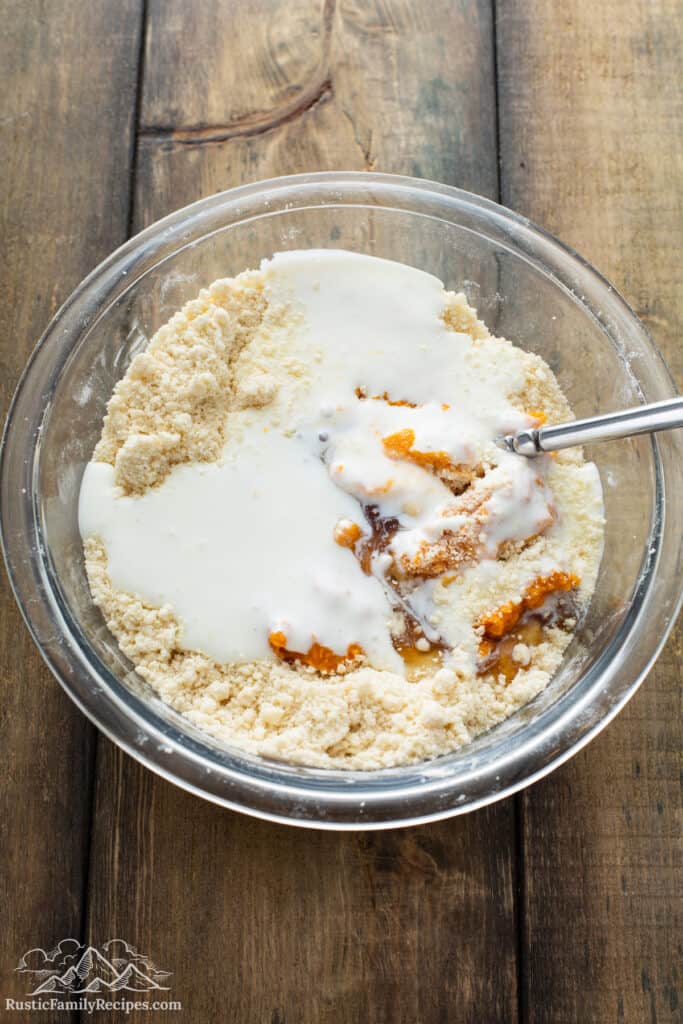 Add the wet ingredients. Make a well in the center of the dry ingredients, then add the sweet potato puree, maple syrup, and buttermilk. Stir just to moisten — if you over-mix, your sweet potato biscuits won't be soft and pillowy. At this point, you can add more flour if your dough is sticky, or more water if it's too dry.
Knead the dough. Lightly flour a marble baking slab or cutting board, then turn the dough out onto it and give it a good knead—about 6-7 times is perfect. Once the dough holds together, pat it into a 1-inch thick rectangle.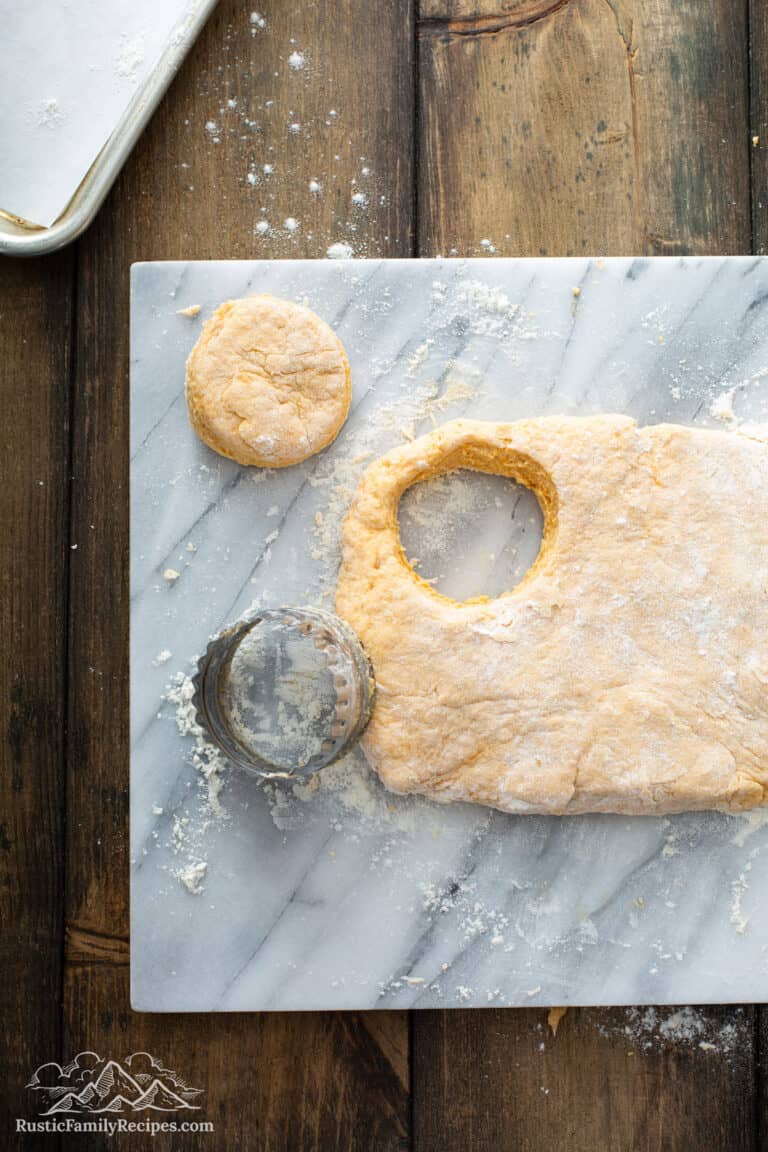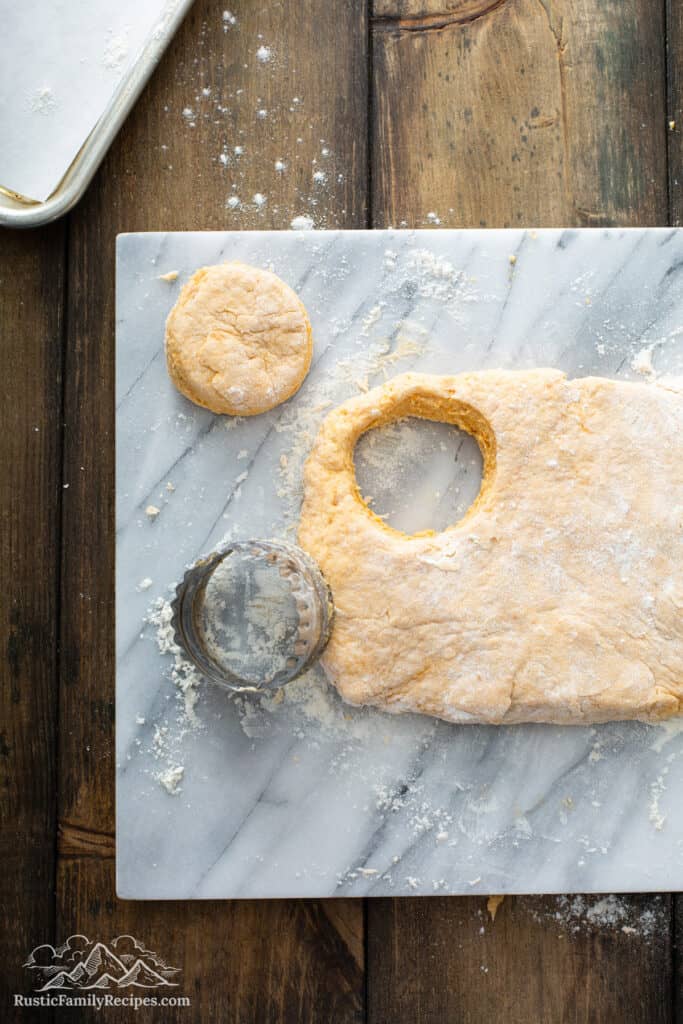 Cut the biscuits. We're in the home stretch! Flour a biscuit cutter or drinking glass, then press it into the dough, twisting slightly. Place the cut biscuits onto the prepared baking sheet with about 1/2-inch of space between them. Roll out any dough scraps and repeat the process; when you have only about a biscuit's worth of dough left, pat it into a biscuit shape and place it on the baking sheet.
Bake and serve. Bake the biscuits for 15 to 18 minutes, or until they're fluffy and golden brown. Let them sit for a few minutes, then serve — Sweet Potato Buttermilk Biscuits are best enjoyed fresh out of the oven!
Tips for Success
Here's how to make the best sweet potato biscuits:
Your butter should be cold. The colder the better — you can even pop it in the freezer for an hour two before you start the recipe. This is the key to light, flaky biscuits.
Don't over-mix or over-knead. If you're new to making biscuits, it may be tempting to keep mixing or kneading until you have something resembling pizza dough, but biscuit dough should be shaggy.
Experiment with herbs and spices. Have some spare sprigs of thyme sitting in the fridge? Add some thyme leaves! Want to add a certain je ne sais quoi to your sweet potato biscuits? I love including a touch of cardamom with the dry ingredients.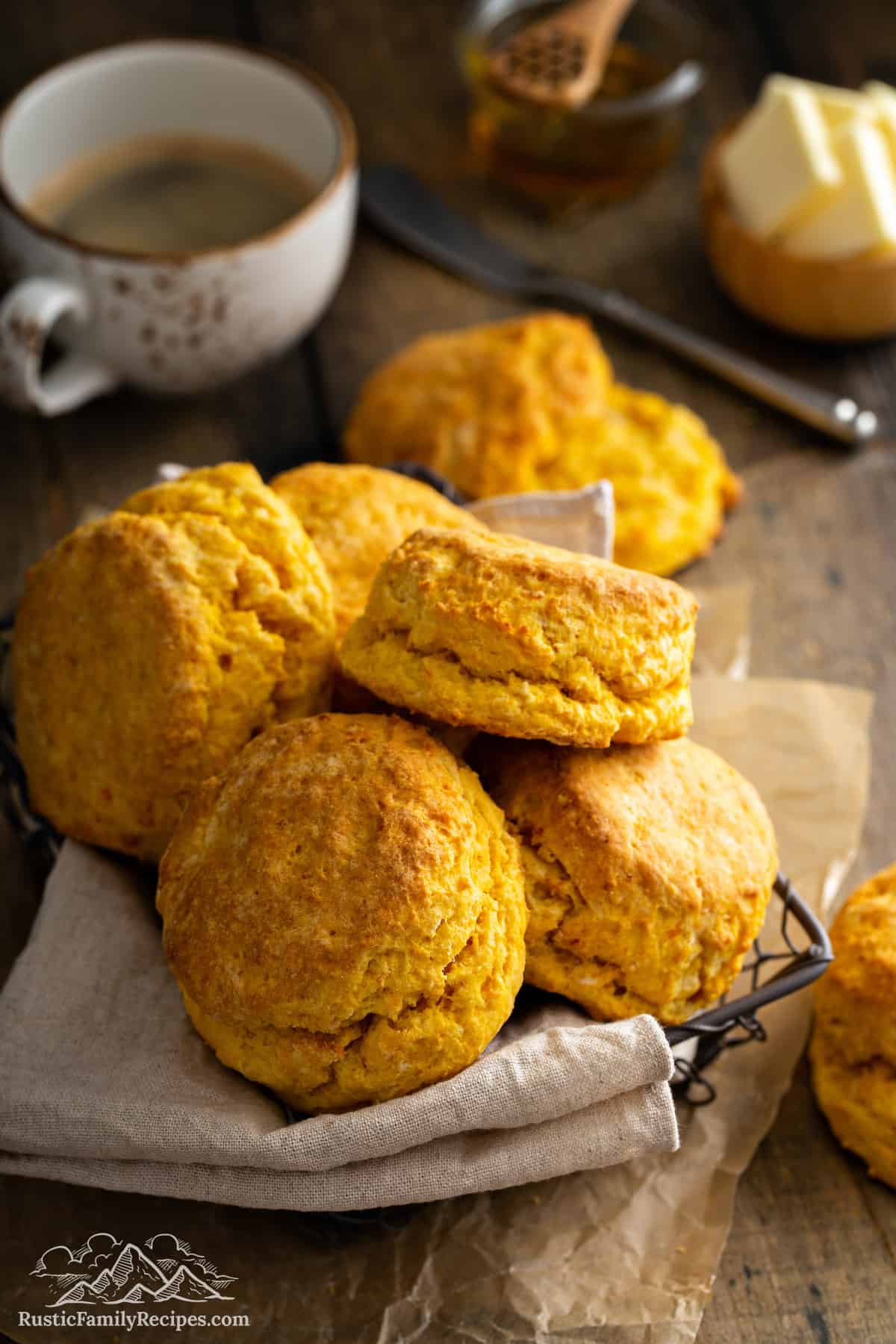 Serving Suggestions
Since these biscuits are made with sweet potatoes, you can lean into the sweetness and pair them with jams, stewed fruit, or a drizzle of honey. Or, go the savory route and mix up some herbed compound butter for serving with your Sweet Potato Buttermilk Biscuits.
Slice the biscuits lengthwise and use them for breakfast sandwiches, or use them to make the best darn biscuits and gravy you've ever had. Whenever I make rabbit stew and venison chili, I always make sure we've got biscuits on the side for soaking up those last bits at the bottom of the bowl.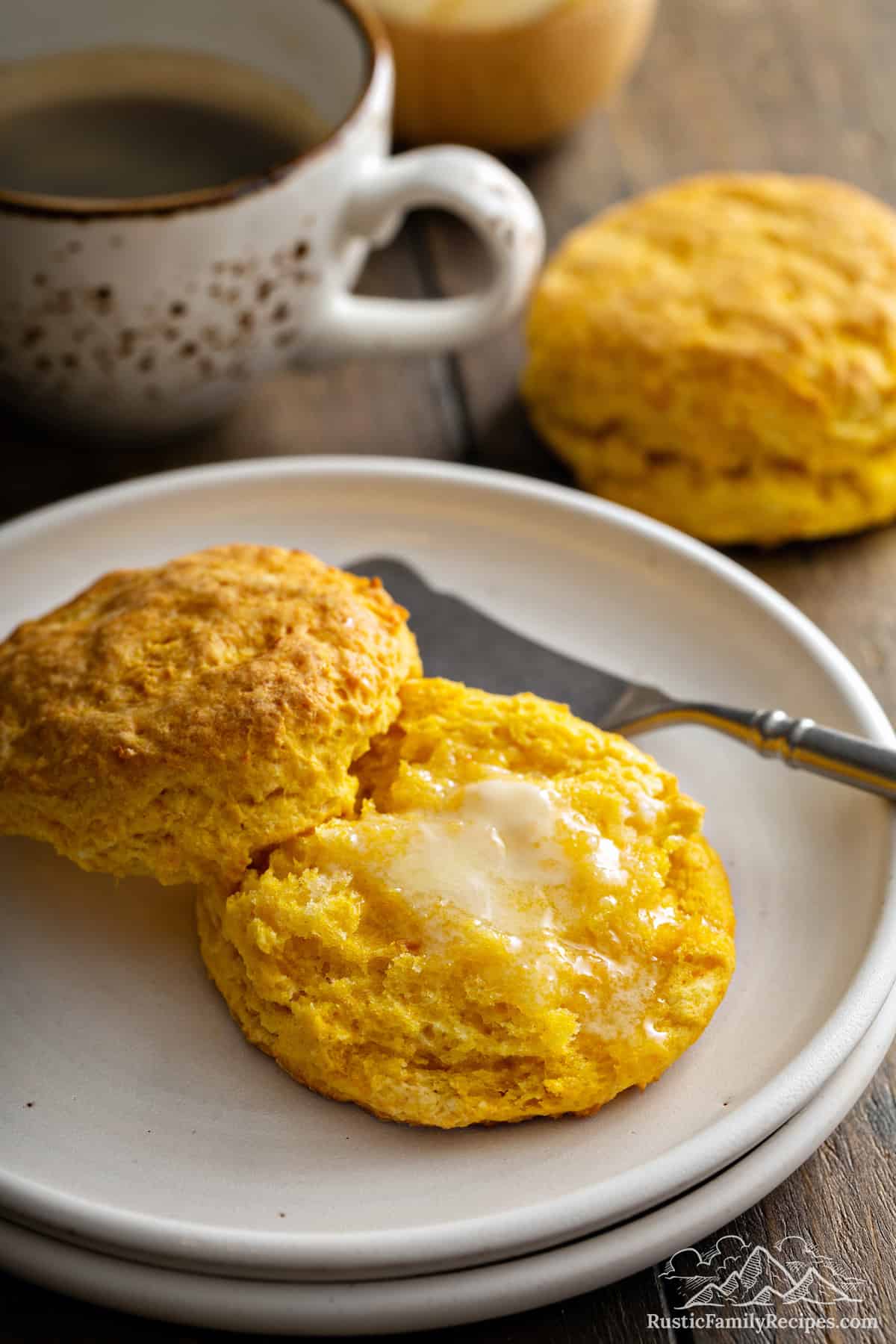 How to Store Homemade Biscuits
Once sweet potato biscuits have cooled, they're ready to store. Place them in a resealable bag or airtight container, or wrap them tightly in foil or plastic wrap. These particular biscuits can be stored at room temperature on your countertop for about 2 days.
Can I Freeze These?
Absolutely! Because biscuits have a short shelf-life, I recommend freezing them if you don't think you'll be able to eat them all within a day or two, because the longer they're kept at room temperature, the more likely they are to dry out.
To freeze sweet potato biscuits, make sure they're cooled to room temperature, then wrap them individually in plastic wrap. (By wrapping each biscuit by itself, you'll prevent freezer burn.) Place all of the wrapped biscuits in an airtight container or freezer bag and store them in the freezer for up to 6 months.
When you're ready to dig in to your stash of biscuits, you can defrost them in the refrigerator overnight, or thaw them on the countertop at room temperature for a few hours. For warm biscuits — or when you don't have patience for your biscuits to defrost! — heat them in an oven at 350ºF for 5 to 10 minutes.
Sweet Potato Buttermilk Biscuits
These tender, flaky sweet potato biscuits are what dreams are made of. Whether you serve them with breakfast, lunch, or dinner, they're sure to be a hit!
Ingredients
1

baked sweet potato,

peeled

1 ⅔

cups

all purpose flour

1

tablespoon

maple syrup

2 ½

teaspoons

baking powder

½

teaspoon

kosher salt

6

tablespoons

unsalted butter

½

cup

buttermilk
Instructions
Preheat oven to 425F. Line a baking sheet with parchment paper or a silpat.
Make the Biscuit Dough
Mash the baked sweet potato until smooth, for a total of ¾ cup.

In a medium bowl, combine the flour, baking powder and salt. Set aside.

Cut the butter into small pieces. Using your hands, rub the butter into the dry ingredients until the mixture looks like coarse breadcrumbs.

Make a well in the center of your dry ingredients. Add the maple syrup, sweet potato and buttermilk. Stir to moisten everything. The dough should be shaggy and not sticky. If it is sticky, dust with a small amount of additional flour. If it is too dry, you can add some water 1 teaspoon at a time.
Shape the Biscuits and Bake
Turn the dough out onto a lightly floured surface. Knead about 6-7 times until the dough just holds together. Pat out into a rough rectangle, about 1 inch thick. Be careful not to add too much flour at this point.

Cut into rounds using a 2-inch biscuit cutter. You can also use the top of a drinking glass. Gently dip the cutter into flour, then press down into the dough, twisting slightly as you cut through the dough. Place cut biscuits on the baking sheet. Re-roll leftover scraps of dough and repeat the process. When you have about one biscuit worth of dough left, just roll it up into a biscuit shape and place it on the baking sheet with the other biscuits. Leave about ½ an inch of space between the biscuits.

Bake for 15 to 18 minutes or until golden brown. Let rest a few minutes and then serve.
Last Step:
Please
share a rating and comment
if you enjoyed this recipe! Your feedback helps this little blog thrive and continue providing free, high-quality recipes for you.
Nutrition
Calories:
141
kcal
|
Carbohydrates:
19
g
|
Protein:
2
g
|
Fat:
6
g
|
Saturated Fat:
4
g
|
Polyunsaturated Fat:
0.3
g
|
Monounsaturated Fat:
2
g
|
Trans Fat:
0.2
g
|
Cholesterol:
16
mg
|
Sodium:
207
mg
|
Potassium:
101
mg
|
Fiber:
1
g
|
Sugar:
2
g
|
Vitamin A:
2863
IU
|
Vitamin C:
0.5
mg
|
Calcium:
72
mg
|
Iron:
1
mg
Nutritional info is an estimate and provided as a courtesy. Values may vary according to the ingredients and tools used. Please use your preferred nutritional calculator for more detailed info.
Did you make this recipe?
💖 I love hearing how my recipes came out for others! If you tried this recipe, please share a comment. 💖