About Me: I have more than 20 years of cooking experience & share my favorite recipes on this blog.
Have a question? Please post a comment, I'm happy to help. 🙂
It's a bird, it's a plane… It's Superman Ice Cream! This bold and colorful homemade ice cream recipe is made with three different flavors of creamy no-churn ice cream.
Craving a spoonful of something fruity, refreshing, and delicious? It's Superman ice cream to the rescue!
This easy no-churn ice cream recipe is as colorful as it is flavorful. Made with heavy whipping cream and condensed milk, the finished product is creamy, cool, and refreshing. The best part is that you can leave the ice cream maker safely in the cupboard for this recipe. Superman ice cream takes a handful of ingredients from zero to hero with minimal effort, for a delicious dessert that's quick to assemble in a loaf pan.
What is Superman Ice Cream?
Superman ice cream is an ice cream flavor from the American Midwest. A bit like a brightly colored Neapolitan, it consists of three flavors, with the colors resembling those found on Superman's suit: usually reddish-pink (or in this case, pink because I used natural food coloring), yellow, and blue.
Even though this ice cream is named after the famous DC Comics character, the original recipe for Superman ice cream existed long before the actual comic was created. So basically this ice cream combo existed, then one day someone was like: "Hey, those colors remind me of Superman!" And the name just sorta stuck.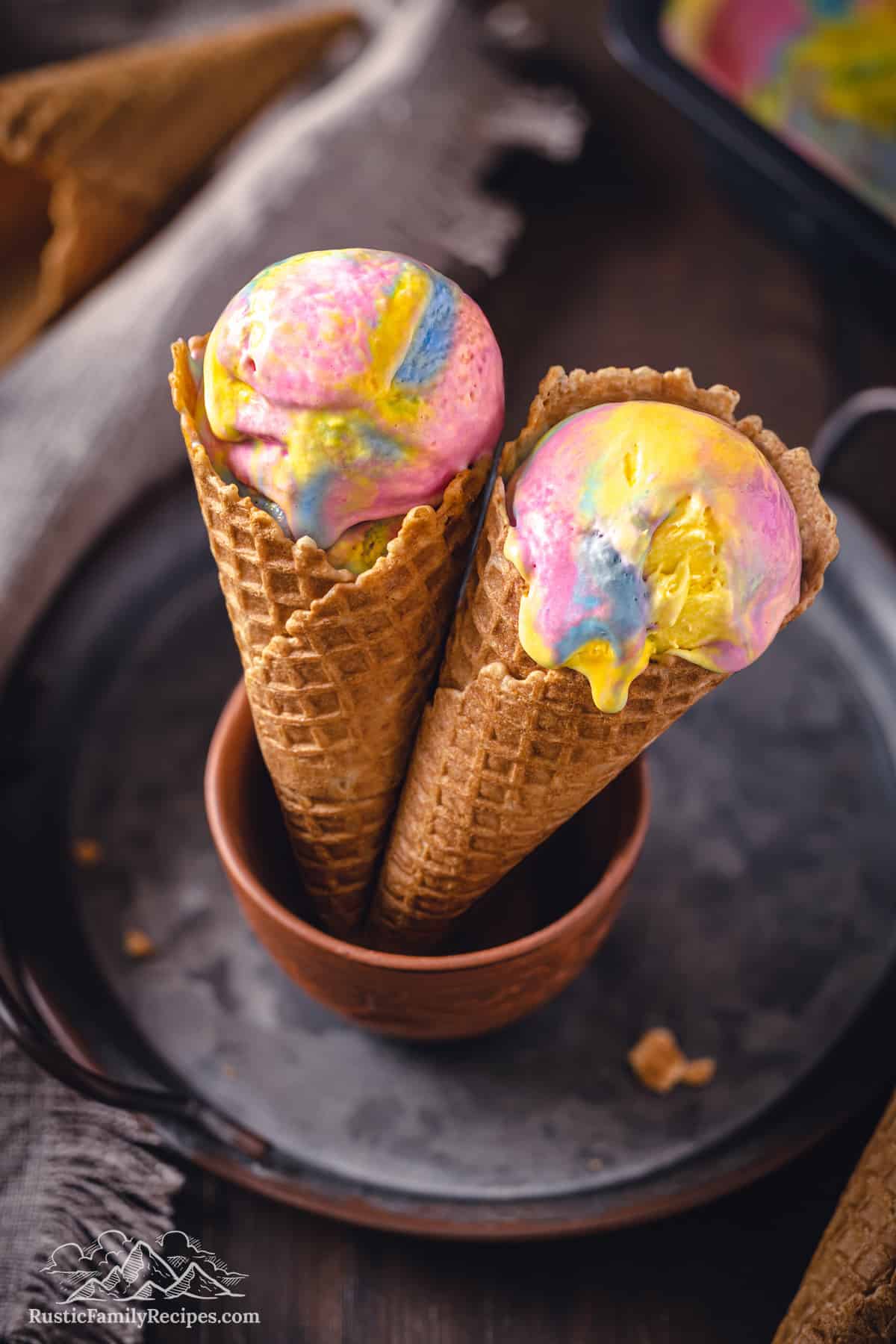 What Are the Flavors in Superman Ice Cream?
The exact flavor and color combinations in Superman ice cream tend to vary depending on who makes it. The original recipe features Redpop ice cream (flavored like strawberry soda), lemon ice cream, and another Midwestern enigma: blue moon ice cream. The true flavor of blue moon ice cream is hard to define. I've always found it a bit fruity and citrusy, with hints of lemon, raspberry, and vanilla.
You'll find Superman ice cream recipes made with varying combinations of strawberry or cherry, blue moon or blue raspberry, and lemon or vanilla. In my recipe, I've gone with a simple homemade no-churn ice cream base, dyed a vibrant pink for the "red" ice cream. Lemon juice and zest, along with yellow dye, are used to make the yellow lemon ice cream. Meanwhile, blue coloring and a combination of lemon juice, raspberry flavoring, and vanilla extract come together to recreate that classic blue moon flavor.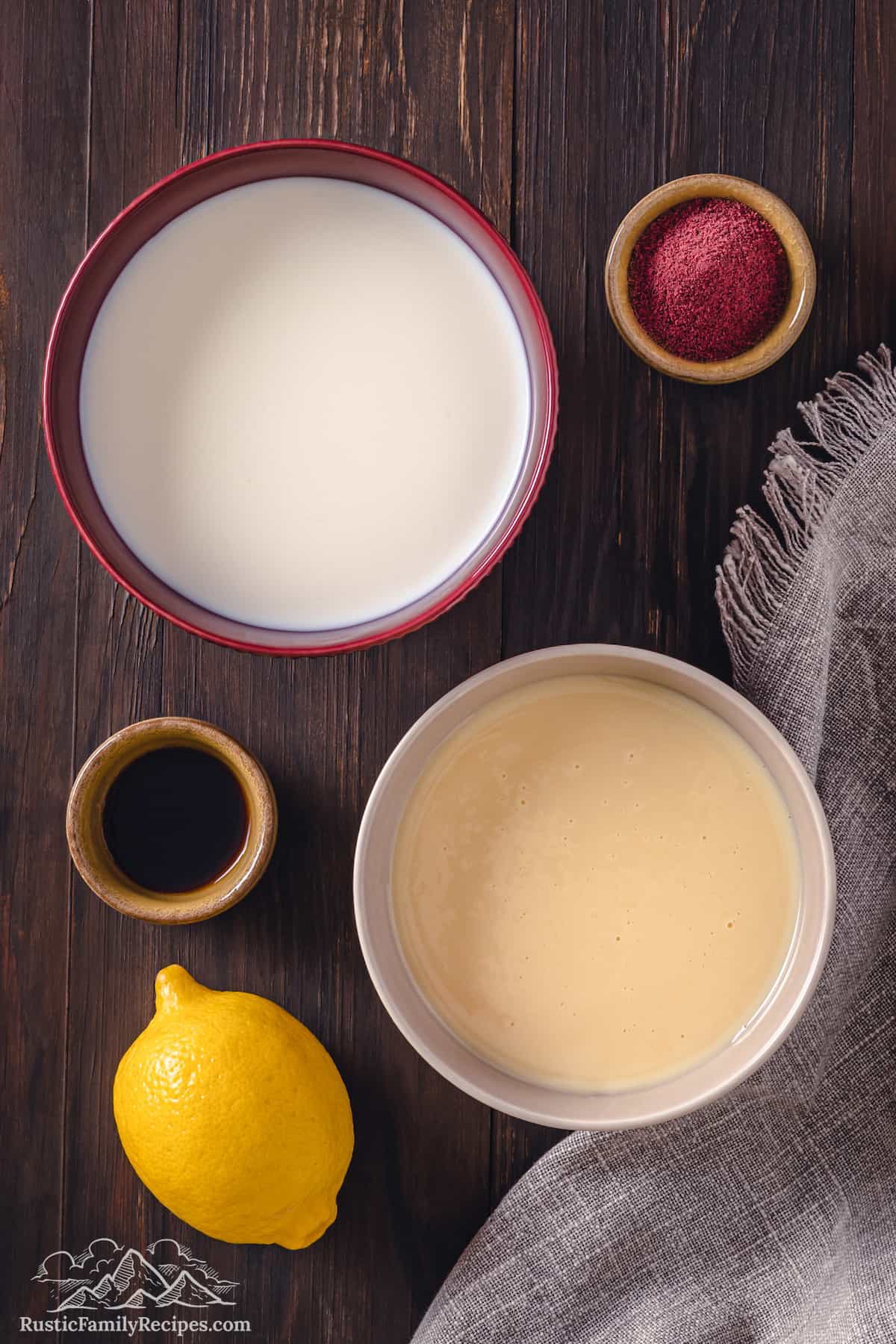 Recipe Ingredients
Just a few ingredients is all you need to make this heroic no-churn ice cream, which I've summarized below. Be sure to refer to the recipe card further on for the full ingredient amounts.
Heavy whipping cream – Aim for the kind that is 35-38% fat. No-churn ice cream is the perfect excuse to throw calorie concerns out the window. The fat is what makes this homemade ice cream extra creamy!
Sweetened condensed milk – Emphasis on sweetened. Make sure you're using whole fat, sweetened condensed milk and not the unsweetened kind.
Vanilla extract – Pure vanilla extract will always yield the best, most natural vanilla flavor in ice cream making.
Dragon fruit powder – I use this to dye one-third of the ice cream that bright, vibrant pink color.
Lemon – You'll need to juice and zest one lemon, for flavoring the ice cream.
Food coloring – I use yellow and blue food dyes when making the other two ice cream colors.
Raspberry flavoring

– Optional, to achieve that ambiguous fruity-citrus blue moon flavor in the blue ice cream, mentioned earlier.

Ice cream cones – For serving.
How to Make Superman Ice Cream
This ice cream recipe comes together in a few short steps (the beauty of no-churn recipes!). There's minimal prep involved, followed by an overnight stint in the freezer. Here's how to make this easy Superman ice cream from scratch: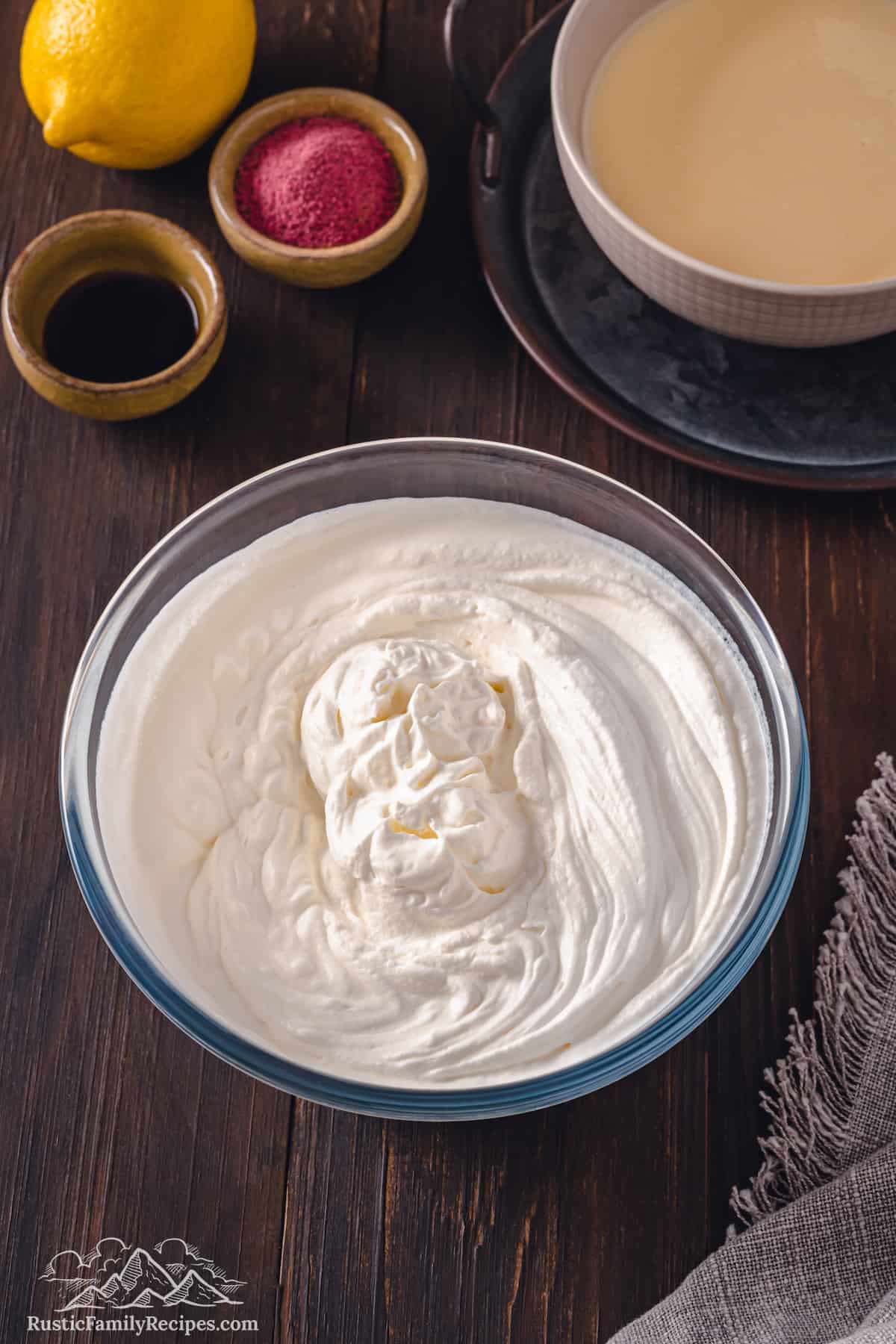 Make the ice cream base. First, beat the heavy whipping cream until stiff peaks form. Next, fold in the condensed milk and give it a good mix to combine.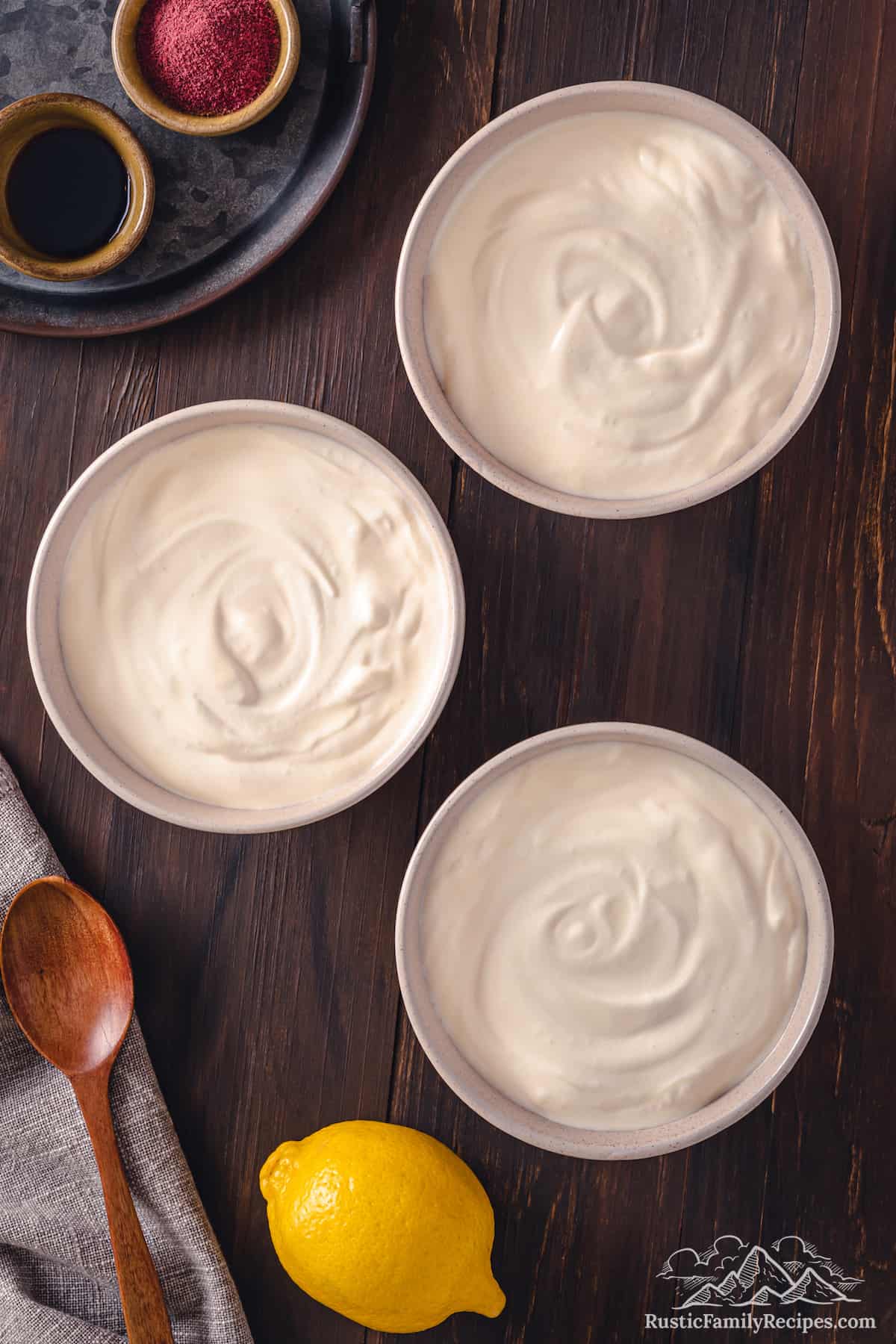 Mix the ice cream flavors. Divide the ice cream base evenly between three bowls. Make the pink ice cream by stirring dragon fruit powder (or red food dye) into the first bowl. Next, add the lemon juice, raspberry flavoring, vanilla extract, and blue coloring to the second bowl to make the blue moon flavor. Finally, stir lemon juice and zest, along with the yellow coloring into the last bowl, for the lemon ice cream.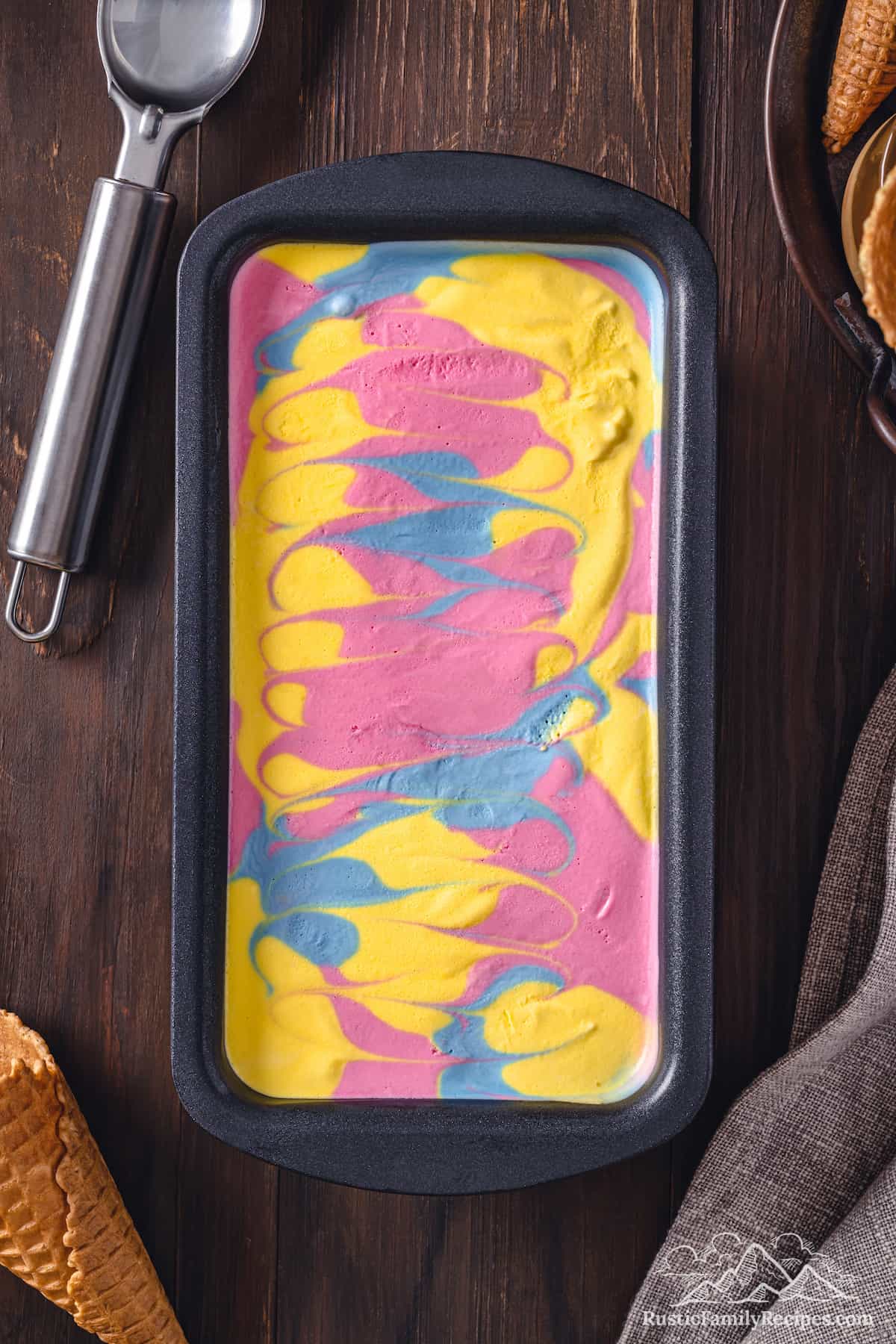 Assemble the ice cream and freeze. Place alternating spoonfuls of each ice cream color into a loaf pan, or similar freezer-safe container. Just drop them in one after another – no need to stir them. Once it's ready, move the Superman ice cream into the freezer for a minimum of 8 hours, ideally overnight.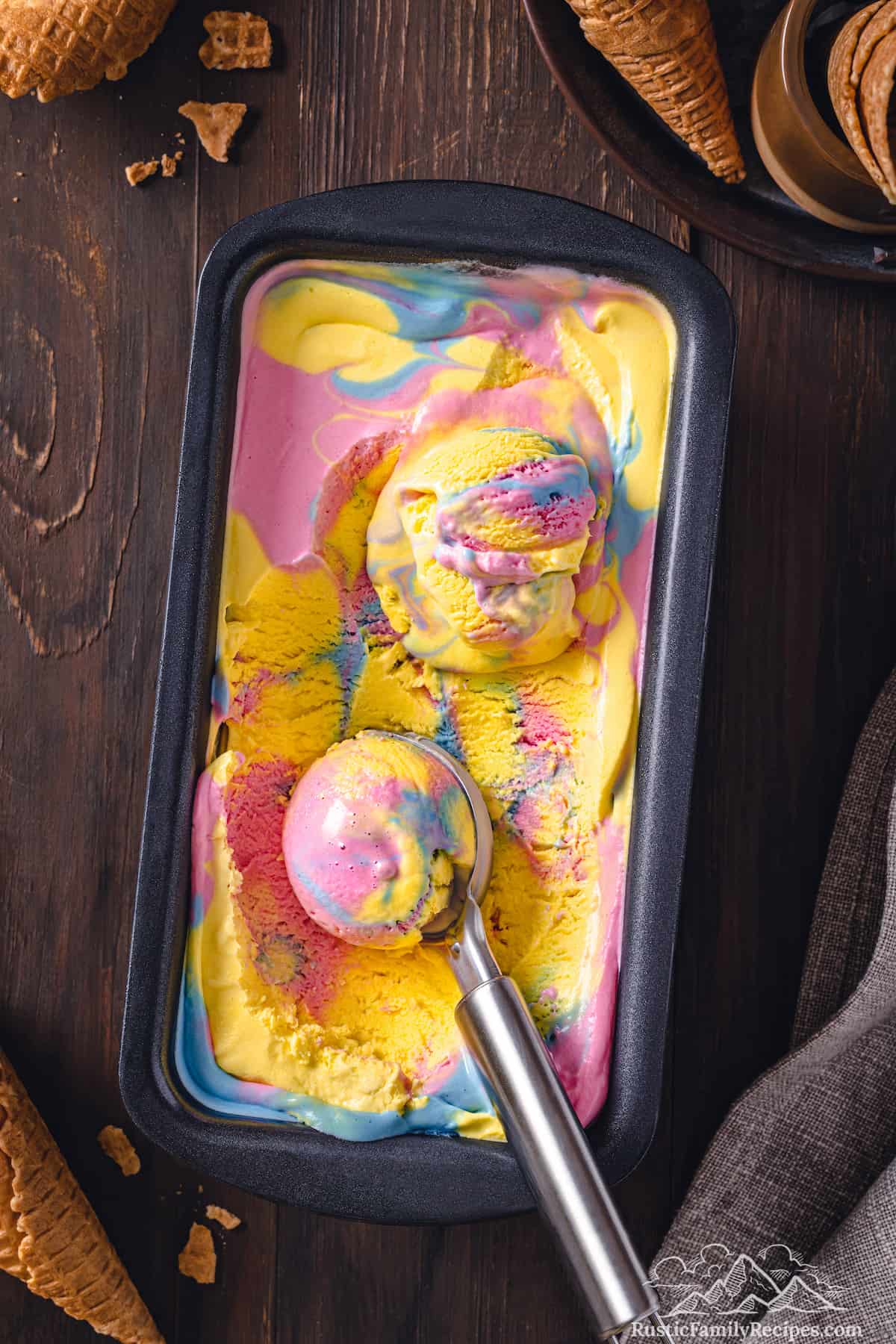 Tips for Success
I love a no-churn ice cream recipe because it's practically fail-proof. Nonetheless, here are some tips to ensure this tricolor Superman ice cream comes out ready for action:
Chill the bowl for the whipping cream. For best results, place the bowl of your stand mixer into the freezer 20 minutes or so before you use it to whip the heavy cream.
Budget enough time for the ice cream to freeze. This no-churn ice cream will need to set in the freezer overnight, or for a minimum of 8 hours before it's ready to serve. Keep this in mind if you're making it for a special occasion!
Prevent freezer burn. Homemade ice cream will stay fresh in the freezer for up to 30 days. After this, your Superman ice cream may run the risk of icing over. For the creamiest ice cream, enjoy it within a month from when it's made. See the next sections for more storage tips.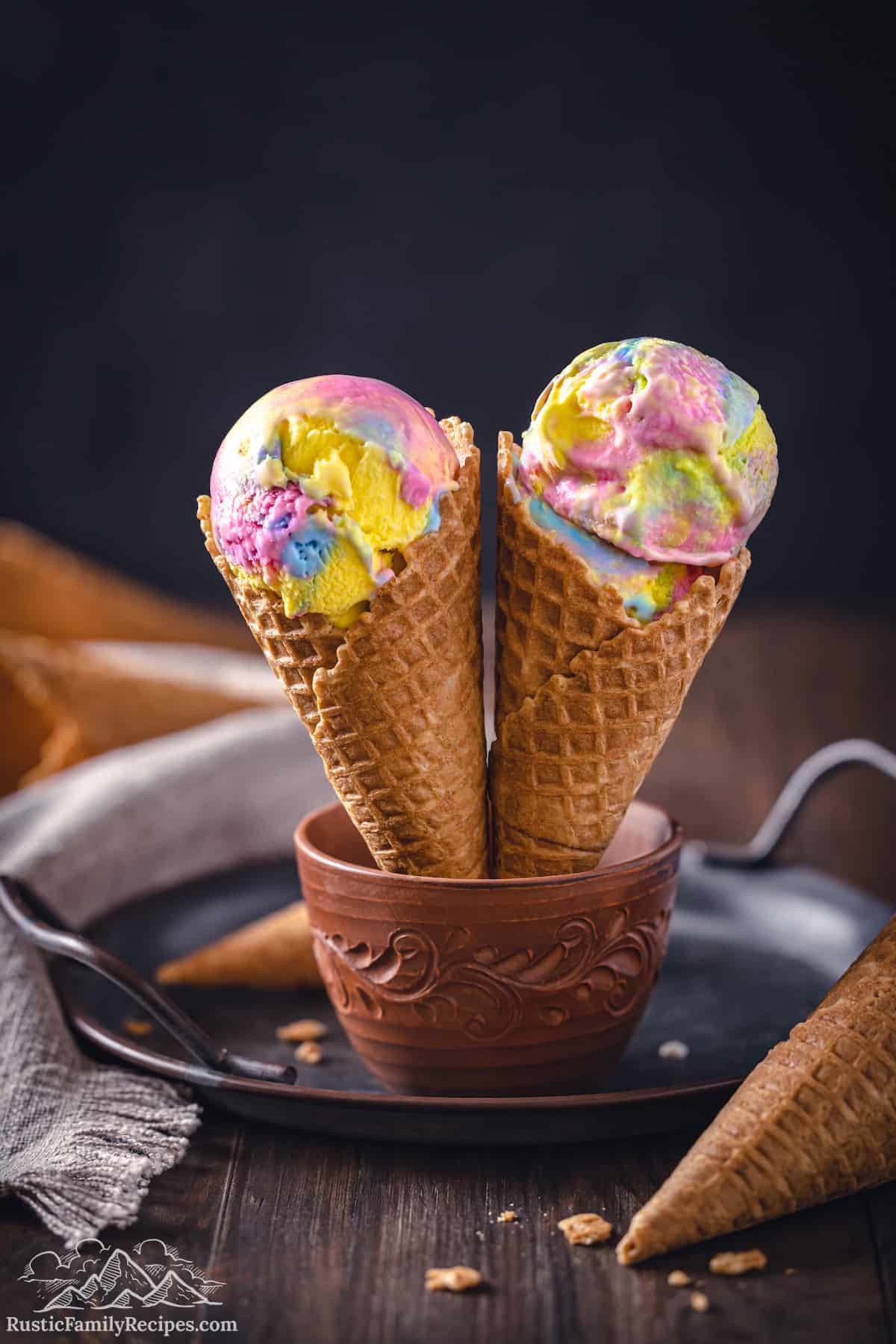 Storing Homemade Ice Cream
Once the ice cream has frozen overnight, I'll transfer it to a lidded, airtight container to store in the freezer. Because homemade ice cream lacks the additives that come with store-bought ice cream, your Superman ice cream is best enjoyed within 30 days. Meanwhile, there are measures you can take to prevent freezer burn, see below.
Preventing Freezer Burn
I've found that the best way to prevent ice crystals from forming in no-churn ice cream recipes like this one, is to store the ice cream airtight. As an extra precaution, lay a piece of saran wrap over the top of the ice cream before sealing the lid.
Print
Superman Ice Cream
It's a bird, it's a plane… It's Superman ice cream! This bold and classic homemade ice cream recipe is made with three different flavors of brightly colored, deliciously creamy no-churn ice cream.
Author: Rustic Family Recipes
Prep Time:

20 minutes

Freezing Time:

8 hours

Total Time:

8 hours 20 minutes

Yield:

6 servings

Category:

Ice Cream

Method:

Freeze

Cuisine:

American
2 cups

heavy whipping cream (35-38% fat)

14 oz

sweetened condensed milk

1 tsp

vanilla extract

1 tbsp

dried dragon fruit powder
Juice and zest from 1 lemon
Yellow and blue food colorings
Raspberry flavoring (optional)
Ice cream cones for serving
Instructions
Whip the cream. In a large bowl, beat heavy whipping cream until fluffy and stiff.
Add the condensed milk. Add sweetened condensed milk, and mix well.
Divide the mixture evenly between 3 bowls:
To get the pink color, add dragon fruit powder into the first bowl, and mix well. Add more powder if the color is not vibrant enough.
To get the blue moon ice cream, add half of the lemon juice, raspberry flavoring (optionally), vanilla extract, and blue food coloring. Mix well.
To get the yellow lemon ice cream, add lemon zest and another half of lemon juice and yellow food coloring, and mix well.
Assemble the ice cream. Begin to fill the loaf pan with ice cream. Using spoons, place different colored ice cream in a pan, alternating colors. Be sure not to stir them together.
Freeze. Freeze overnight.
Last Step:
Please
share a rating and comment
if you enjoyed this recipe! Your feedback helps this little blog thrive and continue providing free, high-quality recipes for you.
Keywords: homemade ice cream, superman ice cream recipe, no churn ice cream, rainbow ice cream
More Homemade Ice Cream Recipes