This post may contain affiliate links. Please read our disclosure policy.
These homemade Strawberry Toaster Strudels are so easy to make! Made with fresh strawberries, puff pastry, and a simple cream cheese icing, they're the perfect way to start your day.
These homemade toaster strudels are the perfect way to add a treat to your morning routine. Thanks to store-bought puff pastry, they're super easy to make. Once you've experienced a bite of buttery, flaky pastry crust bursting with strawberry filling, there's no going back. So make this recipe with caution: you may never be satisfied with store-bought strudels again.
Why You'll Love This Toaster Strudels Recipe
Easy. Since we are using some pre-made ingredients, these toaster strudels are incredibly simple to make. This is the kind of recipe you can have kids help assemble!
Flavorful. Every bite is bursting with buttery, crispy, flakey goodness surrounding a fresh strawberry filling. These strudels are seriously delicious!
Flexible. Feel free to mix up the filling to use a different kind of berry or even chocolate. I have shared a few variation ideas below.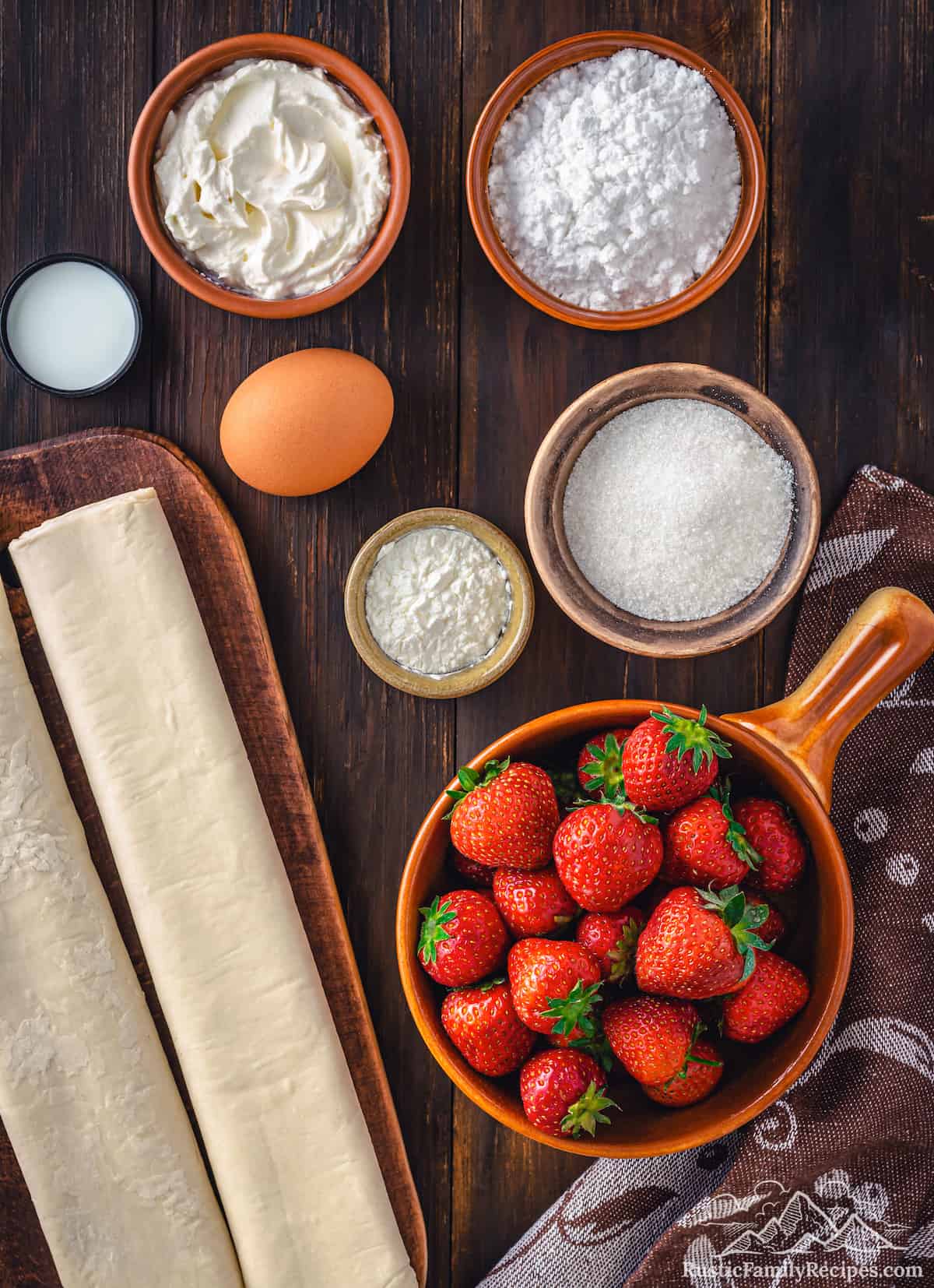 What You'll Need
Here's an overview of what you'll need. Scroll down to the recipe card for specific amounts.
Puff pastry – I use frozen and thawed puff pastry dough.
Strawberries – Fresh strawberries are the basis for the fruit filling in these homemade toaster strudels. If you'd rather not make the filling from scratch, you can opt to use store bought strawberry jam or preserves instead.
Sugar – Granulated sugar is added to the strawberries as they cook.
Cornstarch – Thickens the fruit filling. Tapioca starch is a good alternative.
Egg – You'll need a single egg to make an egg wash.
Milk – To whisk together with the egg for the wash.
Cream cheese – For the cream cheese icing. Make sure to take the cream cheese out ahead of time so it has time to soften up.
Powdered sugar – Also known as confectioner's sugar, to sweeten and thicken up the frosting.
How to Make Strawberry Toaster Strudels
Before you begin, you'll need to thaw the puff pastry sheets and chop the strawberries. The strudels themselves come together easily: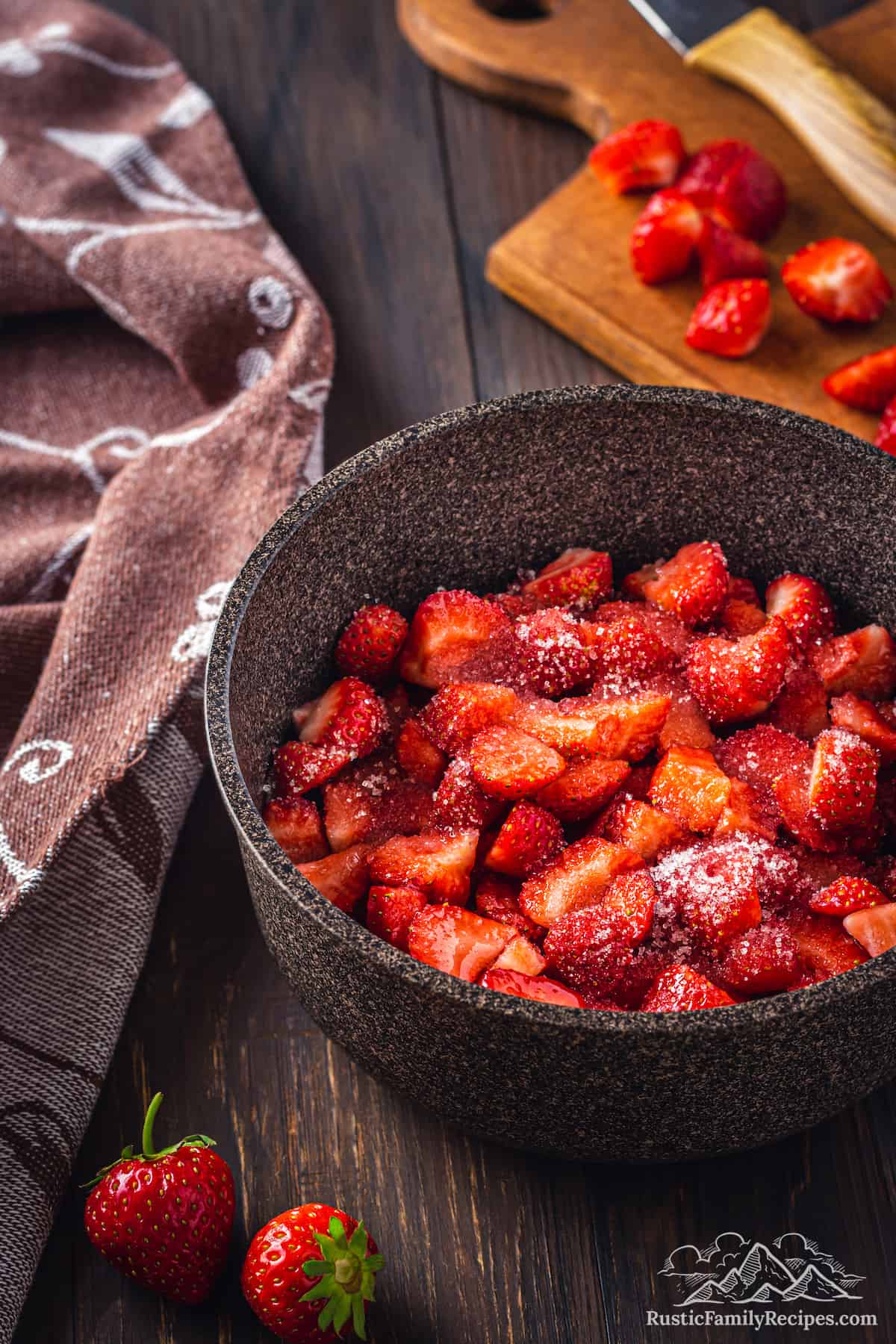 Make the strawberry filling. Bring the chopped strawberries to a boil in a saucepan with the sugar, stirring along the way. Let the strawberries cook for a few minutes before you add in the cornstarch to thicken. Don't forget to stir! Once thickened, take the pan off the heat to cool completely.
Prep your baking tools. While the oven preheats, line a baking sheet with parchment paper. Next, once your filling is cool, you'll get started on your strudel.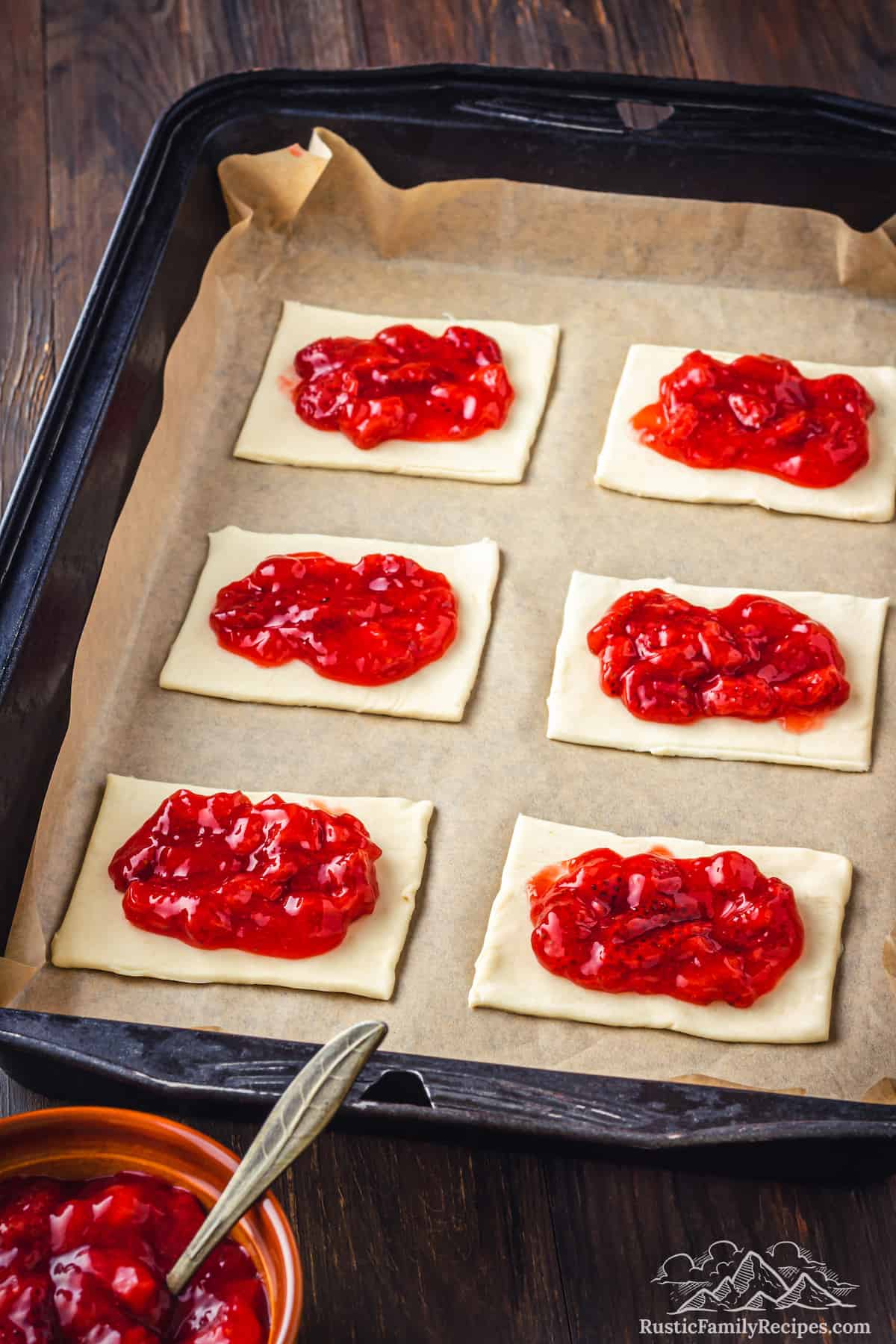 Begin assembling the strudels. Make sure your puff pastry is fully thawed, then cut each sheet into 6 even rectangles, leaving you with 12 in total. Carefully place 6 of the pastry rectangles onto a baking sheet. Place 1 to 2 tablespoons of strawberry filling onto each rectangle. Leave a half-inch rim around the edges that you'll brush with the egg whisked with milk. You can use your fingers or a brush for the egg wash.
Finish assembling. Cover the strawberry-covered pastry with the remaining pastry rectangles. Gently press the edges together to seal. I like to use a fork, since this gives the strudels nice aesthetic edges. Give the tops another brush with the egg wash. Lastly, move the baking sheet to the refrigerator to chill.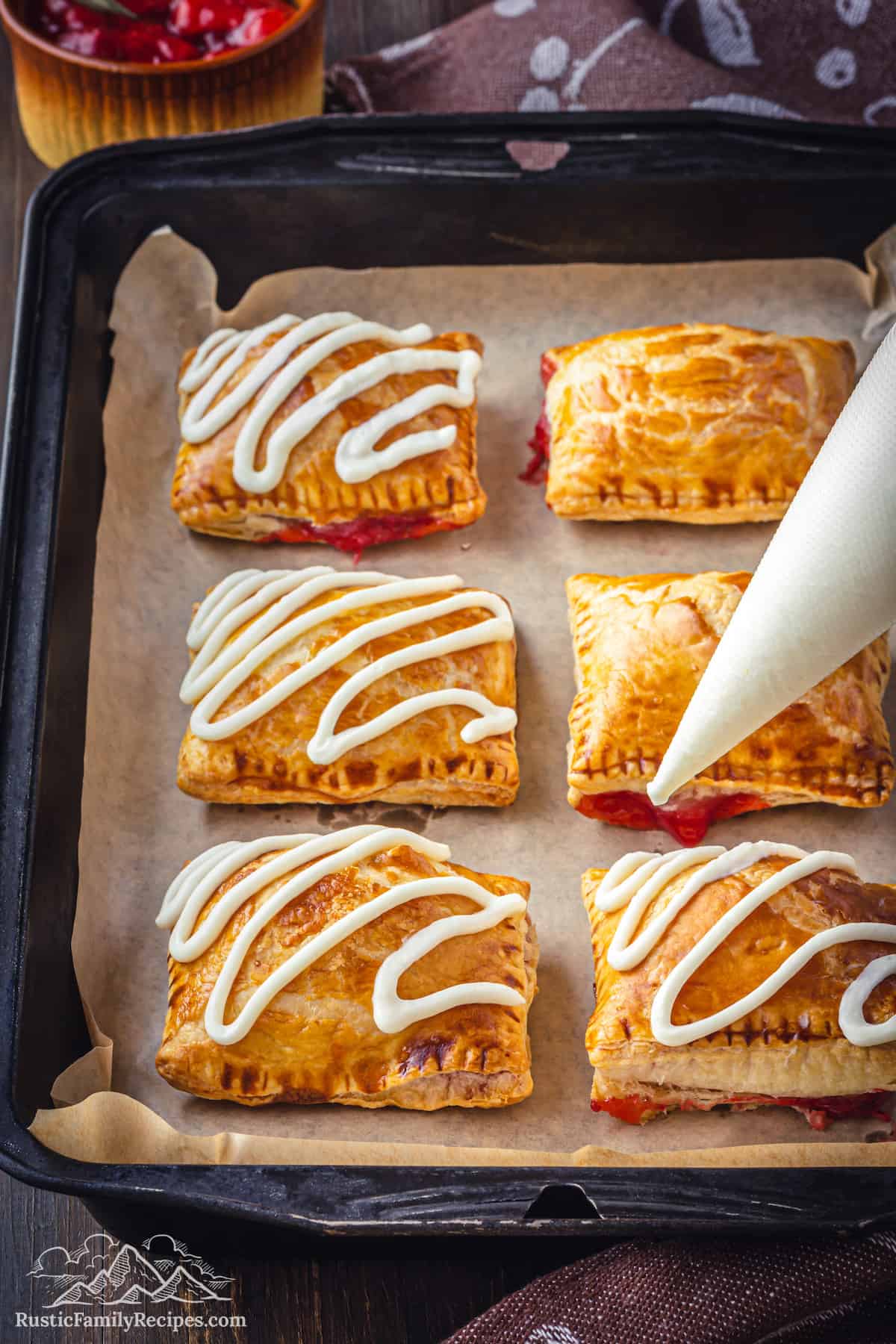 Bake. After a stint in the fridge, pop the strudels into the oven. They should reach a lovely golden brown after about 20 minutes. Once baked, let the strudels cool (I don't know about you, but I have vivid childhood memories of burning the roof of my mouth after biting into a piping hot toaster strudel. Definitely older and wiser!).
Make the frosting. Beat together a simple frosting of softened cream cheese and powdered sugar, then transfer the icing to a piping bag. You can also use a ziplock bag with the corner snipped off. Give your strawberry strudels a drizzle with icing, then serve warm.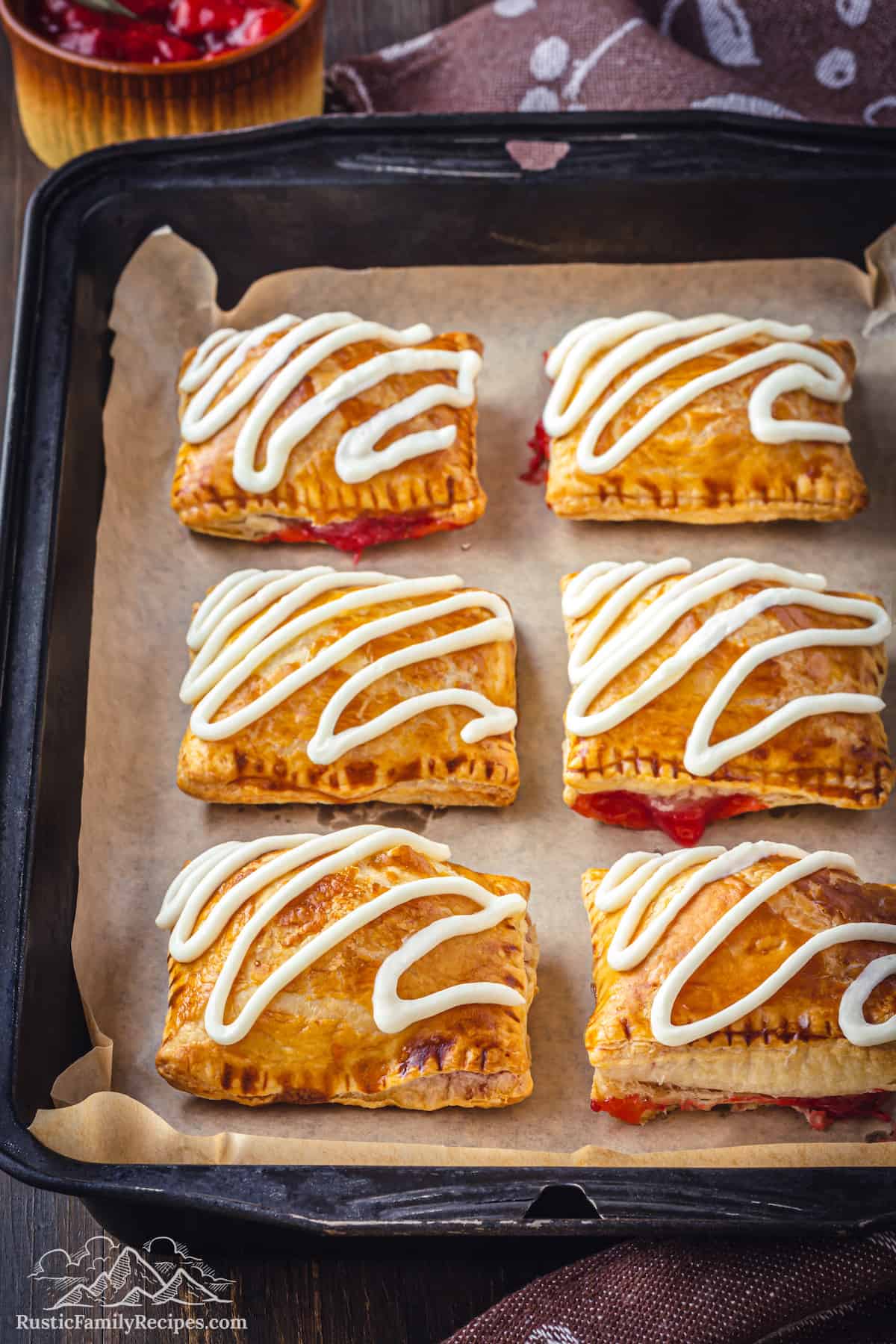 Tips for Success
This recipe for breakfast toaster strudels is easy as they come. Here are some tips to remember:
Can I bake these in the toaster? I wouldn't recommend it. Despite these technically being toaster strudels, they must be baked in the oven, or at least in a toaster oven

(affiliate link)

. Things would get messy quickly if you were to try to bake the raw pastry dough in the stand-up toaster!
Leave enough time for the pastry to defrost. This usually takes about 4 hours in the fridge, or 45 minutes at room temperature. Make sure that the pastry dough is completely thawed before unfolding it, to avoid tears.
Keep the puff pastry cold. Work quickly once your puff pastry is out of the fridge, so it stays as cold as possible before baking. This also helps with sticking.
Variation Ideas
You can definitely switch up or add to the filling to suit your favorite toaster strudel flavors:
Different fruits. Swap the strawberries in the filling with other fruits. Try blueberry pie filling, or use apple pie filling to make apple strudels (I like to borrow the fillings from my old fashioned apple cobbler).
Chocolate or PB. Fill these with Nutella and peanut butter.
Pumpkin. Make pumpkin toaster strudels with pumpkin pie filling and pumpkin spice mixed into the cream cheese frosting.
Cinnamon sugar. Make cinnamon brown sugar toaster strudels. Whisk together ½ cup brown sugar, plus a tablespoon (or two) of cinnamon and a tablespoon of flour as a quick filling, and sprinkle the tops with cinnamon sugar instead of (or in addition to) the icing.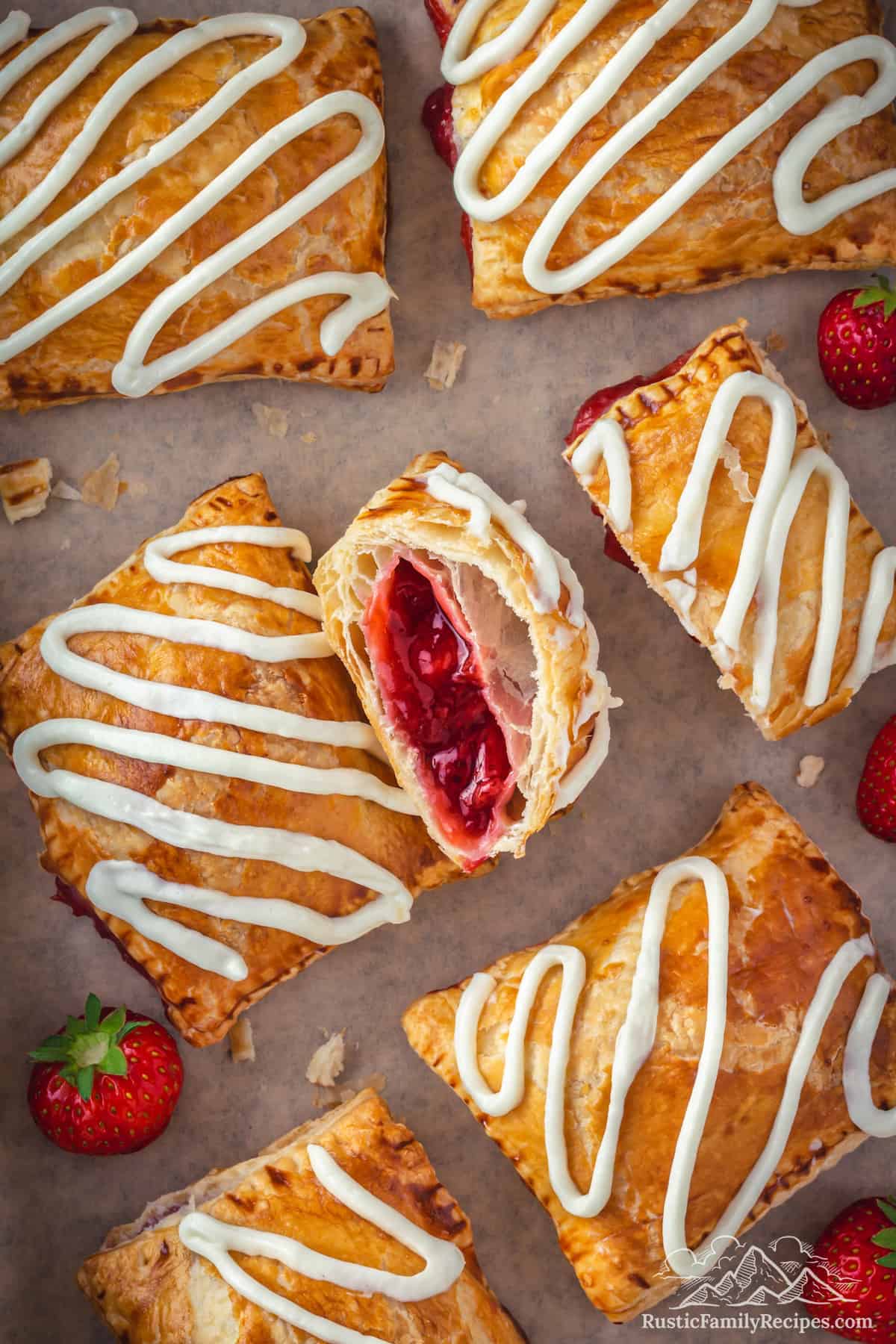 Serving Suggestions
These strawberry toaster strudels are a wholesome, homemade breakfast pastry to serve on their own. Or you can round out a full morning spread with other easy breakfast ideas:
You also can't go wrong with a decadent homemade coffee drink: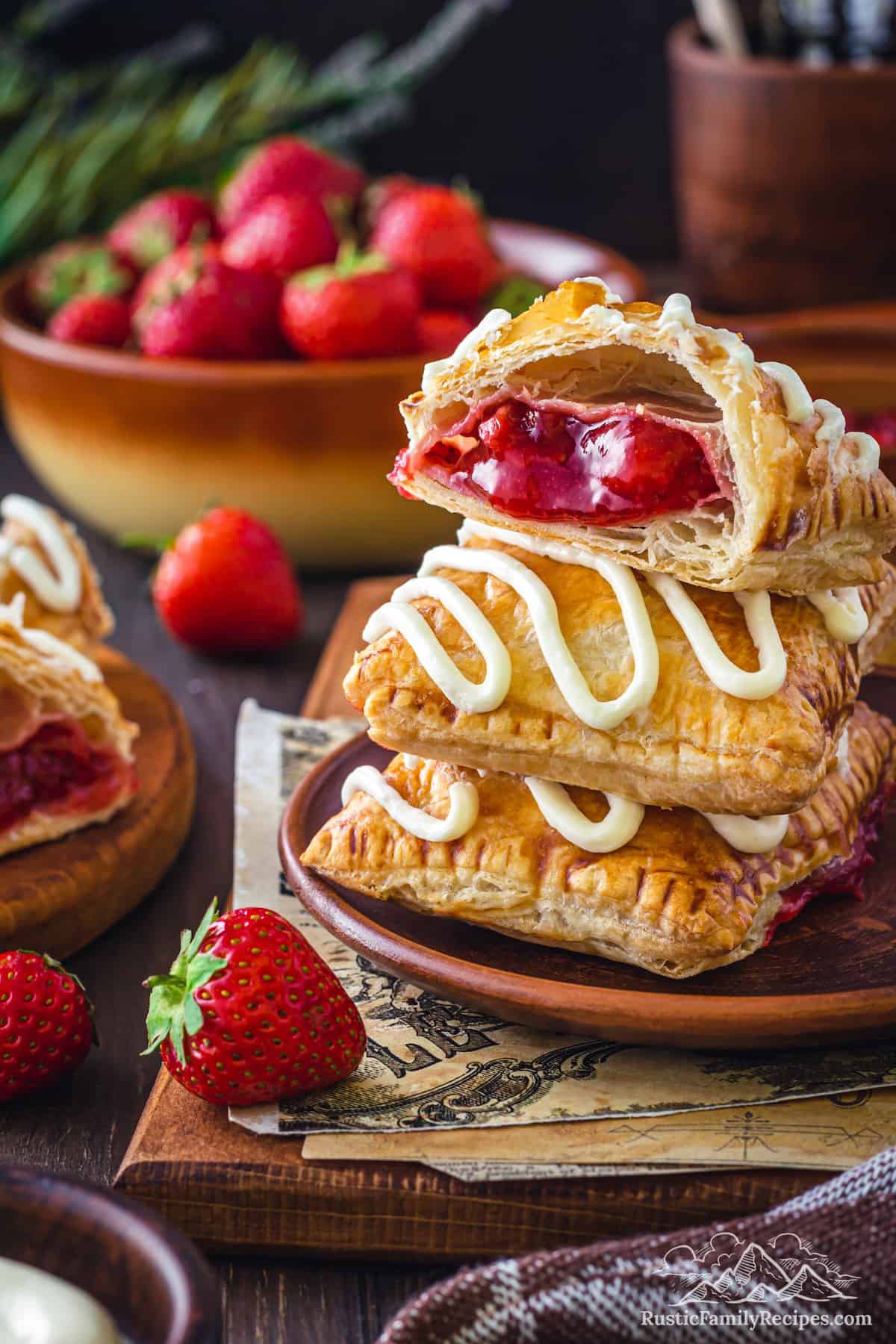 Storage and Reheating
To store leftover breakfast strudels, make sure they're completely cool before transferring them to an airtight container, with parchment separating the layers. They'll keep for up to 5 days in the fridge. I love to make a batch on a Sunday afternoon to have as a sweet on-the-go breakfast option during the week.
Reheating these toaster strudels is as easy as placing them back into the oven at 350ºF for about 5 minutes to warm through. Keep an eye on the pastries as they reheat, as not all ovens are the same!
Don't try to warm frosted toaster strudels in a stand-up toaster, since the frosting will melt.
Do These Freeze Well?
Freezing is a great option for longer storage. To save space in the freezer, I recommend pre-freezing the toaster strudels in a single layer on a baking sheet. Once frozen, place them into a gallon freezer bag to store. They'll keep fresh when frozen for up to 6 months, ready to reheat from frozen any time. Just add a couple extra minutes to the reheating time.
Print
Strawberry Toaster Strudels
A healthier, homemade breakfast pastry made from scratch! This strawberry toaster strudel puffs up beautifully golden in the oven, made with real strawberry filling and drizzled with an easy cream cheese frosting.
Author: Rustic Family Recipes
Prep Time:

10 minutes

Cook Time:

30 minutes

Total Time:

40 minutes

Yield:

6 servings

Category:

Breakfast

Method:

Oven

Cuisine:

American
2

sheets puff pastry dough, thawed

2 cups

strawberries, chopped

1/2 cup

granulated sugar

1 1/2 tablespoons

cornstarch

1

egg

1 tablespoon

milk

4 oz

cream cheese, softened

3/4 cup

powdered sugar
Instructions
Make the strawberry filling. Chop the strawberries, transfer to a saucepan. Add the sugar and, over medium heat, bring to a boil, stirring occasionally. Cook for about 5-7 minutes, then add cornstarch and cook for about 2 minutes more to thicken, constantly stirring. Remove from heat and let it completely cool.
Prep your baking tools. Line the baking sheet with parchment paper and preheat the oven to 400F.
Begin assembling the strudels. Thaw the puff pastry according to package directions. Cut each of the puff pastry sheets into 6 even rectangles to get 12 rectangles. Transfer 6 rectangles to a baking sheet and place about 1-1,5 tbsp of strawberry filling at the center of each of 6 rectangles, leaving about 0,5-inch rim around all edges uncoated. Whisk the egg with milk until smooth . Brush the uncoated rim with this mixture.
Finish assembling. Place remaining puff pastry rectangles over strawberry coated puff pastry and press the edges to seal. You also can use a fork to create beautiful edges. Brush the tops of each strudel with egg and milk mixture. Transfer the baking sheet for about 15 minutes into the fridge.
Bake the strudels for about 20 minutes until light golden brown. Remove from the oven and let the strudels cool for about 15 minutes.
Make the frosting. Beat together cream cheese and powdered sugar until smooth. Transfer it to a piping bag. Drizzle the frosting on strudels. Best served warm.
Notes
To store extras: Allow to cool completely then transfer to an airtight container and store in the fridge with layers of parchment paper between each strudel. They will keep for up to 5 days.
To reheat: Warm in an oven or toaster oven preheated to 350F for about 4-5 minutes. Do not try to reheat these in a pop-up toaster oven as the frosting will melt.
Last Step:
Please
share a rating and comment
if you enjoyed this recipe! Your feedback helps this little blog thrive and continue providing free, high-quality recipes for you.
Keywords: toaster strudel, breakfast toaster strudel, strawberry strudels
Filed Under: