This post may contain affiliate links. Please read our disclosure policy.
This easy recipe for homemade Strawberry Rhubarb Pie is a much-loved summer dessert. Choc full of juicy ripe strawberries and deliciously tart rhubarb, baked inside a thick and buttery pie crust. It's honestly a slice of heaven, every time!
Rhubarb is such a funny ingredient. Some folks take to its puckery, tangy taste right away. For others, rhubarb desserts take some growing into. I'll safely say that this strawberry rhubarb pie recipe successfully turns the tables for just about everyone who's had a slice.
I've been reaping the rewards of my strawberry hauls lately with everything from sauces to breakfast toaster strudels, so I figure it's high time to share this pie made with not one, but two of summer's best ingredients!
It really is a perfect pie recipe: ripe, ruby-red filling made with fresh, seasonal fruit, set inside a rich and buttery, flakey homemade pie crust. Served with a scoop of ice cream? Come on.
The sweet-tart strawberry pie filling has just the right balance of rhubarb zing, and the mouthfeel is heavenly. This pie is especially great made with seasonal rhubarb and fresh berries in the summer, though I love to freeze rhubarb so I can enjoy a slice all year round.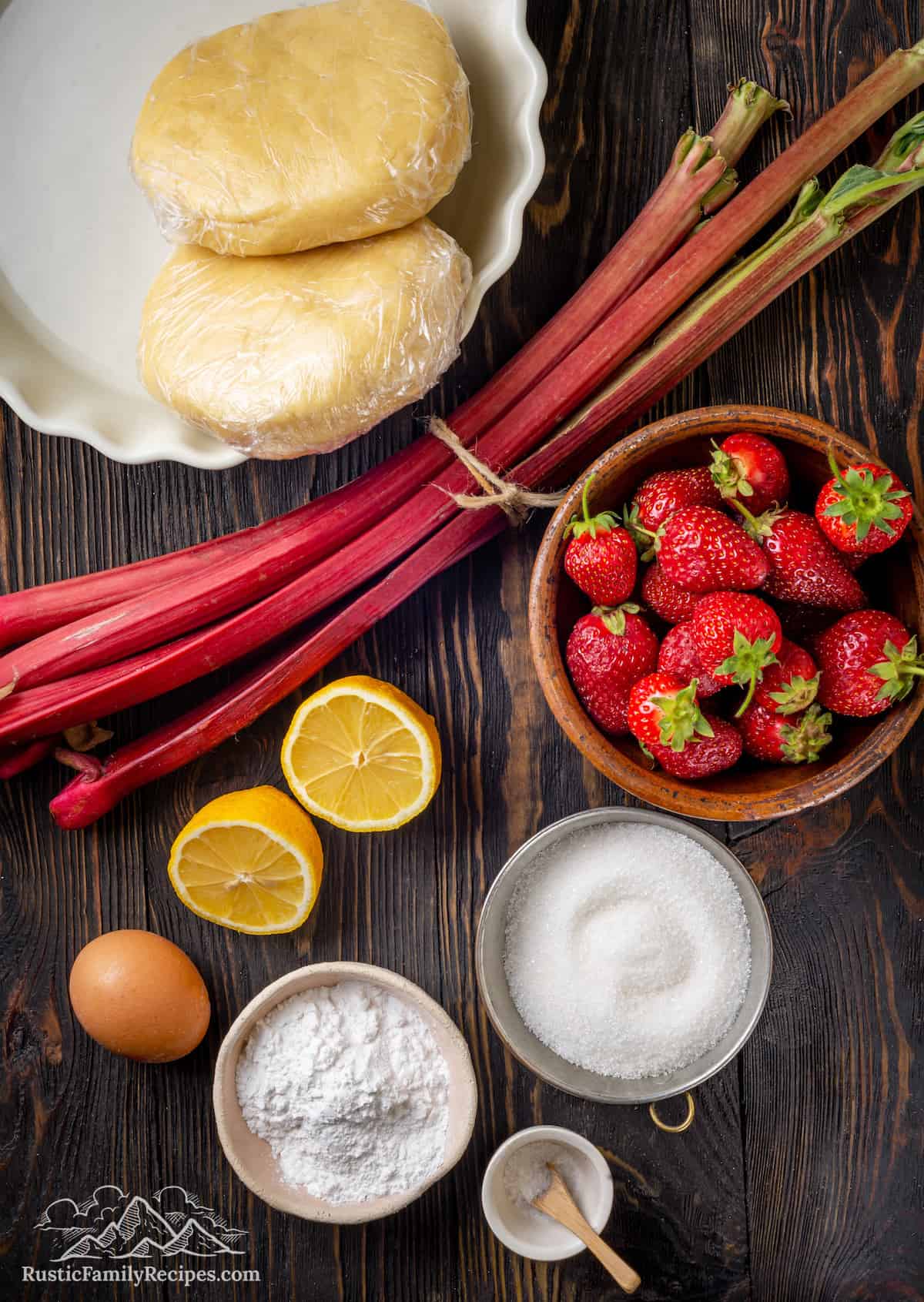 Featured Comment
I love strawberries. I love rhubarb. I love strawberry rhubarb pie. I've made strawberry rhubarb pie several times, but this recipe by far is my favorite. I won't be making it any other way from this point forward.
What You'll Need
You'll need one double pie crust for this recipe, for lining the pan and making the lattice topping. I have an easy homemade pie crust recipe that never fails me. However, you can absolutely use your preferred homemade or store-bought crust if you'd like.
Next, you'll need a few more ingredients for filling and baking. Below is an overview, though please refer to the recipe card for the full amounts.
Rhubarb – Sliced into ½ inch slices. Depending on where you live, rhubarb can be found at farmer's markets and in the produce aisles of most grocery stores when it's in season. The stalks range from bright red/pink to green in color – they'll taste the same either way.
Strawberries – Whenever I have older strawberries kicking around my fridge, this recipe is the perfect way to use them up. You can trim away any bruised bits, and no one's the wiser once the berries are baked into a pie.
Sugar – Granulated sugar is combined with the fruit and filling ingredients for just the right amount of sweetness.
Cornstarch – Added to thicken the pie filling. Tapioca starch also does the trick.
Salt
Lemon zest and juice – Freshly zested lemon and the juice of half a lemon bring a mouthwatering brightness to the pie filling.
Coarse sugar – I love giving this pie a sprinkling of coarse sugar (also called decorating sugar) for a beautiful caramelization and crunch on the crust.
Egg – Lightly beaten with a bit of water for an egg wash. This gives the pie crust a golden shine when it bakes.
Do You Have to Peel Rhubarb Before Making a Pie?
Unless your rhubarb stalks are particularly thick and coarse, peeling isn't necessary and they're usually ready-to-bake in peak season. Rhubarb stalks only tend to get thicker and more fibrous by midsummer, after which you may want to peel them for better flavor.
How to Make Strawberry Rhubarb Pie
This recipe is pretty straightforward, with a bit of chilling involved and a gorgeous lattice top. If you've never woven a lattice onto your pie before, it's easier than you think! I've included photos showing the technique below, and once you master it, it's a breeze. But first, let's get started on the rest of the pie:
Make the pie dough. If you're making your crust from scratch, assemble the crust according to the directions in this recipe. Divide the finished dough into two discs, then wrap them individually in saran wrap to chill in the fridge.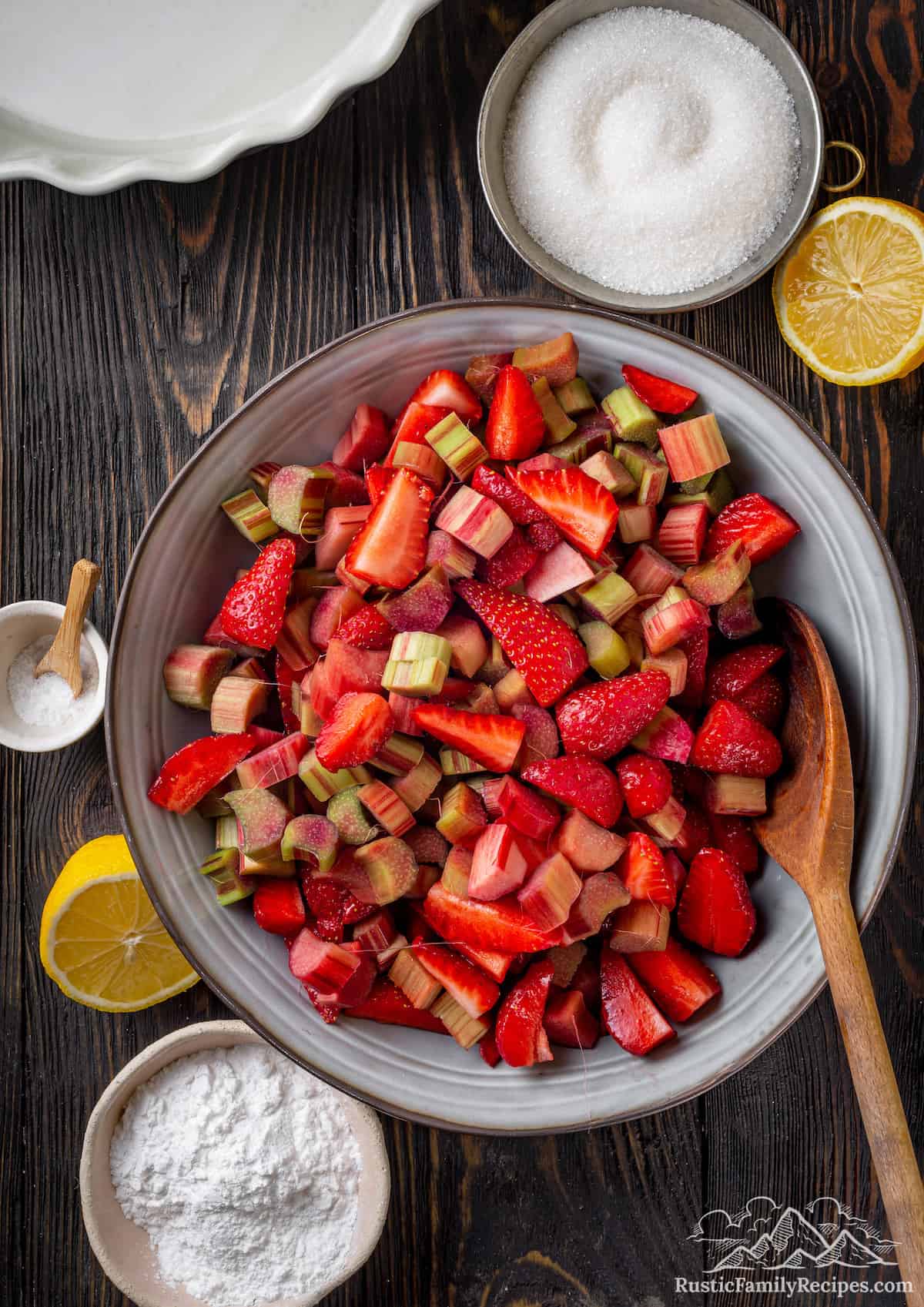 Make the pie filling. Combine the chopped rhubarb and strawberries with the sugar, cornstarch, lemon juice, zest, and salt.
Roll out the dough for the pie pan. Roll out one of the chilled dough discs into a circle. Transfer the pie crust carefully to a pie dish (I like to do this using a rolling pin to make things easier). Once the crust is pressed into the dish, move the pie pan to the fridge while you prepare the lattice topping.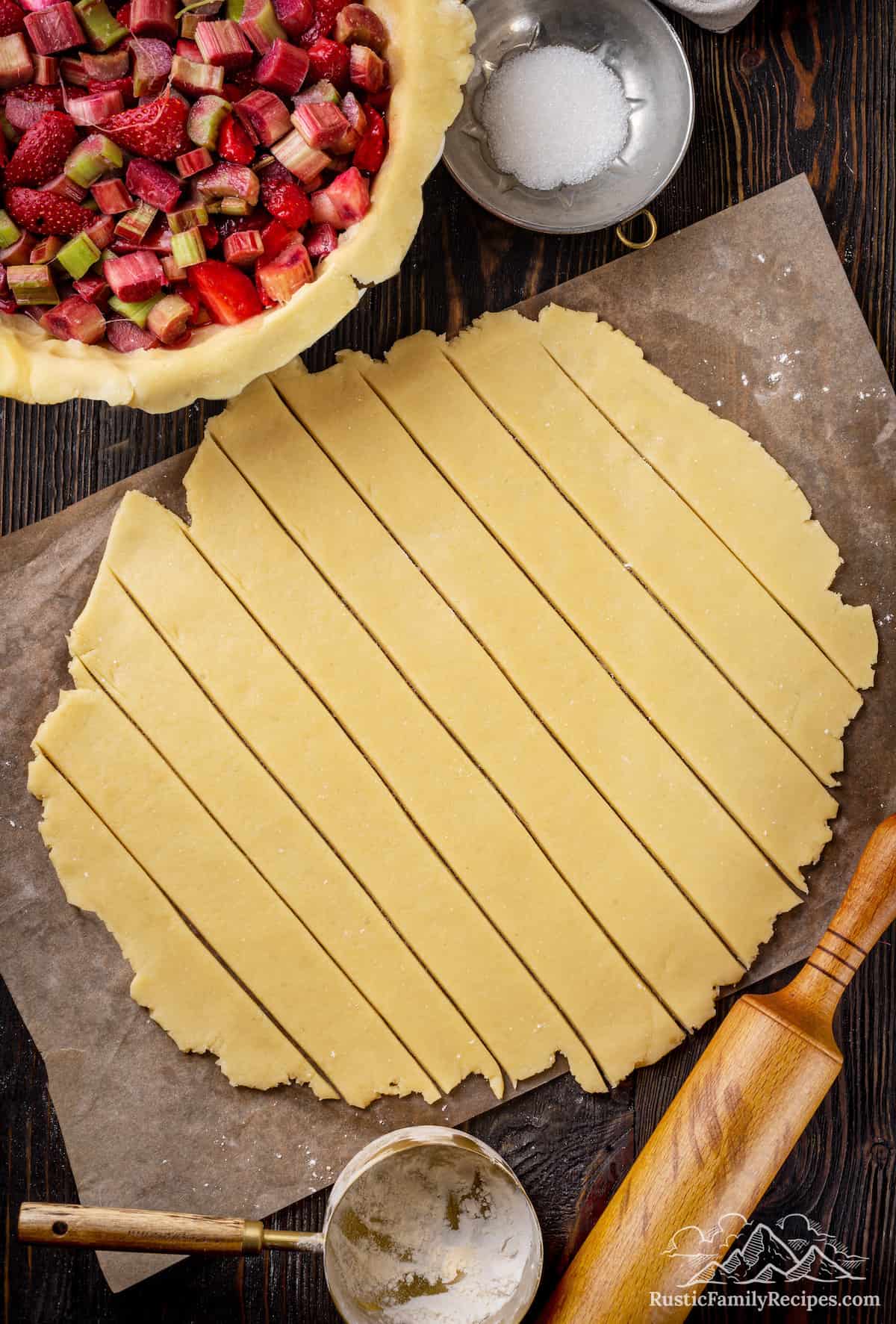 Roll out the dough for the lattice topping. Roll the second dough disc into a circle roughly the same-size as the one you rolled for the pie pan. Use a sharp knife to cut this circle into 8 long strips, and 4 shorter ones.
Add the filling. Take your pie out of the fridge, and pour in the strawberry rhubarb filling. Be mindful to leave any excess juice from the filling in the bowl, and not in the crust.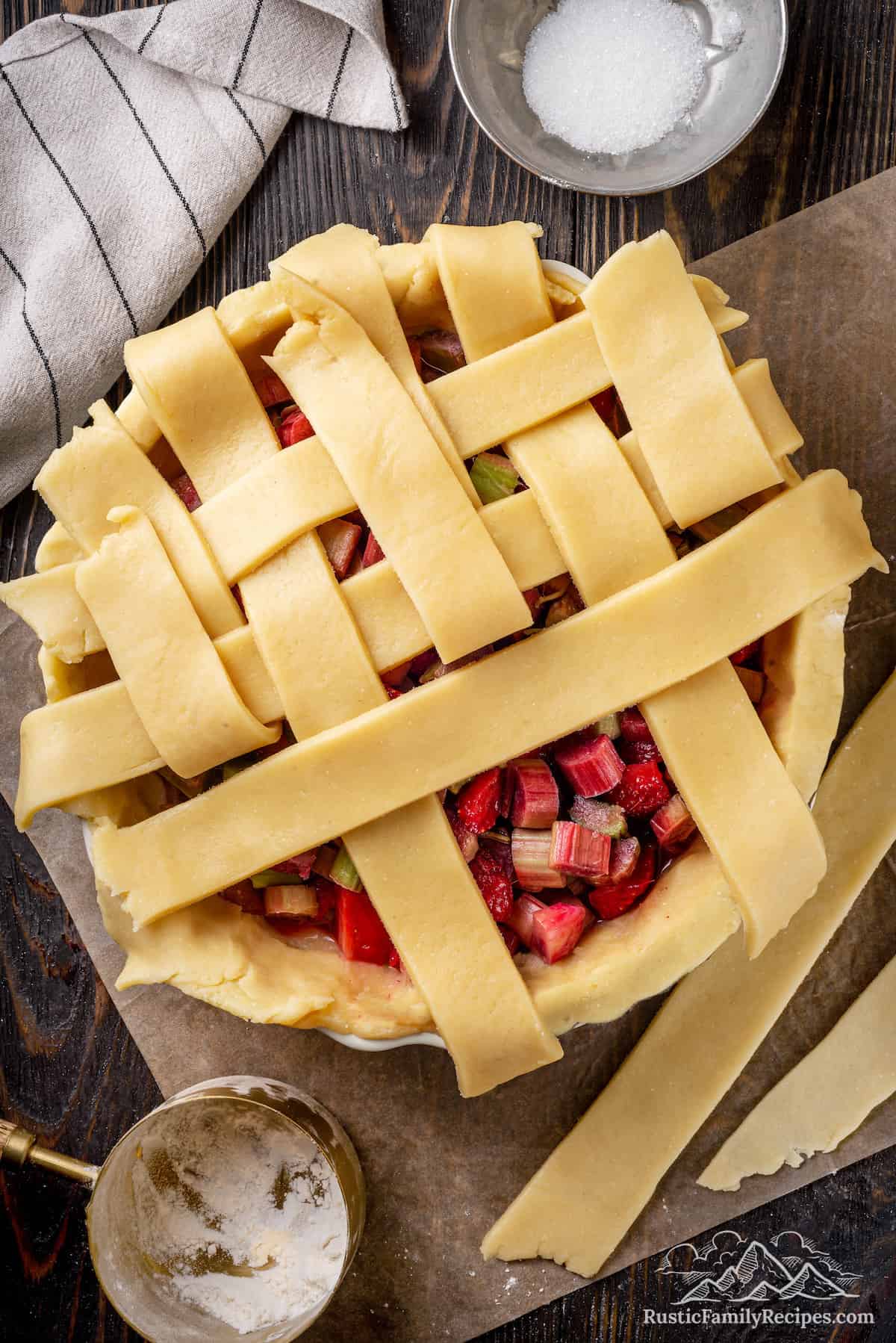 Assemble the lattice topping. Carefully weave your strips of dough over and under one another to form a cross-crossed, lattice top. Trim the ends of the lattice strips so that they're flush with the bottom crust, then fold and crimp the crust edges.
Chill, then preheat the oven. Place your pie back into the fridge to chill and preheat the oven to 400ºF. The pie will need to be refrigerated for about 30 minutes. In a pinch, the freezer will take half the time.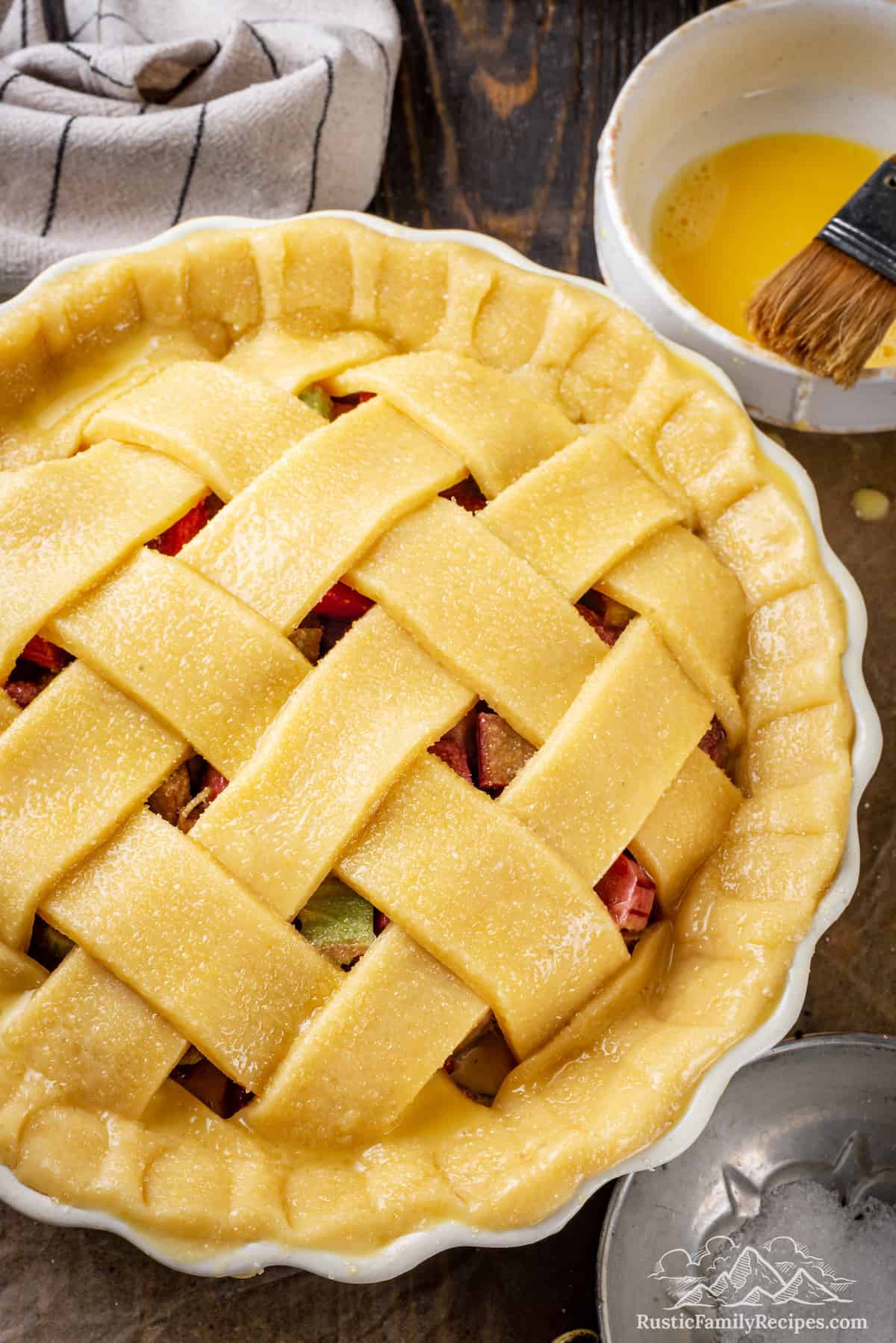 Add the egg wash and bake. Once your pie has chilled, brush the crust with a simple egg wash of egg whisked with water, then sprinkle it with sugar. Bake the pie on a large baking sheet at 400ºF for the first 20 minutes, then turn the oven down to 350ºF for the last 45 minutes or so of baking time. The filling should be bubbling and the crust will be a lovely golden brown when it's ready to come out of the oven.
Cool and serve. Let the pie cool at room temperature for a few hours, or overnight in the fridge before slicing and serving.
Can This Pie Be Made Ahead of Time?
If you'd like to make this strawberry rhubarb pie a day ahead, assemble the pie as directed, just leave off the egg wash and sugar until you're ready to bake it. Note that if you bake the pie straight from the fridge, you'll need to add an additional 5-10 minutes or so to the baking time.
You may also prefer to freeze the whole pie for longer storage. In which case wrap it tightly with saran wrap, plus a layer of foil, to store in the freezer for up to 3 months. It's best to bake the pie directly from frozen. Just brush with the egg wash and then increase the baking time by 20-30 minutes.
The pie crust dough can also be made and left wrapped in saran wrap in the fridge for a few days, or frozen for up to 3 months. See further on in this post for more details for storing strawberry rhubarb pie once it's baked.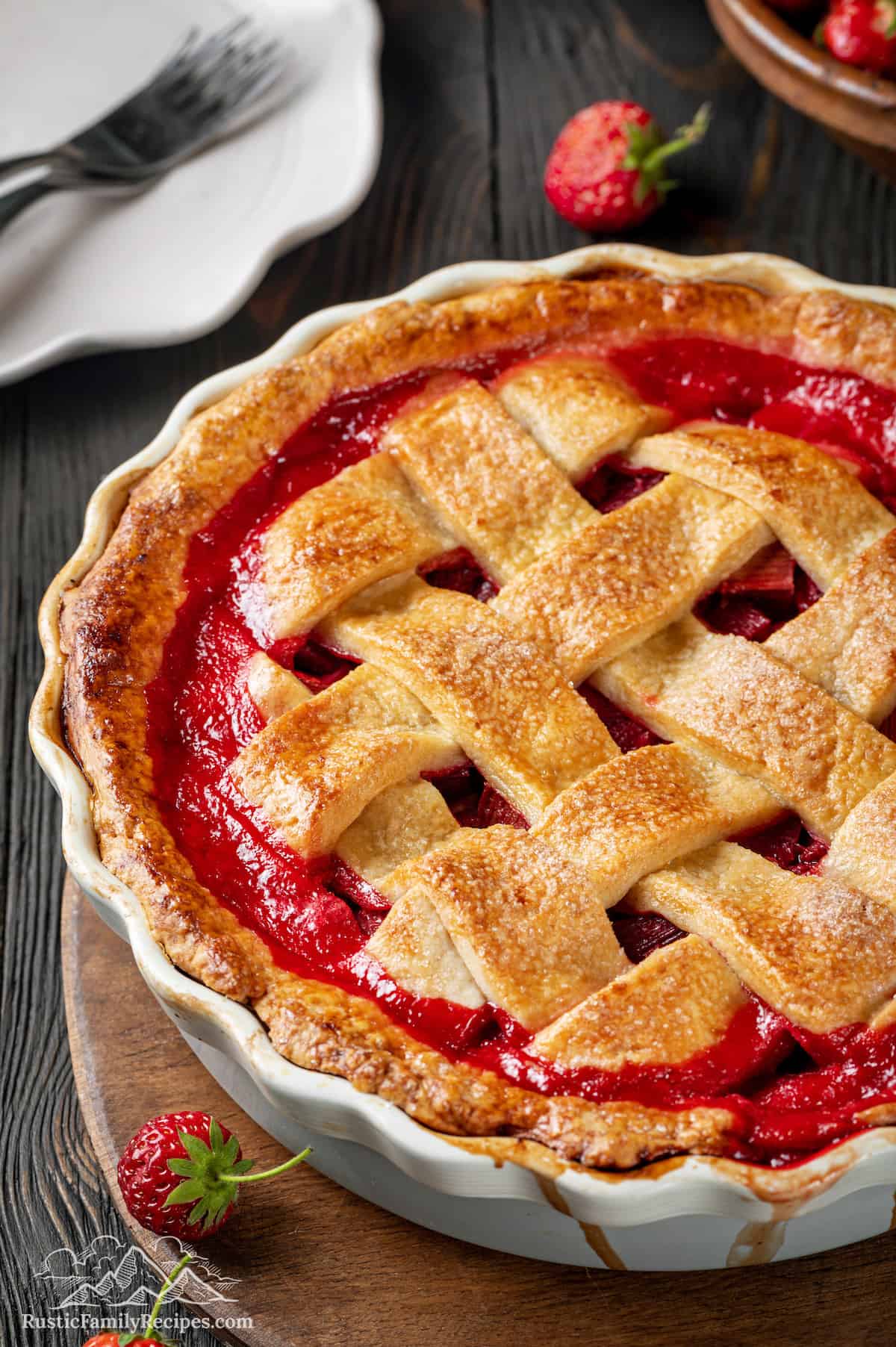 Tips for Success
Some might say that a perfect pie is an art, but perfection isn't too difficult with a few helpful tips:
Let the pie cool completely. It's tempting to serve up a slice of freshly baked pie, especially when your house smells as amazing as it does with this recipe! Though if you're looking for a picture-perfect slice of pie like in these photos, make sure you give it at least 3 hours to chill after baking. If the pie is cut while it's still warm, the filling will spill out. It will be a delicious spill, just without the Pinterest-worthy presentation.
Freeze the rhubarb. I go full squirrel-mode when fresh rhubarb is in season, stocking up and stashing it away for the winter months. Frozen rhubarb works great in this pie. Just thaw it on the counter for a bit, then drain and chop. Frozen strawberries will also work, though the texture will be slightly mushier once they're thawed and drained.
Don't chop the ingredients too small. Aim for ½ inch rhubarb slices and quartered strawberries, for a filling that's just the right amount of chunky after the fruit breaks down in the oven.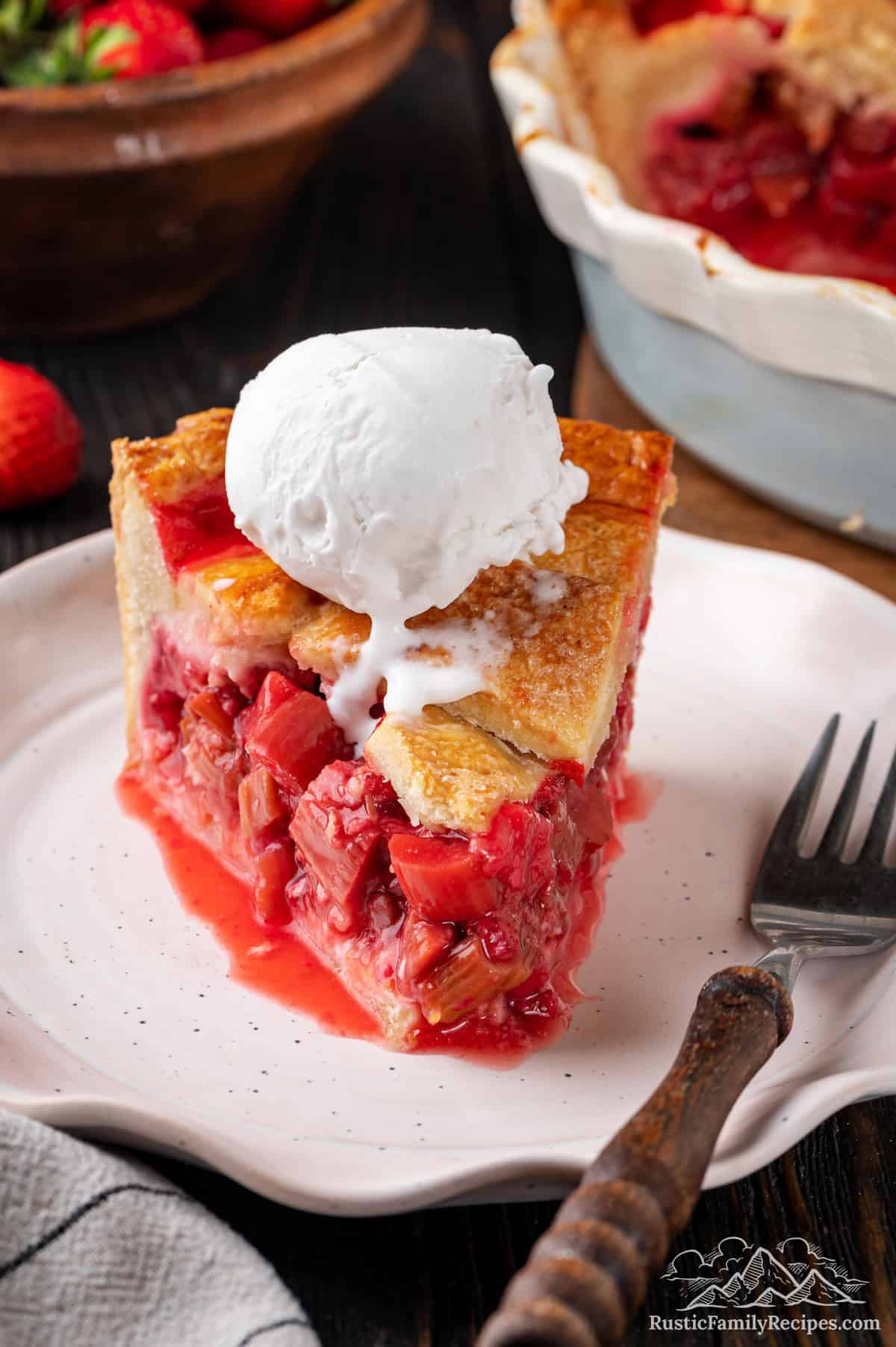 Serving Suggestions
You haven't lived until you've had a slice of strawberry rhubarb pie topped with no churn bourbon vanilla ice cream. As a sweet cozy treat with tea or coffee, or as a festive dessert, here are more serving suggestions: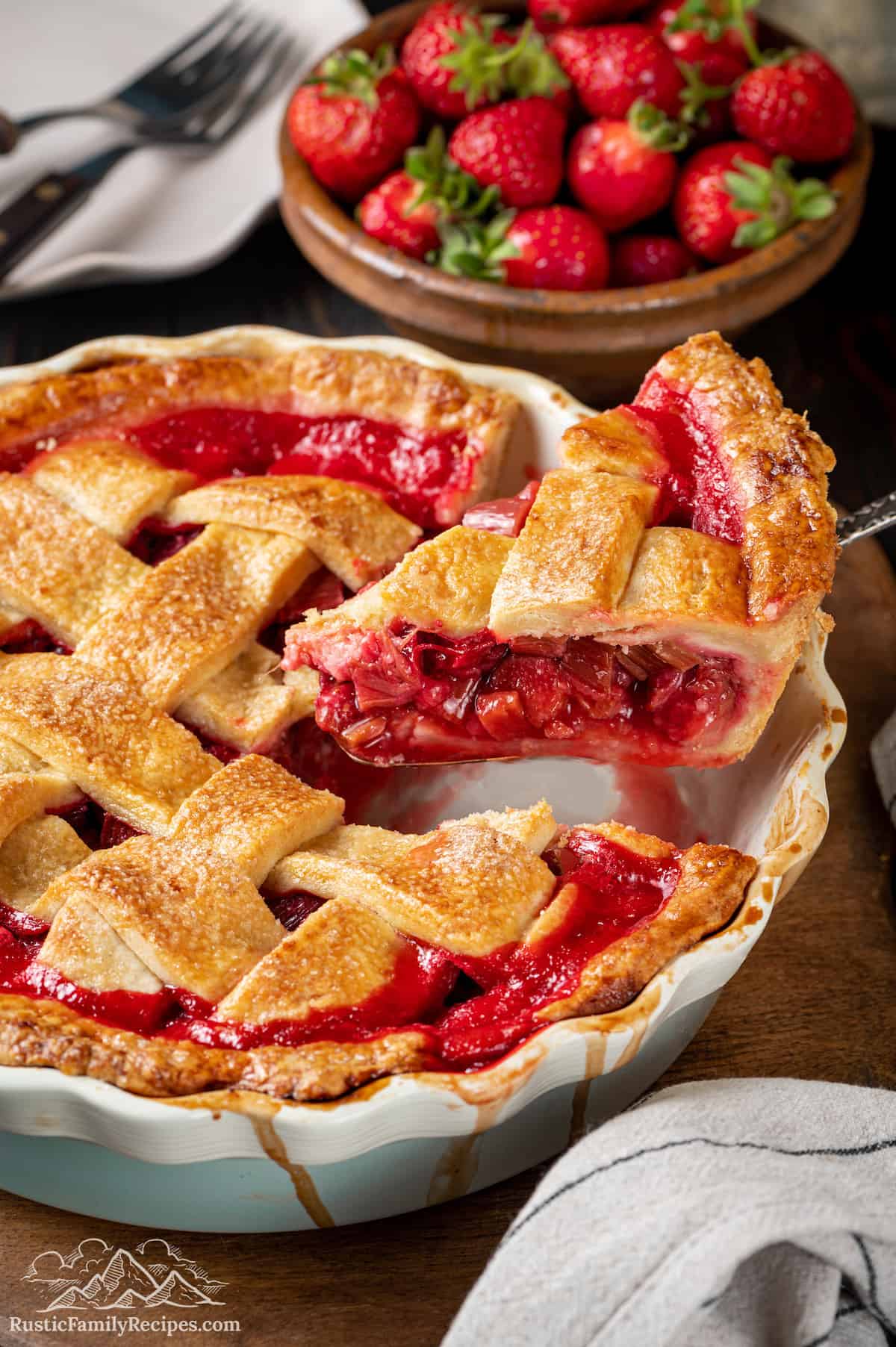 How to Store Extra Pie
Leftover pie will keep covered on the counter for up to 2 days, or in the fridge for 4-5 days.
Does It Freeze Well?
Baked strawberry rhubarb pie freezes well, either whole or in portions, for up to 3 months. Thaw the pie in the fridge, then let it come to room temperature when serving. You can also reheat slices of pie in the oven to revive the crust a little, and enjoy it with a scoop of ice cream!
Print
Strawberry Rhubarb Pie
This easy recipe for homemade strawberry rhubarb pie is a much-loved summer dessert. Choc full of juicy ripe strawberries and deliciously tart rhubarb, baked inside a thick and buttery pie crust.
Author: Rustic Family Recipes
Prep Time:

15 minutes

Chilling Time:

30 minutes

Cook Time:

1 hour 10 minutes

Total Time:

1 hour 55 minutes

Yield:

6 servings

Category:

Dessert

Method:

Oven

Cuisine:

American
For the strawberry rhubarb filling:
4 cups

sliced rhubarb (

½

inch slices)

3 cups

chopped strawberries

3/4 cup

granulated sugar

1/4 cup

cornstarch

1/4 teaspoon

salt
Lemon zest from 1 lemon
Juice from

½

lemon
For assembling the pie
2 tablespoons

coarse sugar, for sprinkling

1

large egg, whisked for egg wash

1 tablespoon

water
Instructions
Make the pie dough. Assemble according to the directions in this recipe, divide into two discs, then wrap each one in saran wrap and chill in the fridge.
Make pie filling. Stir together the rhubarb, strawberries, sugar, cornstarch, lemon juice, zest and salt in a large bowl until well combined.
Roll out dough for pie pan. On a floured work surface, roll out one of the discs of chilled dough into a circle about 13 inches in diameter. Carefully place the dough into a pie dish, you can use a roller pin to transfer the dough easier. Gently press the dough with your fingers. Keep in the refrigerator while you prepare the top of the pie.
Roll out dough for lattice topping. Roll the second disc into a 13" circle and cut it into even strips, you will need 8 long and 4 shorter ones.
Add filling. Remove the pie pan from the fridge and transfer the fruit filling to the crust. Leave the juice in the bowl.
Assemble lattice topping. Using the strips of dough make a lattice top. Weave strips over and under each other in a criss-cross shape. Trim ends of dough strips even with overhang of bottom crust, then fold under and crimp edges together.
Chill and prep oven. Refrigerate pie 30 minutes (or freeze 15 minutes) while preheating oven to 400 degrees F
Add egg wash. Whisk together one egg and 1 tbsp water. Brush the crust with egg wash and sprinkle it with sugar.
Bake. Place the pie onto a large baking sheet and bake for 20 minutes. Keeping the pie in the oven, turn the temperature down to 350°F and bake for an additional 45-50 minutes. Pie is done when the crust is golden brown and the filling is bubbling.
Cool. Allow the pie to cool for 3 hours at room temperature before serving or overnight in the fridge.
Last Step:
Please
share a rating and comment
if you enjoyed this recipe! Your feedback helps this little blog thrive and continue providing free, high-quality recipes for you.
Keywords: easy pie recipes, summer desserts, rhubarb recipes, strawberry pie
Filed Under:
More Strawberry Recipes