About Me: I have more than 20 years of cooking experience & share my favorite recipes on this blog.
Have a question? Please post a comment, I'm happy to help. 🙂
These Strawberry Cheesecake Cookies are out-of-this-world delicious! Make soft cookies stuffed with creamy cheesecake filling and dotted with fresh strawberries.
Want to make an easy, yet totally impressive cookie? Then you have to try these strawberry cheesecake cookies. Fresh strawberries are dotted throughout both the cookie dough and the creamy cheesecake filling, making every bite a bright and flavorful treat!
Easy. Despite the impressive results, this is an incredibly simple cookie recipe. All you need to do is make cookie dough, then wrap it around cheesecake filling that's been frozen into balls.
Full of strawberry flavor. There are fresh strawberries in the cookie dough and also in the cheesecake filling. This means that every bite it bursting with strawberry flavor!
Perfect texture. These cookies are soft and chewy with delightfully creamy centers.
Want to see how to make strawberry cookies stuffed with cheesecake? Check out my step-by-step video:
These strawberry cheesecake cookies are pretty easy to make, but I do have a few tips to share! Keep these in mind when making your cookies:
Freezing time is important. If you're in a rush you may be tempted to skip freezing the cheesecake filling, but don't do it! That freezing time is crucial to ensuring that the cheesecake stuffing stays inside the cookies while they are baking. Freezing also makes it easier to wrap the cookie dough around the filling. The cheesecake mixture needs to be frozen for a minimum of 3 hours until each ball is solid. You can also freeze them overnight.
Chill time is crucial too. The cookie dough itself needs to be chilled for one hour. This makes it easier to handle and ensures that your cookies don't spread too much while baking.
Use fresh berries. I recommend using fresh strawberries for this recipe. Frozen berries usually don't have as much flavor and you won't be able to easily chop them without thawing first, which will lead to watery berries.
Small strawberry pieces are best. You don't need to finely dice your strawberries, but you do want them to be chopped into pieces that are on the smaller side vs. large chunks.
Don't increase the amount of strawberries. There is just the right amount of strawberry pieces in this recipe. If you add more it will affect the texture of your cookies.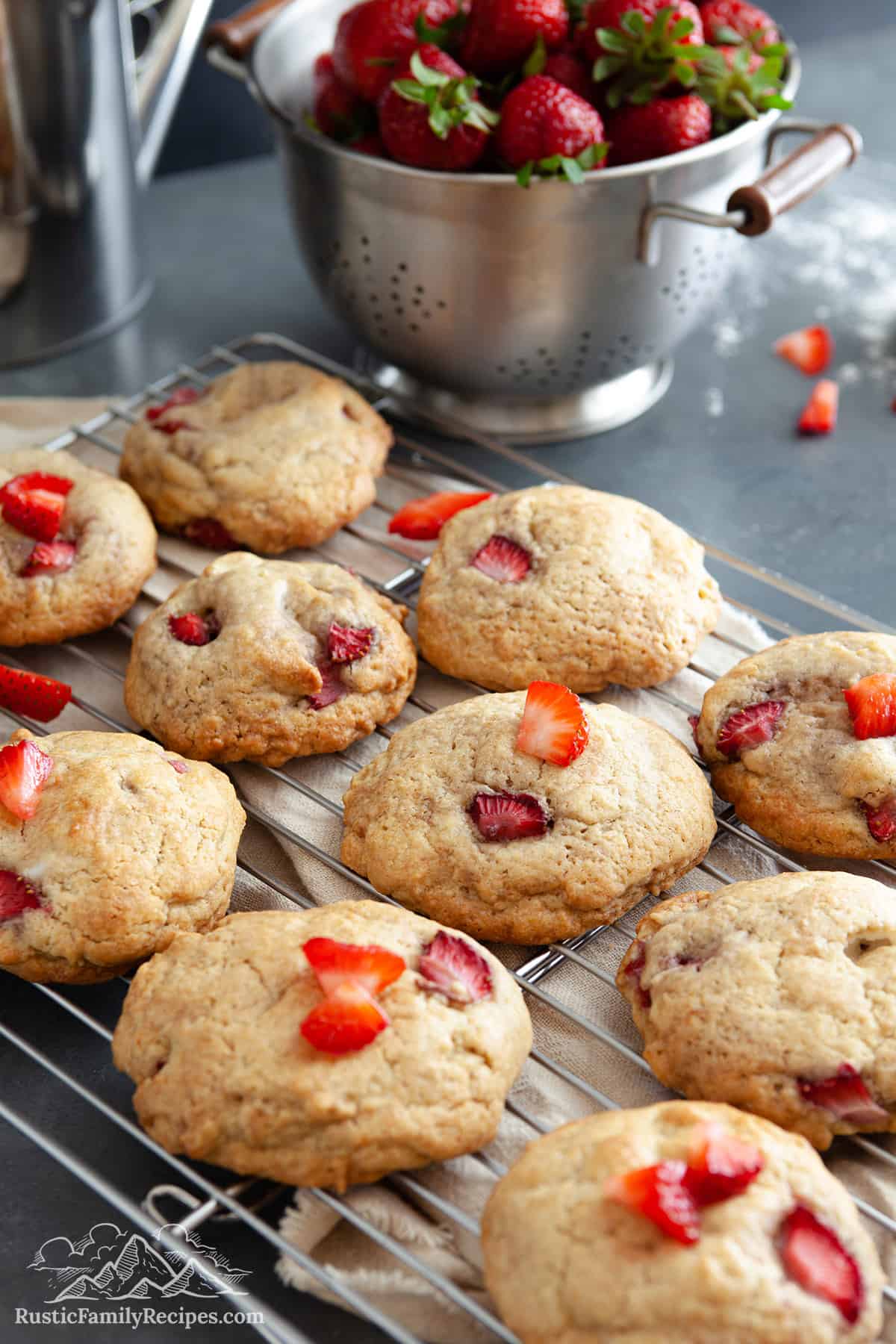 FAQs
What Kind of Cream Cheese Should I Use?
I recommend using regular full-fat cream cheese, which you can buy in a block or in a tub. I don't recommend using vegan cream cheese because it has a different texture.
Can I Skip the Filling?
Yes, you can skip making the cheesecake filling and just make these into regular strawberry cookies. You'll need to decrease the baking time to about 15-18 minutes, or until the cookies are light golden in color.
Can I Use a Different Kind of Berry?
Yes, you could also use fresh blueberries in this recipe! No need to chop the blueberries, you can just use them whole. Make sure you have removed all the stems though.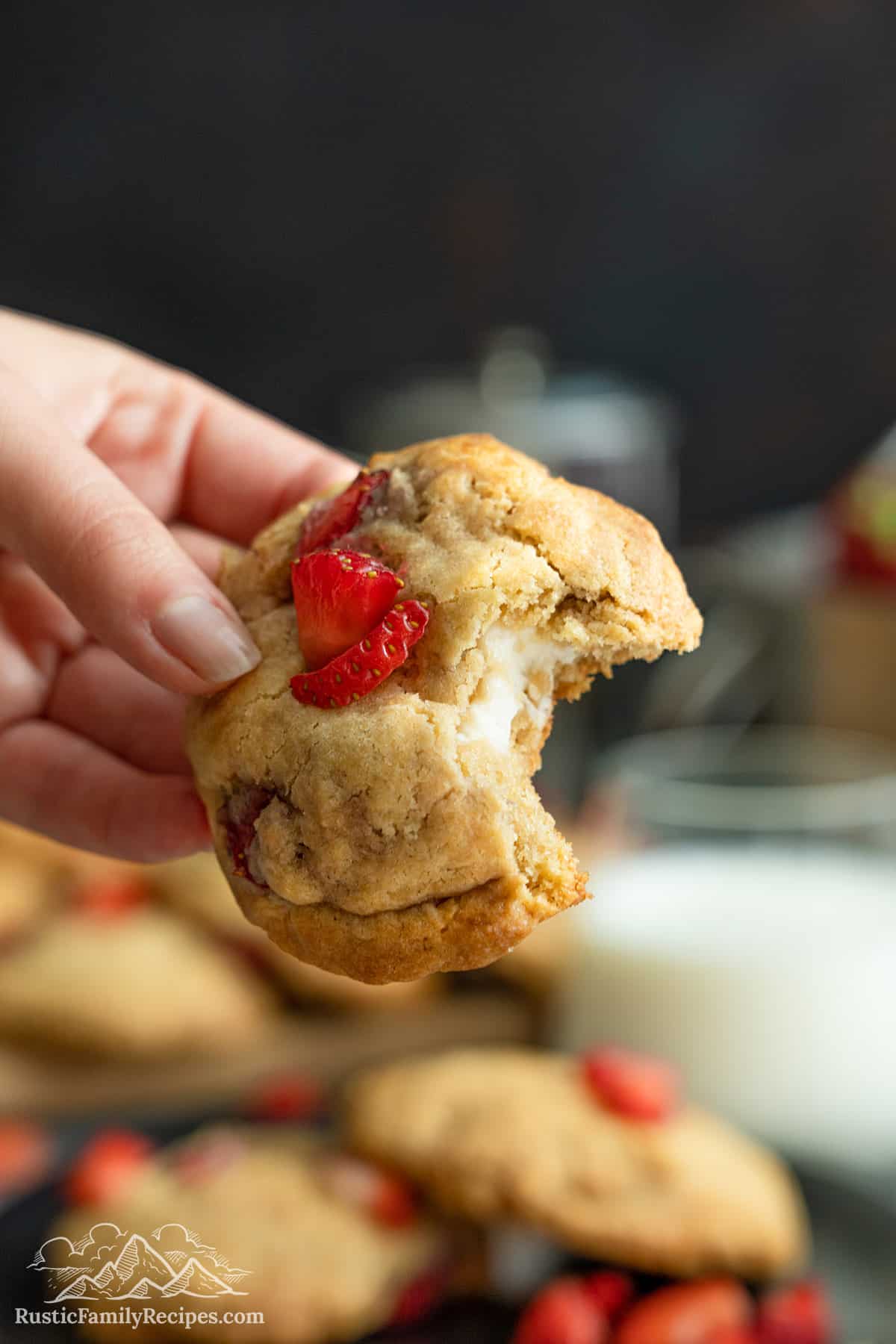 Fridge: Because these strawberry cookies have cream cheese in the center, they need to be stored in the fridge. Let them cool completely, then transfer the cookies to an airtight container. They'll keep in the fridge for up to 4 days.
Freezer: You can also freeze strawberry cheesecake cookies. Let them cool completely, then place them in an airtight, freezer-safe container. The cookies will keep for up to 2 months. Thaw overnight in the fridge when you're ready to eat some.
Looking for even more fun cookie-baking ideas? Here are some of my favorite recipes:
Matcha White Chocolate Chip Cookies
This easy recipe makes strawberry cookies stuffed with a cream strawberry cheesecake filling. Every bite is totally irresistible! Check out the video if you'd like to see how to make these cookies step-by-step. 🙂
Ingredients
For the cream cheese filling
1

cup

cream cheese

,

room temperature

⅓

cup

powdered sugar

¼

cup

chopped fresh strawberries
For the cookies
1

cup

unsalted butter

,

room temperature

½

granulated sugar

½

cup

light brown sugar

1

egg and 1 egg yolk

1

teaspoon

pure vanilla extract

2 ½

cups

all-purpose flour

1

teaspoon

baking powder

1

teaspoon

baking soda

½

teaspoon

kosher salt

¾

cup

chopped fresh strawberries
Instructions
Make the Cheesecake Filling
In a large bowl, add the cream cheese and beat on high speed until fluffy. You can use a stand mixer or a hand held mixer for this.

Add the powdered sugar and mix on low speed until combined. Increase the speed to high and beat for an additional 30 seconds

Fold the chopped fresh strawberries into the mixture

Divide the mixture into 12 scoops (about 1 tablespoon each) and place them on a cookie sheet lined with parchment paper. Place in the freezer for at least 3 hours or until firm. (I prefer freezing overnight.)
Make the Cookie Dough
In a large bowl beat the butter, granulated sugar, and light brown sugar on high speed for 2 minutes. You can use a stand mixer or a hand held mixer for this.

Add the egg and mix until combined before adding the egg yolk and mixing until smooth.

Add the vanilla extract and mix until smooth.

Add the all-purpose flour, baking powder, baking soda, and salt and mix on low speed until smooth.

Add the strawberries and mix just until they have incorporated evenly into the dough. Be careful not to overmix as this will cause the strawberries to release their juices.

Cover the mixing bowl and chill in the refrigerator for at least 1 hour.
Assemble the Stuffed Cookies and Bake
Preheat the oven to 350 degrees F and line a baking sheet with parchment paper

Once the cheesecake filling and cookie dough have spent their allotted time chilling, remove them from the fridge/freezer.

Use a cookie scoop to measure out 12 balls of cookie dough. Place the balls on the prepared cookie sheet.

Use the back of a spoon to make a large indentation in each dough ball

Place a frozen ball of cheesecake filling in the indentation of each cookie.

Gently close the dough around the cheesecake filling. Once the filling in enclosed, gently roll the dough into a ball.

Place the stuffed cookie dough balls on the baking sheet. You can bake 6 cookies on a standard size baking sheet so you may need to bake in batches. If you do, keep the extra dough and cheesecake filling cold between batches.

Bake in the preheated oven for 20-22 minutes or until cookies are light golden brown and just set.

Remove the cookies from the oven and allow them to cool for 10 minutes before transferring them to a wire rack to cool completely.
Last Step:
Please
share a rating and comment
if you enjoyed this recipe! Your feedback helps this little blog thrive and continue providing free, high-quality recipes for you.
Nutrition
Calories:
355
kcal
|
Carbohydrates:
34
g
|
Protein:
5
g
|
Fat:
22
g
|
Saturated Fat:
14
g
|
Polyunsaturated Fat:
1
g
|
Monounsaturated Fat:
6
g
|
Trans Fat:
1
g
|
Cholesterol:
73
mg
|
Sodium:
293
mg
|
Potassium:
94
mg
|
Fiber:
1
g
|
Sugar:
14
g
|
Vitamin A:
748
IU
|
Vitamin C:
7
mg
|
Calcium:
58
mg
|
Iron:
1
mg
Nutritional info is an estimate and provided as a courtesy. Values may vary according to the ingredients and tools used. Please use your preferred nutritional calculator for more detailed info.
Did you make this recipe?
💖 I love hearing how my recipes came out for others! If you tried this recipe, please share a comment. 💖