This Blue Matcha "Bantha Milk" latte has a sweet, subtle flavor that I like to compliment with a touch of agave, vanilla extract and a pinch of ground cinnamon. You can drink it warm or poured over ice for a refreshing, non-caffeinated treat.
Sometimes the best way to get your kids to try something new is to tie it into their favorite movies. That's what happened with this Blue Matcha Latte, which is one of my absolute favorite drinks.
There I was one afternoon, enjoying a nice cup of tea when my son walked by and asked what I was drinking. I almost replied that it was a blue matcha latte… but then I remembered his aversion to "tea" as a general concept, so instead, I told him it was Bantha milk. His eyes immediately lit up. "Like, from Tatooine?" he asked. Then he squinted his eyes, gave me a soul-piercing stare, and cautiously took a sip. That sealed the deal right there. "Wow! This is actually really good!" he admitted. "Now I'm just like Luke Skywalker."
And that is how my kid became a blue matcha latte fan.
If you're not familiar with Star Wars blue milk, no worries. I didn't know what it was either before meeting my husband. In the Star Wars universe, one of the most common drinks is blue milk that comes from a Bantha. These are large, wooly herd animals that are used as mounts and also kept for their milk, similar to cows. The milk is blue, sweet, and said to be quite refreshing. Kinda like a blue matcha latte! (There is also green milk. You can see some Star Wars clips showing both here.)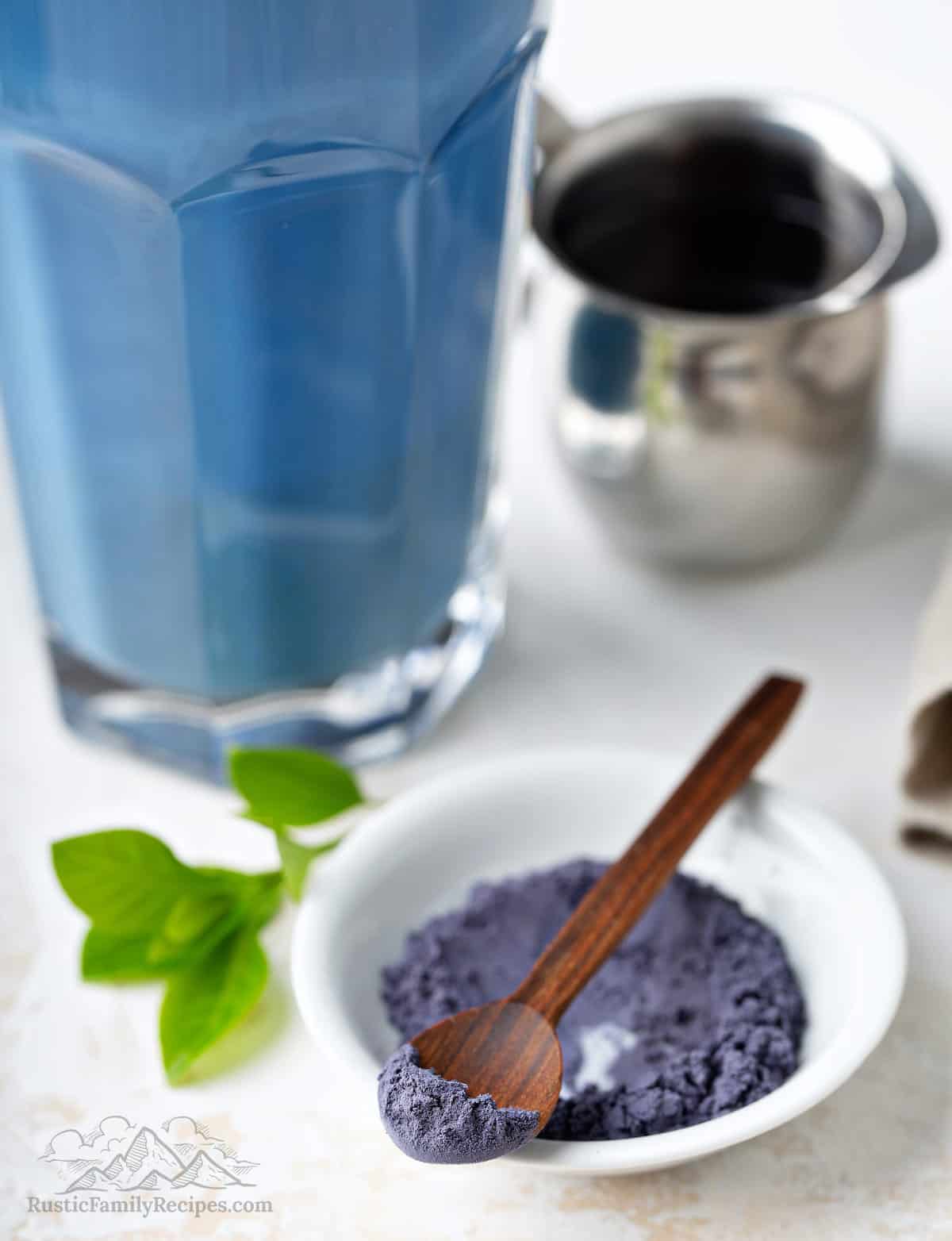 What is Blue Matcha?
So Star Wars references aside, what is blue matcha anyways? Despite the name, blue matcha is actually quite different from green matcha. While green matcha is made from powdered green tea leaves, blue matcha is made from powdered butterfly pea flower petals. This is why it's also called Butterfly Pea Powder.
The taste is different too. Green Matcha (which I also love) can taste a little grassy and I think takes a bit more getting used to. By contrast, Blue Matcha has a light, subtly floral flavor that is pretty easy to get on board with. It's downright delicious when paired with your favorite milk and a touch of sweetener.
Butterfly Pea Flower Benefits
Another big difference between green and blue matcha is that blue matcha does not contain caffeine. This may or may not be a benefit to you. Since I'm sensitive to caffeine, I generally only drink green matcha in the mornings and therefore like having butterfly pea powder to make a non-caffeinated blue matcha in the afternoons or evenings.
There isn't as much research into the health benefits of blue matcha, but it is said to boost cognitive function and support collagen production in your skin. It also helps reduce anxiety and stress. Sometimes I will add it to my nightly Moon Milk, which I make with Ashwagandha (another stress reducer).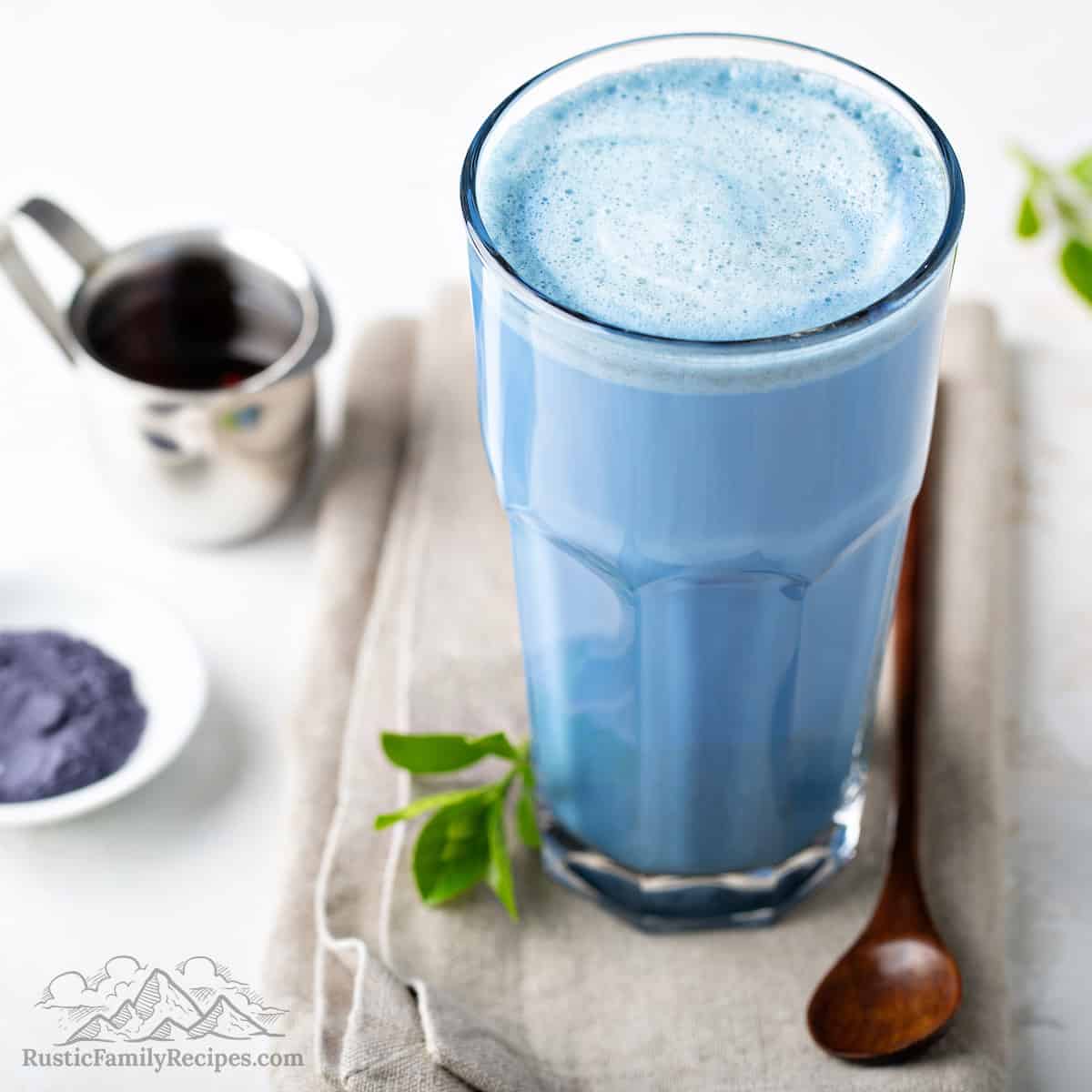 Where to Find Butterfly Pea Powder
If you would like to give this drink a try and are wondering where you can find blue matcha powder, the answer is probably not surprising: Amazon. I like Butterfly Pea Powder by Ancient Choice (affiliate link).
Tips for Success
It is pretty easy to make a blue matcha latte, though there are a few things you can do to make sure you have the creamiest, smoothest drink:
Warm the milk first. It doesn't matter what kind of milk you use. I personally prefer oat milk, but soy milk, almond milk, coconut milk and cow milk also work well. Whichever one you choose, warm the milk on the stovetop first. The matcha powder blends more easily and needs less whisking when you add it to warm milk.
Whisk constantly. I recommend whisking constantly after you add the butterfly pea powder to your milk. This prevents the powder from clumping up and adds a nice foaminess to your milk.
Don't add the vanilla until you've poured the latte into your cup. Pure vanilla extract evaporates and cooks down when heated (similar to alcohol). So for maximum flavor I recommend adding it directly to your latte after it's been poured into your cup.
Drink hot or cold. You can enjoy this beverage hot or cold. If you want to drink it cold, I still recommend adding the butterfly pea powder to warm milk. Then just don't heat the milk as much as you would if you were drinking your latte hot. Give it a few minutes to cool after removing from the stove, then add a generous amount of ice to your cup and pour the blue matcha over the ice.
Print
Star Wars Blue Bantha Milk (Blue Matcha Latte)
This Blue Matcha "Bantha Milk" latte has a sweet, subtle flavor that I like to compliment with a touch of agave, vanilla extract and a pinch of ground cinnamon.
Author: Rustic Family Recipes
Prep Time:

1 minute

Cook Time:

5 minutes

Total Time:

6 minutes

Yield:

1 latte

Category:

Drinks

Method:

Stovetop

Cuisine:

Thai
1 cup

warm milk (I prefer oat milk)

1/2 teaspoon

butterfly pea powder

1 tablespoon

agave syrup

1/8 teaspoon

pure vanilla extract
A pinch of ground cinnamon
Instructions
Pour your milk of choice into a small saucepan over medium-low heat. Warm the milk, stirring occasionally.
Once the milk is warmed add the butterfly pea powder and agave. Whisk constantly until the powder is well incorporated and your milk is heated to your desired temperature.
Pour into a cup and add the pure vanilla extract, stirring briefly with a spoon to combine.
Last Step:
Please
share a rating and comment
if you enjoyed this recipe! Your feedback helps this little blog thrive and continue providing free, high-quality recipes for you.
Keywords: blue matcha latte, star wars food, butterfly pea tea
This post may contain affiliate links. Please read our disclosure policy.