This easy spinach and mushroom quiche has three kinds of cheese and is so easy to make! Serve it with breakfast potatoes, a steaming bowl of soup, or a fresh salad for a simple and satisfying meal.
One of the best things about quiche is how flexible it is. Is it breakfast food? Lunch? Or just an awesome dinner idea? In my opinion, it's all three. Make it for dinner one night, then enjoy leftovers for breakfast the next morning. Buttery crust paired with a cheesy, savory filling is welcome any time of day.
The fillings are flexible too. I've used baby bella mushrooms here, but any variety of mushrooms would do nicely as long as you keep the total amount the same. Similarly, you could swap the spinach for chopped kale or swiss chard. I've used a pre-made pie crust for this recipe to make it even easier!
What's the Difference Between a Quiche and a Frittata?
There are a few key differences:
A quiche bakes in a pie crust while a frittata does not have any crust.
Frittatas have less dairy than a quiche and more eggs.
Quiche bakes in a pie pan while a frittata is made in a skillet.
A frittata is partially cooked on the stove-top, then finished in the oven. By contrast, a quiche is baked completely in the oven.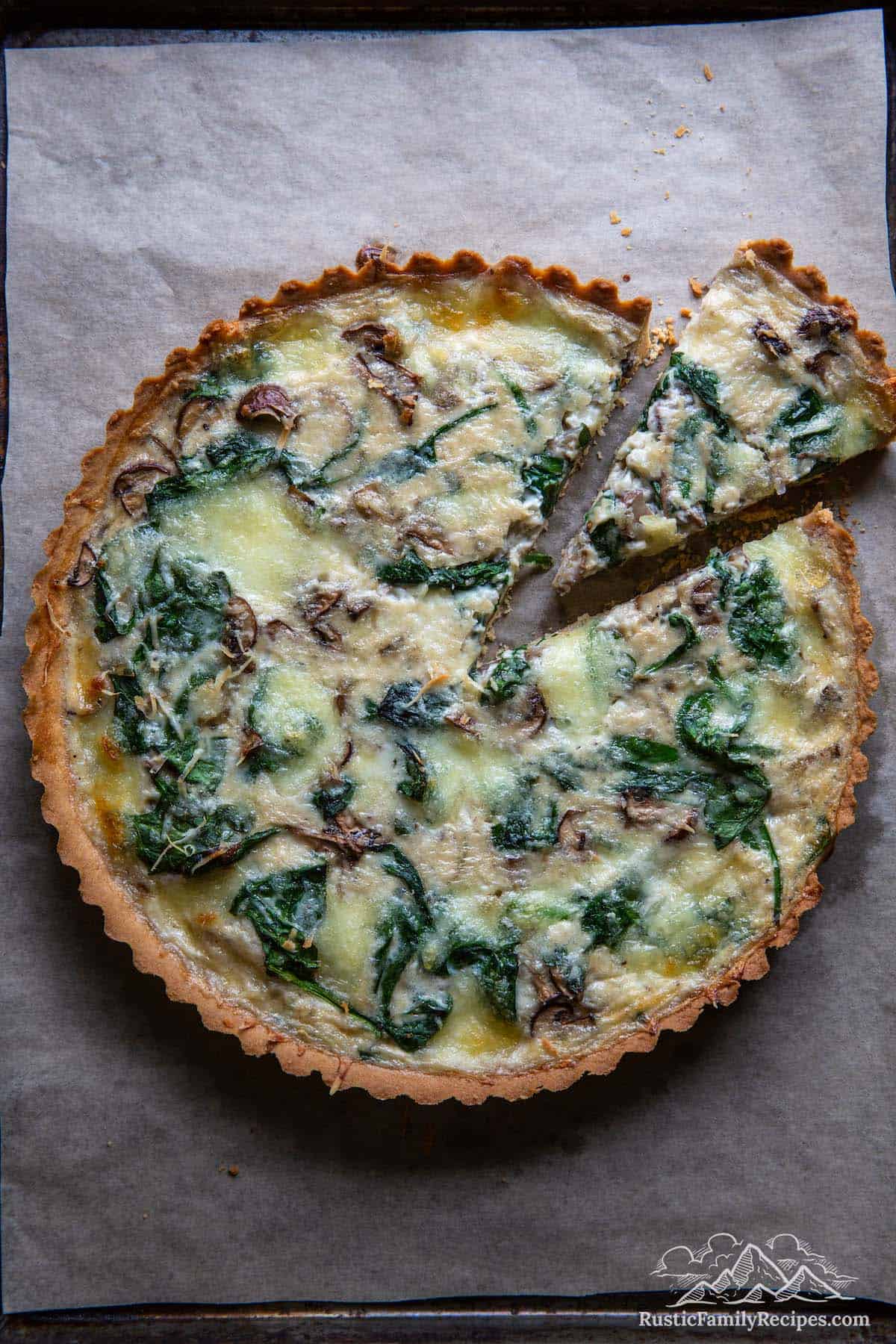 Easy Tricks for the Best Quiche
In many ways, quiche reminds me of classic Italian pasta recipes like spaghetti carbonara. How so? Well, they both sound fancy and complicated but are actually quite simple if you know what to do. Here are my tricks for perfect quiche every time:
Blind bake the pie crust. When you blind bake a pie crust you partially bake it on it's own before adding any fillings. This is an important step because it gives the crust a chance to firm up and also prevents it from getting soggy while the quiche bakes. Skipping this step can result in your quiche leaking in the oven because the filling is more likely to soak through a crust that has not been cooked already.
Use the middle oven rack. If you use the top rack of your oven the crust will brown too quickly and the filling won't have time to cook through.
Use a pizza stone. I personally like to place a pizza stone on the bottom rack of my oven. This way it holds and radiates heat up through the bottom of the quiche while it bakes on the middle rack.
Use a pie shield. If your pie crust is browning too quickly, cover the edges with aluminum foil by taking narrow strips and wrapping them around the edges of the quiche only. This way the crust is protected from the oven heat but the filling can still cook.
Cook the veggies first. It is important to cook any veggies you will be using before they are added to the quiche. Because a quiche is cooked at low temperatures the veggies won't cook on their own. They will also release liquid into the quiche as they heat up, which will result in a runny quiche.
Don't raise the heat. Although the oven will preheat at 350F, the quiche will bake at 325F. If you raise the temperature the quiche will not set properly.
Know when it's done. Quiche should be set but still a bit jiggly in the middle. It will continue to cook while it cools after baking.
Let it cool. Don't rush the cool time. Your quiche needs this time to finish baking and to settle into the perfect texture.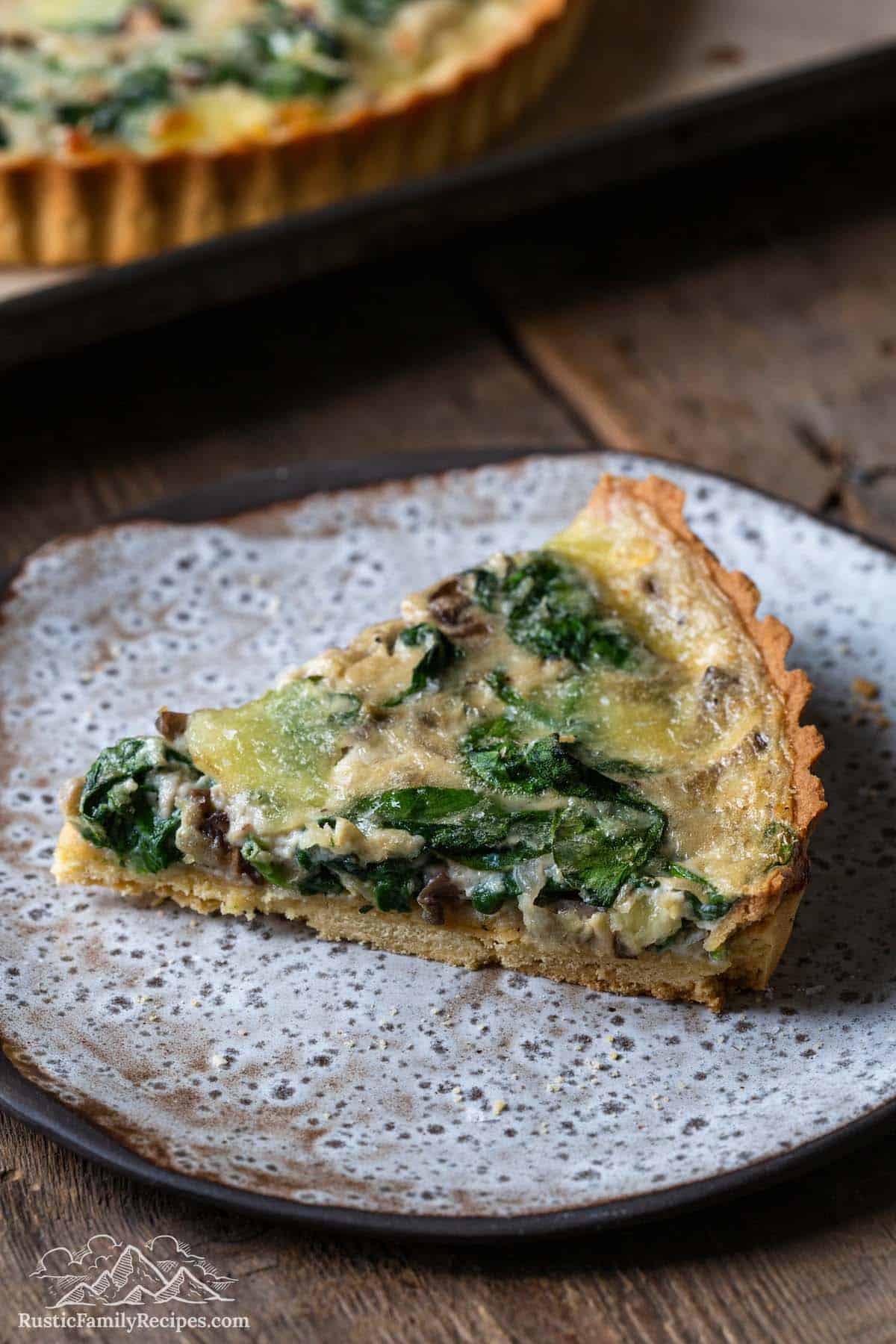 Notes on the Ingredients
Onions – I used yellow onions, but you could also use white or red onions.
Mushrooms – Any kind will work as long as you keep the total amount the same. Button mushrooms, porcini mushrooms and cremini mushrooms would be my top picks if you don't want to use baby bellas. You could also use full size portabella mushrooms, just cut them into smaller pieces and cook them as directed in the recipe.
Greens – I like to use spinach, but as I mentioned earlier you could also use chopped kale or swiss chard in equal amounts. Cooked zucchini, summer squash or patty pan squash would be nice summer produce subs.
Cheeses – I love the combination of gruyere, mozzarella and parmesan, but an equal amount of cheddar cheese or Monterrary Jack cheese would also be tasty.
I don't recommend using watery veggies like tomatoes because even if you cook them beforehand they will add too much water to the filling. (Sun dried tomatoes, without the oil, might just do though.)
How Do I Tell When Quiche is Done Cooking?
I like to use the knife test. To do this, take a thin knife and insert it into your quiche, about one inch from the center. If the knife is clean when you pull it out and you don't see a bunch of uncooked eggy liquid run into the cut you made, it is done baking. Note that since this quiche has a generous amount of cheese in it, the knife can have some melty cheese on it so definitely look for the uncooked egg mixture inside the cut you made as a secondary visual test.
Your quiche will be jiggly when it is done and will finish baking as it cools on the stovetop.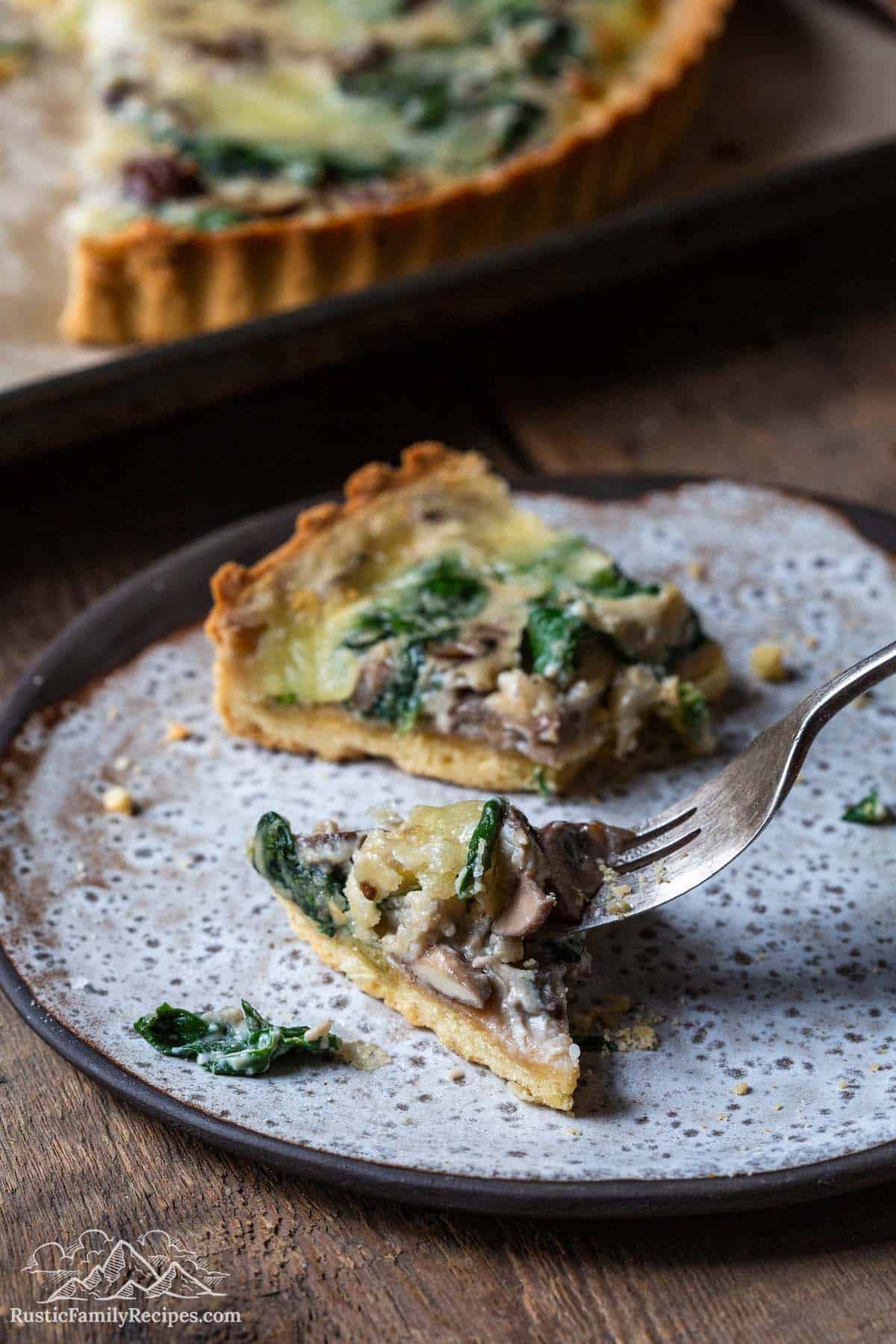 Frequently Asked Questions
Can I use heavy cream instead of milk?
Yes, you can use heavy cream instead of whole milk in this recipe. You can also replace the half and half with heavy cream.
Can I make this a crustless quiche?
I would not recommend leaving the pie crust out of this recipe, I haven't tested the filling baking on its own and imagine it would stick to the sides of your baking dish.
Serving Suggestions
If you are having quiche for breakfast, then I recommend a side of breakfast potatoes or bacon. Popovers or sweet potato biscuits would also be a welcome accompaniment!
For lunch or dinner, I usually like to serve it with bowls of soup. This creamy homemade tomato soup or this roasted root vegetable soup would be lovely with quiche. Simple salads also pair nicely with quiche.
How to Store and Reheat Extras
Let your quiche cool completely, then store it in an airtight container in the fridge for up to 4 days. I like to reheat it in the oven so that the pie crust doesn't get soggy. Heat slices in a 325F oven for 10-15 minutes, or until warmed through.
Can I Freeze Quiche?
Yes, you can freeze cooked quiche for up to 3 months. Let it cool completely, then wrap it in a couple of layers of saran wrap and place it in an airtight, freezer-safe container or ziploc bag. (If you are freezing individual slices, wrap each slice in plastic wrap and place in an airtight, freezer-safe container.) Defrost overnight in the fridge and heat in an oven at 325F until warmed through, about 30 minutes for a full quiche.
Print
Spinach Mushroom Quiche
This easy spinach and mushroom quiche has three kinds of cheese and is so easy to make! Serve it with a steaming bowl of homemade soup or a fresh salad for a simple and satisfying meal.
Author: Rustic Family Recipes
Prep Time:

30 minutes

Cook Time:

45 minutes

Total Time:

1 hour 15 minutes

Yield:

6-8 servings

Category:

Dinner

Method:

Oven

Cuisine:

American
1

frozen pre-made pie crust (9-inch)

2 tablespoons

olive oil

2/3 cup

yellow onion, diced

10oz

baby bella mushrooms, roughly chopped

4oz

fresh baby spinach, roughly chopped

4

eggs

2/3 cup

half and half

1/3 cup

whole milk

1/2 teaspoon

kosher salt

1/2 teaspoon

ground black pepper

1/4 teaspoon

freshly grated nutmeg

1/2 cup

gruyere, shredded

1 cup

mozzarella, shredded (divided use)

2 tablespoons

grated Parmesan
Instructions
Partially bake your pre-made pie crust according to the package instructions. For instance, if it says to bake at 350 degrees F for 20 minutes, then bake it at 350F for 10 minutes. Remove from the oven and set aside.
Adjust oven temperature. The quiche will cook at 325F so adjust accordingly once the crust has finished baking.
Cook the veggies. While your crust is baking, warm the olive oil in a large pan over medium-high heat. Add the diced onion and sauté until it begins to soften, about 2 minutes. Add the mushrooms and sauté 2 minutes before adding the spinach. Season with salt and pepper to taste and cook until the mushrooms are tender and the spinach has wilted. Remove from heat and set aside to cool.
Make the filling. In a large bowl whisk the eggs, half and half, milk, ½ teaspoon salt, ½ teaspoon paper and nutmeg. Stir in the gruyere, ½ cup of the mozzarella and the mushroom mixture.
Assemble the quiche. Pour this filling into the crust and sprinkle the remaining ½ cup mozzarella and 2 tablespoons Parmesan over the top.
Bake. Your quiche will bake until puffed, golden brown, and just set in center, about 45 minutes.
Cool 30 minutes. Then cut into wedges and serve.
Last Step:
Please
share a rating and comment
if you enjoyed this recipe! Your feedback helps this little blog thrive and continue providing free, high-quality recipes for you.
Keywords: easy quiche recipe, spinach quiche, vegetarian quiche, mushroom quiche
Filed Under:
This post may contain affiliate links. Please read our disclosure policy.