This post may contain affiliate links. Please read our disclosure policy.
This easy bucatini pasta recipe combines tender noodles with a spicy garlic infused olive oil and lots of shredded Parmesan cheese. It's a simple dinner idea that comes together in less than 30 minutes.
Do you have recipes that you make only when your family is off doing something else? You know, just for you. Cause I do and today I'm going to share one with you. It's spicy, it's garlicky, it's cheesy and noodley. In short, it's everything I love in a heaping bowl of swirly pasta.
What Makes This Spicy Garlic Pasta So Good?
Why do I only make this recipe for me? Well, there are some preferences I have that my family doesn't share:
Oh so garlicky. For one, I LOVE garlic. And let me tell you, if a vampire broke into my house after I ate this pasta I would not be afraid. 😂
Spicy. Second, this dish is pretty spicy. The heat comes from a generous about of red chili flakes and lots of freshly ground black pepper. The more the better I say! The heat is too much for the hubs.
Cheesy. I like to put a lot of Parmesan cheese on this pasta dish. Like, a lot. If you've ever watched For All Mankind let's just say that Ed and I would be pasta buddies.
Slurpy, thick noodles. Lastly, I use bucatini noodles. Bucatini is similar to spaghetti except the individual noodles are thicker and there is a tiny hole in the center of each noodle. I personally love the texture but my family prefers thinner noodles.
So there you have it, that's why my family doesn't like my favorite comfort food pasta recipe. And you know what? That's ok. Because I don't want to share anyways.
If tender noodles tossed with spicy, garlic-infused olive oil and served with lots of cheese sounds good to you, read on.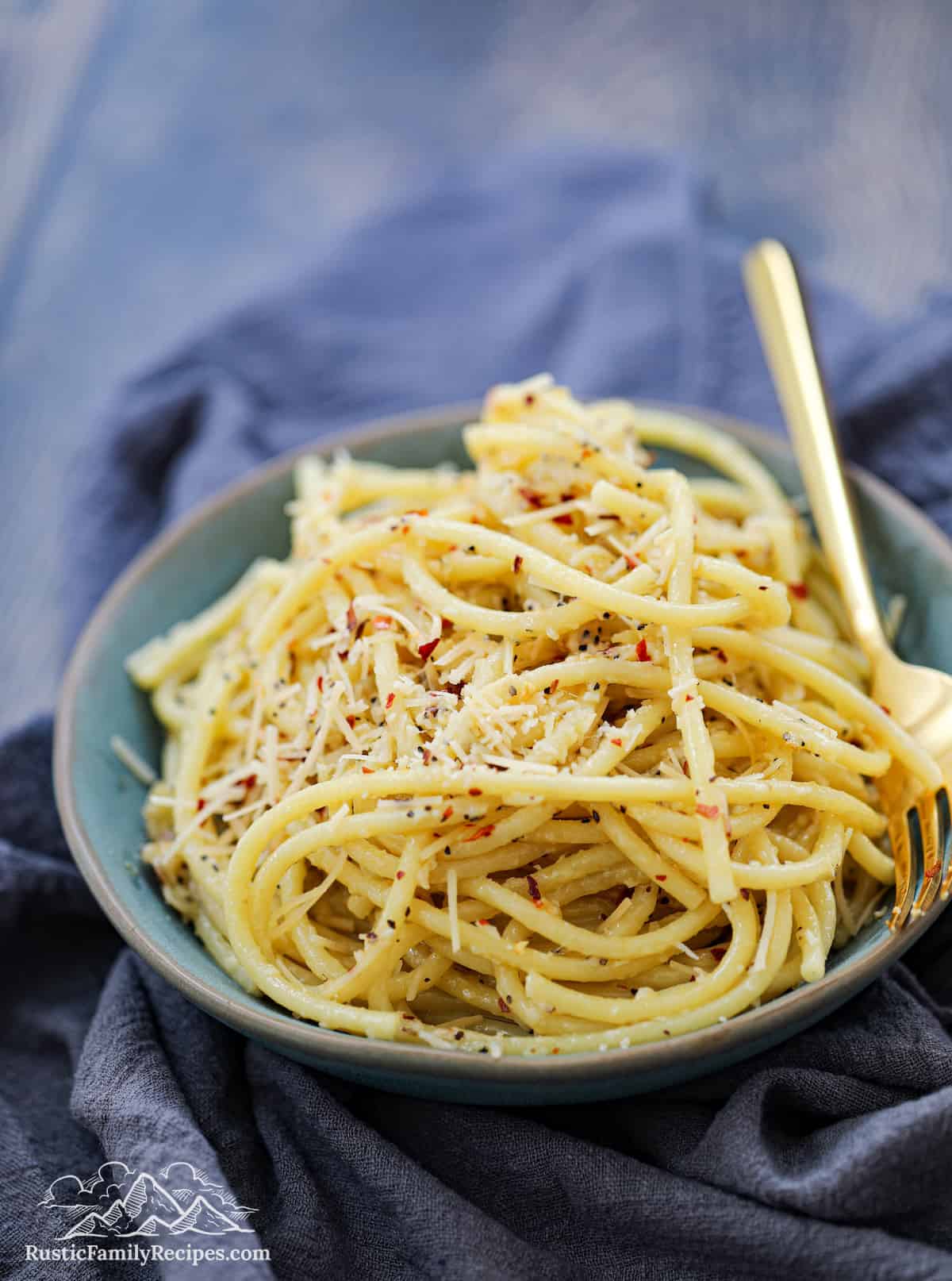 What is Bucatini Pasta?
Bucatini pasta is a type of Italian pasta that's similar to spaghetti, but with a twist. The word "bucatini" means "little hole" in Italian, and that's exactly what this pasta is all about – it's like a long, skinny straw with a hollow center running through it. This design gives the pasta a slightly chewy texture and allows it to hold onto sauce really well. I also love using bucatini for pasta with meat sauce.
Tips for Success
This bucatini pasta recipe is essentially a spicy riff on aglio e olio, which is a classic Italian recipe featuring pasta, olive oil, garlic, and black pepper. It's incredibly easy to make! Still, it never hurts to have a few tips:
Stir the pasta while it's cooking. It is always important to stir your pasta while it is cooking. This prevents the noodles from sticking together and ensures that they cook evenly. It is especially important with bucatini because the noodles are so much thicker.
Don't leave it unattended. When it is time to make the spicy olive oil, don't leave your pan even more a second. The mixture cooks incredibly quickly and it doesn't take long for garlic to burn.
Use tongs. I recommend using tongs to toss the cooked pasta with the spicy olive oil. When you use a spoon the oil tends to get stuck around the edges of the pot vs. tongs, which makes it easy to coat the noodles evenly.
Serve immediately. As soon as you've combined the noodles with the oil, dig in. This pasta is best enjoyed hot.
Be generous with the cheese. This may be personal preference talking here, but after I have tossed the olive oil coated with Parmesan I add more cheese on top just before digging in.
How Many People Does This Recipe Serve?
This recipe makes one heaping serving or two smaller servings. Since I rarely get to make this pasta dish, when I do make it I usually make a big bowl and eat the entire thing myself. No, I am not ashamed.
Serving Suggestions
Usually, when I make this dish for myself I serve it with a glass of red wine and a thick slice of garlic toast. If you want to serve a salad on the side, this apple walnut spring mix salad would go nicely.
More Easy Pasta Recipes to Try
Print
Spicy Garlic Bucatini Pasta
This simple bucatini pasta recipe is a spicy riff on aglio e olio. It's easy to make and is best served with lots of Parmesan cheese.
Author: Rustic Family Recipes
Prep Time:

5 minutes

Cook Time:

15 minutes

Total Time:

20 minutes

Yield:

1-2 servings

Category:

Dinner

Method:

Stovetop

Cuisine:

American
1/4 cup

extra virgin olive oil

6

garlic cloves, minced

1/2 teaspoon

ground black pepper, plus more for serving

1/2 teaspoon

red chili flakes, plus more for serving

1/2

box bucatini (1lb box)

1/2 cup

shredded Parmesan cheese, plus more for serving
Instructions
Cook the bucatini. Bring a large pot of salted water to a boil and cook the noodles according to the package instructions. Drain and set aside.
Make the spicy olive oil sauce. Warm the olive oil in a large pan over medium heat. Add the garlic and cook, stirring frequently, for about 2 minutes. Add the black pepper and chili flakes, then give everything a quick stir.
Add the pasta. Turn off the heat and add the pasta to the olive oil. Toss the noodles with tongs to coat in the spicy oil.
Toss with cheese. Add the parmesan cheese and toss the noodles again with your tongs.
Serve. Spoon into a giant bowl (or two, if you are sharing) and then top with more chili flakes, black pepper and cheese to taste.
Keywords: bucatini pasta recipe, garlic pasta, garlic parmesan pasta, spicy pasta