About Me: I have more than 20 years of cooking experience & share my favorite recipes on this blog.
Have a question? Please post a comment, I'm happy to help. 🙂
This simple loaf of Sourdough Challah Bread is made with sourdough starter and then baked in a loaf pan. Sweetened with maple syrup and vanilla, it's my favorite homemade bread to use for French toast!
If you're looking for a new way to use your sourdough starter, might I suggest a luscious loaf of challah?
This simple bread is based on my Honey Vanilla Challah recipe and makes a slightly more dense loaf that is perfect for french toast. (Like seriously, this makes the best french toast ever and yes I will 100% be sharing that recipe with you stat.) This bread slices easily and holds its shape even after being dunked in batter and cooked on the griddle. I also love using slices of this challah for Croque Madame sandwiches and french toast in a mug (affiliate link).
What Makes this Challah Different?
The main difference between this challah recipe and my original recipe is that it uses sourdough starter. In this recipe, I use my sourdough starter right after it has been fed. No need to feed it and then wait for it to get all bubbly. Adding sourdough to the recipe altered the amount of wet and dry ingredients that were needed, and also meant that more sweetener was needed to offset the sourness of the sourdough starter.
Another difference is that this loaf of bread is a bit denser than my original challah, which is fluffier and lighter. I quite like the texture of this bread because it slices beautifully and holds up well for all sorts of uses!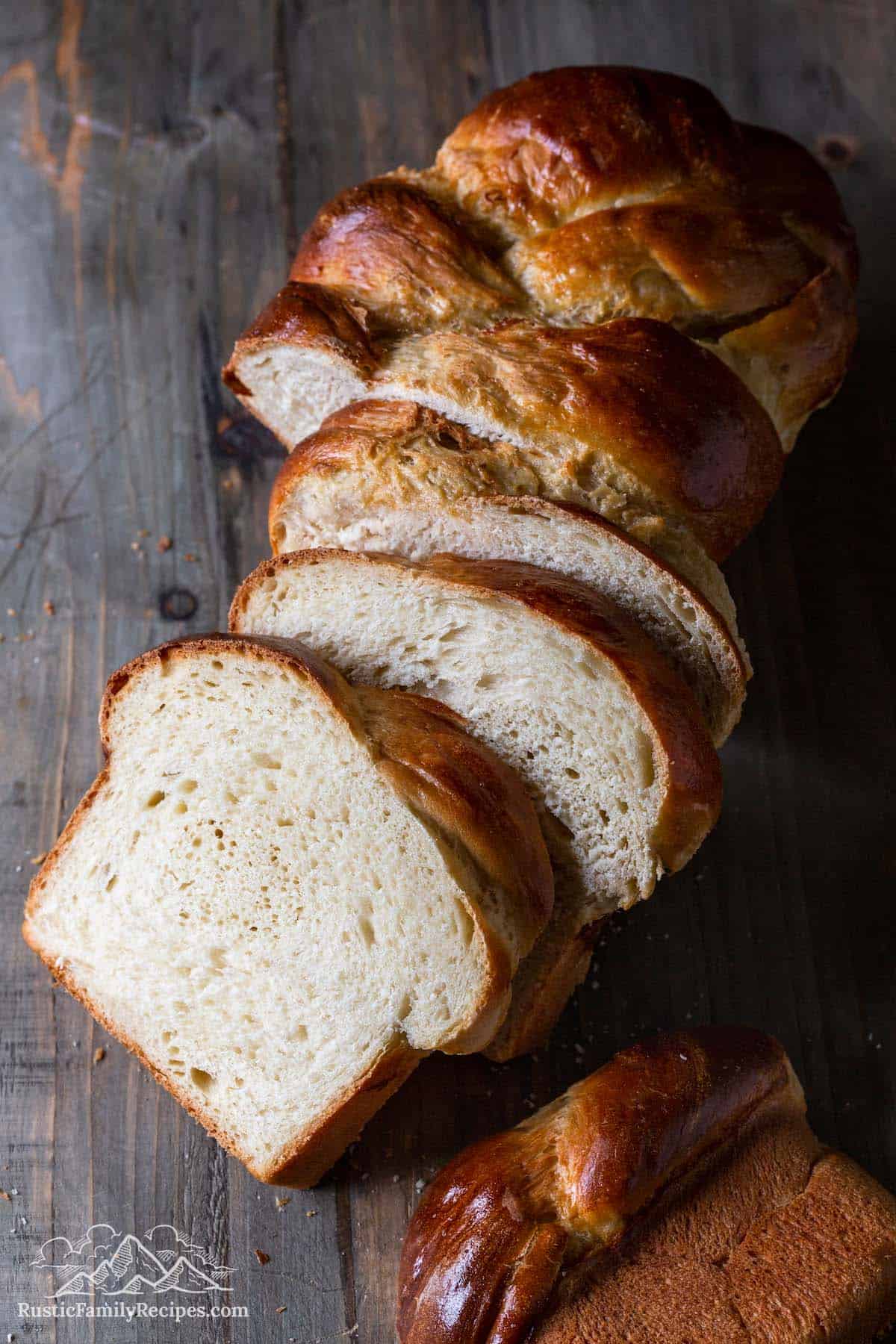 How to Make It
The process for making this loaf of challah bread is nearly identical to the way my Honey Vanilla Challah Bread is made. The main differences are the ingredients, and then the fact that this recipe is baked in a loaf pan. Definitely check out that post for step-by-step photos, but here is a high-level summary of what you'll be doing:
Make the challah bread dough.
Let it rise.
Punch the dough down, divide it into three pieces, then roll each piece out and braid the dough. <- Everything up to this point is identical to my original challah bread recipe.
Place the braided dough in your loaf pan for the second rise.
Add the egg wash and bake!
Why is this Bread Baked in a Pan?
I like to use a loaf pan for this bread when I plan to make it into French toast – the pan gives the bread a tighter shape that is then easier to slice. However, if you don't plan to turn this bread into French toast, you can bake it on a cookie sheet lined with parchment paper the same way I bake my original challah bread, linked above. The baking time is 30-35 minutes whether this bread is baked in a pan or on a cookie sheet.
Delicious Ways to Eat Sourdough Challah
Beyond French toast, there are many ways to enjoy this bread. Since it slices so well, I especially like to eat the slices by themselves – toasted or not. Sometimes I'll slather them with jam or maple cream, or top them with a drizzle of honey.
This challah bread is also ideal for sandwiches, including a Croque Madame or Croque Monsieur like I mentioned above. You can also turn it into a savory strata or make it into bread pudding.
How to Store and Freeze It
Store this bread on the counter in an airtight container for up to 4 days. I recommend storing the bread unsliced, only cutting off what you need when you are ready to use it. This prevents the bread from drying out too quickly.
Want to freeze it? You can do that too! Just wrap the baked and completely cooled bread in a couple of layers of saran wrap, then place it in an airtight, freezer-safe container. It will keep in the freezer for up to 3 months. Thaw on the counter for several hours when you're ready to use it.
Print
Sourdough Maple-Vanilla Challah Bread
This simple loaf of challah bread is made with sourdough starter and then baked in a loaf pan. Sweetened with maple syrup and vanilla, it's my favorite homemade bread to use for French toast!
Author: Rustic Family Recipes
Prep Time:

30 minutes

Rising Time:

2 hours 30 minutes

Cook Time:

30 minutes

Total Time:

3 hours 30 minutes

Yield:

1 loaf

Category:

Bread

Method:

Oven

Cuisine:

American
1/2 tablespoon

active dry yeast

1/3 cup

granulated sugar

1 teaspoon

kosher salt

4

to

4 1/4

cups all-purpose flour

1 cup

warm whole milk

1/2 cup

fed sourdough starter

2

eggs +

1

for the glaze

4 tablespoons

olive oil +

1 teaspoon

for greasing the bowl and another for the glaze

3 tablespoons

maple syrup

1/2 teaspoon

pure vanilla extract
Instructions
Make the Dough
In a large bowl using a whisk combine the yeast, sugar, salt and 1 cup of the flour.
Add the warm milk, sourdough starter, 2 eggs, 4 tablespoons of olive oil, then the maple and vanilla. (Add the olive oil first, then use the same measuring spoon to add the maple – residual oil on the spoon will make the maple slide right out.)
Vigorously mix the ingredients until smooth, scraping the sides of the bowl halfway through, about 3 minutes.
Add the remaining flour, 1/2 cup at a time, switching to a wooden spoon when the dough becomes too thick for the whisk. (You can also use a stand mixer with a paddle attachment for this.) Continue mixing the dough until it is too stiff to stir.
Turn the dough out onto a lightly floured surface and knead until soft and springy, about 4 minutes. If the dough is sticky, dust with flour 1 tablespoon at a time – just enough to prevent it from sticking to the surface. The dough is done when it's smooth and small air bubbles show under the skin. If you press your thumb into it the impression should bounce back. This is a slightly firm dough, which is exactly what you want for easy braiding later on.
Place the dough in a deep container greased with 1 tsp of olive oil. Turn the dough once to coat the top and cover with plastic wrap. Allow it to rise at room temperature until doubled in bulk, about 1 1/2 to 2 hours.
Grease a bread pan with PAM or cooking spray. Gently deflate the dough by pressing your fingers into it, then turn it out onto a lightly floured surface.
Braid the Dough
Divide into 3 equal portions, and roll each portion out into a smooth, thick strip about 20 inches long, with the ends slightly thinner than the middle. Lay these ropes side-by-side, not quite touching.
Beginning in the middle and working towards you, braid the lower half of the three ropes. To braid, alternately move the outside ropes over the one in the center – left over, right over, left over -until you come to the end.
Now go to the other side of your working space (or rotate your cutting board) and braid the other half, this time moving the outside ropes under the center one.
Braid tightly – you don't want any gaps. When you finish braiding each side crimp the tapered ends together, then tuck them under.
Second Rise, Add Egg Wash and Bake
Preheat your oven to 350 degrees F and place the braided dough on in your bread pan, cover loosely with plastic wrap and let rise until almost doubled in bulk, 30 to 40 minutes.
Just before the rising time has finished whisk together 1 egg and 1 teaspoon of olive oil, this is going to be the glaze for your bread. Gently brush the dough with a thick layer of it.
Place the dough in the oven and bake for 30 to 35 minutes, or until the bread is a deep golden brown and sounds hollow when you thump it on the bottom.
Transfer to a baking rack to cool. Allow to cool completely before slicing.
Last Step:
Please
share a rating and comment
if you enjoyed this recipe! Your feedback helps this little blog thrive and continue providing free, high-quality recipes for you.
Keywords: sourdough discard recipes, sourdough challah, french toast bread, easy sourdough bread
Filed Under: