This easy sourdough focaccia recipe is more than just bread—it's also a work of art! Use your favorite veggies to create a beautiful design atop crispy, chewy, golden brown focaccia.
Looking for more sourdough recipes? Try these Sourdough Everything Bagels or these Sourdough Cinnamon Buns.
Focaccia bread art is always a feast for the eyes, but when you make the focaccia with a sourdough starter, you get a bread that tastes as good as it looks. Sourdough focaccia bakes up with a chewier exterior than traditional dough. It has a pillowy middle, and of course, it has that signature sourdough tang that we all know and love.
This recipe is also the perfect rainy day activity, whether you're baking solo or with kids. You can use whatever vegetables you have on hand and get as creative as you want. It's fun arranging all of the vegetables just so, and even more fun when you take the focaccia out of the oven and see your work of art!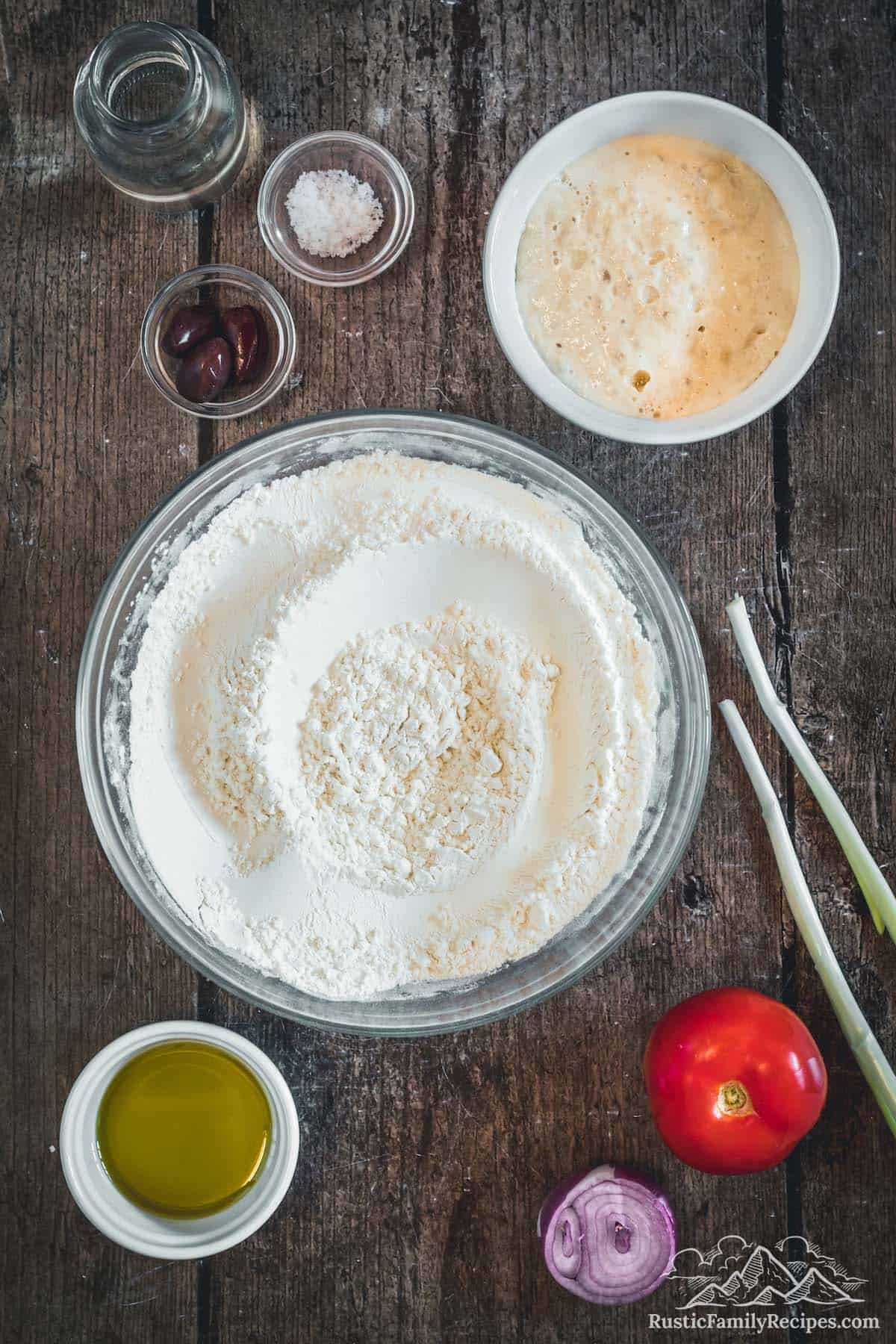 What You'll Need
The ingredients for this recipe are so simple! Here's what you'll need:
White bread flour
Active sourdough starter – If you don't have your own, you may be able to buy some from a local bakery.
Lukewarm water
Olive oil
Salt
Green onions
Red onion
Tomato – Instead of one large tomato, you can use a variety of smaller tomatoes with different colors.
Black olives
More Topping Ideas
The toppings above are what you need to replicate my design, but you can use other vegetables and herbs to create your own art bread. Here are some other topping ideas:
Whole spears of asparagus with the woody part of the stem cut off
Basil or thyme leaves
Sprigs of rosemary or parsley
Sun-dried tomatoes
Bell pepper rings
Broccolini
Red or yellow peppers
Thinly sliced summer squash or zucchini
Flaky sea salt
How to Make Sourdough Focaccia Art Bread
If you've never baked with a sourdough starter before, this is a good recipe for beginners. Follow the step-by-step instructions below and you can't go wrong!
Start the dough. Combine the flour and two teaspoons of salt in a large bowl, then add the sourdough starter, water, and olive oil. Stir until a sticky dough forms.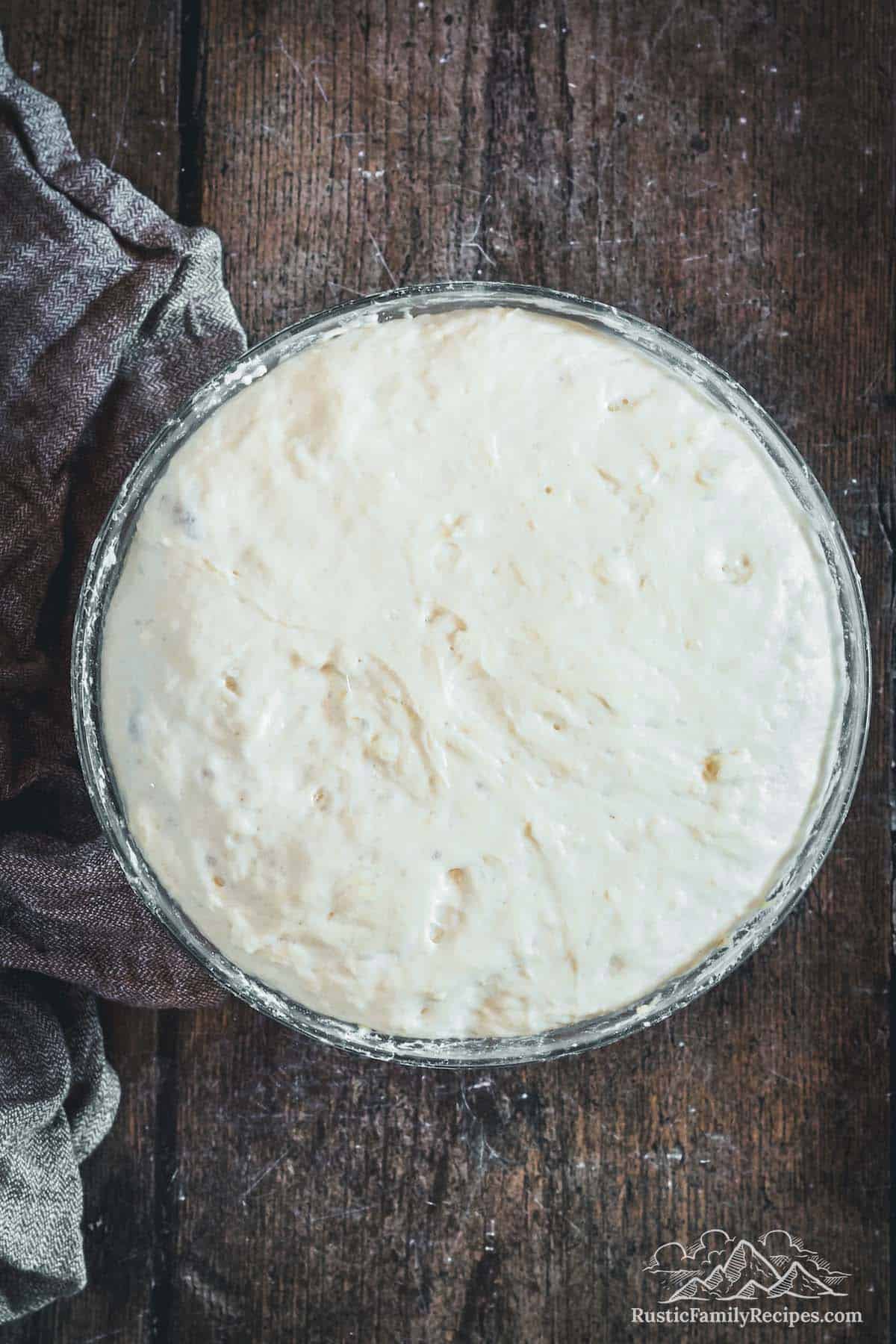 Let the dough rise. Place the bowl in a warm location away from drafts and cover it with a towel for 30 minutes to an hour.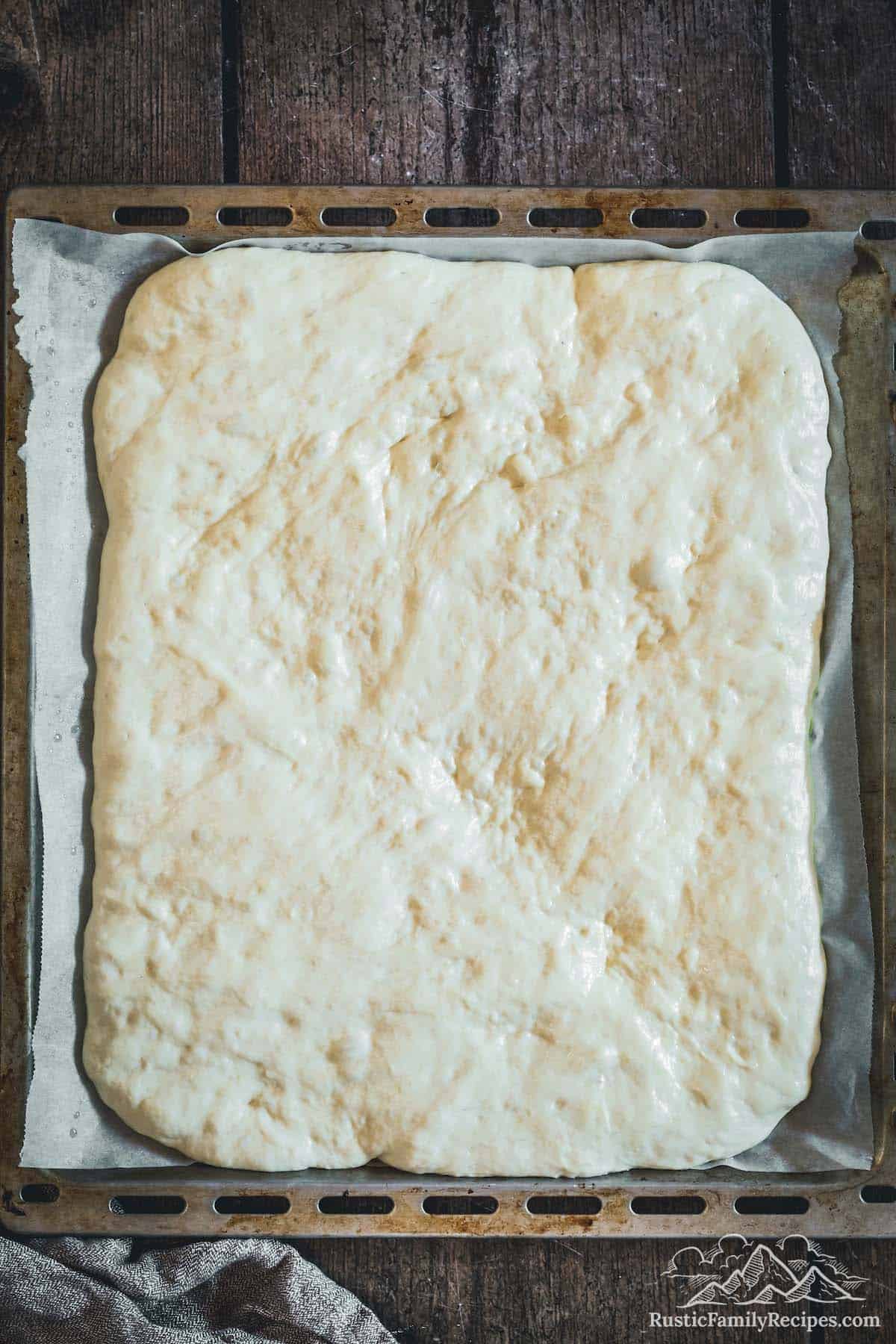 Form the focaccia. Line a large baking pan with parchment paper, then brush it with olive oil. (Or, for two focaccia loaves, use two smaller pans.) Grease your hands and reach into the bowl to fold and stretch the dough a few times. Form a ball, then transfer the dough to the prepared baking pan and stretch the dough to fit. Let it rest for 30 minutes.
Arrange the veggies. Preheat your oven to 400ºF and use your fingertips to poke the surface of the dough, pressing down to the bottom. Arrange the vegetables onto the top of the focaccia dough, then sprinkle with the remaining salt.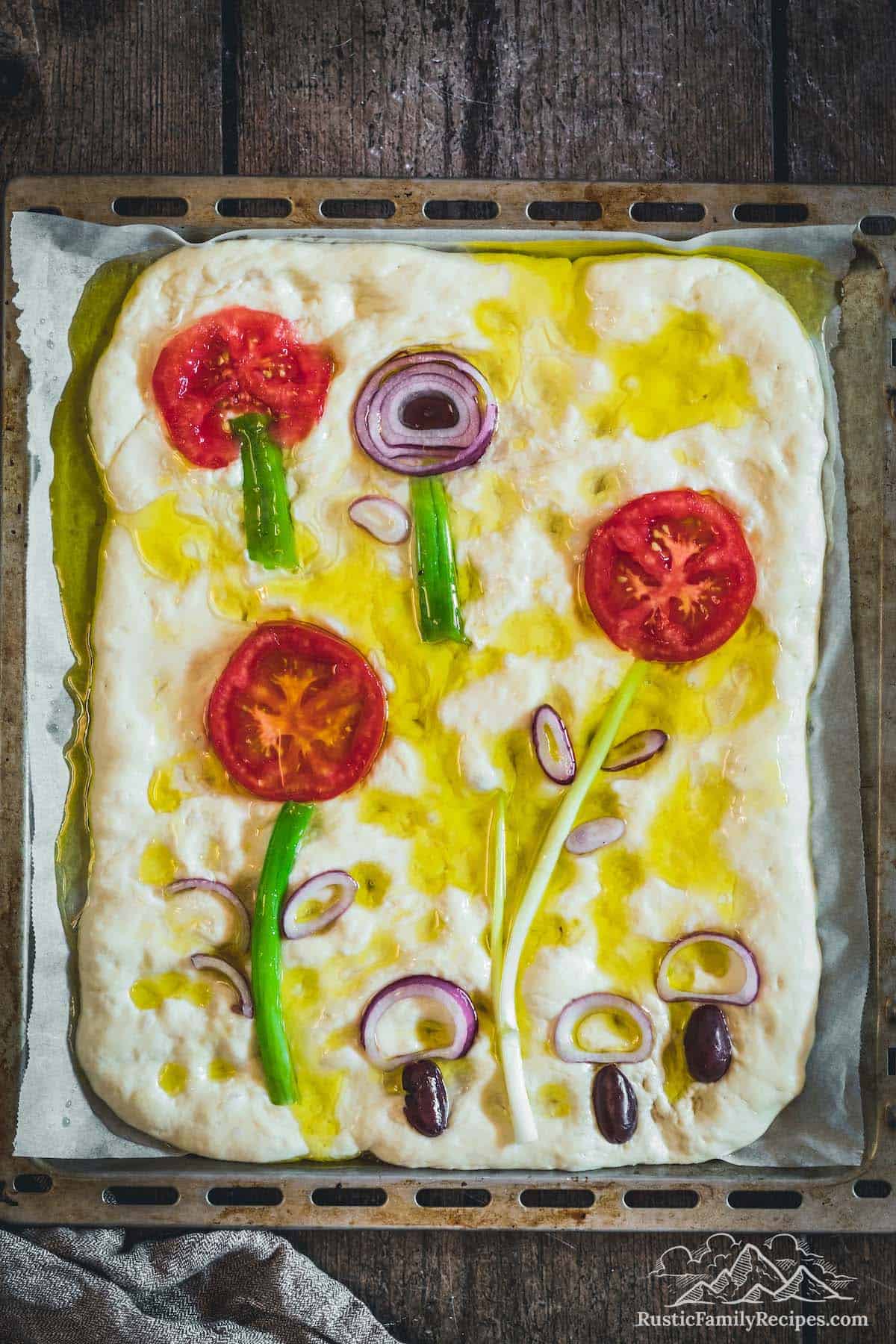 Bake. Drizzle the focaccia with the remaining olive oil, then place the baking pan in the oven and bake the focaccia for about 25 minutes, or until the top is golden brown and the edges are crispy. Cut while the focaccia is still warm, then serve.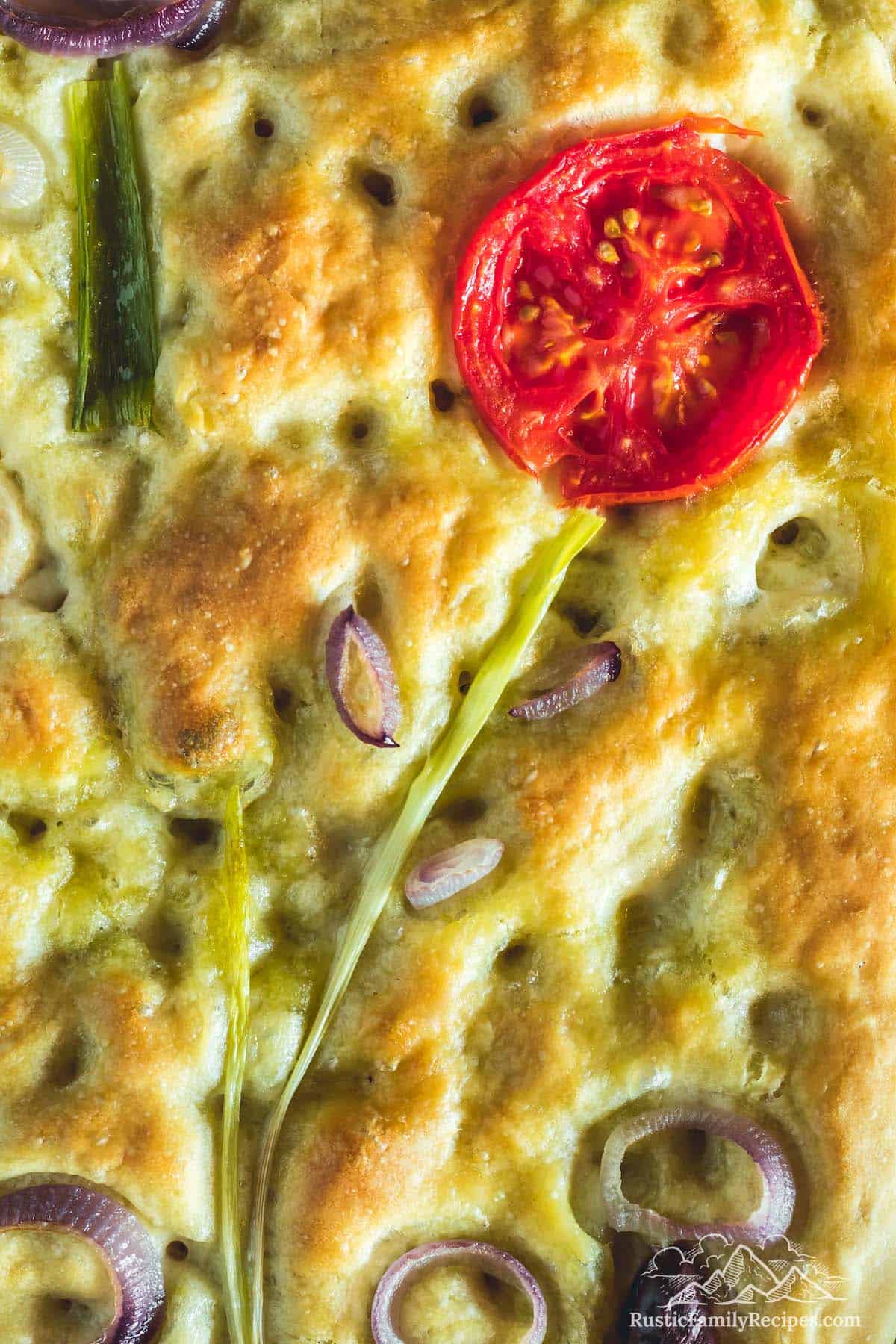 Tips for Success
As far as sourdough breads go this is a good recipe for beginner bakers to try! Here are few tips for success:
Let the dough rise in the oven. I like to put the dough in the oven with the light on. The light emits just enough warmth to encourage the dough to rise, while the oven protects it from drafts.
Get creative with your toppings. I used the green onion as a flower stem, red onion slices as leaves, tomatoes to create flowers, and the olives and onion slices for mushrooms. You can do the same or come up with your own ideas!
Focaccia is best served warm. You can enjoy this as a snack or party appetizer, but you can make a meal out of it by pairing it with a salad, pasta dish, or soup. Creamy Homemade Tomato Soup is an especially good pairing!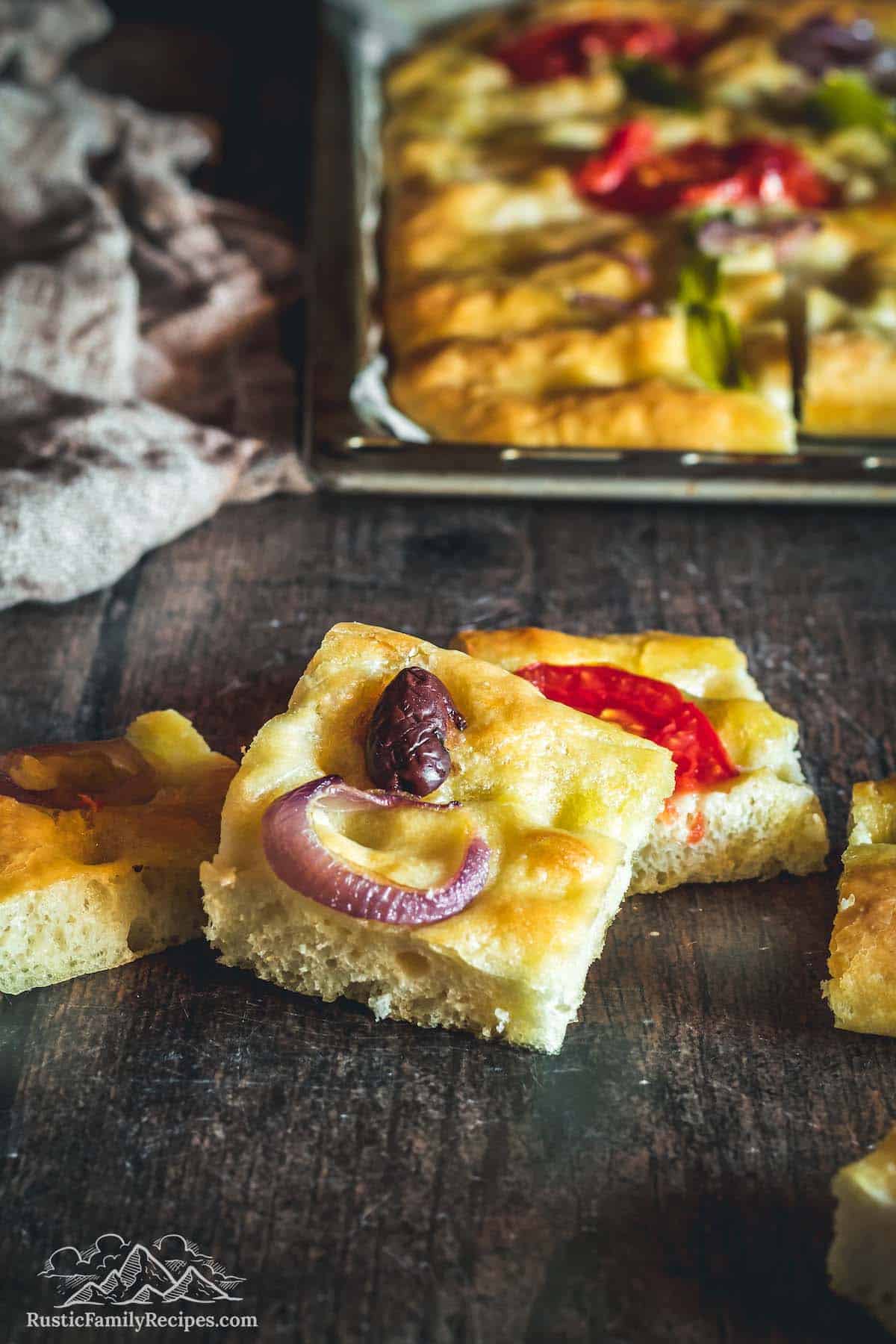 How to Store
Store your focaccia at room temperature for up to 2 days. If you find that it's gotten hard, you can drizzle it with olive oil and heat it in the oven at 350ºF for about 10 minutes.
Can I Freeze This Recipe?
You can freeze your entire loaf of focaccia for serving later or freeze any leftovers. Either way, wrap it tightly with at least two layers of plastic wrap, pop it in a freezer bag if it fits, and freeze for up to 2 months.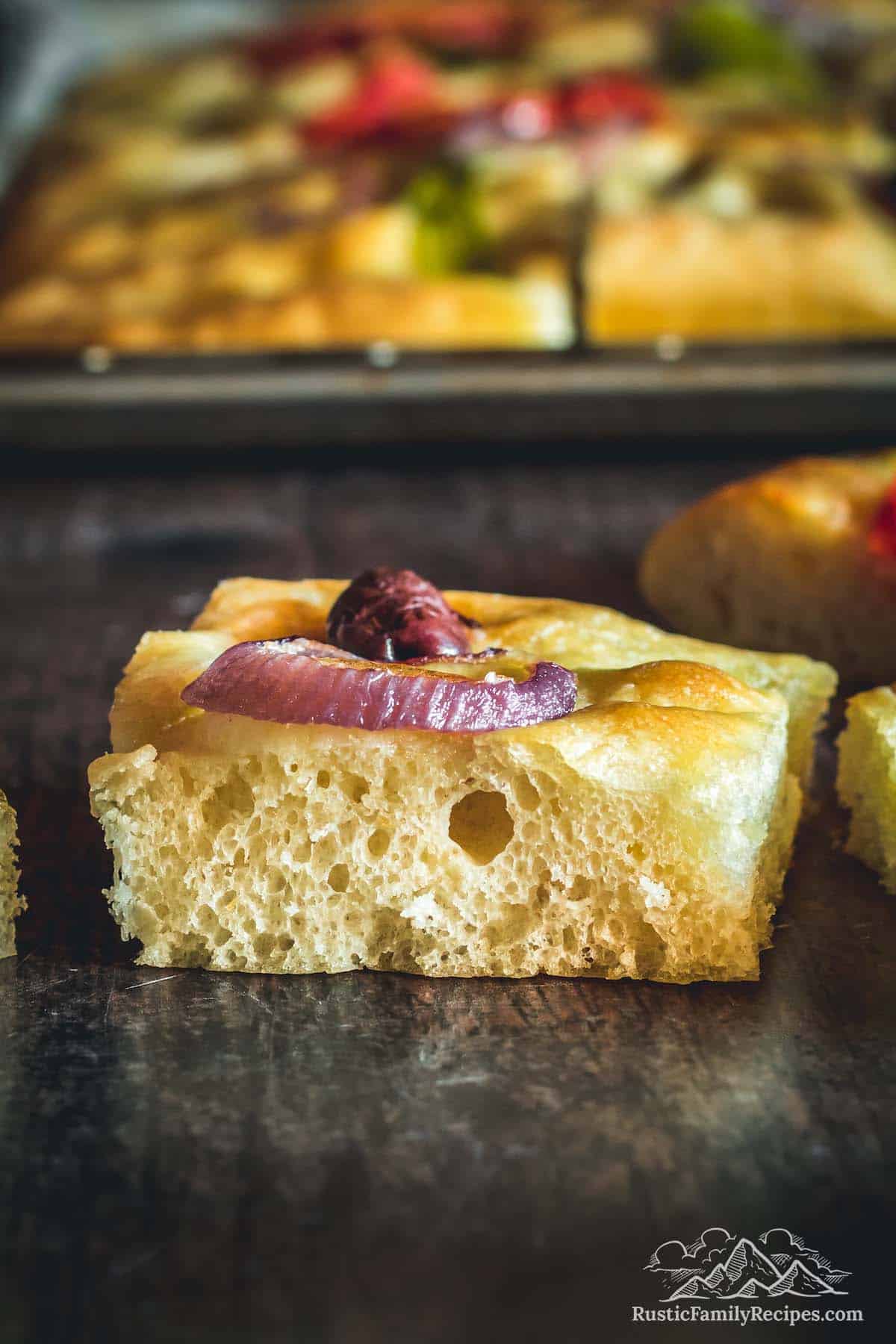 Print
Sourdough Focaccia Art Bread
This focaccia art bread is soft and pillowy, full of textures and flavours. You can never stop at one piece! It's an easy recipe that you can bring to a gathering and impress your friends and family. You can also play around with different veggies and herbs to give whatever look and flavour you prefer.
Author: Rustic Family Recipes
Prep Time:

15 minutes

Cook Time:

25 minutes

Total Time:

40 minutes

Yield:

1 big focaccia or 2 smaller ones

Category:

Bread

Method:

Oven

Cuisine:

Italian
3 cups

white bread flour

1/2 cup

active sourdough starter

1 1/2 cups

lukewarm water

3 tablespoons

olive oil plus 1/2 cup for drizzling

3 teaspoons

kosher salt

2

green onions, cut in half

1/2

red onion, sliced

1

tomato, sliced

2

black olives, pitted and cut in half
Instructions
In a large bowl, mix flour and 2 tsp salt.
Add the sourdough starter, water and olive oil and mix until you get a sticky dough.
Place the dough in a warm place, covered with a towel for 30 minutes to 1 hour. Ideally, put it in the oven with the light on. The oven light creates a warm environment and helps the starter grow faster.
Prepare 1 large or 2 smaller baking pans by covering with parchment paper brushed with olive oil.
Grease your hands with oil to prevent the dough from sticking to them and start folding and stretching the dough in the bowl for a few times.
Form a ball with the dough and transfer to the middle of the pan. With your hands stretch the dough until it nearly fits the pan. Let rest for 30 minutes.
Preheat the oven to 400F. Using your fingertips, poke the surface of the dough pressing down to the bottom.
Place your veggies in a way you like, creating the image of flowers and mushrooms. I used the green onion as a flower stem, some onion slices as leaves and the tomatoes as the flower. Also, the olives and onion slices can be used for mushrooms. Just let your creativity flow here! Of course, you can use whatever veggies or herbs you like, like yellow or red peppers, rosemary or thyme.
Sprinkle with the remaining 1 tsp salt and drizzle with 1⁄2 cup olive oil (it may look like a lot but it makes all the difference!). Bake for 25 minutes, or until golden brown and crispy on the edges.
Remove from the oven and cut when still warm.
Notes
The focaccia is best eaten when still warm. It's a great addition to any kind of soup or can be eaten even as a snack by itself.
It can be stored at room temperature for up to 2 days. If it gets harder, drizzle with some water or olive oil and heat in the oven for 10 minutes. It can be also frozen for up to 2 months.
Last Step:
Please
share a rating and comment
if you enjoyed this recipe! Your feedback helps this little blog thrive and continue providing free, high-quality recipes for you.
Keywords: focaccia bread art, sourdough focaccia, focaccia artwork
Filed Under:
This post may contain affiliate links. Please read our disclosure policy.