This post may contain affiliate links. Please read our disclosure policy.
These moist and tender blueberry muffins are the perfect way to use up sourdough discard. The sourdough starter gives these muffins a slight tanginess that is quite addictive!
There are many benefits of having an active sourdough starter in the fridge.
The first, most obviously, is the ability to make sourdough bread at home. If you haven't tried it, you must. I know sourdough bread has been all the "rage" this past year, but I've been making it for years and let me tell you, there's nothing like slicing open a crusty loaf of bread you made with your own hands. I love slathering a freshly baked slice with butter, then biting through the crunchy crust and into the fluffy interior. My mouth is watering just thinking about it.
The second benefit of having a sourdough starter around? All the wonderful things you can make with the sourdough discard!
I feed my starter twice a week – on Wednesdays and Sundays – which means twice a week I have some discard that needs to be used up. These sourdough discard waffles are a family favorite. And the blueberry muffins you see here are another one of our top sourdough discard recipes.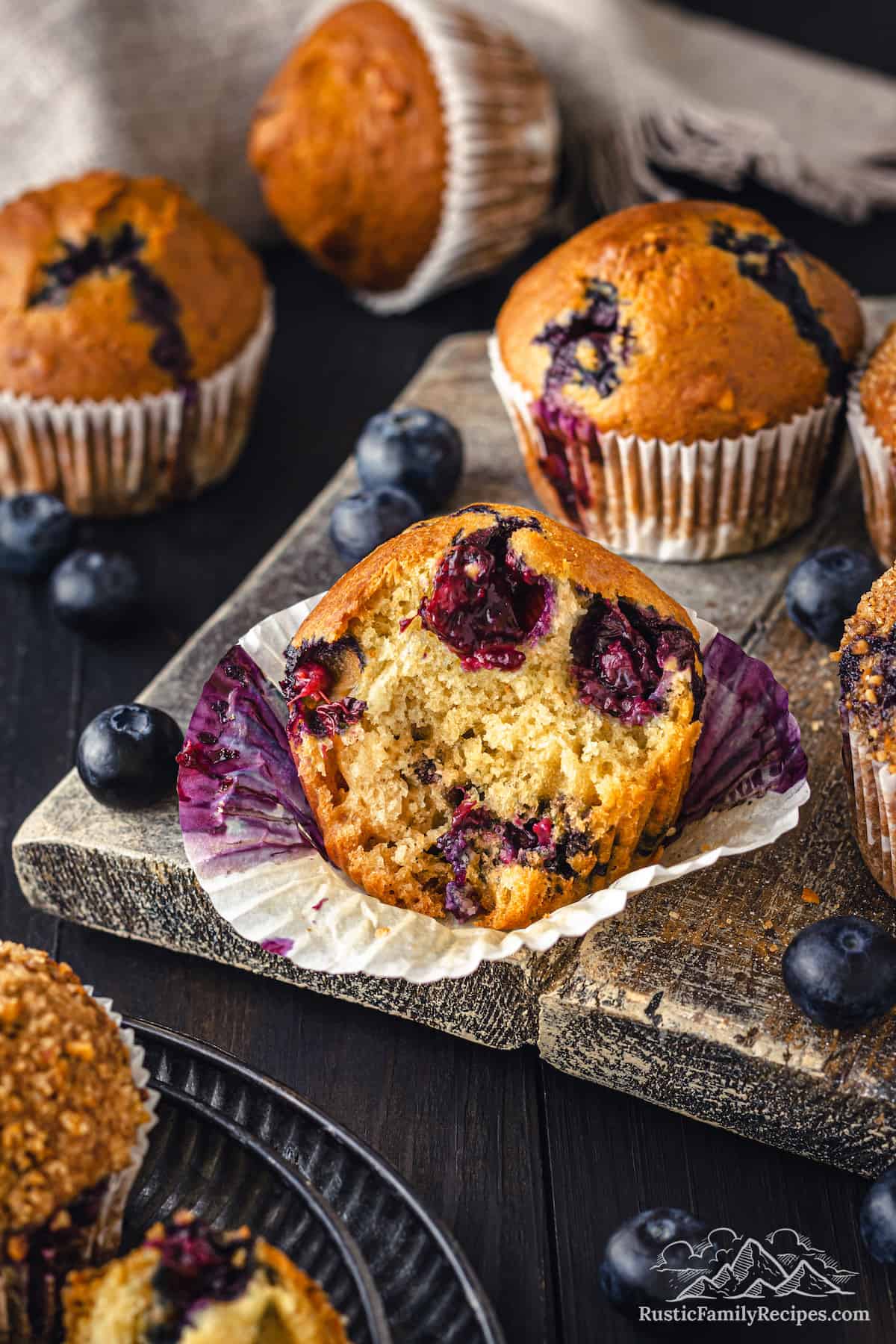 Featured Comment
These muffins were so easy to make. The only trouble was they disappeared very quickly. 😉
Why We Love These Muffins
I won't go into too much detail on how to make these muffins as the process is pretty simple. You mix the dry ingredients in one bowl, mix the wet ingredients in another bowl. Add the dry ingredients to the wet ingredients. Mix. Add blueberries. Bake. That's pretty much all muffins in a nutshell.
There are, however, a few things that make these sourdough muffins particularly worth trying:
This is an EASY sourdough discard recipe. Working with sourdough starter/discard can be a little intimidating, so best to start with simple recipes like these muffins or the waffles I mentioned above. There really is nothing special you have to do. You just treat the discard like any wet ingredient.
I love how moist, tender and fluffy these muffins are! They get a nice dome on top that makes you feel like you're visiting a coffeeshop. If you want to feel extra fancy, you can sprinkle some pearl sugar on top of the muffin batter just before baking. They add a pretty sparkle since pearl sugar does not melt when you bake the muffins.
The sourdough discard gives these muffins a little tang that adds a whole new depth of flavor. It's hard to describe, but these muffins have a more complex flavor than a regular blueberry muffin.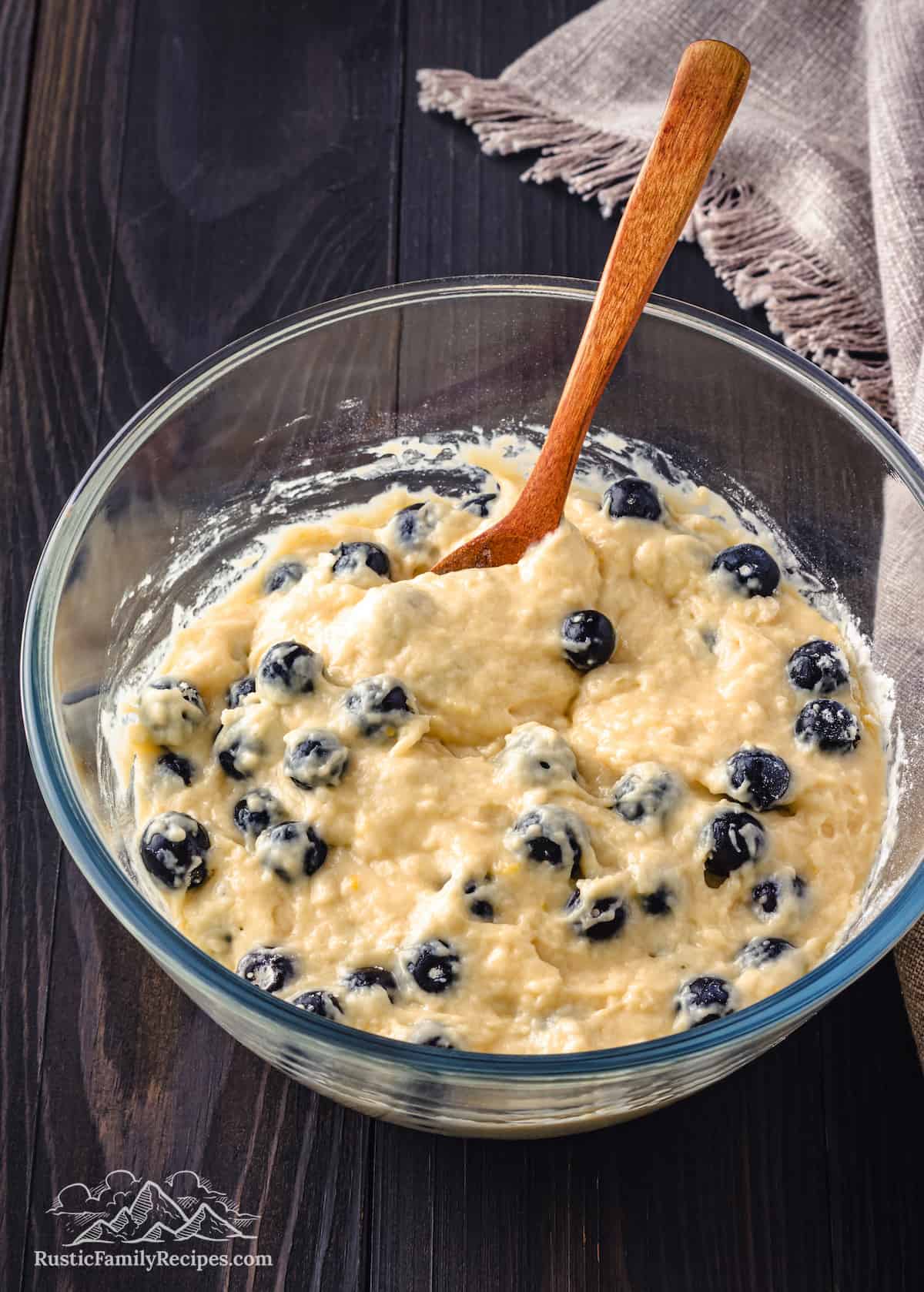 A Note About the Batter & Filling Your Tins
Muffin batter is usually thicker than cupcake batter – and this makes sense if you think about what each recipe is. A cupcake, as the name implies, is essentially a mini cake. By contrast, a muffin is a kind of quick bread. I added a photo of what the batter for these muffins should look like. 🙂
Another thing to note about muffins vs. cupcakes is how much batter you add to your muffin tin. For cupcakes, I will only fill each tin about 3/4 full so that the cupcake has room to rise significantly without losing its shape. But muffins like the ones you see here have a thicker batter that holds its shape better so for these I usually fill my muffin tin all the way to the top.
I hope you give these muffins a try and discover a new way to use up extra sourdough discard!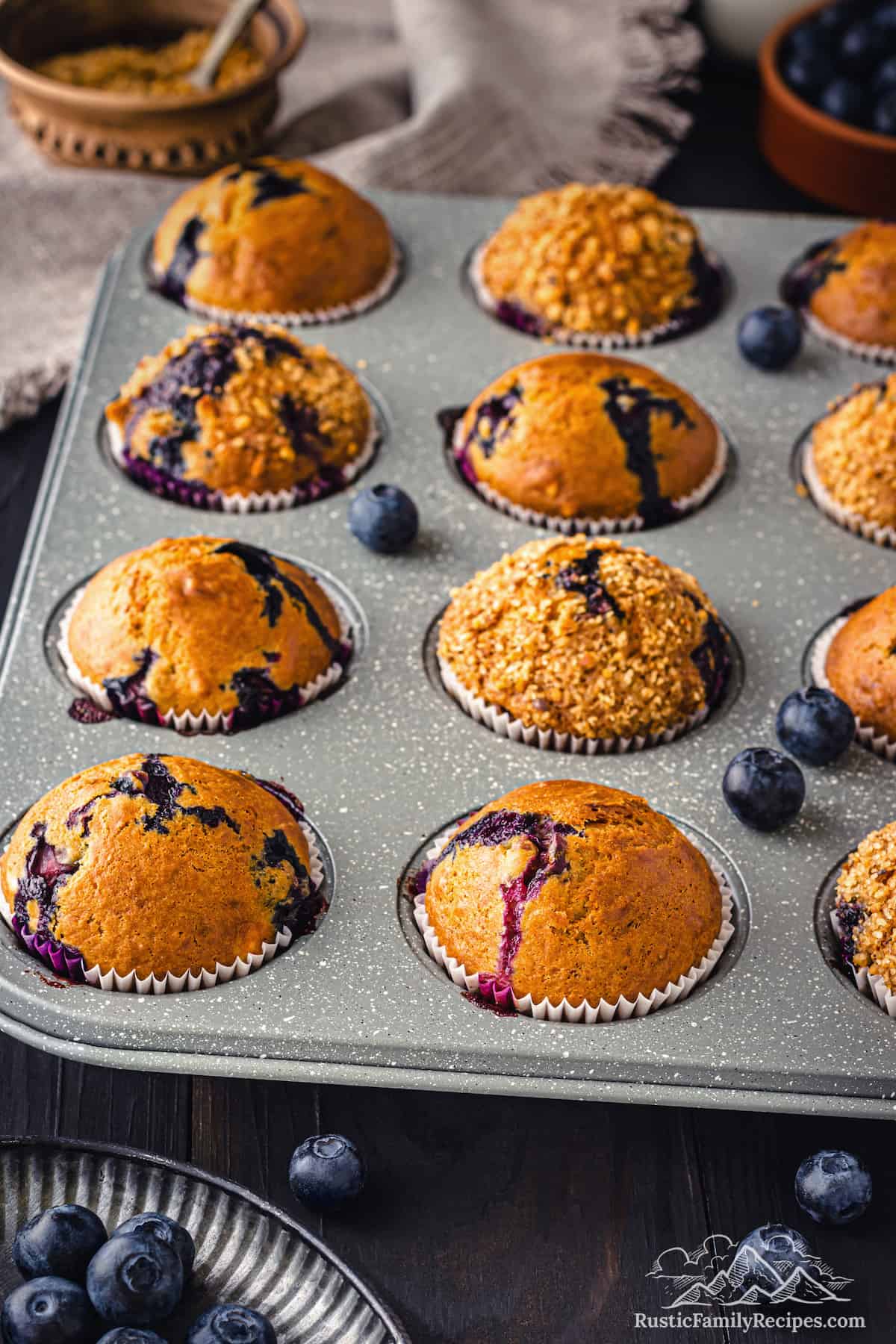 Want to Add a Topping?
A few folks have emailed me wondering if they can add a topping to these muffins. The answer is: yes! I like to use a mixture of crunchy walnuts, brown sugar and ground cinnamon. All you have to do is mix up the topping ingredients in a bowl and then sprinkle over the muffin batter just before baking. You can also use finely chopped pecans or almonds if you like those nuts better.
Print
Sourdough Discard Blueberry Muffins
These moist and tender blueberry muffins are the perfect way to use up sourdough discard. The sourdough starter gives these muffins a slight tanginess that is quite addictive!
Author: Rustic Family Recipes
Prep Time:

10 minutes

Cook Time:

25 minutes

Total Time:

35 minutes

Yield:

12 muffins

Category:

Breakfast

Method:

Oven

Cuisine:

American
2 cups

all purpose flour

1/4 teaspoon

kosher salt

1 teaspoon

baking soda

2 teaspoons

baking powder

1/2 cup

sourdough discard

3/4 cup

yogurt (I prefer whole yogurt)

1/2 teaspoon

pure vanilla extract

1

large egg

4 tablespoons

butter, melted and cooled

3/4 cup

sugar
Zest of

one

lemon

2 cups

fresh blueberries (frozen works too)
For the topping (optional)
1/2 cup

light brown sugar, packed

1/4 cup

walnuts, finely chopped

1/2 teaspoon

ground cinnamon
Instructions
Prep your tools. Preheat your oven to 400F and line your muffin tins with paper baking cups.
In a medium bowl, combine the dry ingredients. This includes the flour, salt, baking soda and baking powder. Mix well and set aside.
In a large bowl, combine the wet ingredients. This includes the sourdough discard, yogurt, vanilla, egg, butter, sugar and lemon zest. Mix well and set aside.
Remove 1 tablespoon of the dry ingredients and set side. We are going to mix this with the blueberries later to prevent them from sinking in the batter.
Slowly add the rest of dry ingredients to the wet ingredients. Mix until there are no traces of dry ingredients visible.
Prep the blueberries. In a medium bowl, combine the blueberries and the 1 tablespoon of dry ingredients that you set aside earlier. This will help prevent the berries from sinking in the muffins.
Add berries to batter and add to the muffin tin. Add the blueberries to the batter and mix until just combined. Spoon batter into the prepared muffin cups, filling each one 3/4 full.
Want to add a topping? In a medium bowl mix up the crumb topping ingredients and sprinkle on the muffin batter just before baking.
Bake for 20 to 25 minutes. The muffins are done when golden and when the tops spring back when gently pressed with your finger.
Notes
You can store these muffins on the counter for 3-4 days. Let them come to room temperature, then store in a ziploc bag or tupperware.
You can freeze these muffins for up to 3 months. Let them come to room temperature, then wrap each muffin in saran wrap or plastic wrap. Place the wrapped muffins into a freezer safe container and place in the freezer.
Last Step:
Please
share a rating and comment
if you enjoyed this recipe! Your feedback helps this little blog thrive and continue providing free, high-quality recipes for you.
Keywords: sourdough discard recipes, sourdough muffins
Filed Under:
More Sourdough Discard Recipes