About Me: I have more than 20 years of cooking experience & share my favorite recipes on this blog.
Have a question? Please post a comment, I'm happy to help. 🙂
This crispy shrimp tempura is perfectly golden and ready in 40 minutes or less. With only six ingredients, it's an easy Japanese appetizer or lunch that's waiting to be bitten into. A crackly deep-fried batter meets a soft, silky interior in every bite.
Shrimp tempura is a traditional Japanese dish consisting of large shrimp dipped in a light batter made with flour, cold water, and eggs. When the batter comes into contact with hot oil, it transforms into an airy, crispy exterior surrounding the delicate shrimp meat. They're then fried for a couple minutes until golden brown and crunchy.
Why You'll Love This Tempura Shrimp Recipe
Served as an appetizer or main course alongside other dishes, everyone loves a good shrimp tempura:
Few ingredients. Requiring only six ingredients, you'll be surprised how easy it is to make.
Crispy and flavorful. Crispy battered shrimp will be sitting on your plate within 40 minutes.
Many ways to enjoy it! Dip it in spicy Sriracha mayo, add it to sushi rolls, make fusion-style tacos, or enjoy it with sushi rice. Dressed up or down, this shrimp tempura is simply perfect.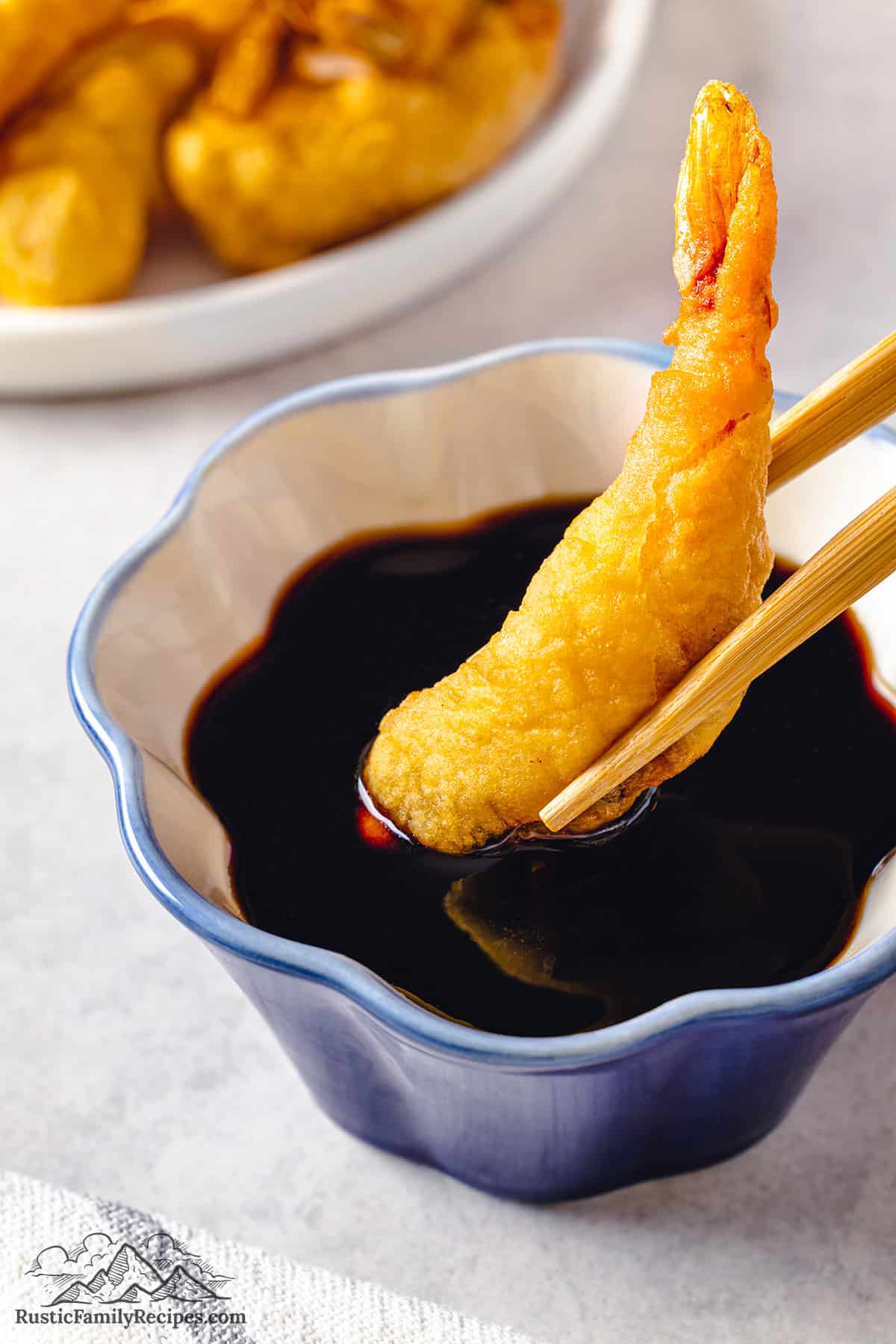 What's The Difference Between Fried Shrimp and Shrimp Tempura?
While they're both deep-fried and crispy, there are significant differences between fried and tempura shrimp.
For starters, shrimp tempura gets its crispy coating from a batter, not breadcrumbs or panko. This means that with tempura, it's the whole batter that becomes crunchy and airy. With fried shrimp, it's just the breadcrumbs that turn golden.
The batter for tempura is also temperature-sensitive. If it's not cold, it'll absorb more oil and won't be as crispy. On the other hand, the temperature of ingredients doesn't matter for fried shrimp.
Finally, tempura is a Japanese dish, while fried shrimp doesn't necessarily have to be.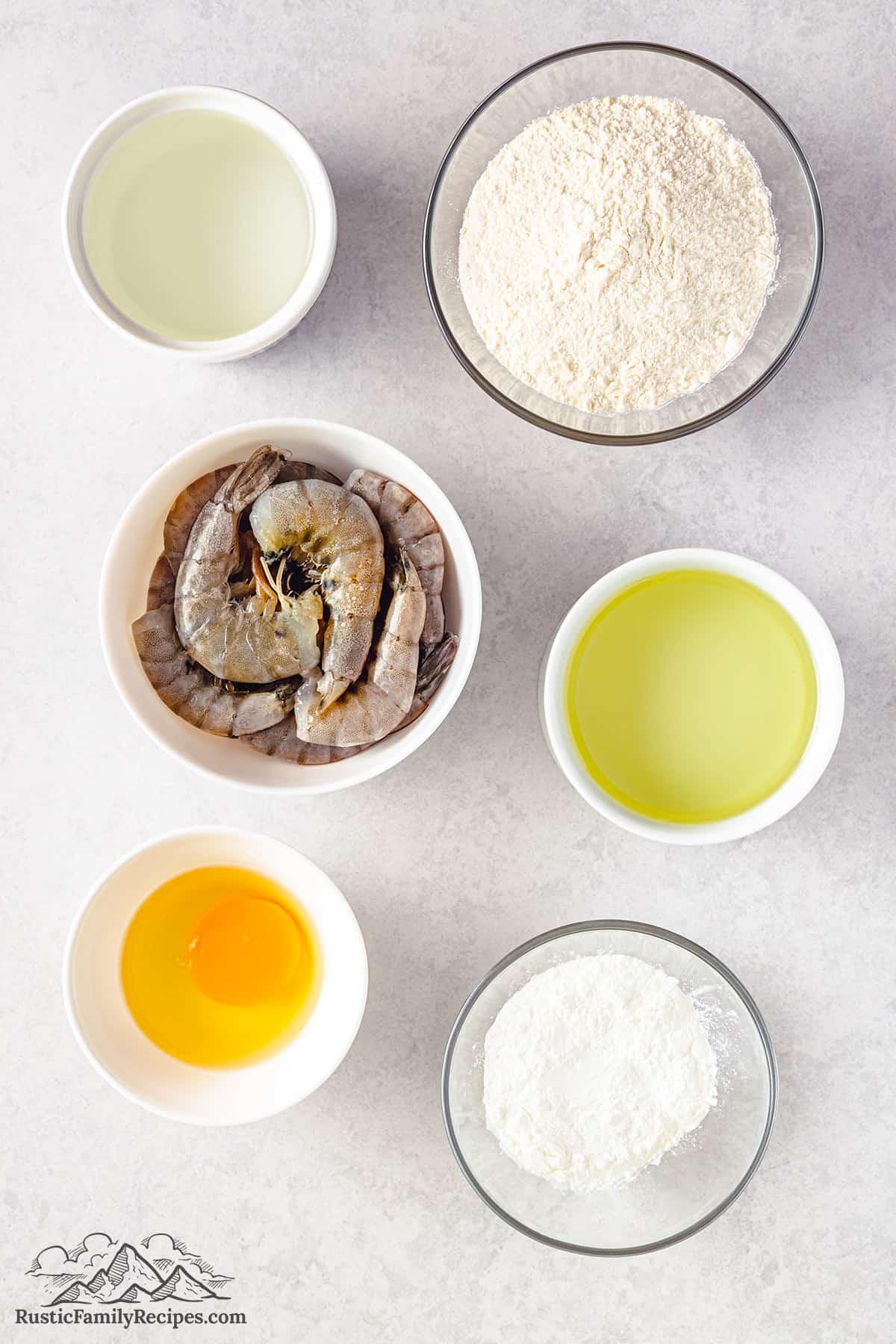 Recipe Ingredients
With only six ingredients on the list, it's all about good quality shrimp and sticking to the recipe. For exact ingredient amounts, scroll down to the recipe card.
Shrimp – Don't use cocktail shrimp. They're too small and will either burn or come out overcooked. I recommend large or extra-large shrimp.
All-purpose flour – This is the most widely used kind for tempura. However, cake flour also works. It's low in protein, so it doesn't develop as much gluten and is lighter in texture.
Cornstarch – Potato starch is a great substitute. Neither of these contain any gluten, which is perfect for crispiness. Their main job is to keep the batter on the shrimp, so use them interchangeably.
Water – Soda water or sparkling water are great too. The air bubbles in the batter will expand when the shrimp hit the oil, making them lighter.
Egg
Vegetable oil – You can also use canola oil or corn oil. Any neutral tasting oil with a high smoke point will work. Avoid olive oil.
What's the best shrimp to use?
All the spotlight should be on the shrimp, so it's only fair to get decently-sized ones. Ask your local fishmonger for U10, U8, or U6 shrimp. These are all large and meaty, giving you a lovely soft interior after biting through the crunchy batter.
How to Make Shrimp Tempura
There are about as many steps as there are ingredients, so you can imagine how easy this recipe is.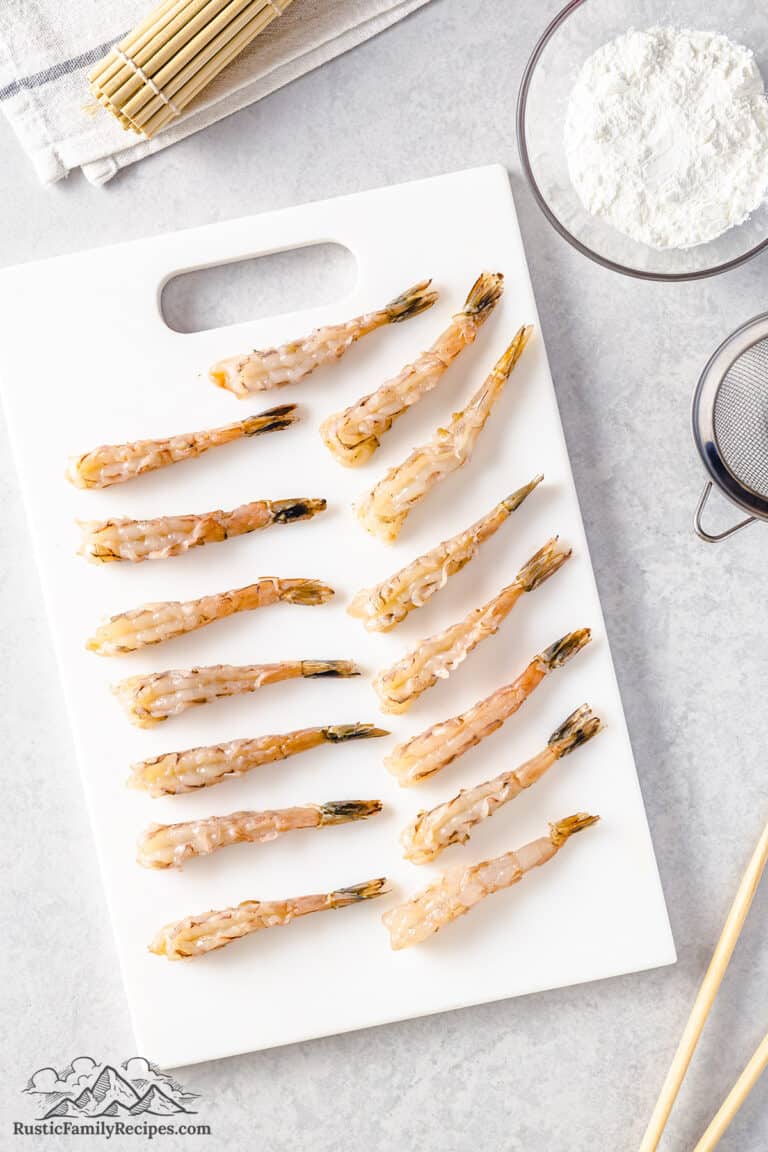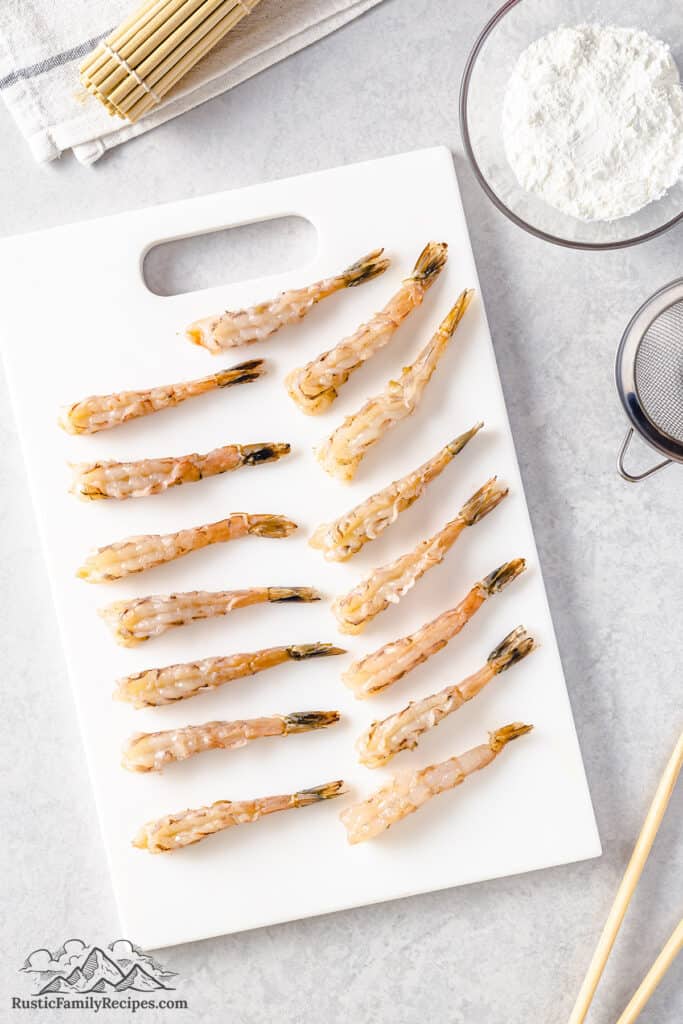 Prepare the shrimp. Remove the shells and then use a knife to carefully devein the shrimp. Do this by creating a small central slit from the head all the way down to the tail. Remove the black vein inside. Sometimes it can be white or reddish. You can also skip this step by asking your fishmonger to devein the shrimp for you.
Straighten the shrimp. Make shallow slits into the inner and outer parts of the shrimp to straighten them out. Pat them dry with a clean paper towel.
Dredge them in cornstarch. Generously sprinkle cornstarch on your shrimp until they're completely covered. Shake off any excess.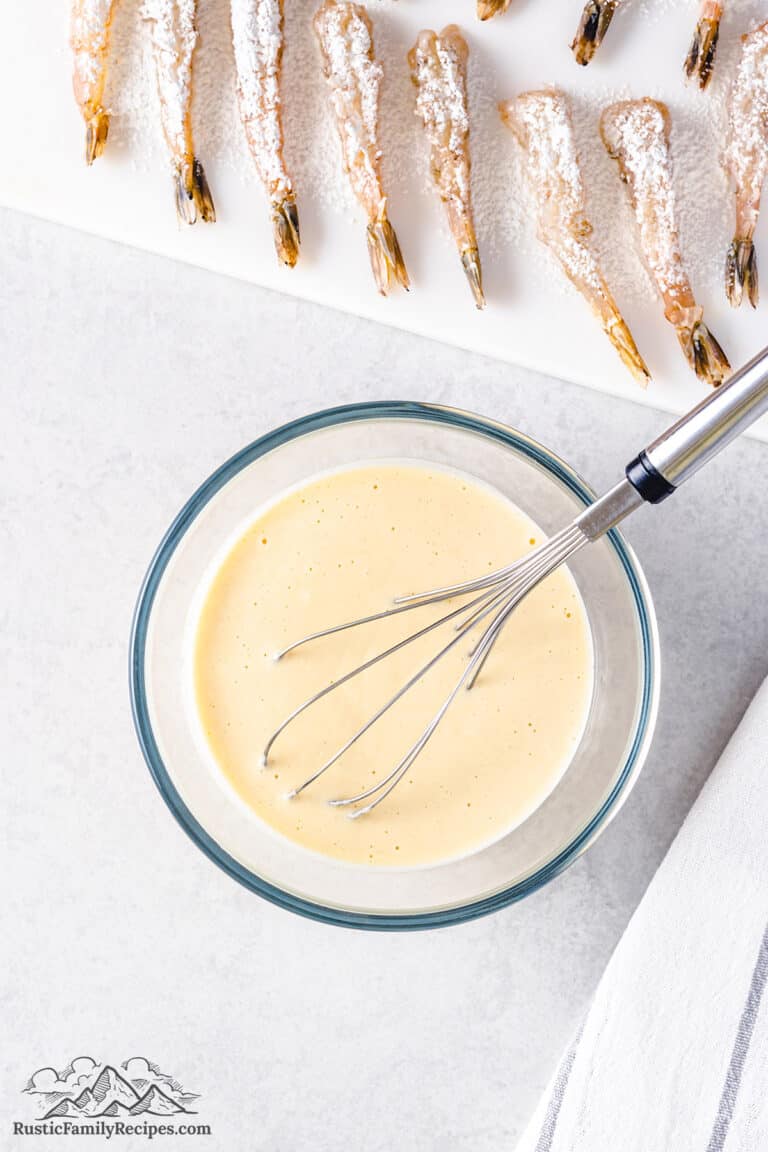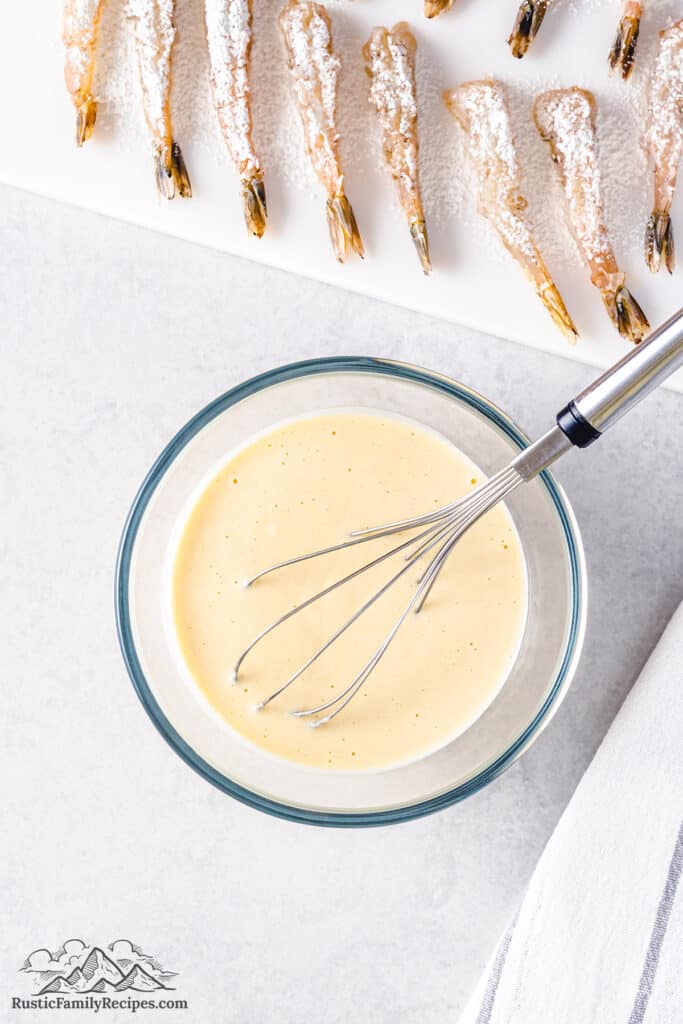 Heat the oil. Add the oil into a pot and bring it to 350 F. If you don't have a kitchen thermometer, drop a teaspoon of batter into the oil. If it sizzles right away, it's ready.
Make the batter. Sift the flour. Add it to a large bowl and mix it with the cold water and egg. Whisk until just combined.
Coat in batter. Dip each shrimp into the batter until it's completely coated.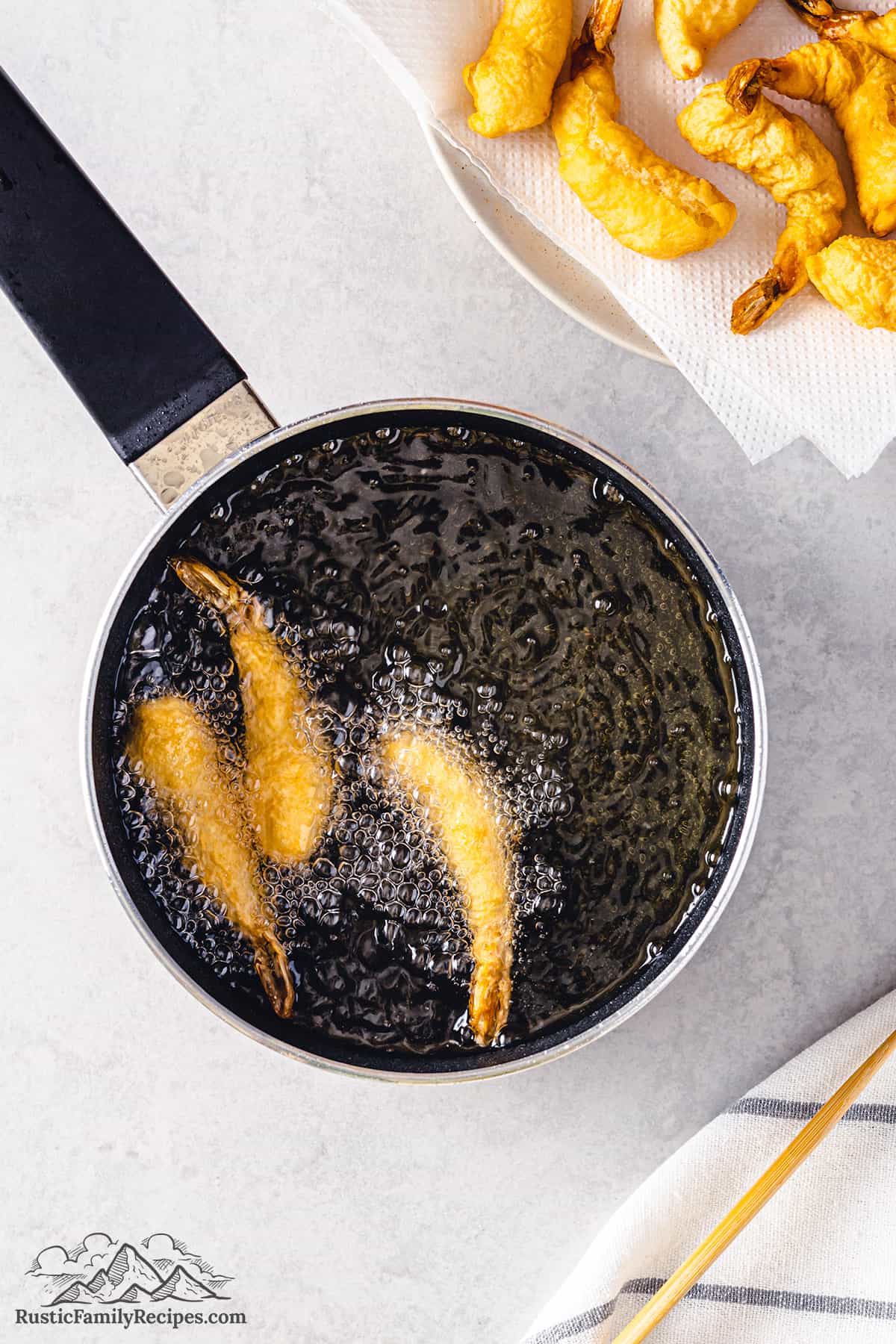 Fry. Carefully lower the shrimp into the hot oil and let it fry for 2 minutes or until golden brown. Repeat with all the shrimp.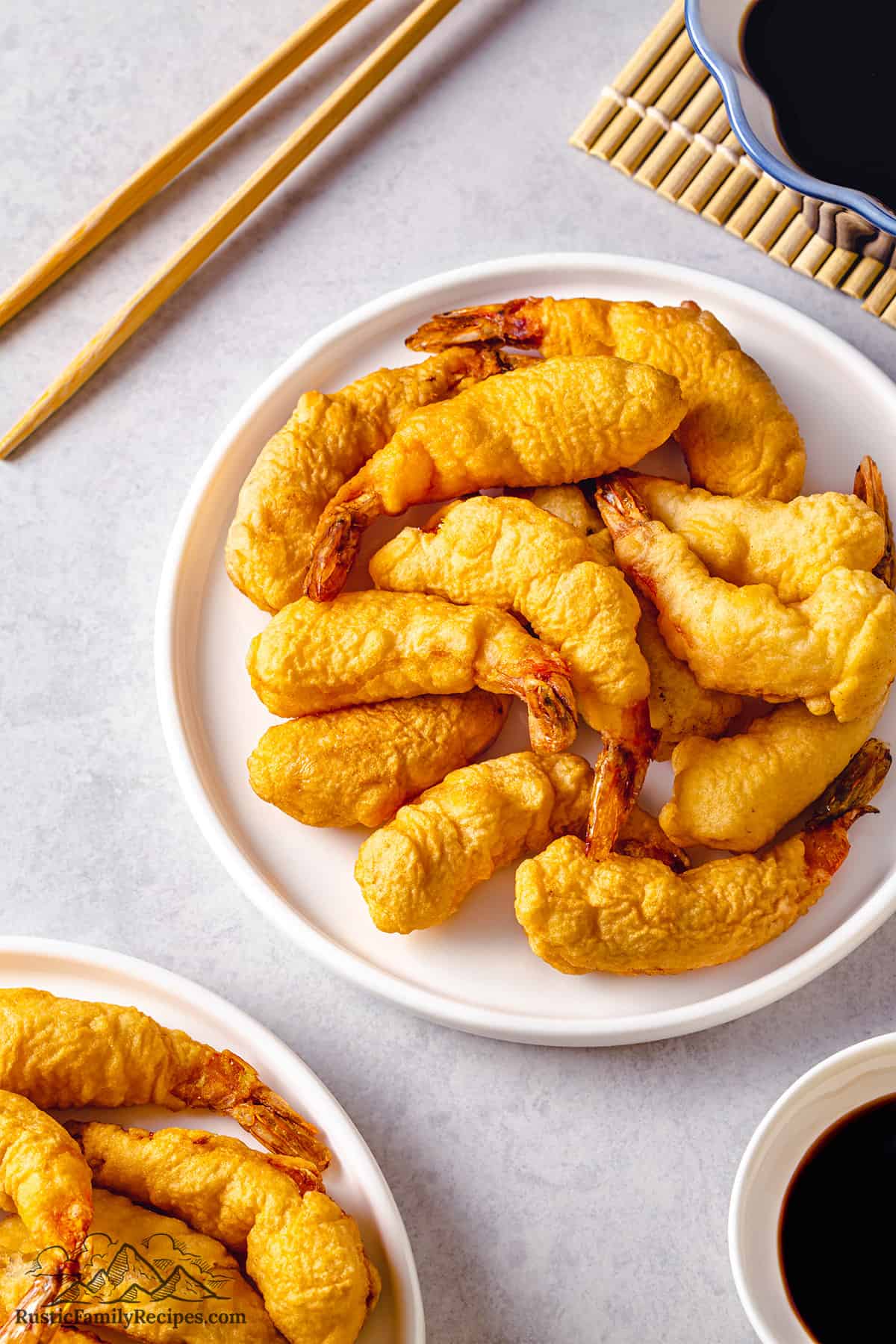 Tips for Crispy Tempura
Follow these easy tips to fry golden, crispy shrimp tempura every time:
Set it on a wire rack. To avoid moisture and heat condensation from softening your crispy shrimp, place them on a wire rack to cool. This will allow steam to escape without affecting the texture.
Reheat in the oven. If you're frying in batches, the first ones will probably be cold by the time you're done. To keep them all warm, preheat the oven to 250 F. Place the shrimp on a wire rack over a baking tray and pop them into your oven's lower rack for 15 minutes or until you've finished frying. This will keep your tempura warm and crispy.
Use ice cold water. A cold batter keeps the shrimp from absorbing too much oil during frying, resulting in a lighter, crispier bite.
Use a kitchen thermometer. Heat the oil to 350-375 F. Only add the shrimp once it reaches this temperature range. If the oil is colder than this, the batter will turn out oily. Don't worry if you don't have a kitchen thermometer, though. Test the temperature by adding a teaspoon of batter into the oil. If it sizzles right away, it's ready for frying.
Make it spicy. Sprinkle powdered shichimi togarashi chili to taste into the batter when mixing. This will make your tempura spicy!
Don't over-mix. It's okay if a few clumps of flour remain in the batter. It's important not to over-mix or the gluten will develop and your shrimp will turn out rubbery.
Don't crowd the pot. Don't be tempted to fit as many shrimps as possible in the pot. No more than half of the pot's surface area should be covered with shrimp. Adding more is counter-productive because the oil temperature lowers.
Serving Suggestions
Shrimp tempura is great on its own with a bit of soy sauce, but it's amazing when paired with other sauces too like Bang Bang Sauce or Sriracha Mayo.
However, our favorite way to have them is definitely in fusion-style tacos. For this, you need to heat some tortillas in a griddle over low heat and then set them aside. Place 1-2 shrimp (depending on their size) in the center of each tortilla. Top the tacos with shredded cabbage and carrot, Sriracha or chipotle mayo, and pickled red onion. Sprinkle with sesame seeds and enjoy.
How to Store & Reheat Leftovers
Once the shrimp have come to room-temperature, place them in an airtight container and refrigerate for up to 2 days. It's important not to store them any longer because shrimp comes with a higher risk for food poisoning.
To reheat them, place them on a wire rack over a baking sheet. Bake at 325 F for 5-10 minutes or until crispy again. Keep an eye on the oven so they don't burn. You can also add them to your air fryer basket at 325 F but for 2-4 minutes or until crispy.
Print
Easy Shrimp Tempura Recipe
With only 6 ingredients, this crispy shrimp tempura is extremely easy. With a light airy batter, it's absolutely perfect.
Author: Rustic Family Recipes
Prep Time:

20 minutes

Cook Time:

20 minutes

Total Time:

40 minutes

Yield:

3 servings

Category:

Dinner

Method:

Stovetop, Fry

Cuisine:

Japanese
15

prawns

1 cup

all-purpose flour

2 tablespoons

cornstarch

¾ cup

cold water

1

egg

3 cups

vegetable oil for frying
Instructions
Prepare the shrimp. Devein the shrimps and remove the shells right up to the tail. Make shallow slits into the inner and outer parts of each shrimp to straighten the shrimps, and pat them dry to remove the moisture.
Dredge in cornstarch. Dust cornstarch over the shrimps. In a medium-sized pot, heat the oil to 350ºF.
Prepare the batter. Sift the flour, add cold egg and cold water to the flour. Mix carefully with a whisk, don't overmix.
Coat with batter. Add the shrimp to the batter bowl and holding it by the tail, place it in hot oil.
Fry. Fry the shrimp for about 2 minutes until golden brown. Repeat with all shrimp.
Notes
Make sure the water is ice-cold.
Potato starch can be used in place of cornstarch.
Last Step:
Please
share a rating and comment
if you enjoyed this recipe! Your feedback helps this little blog thrive and continue providing free, high-quality recipes for you.
Keywords: shrimp tempura recipe, easy shrimp tempura, crispy shrimp
Filed Under: