About Me: I have more than 20 years of cooking experience & share my favorite recipes on this blog.
Have a question? Please post a comment, I'm happy to help. 🙂
This easy salsa macha recipe takes less than 30 minutes to make and is excellent with grilled meat, eggs, tacos, and more. Whip up a batch and store it in the fridge to add a spicy kick to your meals!
I'm coming at you today with another easy Mexican condiment that you can use to spice up everything from tacos to scrambled eggs: salsa macha! This spicy salsa is not as common as pico de gallo or restaurant-style salsa, but it absolutely should be because it's full of flavor. In fact, NY Times gave it the title "the most valuable condiment of 2020." Because yes, it's that tasty. Some chefs call it "black magic oil."
Salsa macha is made with garlic, guajillo chilis, chiles de arbol, apple cider vinegar, and olive oil. Guajillo peppers are a popular variety of dried Mexican chili pepper that have fruity, smoky notes with a bit of heat. Chiles de arbol are small, spicy dried Mexican chilies that pack a big punch – they add a ton of flavor and heat to dishes.
Salsa macha also has sesame seeds, which adds a bit of crunch that's surprisingly satisfying. It hails from Veracruz and has a deep red hue that's so intense it's almost black.
Why is it Called Salsa Macha?
The name "Salsa Macha" is a play on the word "macho." As nearly everyone knows, "macho" means aggressively manly, like, "Oh look he thinks he's a tough guy! So macho!" Anyways, "macha" is a feminine riff on that word. The implication is that if you're brave enough to drizzle this salsa on your food then you must be tough!
Is Salsa Macha Spicy?
Yes, salsa macha is very spicy. A little goes a long way! Here's how hot the peppers in this recipe are on the Scoville scale of spiciness/heat. The scale ranges from a low of 0-100 to a high of 1.5M-3M.
Guajillo Peppers – These are between 2,500 and 5,000 units on the Scoville scale. They are medium spicy and hot.
Chiles de Arbol – These are between 15,000 and 30,000 units on the Scoville scale. That puts them right below ghost peppers (the hottest pepper), habaneros, and Thai chilis. They are about 6 times hotter than serrano and jalapeno peppers.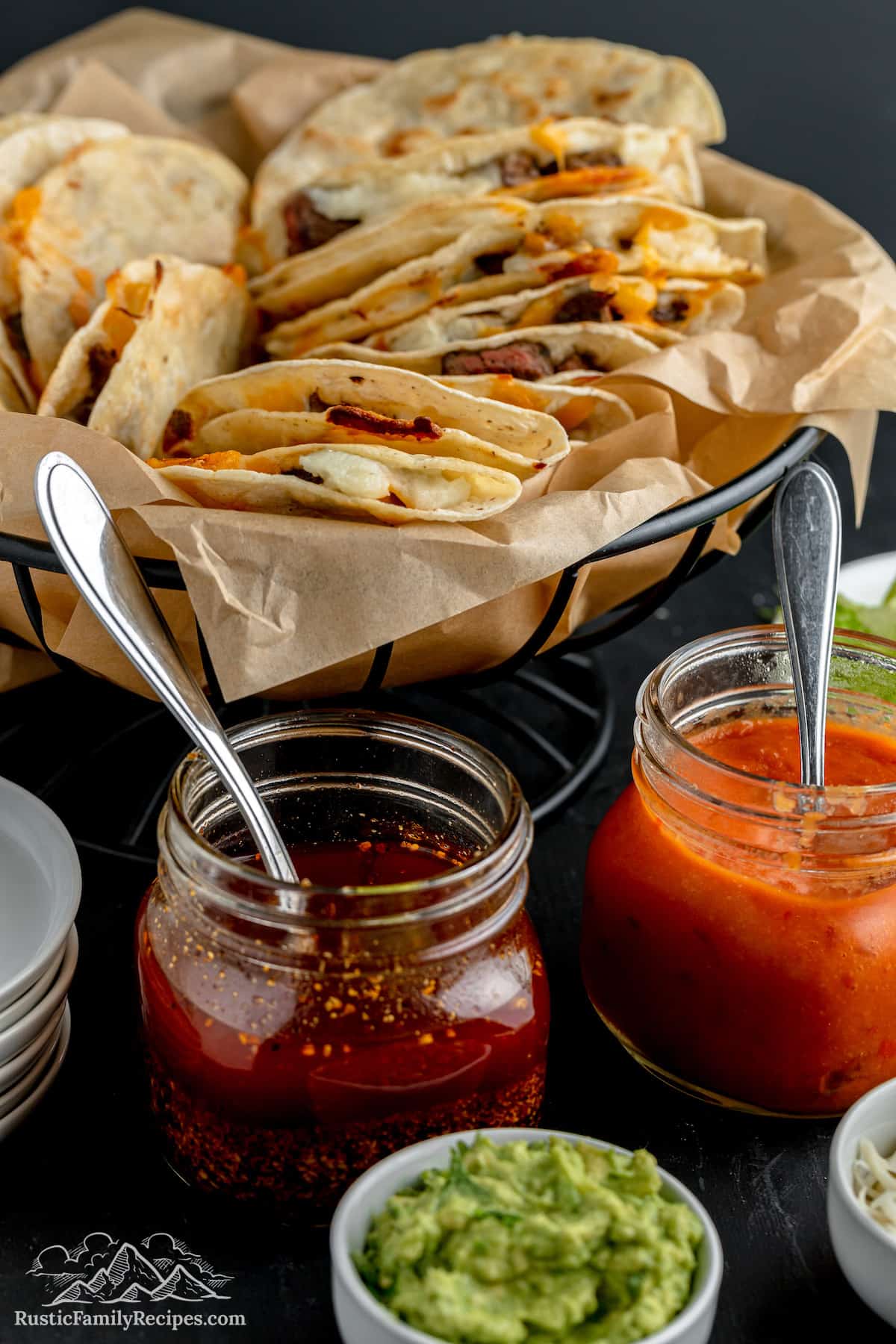 How Do I Use It?
There are tons of ways to use salsa macha! Here are just a few ideas:
Tacos – Drizzle it onto your favorite tacos. In the photo above are carne asada tacos dorados served de canasta (in a basket), but other great pairings are quesabirra tacos or ground beef tacos.
Flautas – This salsa goes well with crispy flautas. The vegetarian black bean flautas recipe is super tasty with it! I also have a beef flautas recipe coming up.
Quesadillas – You don't have to get fancy with this, though a birria quesadilla is always a treat. Plain chicken or cheese quesadillas work just as well!
Eggs – Drizzle it over cheesy scrambled eggs, huevos rancheros, you name it.
Arepas – I like to add a small amount to arepitas.
Burritos – Whatever kind of burrito you're eating, a bit of salsa macha stuffed inside will add a spicy kick. I like it in machaca burritos, chicken burritos, and carne asada burritos.
Grilled Meats – If you're grilling up some chicken or steak, it goes wonderfully with the flavors of grilled meat.
How to Store It
Store your salsa macha in a mason jar or airtight container in the fridge. It will keep for up to 1 month.
Print
Salsa Macha
This easy salsa macha recipe takes less than 30 minutes to make and is excellent with grilled meat, eggs, tacos and more.
Author: Rustic Family Recipes
Prep Time:

5 minutes

Rest Time:

10 minutes

Cook Time:

10 minutes

Total Time:

25 minutes

Yield:

2 cups

Category:

Condiments

Method:

Stovetop

Cuisine:

Mexican
1 1/2 cups

olive oil

1/3 cup

sesame seeds

7

cloves garlic

5

dried guajillo chilies, deseeded and light chopped

10

dried chilies de arbol, deseeded and lightly chopped

1 tablespoon

apple cider vinegar
Sea salt, to taste
Instructions
In a small saucepan, add the oil, sesame seeds, and garlic. Heat on medium-high heat until it reaches a low simmer. Cook for 4 minutes.
Add the chili peppers and continue to simmer until the peppers are tender and fragrant, about 6 additional minutes.
Remove from heat and stir in the vinegar. Let the mixture cool.
Once cooled, add the mixture to a food processor or blender and pulse until the peppers are broken down into small pieces. Season with salt to taste.
Pour into a jar or airtight container.
Notes
Store in an airtight container in the refrigerator for up to a month.
Last Step:
Please
share a rating and comment
if you enjoyed this recipe! Your feedback helps this little blog thrive and continue providing free, high-quality recipes for you.
Keywords: salsa macha recipe, chili guajillo, chilies de arbol
Filed Under: