About Me: I have more than 20 years of cooking experience & share my favorite recipes on this blog.
Have a question? Please post a comment, I'm happy to help. 🙂
This fragrant saffron rice recipe makes fluffy rice topped with dried fruit that has been quickly sauteed with diced onions. The flavor combo is out of this world!
I love side dishes that are simple to make, and yet feel super fancy. That's this saffron rice recipe. It comes together quickly but tastes like something you would get at a high-end restaurant. Saffron threads give the rice a golden hue that's accented by chopped apricots, dates, golden raisins, and currants. The fruit is briefly sauteed in olive oil along with diced onions, which gives the fruit a sheen that makes it resemble little jewels. Chopped almonds are also added for a bit of crunch that contrasts wonderfully with the tender rice.
Why You'll Love this Saffron Rice Recipe
Easy. This saffron rice recipe is incredibly simple to make. If you can make regular rice, you can make this recipe. You'll be richly rewarded with fluffy, golden rice that spruces up any meal!
Delicious. The finished rice is fluffy and delicious thanks to both the saffron flavor and the candied dried fruits that are served with this rice. I like to mix the fruits into the rice so that I can an explosion of flavor with each bite.
Gorgeous. The vibrant golden color of saffron rice makes it feel incredibly elegant. While this recipe is easy enough to make on a weeknight, it's also a great option for date nights or special occasions when you want to serve a special meal.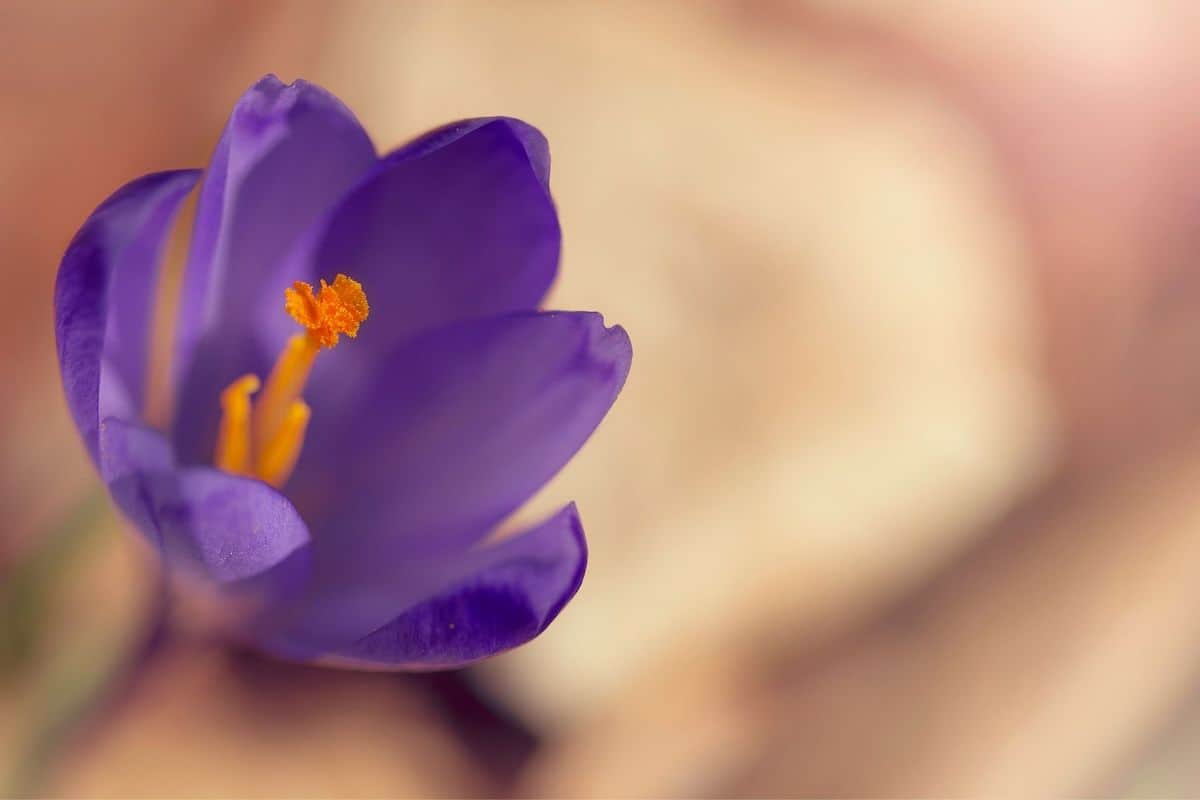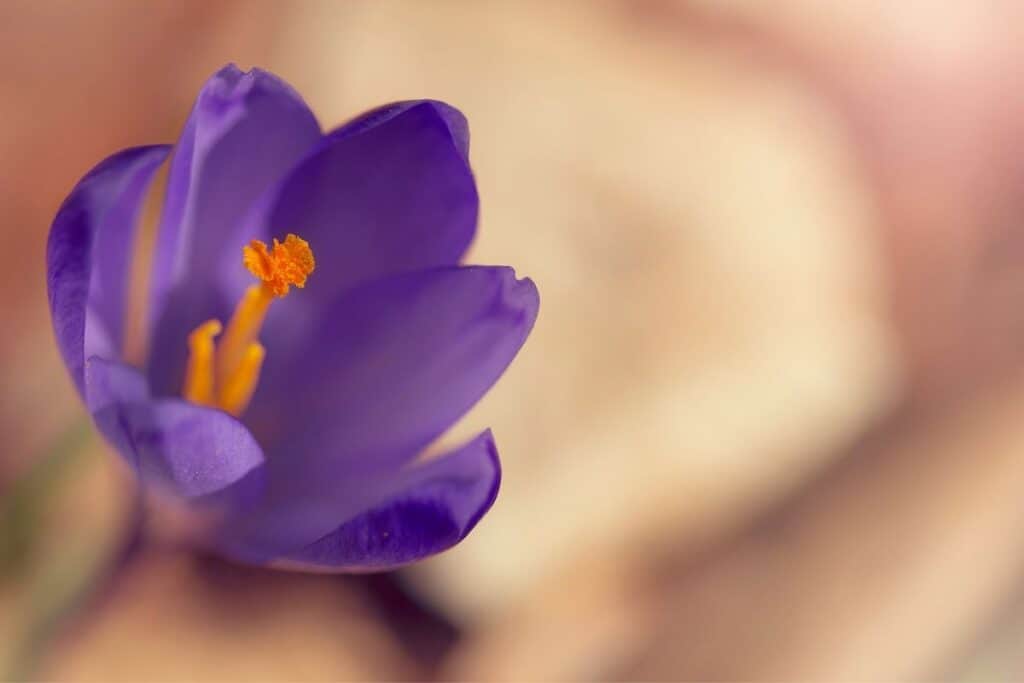 What is Saffron?
Saffron is a spice that comes from a flower called Crocus sativus. The petals of the flower are purple, while the stigmas and styles are crimson. The three stigmas at the center of each flower are harvested, then dried, and sold as saffron. There are only ever three stigmas per flower and it takes more than 80,000 flowers to make one pound of saffron. Once ready to use in cooking, these stigmas are called "saffron threads."
Saffron is one of the most expensive spices in the world because it is an extremely labor-intensive crop. The stigmas that eventually are turned into saffron have to be harvested by hand and then carefully dried before they can be used in cooking.
What does saffron taste like? It is an aromatic herb that is slightly floral without being sweet. The threads themselves are an orangey-crimson color. When added to food, they give it a golden hue. Even a couple of strands of saffron will add a nice amount of color to your dish.
Getting the Most Saffron Flavor
For this dish, we are going to soak the saffron threads in a bit of hot water before adding them to the rice along with the vegetable broth. Soaking the saffron threads for a bit releases both their color and flavor into the liquid, which is then more easily absorbed by the rice.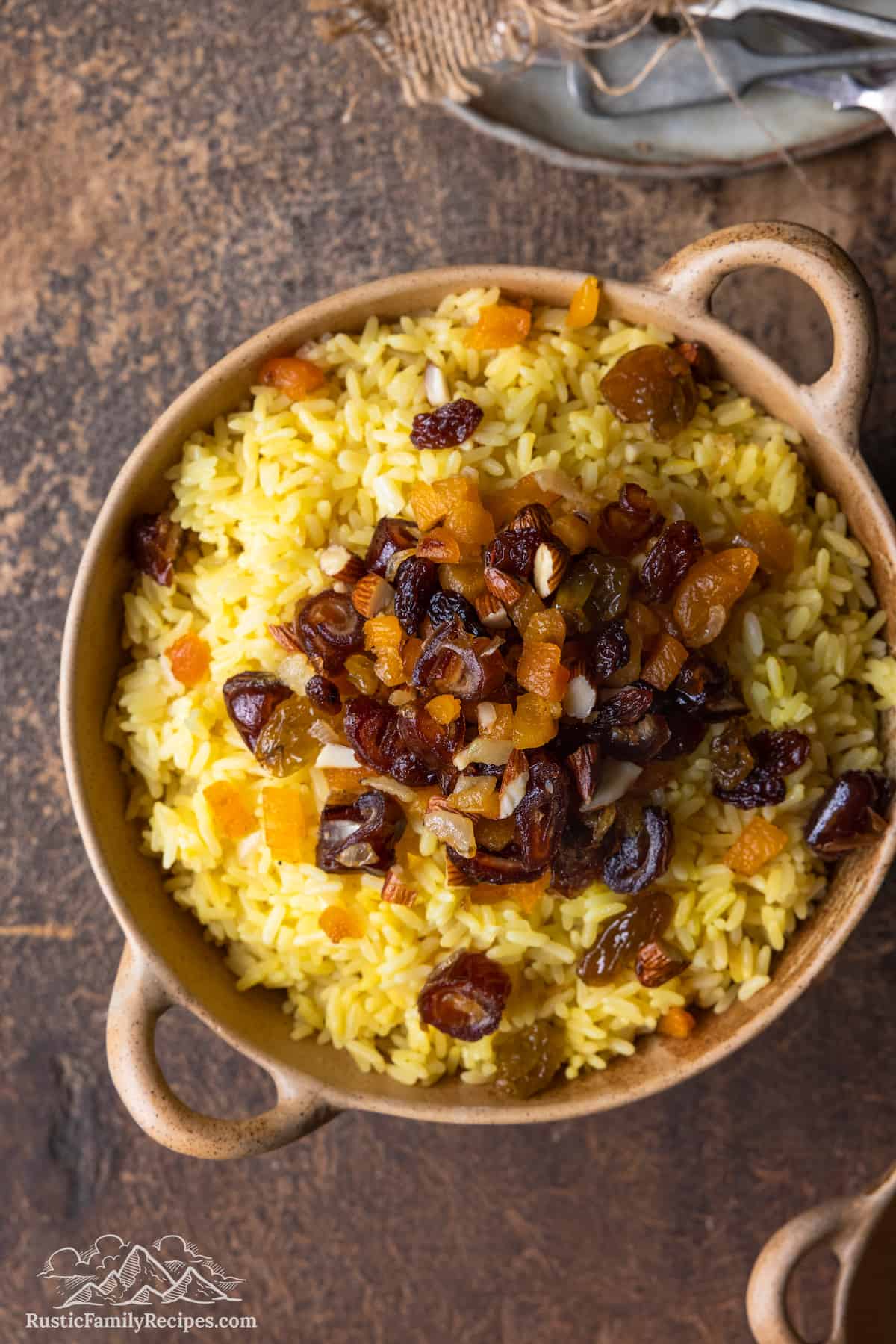 Do I Have to Add Dried Fruit?
You don't have to add the dried fruit, but it is so simple to make and adds such a lovely element to this dish, that I recommend at least giving it a try! You could also add caramelized onions or toasted, chopped nuts like walnuts or pistachios.
What to Serve with Saffron Rice
I usually serve this recipe with paprika oven-baked chicken thighs for a sure-fire dinner hit. The flavors in that chicken recipe complement the rice really well. If paprika is not your thing, you could also serve these maple-soy baked chicken thighs with this rice.
For a bready accompaniment, I rather like these sweet potato buttermilk biscuits, popovers, or a tender slice of this buttermilk zucchini cornbread.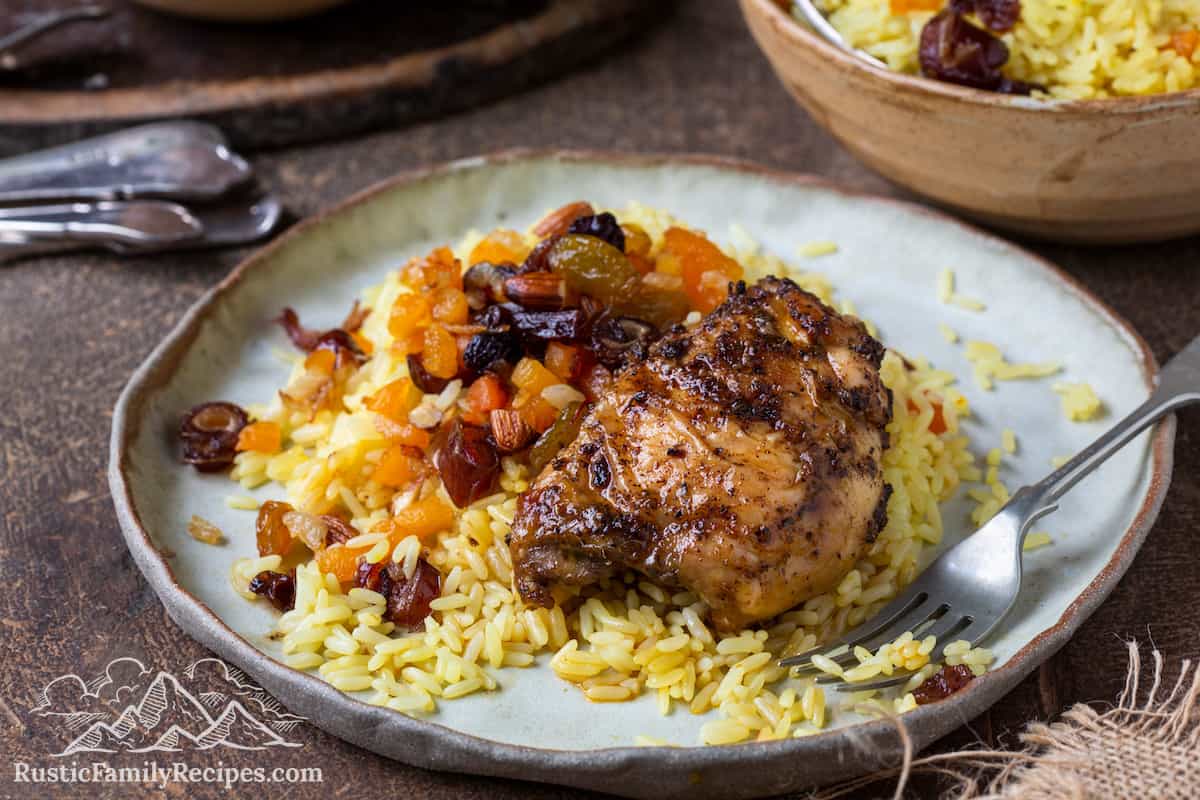 How to Store Extras
It is important to cool leftover rice quickly and place it in the fridge as soon as possible. Improperly stored rice can cause food poisoning, even after it has been cooked. I recommend dividing the rice up into small, shallow containers, then placing them in the fridge shortly after your rice has finished cooking. The smaller containers help dissipate the heat quickly. It is best to use your extra rice within 2 days.
How to Reheat Saffron Rice
The microwave is the easiest and best way to reheat rice. I recommend reheating single servings at a time to make sure your rice is heated evenly.
Scoop the rice into a microwave-safe bowl, then for each cup of rice drizzle 1-2 tablespoons of water on top. Cover the bowl with a microwave-safe plate or lid, then zap everything for about 2-3 minutes, pausing halfway through the cooking time to give everything a good stir. Reheated rice is safe to eat once it reaches 165F, which you can verify with an instant-read thermometer.
Extra rice can only be reheated once, so toss anything that's left after you've warmed and eaten your leftover rice.
Saffron Rice
This fragrant saffron rice recipe makes fluffy rice topped with dried fruit that has been quickly sauteed with diced onions. The flavor combo is out of this world!
Ingredients
For the saffron rice:
½

teaspoon

saffron threads

3

tablespoons

hot water

3

tablespoons

olive oil

1

large yellow onion

,

diced

2

cups

long-grain rice

4

cups

vegetable stock

,

heated

Kosher salt to taste

,

a pinch or two, depending on how salty your broth is
For the fruit topping:
2

tablespoons

olive oil

1

onion

,

diced

1

cup

of dried apricots

,

chopped

1

cup

coarsely pitted dates

,

chopped

½

cup

golden raisins

¼

cup

dry currants

1

cup

chopped almonds or walnuts
Instructions
Prepare the saffron. Crumble the saffron in a bowl or pound it into a powder using a mortar and pestle. Add the hot water and let the mixture steep briefly.

Cook the onions and toast the rice. In a large saucepan, heat the oil over medium heat. Add the onion and saute until soft and translucent, about 5 minutes. Add the rice and toast, stirring constantly, for about 2 minutes.

Finish the rice. Stir in the hot vegetable stock, saffron mixture, and salt. Bring to a boil, cover and simmer over low heat until the rice is tender and the liquid has been absorbed, about 18-20 minutes. Remove from heat and let stand, covered, for about 10 minutes.

Make the fruit topping. While the rice is cooking, make your fruit topping. In a medium skillet, heat the oil over medium heat. Add the onion and cook until it turns a light golden color, 10 to 15 minutes. Add the apricots, dates, raisins, currants, and nuts, then reduce the heat and cook, stirring constantly, for about 10 minutes.

Serve. Fluff your rice, sprinkle with fruit topping, then serve warm.
Last Step:
Please
share a rating and comment
if you enjoyed this recipe! Your feedback helps this little blog thrive and continue providing free, high-quality recipes for you.
Nutrition
Calories:
490
kcal
|
Carbohydrates:
78
g
|
Protein:
7
g
|
Fat:
19
g
|
Saturated Fat:
2
g
|
Polyunsaturated Fat:
8
g
|
Monounsaturated Fat:
8
g
|
Sodium:
479
mg
|
Potassium:
570
mg
|
Fiber:
5
g
|
Sugar:
31
g
|
Vitamin A:
845
IU
|
Vitamin C:
3
mg
|
Calcium:
59
mg
|
Iron:
2
mg
Nutritional info is an estimate and provided as a courtesy. Values may vary according to the ingredients and tools used. Please use your preferred nutritional calculator for more detailed info.
Did you make this recipe?
💖 I love hearing how my recipes came out for others! If you tried this recipe, please share a comment. 💖
Filed Under: