This post may contain affiliate links. Please read our disclosure policy.
This roasted delicata squash recipe is one of my favorite ways to cook squash in Autumn. You don't even need to peel the squash! It doesn't get any easier than this flavorful recipe.
There's something extra appealing about simple side dishes, especially on busy weeknights. My favorite recipes are ones with minimal prep and that can be popped into the oven without my needing to do anything else. That's this roasted delicata squash recipe.
Roasting thinly sliced pieces of delicata squash is one of my all-time favorite side dishes. In fact, I love the way these turn out so much I'll usually sneak a couple of slices and eat them by themselves before serving everyone else. Shh! Don't tell. Those caramelized pits of roasted squash are so good, I just can't resist.
One of the things that makes this recipe so easy is that the skin on delicata squash is edible. So unlike butternut squash, which definitely needs to be peeled, you can leave the skin on when roasting delicata squash. This is a good thing too because there are little grooves on the squash that can vary in depth. These would make peeling it a total pain if you had to do it. Luckily, you don't. 🙂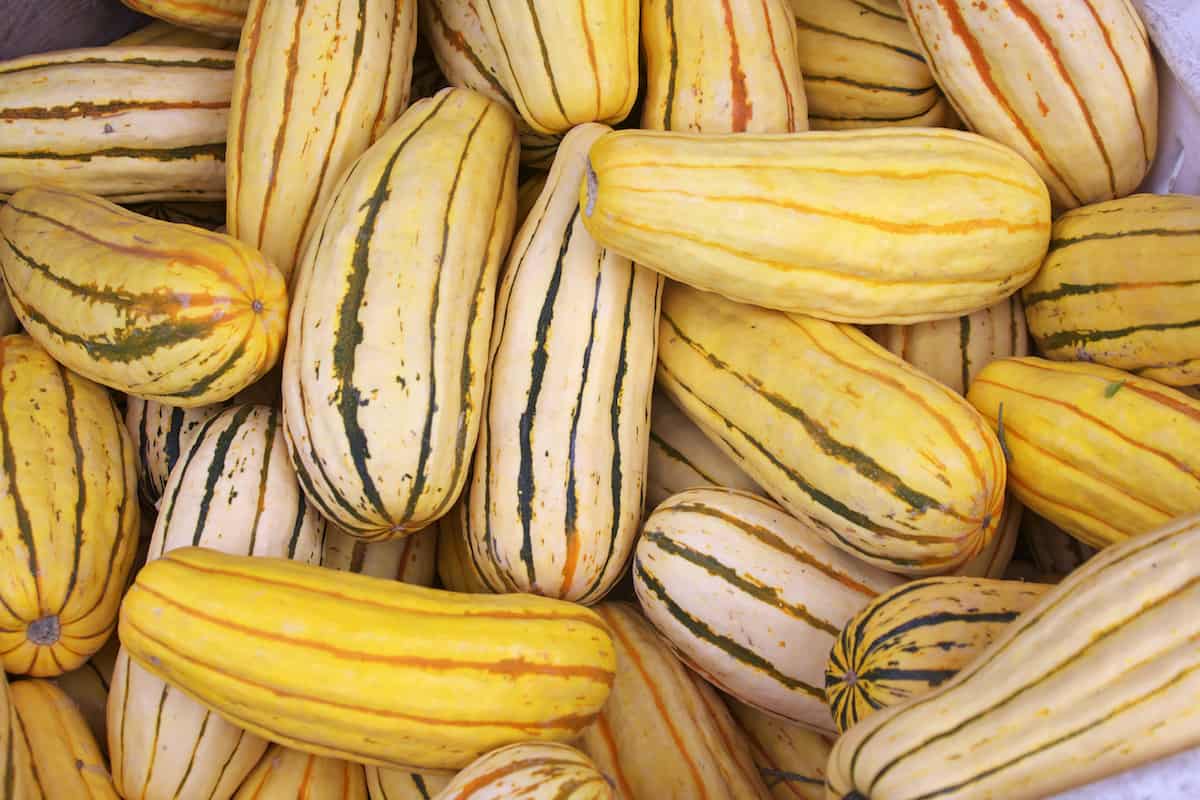 What is Delicata Squash?
Delicata squash is a kind of winter squash. It is oblong shaped and has either green or orange stripes, as well as grooves along the stripes that can vary in depth. Sometimes delicata squash is also called peanut squash, Bohemian squash or sweet potato squash.
Delicata squash is sweet and nutty with edible skin. The skin is a little thicker than what you would find on a patty pan squash (one of my fav summer squashes). In addition to eating the skin and flesh, you can also save the seeds and roast them the same way you would roast pumpkin seeds.
Delicata squash is super easy to grow. Just make sure you harvest it before the first frost. Despite their being classified as a "winter squash" they are actually sensitive to cold and won't store well over winter. You can also find delicata squash at the grocery store and farmer's markets in the fall.
Do I Need to Peel It?
No, you don't need to peel delicata squash. The skin is edible and gets a delightfully crisp texture when the squash is roasted with a bit of olive oil.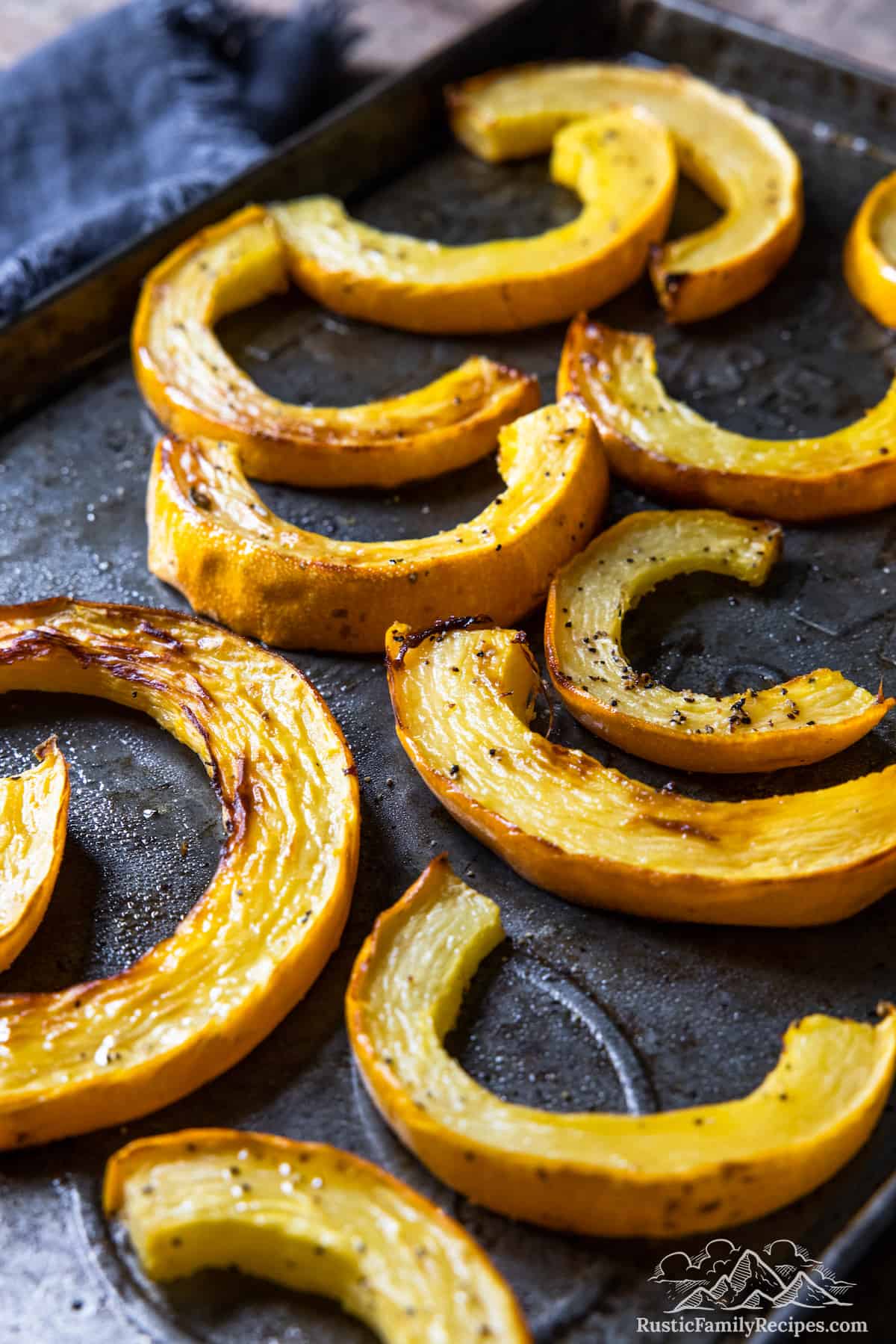 Tips for the Best Roasted Squash
This recipe is incredibly simple, but here are a few tips to make sure your delicata squash comes out perfectly:
Wash the squash. Especially since we are going to be eating the skin, it is important to wash your squash with water before cooking it. Run it under running water, rubbing it with your hands, then dry it off with a kitchen towel.
Use a metal spoon. When removing the seeds, use a metal spoon that can stand some resistance as you scrape it along the insides of the squash.
Cut even slices. When you are cutting the squash try to make sure each slice is about the same width. This way each piece will cook in the same amount of time. The thinner your slices, the faster they will cook and the more caramelization you will get. I usually go for 1/2-inch thick slices.
Save the seeds. You can save the seeds from your delicata squash and roast them, the same as you would with pumpkin seeds. The easiest way to clean the seeds is to put them in a large bowl, fill it with water, then scoop out the stringy bits when they float to the top.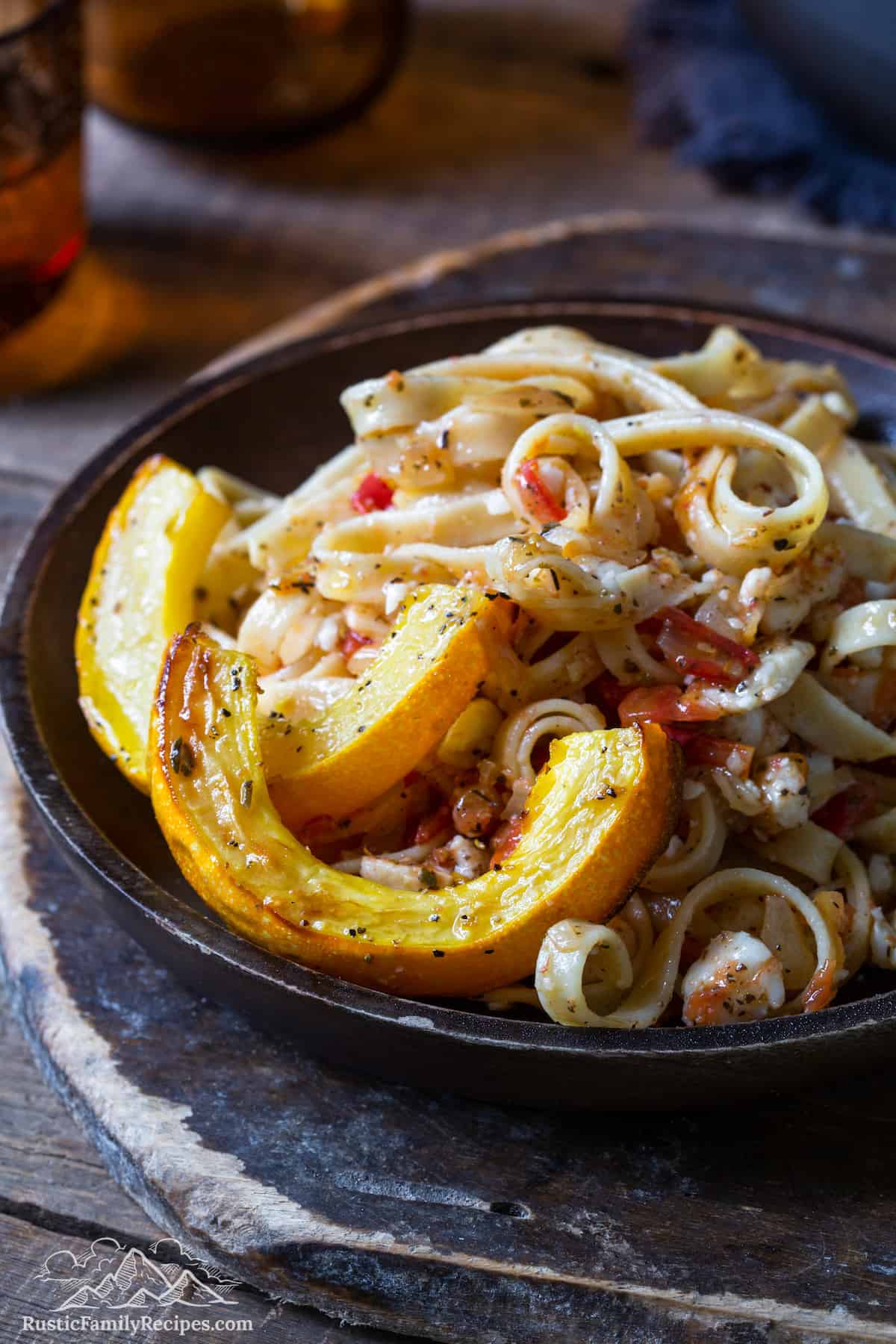 What to Serve With It
Roasted delicata squash goes with so many things! I particularly enjoy it with pasta, like the goat cheese pasta you see above. Here are some other pasta dinner ideas that would go nicely with it:
How to Store and Reheat Leftovers
Let the cooked squash cool to room temperature, then store it in an airtight container in the fridge for up to 4 days. You can reheat it in the microwave until warmed through, or in an oven preheated to 350F for about 5 minutes.
Print
Roasted Delicata Squash
This roasted delicata squash recipe is one of my favorite ways to cook squash in Autumn. You don't even need to peel the squash! It doesn't get any easier than this flavorful recipe.
Author: Rustic Family Recipes
Prep Time:

10 minutes

Cook Time:

15 minutes

Total Time:

25 minutes

Yield:

3-4 servings

Category:

Side Dish

Method:

Oven

Cuisine:

American
2

delicata squashes, halved, seeded and sliced.

3 tablespoons

olive oil

1/2 teaspoon

kosher salt
Ground black pepper to taste
Instructions
Preheat oven to 425°F. Line a baking sheet with parchment paper or a silpat.
Wash the outside of your squash and dry with a cloth. Slice off the ends, then halve each squash and scoop out the seeds with a spoon. Slice the squash into 1/2 inch slices. Try to keep the size of each slice consistent so that they are all about the same thickness.
In a large bowl, toss the slices with olive oil, salt and pepper. Spread out in a single layer on your prepared baking sheet.
Roast for 20 minutes, then flip over the slices with a spatula and roast for another 15-20 minutes until the slices are tender, golden and the edges have caramelized a bit.
Last Step:
Please
share a rating and comment
if you enjoyed this recipe! Your feedback helps this little blog thrive and continue providing free, high-quality recipes for you.
Keywords: roasted delicata squash recipe, thanksgiving side dish, how to cook delicata squash
Filed Under: