This easy homemade Rainbow Sherbet is the perfect summertime treat. Made in the style of no-churn ice cream, this frozen dessert is like a sunrise of real fruit flavors in one creamy scoop.
Rainbow sherbet is a family-favorite frozen treat in the summer. Not quite ice cream, not quite fruit sorbet, it's an endless temptation on hot days to have a container tucked away in the freezer. I have fond memories of ordering rainbow sherbet with my Nana as a kid. Baskin Robbins may have had 31 flavors, but there was only one on my mind!
Making rainbow sherbet at home is the easiest way to have sherbet on hand all summer long. It tastes so much better than store bought, too! Three creamy flavors of refreshing sherbet made with real fruit and whole dairy, just the way we like it. Plus, this recipe takes inspiration from no-churn ice cream, meaning it's a cinch to make without the ice cream maker.
The texture of this sherbet is frosty and creamy, sweet and fruity, melt-in-your-mouth and so delicious. Serve it in a bowl or in a cone, you won't be disappointed. And if you love this triple flavored ice cream recipe, I have a feeling you'll also love this gelato-style ​​Spumoni ice cream, too.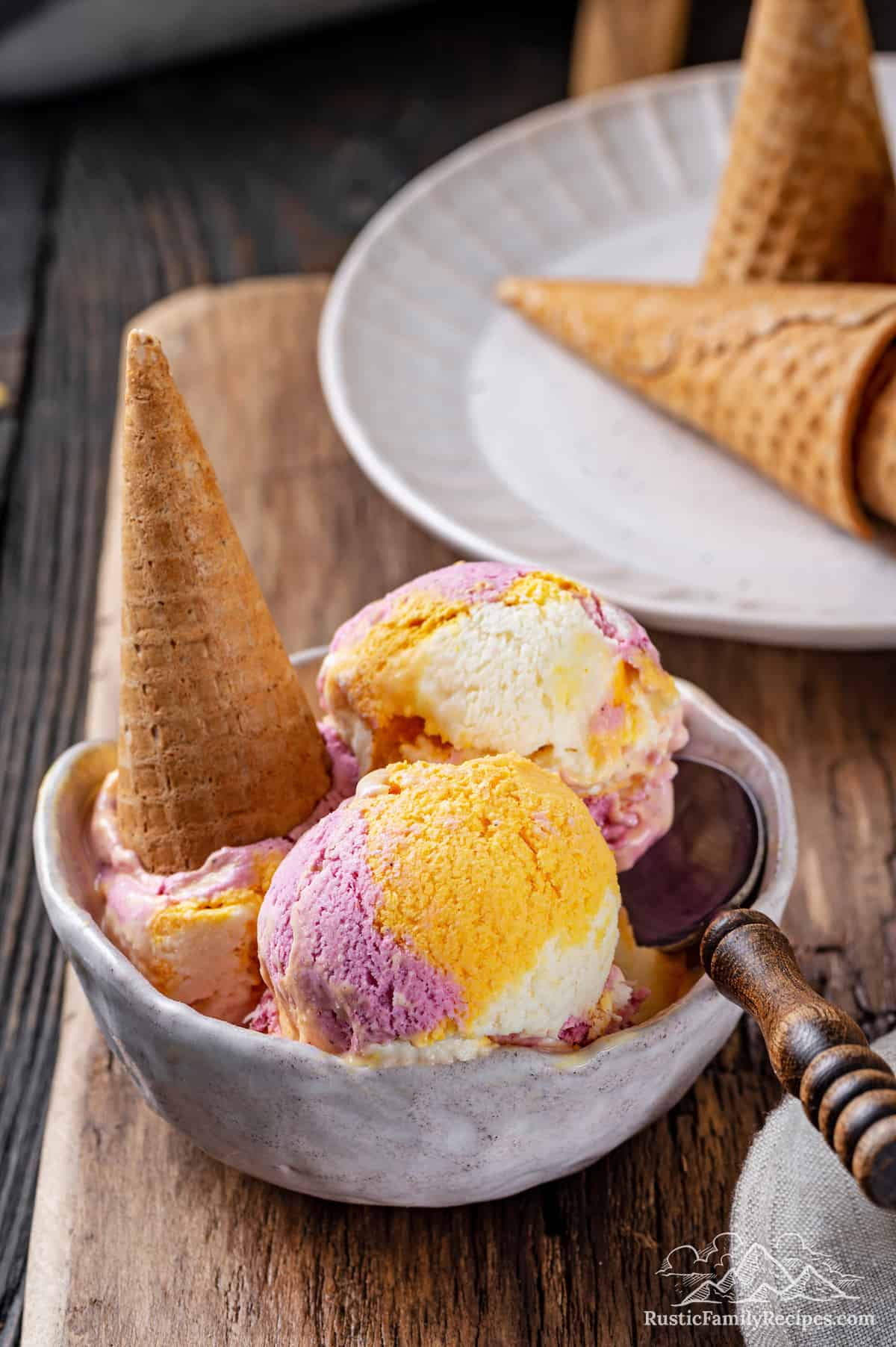 What is Sherbet?
Sherbet (you may also see it spelled "sherbert") is a frozen dessert that falls somewhere between classic ice cream and sorbet. Like a sorbet, sherbet is made with fruit puree or fruit juice, which is then made creamier with the addition of dairy, like milk or buttermilk.
Rainbow sherbet brings together more than one fruit sherbet flavor, usually three (see below). In my recipe, I use heavy cream and condensed milk as the dairy component, with the fruit as a natural sweetener.
What 3 Flavors Are in Rainbow Sherbet?
Raspberry, lime, and orange sherbet are the most common rainbow sherbet flavors, though you'll find different variations. My homemade version is inspired by the Baskin Robbins rainbow sherbet, which includes tropical pineapple, zesty orange, and pink raspberry flavors.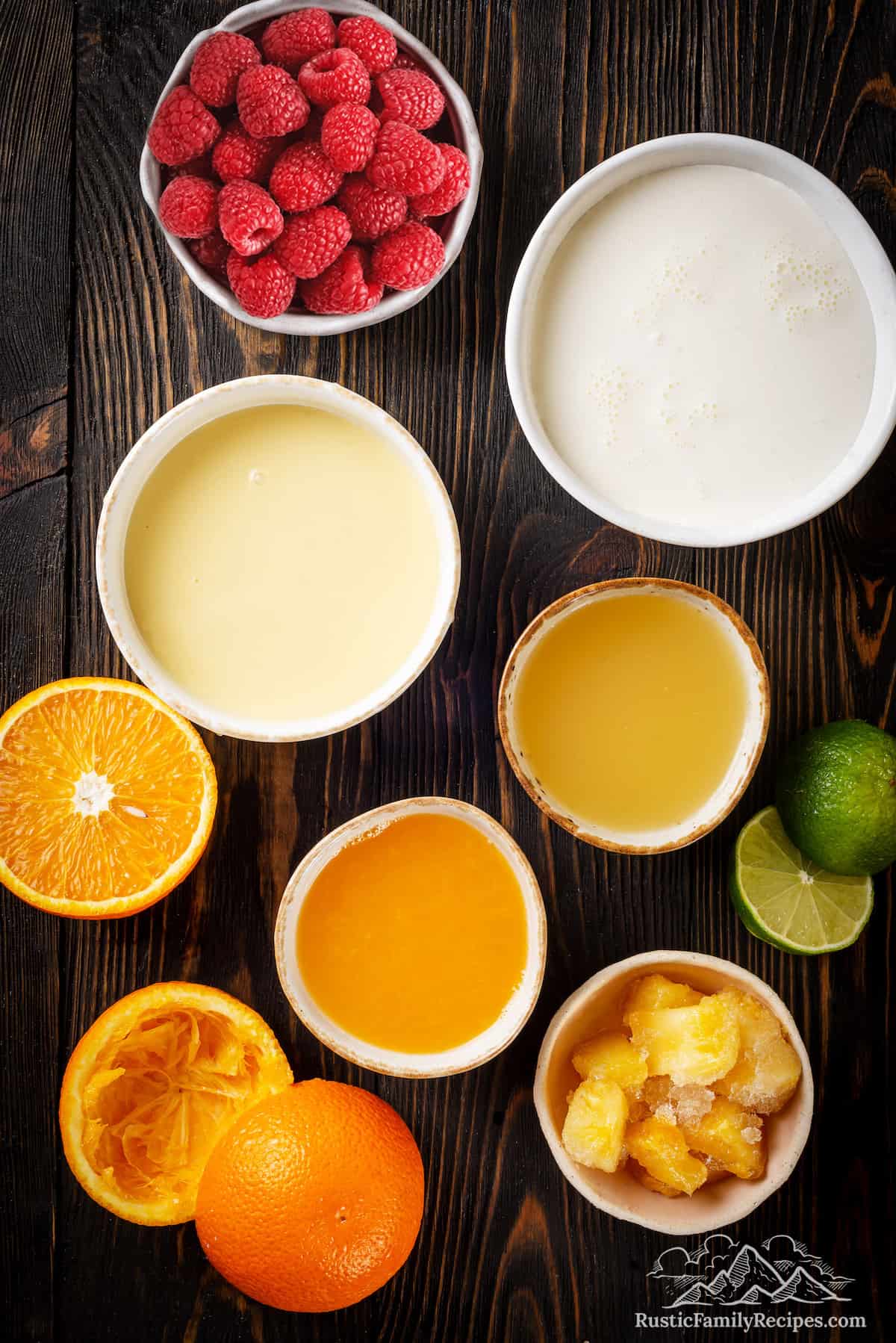 The Ingredients
Below you'll find an overview of the ingredients. Be sure to follow up with the recipe card for the full details and amounts.
Orange juice and zest – Fresh is best. If you have time, definitely juice your oranges from scratch. Plus, you can use the leftover peels for zesting!
Raspberries – Unlike the oranges, you can opt to use fresh or frozen raspberries when making the raspberry filling.
Sugar – I use regular granulated sugar to sweeten up the raspberries.
Frozen pineapple – Frozen pineapple is best for blending.
Pineapple juice
Lime juice
Heavy cream – I don't recommend skimping on the fat here. Full-fat heavy cream yields the creamiest sherbet!
Condensed milk – I use unsweetened condensed milk to let the sweetness of the fruit shine through.
Food coloring – Optional, if you're going for that fresh-from-the-ice-cream-parlor look. A couple of drops of pink and orange food coloring can brighten the colors of the raspberry and orange sherbet, respectively.
How to Make Rainbow Sherbet
You'll notice that the theme throughout this no-churn sherbet recipe is "cold": cold ingredients, cold bases, and a cold overnight stint in the freezer. The goal being a perfectly frosty, creamy rainbow sherbet (easily attainable, by the way).
Here's how to do it:
Prepare the orange filling. First, you'll simmer the orange juice in a saucepan until it's reduced to half, then add the orange zest. Let the mixture cool at room temperature before moving it into the fridge to chill completely. This is important – warm filling will melt the ice cream base that comes later on.
Prepare the raspberry filling. Mash together the raspberries with sugar, and strain out the seeds. A mesh strainer works well for this. Once strained, chill the berry mixture in the fridge.
Prepare the pineapple filling. Use a blender (affiliate link) to combine the frozen pineapple and pineapple juice together with lime juice until you reach a smooth consistency. Since it's already frosty cold thanks to the frozen fruit, I usually make the pineapple filling as a final step just before combining the fruit mixtures with the sherbet base.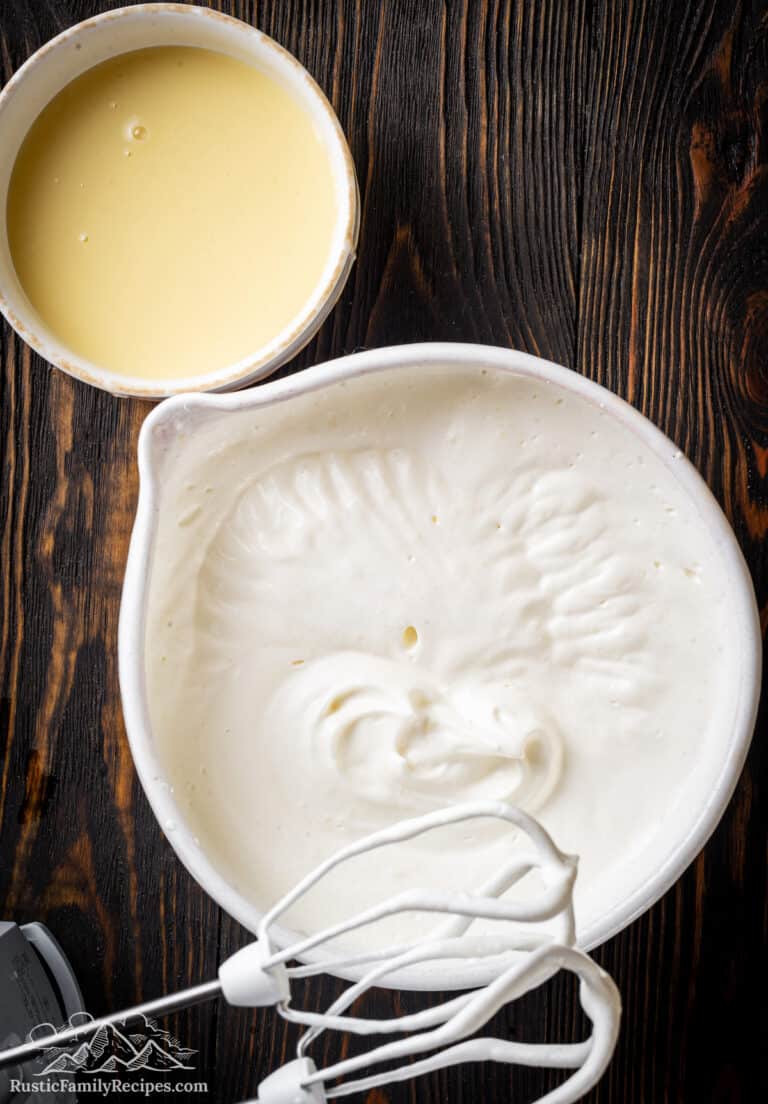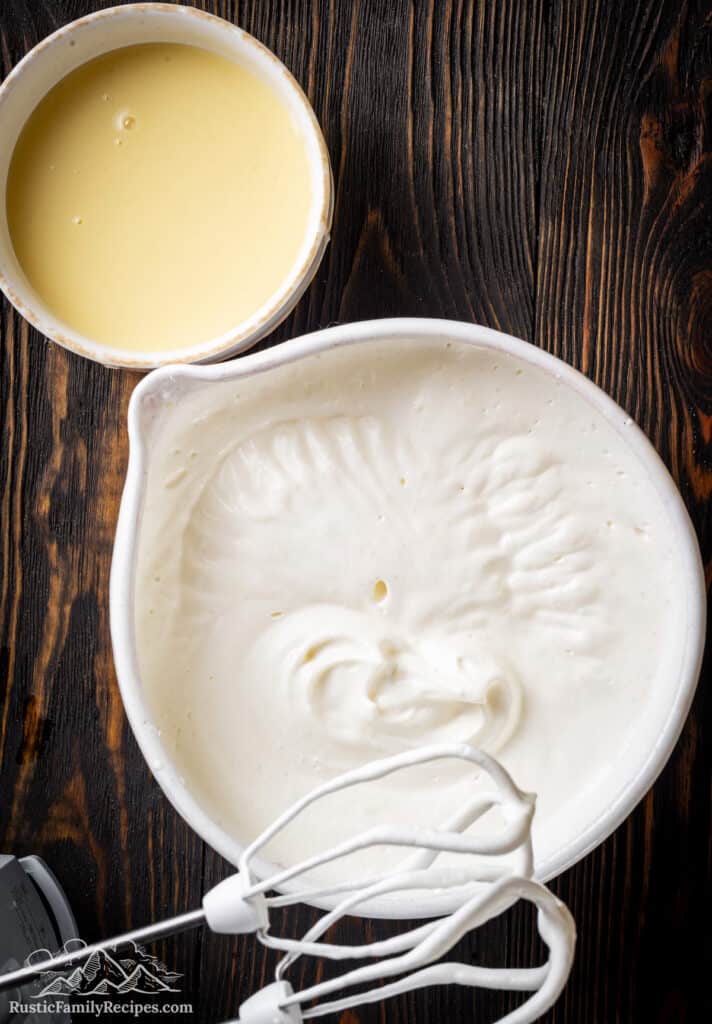 Make the sherbet base. Prepare an ice cream base by whipping the heavy cream into stiff peaks, and folding in the condensed milk. Once ready, it's time to make your sherbet flavors.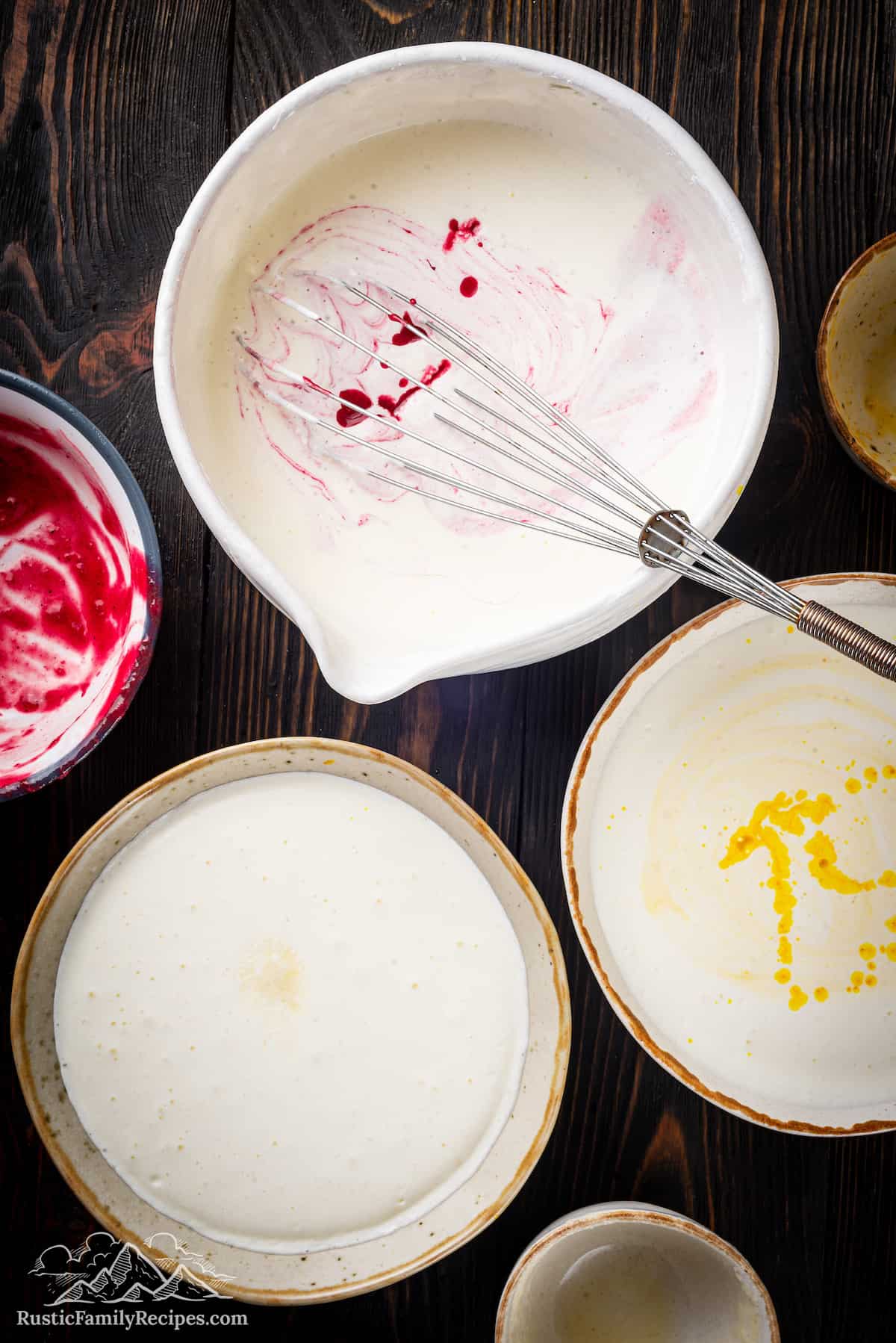 Mix the sherbet base with the fruit fillings. Divide the dairy base evenly between three bowls. Next, stir in the cold fruit fillings (one in each bowl) until combined. If you're using food coloring, whisk a couple of drops into the orange and raspberry bases for color.
Partially freeze the flavor bases. The flavor bases will need to chill in the freezer for a minimum of two hours before they can be combined into rainbow sherbet. Give the bases a mix every so often to keep them from sticking to the bowls. If the mixtures are still a bit runny after two hours are up, they'll likely need another hour to set up fully.
Assemble the rainbow sherbet. Once your sherbet bases are at a thick, half-frozen consistency, spoon alternating flavors into a loaf pan (affiliate link). Lightly swirl the flavors together (but not too much) and then pop the rainbow sherbet into the freezer overnight to set.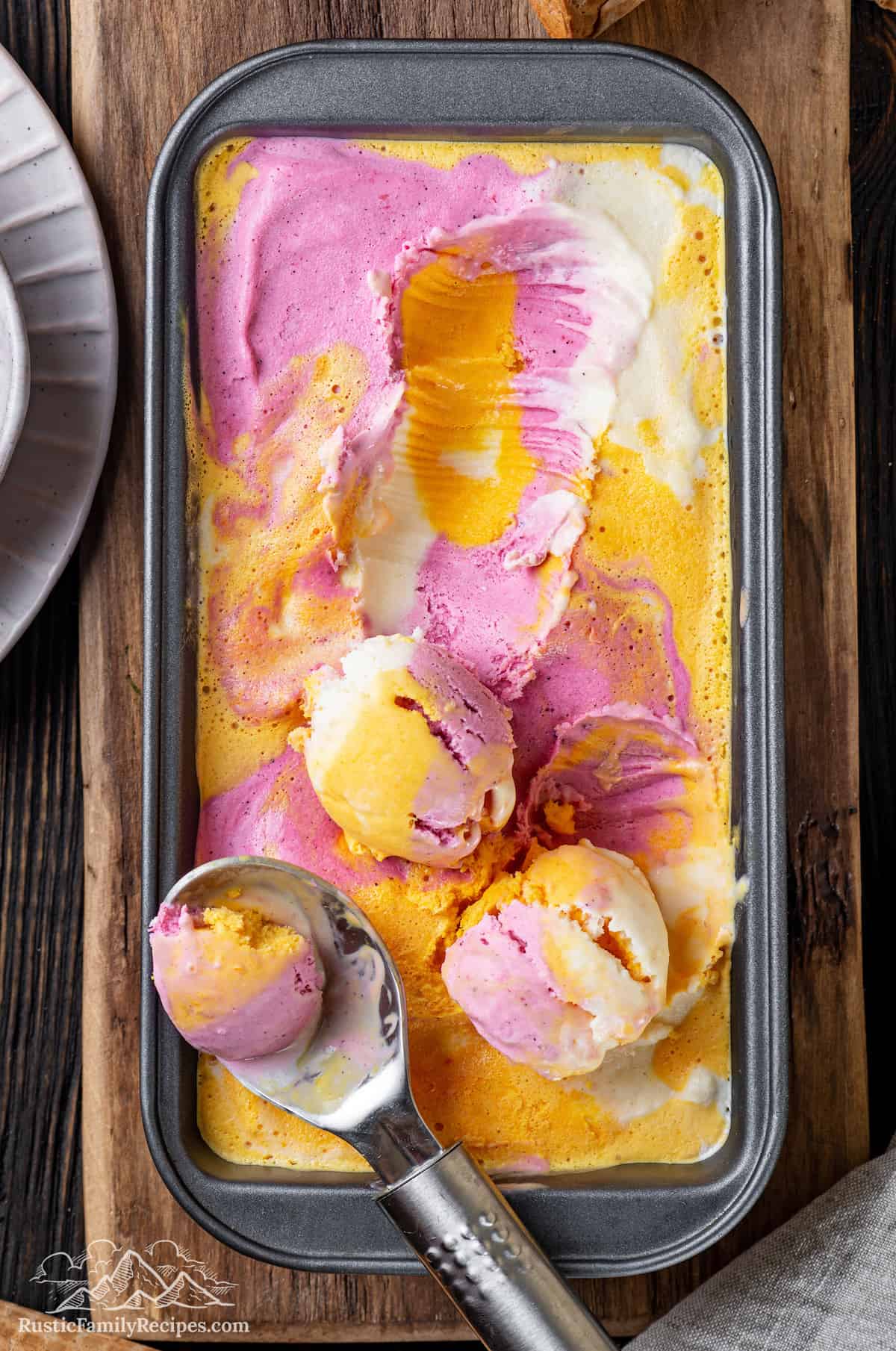 Tips for Success
No-churn means this recipe is near foolproof, but here are a few tips to make the process flawless:
Use cold ingredients. Make sure your heavy cream and condensed milk are cold from the fridge when you make your sherbet base. Also be sure to let the fruit bases get nice and cold before you combine them with the ice cream base. Chilled ingredients are key to the best overall texture.
Freeze before combining. Not to sound like a broken record on the cold front (pun intended). Partially freezing the flavors is important to prevent the colors and flavors from bleeding into each other when they're combined later on. Not to mention, it helps everything freeze up properly afterward. Budget enough time for this step!
Make sherbet floats. OK, so it's not so much a tip as it is an endorsement. This is an awesome way to enjoy this homemade sherbet. Scoop the sherbet into punch, or cream soda for a sweet and easy semi-frozen dessert. Bonus: top your favorite fruit cocktails with a scoop of sherbet for a delicious grown up treat.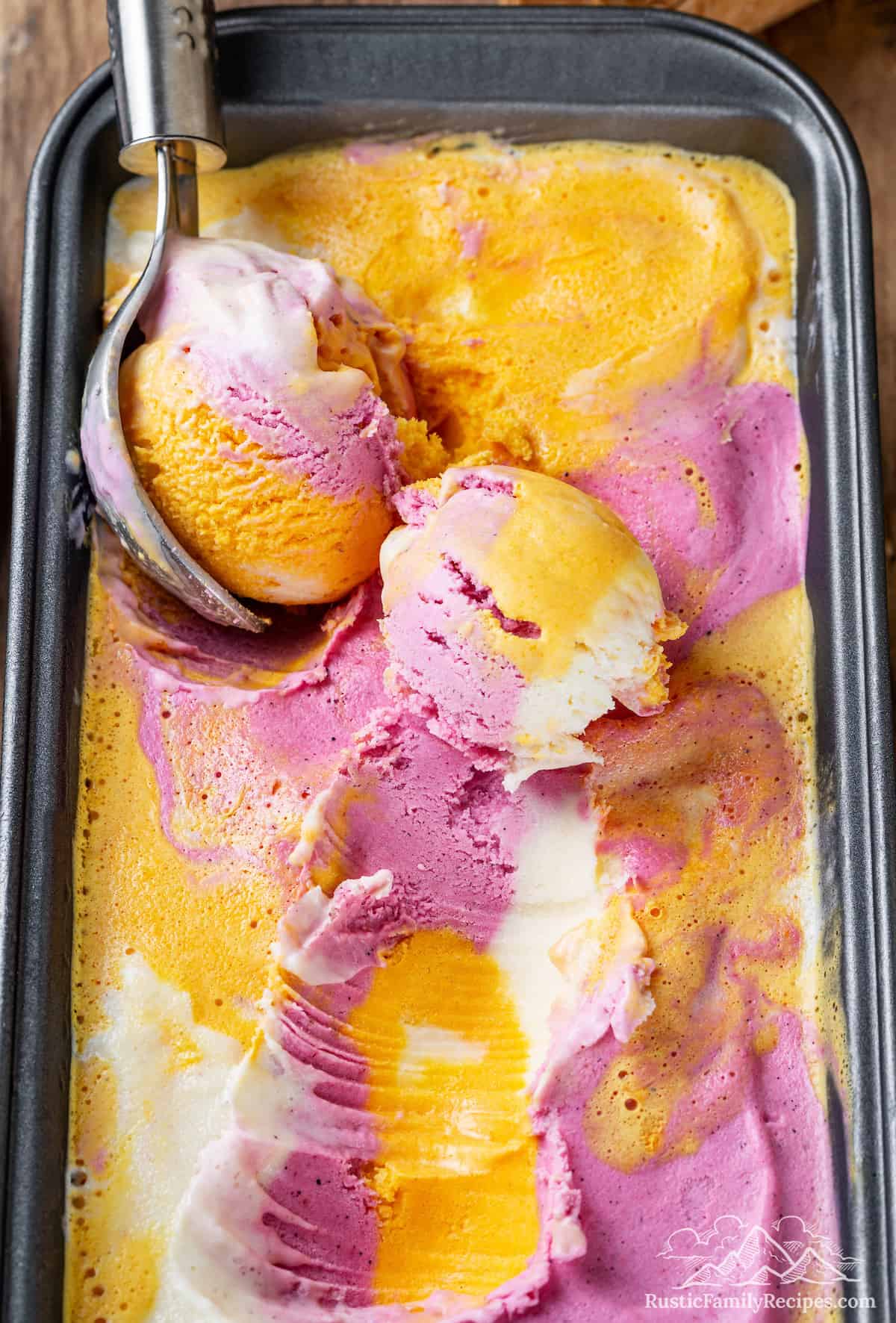 Frequently Asked Questions
How is Sherbet Different From Ice Cream?
The difference between sherbet and ice cream lies in the amount of dairy that's involved. Ice cream is dairy-based (with various add-ins, sometimes fruit), meanwhile sherbet is fruit-based, with a bit of dairy added to make the texture creamy.
Is Sherbet Healthier Than Ice Cream?
Technically, yes. Since the base for sherbet is more fruit than dairy, sherbet does tend to contain less saturated fat and calories than most ice creams. However, the flip side is that some store bought brands of sherbet are often higher in sugar. This is why I love to make my ice cream and frozen treats like sherbet from scratch. This recipe relies on the fruit itself and a smidge of added sugar to give the sherbet its sweetness. Homemade is best, and everything in moderation!
Are Sherbet and Sorbet the Same Thing?
Unlike sherbet, sorbet generally doesn't contain dairy. Sorbet is made with fruit juice or fruit puree that's combined with sugar and water and then frozen and churned like ice cream. As a result, the texture is rougher and less creamy than sherbet. Sorbet is actually a centuries-old version of ice cream, dating back to ancient Persia, before it was eventually adopted by the Italian and the French.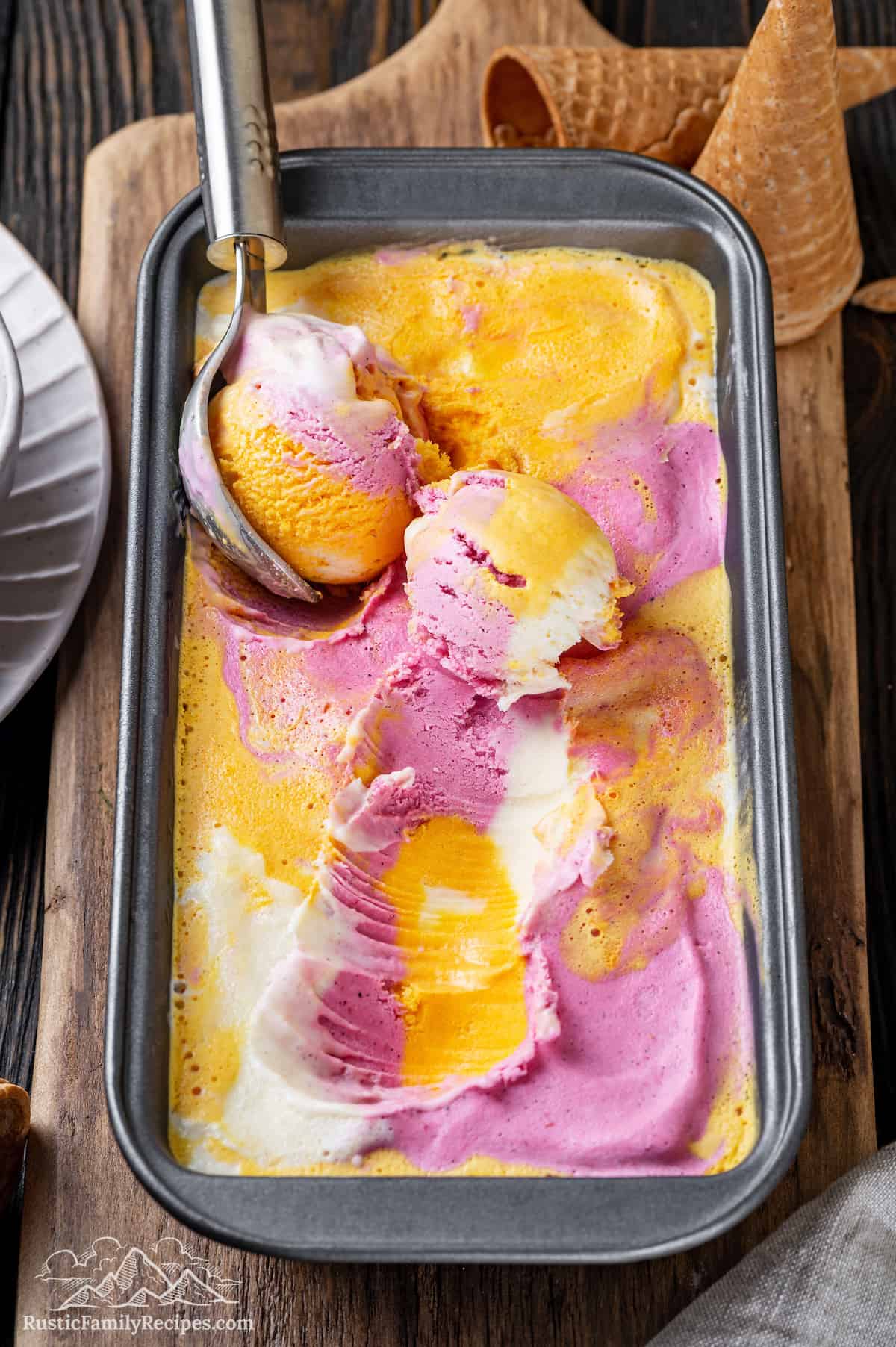 Storage Instructions
Keep your homemade sherbet covered and stored in the back of your freezer. Once your no churn sherbet has frozen overnight, I recommend transferring it to an airtight container for longer storage.
Sherbet is best enjoyed within 30 days from making it. If you know yours will be sitting in the freezer for a while, placing a layer of plastic wrap between the sherbet and the lid will help prevent ice crystals from forming.
Print
Rainbow Sherbet
Refreshing homemade rainbow sherbet is the perfect summer treat. Made in the style of no-churn ice cream, with real fruit flavors in each creamy scoop!
Author: Rustic Family Recipes
Prep Time:

20 minutes

Freezing Time:

12 hours

Cook Time:

5 minutes

Total Time:

12 hours 25 minutes

Yield:

4-6 servings

Category:

Ice Cream

Method:

Freeze

Cuisine:

American
2 cups

orange juice (freshly squeezed is better)
Zest from

1

orange

2 cups

raspberries (fresh or frozen)

1 tablespoon

sugar

1/2 cup

frozen pineapple

2/3 cup

pineapple juice

2 tablespoons

lime juice

1 cup

cold heavy cream

1 cup

cold condensed milk
Optional: pink and orange food coloring
Instructions
Prepare orange filling. Pour orange juice into a small saucepan, bring to simmer and cook until reduced in half. Add orange zest and chill first to room temperature, then in the fridge until cold. Otherwise it will melt the ice cream base. Add a couple drops of orange food coloring if you want a stronger color.
Prepare raspberry filling. Mash raspberries with 1 tbsp sugar and strain to remove the seeds. Chill in the fridge. Add a couple drops of pink food coloring if you want a stronger color.
Prepare the pineapple filling. In a blender, mix the frozen pineapple and pineapple juice with 2 tbsp lime juice until smooth. This can be done right before mixing the various fruit flavorings with the sherbet base.
Make the sherbet base. Whip the cream with a mixer on medium-high speed until firm peaks form, about 2 minutes. Add condensed milk and mix until combined.
Mix the sherbet base with the fruit fillings. Divide your cream mixture between 3 bowls and add the chilled fruit filling to each of them. Mix well.
Partially freeze each flavor base. Place all three sherbet flavors into the freezer in separate containers. Freeze for 2 hours, mixing a few times to prevent the sherbet from sticking to the sides. After 2 hours, you should have a thick half-frozen sherbet. If it's too runny, leave it in the freezer for one more hour.
Assemble the rainbow sherbet. Take turns adding spoonfuls of each flavor to a bread pan or other freezer-safe container, mixing them slightly. Then transfer to the freezer and freeze overnight.
Last Step:
Please
share a rating and comment
if you enjoyed this recipe! Your feedback helps this little blog thrive and continue providing free, high-quality recipes for you.
Keywords: sherbet ice cream, frozen desserts, no churn ice cream
More Ice Cream Desserts
This post may contain affiliate links. Please read our disclosure policy.