These hearty pumpkin cornmeal pancakes were inspired by a passage from Little House on the Prairie. They are filling, easy to make, and are just waiting for your favorite pancake toppings.
These pumpkin cornmeal cakes were inspired by the American frontier days. We are reading "Little House on the Prairie" for family book club this month, and whenever food is mentioned I try to make something similar for us to snack on. This time I went all out and made a breakfast of corn cakes stacked high, then smothered with maple syrup.
Here is the passage that gave me the idea for these corn cakes, though my recipe is definitely a pampered, modern life twist:
Then Pa brought water from the creek, while Mary and Laura helped Ma get supper..She set the iron bake oven in the coals. While it heated, she mixed cornmeal and salt with water and patted it into little cakes. She greased the bake-oven with a pork-rind, laid the cornmeal cakes in it, and put on it's iron cover… The camp fire was cozy in the big, chill darkness. The corn cakes were good.

Little House on the Prairie, pg 30
These corn cakes have things that Laura and her family would not have had on the open trail: baking powder, milk, pumpkin, and sugar. I also didn't cook them in pork fat (I used butter). But the end result was hearty, flavorful corn cakes that were quickly devoured.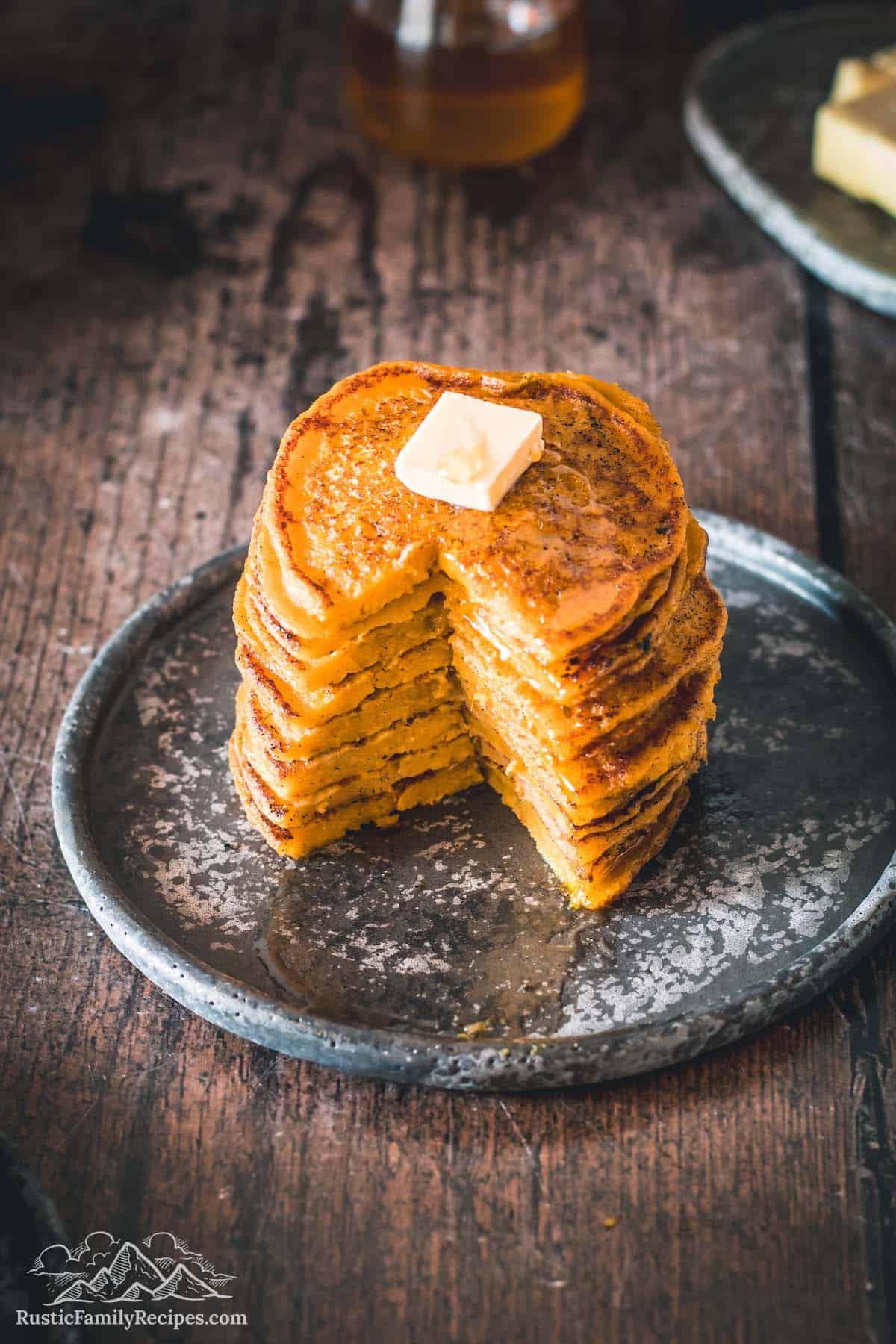 What Do these Cornmeal Pancakes Taste Like?
These are not like the fluffy, soft pancakes you would typically see on modern American tables. They have a more robust texture from the cornmeal and are more filling than regular pancakes. Nevertheless, your favorite pancake toppings will go nicely with these corn cakes. I went with my typical pairing of apricot jam topped with maple syrup.
Print
Pumpkin Corn Cakes
These hearty pumpkin corn cakes were inspired by a passage from Little House on the Prairie. They are filling, easy to make, and are just waiting for your favorite pancake toppings.
Author: Rustic Family Recipes
Prep Time:

5 minutes

Cook Time:

15 minutes

Total Time:

20 minutes

Yield:

6-8 corn cakes

Category:

Breakfast

Method:

Stove

Cuisine:

American
1/2 cup

all purpose flour

1 1/2 cups

cornmeal

2 teaspoons

baking powder

1 teaspoon

kosher salt

2 tablespoons

sugar

2

large eggs

3/4 cup

milk or heavy cream

1/2 cup

pumpkin puree (not pumpkin pie puree)

1/4 cup

water

4 tablespoons

unsalted butter, melted, plus 1 tablespoon for cooking

1 teaspoon

pure vanilla extract
Instructions
Place an oven safe plate in your oven and preheat it to 150F.
In a medium bowl, combine the flour, cornmeal, baking powder and salt. Set aside.
In a large bowl, combine the sugar, eggs, milk, pumpkin, water, butter and vanilla.
Add the dry ingredients to the wet ingredients and stir to combine, making sure there are no dry bits of batter in the bowl. Set aside.
Melt about 1 tablespoon of butter on your griddle over medium heat, spreading it around a bit to coat the surface. Once the butter has melted, do a quick wipe down with a paper towel or cloth. You don't want any pools of liquid on the griddle.
Spoon about 3-4 tablespoons of batter onto the griddle. The amount of batter per corn cake depends on how big you want them to be.
Cook about 2 minutes, until the underside of the corn cake is golden. You can peek under the corncake by lifting it slightly with the edge of your spatula.
Once the first side is golden, flip the pancakes with your spatula and cook the other side until it is golden too, about 2 minutes.
The corn cake is done when there is no wet batter inside. If you are unsure, you can make a tiny crack with the edge of your spatula in the center of the corn cake to peek inside. Just serve the corn cake crack side down and no one will know. 🙂
Transfer to the plate in your oven to keep warm and repeat this process with the remaining corn cakes.
Serve with your favorite pancake toppings!
Last Step:
Please
share a rating and comment
if you enjoyed this recipe! Your feedback helps this little blog thrive and continue providing free, high-quality recipes for you.
Keywords: corn cakes, cornmeal pancakes
More Breakfast Ideas
This post may contain affiliate links. Please read our disclosure policy.