About Me: I have more than 20 years of cooking experience & share my favorite recipes on this blog.
Have a question? Please post a comment, I'm happy to help. 🙂
Pollo con tajadas is one of my favorite Central American street foods. Packed with crispy seasoned fried chicken, fried plantain, tangy pickled onions, yummy sauces, and other crunchy veggie toppings, it's the perfect combination of flavors and textures.
Although I grew up eating my Nana's Mexican food, I also had lots of exposure to Honduran cuisine because one of her best friends was from Honduras. To the delight of us kids, whenever her friend would visit they'd cook up a feast of Mexican and Honduran cuisine!
One of my favorite recipes? Pollo con tajadas. It's hard not to love this chicken recipe. Between the crispy chicken, tangy pickled onions, creamy sauce, and crunchy cabbage, every bite was an explosion of flavors and textures. I especially loved the fried plantains, which were perfectly crisp on the outside, yet soft on the inside.
Now I have to tell you: this recipe requires some prep work. And while you can make the sauce and chismol in advance, there's still no getting around the fact that there is a lot going on with this recipe. The end result is worth the effort, but plan this one for a weekend cook fest. 🙂
What is Pollo Con Tajadas?
Pollo con tajadas is one of the most popular Honduran street foods out there. When it's translated into English, the name means "chicken with slices". The chicken part is pretty self-explanatory, but the slices refer to the fried plantain that is served with it. Sometimes this dish is also called pollo chuco.
Altogether, pollo con tajadas is full of fried goodness between the chicken and plantain. However, the fat is beautifully balanced with the rest of the dish's fresh and creamy components: pickled onions, shredded cabbage, chismol, pink sauce, and tomato sauce. Everything is stacked up in perfect harmony so all you have to do is dig in.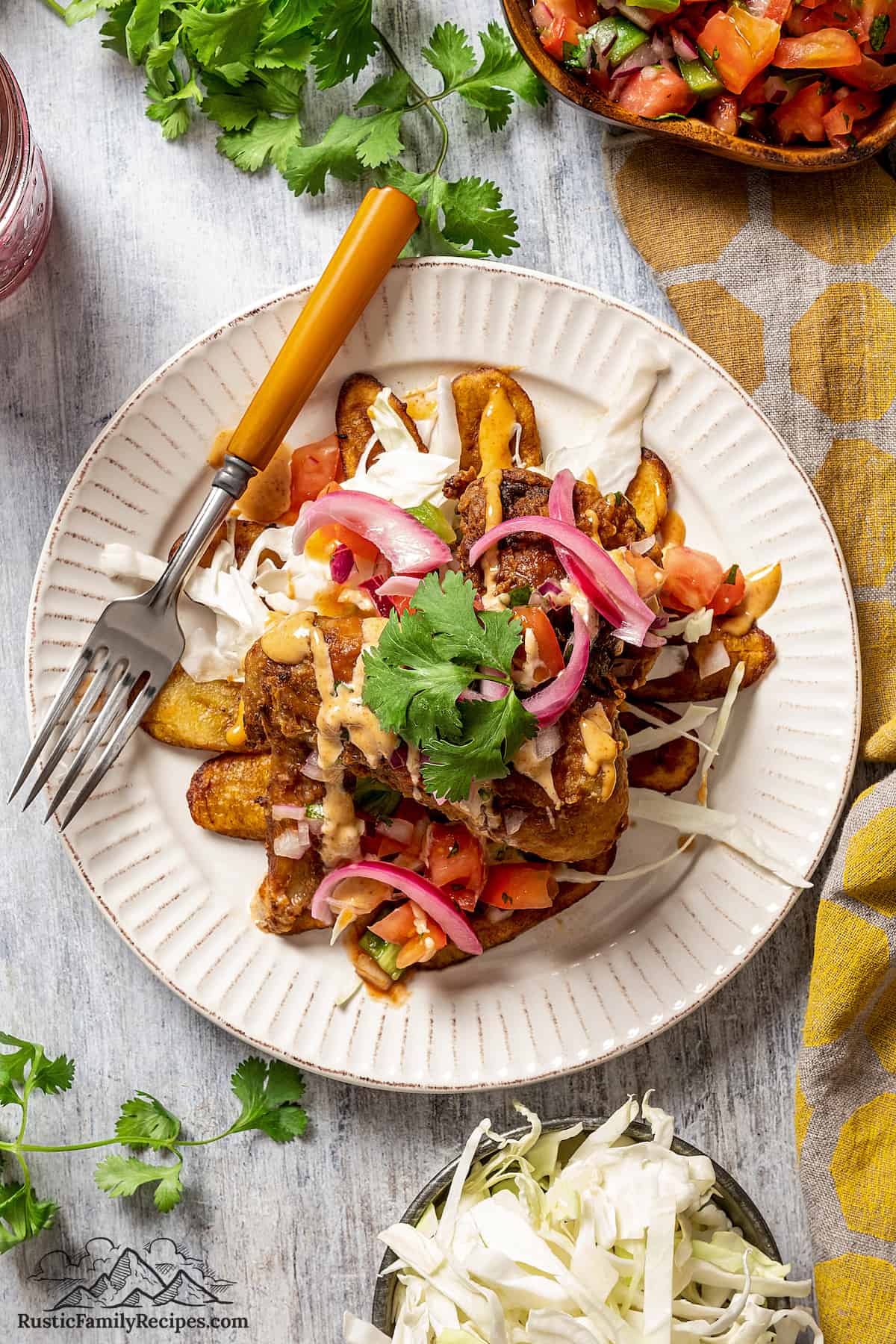 What You'll Need
Don't let the ingredient list put you off. Absolutely everything on this list is easy to find at most grocery stores. In fact, you may already have most of these on hand!
For the Chicken
Chicken bouillon powder – If you have bouillon cubes, just make sure to mash them up really well and you've got bouillon powder in seconds.
Ground cumin
Black pepper – I prefer freshly ground black pepper because it adds a more potent flavor kick, but store-bought ground black pepper will work just as well.
Onion powder
Paprika
Garlic powder
Salt
Chicken drumsticks, thighs, and breasts – Make sure they're bone-in pieces so that your chicken turns out extra juicy.
Yellow mustard
Flour
Vegetable oil
For the Pickled Onions
Red onion – Please don't use white or yellow onions for this. Red onions have a sharper, spicier taste.
Apple cider vinegar – Don't swap this out for any other type of vinegar. The flavor will change drastically.
Light brown sugar – Dark brown sugar is a good substitute.
Salt
Black pepper
For the Cabbage
For the Chismol
Tomatoes – Use meatier tomatoes with less pulp like Saladette tomatoes. If you've only got heirloom tomatoes, remove some of the seeds so that your chismol doesn't turn out watery.
Red onion
Green bell pepper – It adds a bit of spiciness without going over the top. If you'd like it hotter, I recommend a mix of green bell pepper and jalapeño to taste.
Cilantro
Lime juice
Olive oil
Salt
For the Pink Sauce
Mayonnaise – Full-fat mayonnaise makes for a creamier, richer sauce. However, low-fat mayo will also work here.
Ketchup
Granulated sugar
Paprika
Garlic powder
Rice wine vinegar – If your supermarket doesn't carry it, rice wine vinegar is easy to find at most Asian markets. Just make sure it's unseasoned.
For the Tomato Sauce
Chismol – You can't skip the chismol or you won't be able to make the tomato sauce.
Tomato sauce – Make sure it's plain tomato sauce. If it's sauce you would normally use for pasta (seasoned with garlic, basil, or cheese), then it won't work for this recipe.
Chicken broth – I prefer low-sodium chicken broth because it gives me full control over the amount of salt I add to the recipe. If your broth is already seasoned, adjust the amount of salt you use accordingly.
For the Tajadas
Plantains – Green bananas will work too.
Vegetable oil
How to Make Pollo Con Tajadas
Before you get started, I recommend setting all your ingredients out for every element within the recipe. There's a lot to do, but it's easier if you're organized and know what should go into each part from the start.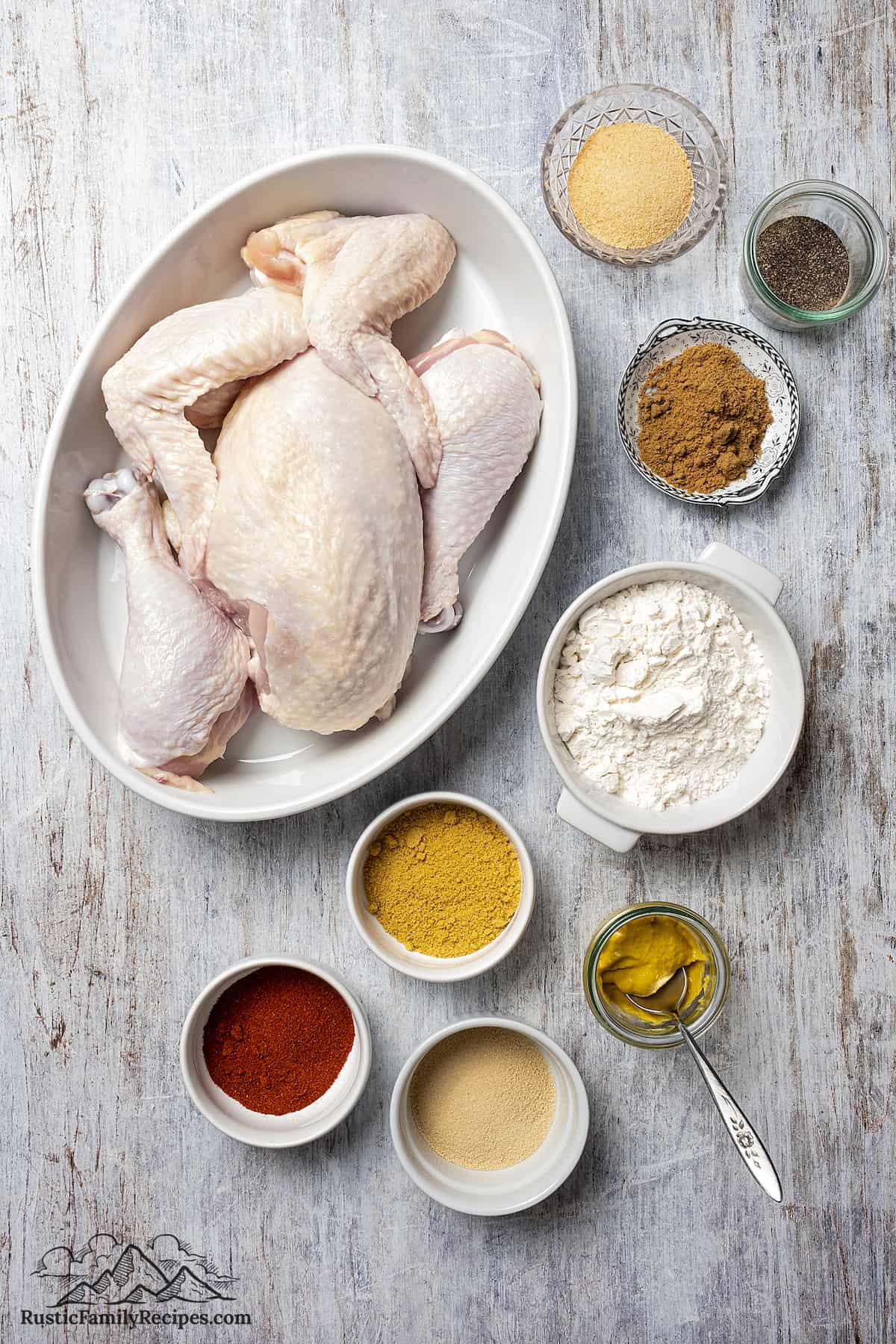 Combine the dry ingredients and marinate the chicken. Except for the flour, combine the dry ingredients in a large mixing bowl. Then add the chicken into the bowl and coat it with the seasoning mixture. Add the mustard and make sure to rub it into the chicken until it's completely coated. My little secret to speed things up is to mix the mustard with the seasonings and then just rub it in. It's quicker and gets you the same results. Refrigerate it overnight, or for at least 1 hour.
Pickle the onions. Thinly slice the red onion and place it in a jar. Then add its remaining ingredients into a pot over low heat until the sugar has completely dissolved. Once ready, pour the mixture into the jar with the onions. Let it come to room temperature and seal the jar.
Shred the cabbage. Cut it in half and then thinly slice it. A kitchen hack I love, though, is to quarter it and then grate it using the largest slots in the box-grater.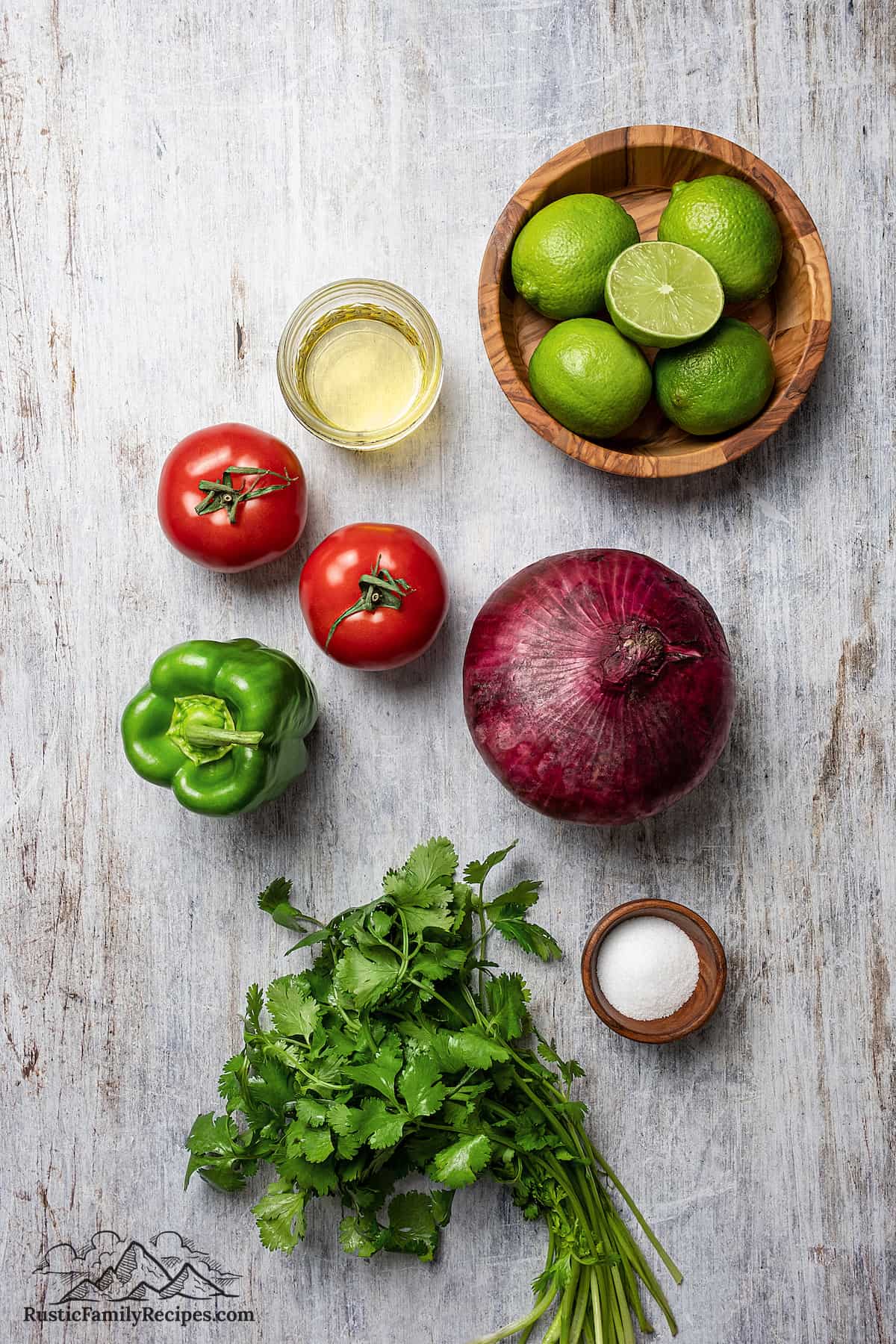 Prepare the chismol (shown above). Combine all of its ingredients and season with salt to taste. Refrigerate it.
Make the pink sauce (shown below). Combine all of its ingredients until you get a smooth mixture. Set it aside.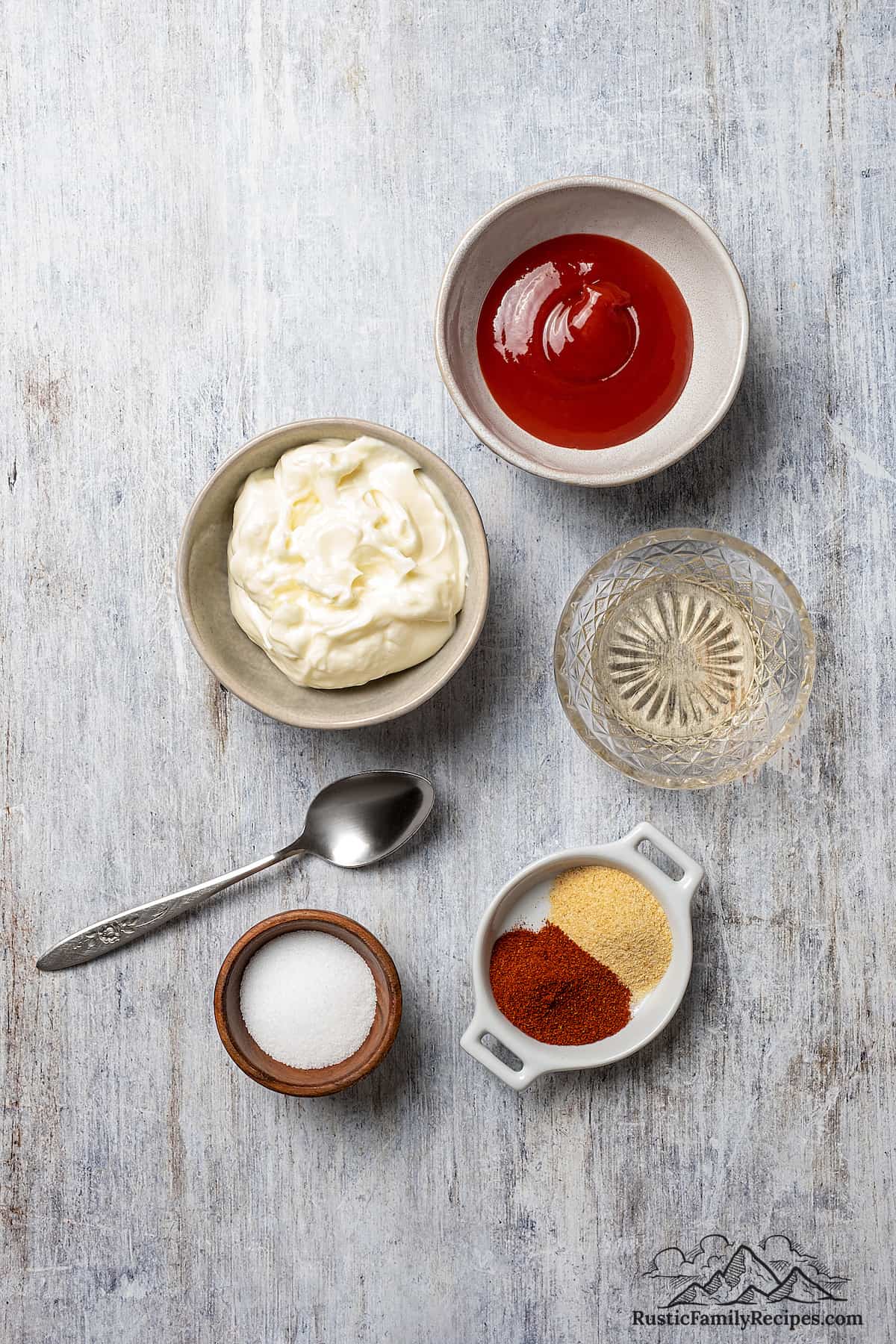 Make the tomato sauce. Cook the chismol until the onions and bell peppers have softened. Add the remaining ingredients and mix well. Let the sauce simmer until it has reduced and thickened. Set it aside.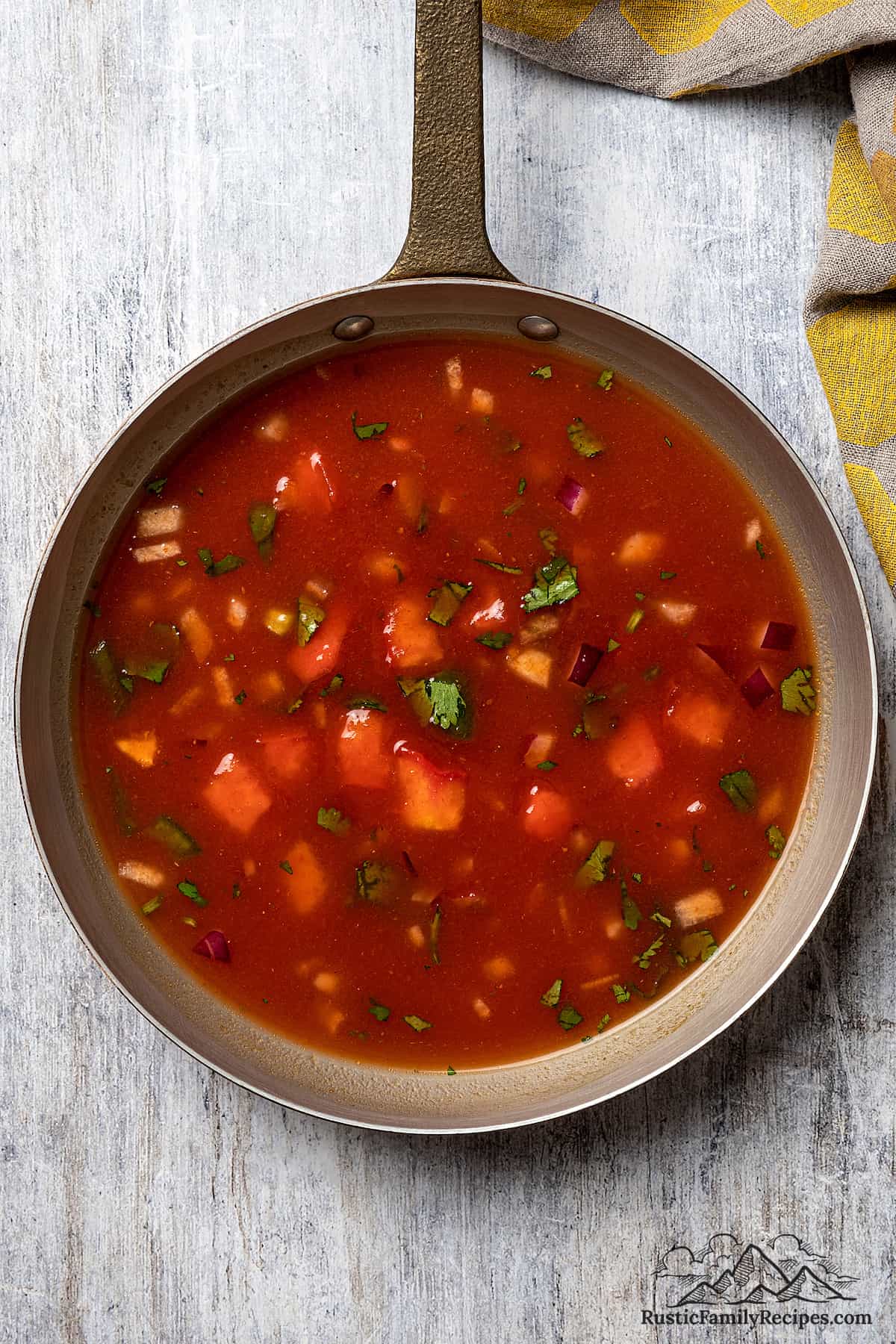 Fry the chicken. Once it's nice and crispy, remove it from the heat. Set it aside on paper towels to drain excess oil.
Fry the plantains. This should be done in the same oil to avoid any waste, but also to add extra flavor. Set them aside on paper towels.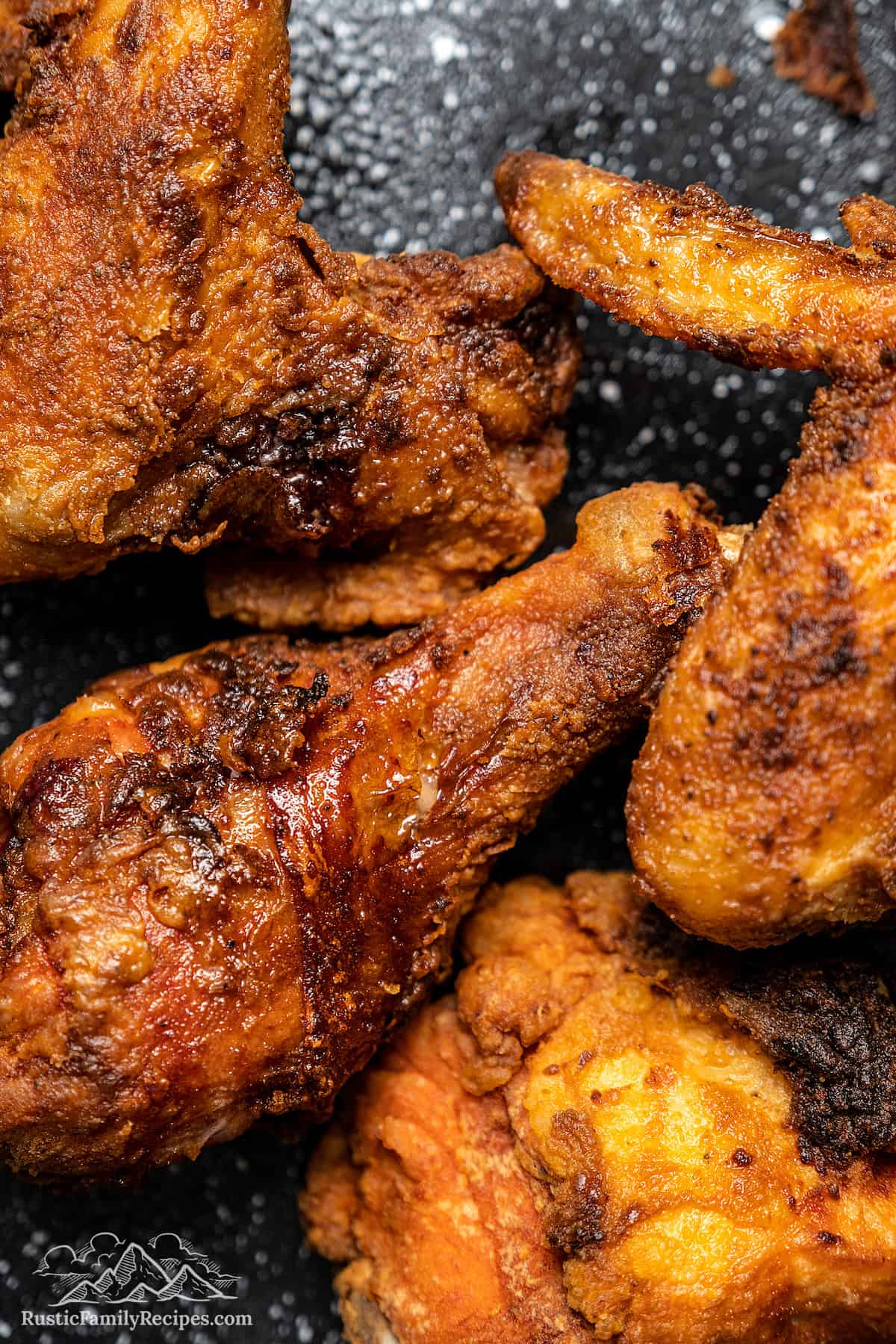 Assemble the dish. Top the fried plantains with cabbage. Then place the fried chicken on top and add pickled onions, tomato sauce, pink sauce, and chismol to taste. Enjoy!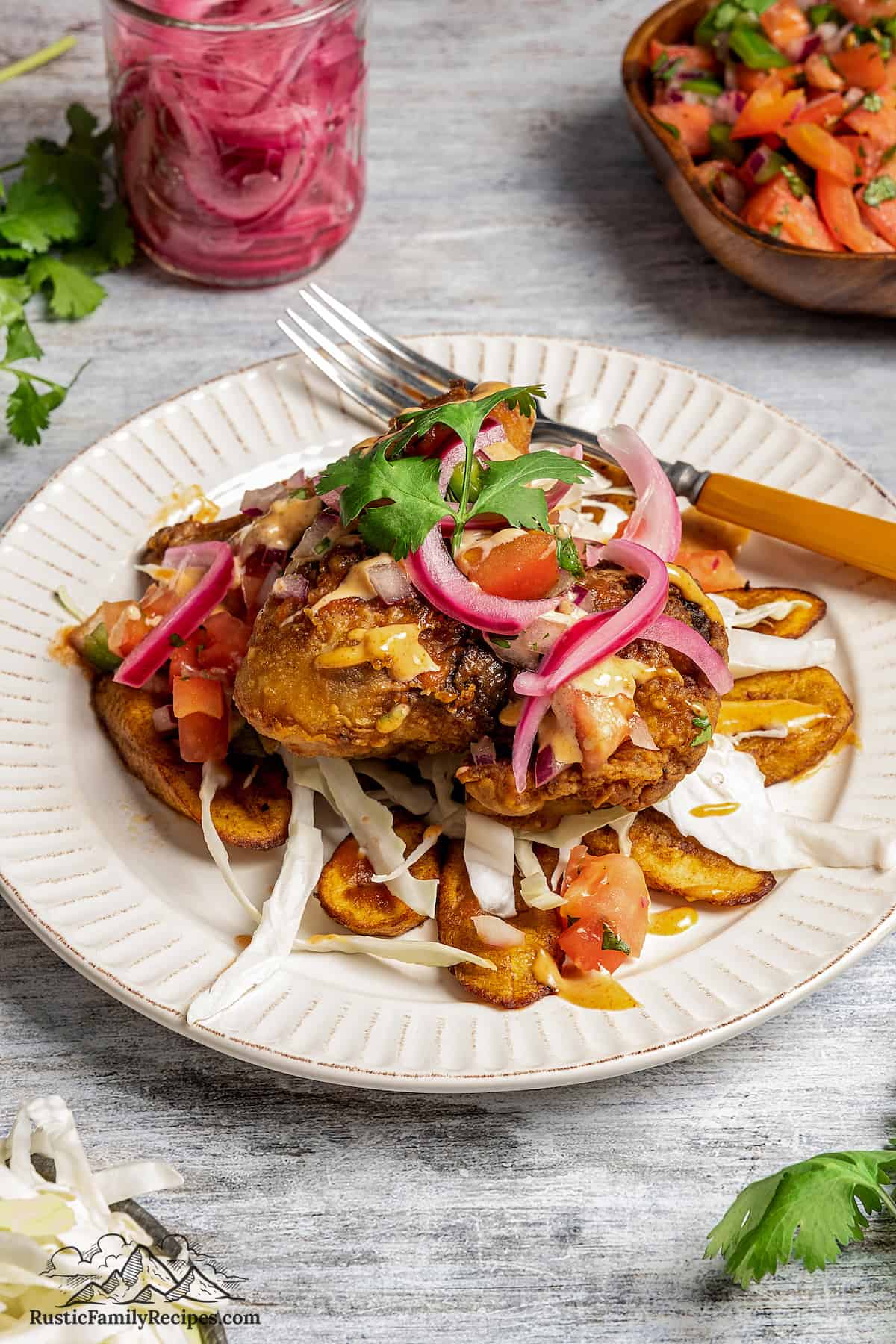 What is Chismol?
Chismol, or chimol, is the Honduran version of Mexican pico de gallo. They share many of the same ingredients except for the green bell pepper and olive oil. Mexican pico de gallo uses jalapeño and can use red or white onion, whereas chismol is milder in spiciness and has to use red onion. The principles are the same, though. Chismol and pico de gallo are all about curing the ingredients in lemon juice and serving it fresh.
Tips and Variation Ideas
Here are a couple of tips to help you succeed even if you've never tried pollo con tajadas before:
Use chicken drumsticks and thighs. Breasts tend to dry out faster when cooking and won't turn out as juicy.
Marinate the chicken overnight. If you're not pressed for time, giving the marinade a longer time to do its thing will really pay off. The flavors will come together and intensify much more beautifully.
Use a thermometer for the oil. It's important to always use a cooking thermometer when deep-frying food. The oil needs to be within 350-375 F (180-190 C) otherwise the chicken can soak up unnecessary oil and it will turn out greasy. It also won't be as crispy. If you don't have a thermometer, dip a corner of the chicken into the oil. If it sizzles, you're ready to start deep-frying.
Fry the chicken twice. Once the chicken is ready, remove it from the oil and set it aside for a couple of minutes. Then place it back in the oil for 30 seconds and even up to a minute to get a much more golden color and make the chicken extra crispy.
Cut the plantains to taste. Slice the plantains to your desired thickness. If you love crunchy ones, slice them extra thinly. If you love biting into a soft interior, then make sure to cut them at least 0.2″ thick.
Use freshly ground pepper. Don't underestimate the power of freshly ground pepper. It's much more potent and spicy.
And what about variations? These are a couple of things you can change up to make it extra special:
Use french-fries instead of plantains. This is a common variation of pollo con tajadas in San Pedro Sula. It's less traditional but equally delicious. If you're having a hard time getting a hold of plantains, french-fries will be an easy fix.
Use purple cabbage. Some places use purple cabbage instead of green cabbage. Taste-wise it's more or less the same thing, but it definitely adds a pop of color to the dish.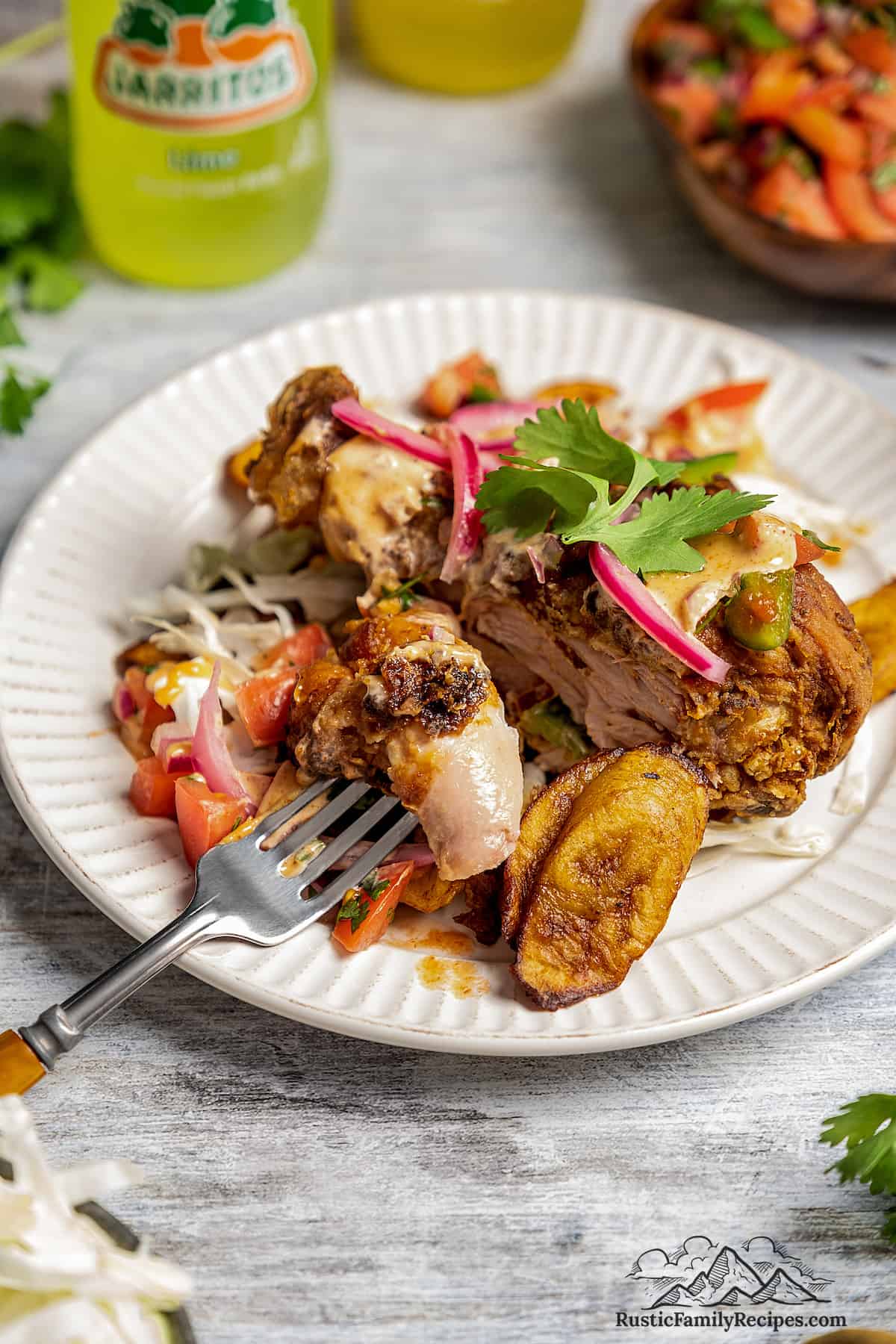 Serving Suggestions
Luckily for you, I've got a couple of suggestions to knock this dish out of the park from start to finish. Aside from all of the toppings pollo con tajadas comes with, Nana's friend also liked to add sour cream (or Mexican crema) and queso fresco, too. To add a little bit of extra tang, she would also add a drizzle of lemon juice.
What you drink with the dish is just as important, though. Enjoy it with Jarritos, a Mexican fruit-flavored soda brand. My favorite ones are tamarind and tangerine. If you want the full Honduran experience, however, try it with Copan Dry. This is the Honduran version of Jarritos and it comes in similar flavors like strawberry, orange, pineapple, fruit punch, etc.
How to Store and Reheat Leftovers
Pollo con tajadas is a feast that should be shared and enjoyed the same day it's made. But if you must store extras, don't try to store the assembled dish in the fridge. What you can do instead is refrigerate the recipe's components separately and then throw together a "fresh" pollo con tajadas whenever you'd like to reheat it.
Storing Extras in the Fridge: Store the chicken in an airtight container for up to 5 days. The same goes for the pink sauce, tomato sauce, cabbage, chismol, and plantain. The only thing that should last you up to a month or two are the pickled onions. As long as the onions are submerged in the vinegar mixture, they won't spoil.
Reheating Leftovers: When it's time to reheat, bring the chicken to room temperature and place it on a small tray. Bake it at 360-400 F (180-200 C) for 5-7 minutes, or until it's nice and crispy again. For the plantain, you can either reheat it in the microwave or fry a fresh batch.
Can I Freeze Extras?
Unfortunately, no part of this recipe freezes well. All of its components involve a crispiness that can't be returned once it hits the freezer because of the ice crystals that form and break up the normal molecule structure.
Pollo Con Tajadas
Traditional pollo con tajadas with fried chicken and fried plantains, brightened up with a fresh and delicious combination of sauces and veggie toppings to bring this dish to life.
Ingredients
Chicken
2

teaspoons

chicken bouillon powder

2 ½

teaspoons

cumin

½

teaspoon

black pepper

3

teaspoons

onion powder

1

teaspoon

paprika

½

teaspoon

garlic powder

½

teaspoon

kosher salt

3

lb

chicken drumsticks, thighs and breasts

,

bone-in and skin-on

4

tablespoons

yellow mustard

2

cups

flour

vegetable oil for frying
Pickled Onions
1

red onion

,

thinly sliced

½

cup

apple cider vinegar

1

tbsp

light brown sugar

1

teaspoon

kosher salt

dash of black pepper

1

cup

of water
Cabbage
½

head of cabbage

,

shredded
Chismol
2

tomatoes

,

diced

1

red onion

,

diced

1

green pepper

,

diced

¼

cup

cilantro

,

chopped

1

lime

,

juiced

salt to taste

1

tbsp

olive oil
Pink Sauce
1

cup

mayonnaise

2

tablespoons

ketchup

1

tablespoon

granulated sugar

½

tablespoon

paprika

2

teaspoons

garlic powder

2

teaspoons

rice wine vinegar

2

tablespoons

water
Tomato Sauce
4

tablespoons

Chismo

½

cup

tomato sauce

½

cup

chicken broth
Green Bananas
5

green bananas

vegetable oil for frying
Instructions
Chicken Instructions
Mix the seasonings and spices. Except for the flour, mix all of the dry ingredients together in a small bowl. This includes the chicken bouillon, cumin, black pepper, onion powder, paprika, garlic powder and salt.

Coat the chicken with mustard. In a separate large bowl, add the chicken pieces and coat them in mustard.

Sprinkle the spice mix over the chicken. Rub the chicken pieces with your hands to besure that they are evenly coated.

Marinate the chicken. Cover the large bowl with plastic wrap and refrigerate for at least an hour.
Pickled Onion Instructions
Slice the onions. Thinly slice the onions and add them to a 16 oz mason jar

Make the brine. In a medium saucepan, combine the vinegar, brown sugar, salt, pepper and water.Cook over medium heat until the sugar dissolves and the liquid is just simmering.

Pour the liquid over the onions. Carefully pour it over the onions and set aside to cool to room temperature.

Seal the jar and store. Once you are sure the jar isn't even a little bit warm, place in the fridge.
Cabbage Instructions
Shred the cabbage. Thinly slice cabbage and set aside.
Chismol Instructions
Combine the ingredients. Once it's well combined, add salt to taste.

Refrigerate it. As you prepare the rest of the recipe, set it aside in the fridge.
Pink Sauce Instructions
Combine the ingredients. Mix everything well until you get a smooth mixture.

Refrigerate it. As you prepare the rest of the recipe, set it aside in the fridge.
Tomato Sauce Instructions
Cook the chismol. In a small sauce pan over medium heat, add 4 tbsp of prepared chismol. Cook for 3 minutes to soften the onions and peppers.

Add the remaining ingredients and simmer. Add tomato sauce and chicken broth. Bring the sauce to a boil and then reduce to a simmer. Simmer for 5 minutes.

Remove from heat. Set it aside and let it come to room temperature before refrigerating it.
Green Bananas Instructions
Peel the bananas. Remove the banana peels and discard them.

Cut into thin diagonal slices. Make the slices as thin or as thick as you'd like. Thinner slices make for crunchier tajadas, whereas thicker slices make softer ones.
Frying Instructions
Heat the vegetable oil in a large pot with tall sides. You want your oil to be at 350°.

Bread the chicken. Add flour to a shallow bowl. Remove chicken from the refrigerator and dip the chicken in the flour. Be sure to evenly coat the entire surface of the chicken. Place flour-coated chicken on a large baking sheet and allow to rest for 5 minutes before frying.

Fry the chicken. Carefully add the chicken pieces to your hot vegetable oil and fry until the internal temperature of the chicken reaches 165°. This will take anywhere between 8 and 15 minutes depending on the size of each piece. Once cooked, place your fried chicken on a paper towel lined plate. You will most likely have to fry your chicken in batches, depending on the size of your pot. You do not want to overcrowd the pot.

Fry the tajadas. Once finished with the chicken pieces, add the green bananas to the oil and fry until they turn yellow and crispy. About 3-4 minutes. Remove and add to a paper towel lined plate.
To plate
Assemble the dish. Add ingredients to a platter in this following order. Fried green bananas, shredded cabbage, fried chicken, tomato sauce, chismol, pink sauce and pickled onions.
Last Step:
Please
share a rating and comment
if you enjoyed this recipe! Your feedback helps this little blog thrive and continue providing free, high-quality recipes for you.
Notes
If you cannot find green bananas, you can substitute plantains.
It is best to make the pickled onion the night before to let the flavors develop. These pickled
onions are so good, you should have a jar in your fridge at all times!
Nutrition
Calories:
562
kcal
|
Carbohydrates:
37
g
|
Protein:
25
g
|
Fat:
34
g
|
Saturated Fat:
6
g
|
Polyunsaturated Fat:
15
g
|
Monounsaturated Fat:
11
g
|
Trans Fat:
0.1
g
|
Cholesterol:
117
mg
|
Sodium:
1103
mg
|
Potassium:
575
mg
|
Fiber:
3
g
|
Sugar:
7
g
|
Vitamin A:
859
IU
|
Vitamin C:
22
mg
|
Calcium:
56
mg
|
Iron:
3
mg
Nutritional info is an estimate and provided as a courtesy. Values may vary according to the ingredients and tools used. Please use your preferred nutritional calculator for more detailed info.
Did you make this recipe?
💖 I love hearing how my recipes came out for others! If you tried this recipe, please share a comment. 💖
Filed Under:
More Chicken Recipes To Try