This simple pizza dough recipe comes together in minutes and only needs one 90 minute rise. It's our favorite way to make homemade pizza and can be cooked up with all sorts of toppings!
This easy pizza dough recipe is one I've been making for years. It's flexible enough for kids to help assemble it and can be finished with whatever toppings strike your fancy. When my kiddo was little they especially loved kneading the dough and adding the pizza toppings… though I did have to provide extra cheese because they also ate half the cheese while putting the pizza together!
This recipe makes a pizza crust that has a crisp exterior and fluffy interior. It is thicker than my sourdough pizza crust recipe, which makes a thin and crispy crust similar to NY-style pizza.
Tips for Success
While this recipe is about as simple as it gets, I did want to share a few tips for handling the yeast and dough. As you might guess, both of these areas are key to making a good pizza crust!
Make sure your water is not too hot. If the water you use to activate the yeast is too hot you will kill it. Remember, yeast is a living organism! I like to use the baby bottle method where I place a few drops of the heated water on the inside of my wrist. If it feels too hot, then it's too hot for the yeast. The ideal temperature for proofing yeast is between 105F and 110F.
Proof the yeast. Speaking of proofing the yeast, don't skip this step! You need to give the yeast time to wake up, yawn, and stretch its proverbial legs before asking it to get to work. Proofing the yeast takes 5 minutes.
Add flour in increments. You'll notice that I gave a range for the flour. This is because the amount of flour needed depends upon your flour and even how much humidity is in the air when you're making your dough. Add it little by little. Your dough is ready to knead when it comes together in a ball and is no longer sticky.
Knead the dough. Take the time to knead your dough, but don't overdo it or you'll end up with a dough that has too much gluten in it. Kneading usually takes about 3 minutes. The dough is done when it is soft, not sticky and springs back after you gently press it with your thumb.
Don't rush the rising time. This dough needs 90 minutes to rise properly. I have on occasion reduced that time by placing the dough in an oven heated to 150F, then turned off and left cracked open. In this warm environment, the dough only needed to rise for 60 minutes. I would not go for any shorter amount of time though.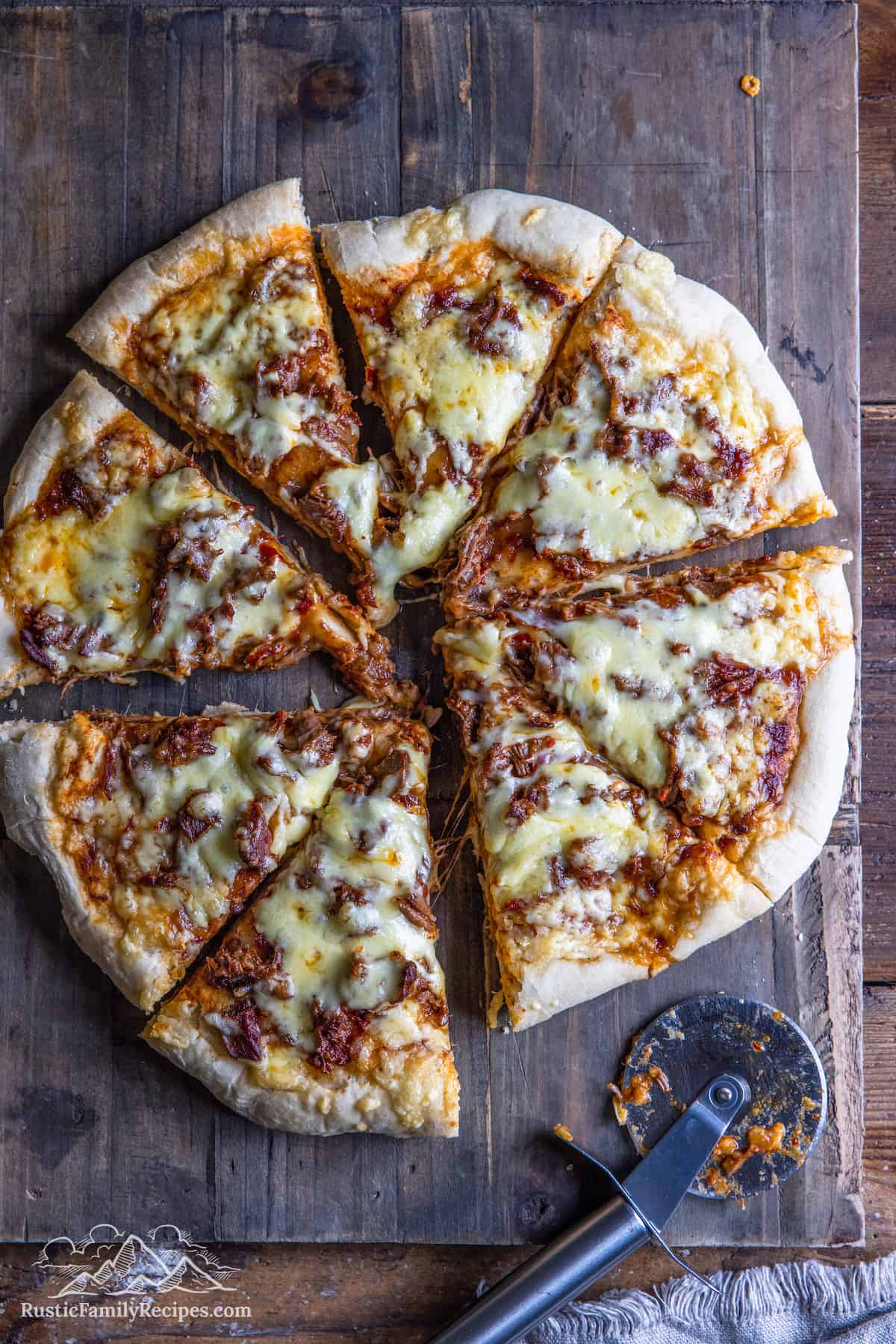 Pizza Topping Ideas
Lately, I've been using this pizza dough to make birria pizza, which is completely untraditional and just goes to show how you can pretty much top this dough with whatever your heart desires. Here are a few ideas and tips:
The sauce. Use whatever your favorite sauce is here. If I'm making a more traditional pizza, I'll usually either use homemade pasta sauce, leftover bolognese sauce, or if I want to get really simple, then jarred Ragu Marinara sauce. You can also use leftover alfredo sauce.
Cheese. Again, use your favorites! A classic pizza will usually use shredded mozzarella cheese, though you can also use fresh mozzarella if you blot it first to remove extra moisture. Sprinkle some shredded Parmesan on top if desired. You can also go completely rogue and use shredded cheddar cheese, a Mexican cheese blend, or even Oaxaca cheese like I did in the birria pizza recipe mentioned above.
Veggies. With very few exceptions I recommend cooking your veggies before they are added to the pizza. Why? Because the pizza doesn't cook long enough to properly cook most vegetables. Zucchini and spinach should be sauteed first. (I like this garlicky spinach on pizza.) Butternut squash should be roasted to bring out the flavor. Tomatoes, however, can be sliced, blotted to remove extra moisture, and placed on the pizza without cooking.
Meats. Here it is essential to only use cooked meats. The sky is the limit. Crispy bacon pieces, diced ham, extra birria meat, leftover pork carnitas, pepperoni slices – you name it!
Can I Make Pizza Dough in Advance?
Yes, you can make the dough and then store it in the fridge in an airtight container. Store the dough before the first rising time. It will keep for up to 3 days. Make sure you use a large container though because the dough will rise in the fridge until the yeast goes back to sleep! (I once forgot to do this and when I opened the fridge the next morning my dough had busted out of the tupperware I'd used. The lid had popped right off and the dough come out of the container. It felt a little like I was in a sci-fi movie!)
When you are ready to make your pizza, take the dough out of the fridge, allow it to come to room temperature, then let it rise for 90 minutes. Proceed with pizza making.
Print
Pizza Dough
This simple pizza dough recipe comes together in minutes and only needs one 90 minute rise. It's our favorite way to make homemade pizza and can be cooked up with all sorts of toppings!
Author: Rustic Family Recipes
Prep Time:

10 minutes

Rise Time:

90 minutes

Cook Time:

8 minutes

Total Time:

1 hour 48 minutes

Yield:

1 pizza

Category:

Dinner

Method:

Knead/Bake

Cuisine:

American
1 cup

warm water

2 teaspoons

active dry yeast (one

1/4 oz

package)
Pinch of sugar

2 tablespoons

olive oil, plus 1 teaspoon more for the dough rising

1 teaspoon

kosher salt

2 1/2

to

3

cups all-purpose flour
Instructions
Activate the yeast. Add the warm water to a stand mixer bowl and sprinkle the yeast on top. Add a pinch of sugar. Let this mixture stand for 5 minutes.
Make the dough. Fit your stand mixer with the paddle attachment. Add 2 tablespoons olive oil and salt to the bowl. Add 1 cup of flour and mix everything together. Continue adding the flour 1/2 cup at a time until a dough that just clears the sides of the bowl has formed.
Knead. Switch to your dough hook and knead the dough for 3 minutes, sprinkling with additional flour 1 tablespoon at a time as needed. The dough should be very smooth and not stick to the sides of the bowl. Remove the dough from the bowl and give it a couple quick kneads with your hands, forming it into a ball.
Rising. Coat the stand mixer bowl or another large bowl with 1 teaspoon of olive oil. Add the dough ball, turning to coat in the oil once. Cover with saran wrap and set aside to rise in a warm place for 90 minutes.
Punch down and roll out. Gently deflate the dough by punching it down with your knuckles. Transfer to a lightly floured surface and roll out to assemble your pizza.
To Make a Simple Pizza
Here is a quick how-to if you want to use your pizza dough to make a classic cheese pizza. You can add other toppings as desired. If using meat, make sure it has been cooked beforehand. I also recommend cooking most veggies before adding them to the pizza.
Prep your tools. Heat your oven to 500F and place a pizza stone on the top rack, positioned in the middle of the oven. Lightly coat a pizza peel with cornmeal. Transfer the rolled out dough to the peel.
Add your toppings. Spread your desired amount of pizza or pasta sauce on the dough, leaving about a 1-inch margin along the edges of the dough. Top with your desired amount of cheese.
Bake. Slide the pizza onto your stone and bake for 8-9 minutes.
Cool and serve. Use your pizza peel to remove the pizza from the oven. Allow to cool for 5 minutes, then slice and serve!
Last Step:
Please
share a rating and comment
if you enjoyed this recipe! Your feedback helps this little blog thrive and continue providing free, high-quality recipes for you.
Keywords: homemade pizza dough, easy pizza dough, pizza crust
Filed Under:
This post may contain affiliate links. Please read our disclosure policy.