This pistachio crusted salmon recipe makes perfectly flaky baked sockeye salmon topped with a creamy zhoug sauce and crunchy chopped pistachios. Serve with a simple kale salad tossed with zhoug dressing for an explosion of flavor in every bite.
For many years I thought I didn't like salmon, but then a friend gave me a Green Chef box that changed my mind. No, this is not a sponsored post and I'm not a Green Chef subscriber. But, I did love that one meal in that sample box – and I wanted to figure out how to make it at home. Because it turns out, I really like salmon. Like, a lot. Expect more salmon recipes in the future folks!
So what's in this salmon dinner? Well, it combines the spicy flavor of homemade zhoug sauce with crunchy pistachios and a tender kale salad. The zhoug can be made in advance, then you mix it with some sour cream, slather it on top of each salmon fillet, and place chopped pistachios on top. Bake the salmon for about 10-12 minutes and use some of the zhoug to make a simple kale salad while dinner cooks. The end result is flavorful, filling, and healthy too!
Featured Comment
This recipe is absolutely delicious!!! Made it 3 times and each time was amazing! Will be keeping this recipe in the rotation for sure😊
Why You'll Love This Pistachio Crusted Salmon Recipe
Easy. No complicated ingredients or techniques here! You can get the zhoug sauce from Trader Joe's or you can make it at home in less than 10 minutes.
Quick. From start to finish this simple dinner idea is ready in 20-25 minutes, not counting oven pre-heating time.
Flavorful. Thanks to the vibrant zhoug sauce and, each bite of flaky baked salmon is bursting with flavors and textures.
Healthy. Between the salmon, kale, pistachios, and zhoug sauce this quick dinner idea is pretty darn healthy.
Watch How to Make It
Want to see how to make this pistachio crusted salmon recipe step-by-step? Check out this video:
Is Salmon Healthy?
Absolutely! Salmon is incredibly healthy. According to Healthline, it's rich in omega-3 fatty acids, which are essential for heart health and reducing inflammation. Plus, it's a great source of protein, providing the building blocks for muscle growth and repair. Salmon is also packed with important vitamins and minerals like vitamin B12, vitamin D, selenium, and potassium. These nutrients support your immune system, bone health, and energy levels.
What is Sockeye Salmon?
Sockeye salmon, also known as red salmon, is a species of salmon native to the Pacific Ocean. It is a wild-caught variety of salmon known for its vibrant red flesh and rich flavor.
What's the Difference Between Wild-Caught and Farmed Salmon?
Sockeye salmon and farmed salmon differ in several ways:
Source: Sockeye salmon is a wild-caught fish, primarily harvested from the Pacific Ocean. On the other hand, farmed salmon is raised in controlled aquatic environments such as fish farms or aquaculture facilities.
Diet: Sockeye salmon feed on natural food sources in their natural habitat, such as krill, small fish, and plankton. Farmed salmon, on the other hand, are typically fed a formulated diet that may include fishmeal, fish oil, and other ingredients.
Flavor and Texture: Sockeye salmon has a distinct flavor and firm texture due to its natural diet and active lifestyle. It is often described as having a rich, robust, and pronounced taste. Farmed salmon may have a milder flavor and a softer texture due to differences in diet and activity levels.
Color: Sockeye salmon has a naturally vibrant red or orange flesh color, which comes from its diet rich in carotenoids. Farmed salmon may have a lighter flesh color, and the color is often enhanced through the addition of dyes to mimic the natural coloration.
Environmental Impact: Sockeye salmon is considered a sustainable seafood choice since it is harvested from wild populations with regulated fishing practices. Farmed salmon, depending on the specific farming methods, can have varying environmental impacts related to water pollution, fish waste, and potential escapes into the wild.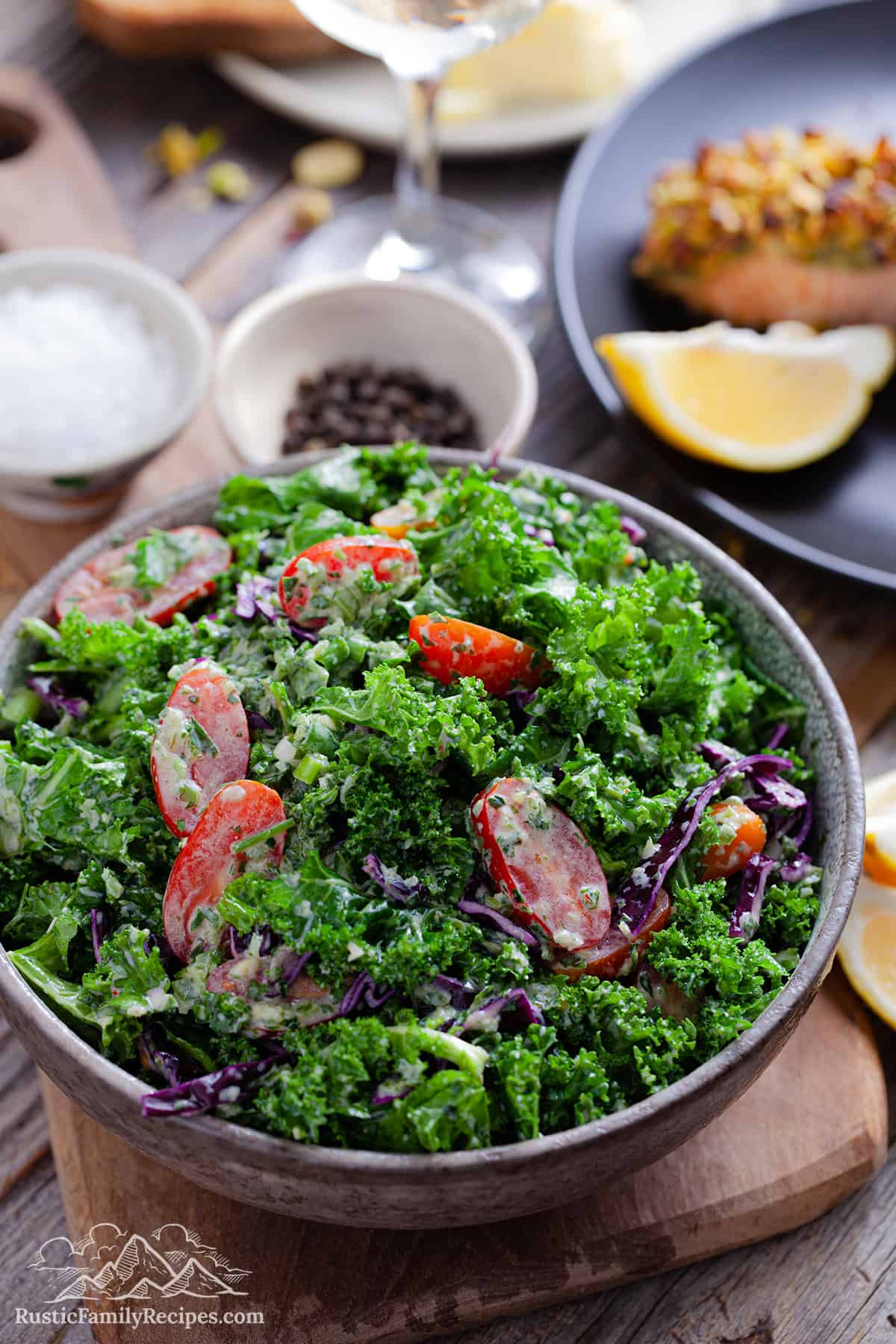 Why Do You Massage the Kale?
This pistachio crusted salmon recipe is served with a massaged kale salad. Massaging kale for salad is a technique that helps to improve its texture and taste. Kale leaves can be quite tough and fibrous, and massaging them helps break down some of the tough fibers and wilt the leaves slightly. Here's what massaging kale does:
Tenderizes the leaves: Massaging kale helps to break down the tough cell structure of the leaves, making them more tender and easier to chew.
Reduces bitterness: Kale can have a slightly bitter taste, especially in its raw form. Massaging the leaves with your hands helps to mellow out the bitterness by breaking down some of the compounds responsible for the bitter flavor.
Enhances flavor absorption: When you massage kale, it creates small openings in the leaves. This allows any dressing or seasoning you add to penetrate the kale more effectively, allowing the flavors to be absorbed and distributed throughout the salad. It ensures that each bite of kale is well-seasoned and flavorful.
How to Massage Kale
To massage kale, remove the tough stems and tear the leaves into bite-sized pieces. Then, drizzle a small amount of olive oil, lemon juice or in this case zhoug dressing over the kale and gently rub and squeeze the leaves with your hands. Continue massaging for a few minutes until the kale becomes slightly softer and darker in color. After massaging, you can add the rest of your salad ingredients and dressing.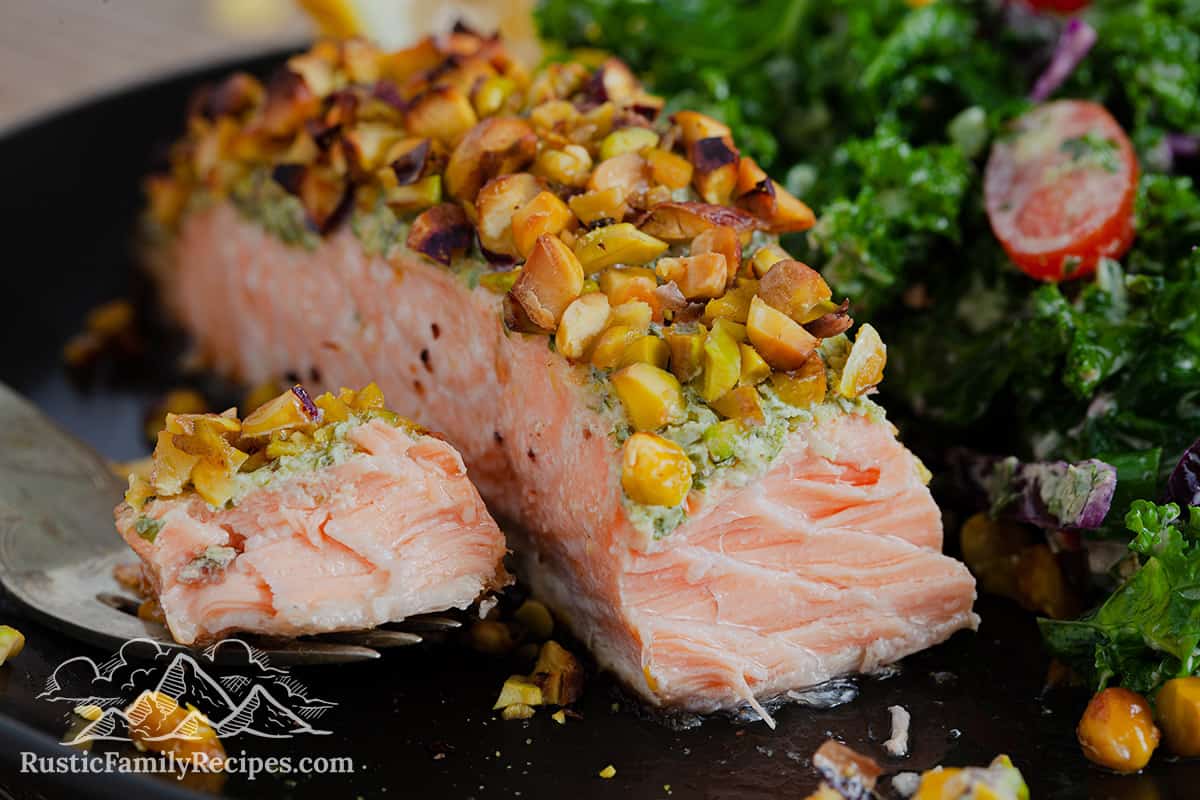 Tips for Success
While this sockeye salmon recipe is pretty straightforward, here are a few tips for perfectly baked fish every time:
Choose fresh salmon: Look for salmon fillets that are firm, shiny, and have a mild sea-like scent.
Preheat the oven: Before baking, preheat your oven to the recommended temperature. This ensures even cooking and that the salmon will cook in the amount of time in the recipe.
Oil your baking sheet: Add some oil to your baking sheet to prevent the salmon from sticking and make clean-up easier. This also gives the salmon skin a nice crispiness.
Don't overcook: Avoid overcooking the salmon. The flesh should be opaque, light pink and easily flake with a fork when done.
Rest before serving: Allow the baked salmon to rest for a few minutes before serving. This gives the juices a change to redistribute, resulting in a more flavorful and moist piece of fish.
Can I Use a Different Kind of Nuts?
Yes, you can also use walnuts or almonds instead of pistachios. Just make sure you chop them up so that they are easy to eat and add a crunchy crust to your baked salmon.
At What Temp is Salmon Done?
This is actually a matter of some debate! According to the US Dept. of Agriculture, salmon is done when it registers 145F. However, many culinary sources, such as America's Test Kitchen, recommend cooking salmon to an internal temp of 125F. This is the temperature at which you'll get tender, flaky salmon like what you see here. Learn more about the salmon temp debate in this article over at Country Living.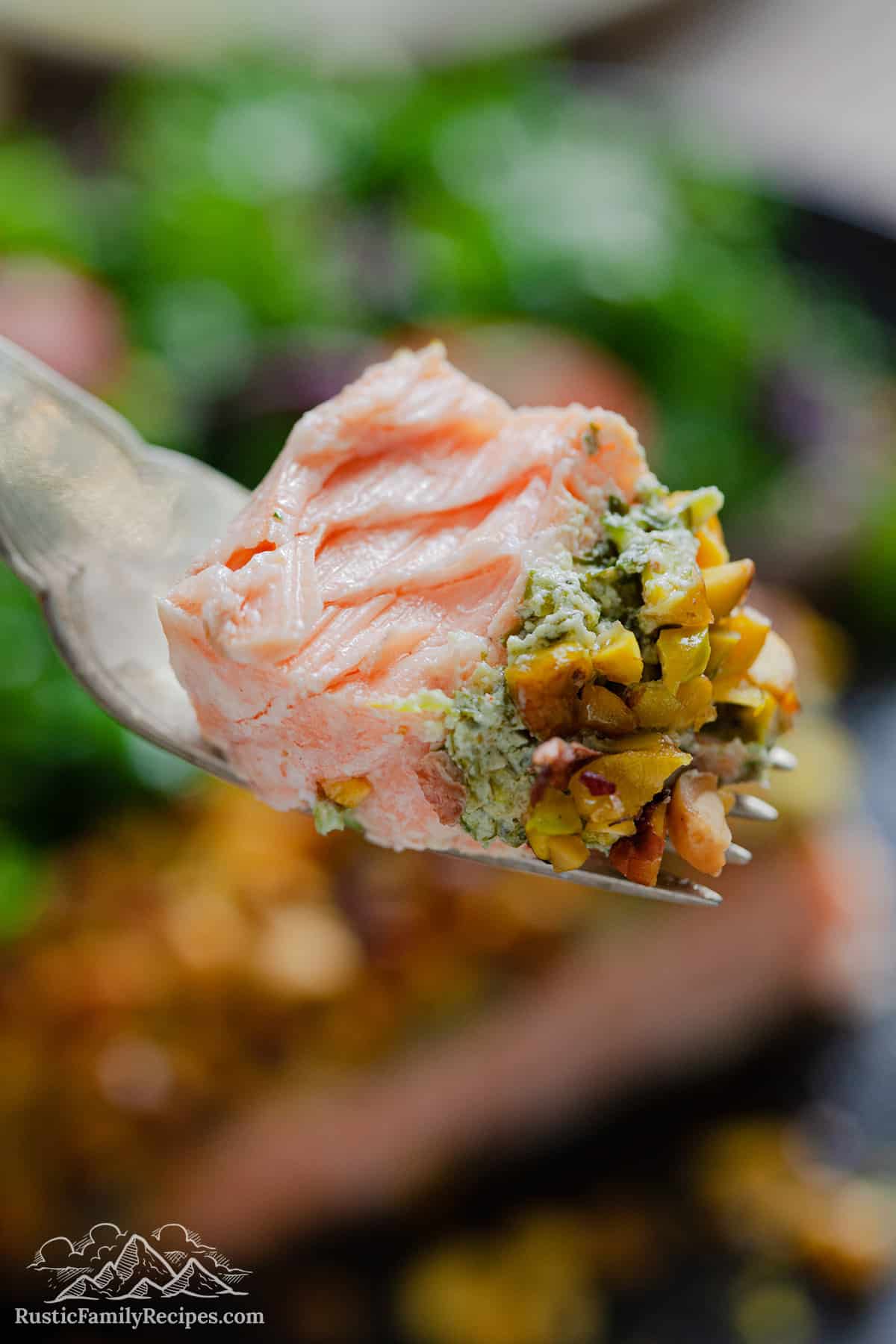 Common Questions
Can you eat salmon skin?
Yes, you can eat the skin on your baked salmon. In fact, the skin is quite flavorful and crispy! It also contains beneficial nutrients such as omega-3 fatty acids, which are concentrated in the skin.
How much protein is in salmon?
A 5-ounce salmon fillet typically contains about 34 grams of protein. Salmon is a rich source of high-quality protein, making it a great choice for those looking to incorporate protein into their diet.
How long is salmon good in the fridge?
Raw salmon can be kept in the fridge for two days before it is cooked. Once cooked, salmon will last in the fridge for up to 3 days.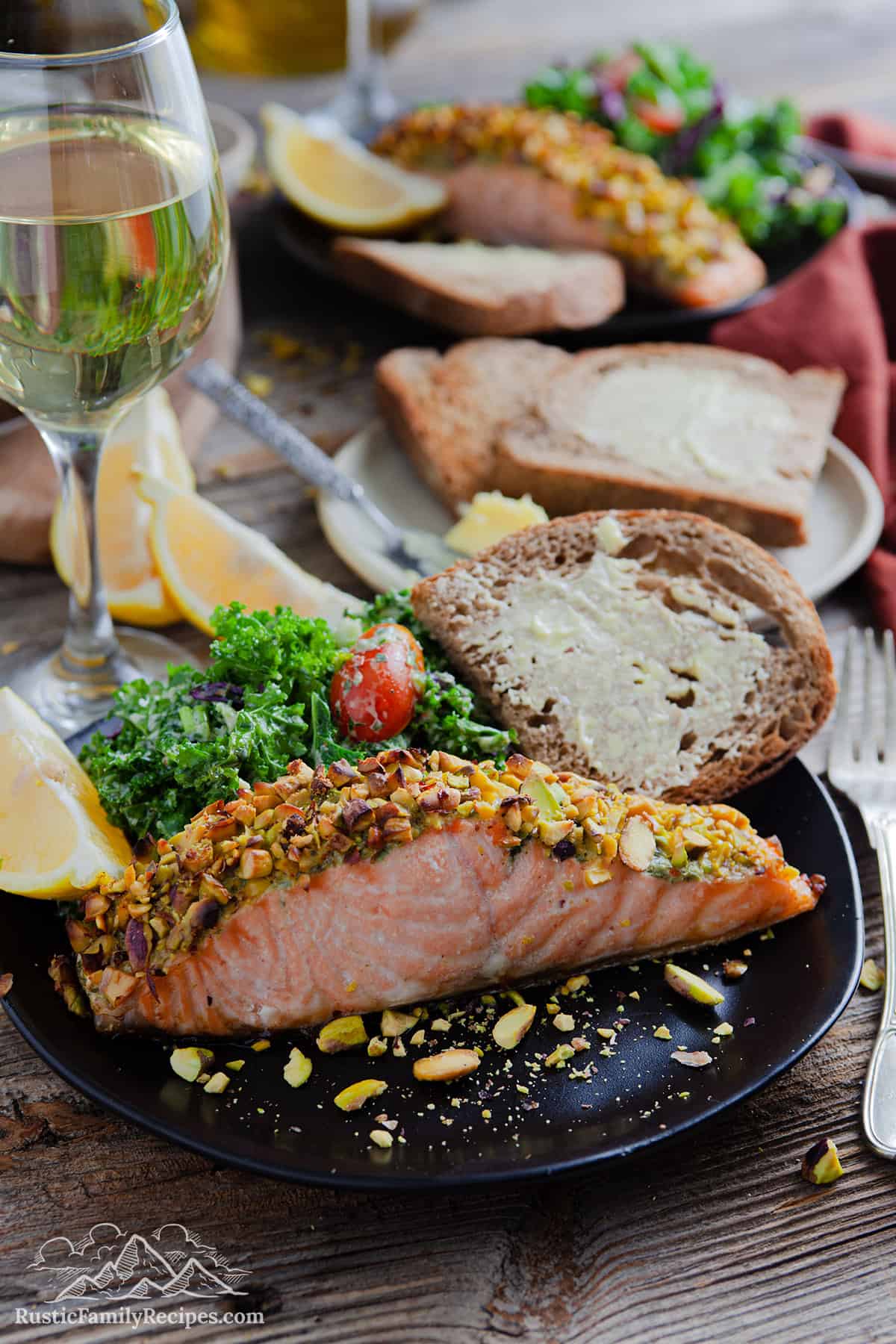 How to Store and Reheat Extras
Let your pistachio crusted salmon cool, then transfer it to an airtight container and store it in the fridge for up to 2 days. When you are ready to eat some, place your desired amount on a microwave-safe plate and zap it until warmed through, about 1 minute 30 seconds. You can also eat your salmon leftovers cold.
The kale salad can be stored in the fridge in an airtight container for up to 3 days. When you're ready to eat some just scoop the salad into a bowl and dig in. I like to grab a leftover salmon fillet for my salad, too. Usually, I won't even warm it up, I just add it to my salad cold and break it up with a fork as needed.
More Seafood Recipes to Try
Pistachio Crusted Salmon with Kale Salad
This easy pistachio crusted salmon recipe makes perfectly flaky baked salmon topped with a spicy zhoug sauce and crunchy nuts.
Ingredients
For the Pistachio Crusted Salmon
2

tablespoons

pistachios

,

finely chopped

2

tablespoons

sour cream

6

tablespoons

zhoug sauce

2

sockeye salmon fillets

,

5oz each

½

teaspoon

smoked paprika

Olive oil

,

for the baking dish

Kosher salt

,

to taste

Ground black pepper

,

to taste
For the Kale Salad
¾

cup

roughly chopped kale

,

packed

4

oz

grape tomatoes

,

halved

1

scallion

,

trimmed and thinly sliced

¼

cup

shredded red cabbage

Kosher salt

,

to taste

Ground black pepper

,

to taste
Instructions
Prep your tools. Preheat your oven to 425F degrees. Lightly oil a baking dish and set aside.

Make the creamy zhoug sauce. Place sour cream and zhoug sauce in a small bowl. Stir to combine. Season with salt to taste.

Season the salmon. Pat salmon fillets dry with paper towels. Season with a pinch of kosher salt, and ground black pepper to taste. Sprinkle paprika over the fillets.

Add sauce to the salmon. Place salmon, skin sides down, in a lightly oiled medium baking sheet, or one lined with parchment paper or a silpat. Spread tops of the salmon with about 2 tablespoons creamy zhoug sauce.

Sprinkle with pistachios on top of the sauce. Press to adhere.

Roast 10-15 minutes, or until the salmon is fully cooked. You can tell it is cooked because it will turn from a deep pink to a light pink color and will have a flaky texture.

While the salmon is cooking, make your kale salad. Place kale in a large bowl. Drizzle with about half the remaining creamy zhoug sauce. Lightly season with salt to taste. Massage until leaves soften. Add cabbage, tomatoes and scallion. Drizzle with remaining zhoug sauce. Toss to combine. Season with salt to taste.

Rest and serve. When the salmon has finished baking, let it rest for about 3-5 minutes. Divide the pistachio-crusted salmon between plates. Pile kale salad on the side. Enjoy!
Last Step:
Please
share a rating and comment
if you enjoyed this recipe! Your feedback helps this little blog thrive and continue providing free, high-quality recipes for you.
Nutrition
Serving:
1
fillet
|
Calories:
333
kcal
|
Carbohydrates:
7
g
|
Protein:
37
g
|
Fat:
17
g
|
Saturated Fat:
3
g
|
Polyunsaturated Fat:
6
g
|
Monounsaturated Fat:
6
g
|
Cholesterol:
101
mg
|
Sodium:
99
mg
|
Potassium:
1202
mg
|
Fiber:
3
g
|
Sugar:
3
g
|
Vitamin A:
3586
IU
|
Vitamin C:
39
mg
|
Calcium:
120
mg
|
Iron:
3
mg
Nutritional info is an estimate and provided as a courtesy. Values may vary according to the ingredients and tools used. Please use your preferred nutritional calculator for more detailed info.
Did you make this recipe?
💖 I love hearing how my recipes came out for others! If you tried this recipe, please share a comment. 💖
Filed Under:
This post may contain affiliate links. Please read our disclosure policy.