These heavenly old-fashioned glazed donuts are pink inside and out! If you're looking for an easy yet impressive recipe for Valentine's Day – or just because – these brightly-hued donuts are exactly what you're looking for.
Want more donut-y goodness? Try these Sour Cream Donuts.
I'm on a colorful food kick over here! It all started with these frosted animal cookies, then this blue velvet cake. Oh yes, and then there were these blue matcha sugar cookies, which I'm pretty sure Baby Yoda would devour in one bite. There's just something uplifting about making deeply hued food that's fun to eat, especially during the long winter months when everything is grey outside. It almost feels like magic! In fact, I can say with confidence that these donuts are downright holy. (Get it? Sorry, I couldn't resist.)
These homemade glazed donuts are tender, fluffy, and taste like something you would get at your local bakery. Similar to the animal crackers I shared earlier this month, the pink color comes from dragon fruit powder. It adds a subtle sweetness to the donuts themselves, as well as to the pink marbled glaze on top.
Because of their pink coloring, these donuts would be perfect for Valentine's Day, though I'm not one to stand on tradition when it comes to food. I make Christmas cookies in July and eat ice cream in winter. The ability to eat dessert whenever we want is a hard-won privilege dreamed of by many a child, and one of the benefits of adulthood. No reason to squander it. 😉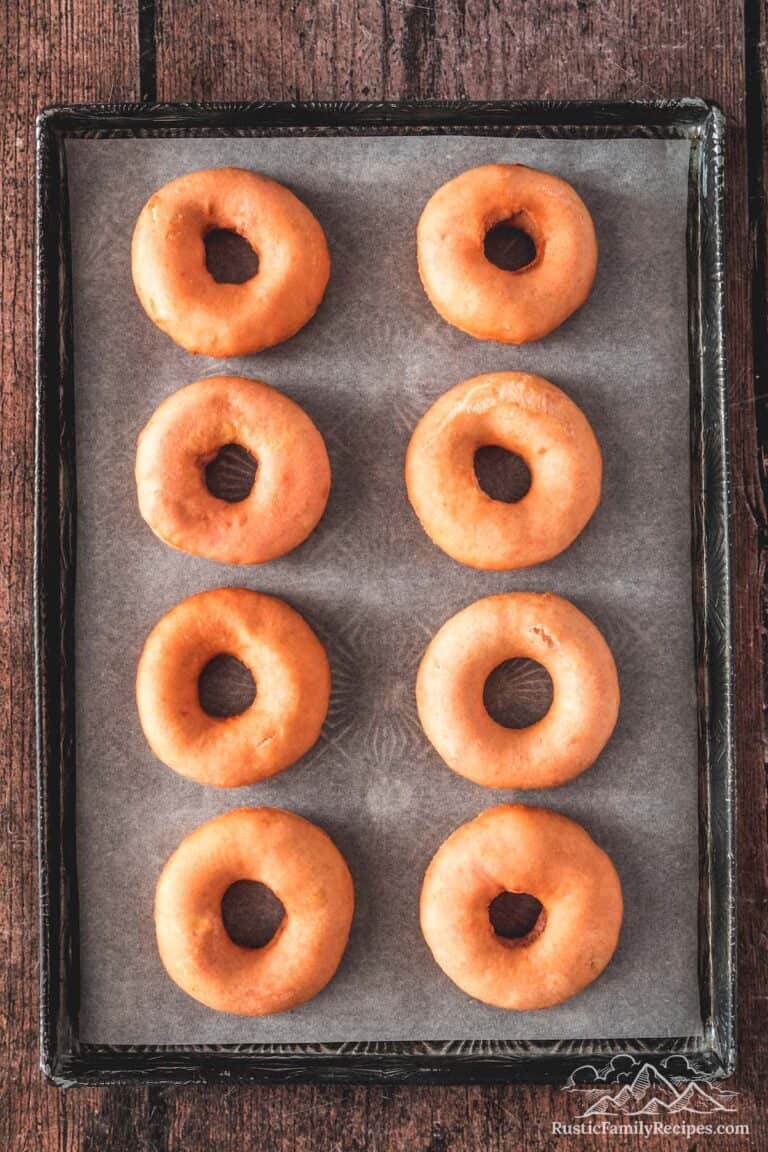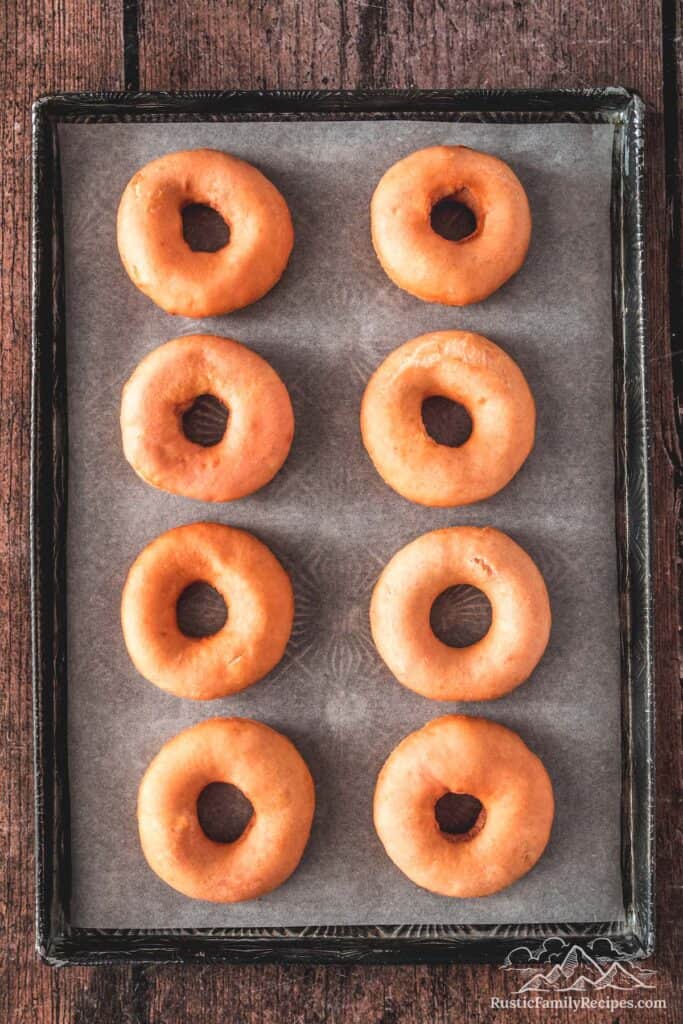 Why Make Donuts from Scratch?
The prospect of frying donuts can feel a little intimidating. Why bother, you might ask yourself. The benefit of making donuts from scratch can truly be seen in the flavor. Donuts are best when fresh and even if you can buy same-day donuts at the bakery they won't compare to warm, homemade donuts made right in your kitchen.
And then, of course, there's the added benefit of knowing exactly what goes into your donuts – to say nothing of the satisfaction that comes with making such a delightful confection with your own two hands!
Tips for Frying Donuts
My tips for frying donuts are similar to my tips for making homemade beignets.
Use a candy thermometer. (Affiliate link.) This is key! Oil temperature, especially for deep frying, is not something you can eyeball so use a candy thermometor that can attach to the side of your pot and measure the oil temperature as it rises. It is important that the oil is hot enough to cook your donuts, but not so hot that it burns them or starts smoking. The ideal temperature for cooking these donuts is 345F-350F.
Don't splash. When you add the donuts to the oil, grasp each donut by one end and gently slide it into the oil. Don't drop it in or hot oil will splash out and possibly land on you, which trust me, is no fun.
Never leave the oil unattended. This is super important. Oil can quickly overheat and cause a grease fire, so never leave the oil alone.
Use a slotted spoon. Use a metal slotted spoon to remove the donuts from the oil. This is important for two reasons: first, metal won't melt in the hot oil, and second, the slotted spoon will allow excess oil to drain back into the pot.
Drain on paper towels. Line a cooling rack or baking sheet with paper towels and set the fried donuts on the towels to drain while you finish cooking the rest of the dough.
Move the oil to the backburner when done. This tip comes from having had children around the house while frying. First off, keep young children out of the kitchen while you are actively frying the donuts. It's dangerous for both of you to have kids running through the kitchen while you're working. Second, once you are done frying move the pot with the oil to the back of your stove to cool. If you leave it on a front burner it will be easier for someone to accidentally knock over as they pass by.
Don't pour the oil down the drain. This can clog your pipes! If I have only used the oil once, I will usually pass the cooled oil through a strainer and put it into a container where I can use it again. (Don't mix old/new oil.) If the oil has been used a couple times, then it should be placed in a sealed container and taken to a recycling center. In our area there are several centers that will process used cooking oil, but you need to take the oil to them, you can't just put it into your recycling container.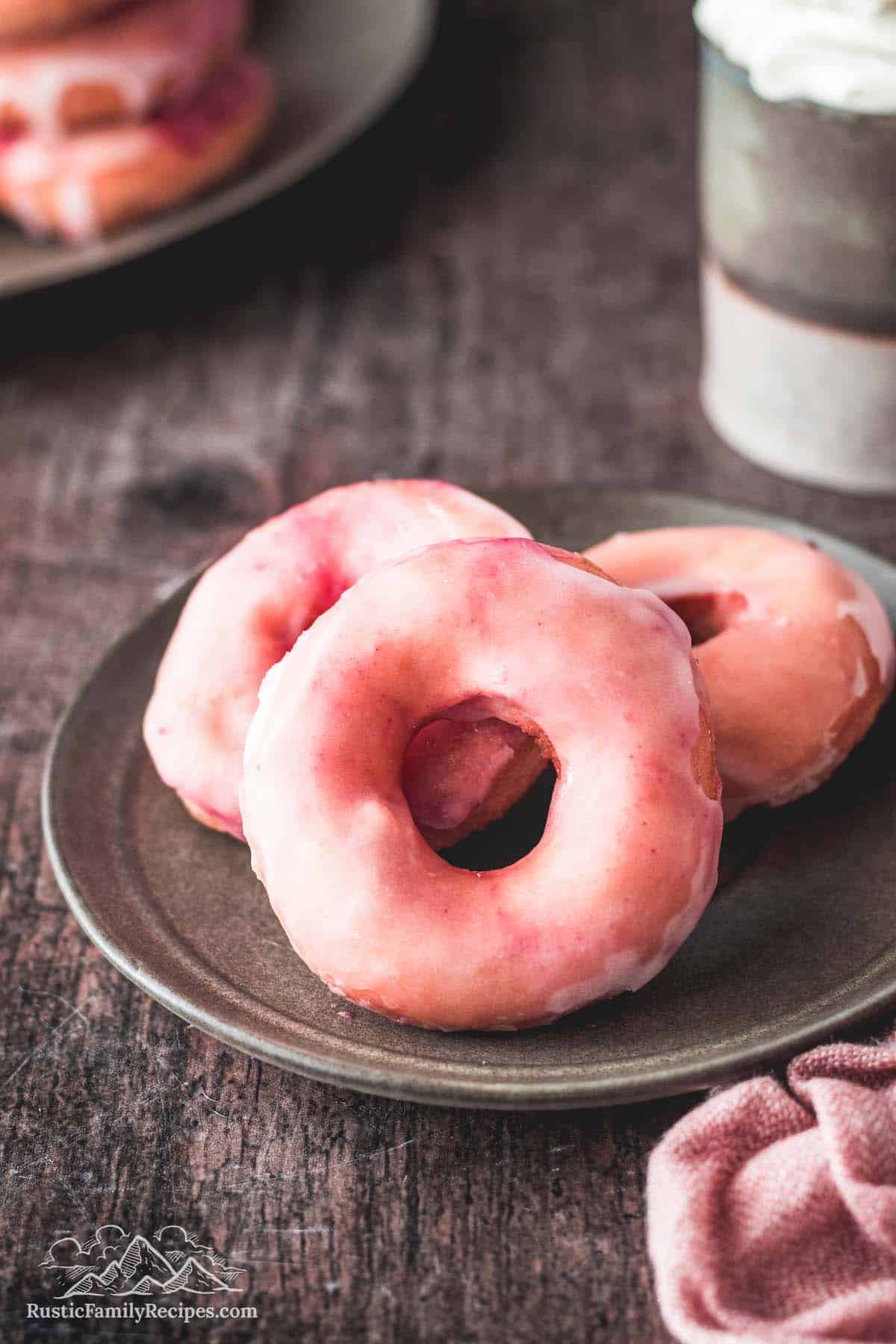 More Tricks for Super Donuts
Don't overmix the glaze. Be gentle when swirling the dragonfruit glaze into the white glaze. You want a swirls of pink and white, not a uniformly pink glaze. (Although, if you end up with a uniformly pink glaze it's not the end of the world! Only worry about this if you want the marbled look.)
Glaze the donuts while warm. Unlike cakes, which you want to cool before you add a frosting, you want to glaze this donuts while they are still warm. Just grip each donut along its sides and dip the top into the glaze. After a donut has been glazed, put it on a cooling rack to harden up a bit while you glaze the rest of the donuts.
Place something under your cooling rack. I recommend placing a baking sheet lined with parchment paper under the cooling rack you are going to use to let your glazed donuts set. This way if any excess glaze drips off the donuts it will land on the parchment paper instead of on your counter or on the sheet itself, which you'd then have to wash. The parchment paper makes for much easier clean up!
Want to add sprinkles? If you want to add sprinkles to your donuts, the best time is right after you have glazed them. Just add your desired amount on top of the glaze before it has set.
Fancy salty donuts? If you want to get a bit of salty-sweet action going on, you can sprinkle a tiny amount of sea salt over the glaze before it has hardened.
Make a donut bar. Come to think of it, if you are making these donuts for a crowd you could setup a donut bar of sorts with a variety of sprinkles and toppings. People could add their preferred combo to the donuts right after they are glazed. (They may have trouble waiting for the glaze to set after adding their toppings so maybe add a hot chocolate bar too to keep them busy.)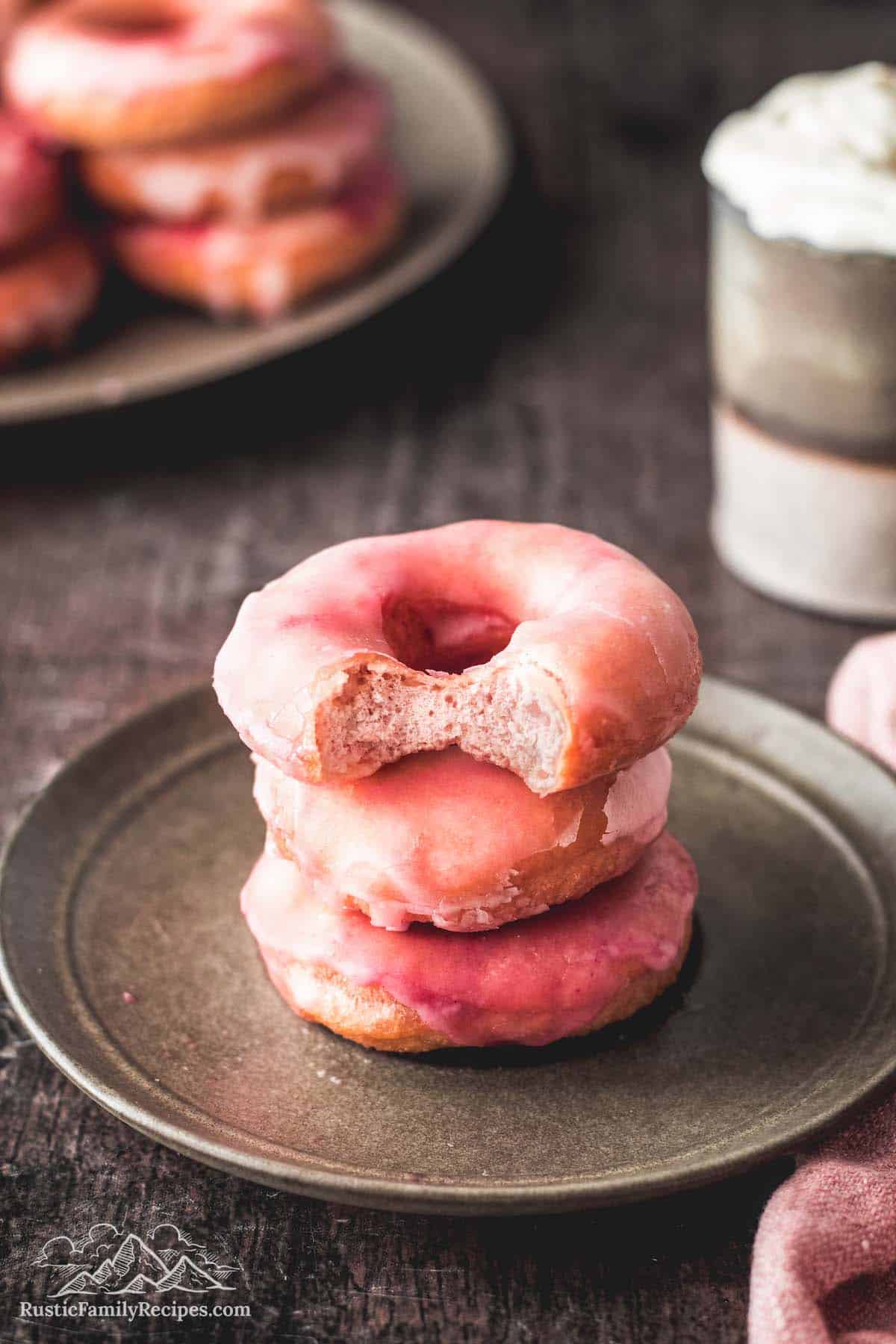 How to Store Extras
Homemade donuts are always best served fresh, the day they are made, but they may be stored in an airtight container at room temperature for up to 2 days. They can also be frozen for up to 2 months, by placing them in a freezer bag and pressing out the air. Let them thaw on the counter at room temperature overnight before serving.
Print
Pink Old Fashioned Glazed Donuts
These easy old-fashioned donuts are pink inside and out! Fluffy homemade donuts made from scratch and covered in a pink marbled glaze.
Author: Rustic Family Recipes
Prep Time:

30 minutes

Rising Time:

2 hours

Cook Time:

10 minutes

Total Time:

2 hours 40 minutes

Yield:

24 donuts

Category:

Dessert

Method:

Fried

Cuisine:

American
For the donuts:
4 cups

all-purpose flour

3 tablespoon

granulated sugar

1 tablespoon

instant yeast

1 teaspoon

baking powder

1 teaspoon

salt

1 teaspoon

dragonfruit powder

3/4 cup

whole milk, room temperature

1/4 cup

water

1

large egg, room temperature

2 tablespoons

unsalted butter, melted
Vegetable oil for frying
For the glaze:
2 cups

powdered sugar

3 tablespoons

milk

1/2 teaspoon

vanilla extract

1 tsp

dragonfruit powder
Instructions
Make the Donuts
Mix dry ingredients. In a large bowl, combine all-purpose flour, sugar, yeast, baking powder, salt and dragonfruit powder. Set aside.
Combine wet ingredients and add to dry. In a separate bowl whisk together milk, water, egg, and melted butter. Pour wet ingredients into dry and mix until a dough is formed.
Knead & let rise. Knead the dough for 3-4 minutes and cover with a kitchen towel. Let it rise for about 2 hours until doubled in size.
Shape the donuts. Turn the dough on a floured surface and roll out to about 1/2 inch thickness. Use a 2.5-inch donut cutter or two differently sized biscuit cutters to cut out the donuts. You should get about 24 donuts.
Prep your cooling area. Line a baking sheet or cooling rack with paper towels. Set aside.
Heat canola oil in a deep pot over medium-high heat. Place a candy thermometer on the side of your pot and add 5 inches of oil. When the oil reaches 345F-350F you can fry your donuts.
Fry the donuts a few at a time. Be careful not to overcrowd the pot. Fry on each side for about 1 minute, being careful not to let them burn. Let drain on the paper towel to soak up the excess grease.
Make the Glaze and Add to the Donuts
Place a cooling rack over a parchment paper lined baking sheet. This is where you'll set your donuts after they have been glazed.
Mix ingredients. In a medium bowl, mix the powdered sugar, milk, and vanilla extract until smooth, with no lumps of sugar remaining.
Make the colored glaze. Take 2 tbsp of the glaze to a different bowl and add the dragonfruit powder. Mix well.
Add colored glaze to create a marble effect. To create the marble pattern drop 1-2 tsp of the dragonfruit glaze into the plain one and mix. Draw a wooden skewer or spoon through the dragonfruit glaze to make swirl patterns inside the plain glaze.
Glaze the donuts. Carefully dunk each donut face down into the glaze and lift right up. Hold the donuts by the side with the tips of your fingers and let the glaze drip off for a few seconds. After every other donut, add a little bit of extra dragonfruit glaze into the plain one and create new swirls.
Let the glaze harden. Transfer donuts onto a cooling rack above a sheet pan to catch any excess glaze and let sit for about 20-30 minutes.
Notes
If you want to add sprinkles you can do so right after the donuts have been glazed, before the glaze has been given a chance to harden.
Last Step:
Please
share a rating and comment
if you enjoyed this recipe! Your feedback helps this little blog thrive and continue providing free, high-quality recipes for you.
Keywords: pink donuts, old fashioned donut, homemade donuts, glazed donut
This post may contain affiliate links. Please read our disclosure policy.