These frozen piña coladas come together in minutes and are full of tropical flavor. An easy summer cocktail that's a refreshing way to beat the heat!
I'm about to nerd out on you here, but I can't think about piña coladas without thinking about Star-Lord from Guardians of the Galaxy. Just me? Known for his love of 70's music thanks to a mix-tape his mom made for him before he was abducted by aliens, one of his favorite songs is "Escape (The Piña Colada Song)" by Robert Holmes. Ever since watching that movie I can't make a piña colada without an image of Star-Lord escaping from space-prison popping into my head.
Well, we may not need to escape from space-prison, but if it's hot as all get out in your neck of the woods you may want to escape the heat with a frozen piña colada. That sounds nice, doesn't it?
Pro tip: You can also use this recipe to make frozen Miami Vice drink! 🍹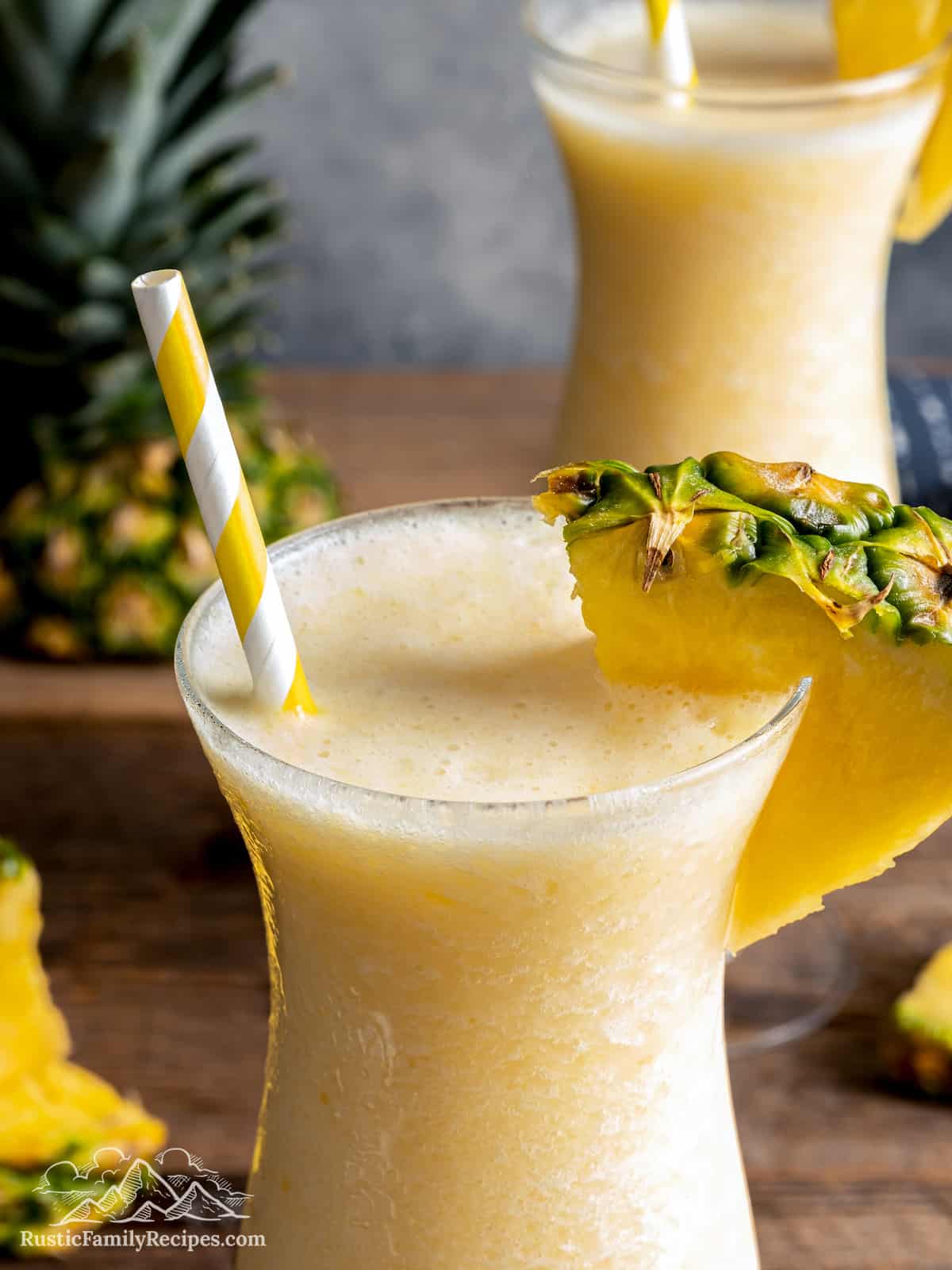 What is a Piña Colada?
A piña colada is a Puerto Rican cocktail made with rum, cream of coconut or coconut milk, and pineapple juice. It can be served over ice, or blended with the ice to make a frozen cocktail. Usually it is garnished with a pineapple wedge or a maraschino cherry (or both).
The name "piña colada" is Spanish for "strained pineapple" and refers to the way fresh pineapple is strained to make pineapple juice, which is one of the ingredients in this cocktail.
A Pirate's Drink?
The earliest known version of the piña colada was served by Puerto Rican pirate Roberto Cofresi, who gave it to his grew to boost morale. Some historians dispute this story and the original recipe was lost when Cofresi died in 1825. A drink called piña colada later resurfaced in 1954 when bartender Ramón "Monchito" Marrero began serving piña coladas at the Caribe Hilton Hotel. In 1978, the piña colada became the official drink of Puerto Rico.
How alcoholic is piña colada?
This recipe has 5 ounces of rum so it is a bit stronger than a traditional piña colada. You can reduce the amount of rum to 3 ounces if you prefer. Because of the pineapple and cream of coconut, the rum flavor is not overpowering in this drink so sip slowly. This is the kind of cocktail you nurse on a sweltering summer day.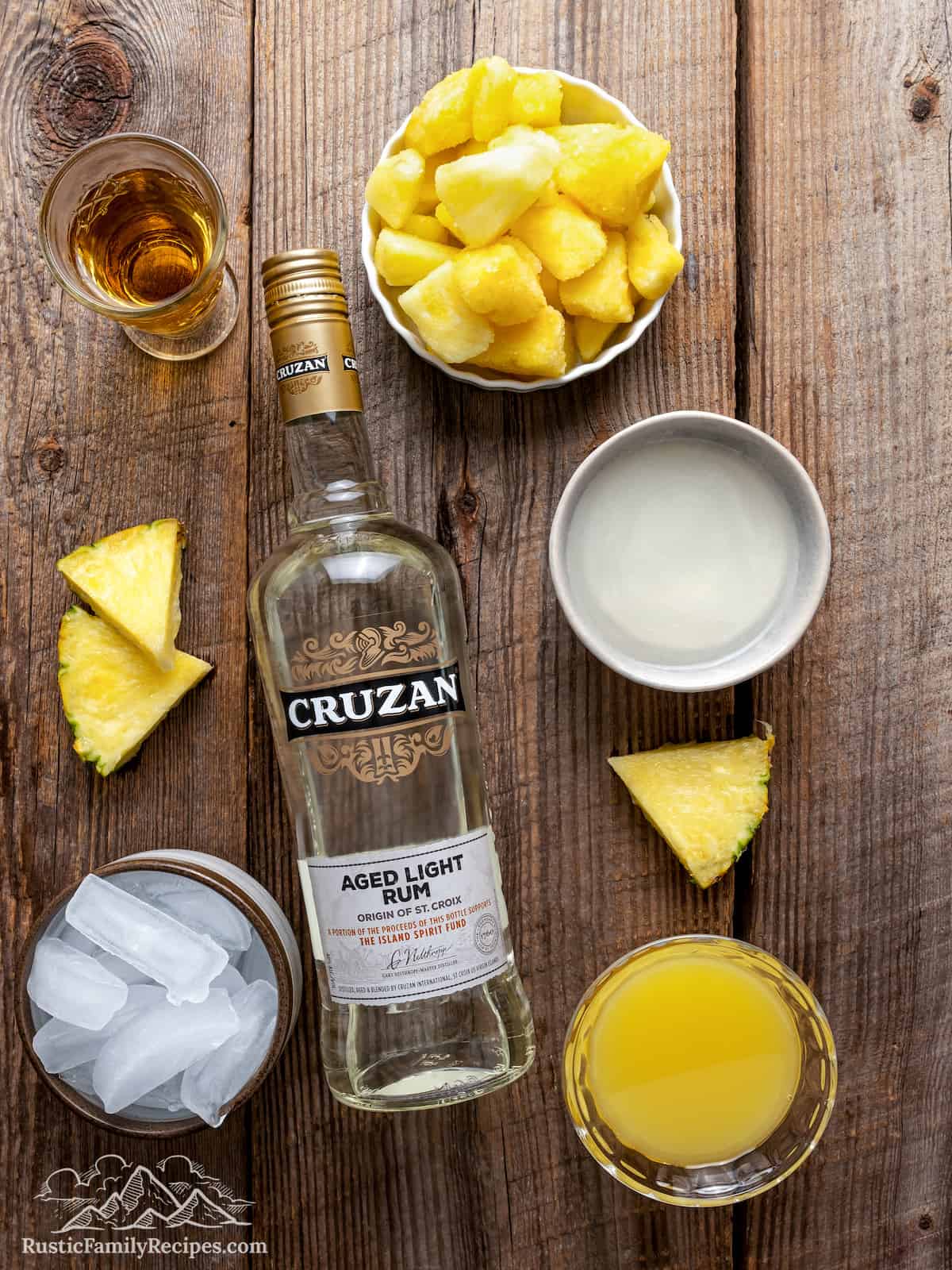 How to Make a Piña Colada
Equipment
You will need a high powered blender (affiliate link) to make this piña colada recipe. Traditionally, piña coladas are served in hurricane glasses (affiliate link) but no need to stand on ceremony – serve your cocktail in whatever glasses you like! This recipe makes 2 large drinks or 3-4 smaller ones.
Ingredients
Here's a quick run down of the ingredients. Be sure to scroll down to the recipe card for specific amounts.
Making Your Frozen Cocktail
Now it's time to make your piña coladas! It's super easy. Like 2 steps easy.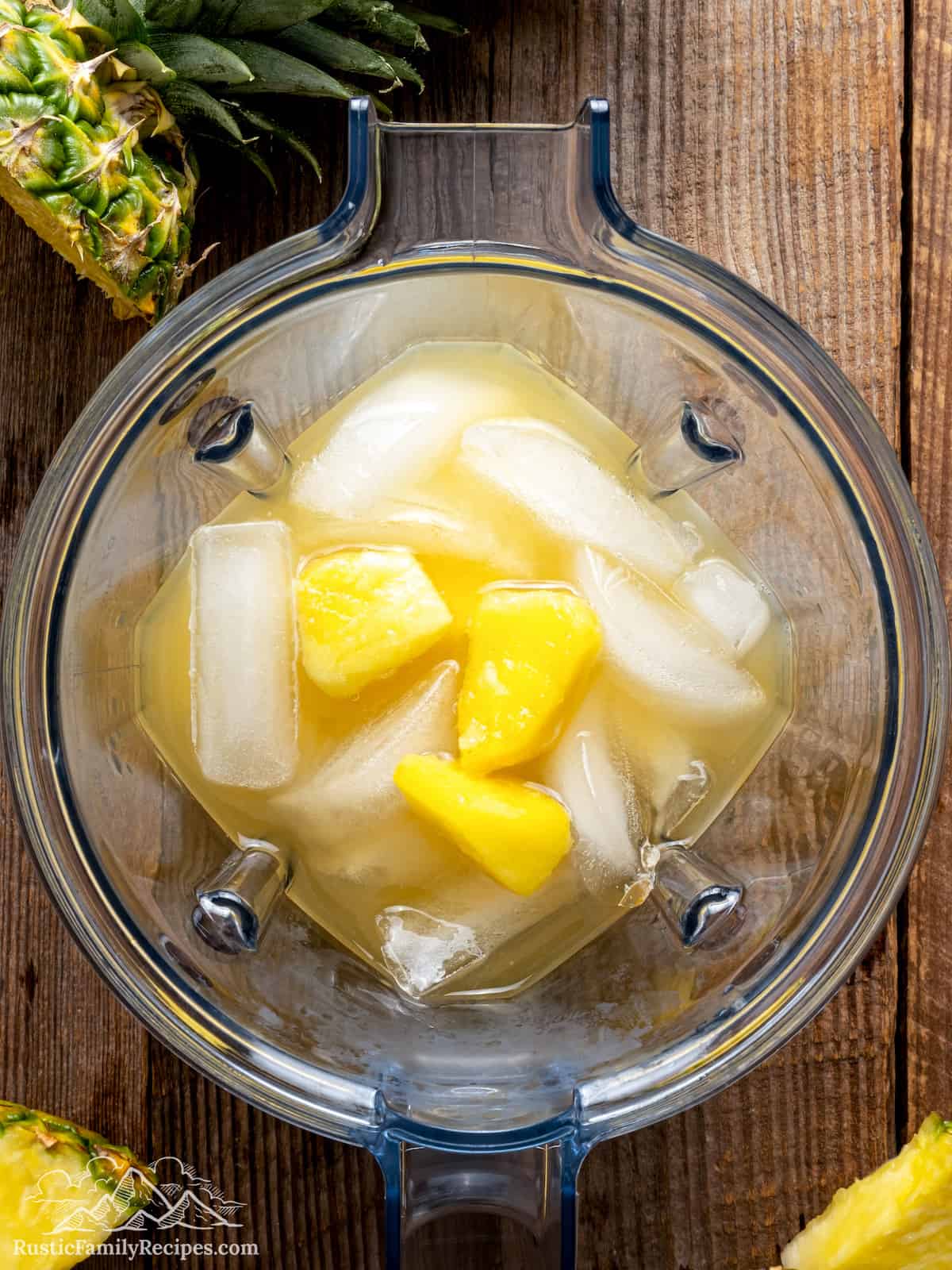 Tips & Suggestions
The process of making piña coladas is similar to the one for making frozen strawberry daiquiris, so my tips here may sound familiar: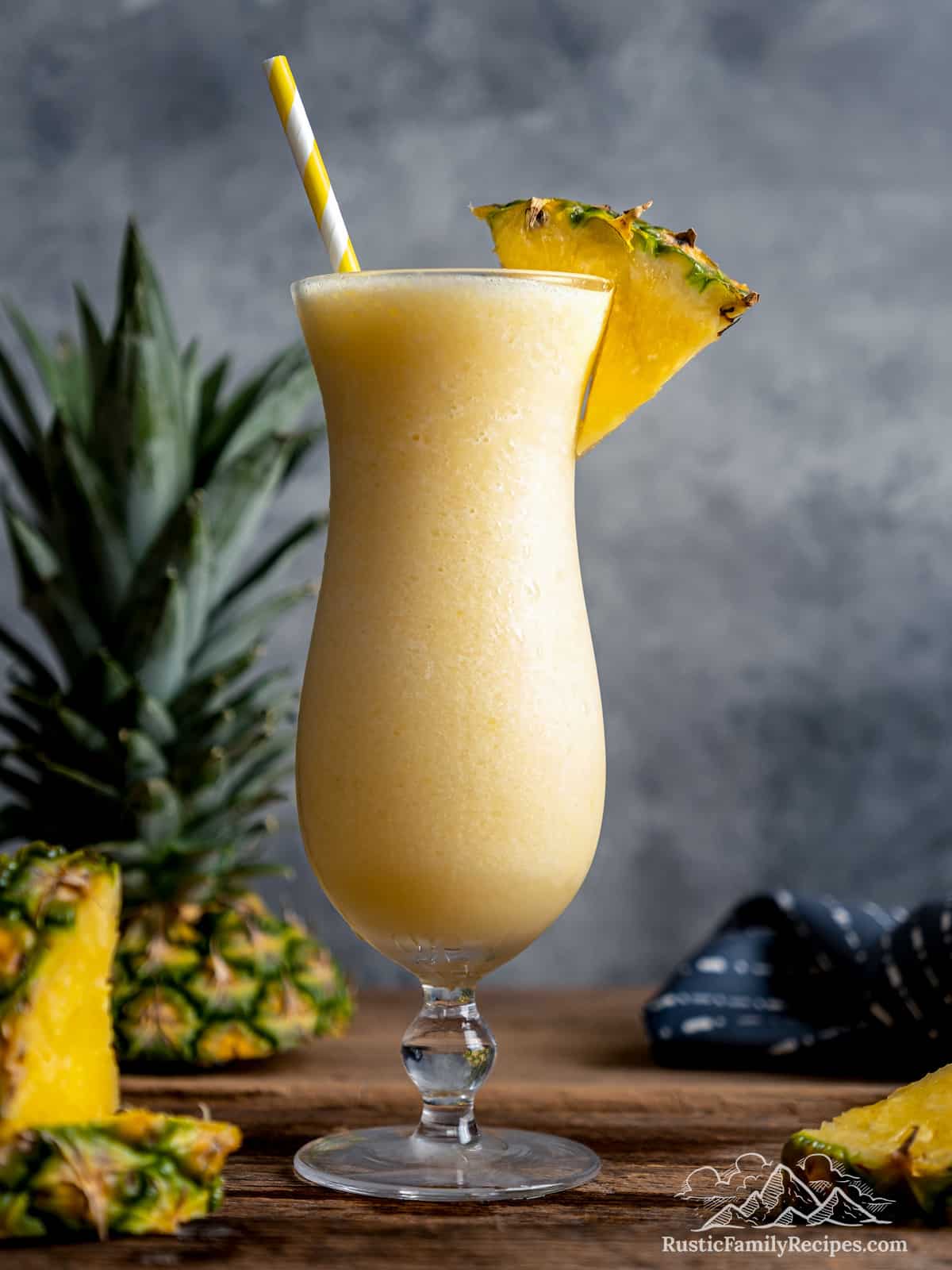 If You Like Piña Colada Lyrics
And just for fun, let's end with the piña colada section of Escape (The Piña Colada Song). You can find the full lyrics on Google or listen to the song on YouTube.
I was tired of my lady
We'd been together too long
Like a worn out recording
Of a favorite song
So while she lay there sleepin'
I read the paper in bed
And in the personal columns
There was this letter I read
If you like piña coladas
And gettin' caught in the rain
If you're not into yoga
If you have half a brain
If you like makin' love at midnight
In the dunes on the cape
Then I'm the love that you've looked for
Write to me and escape
Print
Piña Coladas Recipe
These frozen piña coladas come together in minutes and are full of tropical flavor. An easy summer cocktail that's a refreshing way to beat the heat!
Author: Rustic Family Recipes
Prep Time:

5 minutes

Total Time:

5 minutes

Yield:

2 cocktails

Category:

Cocktails

Method:

Blender

Cuisine:

Puerto Rican
3

ounces

white rum

2

ounces

golden rum

3

ounces

cream of coconut

4

ounces

pineapple juice

1/3

cup

frozen pineapple chunks

2

cups

ice
Fresh pineapple wedges, for garnish
Instructions
Place all the ingredients in a high powered blender and process until well combined.
Pour into a hurricane glass and garnish each drink with a small pineapple wedge.
Equipment
Keywords: piña colada receta, como hacer piña colada
More Summer Cocktails
This post may contain Amazon affiliate links to products that I use, which can earn a small commission on qualifying purchases.