About Me: I have more than 20 years of cooking experience & share my favorite recipes on this blog.
Have a question? Please post a comment, I'm happy to help. 🙂
This Persian Love Cake is made with cardamom and rose water, then decorated with icing, edible rose petals, and chopped pistachios. It's an easy & gorgeous cake that's perfect with a hot cup of coffee or tea.
This easy Persian Love Cake recipe is an elegant way to bring floral flavors into your kitchen. A tender homemade cake is made with vanilla, cardamom, citrus, and a hint of rose water, then topped with a simple rose water icing. Sprinkle chopped pistachios and edible rose petals on top for gorgeous pops of color. Each slice of this cake is tender, fragrant and goes beautifully with a hot cup of coffee or tea.
Featured Comment
Wow! Fanciest cake I have ever had!! Uber delicious!! I added and additional 1/4 cup of sugar to it. I would recommend using two 8" or 9" pans..as it rose very much one one. Must try! Absolutely delicious!
Why is it Called a Persian Love Cake?
According to legend, the original version of this cake was developed centuries ago in Persia when a woman fell in love with a prince. Who she was we don't know, but she desperately wanted the prince to return her affections. So, she decided to bake a cake that was filled with magical ingredients that would make him adore her as much as she adored him. Basically, she decided to make a "love potion" cake.
She consulted her local soothsayers and headed to the kitchen, where she put her baking prowess to work. Gathering her ingredients, she baked a cake spiced with cardamom, citrus, and rose water. Then she decorated it with a rose water glaze and sprinkled bright green pistachios on top. For good measure, she added dried rose petals, which were known to be a symbol of love.
And then? Then she fed this cake to her beloved. He took one bite and forgot every other woman. They married, she became a princess, and I assume they lived happily ever after.
I have no idea how true this legend is, but if my apple cobbler love story is any indication, it could be legit! Let's just say it is true because it makes it more fun to eat this cake if there's a romantic story attached to it. (The name "Persian Love Cake" is a recent invention, by the way, coined by Iranian cookbook author Yasmin Khan.)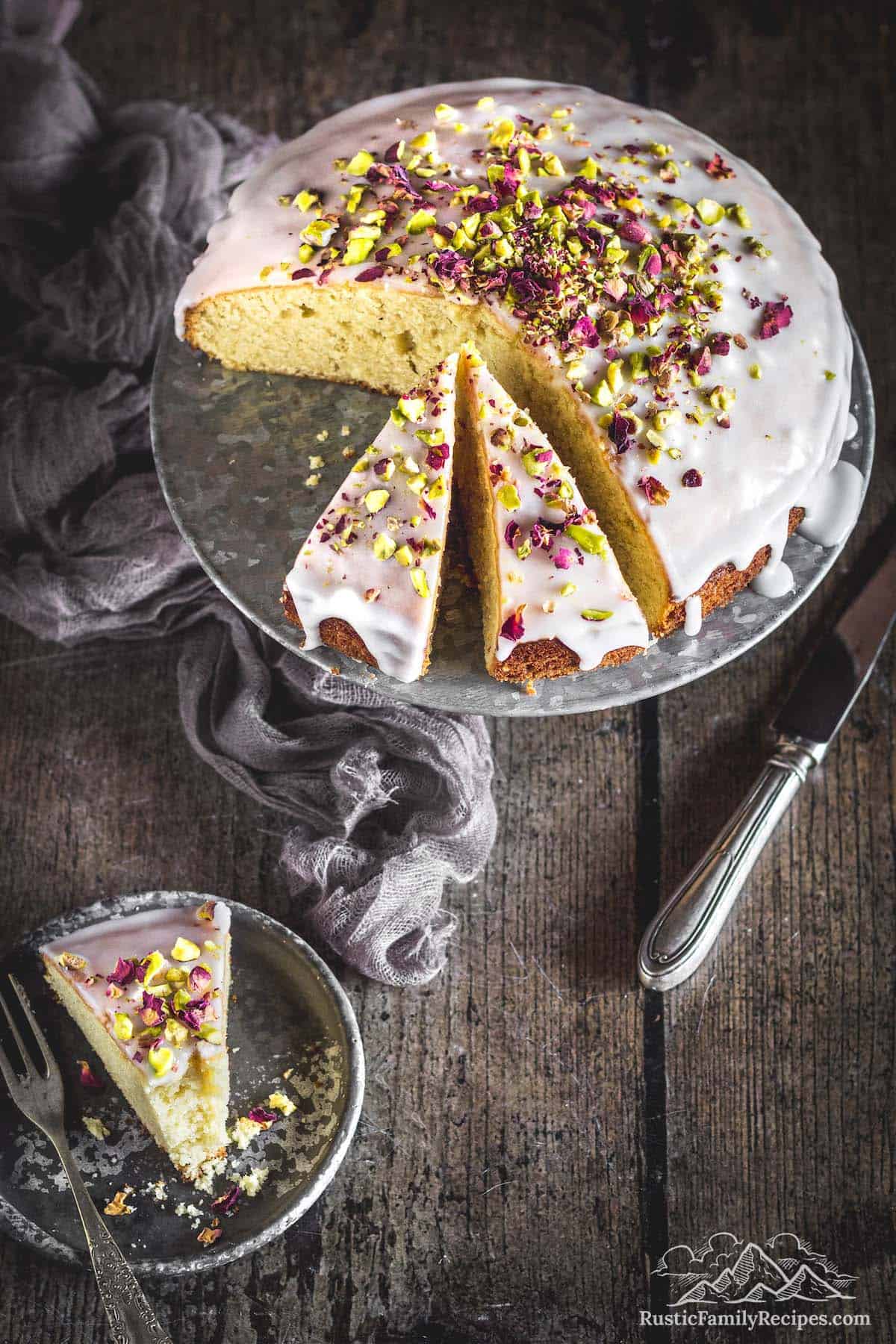 What's So Magical About the Ingredients?
I've always had a fondness for rose water confections (I'll have to post my Turkish Delight recipe!), so when I decided to make something new for Valentine's Day this year I couldn't resist the idea of a Persian Love Cake. I was curious though. What made the ingredients so magical that the prince in the story fell in love with the woman who baked him this cake?
Well, it turns out the ingredients in a Persian Love Cake are full of all sorts of fascinating folklore! I'll share what I uncovered just for fun and also so you have things to talk about if you make this for your beloved. 😉
Cardamom (Eloquence and Charm) – According to folklore cardamom can help you be more charming and eloquent.
Rose (Passion / Protection) – A classic symbol of love, even in our modern society! In ancient cultures, roses were associated with the gods of love and often used in love spells. Rose petals were also thought to be charms against the "evil eye," so if your intended was oh, a prince, and other ladies would be jealous of your relationship the rose petals would protect you from their jealousy.
Lemon (Happiness) – Often used in love spells and said to encourage happiness thanks to its bright and cheerful color.
Orange (Love/Marriage) – Thought by some to summon love and encourage wedded bliss. When eaten at the end of a meal, an orange symbolizes a happy and sweet life.
Almonds (Luck/Love) – Almonds are thought to attract luck and at one time were used in hand-fasting (marriage) rituals to encourage a lasting union.
Pistachios (To Break Old Attachments?) – I'm not sure why these were used because in ancient middle eastern cultures pistachios were thought to free you from a love spell when you broke open the shells. Perhaps there was someone else the prince loved and the baker wanted to break that spell first? Ooo, I sense a spicy backstory.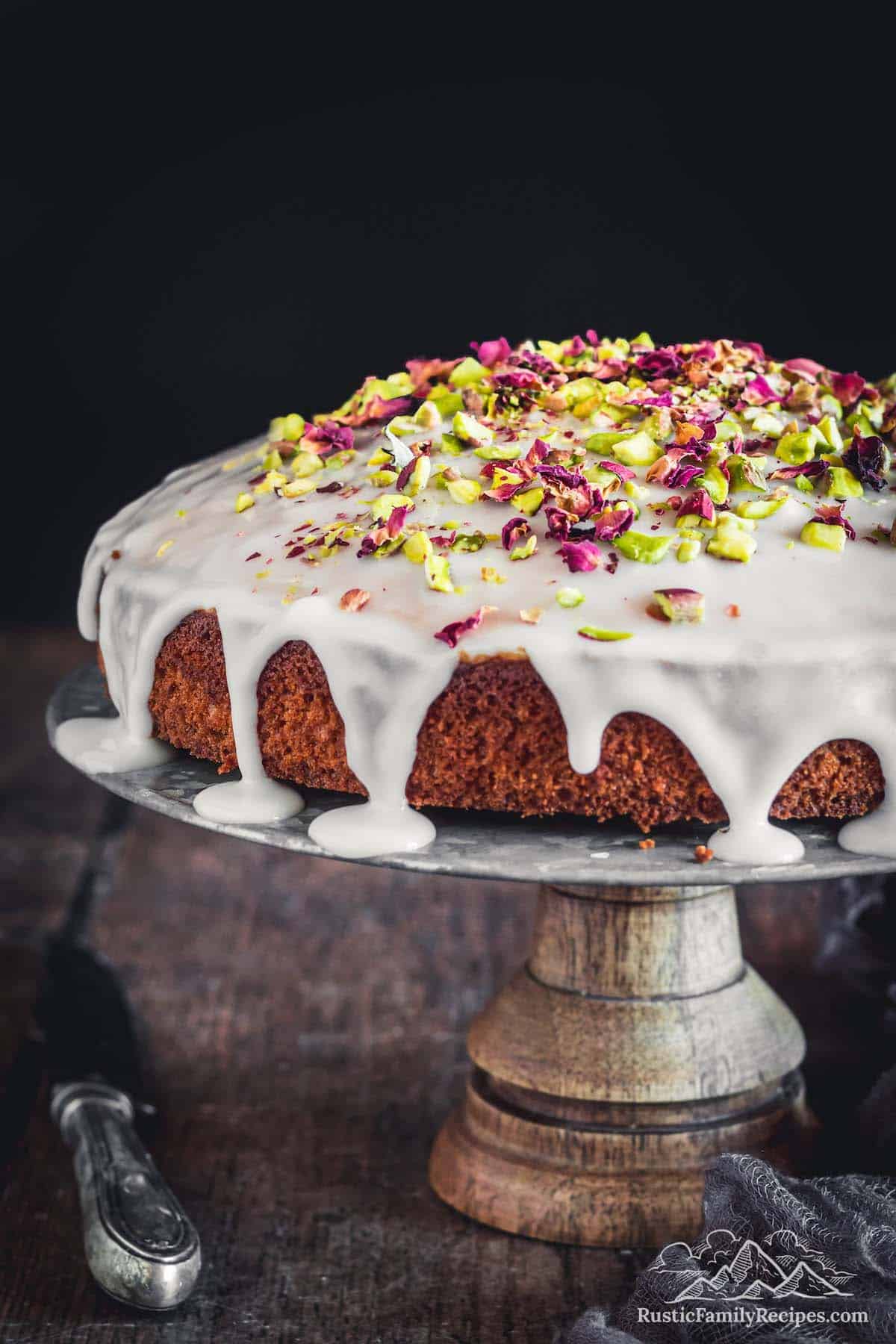 Ingredient Notes
Now that we've explored the folklore behind some of the ingredients in this cake, some practical notes so you can make it:
For the Cake
Dry ingredients: All-purpose flour, almond flour, baking soda, baking powder and kosher salt.
Spices: Ground cardamom
Wet ingredients: Butter, brown sugar, yogurt and eggs.

I used Greek yogurt but you can also use regular full fat or low fat yogurt. I don't recommend non-fat yogurt because the cake needs some fat to stay tender.

Citrus: The zest and juice of an orange and lemon

I recommend using fresh juice from the orange and lemon after you zest them. Bottled just doesn't have the same brightness, especially when it comes to lemon juice. Fresh is best!

Rose water – You can find rose water in the ethnic section of many grocery stores, or find it on Amazon. Make sure that you use rose water intended for culinary use.
Vanilla extract
For the Glaze
Powdered sugar
Rose water – Again, make sure you use rose water intended for culinary use.
Fresh lemon juice
Chopped pistachios – I usually purchase my pistachios already shelled to make life easier.
Dry rose petals – These also need to be intended for culinary use. Make sure you are using organic rose petals too. I like these ones from Mountain Rose Herbs.
What Does Rose Water Taste Like?
Not surprisingly, rose water has a floral taste and aroma. It is not sweet or savory on its own, and a little goes a long way. Added to recipes in small amounts it will impart a beautiful floral fragrance and subtle floral flavor.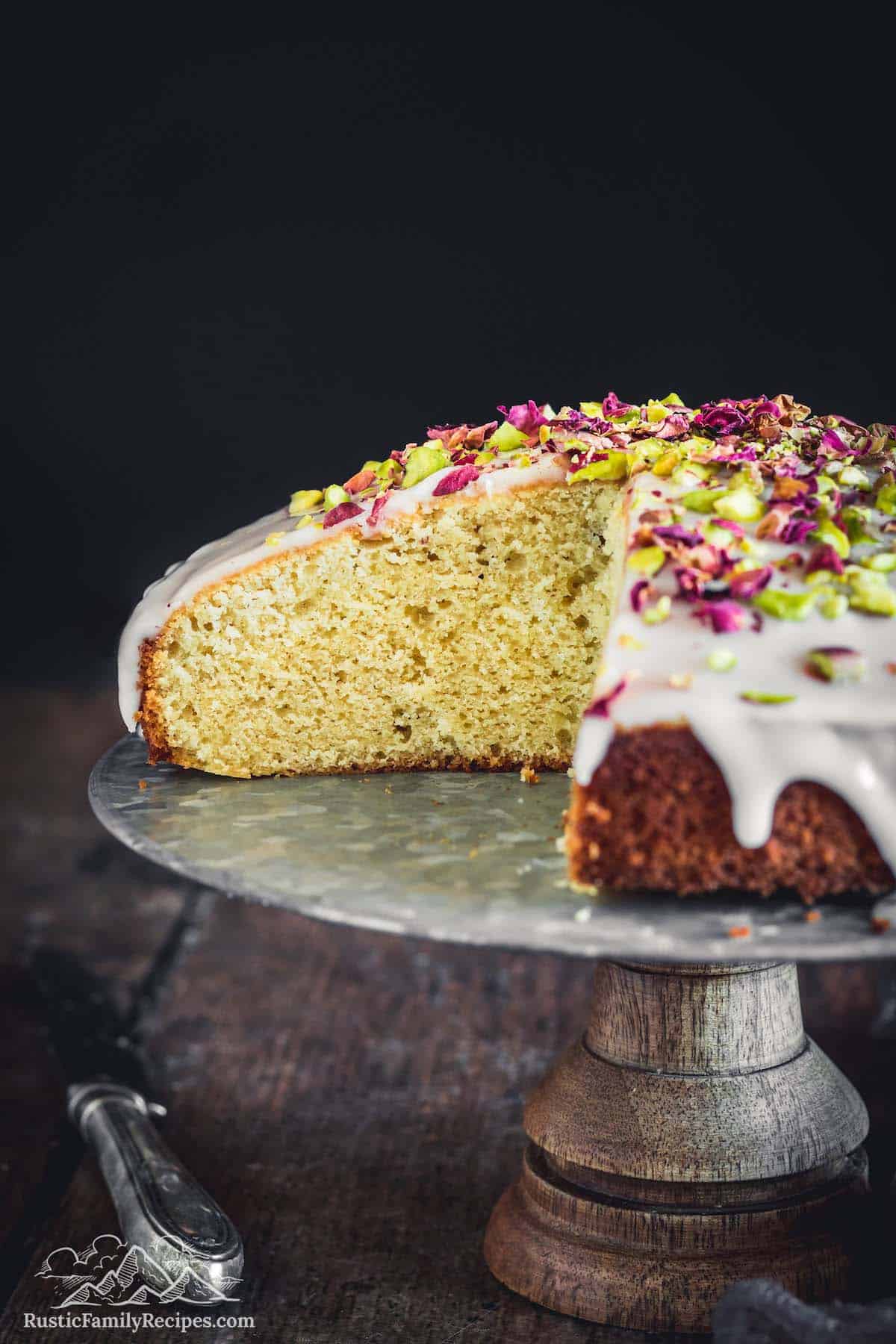 Tips for the Best Persian Love Cake
Despite the somewhat uncommon ingredients, this love cake is surprisingly easy to make. Here are a few quick tips for best results:
A little rose water goes a long way. Don't use more rose water than the recipe calls for because it may become overpowering.
Let the cake cool before glazing. Similar to my Lemon Matcha Glazed Cake, it's important to let the cake cool before you glaze it. If you try to glaze it while the cake is still hot the glaze will slide right off instead of sticking to the cake.
Almond flour and almond meal are not the same thing. As mentioned above, I like to use Bob's Red Mill Super-Fine Almond Flour.
Not a fan of rose water? You can use an equal amount of orange blossom water in place of the rose water.
Make sure it's food grade. Also mentioned above but worth repeating! Make sure your rose water and rose petals are food grade.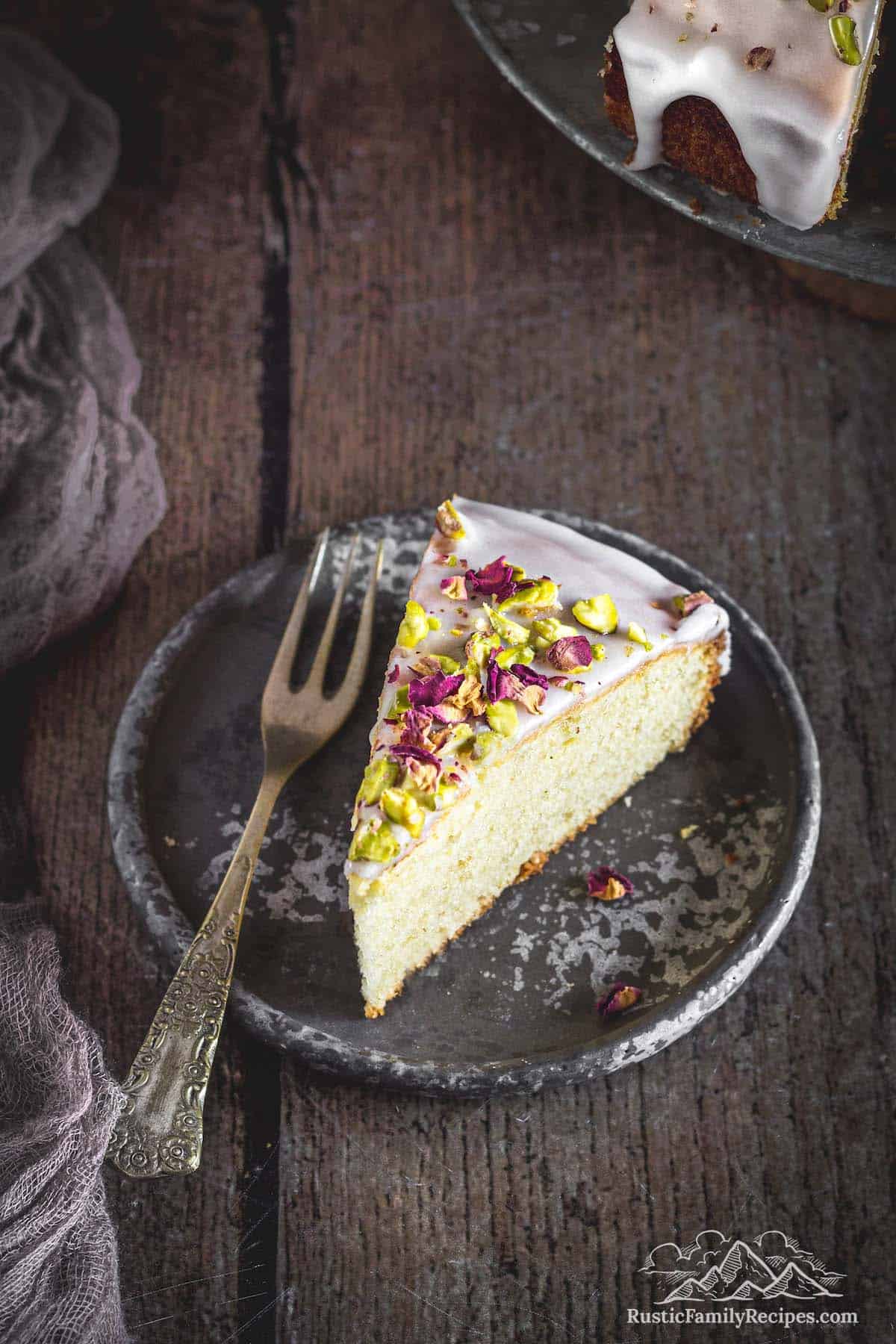 Serving Suggestions
This cake is just sweet enough not to need ice cream or whipped cream, you can serve it on its own with a steaming mug of coffee or tea. If you want to be a bit extra with your drinks (an impulse I fully support), then a Gingerbread Latte or Honey Vanilla Latte might be just the thing.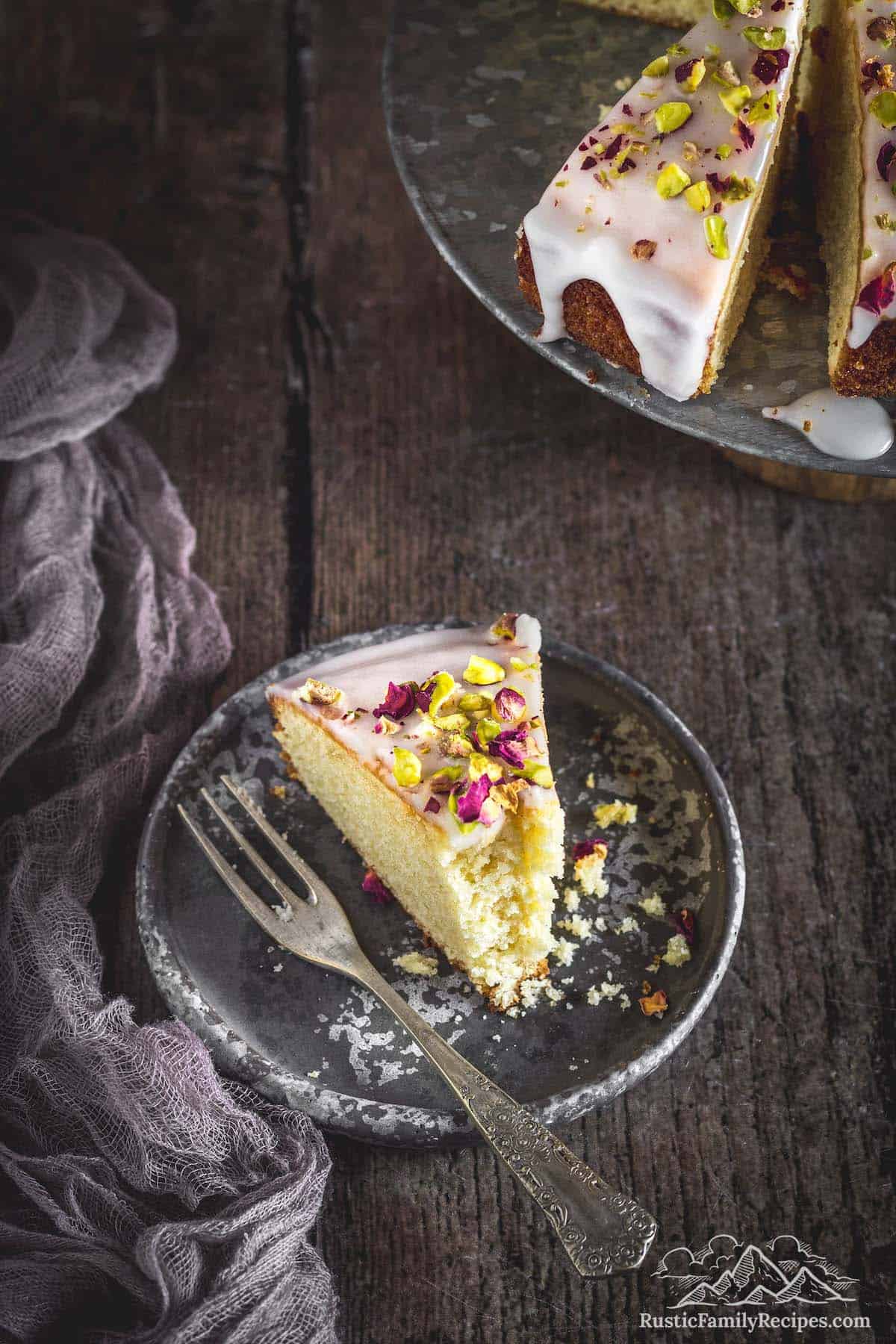 How to Store Love Cake
Counter: Let the cake come to room temperature, then cover loosely with saran wrap and store on the counter for 2-3 days.
Fridge: Wrap the cooled cake in saran wrap and store in the fridge for up to 5 days.
Freezer: You can also freeze this cake in individual slices. Wrap the slices in saran wrap and store in an airtight container in the freezer for up to 2 months. Let each slice thaw for 1 hour before eating.
Persian Love Cake (Cardamom Rose Cake)
This Persian Love Cake is made with cardamom and rose water, then glazed and decorated with edible dried rose petals and chopped pistachios.
Ingredients
For the cake:
1 ¼

cups

all-purpose flour

¾

cup

almond flour

1

teaspoon

ground cardamom

1

teaspoon

baking powder

½

teaspoon

baking soda

½

teaspoon

kosher salt

½

cup

unsalted butter

,

room temperature

1

cup

light brown sugar

,

packed

¼

cup

Greek yogurt

3

large eggs

,

room temperature

Zest of 1 lemon

Zest of 1 orange

2

tablespoons

lemon juice

2

tablespoons

orange juice

2

tablespoons

rosewater

1

teaspoon

vanilla extract
For the glaze:
1 ¼

cups

powdered sugar

1

tablespoon

rose water

1

tablespoon

lemon juice

Chopped pistachios and dried rose petals

,

to decorate
Instructions
Make the Cake
Prep your tools. Preheat oven to 350°F. Grease an 8-inch springform cake pan and set it aside.

Mix dry ingredients. In a large bowl mix all-purpose flour, almond flour, cardamom, baking powder, baking soda, and salt. Set aside.

Combine wet ingredients. Add butter and brown sugar to the bowl of a stand mixer and beat at medium-high speed until light and fluffy. Gradually add greek yogurt and eggs (one at a time), mixing well after each addition.

Add citrus, rosewater, and vanilla. Add lemon and orange zest and juice, rose water and vanilla extract, and mix again.

Add dry ingredients. Turn speed to low and gradually add the flour mixture until incorporated.

Bake. Pour batter into the prepared cake pan and spread it evenly. Bake for 40-45 minutes or until the cake is lightly brown on top and a knife inserted into the center comes out clean.

Cool. Allow the cake to cool before making the glaze.
Make the Glaze and Decorate
Combine glaze ingredients. In a large bowl whisk together powdered sugar, rose water, and lemon juice until smooth.

Glaze the cake. Carefully spoon the icing over the cake, allowing it to run down the sides.

Decorate. Garnish, if desired, with chopped pistachios and rose petals.
Last Step:
Please
share a rating and comment
if you enjoyed this recipe! Your feedback helps this little blog thrive and continue providing free, high-quality recipes for you.
Nutrition
Calories:
407
kcal
|
Carbohydrates:
53
g
|
Protein:
8
g
|
Fat:
19
g
|
Saturated Fat:
7
g
|
Polyunsaturated Fat:
1
g
|
Monounsaturated Fat:
3
g
|
Trans Fat:
0.4
g
|
Cholesterol:
74
mg
|
Sodium:
242
mg
|
Potassium:
89
mg
|
Fiber:
2
g
|
Sugar:
37
g
|
Vitamin A:
362
IU
|
Vitamin C:
3
mg
|
Calcium:
99
mg
|
Iron:
2
mg
Nutritional info is an estimate and provided as a courtesy. Values may vary according to the ingredients and tools used. Please use your preferred nutritional calculator for more detailed info.
Did you make this recipe?
💖 I love hearing how my recipes came out for others! If you tried this recipe, please share a comment. 💖
Filed Under: