This recipe for Peanut Noodles with Tofu & Zucchini pairs thick udon noodles with a creamy curried peanut sauce, tender zucchini, and cubes of pan-fried tofu. Bonus: leftovers make a great lunch because they can be served hot or cold!
If you're looking for a family-friendly weeknight dinner, this peanut noodle recipe is it. Kids love the peanutty sauce, sweet quick-picked carrots, and chewy udon noodles. And parents will appreciate that it's a complete, nutritionally-balanced meal in a bowl.
A lot of peanut sauce recipes are a little bit one-note — they're cloyingly sweet, without enough acid or salt for balance. This peanut sauce is different, though. It's made with a hefty four cloves of garlic, plenty of freshly grated ginger, and curry powder. The curried peanut sauce makes these peanut noodle bowls fragrant and flavorful – and a winner with eaters of all ages!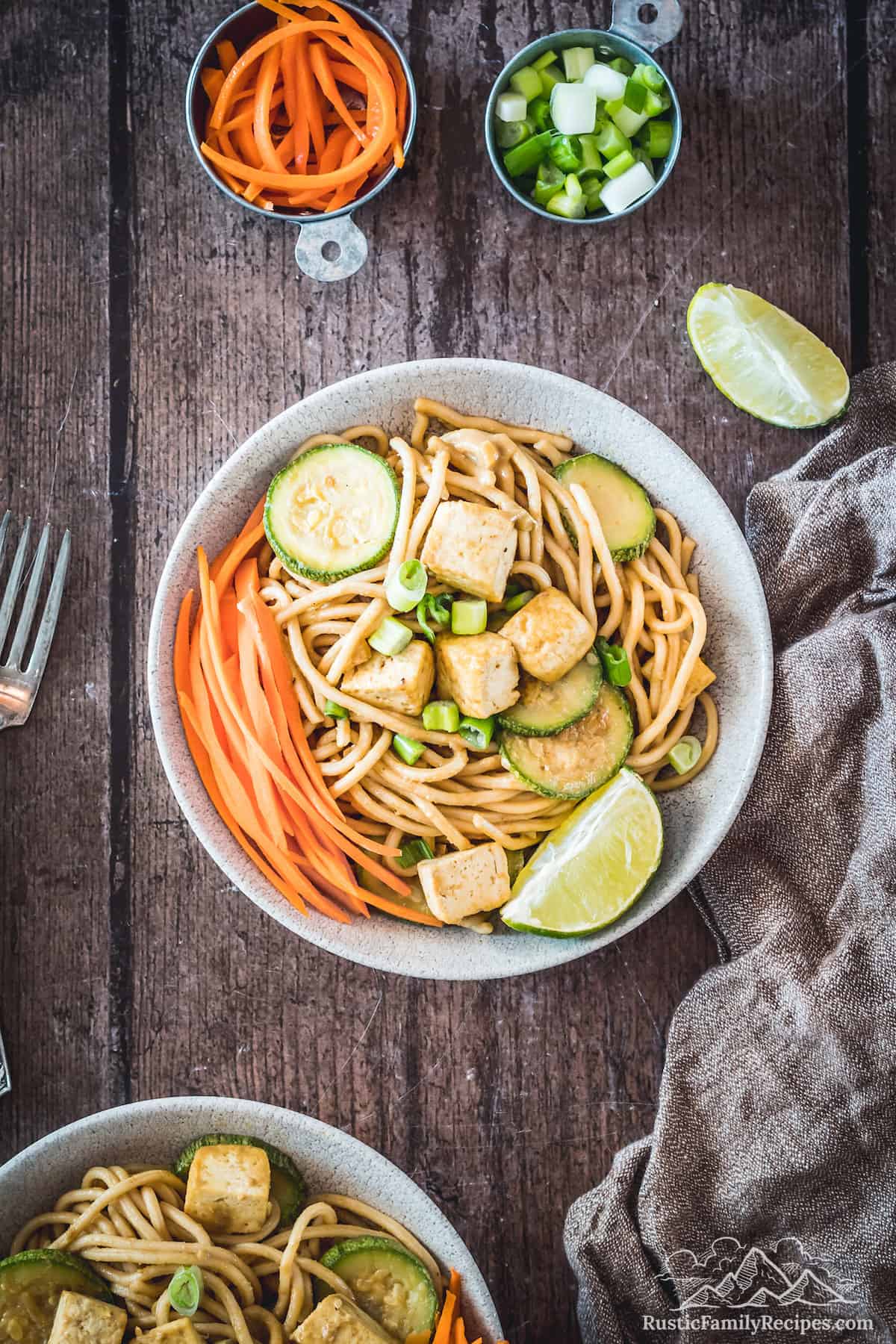 What You'll Need
I love recipes that are versatile, and Peanut Noodle Bowls definitely fit the bill. Below, you'll find the ingredients you need, along with some substitution ideas:
Carrots
Seasoned rice vinegar
Udon noodles – You can substitute spaghetti or other noodles, but I prefer udon because they hold onto the sauce well and have a satisfyingly chewy texture.
Peanut oil
Garlic
Fresh ginger root
Curry powder – I use mild curry powder, but if you like more heat in your dishes, use a hotter variety.
Peanut butter – Almond butter or sunflower butter will work too; you can also do a combination of one part peanut butter and one part tahini if you feel so inclined.
Soy sauce – Tamari or coconut aminos can be used if you prefer.
White sugar
Extra-firm tofu – You can use firm tofu, but anything softer than that won't stand up well to pan-frying. Buy refrigerated tofu that comes packed in water, not silken tofu.
Zucchini – I used zucchini because it's abundant right now, but broccoli is also fantastic with peanut noodles
Scallions
Sesame oil – Look for the kind that's toasted.
Kosher salt
Black pepper
Lime
How to Make Peanut Noodles With Tofu
Cooking the zucchini and tofu separately is important for this dish because it ensures that each ingredient has the right texture. Here's a step-by-step guide to making peanut noodles:
Marinate the carrots. Place the shredded carrots in a medium bowl and toss them with 3 tablespoons of the seasoned rice vinegar. Set aside.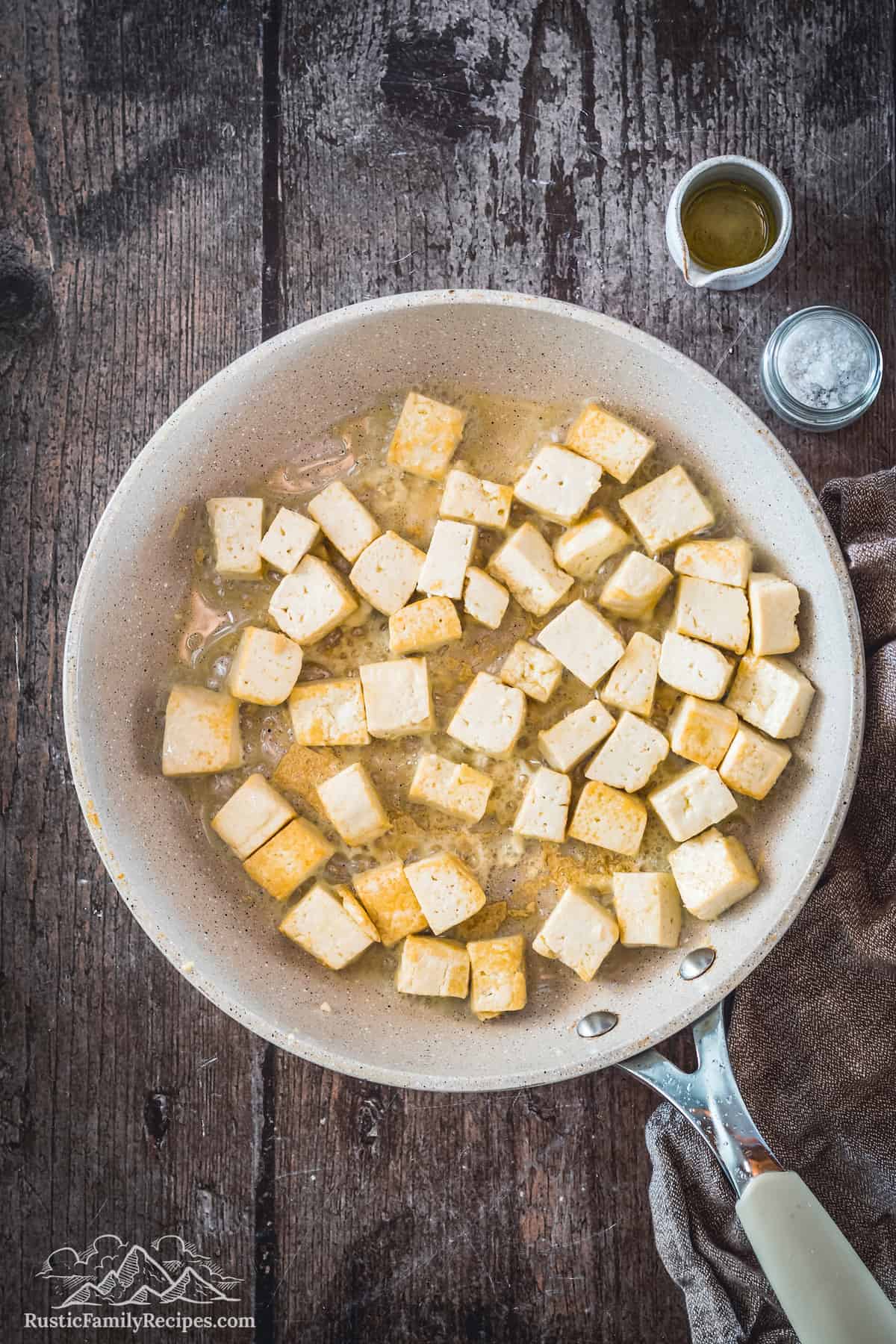 Make the tofu and noodles. Bring a pot of water to a boil and cook the udon according to the instructions on the package. While the water is heating up, cook the tofu in a large skillet over medium heat until it's golden and crisp on the edges. Transfer the tofu to a plate, then return the skillet to the stovetop.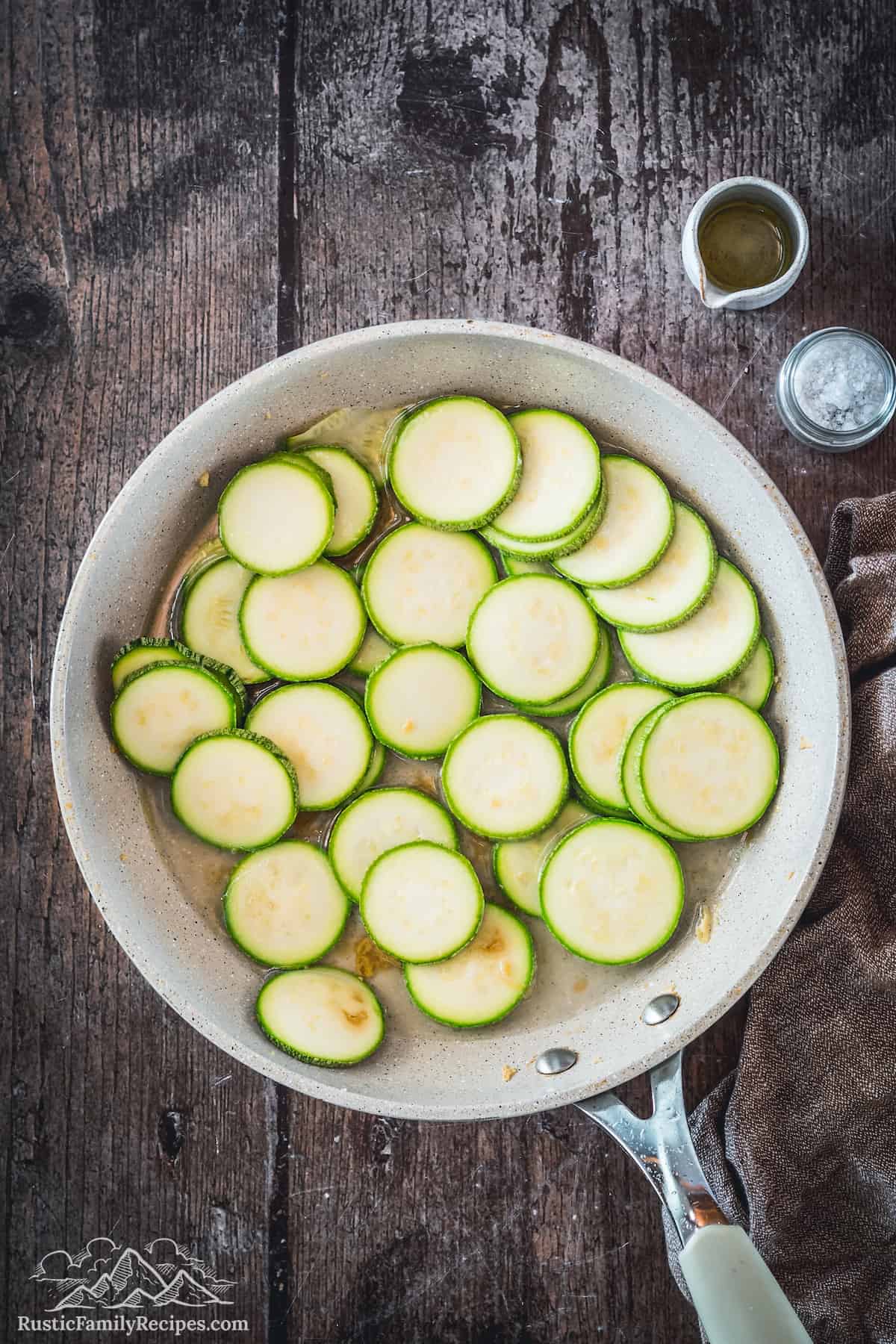 Stir fry the zucchini. Add the zucchini and 1/4 cup of water, then season with salt and pepper. Cook, stirring frequently, until the zucchini is tender-crisp and just beginning to brown in spots. Transfer the zucchini to a heat-proof bowl, then return the skillet to the stovetop again.
Make the peanut sauce. Heat a tablespoon of oil in the skillet, then add the garlic, ginger, and curry powder. Stir and cook until fragrant, about 30 seconds. Pour in 1 cup of water, then add the peanut butter, soy sauce, sugar, and remaining vinegar. Whisk until the peanut butter and water are well-combined, then bring to a simmer and cook for about 3 minutes, or until the sauce is thick enough to coat the back of a wooden spoon. (If the sauce gets too thick, you can add more water a few tablespoons at a time.)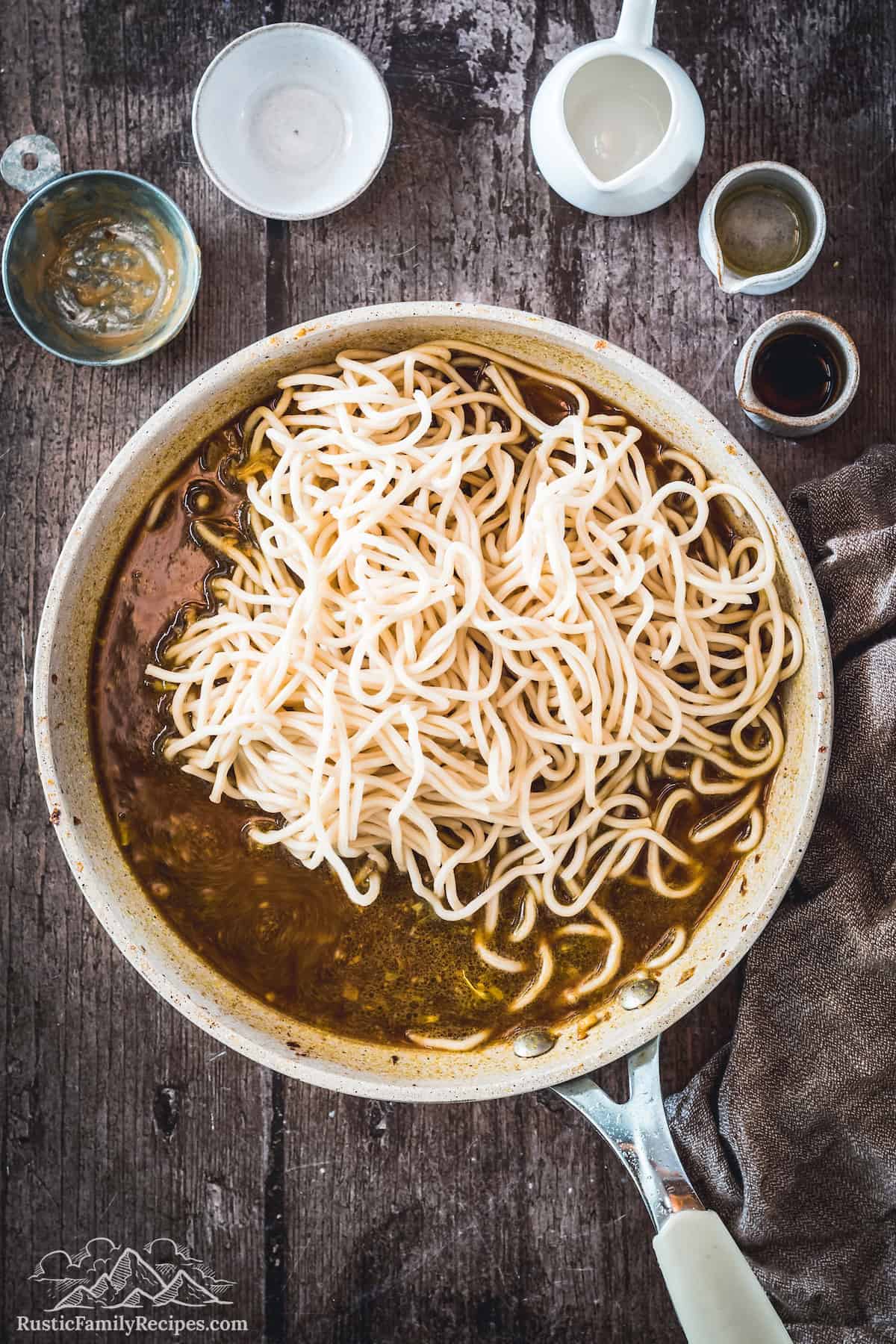 Finish the noodles. Once the sauce has come together, add the noodles and toss to coat. Stir in the tofu and zucchini, then toss again. Remove from heat.
Assemble the bowls. Divide the peanut noodles, tofu, and zucchini into bowls, then top them with the quick-pickled carrots and a drizzle of sesame oil. Serve with lime wedges.
Tips for Success
It's hard to go wrong when making peanut noodle bowls! Here are a few tips I've picked up along the way:
Press the tofu. To ensure that your tofu soaks up all the peanutty goodness, you'll need to press the liquid out first. Use a tofu press if you have one; if not, place 2–3 folded paper towels on a plate, then put the tofu on top. Place a few more folded paper towels over the tofu and top with a plate or small cutting board. Put a few cans of beans or soup on the plate to weigh it down. Let the tofu sit like this for about 30 minutes, then proceed with the recipe.
Meal prep for the win. Peanut noodles are really great for meal prep! If you're making this recipe in advance for a family dinner, simply refrigerate the noodles, tofu, and zucchini in one container and the carrots in another. For work or school lunches, divide the noodles into individual airtight containers, then drain the carrots well and nestle them next to the noodles. Serve hot or cold — it's good both ways!
Make it your own. This recipe is easy to customize to your own tastes and preferences. Swap cucumbers for carrots; top with chopped peanuts, sesame seeds, or cilantro. Omit the tofu and add more veggies, or use cooked chicken instead.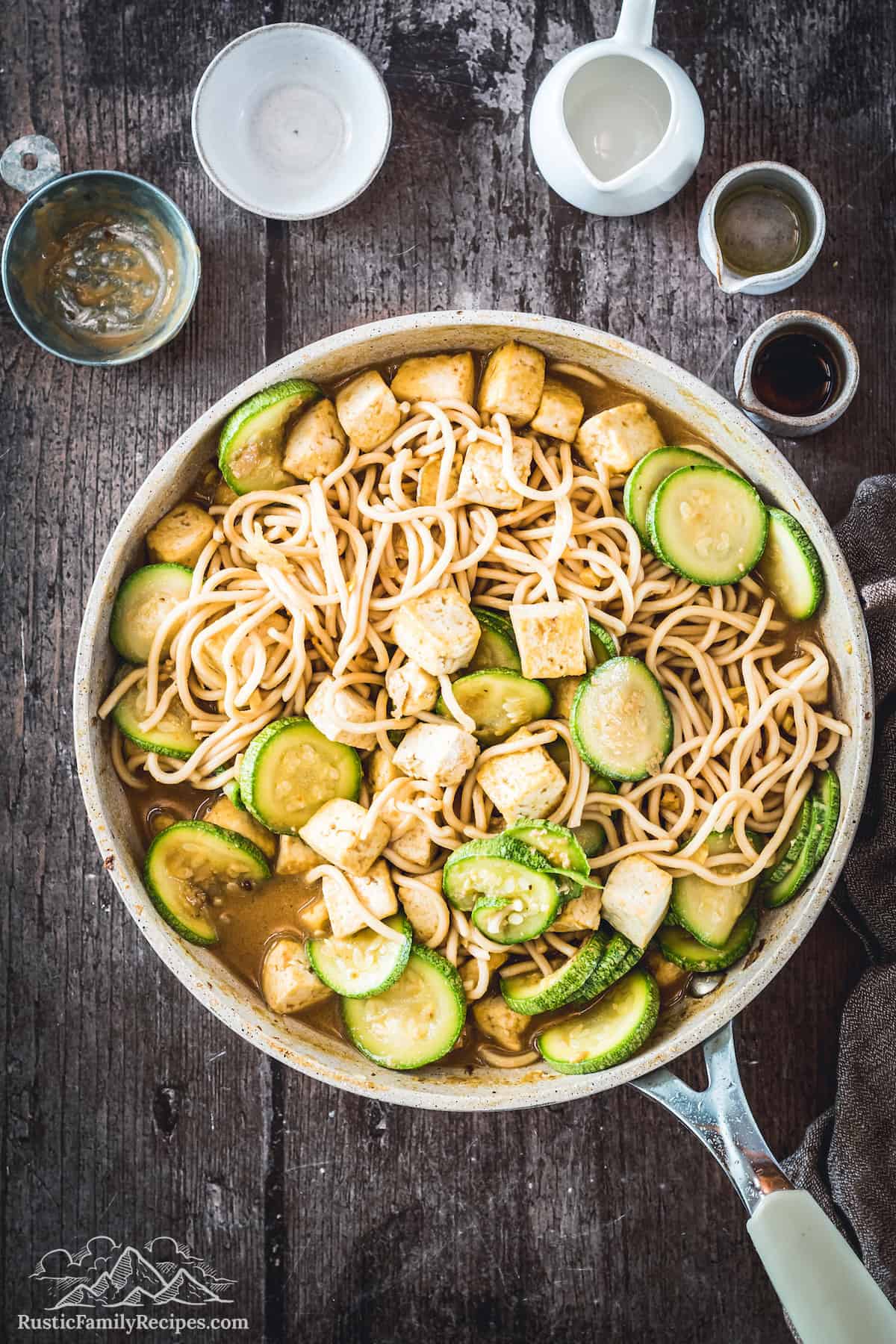 How to Reheat Leftover Peanut Noodles
As mentioned above, you can enjoy peanut noodles cold, but you can also heat them up. I recommend not heating up the carrots, though — they're better chilled and crisp. Everything else can be placed in a microwave-safe bowl and heated for a minute or two, or until the noodles, tofu, and zucchini are warmed through.
Other Uses for Peanut Sauce
Because this peanut sauce is so good, you might want to make a batch to keep on hand! You can refrigerate it for up to a week or pop it in the freezer in a freezer bag or airtight container for up to 3 months. Here are some of my favorite ways to use peanut sauce:
Drizzle it over baked sweet potatoes, then pile on steamed broccoli, chopped peanuts, and cilantro.
Or you can make Thai-inspired sweet potato nachos by baking thin slices of sweet potatoes on a sheet pan, then topping with peanut sauce, chopped broccoli, scallions, peanuts, and cilantro.
Use it as a sauce for pairing with satay.
Dip crudités in it.
Thin it out a bit and use it as a salad dressing.
Pair it with fresh summer rolls for dipping.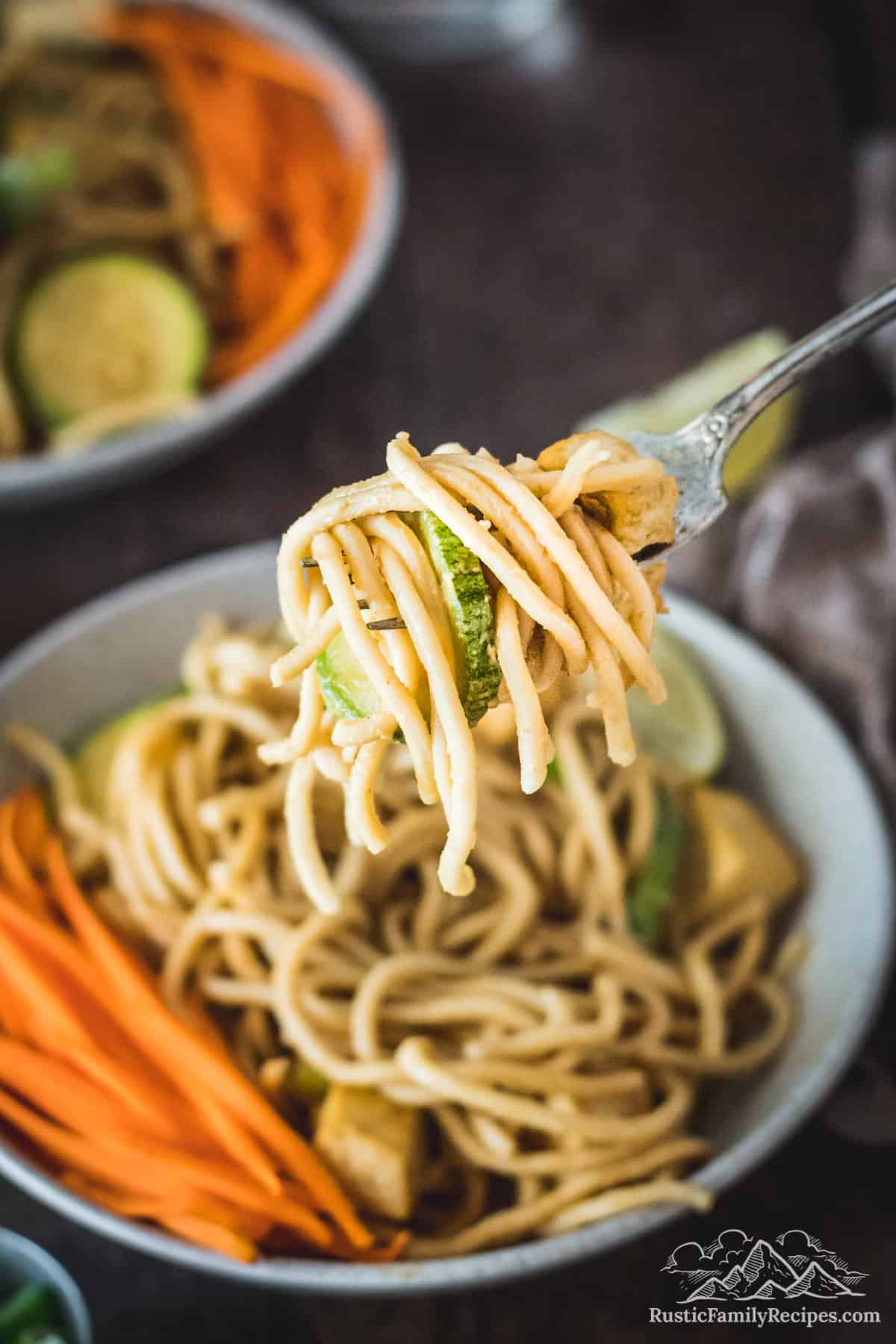 Print
Peanut Noodles Bowl with Tofu & Zucchini
With a creamy curried peanut sauce, chewy udon noodles, and pan-fried tofu, these Peanut Noodle Bowls are perfect for meal prep and weeknight dinners!
Author: Rustic Family Recipes
Prep Time:

10 minutes

Cook Time:

20 minutes

Total Time:

30 minutes

Yield:

4-5 servings

Category:

Dinner

Method:

Stovetop

Cuisine:

Asian
2

large carrots, peeled and shredded

6 tablespoons

seasoned rice vinegar, divided use

9.5 oz

udon noodles

2 tablespoons

peanut oil

4

garlic cloves, minced

1 tablespoon

grated ginger

1 teaspoon

curry powder

1/3 cup

creamy peanut butter

2 tablespoons

soy sauce

1 tablespoon

white sugar

14 oz

extra firm tofu, pressed and cut into

1

inch cubes

2

medium zucchini, sliced

1 cup

scallions, roughly chopped

1 teaspoon

sesame oil
Kosher salt to taste
Black Pepper to taste

1

lime, cut into wedges
Instructions
Make the Quick Pickled Carrots
In a medium bowl combine the shredded carrots with 3 tablespoons of vinegar, set aside.
Cook the Udon Noodles
Bring a pot of water to boil and cook the udon noodles according to package instructions. Set side.
Cook the Tofu
While the water is heating for the noodles, cook the tofu. In a large skillet, heat 1 tablespoons of peanut oil over medium heat. Add the tofu and season with a pinch of salt. Cook until the tofu is golden, then set aside.
Cook the Zucchini
In the same skillet add the zucchini along with 1/4 cup of water. Season with a pinch of kosher salt and a quick sprinkle of black pepper. Cook, stirring frequently until the zucchini has softened a bit and has a touch of golden color in some areas. Transfer to a bowl and set aside.
Make the Peanut Sauce
In the same skillet, add another tablespoon of peanut oil. Add the garlic, ginger and curry powder. Stir around a bit until fragrant, about 30 seconds. Add 1 cup of water, the peanut butter, soy sauce, sugar and remaining 3 tablespoons of vinegar. Mix together with a whisk until combined, then bring to a simmer and cook, stirring occasionally, until the sauce has thickened a bit, about 3 minutes. If the sauce becomes too thick you can add more water to loosen things up a bit.
Add Noodles and Veggies, then Serve
Add cooked udon noodles to the skillet and toss to coat with the peanut sauce. Stir in the tofu and zucchini, tossing things together to make sure everything is warmed through and coated in the peanut sauce.
Serve topped with the shredded carrots, a drizzle of sesame oil and a squeeze of a lime wedge.
Last Step:
Please
share a rating and comment
if you enjoyed this recipe! Your feedback helps this little blog thrive and continue providing free, high-quality recipes for you.
Keywords: peanut sauce noodles, peanut sauce tofu
Filed Under:
This post may contain affiliate links. Please read our disclosure policy.