Peach Mango Pie infuses a classic peach pie with a taste of the tropics. Serve it with a scoop of vanilla or peach ice cream for an unforgettable summer dessert.
Love desserts with peaches? Try this Blueberry Peach Cobbler!
Fresh peaches are one of the simple pleasures of summer, but their season is so fleeting, it's hard not to buy way more than you need when you spot them at the farmers market. At my house, whatever we can't eat right away gets blanched and frozen, simmered into jam, or baked into pies and pastries. This peach mango pie might just be my favorite peach recipe yet, and I think it's going to be yours too. Peach pie is good, but adding mangos to the mix takes it up a notch. This is the kind of dessert that's easy enough to make for a weeknight dinner, but impressive enough to serve guests.
The perfect complement to the peach-mango filling is the light, buttery pastry crust. Make your own instead of buying the pre-made dough from the grocery store — it's worth it. Store-bought pie crusts don't have the same taste and aroma of butter, nor do they develop the flaky layers that make homemade pie crust so irresistible.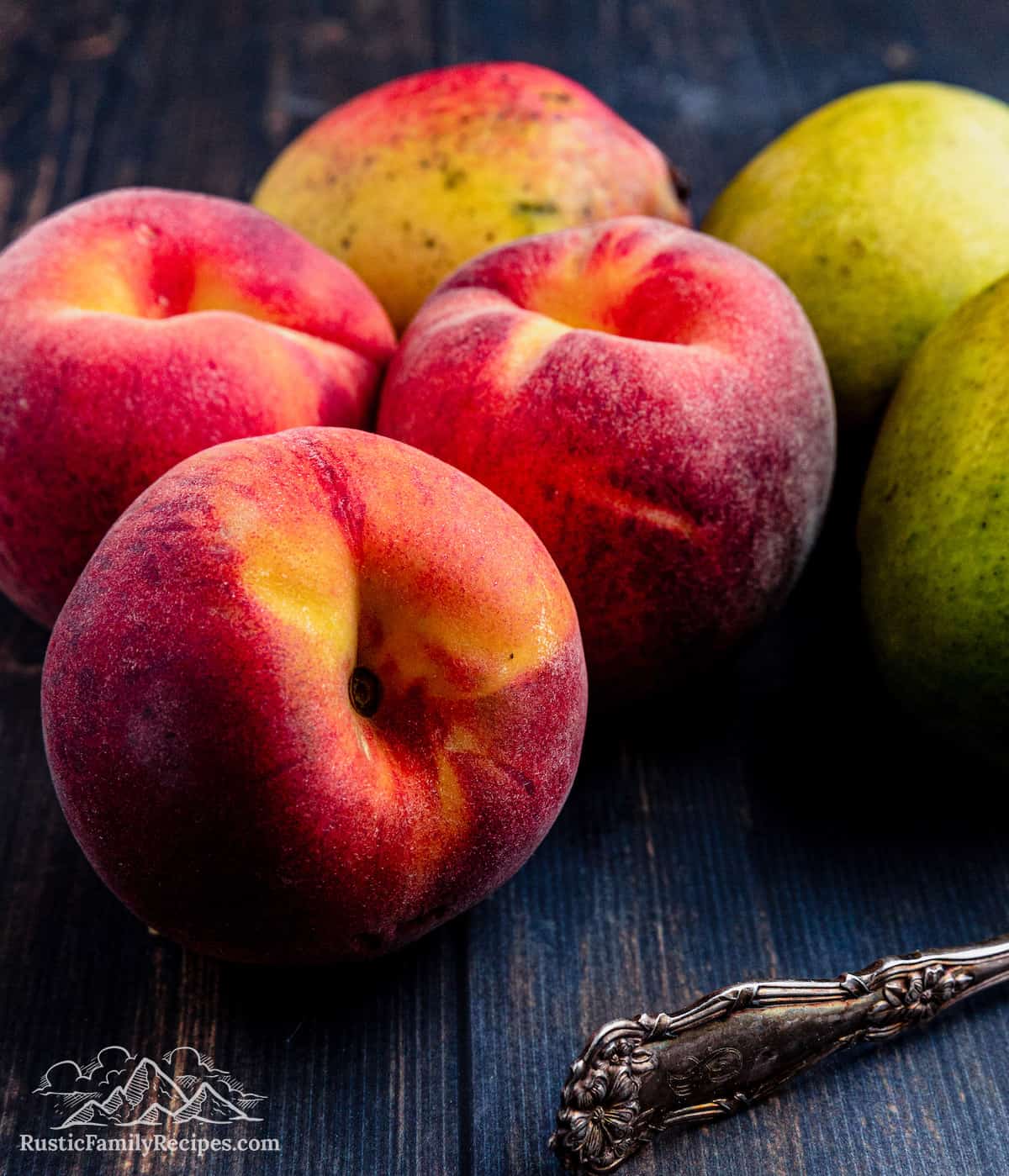 What You'll Need
Are you ready to get started? Here are the ingredients for peach mango pie:
For the Pie Crust
All-purpose flour
Salt
Unsalted butter – I recommend using frozen butter for the flakiest crust.
Vegetable shortening – If you have coconut oil on hand, you can use that instead if you'd like.
Cold water
For the Fruit Filling
Peaches – Nectarines can be used, too. (Did you know nectarines are actually a type of peach? They have a genetic mutation that makes the skin smooth instead of fuzzy.)
Mangos – To choose the most perfectly ripe mangos, gently press on the fruit with your fingers. A ripe mango yields to pressure.
Granulated sugar
All-purpose flour
Cinnamon
Ginger
Nutmeg – Or swap the nutmeg for a generous pinch of cardamom.
Lime juice – A little bit of acid brightens the flavor of the fruit and tempers its sweetness.
Egg white – Using an egg wash makes your pie look like it came straight from your favorite bakery.
How to Make Peach Mango Pie
Because the pie crust dough needs to be refrigerated for at least 2 hours, make sure you start making your Peach Mango Pie a several hours before you're planning on serving it.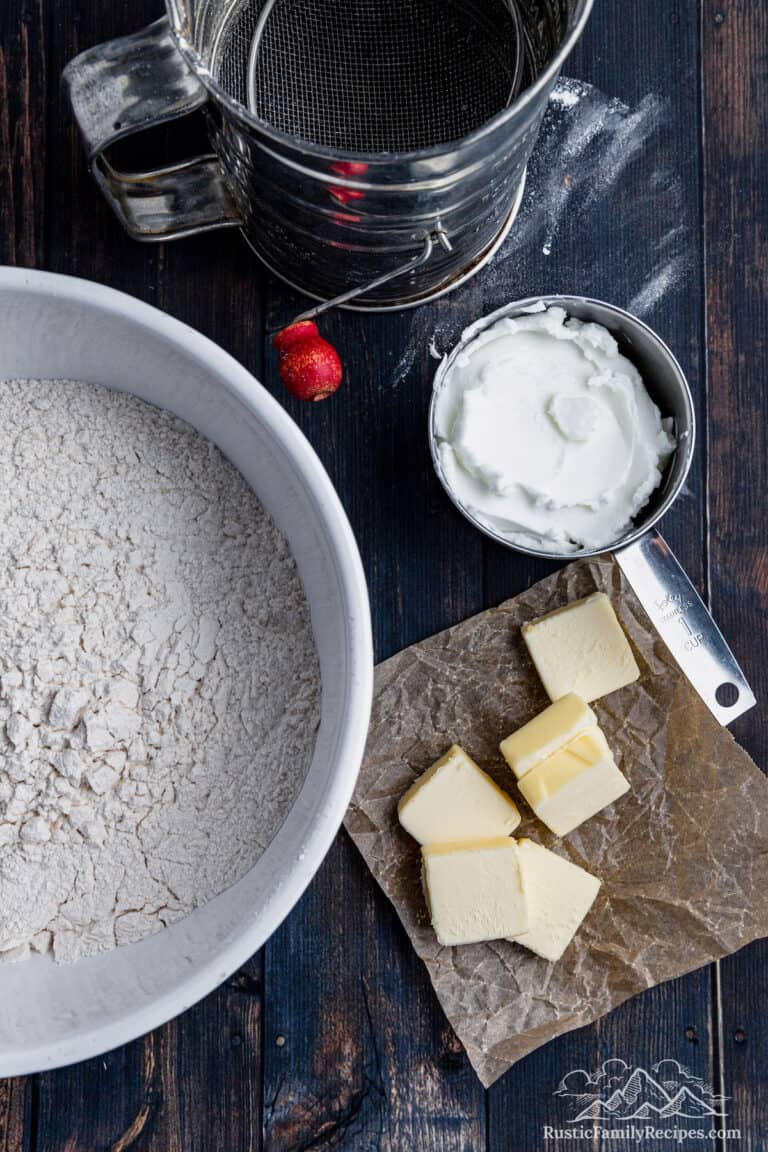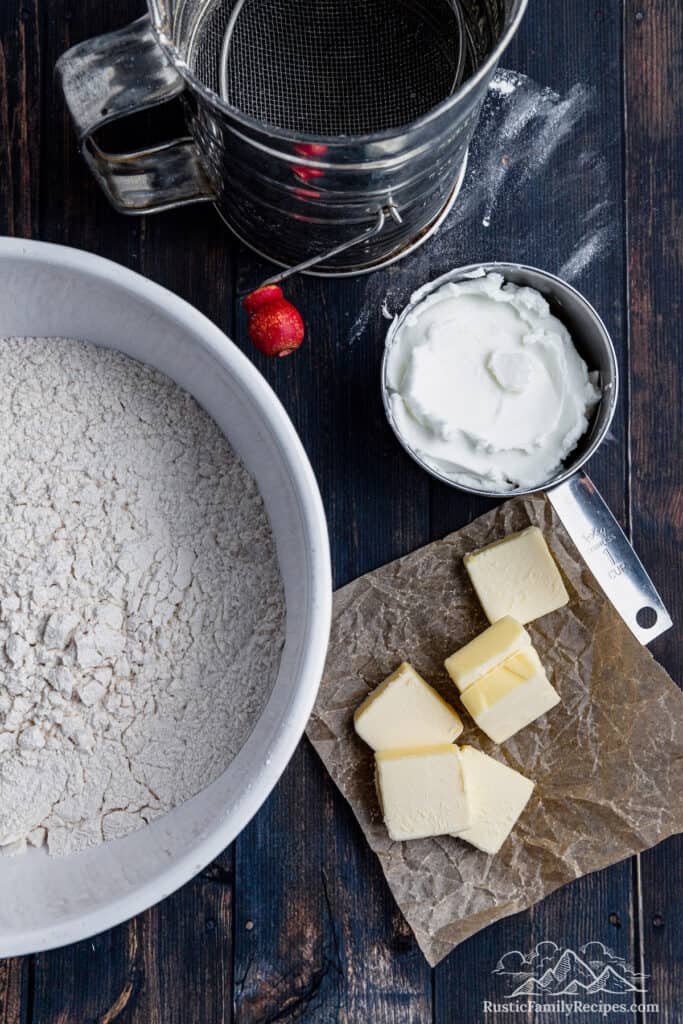 Make the pastry dough. In a large mixing bowl, combine the flour and salt, then add the chilled butter and shortening. Cut in the butter and shortening using a fork or pastry cutter, making sure there are no large chunks (small ones are fine). Add water a tablespoon at a time and knead until a soft dough forms.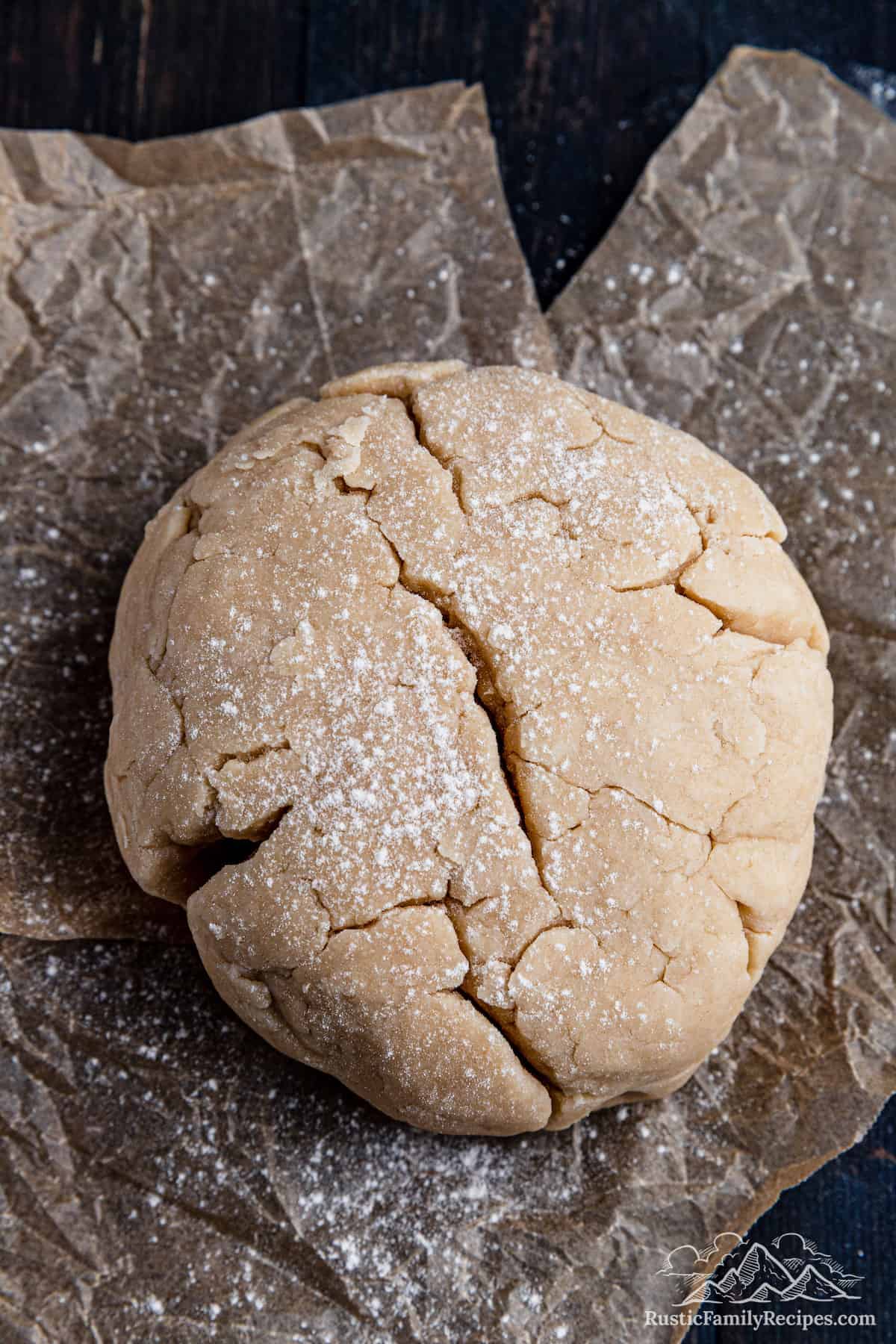 Chill the dough. Once the pastry crust dough has come together, roll it into a ball, then divide the ball into two equal parts. Wrap each half in plastic wrap and place them in the refrigerator for a minimum of two hours.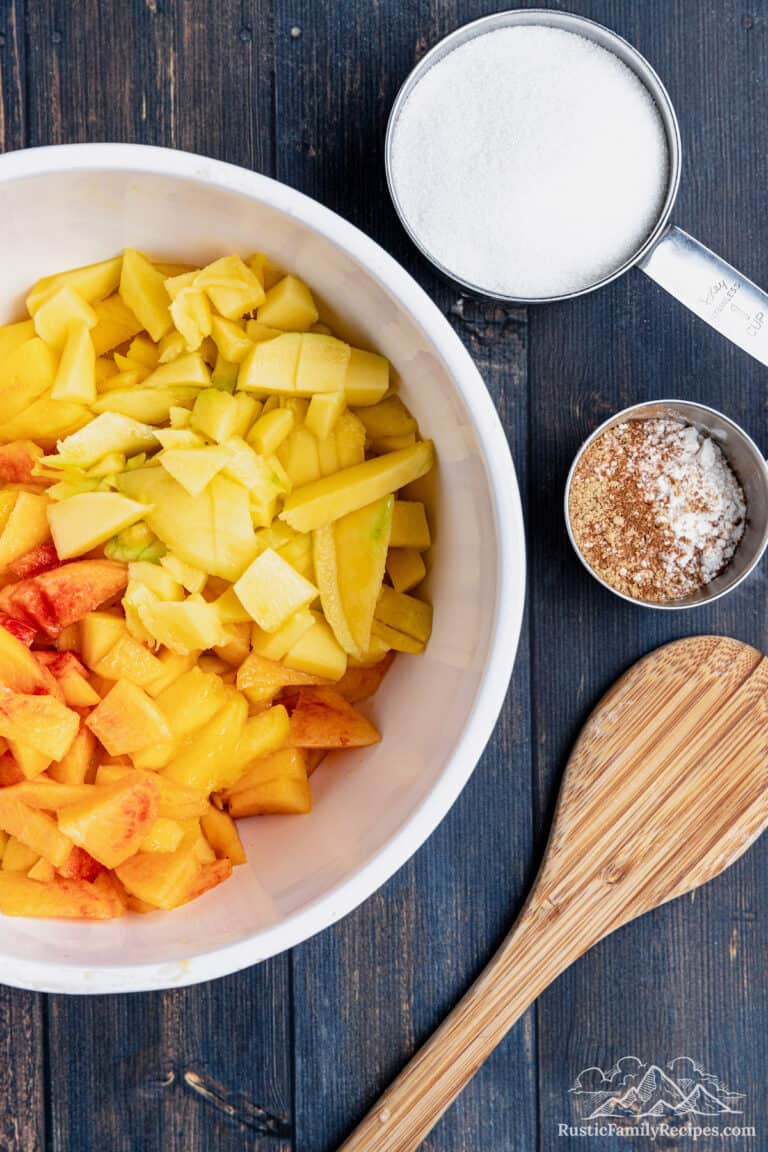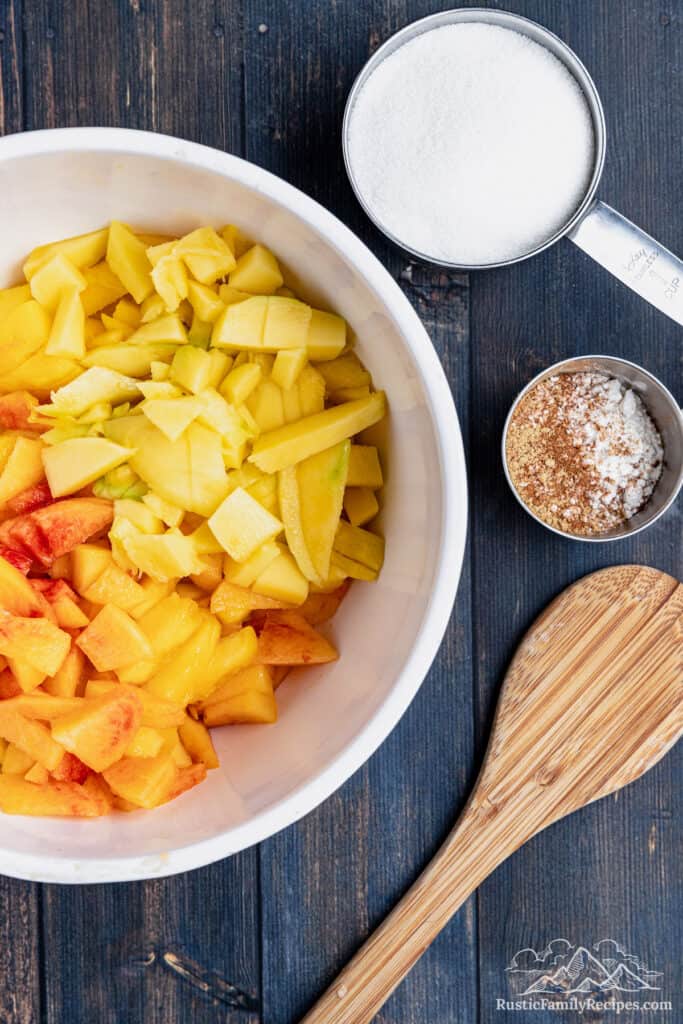 Prepare the filling. Peel and slice the peaches and mangos, then place them in a medium mixing bowl with the sugar, spices, and 2 tablespoons of flour. Toss to coat, then cover the bowl with plastic wrap and set aside to macerate.
Roll out the dough. Unwrap the first dough ball and place it on a lightly floured surface. Use a rolling pin to roll it into a 12-inch diameter circle. Lift the dough carefully and gently press it into a pie dish. Roll out the second ball of dough to the same size.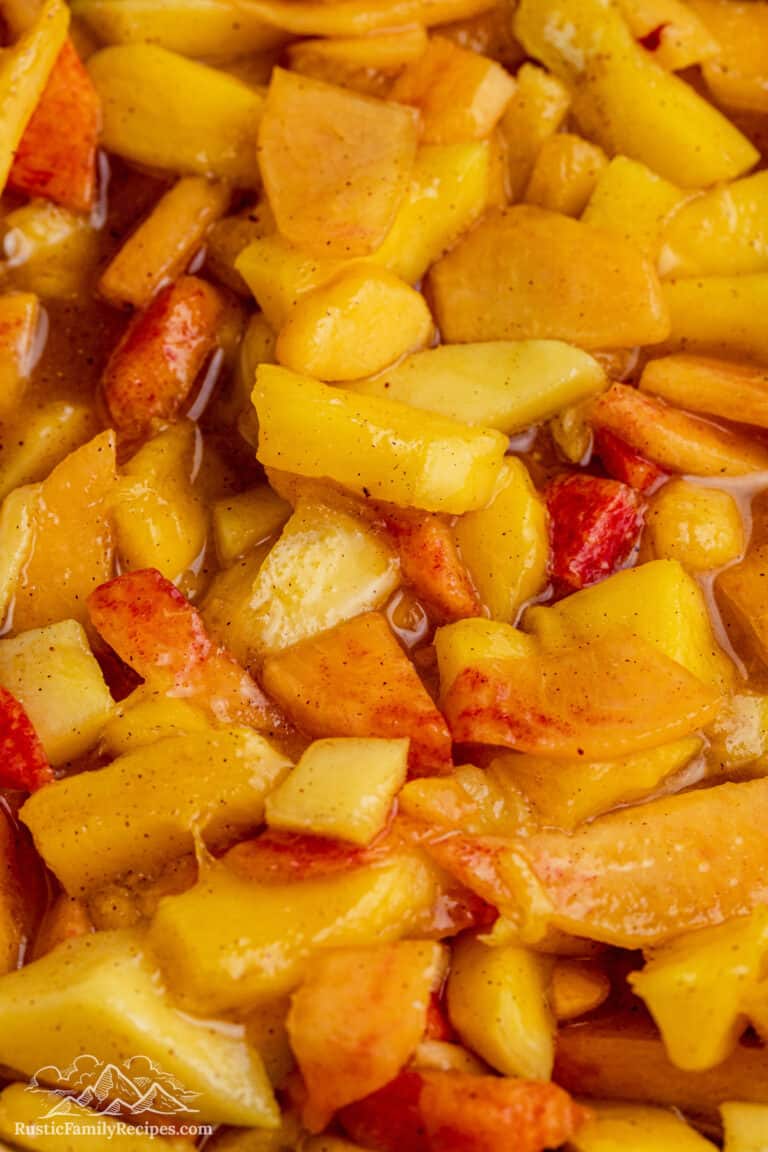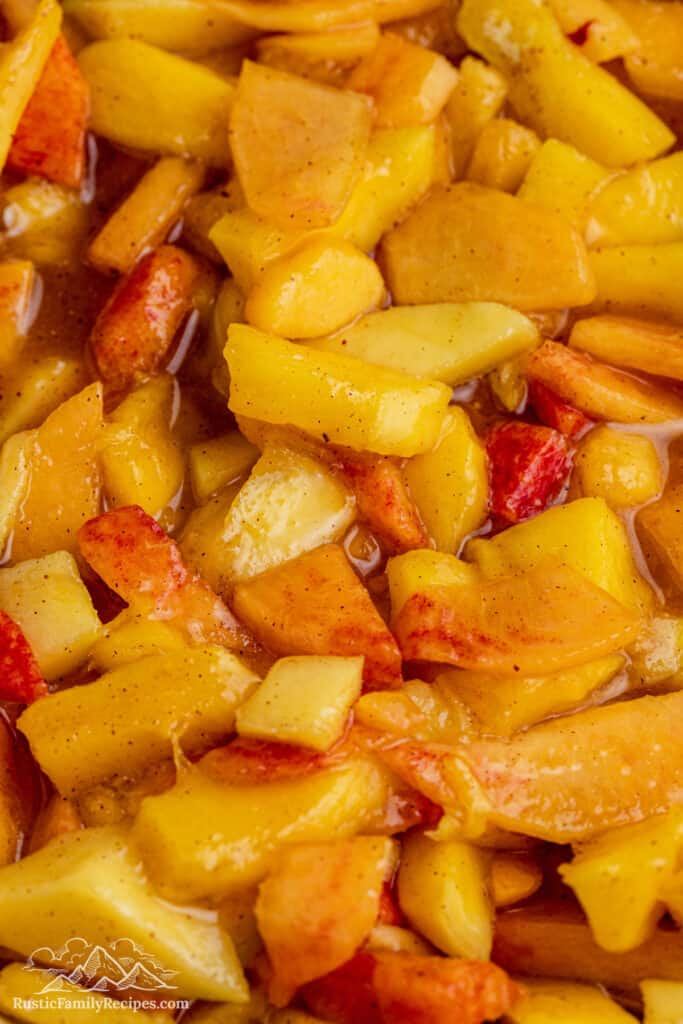 Assemble the pie. Squeeze a tablespoon of lime juice over the fruit mixture, then transfer the fruit to the pie dish, making sure it's evenly distributed over the crust. Place the remaining pie dough on top of the fruit and use a sharp knife to make a few slits for venting. Trim any excess dough and press the edges together with a fork.
Finish with egg wash. Brush the top layer of pie dough with the egg white, then sprinkle it with sugar.
Bake the pie. To keep the edges of the crust from getting too brown, cover them with strips of foil. Bake the peach mango pie at 375ºF for 35 to 40 minutes, or until the fruit is bubbling up through the vents and the crust is golden brown.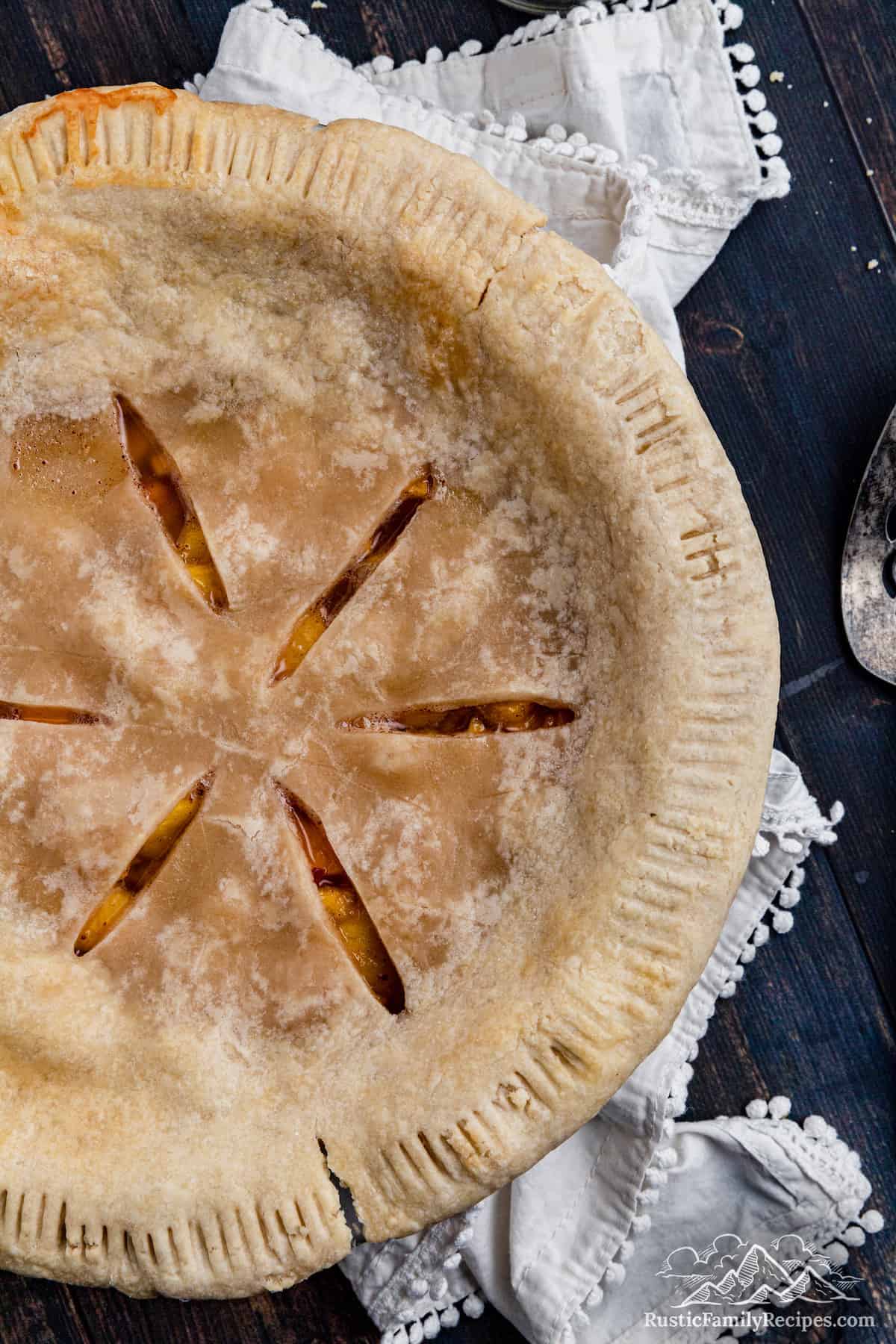 Serve. Let the pie rest for 15 minutes so the juices can thicken a bit. Serve with a scoop of vanilla ice cream or a dollop of whipped cream. (I recommend a tall glass of Mango Lemonade too! Might as well go all in on the mango right?)
Tips for Success
Making peach mango pie is simple, but here are a few tips to make it even easier:
Know when to stop kneading. Aside from cold butter, one of the secrets to a flaky pie crust is to know when to stop mixing and kneading. Don't knead until the fats are completely incorporated into the dough. You want some bits of butter and shortening in the dough; they create the air pockets that turn into flaky layers as a pastry bakes.
Blanch the peaches. Peeling ripe peaches isn't the easiest task, but if you place them in boiling water for a minute, then transfer them to ice water until they cool, the skin will loosen and peel off easily.
Be patient. Don't panic if you take your pie out of the oven and the filling seems a little too liquid-y. As the pie cools, the flour will help thicken up the juices and you'll have that perfect, syrupy consistency.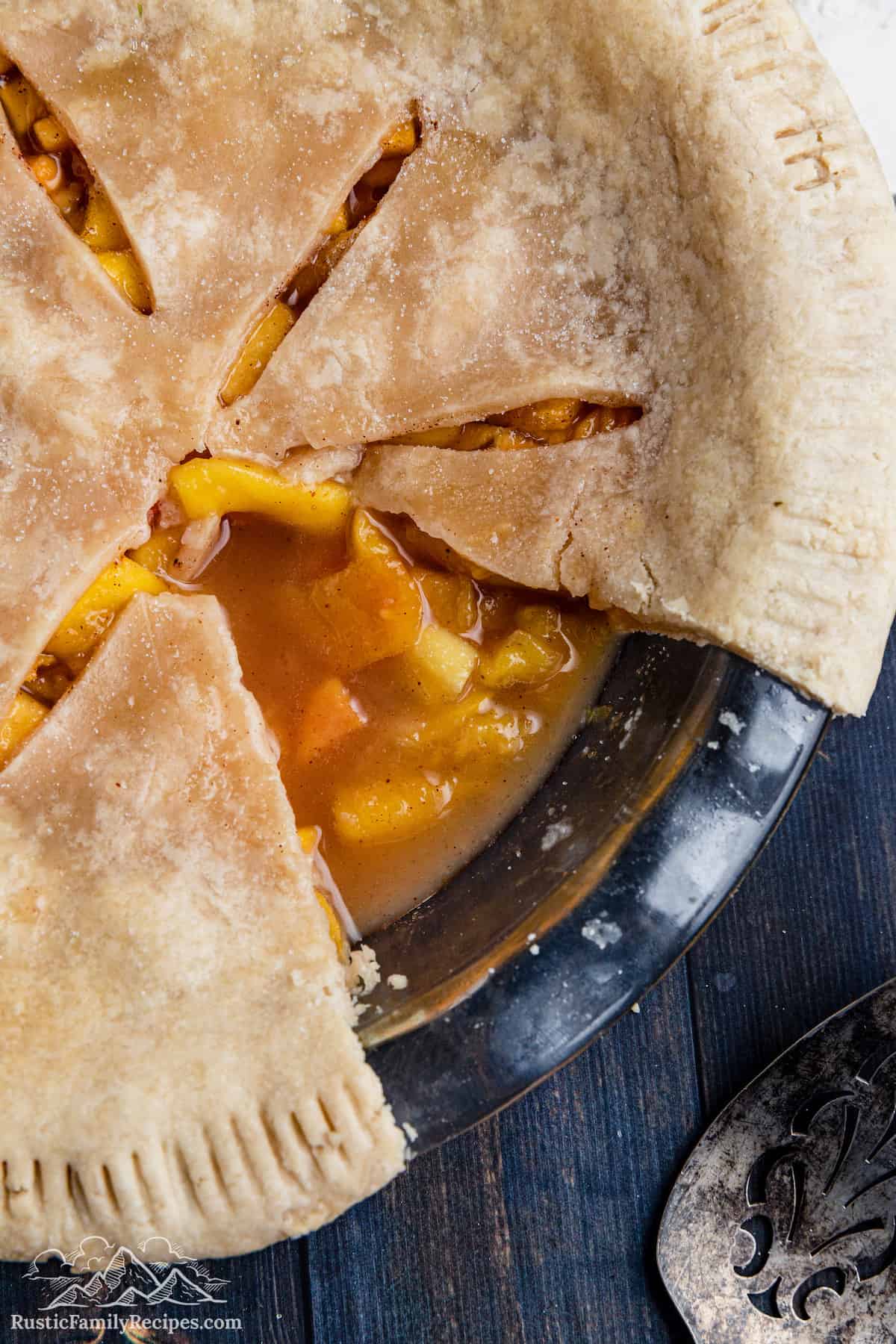 Can I Use Frozen Fruit for Peach Mango Pie?
You certainly can! Sometimes it's hard to find good mangos at the grocery store and peach season is short, so you can use frozen fruit if you need to. Fresh is always best, but frozen fruit will still give you delicious results.
How to Store Peach Mango Pie
Let the pie cool completely, then cover it with foil or plastic wrap. It will keep at room temperature on the countertop for up to 2 days, and it will last up to 4 days when refrigerated.
You can freeze peach mango pie by letting it cool and placing it in a freezer bag for up to 4 months. Thaw it at room temperature, then bake it at 425ºF for about 15 minutes to warm it up before serving.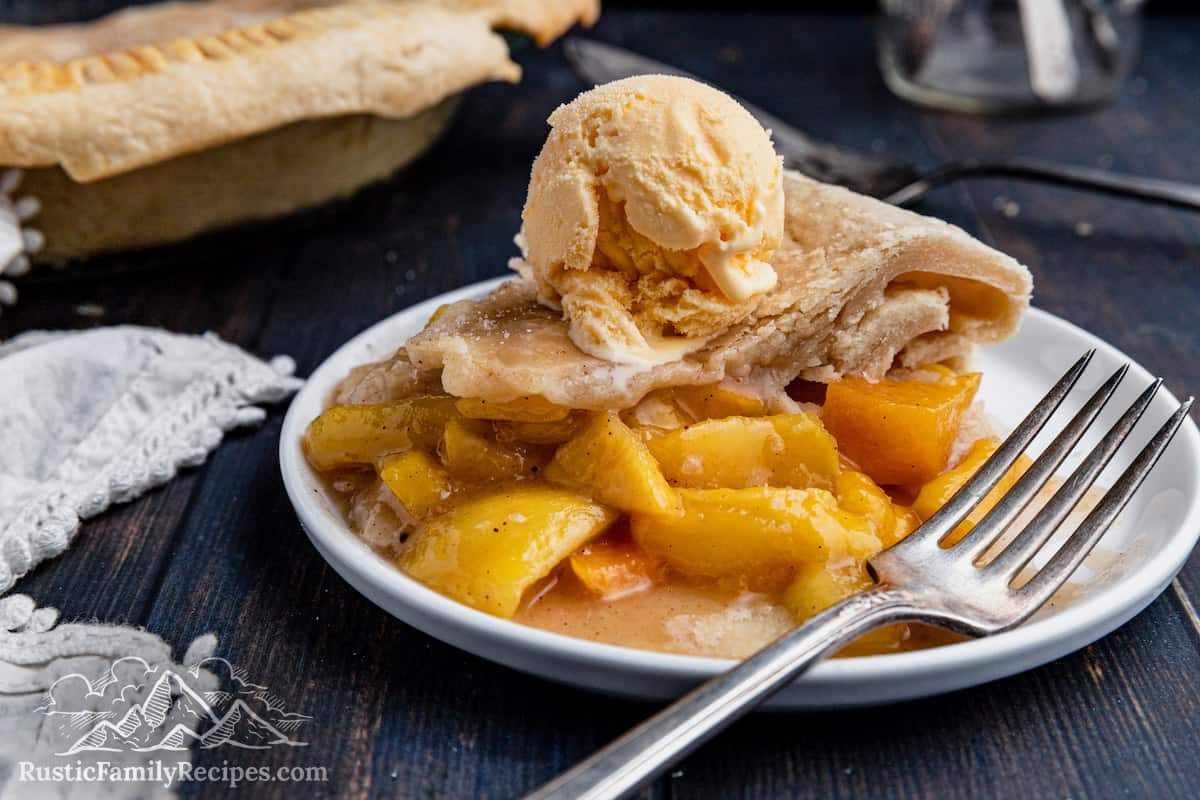 Peach Mango Pie Recipe Variations
Here are some ways to make this peach mango pie recipe your own:
You can make peach mango pie with a lattice crust by cutting the top crust into strips and weaving them together.
Use cookie cutters to cut the top crust into shapes and layer them over the fruit.
Apparently there's a Filipino fast food chain called Jollibee that serves peach mango hand pies for dessert. (I wish they were in my neck of the woods!) To make your own hand pies, cut your dough into individually-sized circles or rectangles and bake your mini-pies on a parchment-lined sheet pan.
Instead of pie, make the peach mango filling and top it with my favorite cobbler topping.
Print
Peach Mango Pie
Take peach pie to the next level by adding fragrant, tropical mangos. Don't forget the scoop of vanilla ice cream on top!
Author: Rustic Family Recipes
Prep Time:

2 hours 10 minutes

Cook Time:

40 minutes

Total Time:

2 hours 50 minutes

Yield:

12 slices

Category:

Dessert

Method:

Oven

Cuisine:

American
For the Pie Pastry Crust:
½ cups

all-purpose flour

1 tsp

salt

6 Tbsp

unsalted butter, chilled and cubed

¾ cup

vegetable shortening, chilled

½ cup

cold water
For the Pie Filling:
3

peaches, peeled and thinly sliced

3

mangos, peeled and thinly sliced

1 cup

granulated sugar, plus 1 tsp for topping

3 tbsp

all-purpose flour

½ tsp

ground cinnamon

¼ tsp

ground ginger

⅛ tsp

ground nutmeg

1 tbsp

fresh lime juice

1

egg white, for brushing on crust
Instructions
Make the Pie Crust
In a bowl, mix together the flour and salt. Add in the butter and shortening. Cut the butter and shortening together with flour using a fork or pastry cutter. You will want to make sure to press out and cut any large chunks.

Slowly add in the water a tablespoon at a time, mixing with a wooden spoon in between each addition. With lightly floured hands, knead the flour mixture until a soft dough forms. Roll into a ball and divide into two. Wrap both sections in plastic wrap and chill for at least 2 hours.
Make the Pie Filling
While the dough is chilling, prepare your pie filling. Start by peeling your fresh fruit and thinly slicing. Place all the sliced fruit into a medium sized mixing bowl. Add the sugar, 2 tablespoons of flour and ground spices. Mix to evenly coat the fruit. Cover with plastic wrap and set aside.
Assemble and Bake
4. After chilling your dough, unwrap a single dough ball first and place on a lightly floured surface. With a rolling pin, gently roll out the dough until it reaches roughly 12 inches in diameter. Gently place within a pie dish.

Uncover the filling and squeeze 1 tablespoon of fresh lime juice over the fruit. Pour the pie filling into the center of the pastry crust lined pie dish.

Repeat with rolling out the second ball of dough. Place over the top of the filled pie and make a few slits with a knife. Trim off any excess dough and press the edges together with a fork.
Lightly brush the top layer of the pie dough with the egg white and sprinkle with a dusting of sugar on top.
Cover the edges of the pie with cut pieces of foil (this helps prevent the crust from browning too quickly). Bake in a preheated oven at 375 degrees Fahrenheit for 35-40 minutes, or until the crust is slightly browned.
Remove from the oven and let rest for 15 minutes before cutting. Serve with whipped cream or vanilla ice cream.
Last Step:
Please
share a rating and comment
if you enjoyed this recipe! Your feedback helps this little blog thrive and continue providing free, high-quality recipes for you.
Keywords: mango pie, peach pie, mango recipes, peach recipes
This post may contain affiliate links. Please read our disclosure policy.