Soft and buttery, this orange-flavored pan de muerto is an iconic Mexican pan dulce. Sprinkled with sugar for added sweetness, it's perfect for dipping into hot chocolate this upcoming Day of the Dead.
Pan de muerto is a citrusy Mexican sweet bread only made in the weeks leading up to Day of the Dead. With its generous sprinkle of granulated sugar, it's one of my favorite Mexican recipes to make in the fall. They're soft and airy, with just the right amount of sweetness. You'd never guess their lovely golden exterior is hiding a pillowy interior with subtle hints of orange zest and orange blossom water.
Making them at home is the perfect way to honor loved ones, especially with how rich and buttery they are! While you definitely need some patience to let the dough rise and make the bones, it'll all be worth it when you bite into a freshly baked pan de muerto. Few things are as comforting as dunking a piece into hot chocolate or coffee. Don't believe me? They're a delicate bread even spirits come back for.
What is Pan De Muerto? (Day of the Dead Bread)
Pan de muerto, also known as Day of the Dead Bread is a seasonal Mexican sweet bread specially made for Day of the Dead. When the name is translated to English, it means "dead's bread."
It consists of a brioche-like dough that's been enriched with butter and eggs. This makes for a very buttery crumb that also happens to be light and airy. Flavored with orange zest and blossom water, it's very earthy, citrusy, and aromatic.
The bread is baked until it's golden all-over and is then dipped in melted butter while still warm. This softens the exterior but also prepares the buns for a generous sprinkling of sugar on top. Biting into them will send burst of crunchy sugar through the air, but it's part of the experience.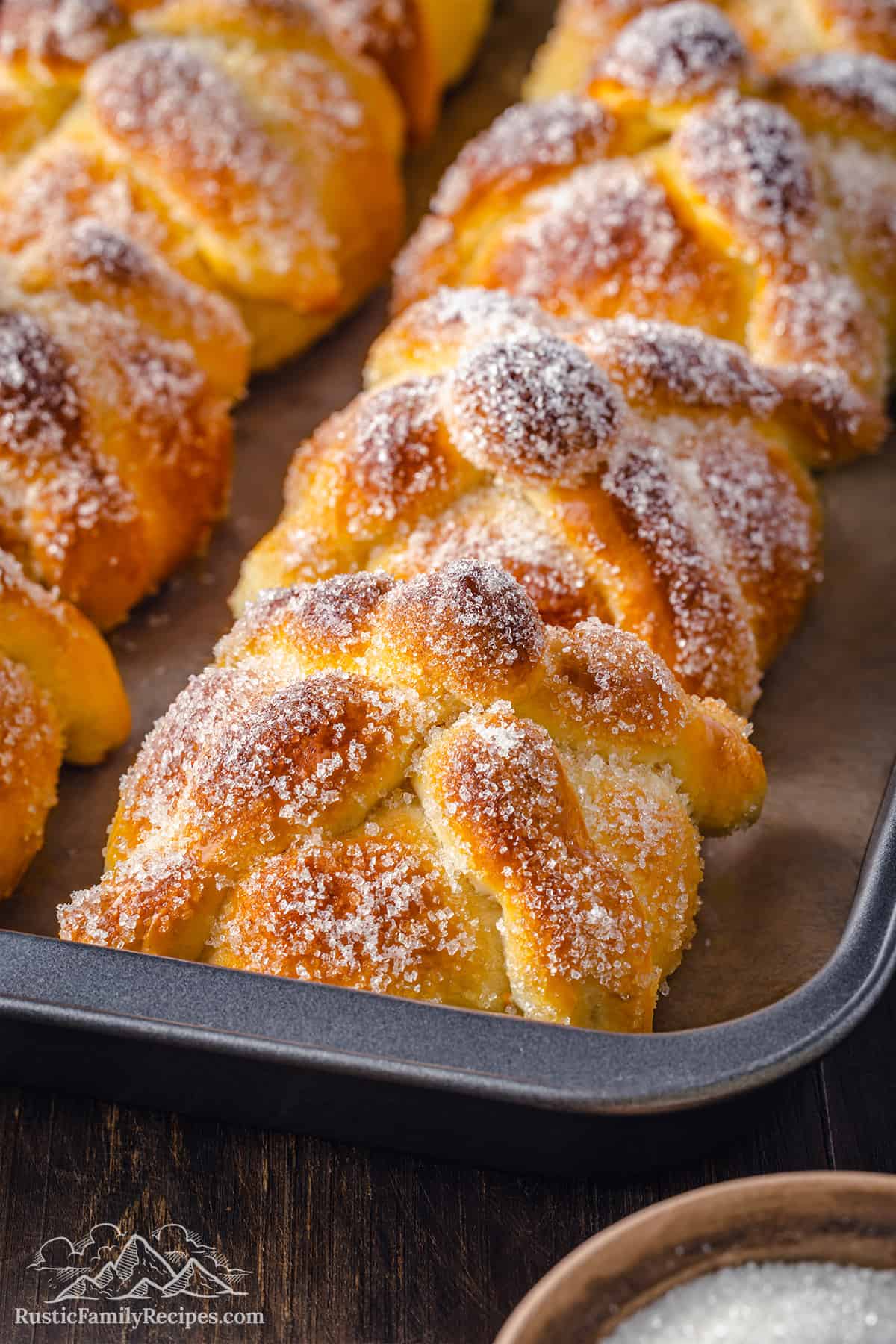 Types of Pan De Muerto
There are 5 main types of pan de muerto, with even more regional variations. Some of them are iced, others are sprinkled with sesame seeds, and some are even shaped like people. I make the most traditional one, though. It's from Mexico City and has become the face of pan de muerto all over the country.
This pan de muerto is round and topped with a "skull" and "bones". The orange blossom water is responsible for its signature taste. The sprinkling of sugar, for its signature look.
What Does Pan de Muerto Taste Like?
Unlike other sweet breads, pan de muerto isn't excessively indulgent. It's a light and airy bun that still manages to be incredibly rich. It's a lot like brioche, but with an earthy orange flavor from the zest. The orange blossom water adds a subtle and elegant aromatic component to every bite. It's like your nose picks up on the flavor before your mouth does, making it a real sensory experience. Since the bread is dipped in butter and sprinkled with sugar it also has a bit of crunch.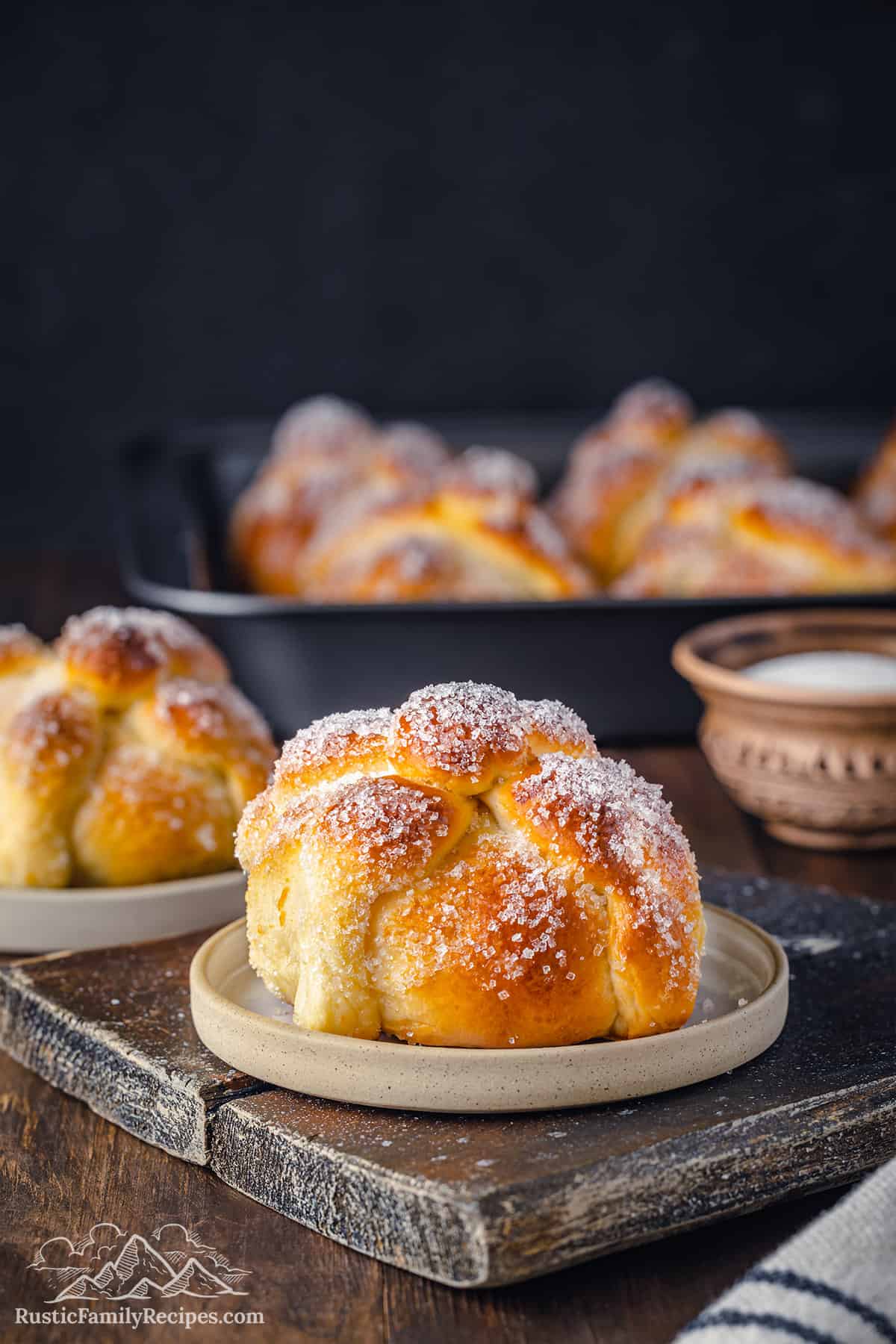 Pan De Muerto Meaning & Significance
Pan de muerto is more than a delicious dessert. It's actually an offering that's placed at a loved one's altar or tombstone every November 1st and 2nd, honoring their departure. When your loved one's spirits arrive on Day of the Dead (Dia de los Muertos), they can feast on the bread and any other foods you placed at the site while you rejoice in each other's company.
The bread is round, representing the cycles of life and death. It's also flavored with orange blossom water, an ingredient thought to help us remember our loved ones according to tradition. The central "ball" symbolizes the dead's skull, their memories, and wisdom. The other four decorations are supposed to be "bones."
Recipe Ingredients
With only 10 ingredients, you'll be surprised how easy it is to make this age-old tradition and get your kitchen smelling amazing. Scroll down to the recipe card for exact ingredient amounts.
For the bread
All-purpose flour – This is the most common type of flour used for baking in Mexico, but you can also use bread flour.
Active dry yeast – Feel free to use the same quantity of instant dry yeast, adding it straight to your dry ingredients. However, the dough might take longer to rise.
Water
Evaporated milk – It adds a subtle sweetness and creaminess that I love, but whole milk works too.
Granulated sugar – White or light brown sugar are great for this recipe. Please stay away from confectioners' and dark brown sugar.
Salt
Unsalted butter – I don't ever recommend swapping unsalted for salted butter. However, it's not the end of the world if you do. Just make sure to leave out the salt in the rest of the recipe.
Eggs
Orange zest – Lemon zest is a good substitute. It will change the flavor slightly, but will maintain the bread's citrus notes.
Orange blossom water – It's definitely not as common as other extracts so I recommend searching for it at specialty baking stores or online. If you can't get a hold of it, substitute it for 2 teaspoons of vanilla extract or 1 1/4 teaspoons of food-grade orange extract.
For topping
Whisked egg
Granulated sugar
Unsalted butter – If you already used salted butter in the dough, refrain from using it again for brushing. Your pan de muerto might turn out salty.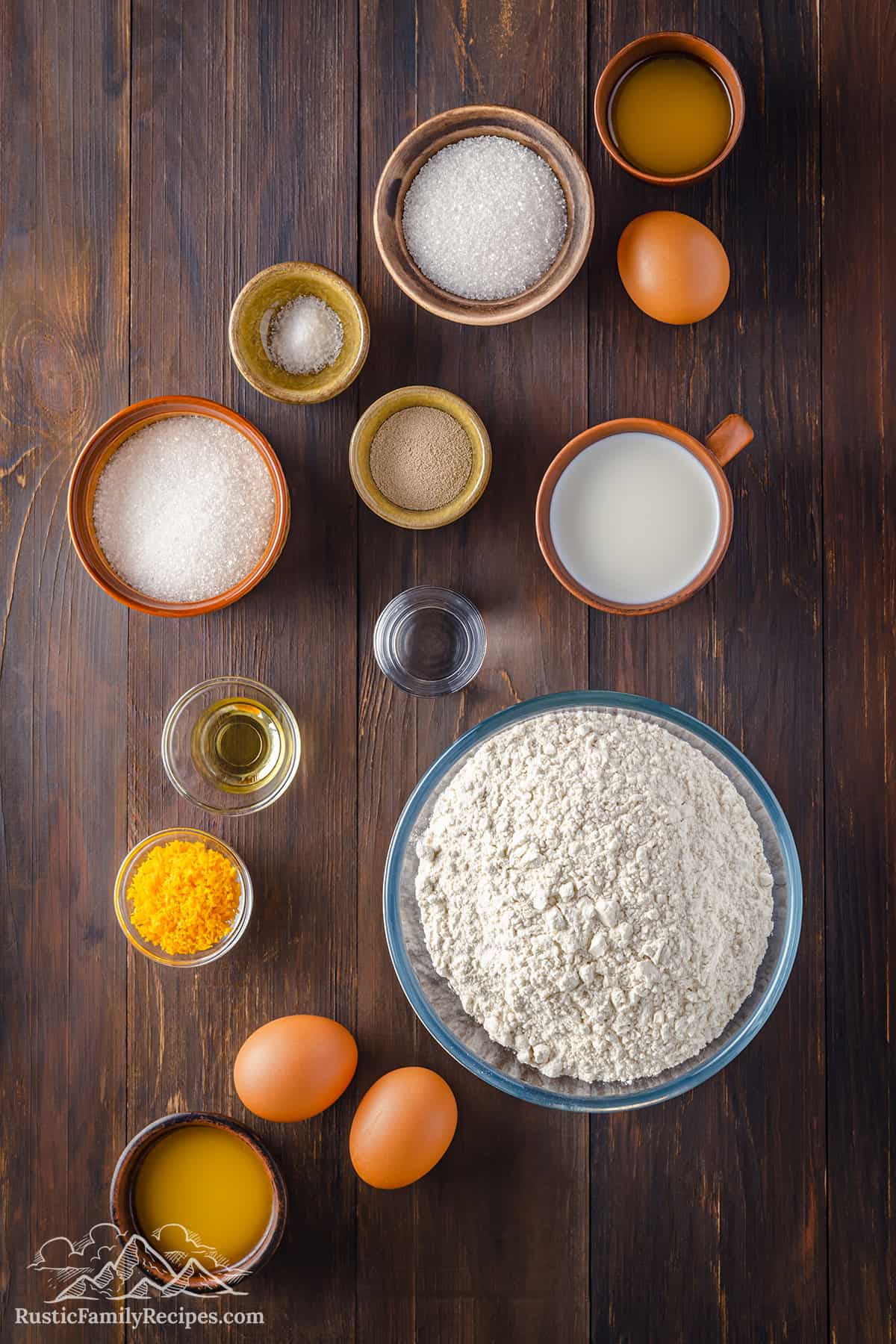 How to Make Pan De Muerto
Make sure you've got some time on your hands because pan de muerto requires patience. Despite this, it's actually not that hard to make.
Prepare the tray. Line a baking tray with some parchment paper. Set it aside.
Make the yeast mixture. In a small bowl, whisk warm water, one tablespoon of sugar, and yeast. Mix well. Set the mixture aside for 15 minutes or until frothy and foamy.
Make a well. In a large bowl, mix the flour and sugar until well combined. Place them on a clean surface and use your hands to make a "well" in the center. It should look a bit like a volcano, with enough room to add liquid ingredients in the center. Add the yeast mixture, eggs, salt, butter, orange blossom water (or extract), zest, and evaporated milk.
Knead. Use your hands to mix the ingredients until a dough forms. Knead it for 15-18 minutes. When it no longer sticks to your fingers, the dough is ready. Place it back in the bowl.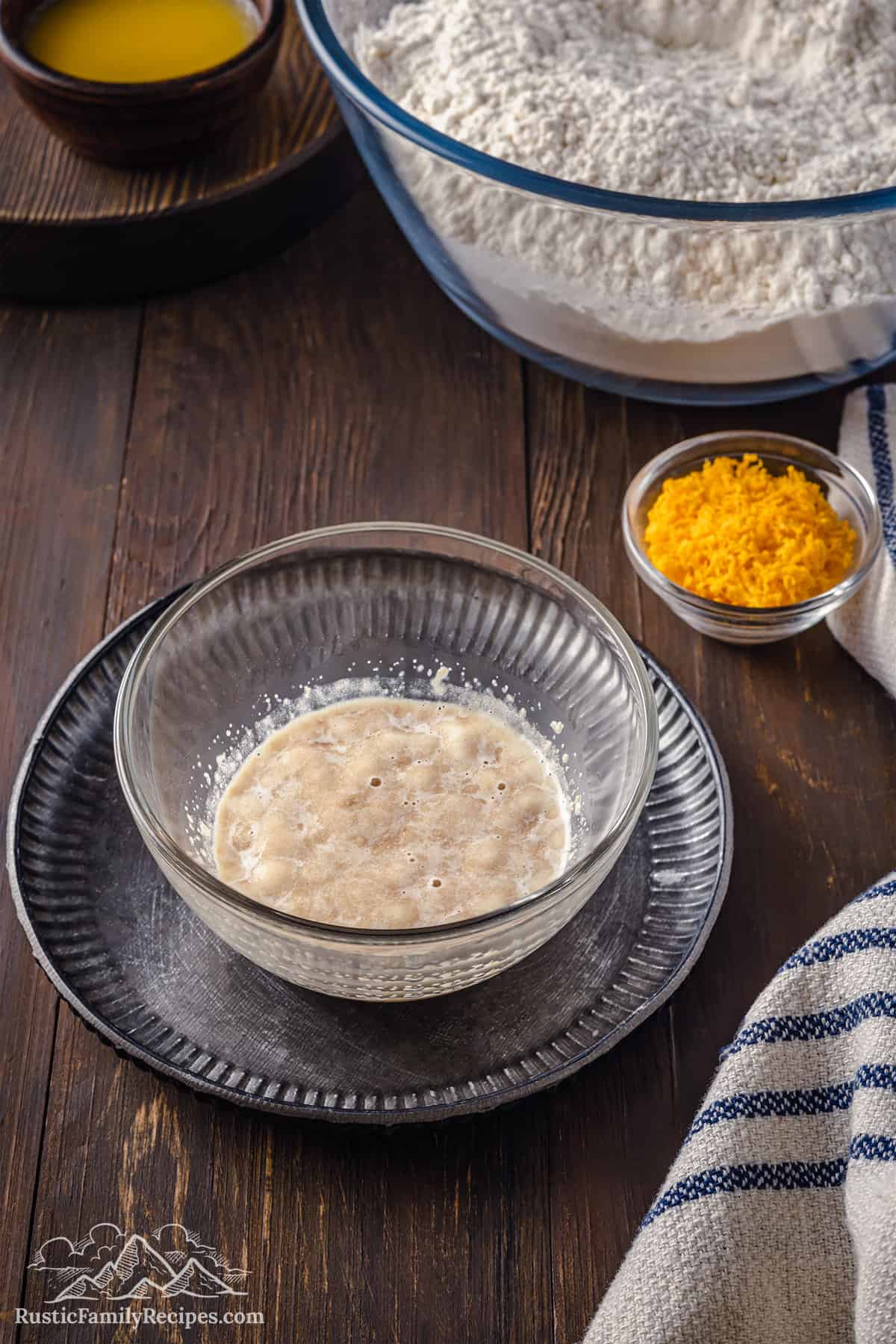 Let it rise. Cover the bowl with plastic wrap or a clean kitchen towel. Let the dough rest for 1 hour or until double in size.
Shape. Divide the dough into 4 equal parts. Reserve one part to make the "skull" and "bones." Combine the remaining three parts again. Use your hands to form 8 equal-sized balls. Arrange them on the prepared baking tray, leaving 4-5″ of space in between them. Cover the buns with a clean kitchen towel and let the pan de muerto rise for another 30 minutes.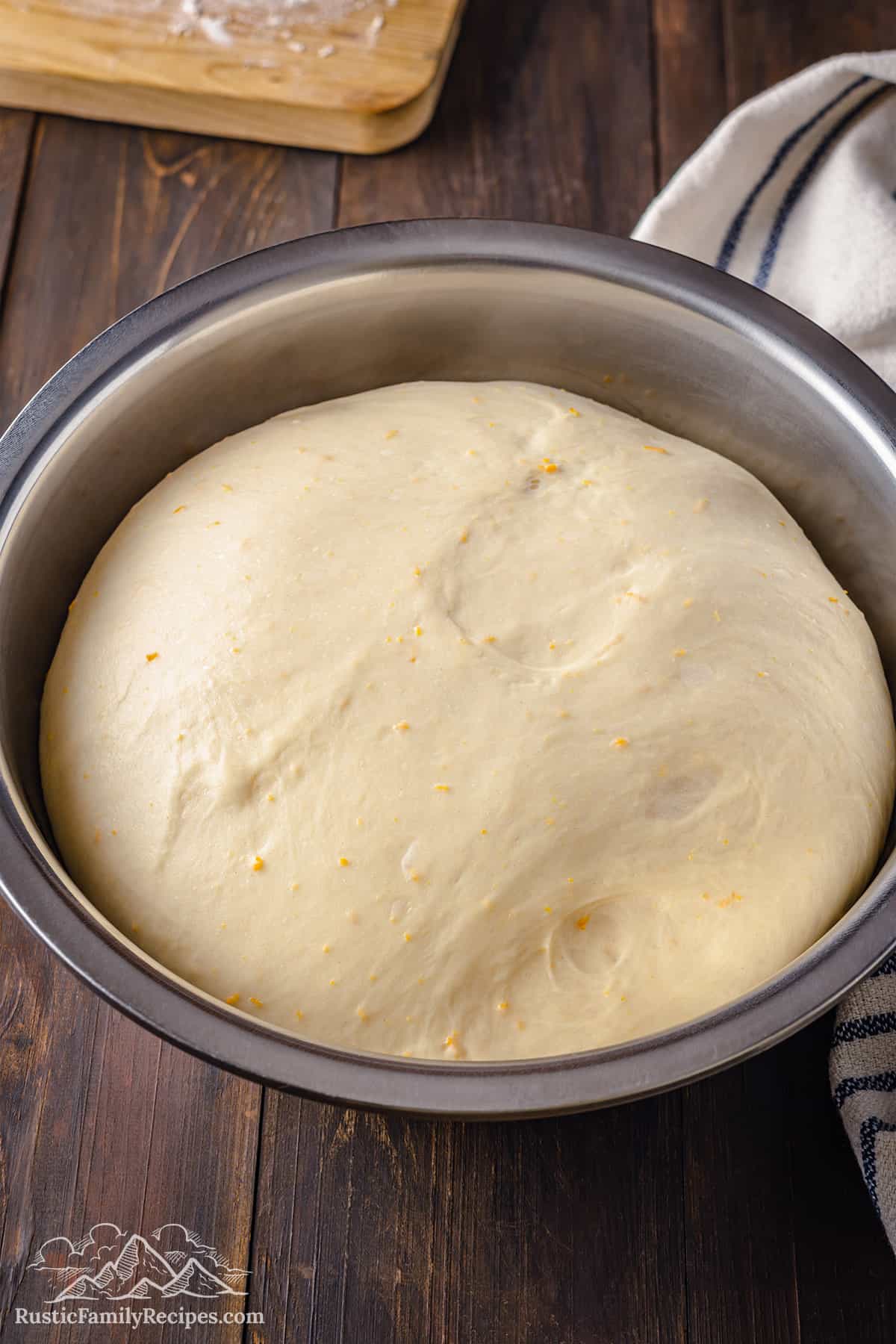 Make the skulls and bones. Roll the dough into 8 little balls and 16 strips. Place them on another parchment-lined tray and refrigerate for 1 hour. Don't skip this step or they'll sink into the bread during baking.
Bake. Preheat the oven to 360 F. Assemble the buns by crossing two strips in an "x" shape down the center. Press one of the "skulls" or balls in the center of the "x" until it sticks. Brush the buns with egg-wash. Pop the pan de muerto into the oven for 20-25 minutes or until golden brown.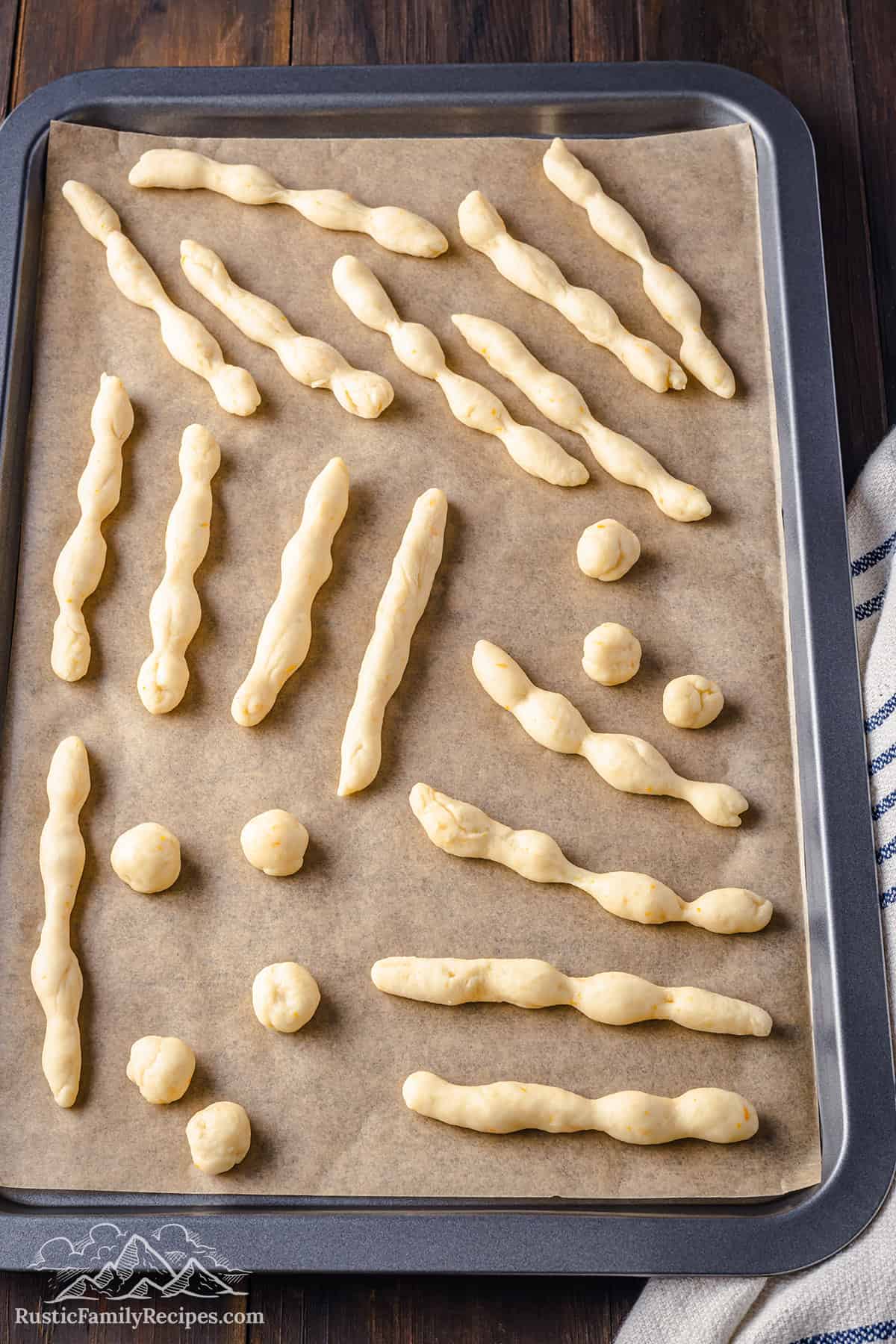 Add sugar. Wait about 5 minutes after taking them out of the oven and then dip them in melted butter. You can also brush it on. Then immediately sprinkle with granulated sugar. Let them come to room temperature before eating. Enjoy!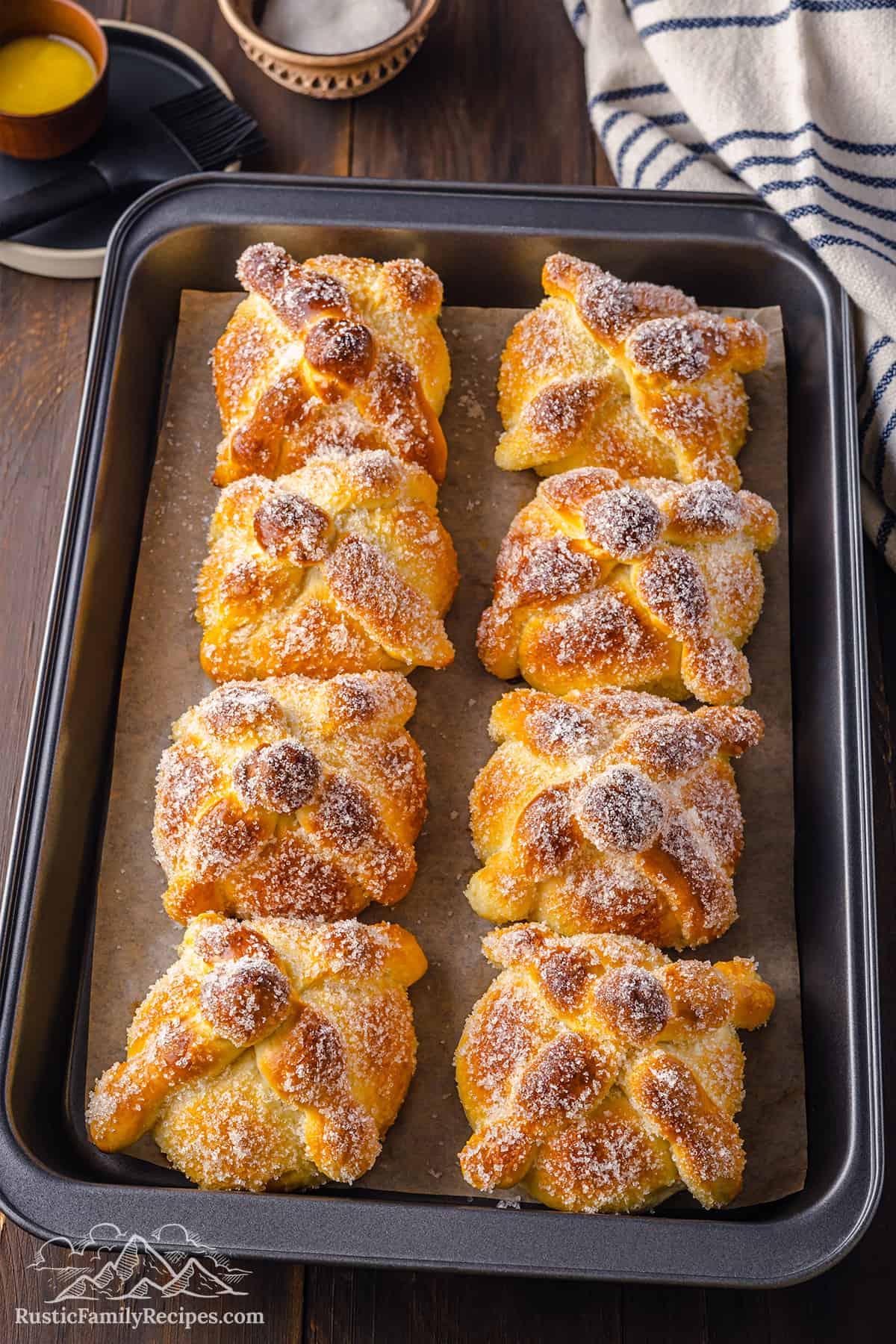 Tips for Success
Follow these tips to pay your respects to good bread-baking and pan de muerto:
Use an oven-thermometer. Bread-baking is extremely temperature-sensitive. When the internal temperature is just a few degrees off, it can be devastating. Avoid greasy, dense, and rubbery bread by using an oven-thermometer to make sure the oven is properly heated.
Add a tray of water. Pour some water into a tray and place it on a lower rack in the oven. This will create steam and keep your bread's exterior soft as it bakes.
Don't let it cool. Don't let the buns cool before dunking them into the melted butter and sprinkling them with sugar. Once the temperature lowers, the butter and sugar don't adhere to the bread well.
Sprinkle some cinnamon. Make a cinnamon-sugar mixture and use it to sprinkle your pan de muerto with. It's not as traditional but still adds a very fall-themed flavor.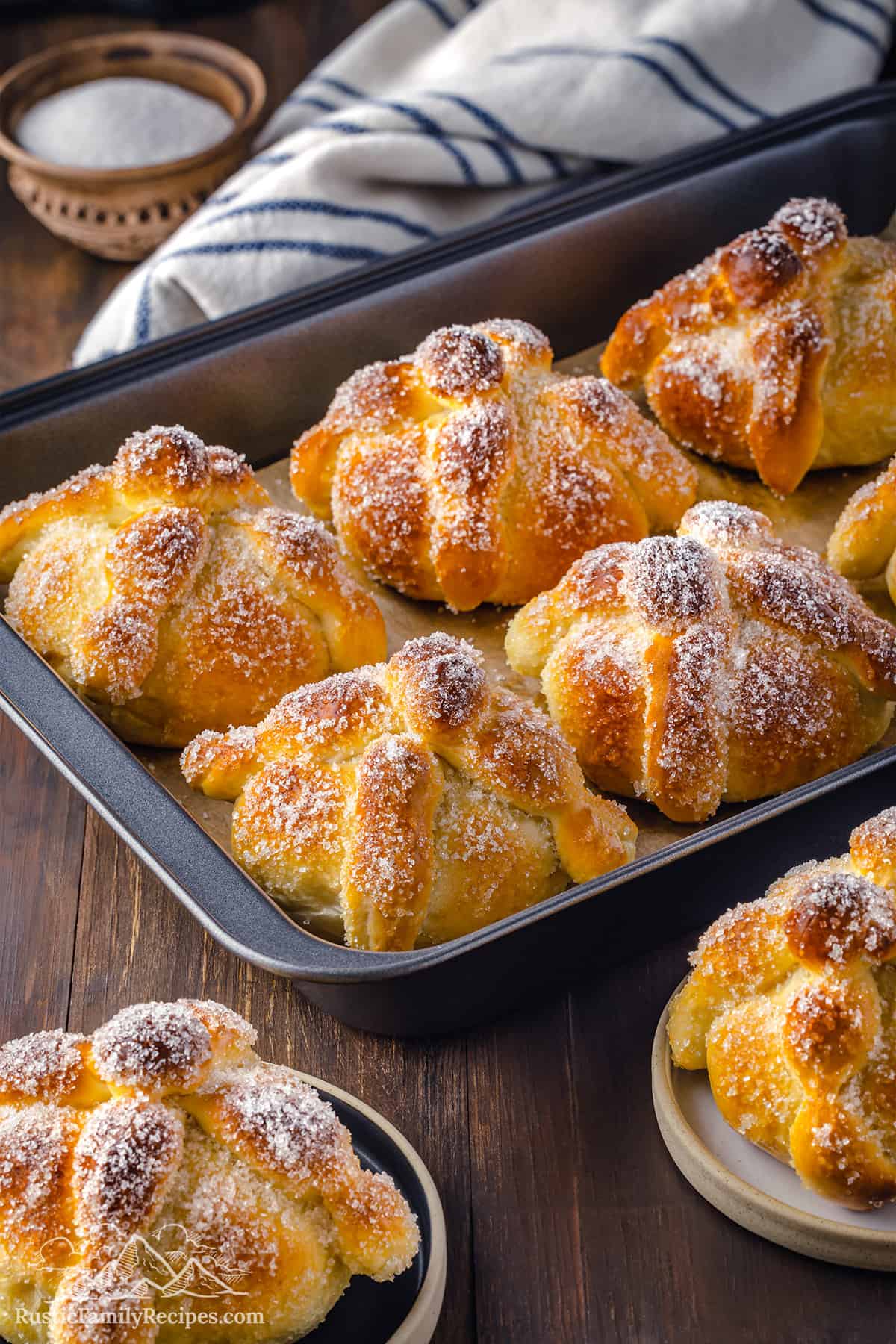 How to Store
Believe it or not, this bread is best the day after it's made.
You can store them in a paper bag at room temperature for up to 2 days. If the weather in your area is very humid, though, or you'd like to store them for longer, place them in an airtight container at room temperature. They will keep for up to 5 days when stored this way.
Right around the third or fourth day, they will begin to stiffen. That's okay. All you have to do is give them a light spritz of water and pop them into the microwave or toaster oven. Heat them for 20-30 seconds or until warm. They'll taste like freshly baked bread again!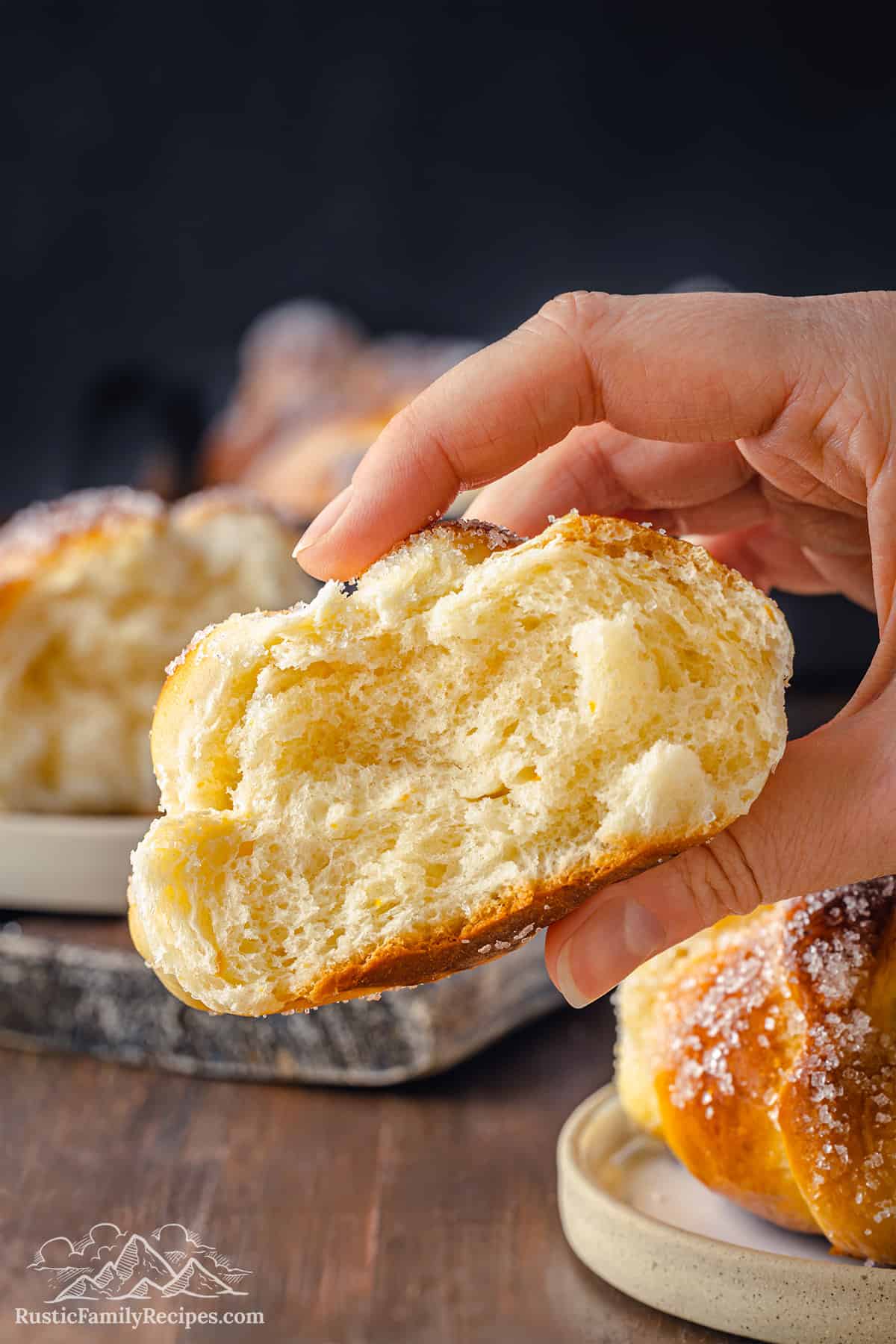 Can I Freeze It?
Of course! Here's how to do it:
Before baking: This is a great way to enjoy pan de muerto all year. Place the raw, shaped buns (with the bones) on a parchment-lined tray. Make sure you don't let them rise. Pop them into the freezer for at least 4 hours or until completely frozen. Then wrap each pan de muerto in plastic wrap. Transfer them to a freezer-friendly bag or container and freeze for up to 3 months. A day before you're ready to eat them, unwrap each piece and place in the fridge overnight. The next morning, let them finish thawing at room temperature and continue with the recipe as usual.
After baking: Place the cooled pan de muerto on a parchment-lined tray and freeze the bread for at least 4 hours. Once completely frozen, wrap them with plastic wrap. Transfer them to a freezer-friendly bag or container. Freeze for up to 4 months. Set them on the counter and let them come to room temperature when you're ready to eat them.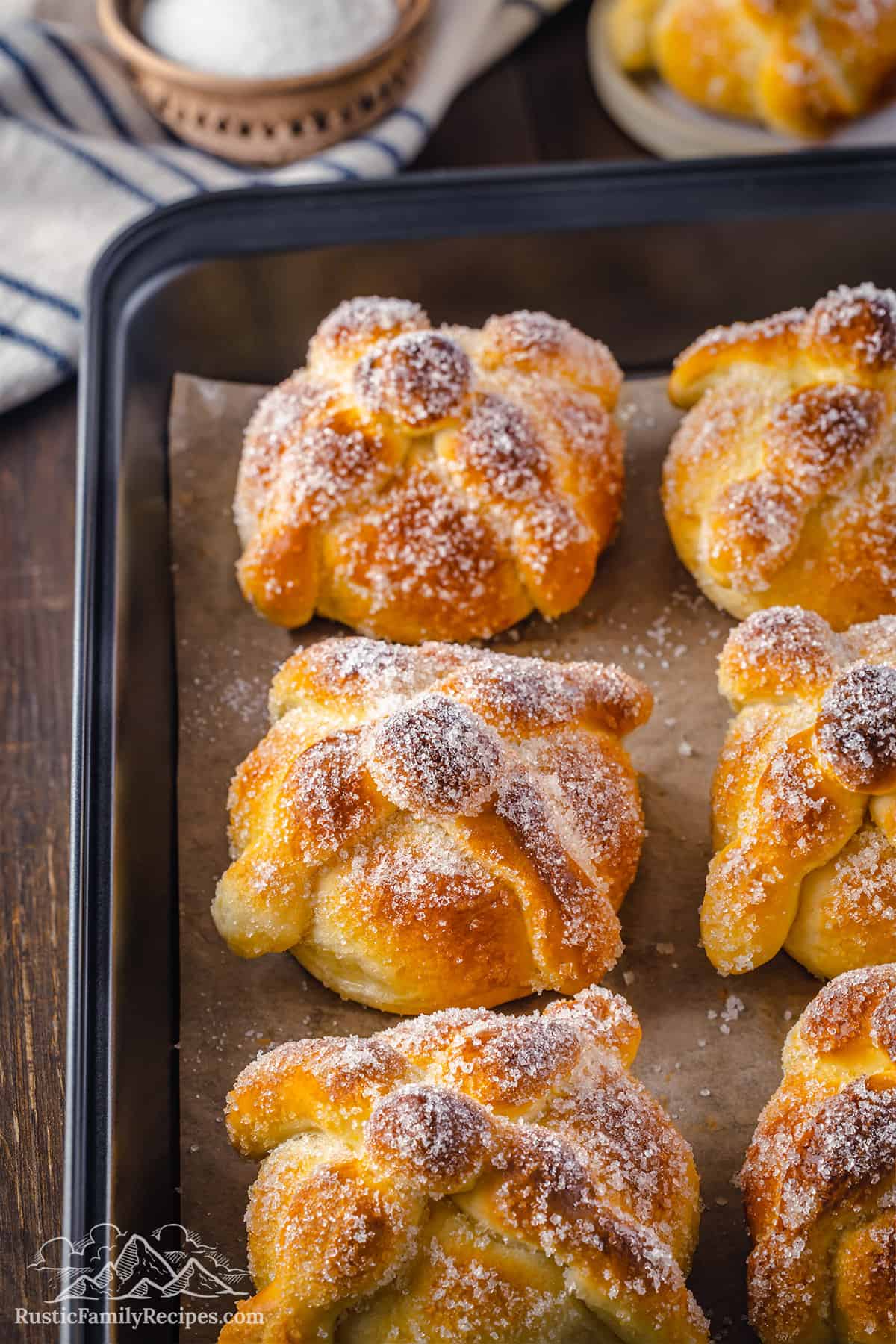 More Mexican Desserts to Try
Print
Pan de Muerto
Incredibly rich and buttery, this orange-flavored pan de muerto is perfect for Day of the Dead. Don't forget to sprinkle some sugar for added sweetness and crunch.
Author: Rustic Family Recipes
Prep Time:

3 hours

Cook Time:

35 minutes

Total Time:

3 hours 35 minutes

Yield:

8 small breads

Category:

Dessert

Method:

Oven

Cuisine:

Mexican
1 tablespoon

active dry yeast

2 tablespoons

warm water +

1 teaspoon

sugar

4 cups

all-purpose flour

1/2 cup

granulated sugar

1/2 teaspoon

salt

3

eggs, divided use

3 tablespoons

unsalted butter, melted and cooled

3/4 cup

evaporated milk (or whole milk)

2 tablespoons

orange zest

1/2 teaspoon

orange blossom water (or vanilla extract)
Unsalted butter, melted, for finishing the buns
Granulated sugar, for sprinkling on the finished buns
Instructions
Prepare the baking tray. Line a baking tray with parchment paper and set it aside.
Activate the yeast. Whisk the warm water, one teaspoon of sugar, and yeast until well combined. Set it aside in a warm place for 15 minutes or until frothy. If the yeast doesn't activate, it's likely "dead" and you will need to repeat this step.
Whisk the dry ingredients. In a large bowl, mix the flour, sugar and salt until well combined.
Make the dough. Make a well in the center of your dry ingredients and pour in the activated yeast mixture. Then add 2 eggs, butter, evaporated milk, orange zest, and orange blossom water. Mix until a rough dough forms.
Knead. Dust your counter with flour, then turn out the dough and knead for 15-18 minutes, occasionally slapping the dough against the counter to further develop the gluten. If the dough becomes stick you can dust it with more flour. When the dough is smooth, soft, and doesn't stick to your fingers anymore, it's ready.
Rise. Place the dough in a large bowl and cover it with a clean kitchen towel or plastic wrap. Set it aside to rest in a warm place for an hour, or until doubled in size.
Shape. Divide the dough into 4 equal parts and reserve a quarter for the "bones" on top of the bun. Use the rest of the dough to form 8 equal pieces and roll them into balls. After that, arrange them on the baking tray lined with parchment paper. Leave about 4-5″ of space in between each piece. Cover the tray with a clean kitchen towel and let the buns rise for 30 minutes, or until doubled in size.
Make the bones. Divide the reserved piece of dough into 8 little balls and 16 strips a little bit shorter than the diameter of the buns. Place the strips and little balls in another tray lined with parchment paper and refrigerate them for 1 hour.
Make the egg wash. Whisk the remaining egg with 1 teaspoon of water. Set aside.
Bake. Preheat the oven to 350 F. Cross two strips in an "x" over the center of the bun. Lightly press a little ball of the dough down the center of the "x" until it sticks. Gently brush the egg-wash over them and bake the buns for 20-25 minutes or until golden brown and fluffy.
Finish with butter and sugar. Fresh out of the oven, melt some unsalted butter for brushing. Brush it onto the buns on all sides and then generously sprinkle them with sugar all over. Let them come to room temperature and enjoy.
Notes
Don't forget to refrigerate the "bones" or they will sink into the buns completely during baking.
Last Step:
Please
share a rating and comment
if you enjoyed this recipe! Your feedback helps this little blog thrive and continue providing free, high-quality recipes for you.
Keywords: pan de muerto, dia de los muertos, mexican sweet bread, pan dulce
Filed Under:
This post may contain affiliate links. Please read our disclosure policy.