Pambazos are Mexican sandwiches that get their signature redness from the chile sauce they're dipped in. Packed with crunchy lettuce, spicy red onion, tangy cotija cheese, crema, and a potato and chorizo filling, they're the king of Mexican street food.
Pambazos are hidden gems within the street-food scene in Mexico City. Although they're typically eaten as breakfast or dinner, these have a place in everyone's hearts (and mouths) throughout the day. They're the perfect on-the-go lunch, often prepared by sidewalk vendors on your way to work.
The bread for pambazos is dusted with flour, giving it a whitened, pale look. Thus, if someone's calling you a "pambazo" out in the streets, they're using the resemblance to tell you how pale you look.
Whether you love them grilled or deep fried, make sure to pack them with your favorite ingredients and then chase it down with Mexican Coca-Cola or Jarritos. Savory, creamy, tangy, crunchy, refreshing, and hearty, pambazos are the sandwich you need in your life.
What Are Pambazos?
Pambazos are a typical street-food sandwich prepared in Mexico City and its suburbs. They're made with telera, a type of Mexican bread, which is a cross between bread rolls and baguettes. Telera's most important characteristic is its dense crumb. Without it, all the liquids and moisture from the different fillings would make the sandwich fall apart in minutes.
The bread is sliced in halves and dipped into a guajillo-based sauce to give the sandwich some color and spice. Before the sandwich is assembled, the bread is either grilled or deep-fried in oil or lard. This makes it slightly toasty and crunchy. The excess sauce caramelizes on the bread and adds a lovely smokiness.
A chorizo and potato filling is spread across the bread. Then, it's time to add crunchy lettuce, spicy red onion, and all your favorite salsas for a refreshing touch. To balance it out, Mexican crema and tangy cotija cheese add creaminess.
For even more ways to make street food at home, be sure to check out these Mexican recipes.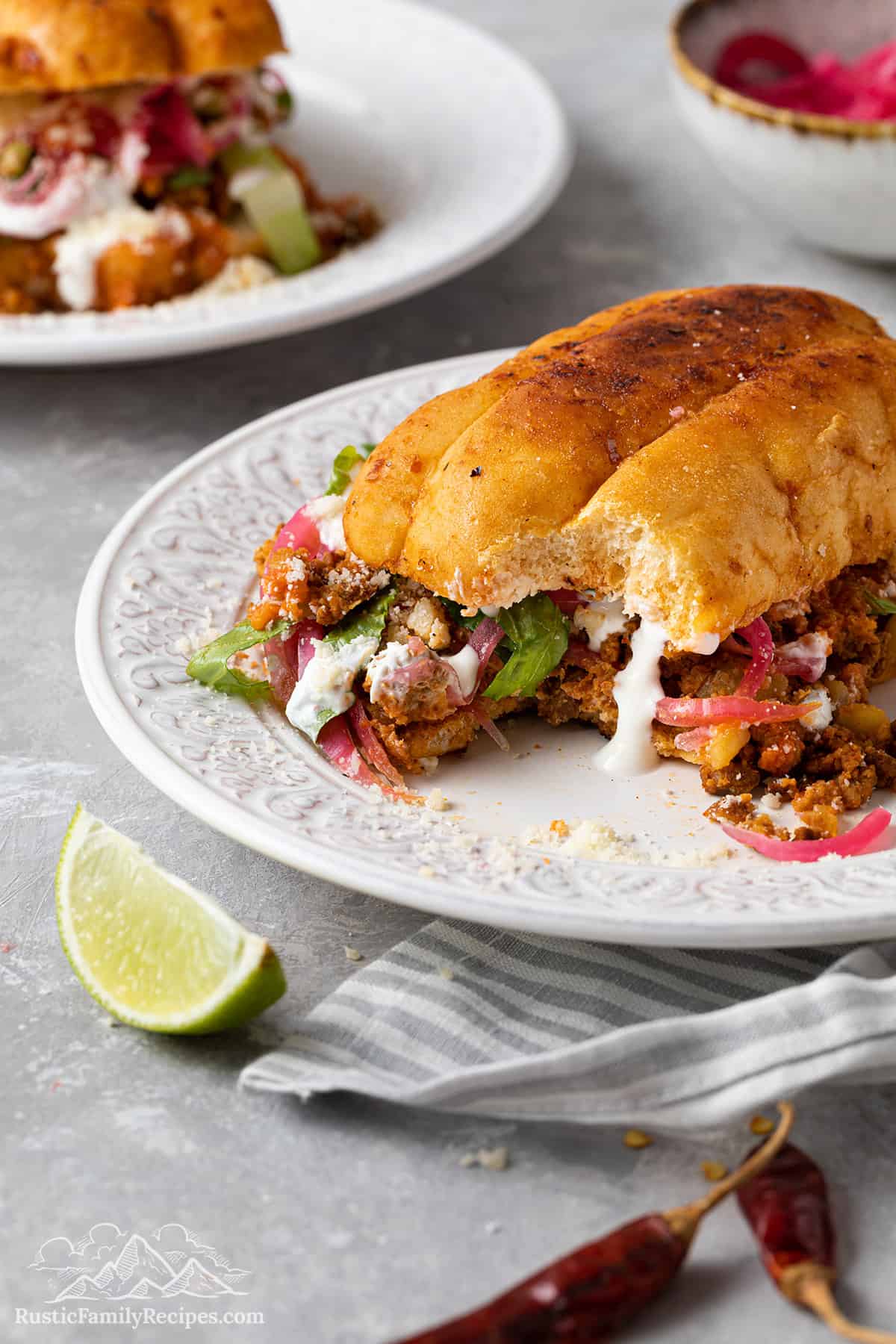 Recipe Ingredients
There are several components to making authentic pambazos, but don't let the length of the ingredient list scare you. Many of them are pantry staples. The rest can be easily found in supermarkets or your local Mexican market. In the worst of cases, you can always order them online.
Here's a quick overview of what you'll need to make pambazos. Be sure to scroll down to the recipe card for specific amounts.
For the Guajillo Pepper Sauce
Dried guajillo peppers – These are the base of the dish so try to get a hold of them. If you absolutely can't, New Mexican chiles are the closest thing.
Olive oil – Feel free to swap it out for vegetable, corn, or canola oil.
Onion – Only use white onion. Yellow onion is sweeter, whereas red onion is spicier. Anything other than white onion will change the sauce's flavor.
Garlic – I recommend fresh garlic, but garlic paste or powder will work too.
Salt
Black pepper – I prefer grinding my own pepper, but the store-bought kind will do too.
Water
For the Pambazos
Canola oil – Don't use olive oil here at all. Since we're grilling the breads, we need a higher smoke point so go for corn or vegetable oil if you need to use a substitute.
Telera bread – Mexican bolillos and birote, Kaiser rolls, bread rolls, and even French baguettes will work as substitutes. Here is my telera rolls recipe if you want to make them from scratch.
Guajillo pepper sauce
Chorizo – You can also my vegetarian chorizo recipe, or use store-bought chorizo for a meat-based option.
Potatoes – Diced and cooked, these are going to be mixed in with your chorizo.
Lettuce – Romaine lettuce is crunchier so I prefer it, but use whatever you've got on hand.
Mexican crema – Sour cream is an okay substitute.
Cheese – Cotija cheese adds tanginess to brighten up the sandwich. If you can't find it, use crumbled queso fresco.
Salsa – I love my chile de arbol salsa because it adds a spicy kick, but use your favorite! Green and red salsas go beautifully with pambazos.
What if I can't find telera bread?
Nothing beats freshly baked bread, so you can always make teleras yourself using the recipe I linked above. If you don't want to, though, these are other varieties you can use:
Mexican bolillo
Mexican birote
French baguette
Bread rolls
Kaiser rolls
Unlike telera, birotes and baguettes have crunchy crusts. What you can do in those cases is steam them for up to a minute or until they've softened. As long as the bread is plain with a soft exterior, it should work.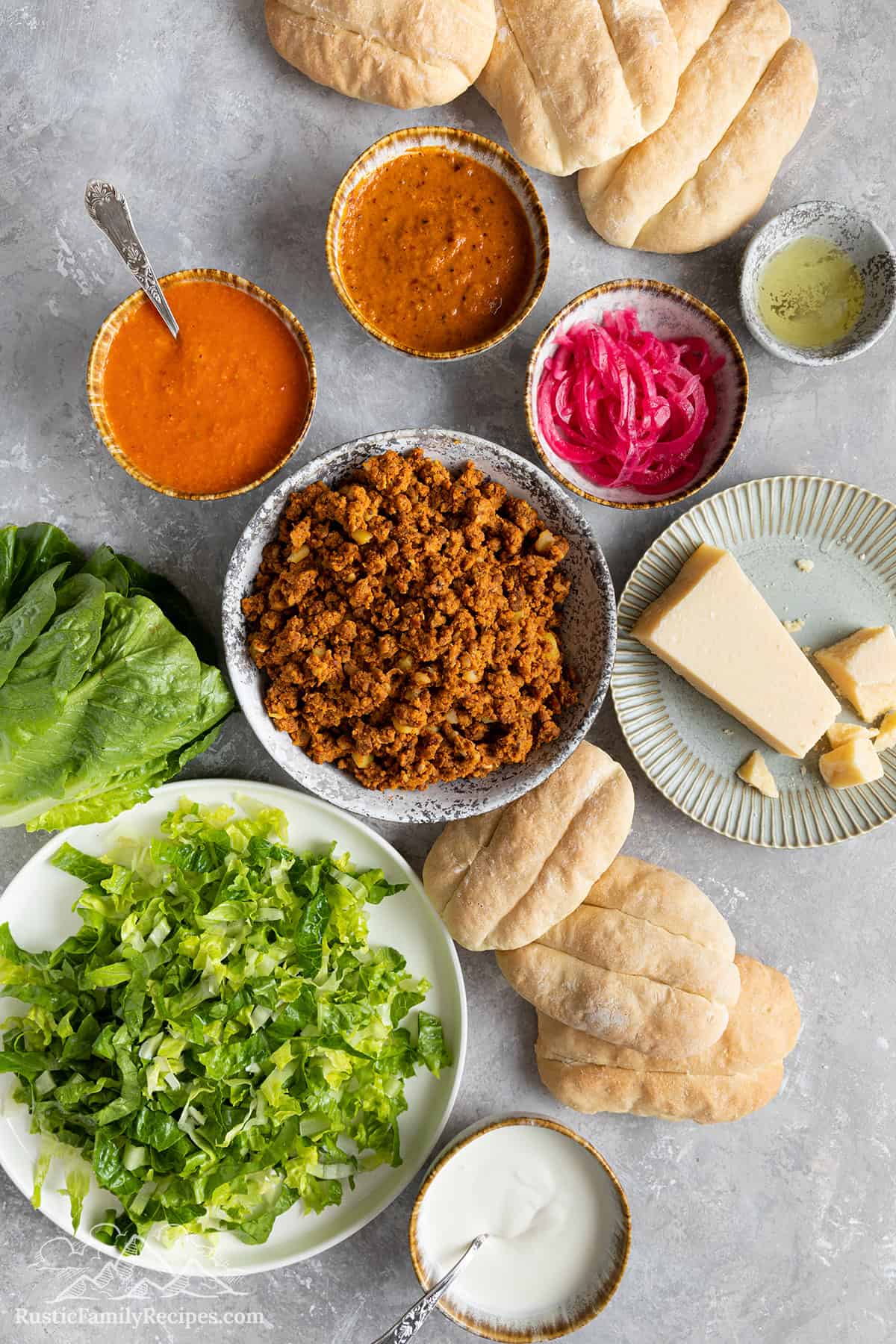 How to Make Pambazos
Once the teleras have been made and all your ingredients have been laid out, making pambazos is extremely quick and easy. Below, I'll walk you through the process with some tips and extra insight.
Make the Chorizo Filling
Prepare the chorizo. If you are making my chorizo recipe from scratch you'll need to do that a couple of days before making your pambazos because it needs time for the flavor to develop. Once that is done, proceed with cooking the chorizo (vegetarian or traditional meat-based from the store) as outlined below.
Cook the potatoes. Bring a medium pot of salted water to boil. While the water is heating, peel and dice your potatoes into 1-inch pieces. Add to the water when it is boiling and cook until tender. This will take about 5 minutes, depending on the size of your potato pieces. The potatoes are done when fork tender. Drain into a colander and set aside.
Cook the chorizo. Mix 2 large eggs into the chorizo. Heat 1/2 tablespoon of olive oil in a medium skillet over medium heat and cook the chorizo, stirring constantly, until it looks like ground beef, about 5 minutes.
Add the potatoes. Cook your potatoes and then add them to the cooked chorizo. The smaller they are, the easier it will be for the filling to stay inside the sandwich, so I would even recommend mashing them a little after everything is mixed together.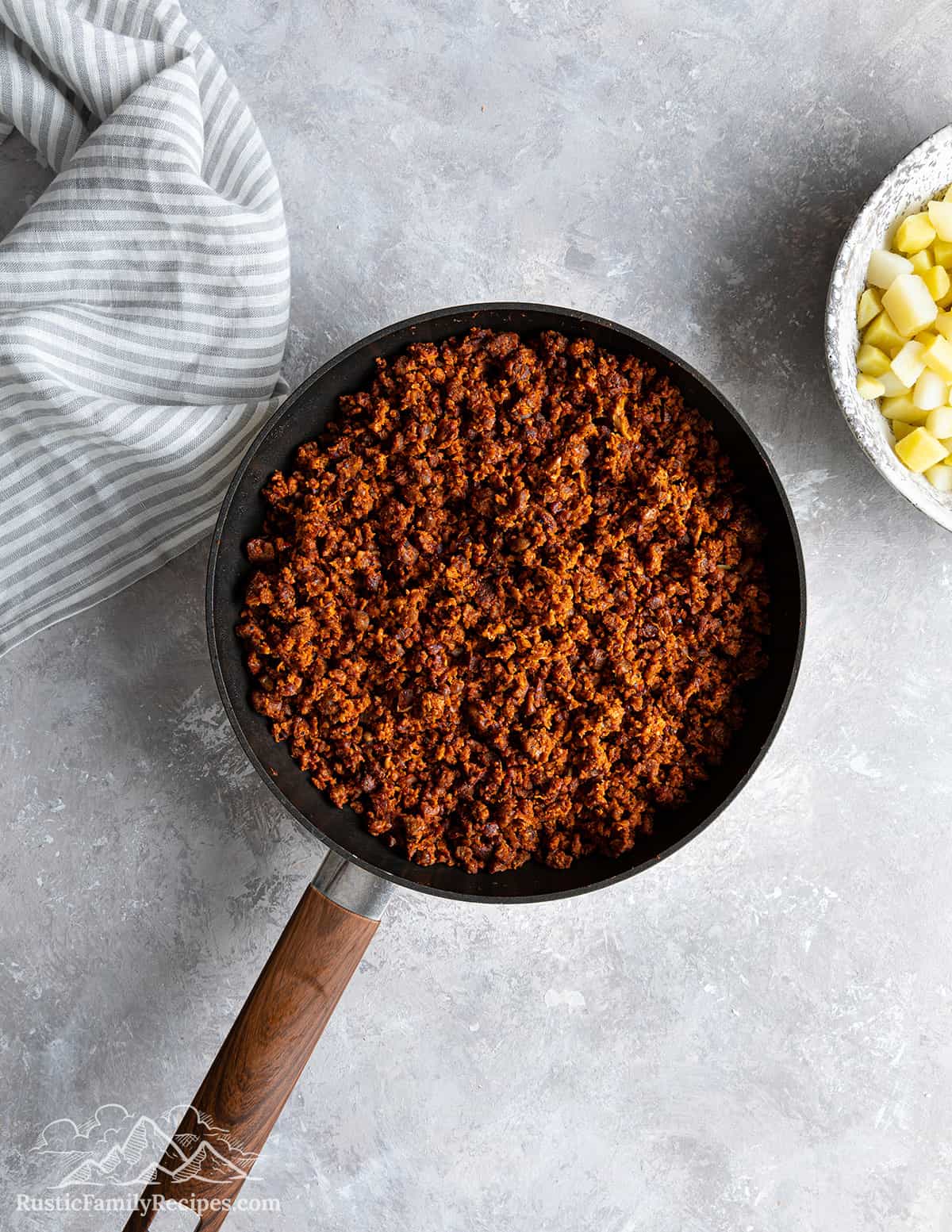 Make the Guajillo Pepper Sauce
Rehydrate the chiles. Remove the seeds and stems from the chiles. Toast the chiles over low heat for a couple of minutes on each side. Shake the pan constantly because they burn easily. If you're pressed for time, you can skip the toasting. Then soak them in hot water for 15-20 minutes or until they've softened. Save a cup of the soaking liquid and discard the rest.
Cook the onion. Preheat the pan over medium heat and add some olive oil. Cook the onion for 3-4 minutes or until soft and translucent. Add the garlic cloves or garlic powder. Stir until well combined and cook for another minute.
Blend the sauce. Transfer the cooked onion-garlic mixture and guajillo chiles to the blender. Then add about 1/4 cup of the chile soaking liquid. Process until you get a smooth mixture. Season with salt and pepper to taste. If necessary, thin out the sauce to your desired consistency by adding more soaking liquid. Strain the sauce and discard the pulp.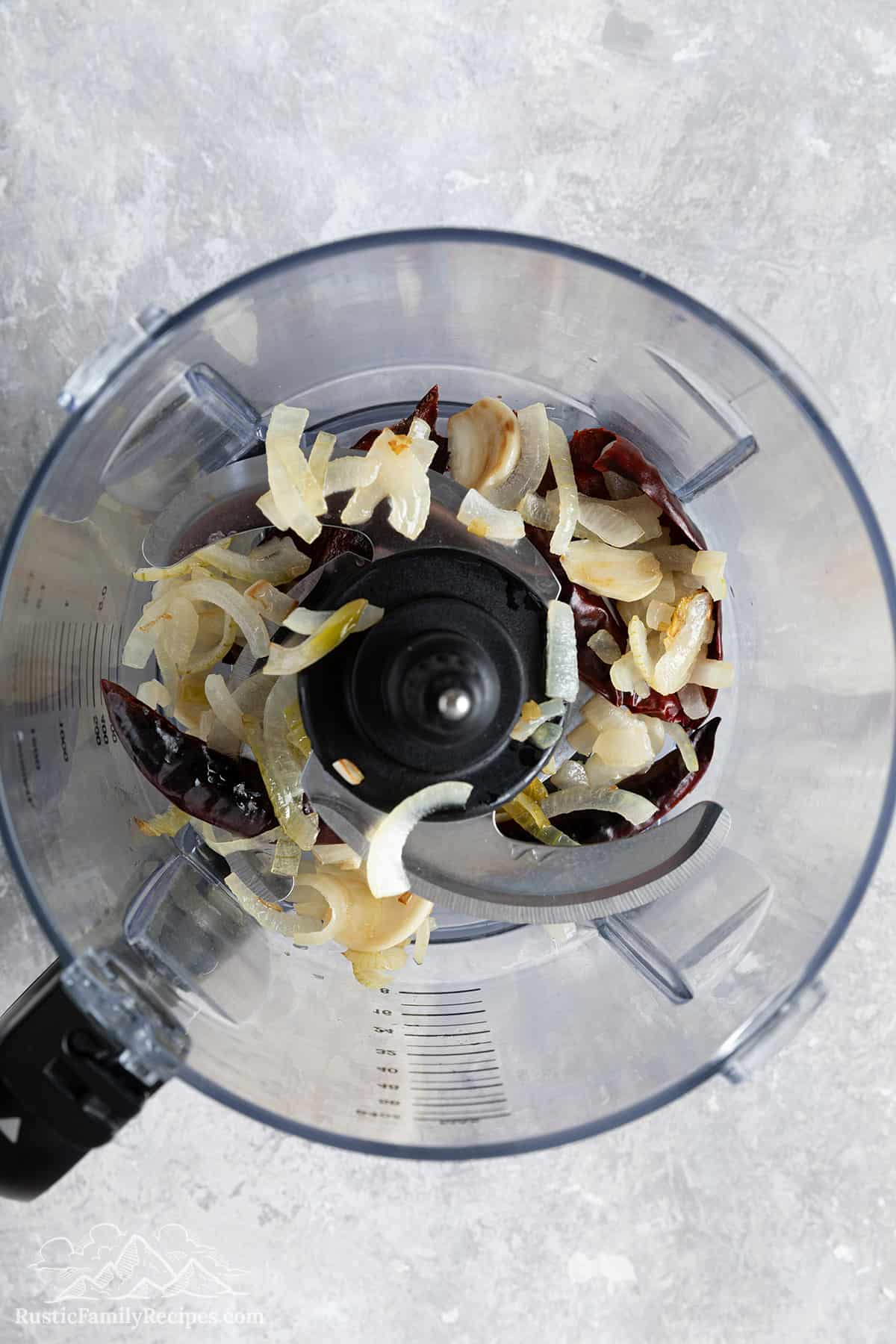 Assemble the Pambazos
Coat the bread in sauce. Preheat the canola oil in a large pan over medium heat. Slice the teleras. Brush the sauce on both halves, or dip the bread until it's completely covered in sauce.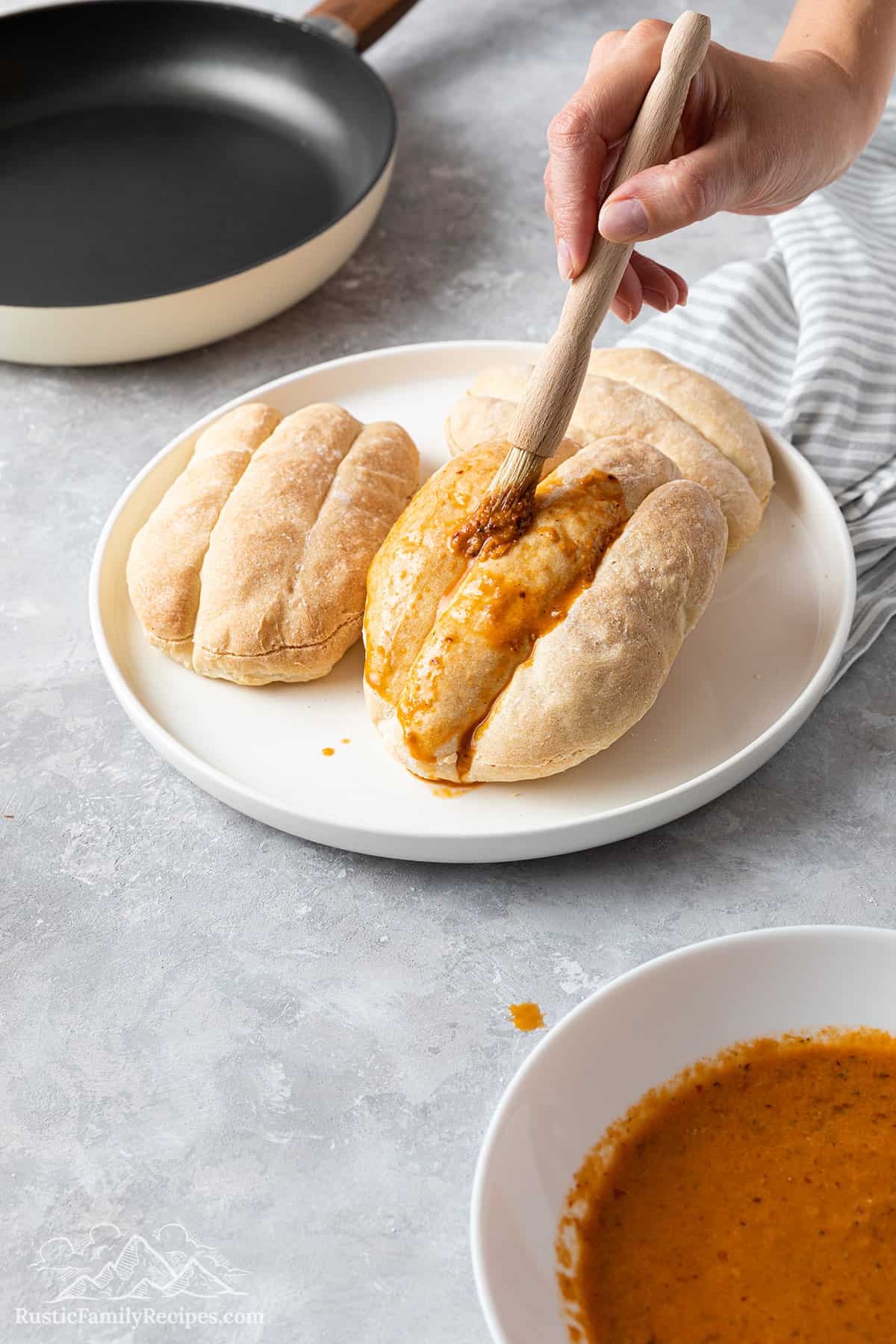 Grill it. Place the bread in the pan and grill it for 1-2 minutes on each side or until it's slightly crispy. Remove from the heat.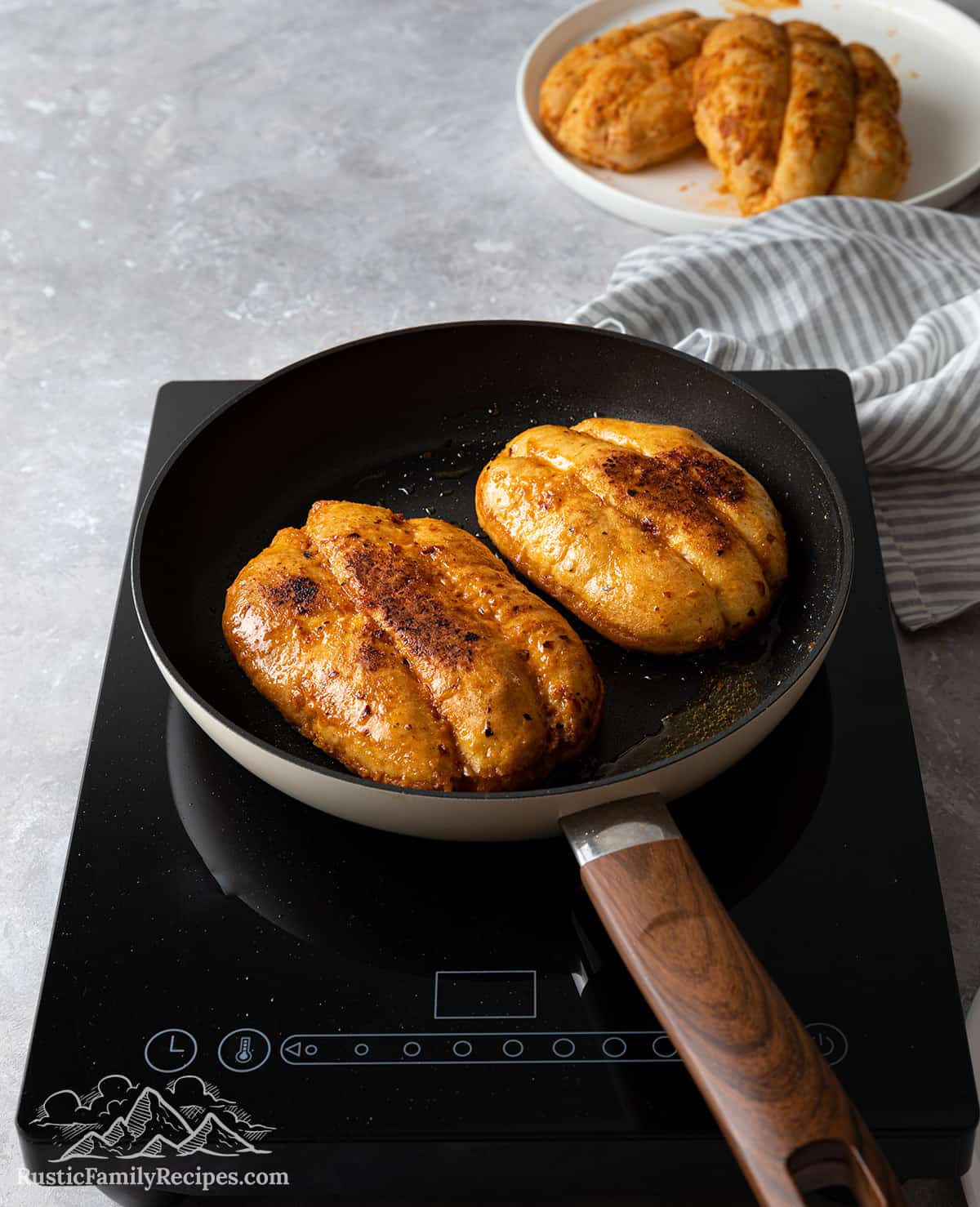 Add the chorizo and potatoes. Spread the chorizo and potatoes mixture on the bottom half and lightly press the mixture into the bread.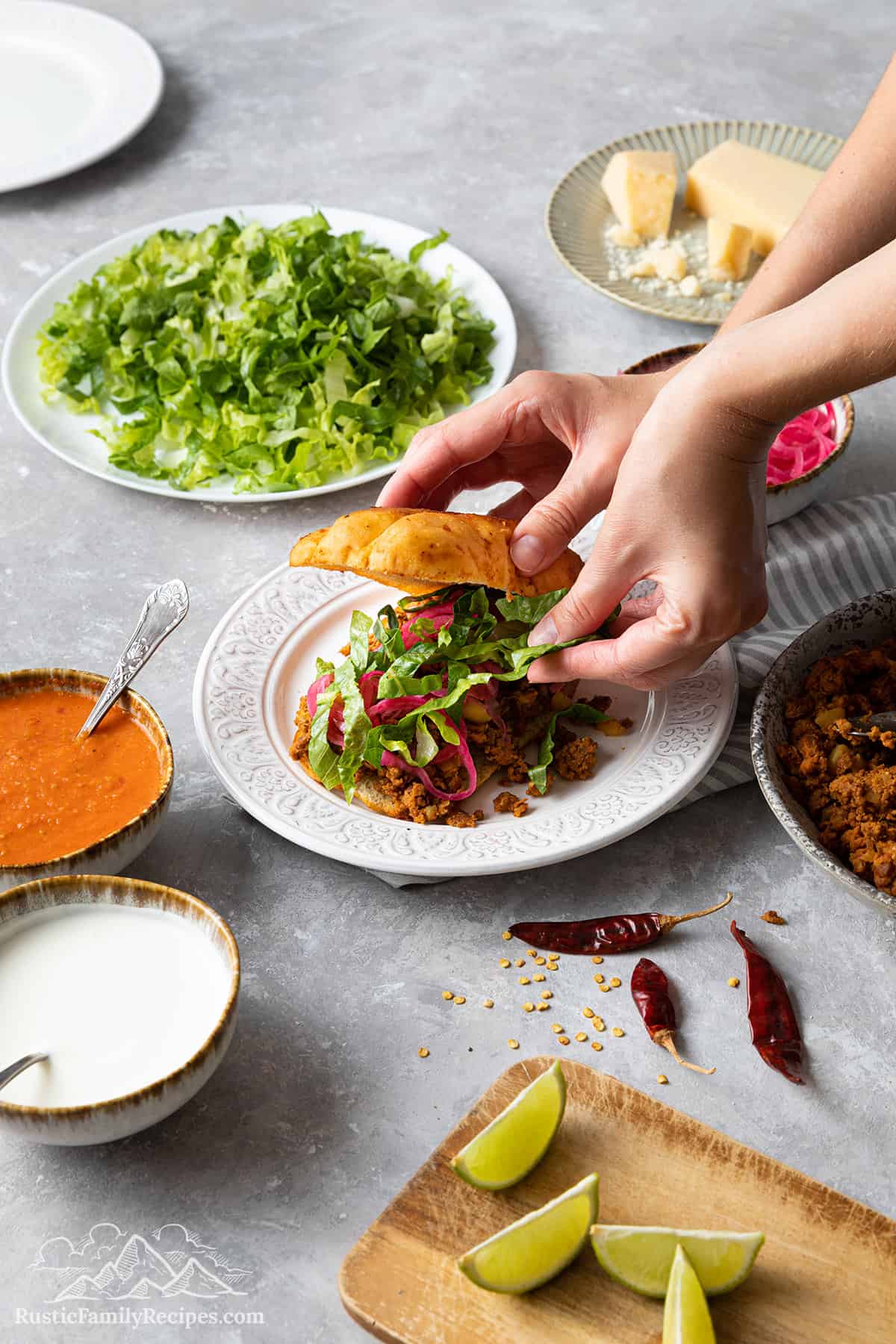 Add the remaining ingredients. Fill the pambazo with shredded lettuce, pickled red onions, salsa, Mexican crema, and cotija cheese. Enjoy!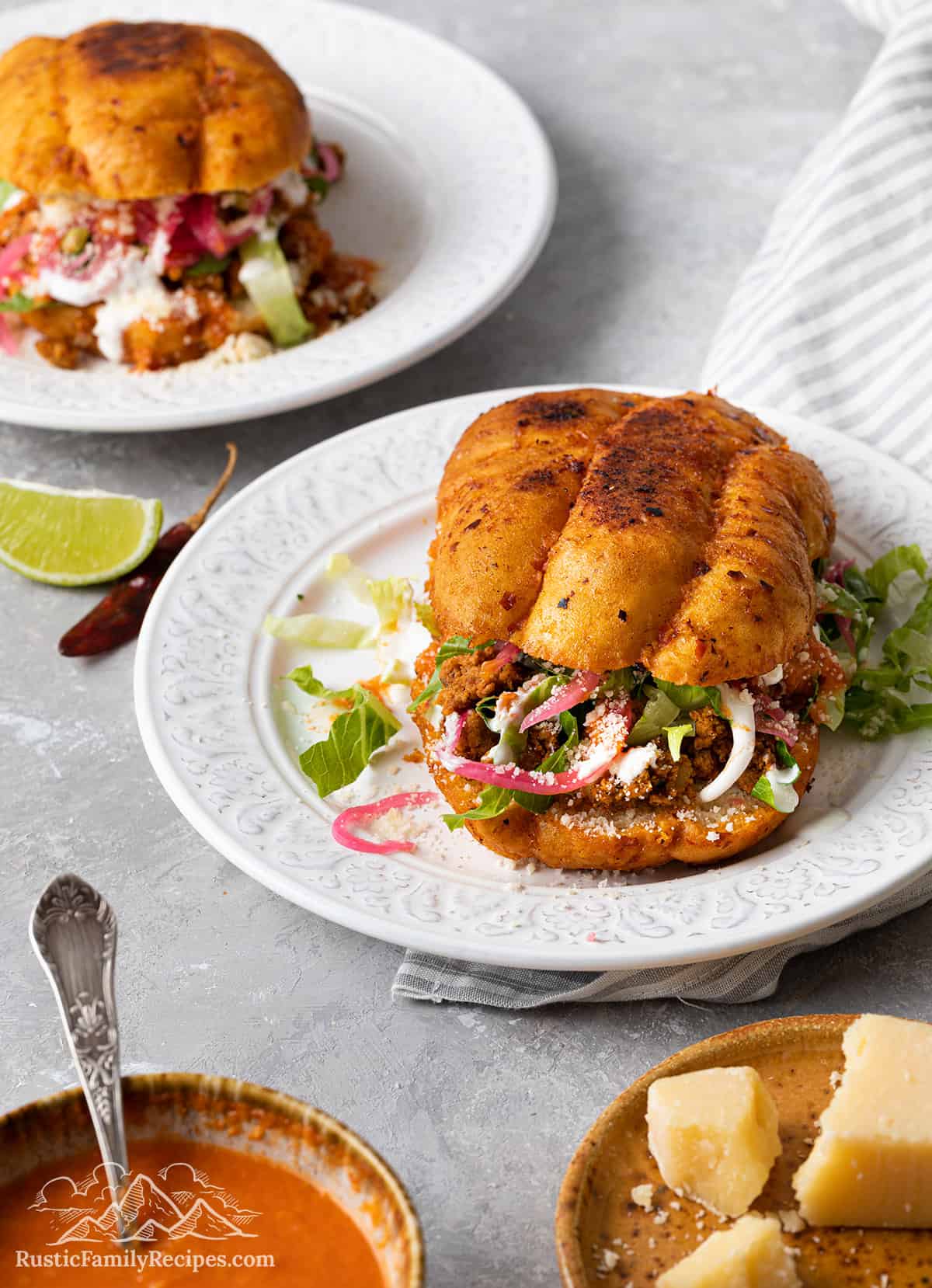 Tips for the Best Pambazos
Making pambazos is easy, but follow these tips to make sure they're extra delicious:
Add chile ancho. Swap 1-2 guajillo chiles for chiles ancho. It'll add some smokiness, giving more depth to the sauce.
Can I use store-bought chorizo? Of course! If you don't want to make your chorizo from scratch you can simply buy your preferred brand from the store. You can also make the chorizo ahead (in fact, it needs to "age" in the fridge so it needs to be made ahead.)
Variation Ideas
Once you've mastered the bread and sauce part of pambazos, here are a couple of ways to spice things up every now and then:
Use cabbage. Shredded cabbage is a common topping for Mexican tortas (sandwiches), so feel free to swap it out.
Add refried beans. Before adding the chorizo and potatoes or other fillings, spread some refried beans on each bread half for extra flavor.
Make them Veracruz-style. Forget the guajillo sauce completely and make pambazos like a regular sandwich. They're still delicious!
Add avocado. Whether it's diced avocado or guacamole, it'll add yummy creaminess.
Add meat-based and vegetarian chorizo. Maybe this is sacrilege, but I actually quite like the flavor of vegetarian and meat chorizo mixed together.
Use different kinds of salsa. You can also use salsa macha, pico de gallo salsa, or even red and green salsa like in my huevos divorciados recipe. Mix and match according to what you like.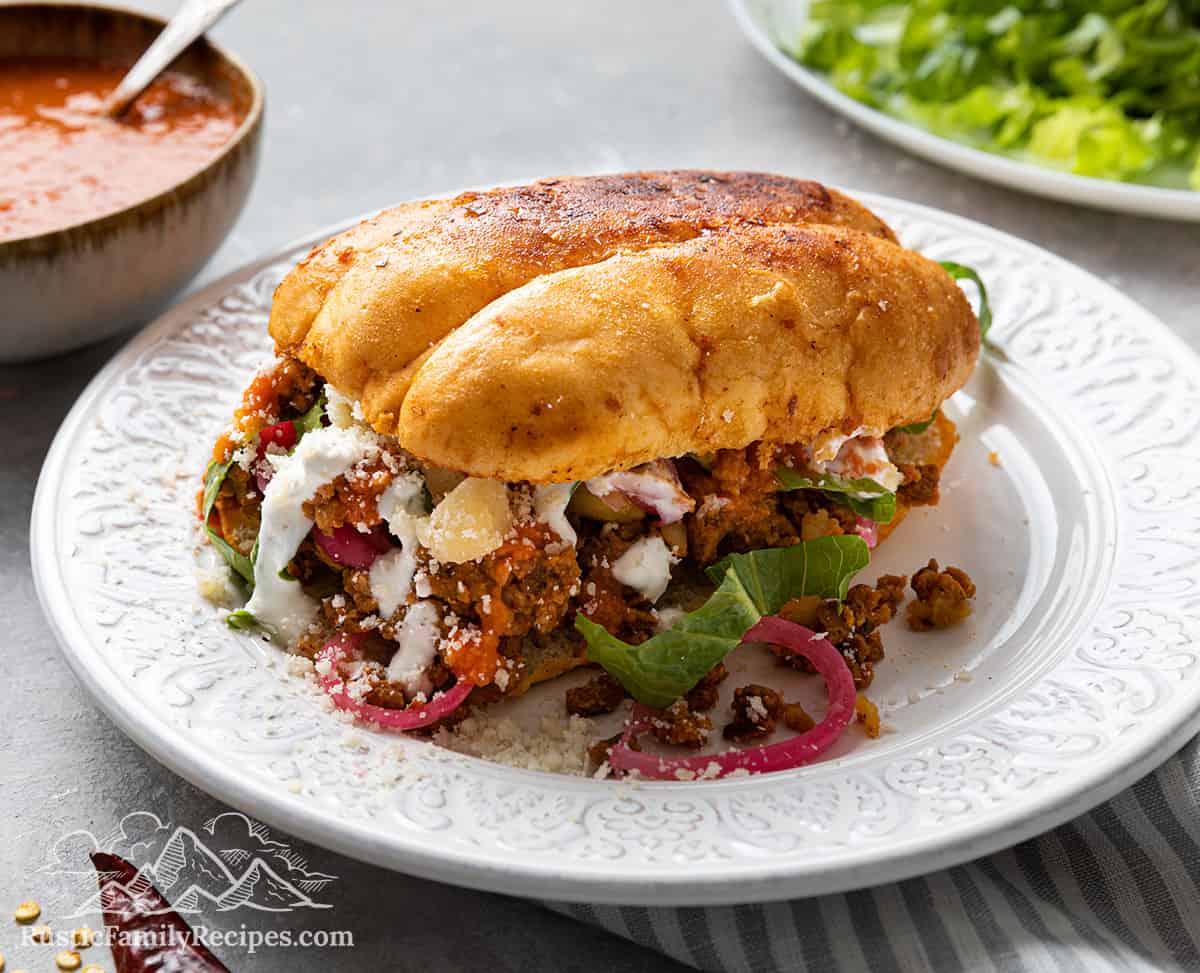 Common Questions
What part of Mexico are Pambazos from?
The pambazos we all know and love are originally from Mexico City. However, Veracruz, one of the southern states, has its own version. It doesn't have the guajillo sauce and dates back to the 1800s when Mexico was still an empire. The story goes that the Veracruz version was made in honor of the emperor's wife upon visiting the coastal state. The pambazo was then adopted and soaked in sauce for the first time in Mexico City.
How do you eat a pambazo?
Slice it in half and then forget the cutlery! Use your hands. It's got too many ingredients to use a knife and fork without ruining it.
What Goes with Pambazos?
These aren't normally served with sides because they're so hearty and already pack lots of flavor. However, you can always serve them with refried beans or even a small bowl of frijoles de la olla. I recommend staying away from rice and tortillas because that would make your meal very carb-heavy. If you don't mind this, though, go for it!
Now for the drinks. For the full experience, Mexican Coca-Cola is a must. Jarritos and Chaparritas (Mexican fruit-flavored sodas) are also great choices. After that, I would go for an agua fresca or even homemade lemonade.
If you're craving a little bit of alcohol, you could have a Victoria beer or margarita. I rather like these blood orange margaritas or pomegranate margaritas!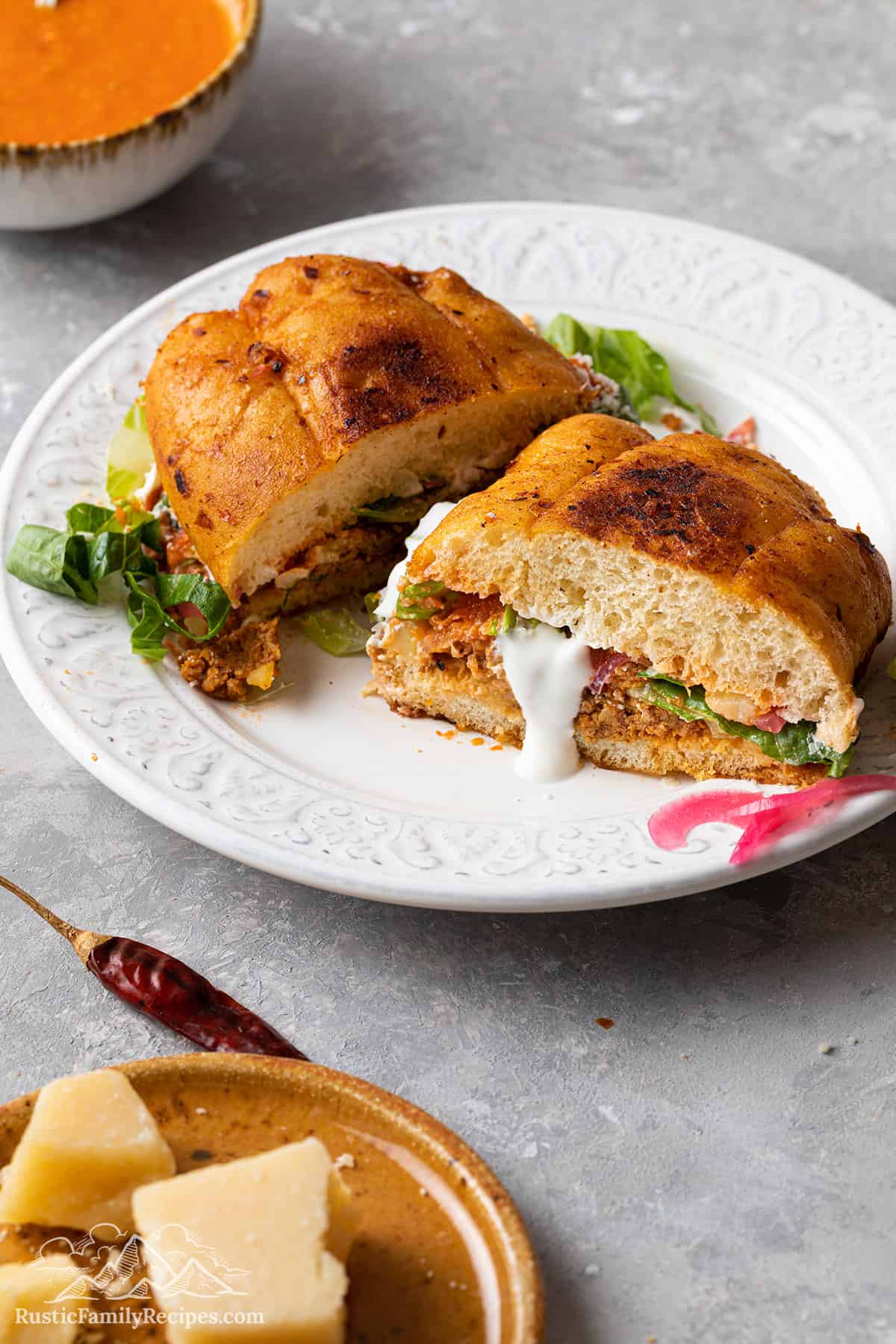 How to Store and Reheat Leftovers
Don't store fully assembled pambazos because the bread will soak up all the moisture and your sandwich will fall apart. What you can do instead is store all of its components separately.
The telera bread can be stored in a paper bag or an airtight container at room temperature for up to 3 days. Everything else will have to be refrigerated in airtight containers to avoid the transfer of odors and food poisoning.
In airtight containers each of the components will keep in the fridge as follows:
The guajillo sauce will keep for up to a week.
The chorizo and potatoes filling for up to 5 days.
The lettuce will only keep for 1-2 days before losing its crispness.
Everything else, like the crema and cotija cheese, should be refrigerated according to package instructions.
When it's time to reheat, pop the chorizo and potatoes mixture into the microwave for 1-2 minutes or until warm. Then prepare the teleras, grill, and then fill them with the fixings you saved.
Can I Freeze Extras?
Only the chorizo filling, sauce, and telera can be frozen. Everything else will have to be freshly prepared or a prepped couple of days in advance.
Place the chorizo and potatoes into a freezer-friendly container and freeze for up to 2 months. The sauce can be frozen in a freezer-friendly bag or container for up to 6 months. Teleras have to be individually wrapped in plastic wrap and then placed into a freezer-friendly bag or container. They'll last up to 3 months.
When you want to make pambazos again, transfer the filling, sauce, and bread into the fridge overnight. The next morning, set them on the counter until they're completely thawed. Meanwhile, you can prep the rest of the ingredients until you're ready to start cooking.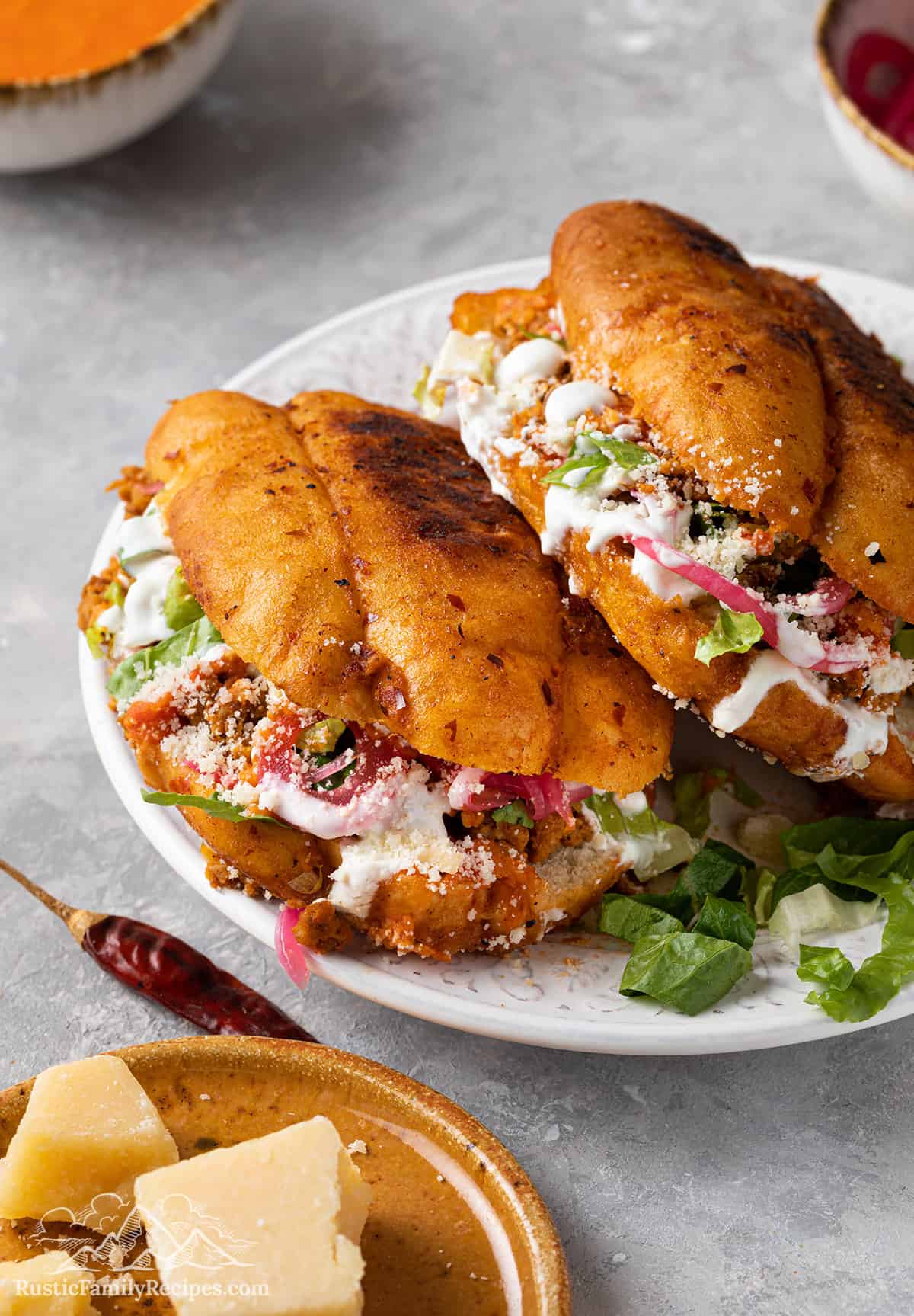 More Authentic Mexican Recipes to Try
Print
Pambazos (Mexican Chorizo Sandwiches)
Slightly crunchy, tangy, creamy, and hearty, pambazos are a popular Mexican street-food that will surely up your sandwich game. The secret's in the guajillo sauce.
Author: Rustic Family Recipes
Prep Time:

1 hour

Assembly Time:

5 minutes

Cook Time:

5 minutes

Total Time:

1 hour 10 minutes

Yield:

8 pambazos

Category:

Lunch

Method:

Stove-top

Cuisine:

Mexican
For the guajillo pepper sauce
5

large guajillo peppers, seeded and stemmed

1 tsp

olive oil

½

onion

2

garlic cloves

½ tsp

salt

½ tsp

black pepper, ground
water, enough to cover the ingredients in a pot
For the pambazos
2

large eggs

3

potatoes, diced and cooked

3 tbsp

canola oil
guajillo pepper sauce

2

–

3

cups shredded romaine lettuce
salsa de arbol, from my tortas ahogadas recipe

½ cup

Mexican crema

1 cup

crumbled cotija cheese
Instructions
Make the chorizo and potatoes filling
Prepare the chorizo. If you are using my vegetarian chorizo recipe, do that a couple days in advance so that it has time to develop flavor.
Cook the potatoes. Bring a medium pot of salted water to boil. Peel and dice the potatoes into 1-inch pieces. Add to the boiling water and cook until fork tender, about 5 minutes. Drain and set aside.
Cook the chorizo. Mix 2 large eggs into the chorizo. Heat 1/2 tablespoon of olive oil in a medium skillet over medium heat and cook the chorizo, stirring constantly, until it looks like ground beef, about 5 minutes.
Mix in the potatoes. Add the cooked potatoes to the chorizo mixture. Mix thoroughly. Smash the potatoes into smaller pieces if needed. The smaller the potato pieces, the better the chorizo mix will stay inside the pambazo sandwich. You can even mash them up a bit.
Make the guajillo pepper sauce:
Toast and rehydrate the peppers. Toast the guajillo peppers for a couple of minutes per side on a preheated pan, until theystart to puff up slightly. Add enough hot water to cover the peppers. Let them soak for approx. 15 minutes, untilsoft. Remove from the water, seed and stem, and place in a food processor. Save a cup ofpeppers' water for the next steps.
Cook the onion. Add olive oil to the same preheated pan. Fry the onion for approx. 3-4 minutes, until translucent. Add garlic cloves and cook for one more minute.
Make the sauce. Add garlic and onion to the food processor. Add salt and pepper and approx. ¼ cup of chili water. Blend, using more water to thin out the sauce as desired.
Make the Pambazo Sandwiches
Grill the bread. Preheat the canola oil on a large skillet. Brush the top and bottom of the telera bread with the guajillo pepper sauce, or dip it in, making sure it covers the outside of each bread roll. Place the bread roll on a skillet and fry for approx. 1 minute on each side until slightly crispy. Repeat for all of the teleras.
Fill it. Open the telera and fill with chorizo mixture, shredded lettuce, pickled red onions, salsa de arbol, crema, and some crumbled cotija cheese. You can add other fixings like guacamole, pico de gallo salsa or even salsa macha. Whatever you like! Enjoy.
Last Step:
Please
share a rating and comment
if you enjoyed this recipe! Your feedback helps this little blog thrive and continue providing free, high-quality recipes for you.
Keywords: pambazo recipe, pambazos mexicanos, mexican sandwiches, chorizo and potato sandwich
Filed Under:
This post may contain affiliate links. Please read our disclosure policy.