This post may contain affiliate links. Please read our disclosure policy.
These homemade Paczki are rich, slightly buttery, and stuffed with strawberry marmalade. Deep-fried and dusted with confectioners sugar, these Polish donuts are a real treat!
I can't lie – I'm a huge fan of fried dough, in many forms. From New Orleans beignets to classic sour cream donuts, if there's dough that's fried, I'm in. Bonus points if there are fun colors (like my pink donuts!) or if it's topped with some type of powdered sugar or glaze.
So today we are talking about a new kind of donut: Paczki. These Polish donuts a bit richer than other donut recipes I've made and are filled with strawberry marmalade. Dust them with oodles of confectioners sugar and enjoy them while they're still warm.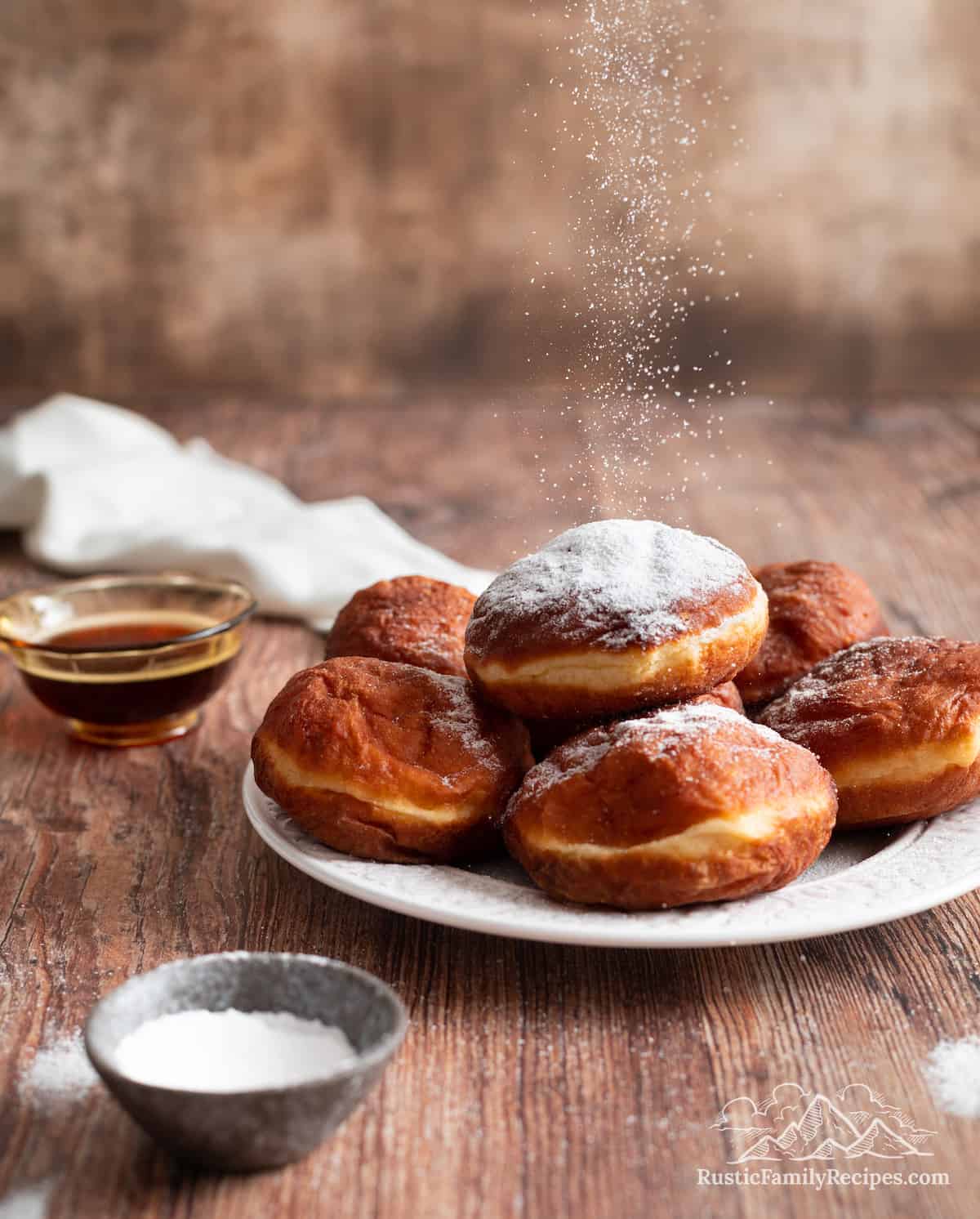 Featured Comment
Yummy yummy!!
What Are Paczki?
Paczki are Polish donuts made from a rich, buttery dough and filled with a fruit jam or sweet cream.
They are traditionally eaten on Fat Thursday (the last Thursday before Ash Wednesday) to use up all of the lard, sugar, and eggs in preparation for fasting on Lent. In the US, this usually takes place on Fat Tuesday instead, the day before the beginning of Lent. This is sometimes called "Paczki Day," and these donuts are so good that some Polish communities in the US will indulge on both Fat Thursday and Fat Tuesday.
My maternal grandfather was from Poland and he was 100% about eating these donuts on both days. If you asked him, the more donuts the better!
What's the difference between paczki and doughnuts?
There are a few differences between paczki and regular doughnuts. The most obvious is that there is no doughnut hole. The dough is also much richer and more dense, thanks to all of the eggs, yeast, and butter. Paczki are also usually filled with a fruit jam or custard and coated with sugar.
How do you pronounce paczki?
Paczki is pronounced "POONCH-key" or "PAUNCH-key", depending on the region you're in.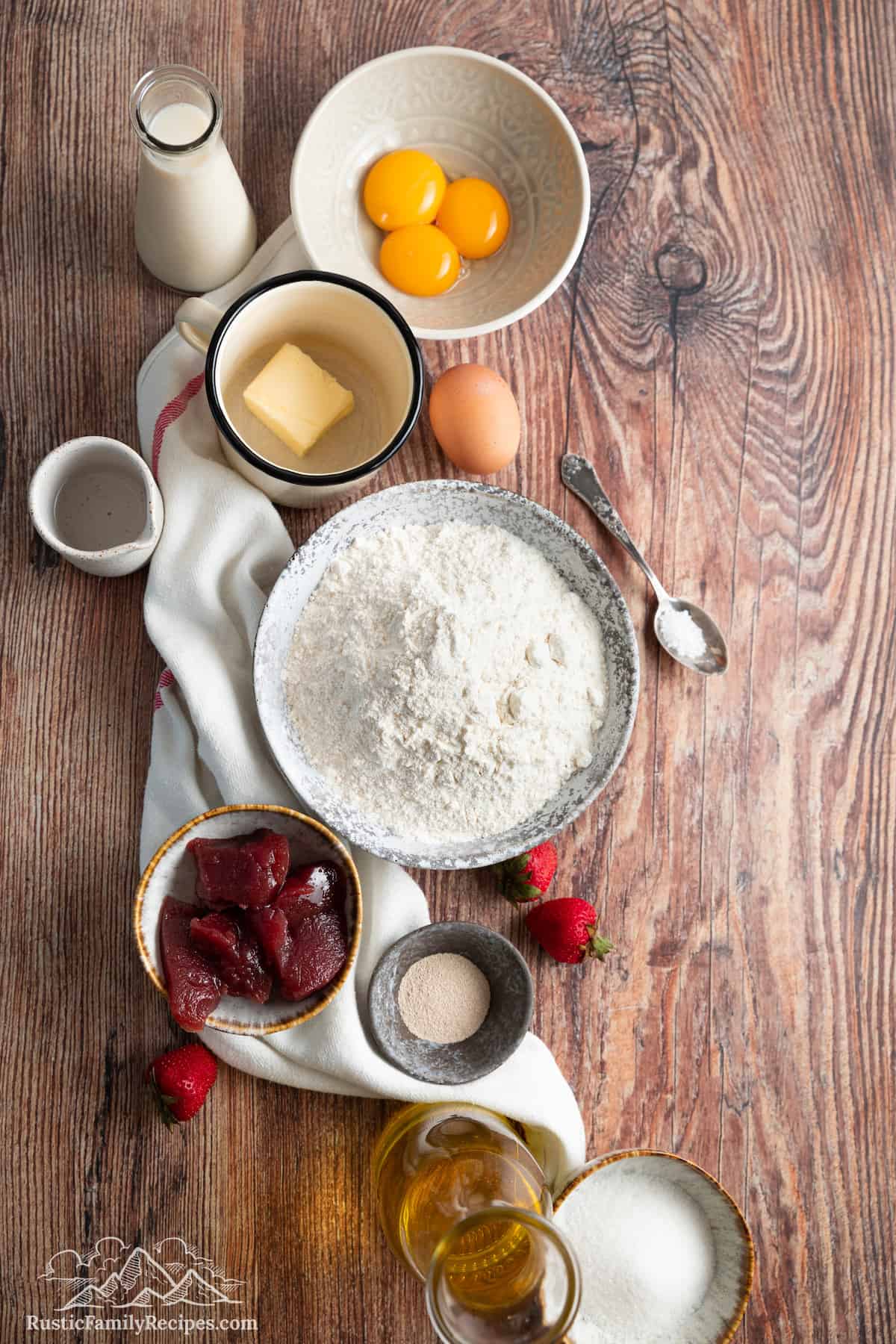 What You'll Need
One important thing to be aware of is that all ingredients should be at room temperature before proceeding with the recipe. Here is a quick overview – be sure to scroll down to the recipe card for specific amounts.
Eggs – You'll need one egg plus 3 additional egg yolks.
Granulated sugar
Flour
Active dry yeast – Double-check to make sure it hasn't expired.
Salt
Milk
Distilled spirit – You can also substitute alcohol, vinegar, or lemon juice. Keep reading for more details on this.
Butter – Melted then cooled before adding to the recipe.
Strawberry marmalade – Makes the delightful strawberry filling!
Canola oil – For frying. Peanut oil is another option.
What can I use instead of distilled spirits?
Traditional paczki recipes use a small amount of distilled spirit with 95% alcohol content which helps to prevent the dough from absorbing too much oil when fried. If you can't or don't want to add distilled spirit, you can substitute it in 1:2 proportion with hard liquor with at least 30% alcohol content, 1 tsp of vinegar, or the juice of ½ a lemon.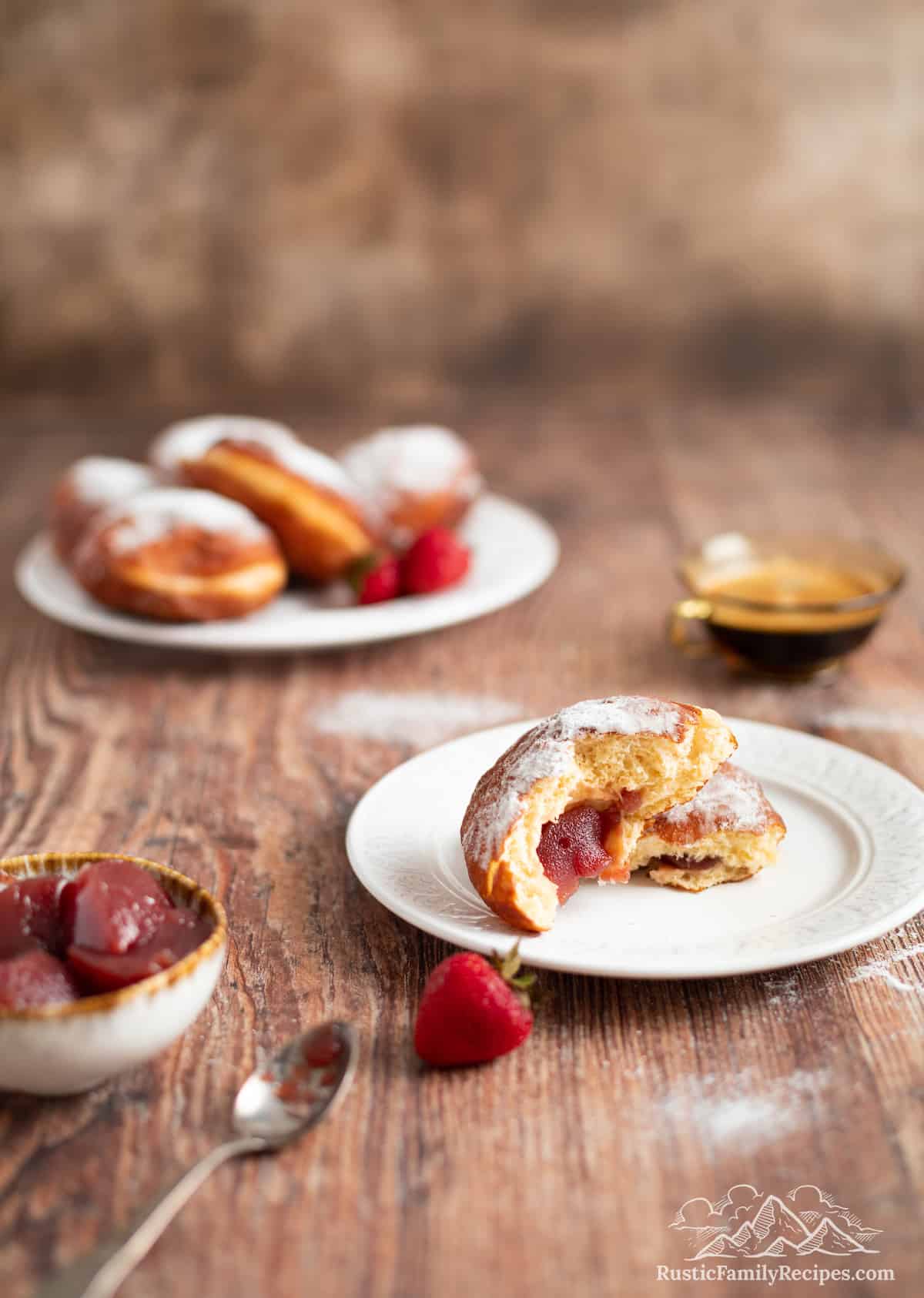 Variation Ideas
You can fill paczki with all sorts of things – strawberry just happens to be my favorite! Pretty much any marmalade or custard can be used. Here are a few popular options:
Other marmalade flavors – Raspberry, blueberry, or blackberry jam or marmalade
Apple compote – You can use the filling from my apple cobbler recipe, just cook it a bit longer so that it is thicker.
Lemon cream or custard
Bavarian cream
Nutella – Not traditional but so good!
Watch the Step-by-Step Video
Want to see how to make these polish donuts step by step? Here's a brief video with all the info you need:
How to Make Paczki
Paczki are not difficult to make but do require some hands-on attention and multiple steps. I've broken all parts of the recipe – making the dough, shaping the donuts, and frying – into small steps so that even first-time paczki-makers can make the perfect Polish donuts.
Make the Paczki Dough
Beat the eggs and sugar. Use the whisk attachment to mix the egg, egg yolks, and sugar until light and fluffy.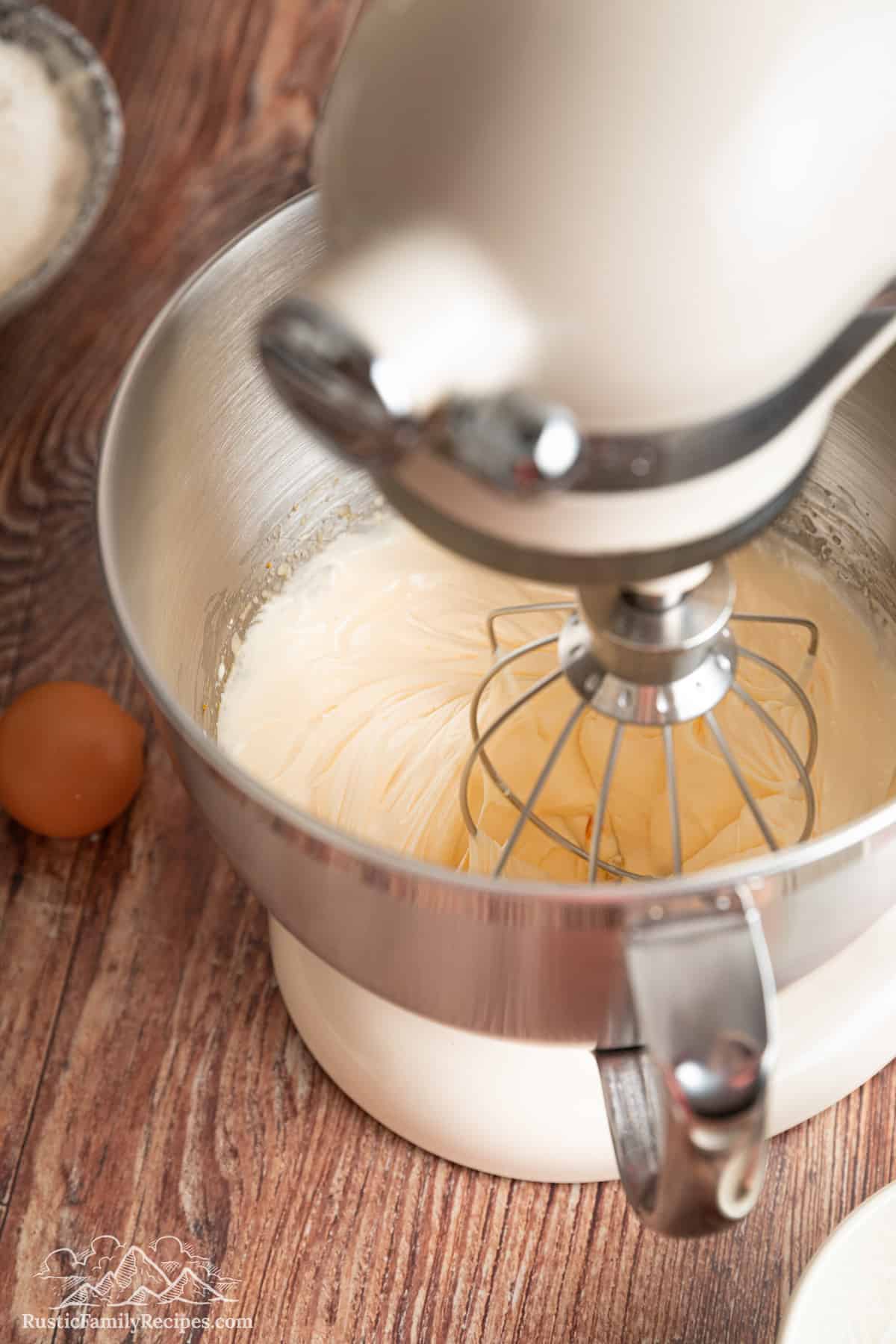 Knead the dough. Combine the flour, yeast, and salt in a separate bowl. Add to the egg mixture, along with the milk and distilled spirit. Switch to the hook attachment and knead the dough for 10 minutes or so.
Add the butter. Melt and cool the butter. Add a teaspoon at a time into the dough, only adding the next one after the first one has been incorporated. Knead for an additional minute.
Allow to rise. Cover the dough with a cloth and set aside for 15 minutes.
Shaping the Donuts
Prepare the plates and chopping boards. Sprinkle a few plates and chopping boards with flour. Set aside.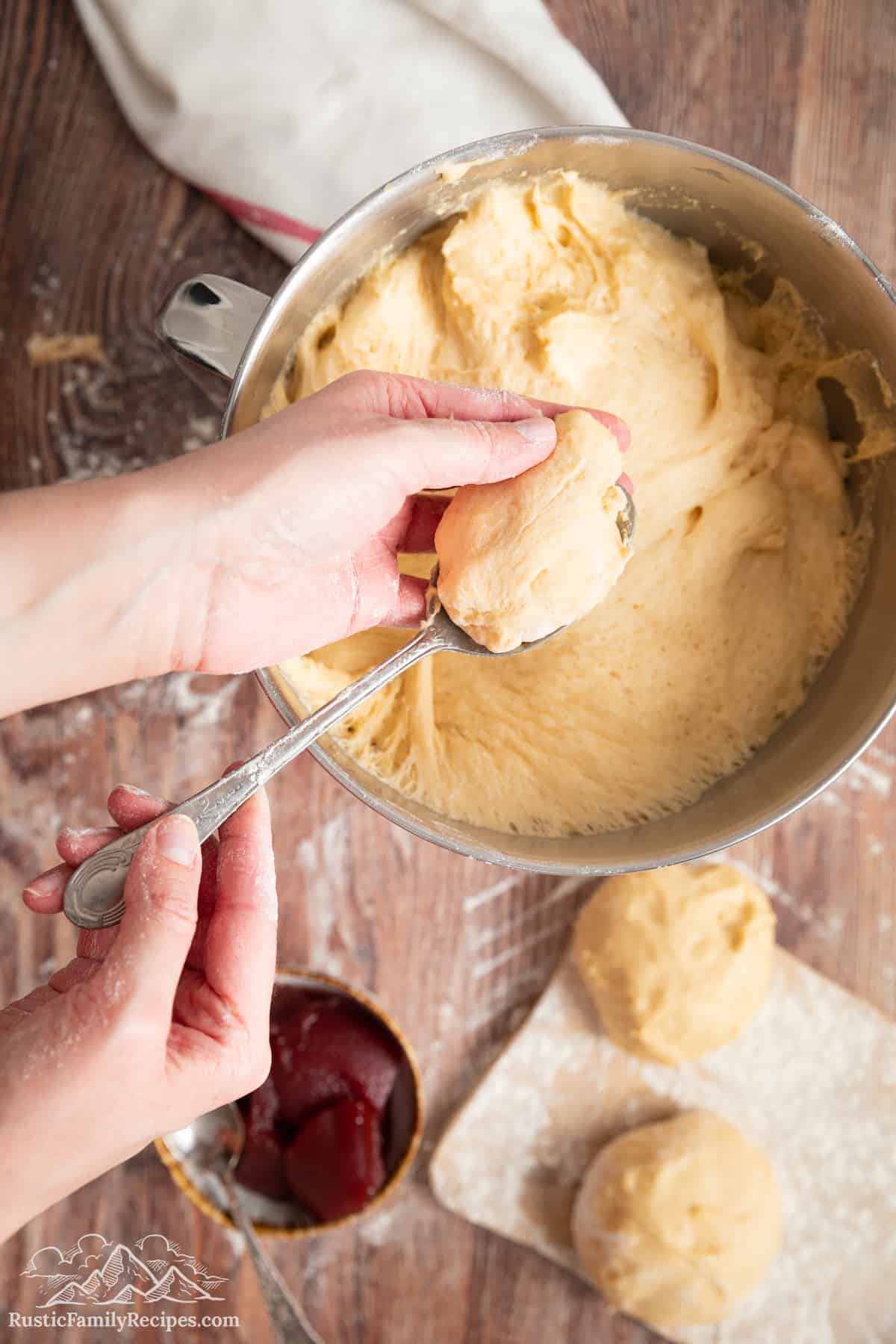 Form the paczki. As soon as the dough starts rising, shape a tablespoon of dough into a 3.5 inch pancake. Add the marmalade to the center then pinch close and roll into a ball. Place with the pinched side down on the chopping board.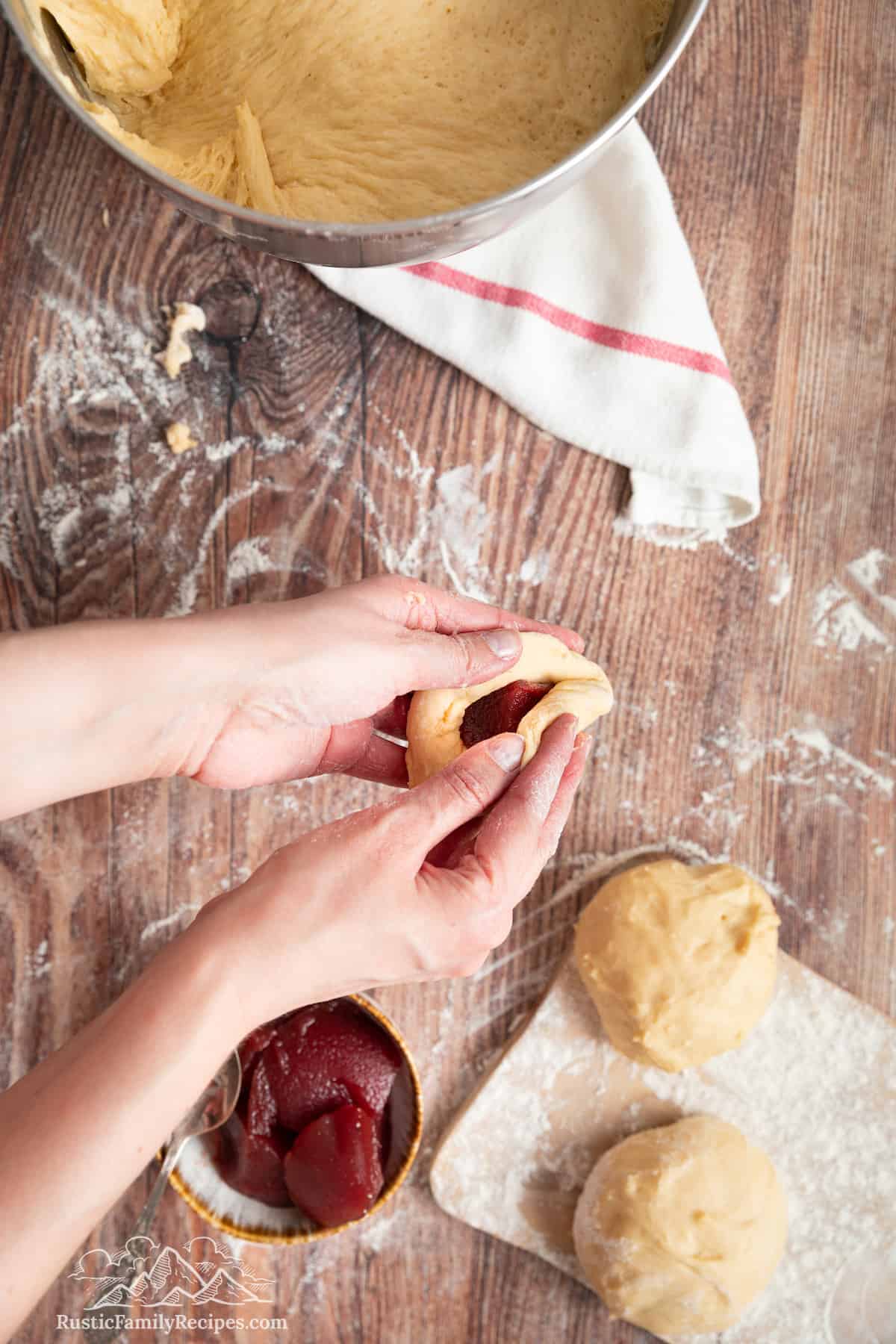 Let rise. Once all of the Polish donuts are shaped, cover and leave to continue rising for 10 to 15 minutes.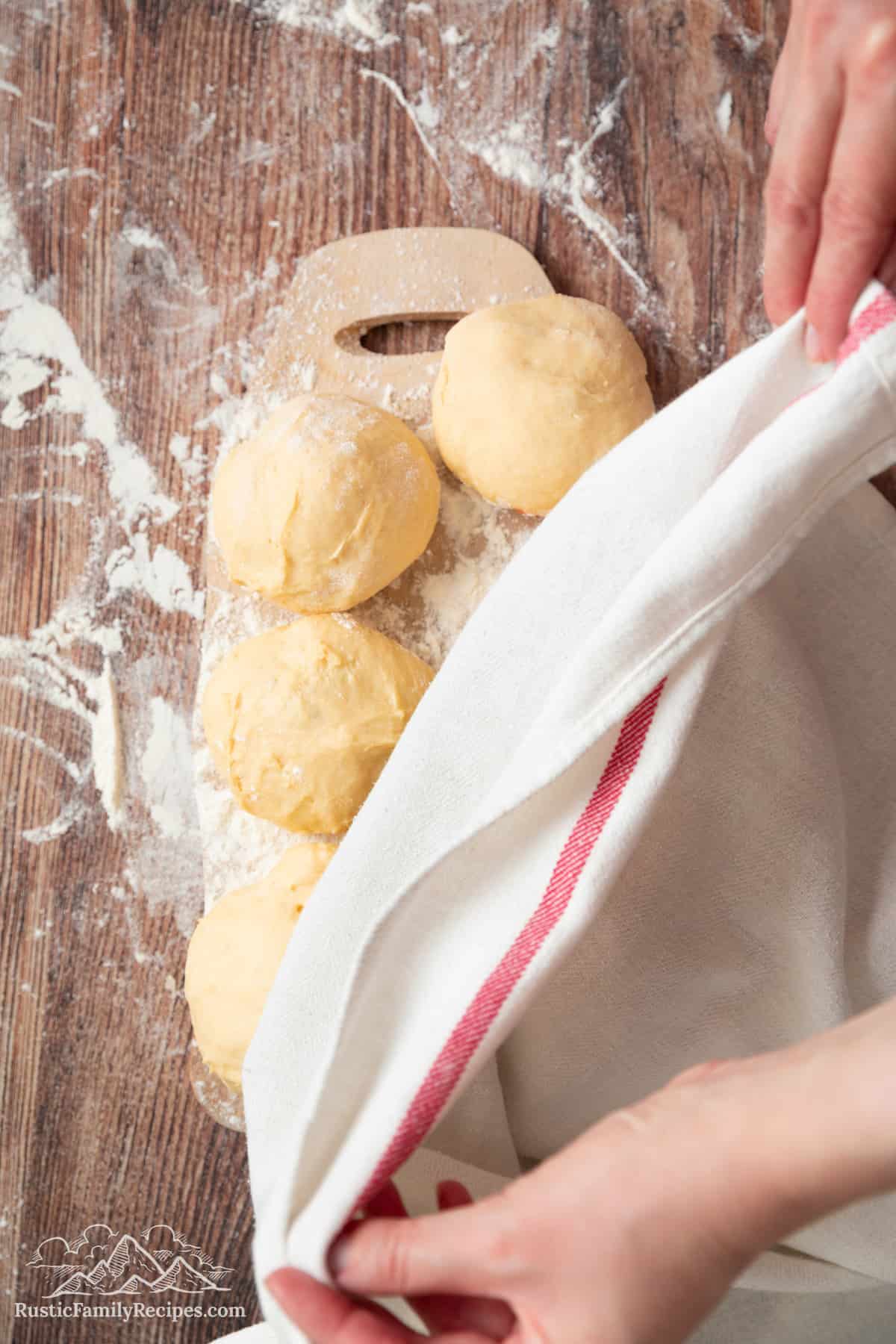 Frying the Donuts
Preheat the oil. The oil should be at a temperature of 360°F before frying.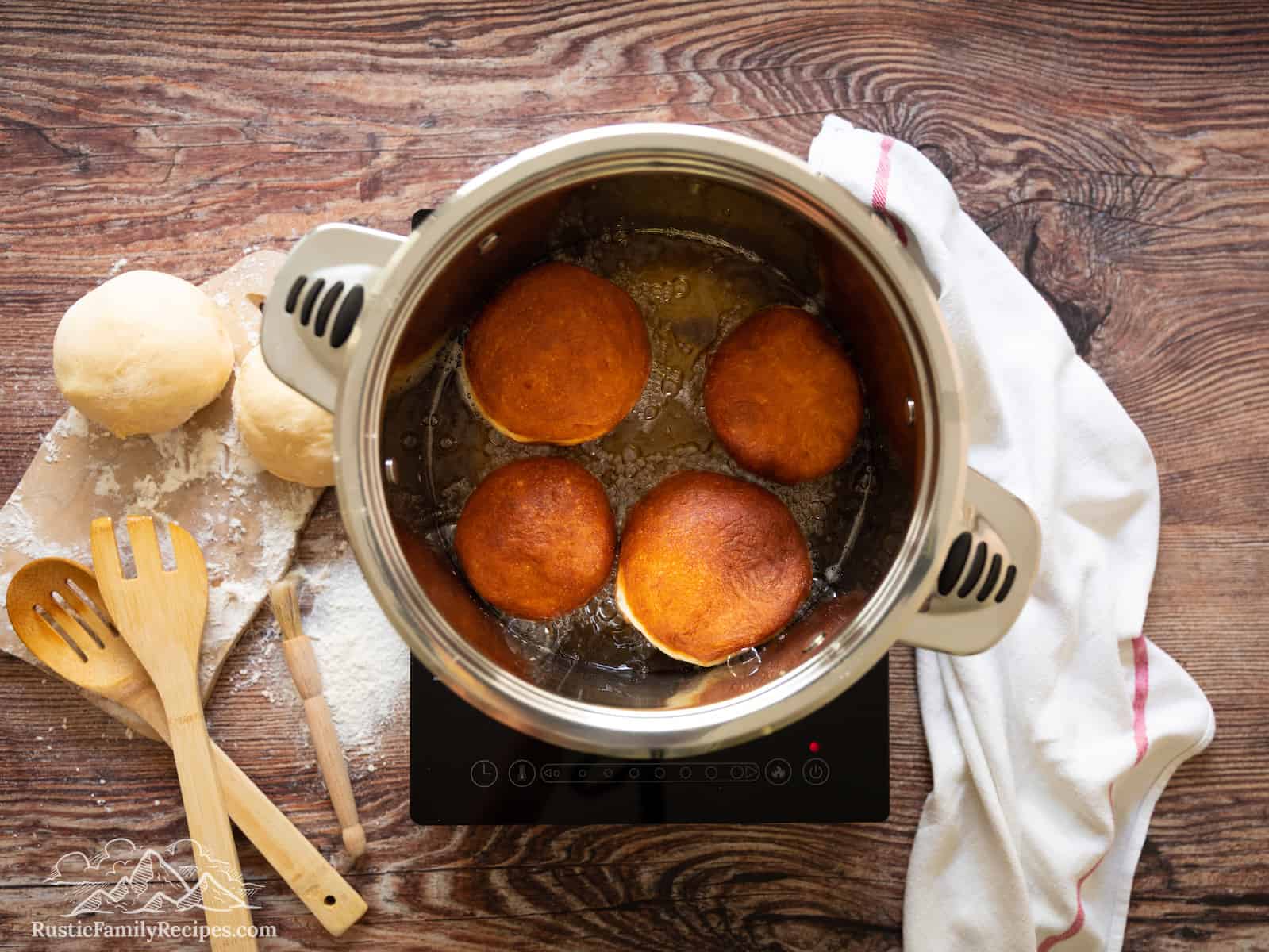 Fry the paczki. Place 4 to 5 donuts in the pot, with the pinched area on top. Cover and fry for 2 minutes, then flip and fry for an additional 1 to 1.5 minutes. Place the donuts on paper towels to absorb the oil.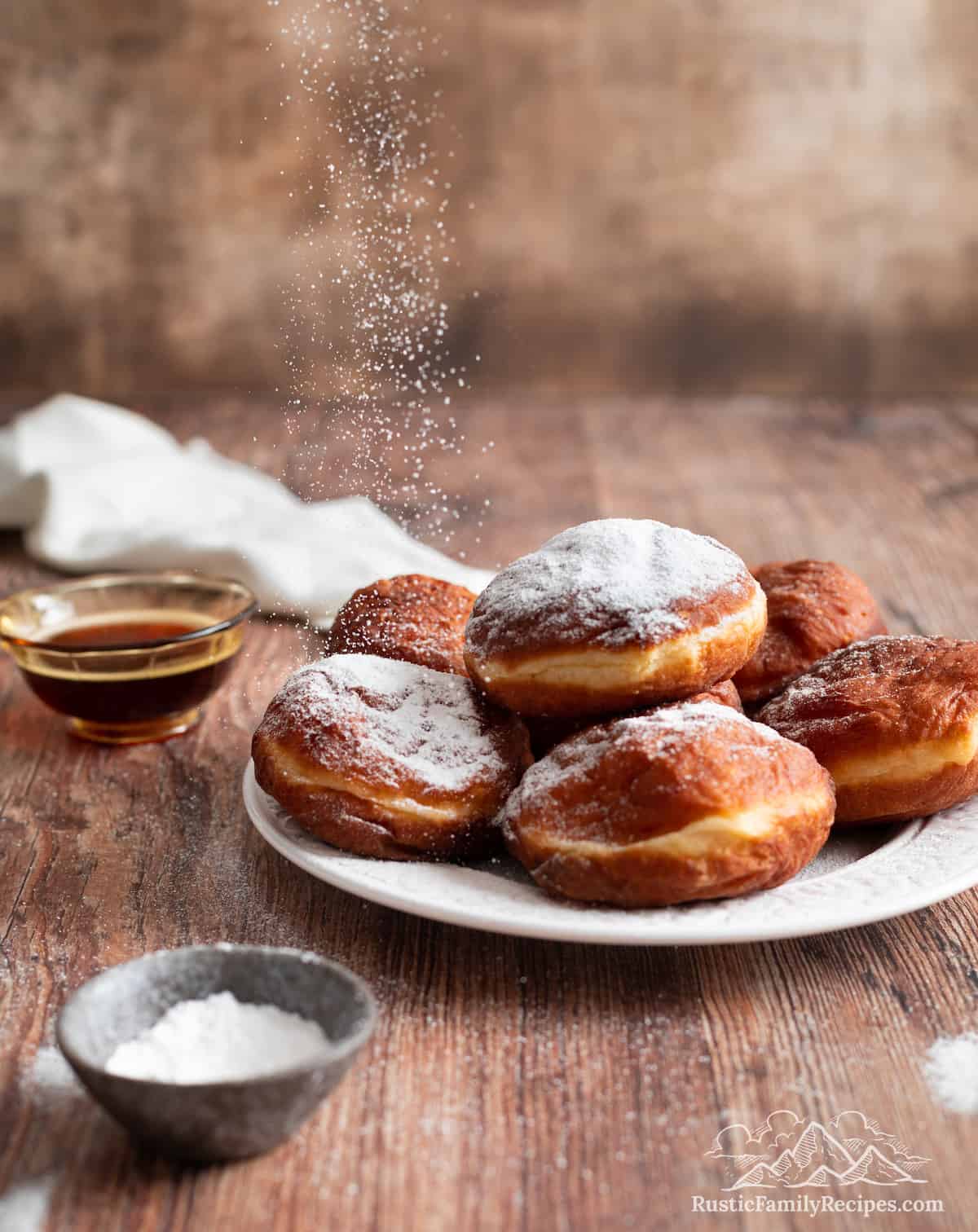 Add sugar and enjoy. Sprinkle with icing sugar once they've cooled a bit and enjoy!
Tips for Success
Though the process is pretty simple, this paczki recipe does require that certain things be just right, to get the desired result. Here are a few helpful hints I've learned to achieve the perfect Polish donuts each time.
Use room temperature ingredients. All ingredients that you use for the pączki should be kept at room temperature for at least 3-4 hours before making the dough.
Make sure the dough rises well. A well made donut should have a white round circle around the middle of it. This is a sign that the dough has risen well and didn't absorb too much oil during frying. In order to make the dough rise, make sure that when you combine warm ingredients (such as melted butter) they are warm but not too hot. You should be able to touch them with your bare hand before adding it to the flour and yeast mixture.
Make sure the oil is hot before adding the donuts. The fat temperature should be at least 360°F for frying. It's best to check the temperature with a confectionary thermometer. If the temperature of the fat is too low, the donuts will absorb too much oil, if it is too high they will burn on the outside and remain raw on the inside. It's important to heat up the oil slowly, over low heat. Fry the donuts for approximately 1 – 2 minutes on each side being careful not to burn them.
Don't stack the donuts. Don't stack the paczki on top of each other until they have chilled.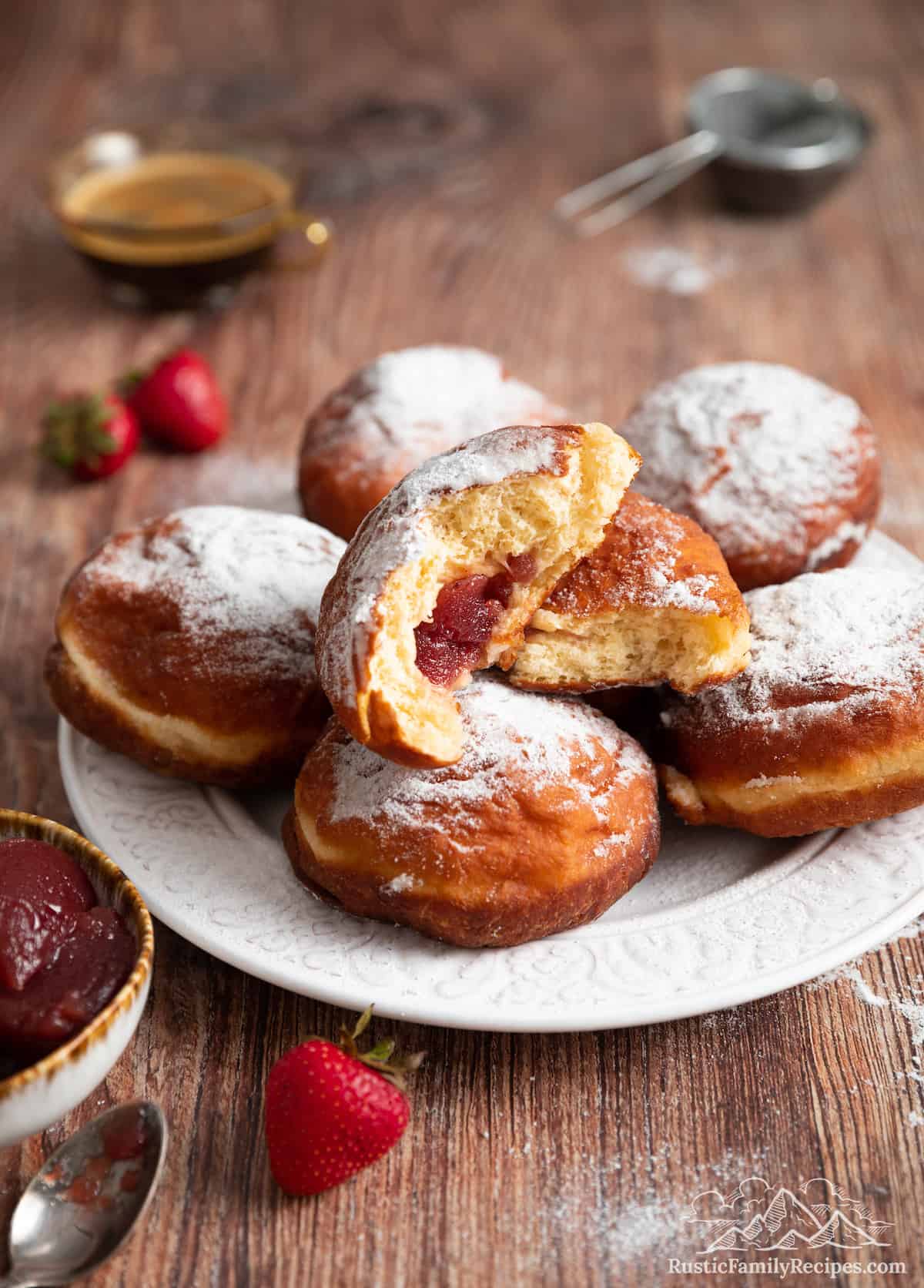 Serving Suggestions
My favorite way to enjoy paczki is with some powdered sugar sprinkled on the top once they have cooled. Another option is to roll them in granulated sugar while still warm. I'm also a fan of serving donuts with a good cup of coffee or a hot cup of tea.
Can I Save Extras For Later?
As with all donuts, they are best enjoyed the day they are eaten. So I recommend having some friends over and really going to town!
If you have some packzi leftover, store them in a paper bag on the counter for up to 1 day, preferably before you have added the powdered sugar. Then you can warm them up in an oven preheated to 350F for about 5 minutes, add your sugar and finish them off.
Print
Paczki (Polish Donuts)
These homemade Paczki are rich, slightly buttery, and stuffed with strawberry marmalade. Deep-fried and dusted with confectioners sugar, these Polish donuts are a real treat!
Author: Rustic Family Recipes
Prep Time:

1 hour 30 minutes

Cook Time:

20 minutes

Total Time:

1 hour 50 minutes

Yield:

20 donuts

Category:

Dessert

Method:

Frying

Cuisine:

Polish
1

large egg

3

large egg yolks

5 tbsp

granulated sugar

3 ½ cups

flour

4 tsp

active dry yeast

¼ tsp

salt

1 cup

milk

2 tbsp

distilled spirit, or

4 tbsp

alcohol, or

1 tsp

vinegar, or lemon juice of ½ lemon

3 tbsp

butter

7 oz

thick strawberry marmalade

4 cups

of canola oil for frying
Instructions
Making the Dough
In a large bowl fitted with a whisk attachment, mix together on medium speed egg, egg yolks and sugar until light and fluffy (approx 10 minutes).
In a separate bowl mix together flour, dry active yeast and salt.
Add the flour mixture, milk and distilled spirit to the egg mixture. Change the whisk attachment to the hook attachment and knead the dough for at least 10 minutes. The dough should be shiny, smooth and air bubbles should be visible on the surface.
Melt and chill the butter. Start working the melted butter into the dough. Add a teaspoon at a time, while kneading on low speed. Only add another teaspoon once the previous one has incorporated well. Knead for one more minute. Cover with a cloth and set aside for 15 minutes to let the dough start rising.
Shaping the Donuts
Prepare a few plates and chopping boards. Sprinkle them with flour and set aside.
Start making the pączki as soon as the dough starts rising. Scoop a tablespoon of the dough, shape a small, approx. 3.5 inch pancake, add a teaspoon of the strawberry marmalade in the middle, pinch the donut close and roll into a ball. Place the donut with the closing facing downwards on a chopping board previously sprinkled with flour. Repeat with the remaining dough. Once all the donuts are shaped, cover them with a cloth and leave to rise for 10-15 minutes.
Frying the Donuts
In a wide, large pot set over a low heat, heat up the oil for frying. When the oil reaches a temperature of 360°F, start frying the donuts. Brush the donut off any remaining flour, place it in the pot with the pinch closing on top. Place 4-5 donuts, to make sure there is sufficient space between them. Cover with a lid and fry for a maximum of 2 minutes. Turn the donuts around and continue frying for 1-1.5 more minutes, without the lid. Take the donuts out on a plate layered with paper towels to absorb any excess oil. Make sure to monitor the temperature of oil throughout the entire process of baking the donuts, increasing or decreasing the heat as and when necessary.
When the donuts have chilled, sprinkle with some icing sugar. Enjoy!
Last Step:
Please
share a rating and comment
if you enjoyed this recipe! Your feedback helps this little blog thrive and continue providing free, high-quality recipes for you.
Keywords: paczki, paczki donuts, polish donuts
More Dessert Recipes: