This easy beignet recipe makes fluffy homemade donuts just like you'd find in New Orleans – except they are filled with Nutella! Dust them with confectioners sugar and dig in.
Love donuts? Try my old-fashioned sour cream donuts recipe or these pink donuts.
About 20 years ago my husband and I visited New Orleans and experienced beignets for the first time. We were eating our way around the city, visiting all the "must taste" restaurants. Of course, the Cafe Du Monde was on our list. The waiter brought steaming mugs of coffee and a plate piled high with fresh beignets smothered in powdered sugar. I'll never forget that first bite into a warm, pillowy beignet. (Pro tip: don't breathe in when you bite into a beignet or powdered sugar will go up your nose!)
Well of course when we returned home, I got a craving for beignets. So I figured out how to make themself! Then I stuffed them with Nutella because, why not?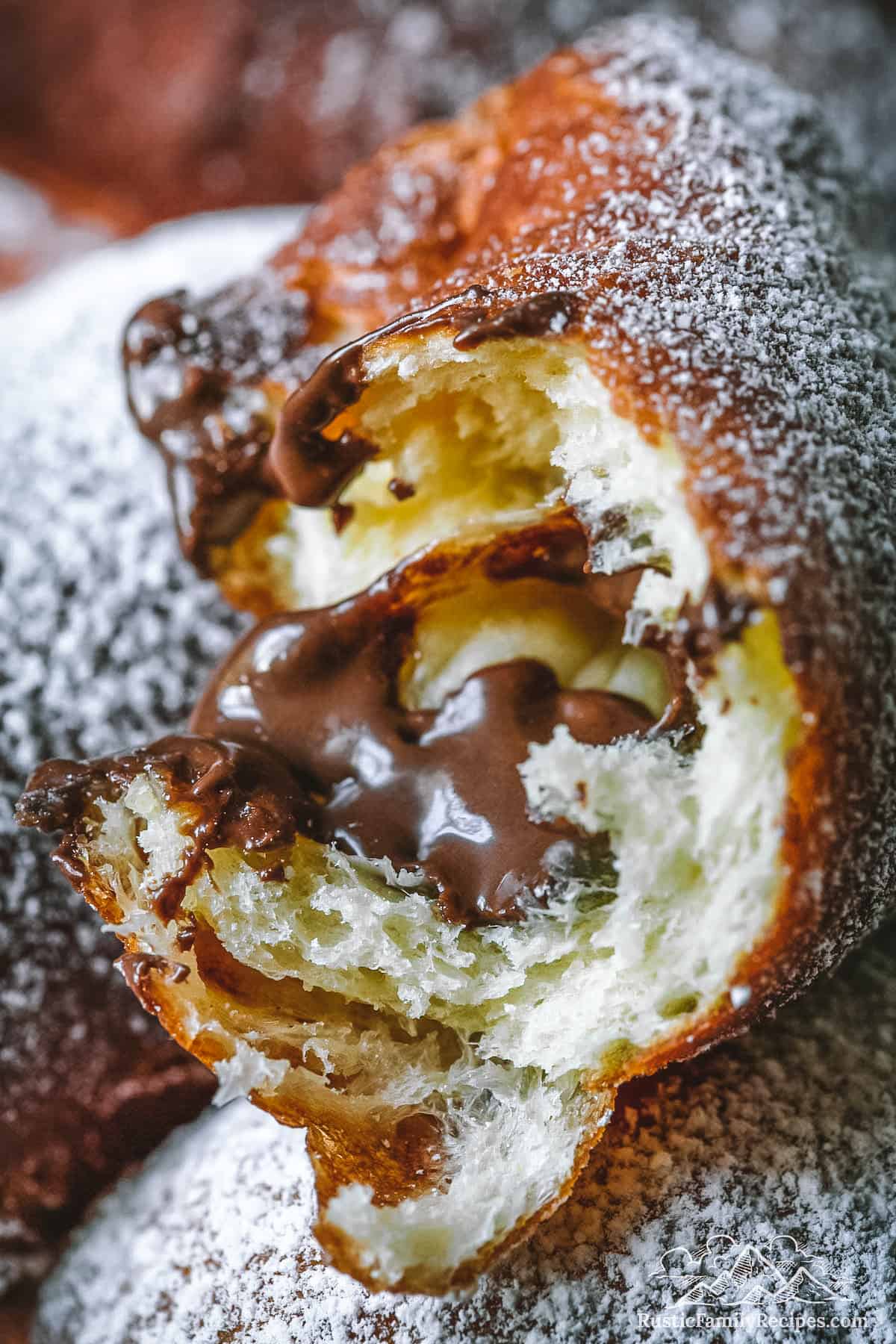 Featured Comment
These came out perfectly!!
What is a Beignet?
Beignets are a kind of donut made with sweet, yeasted dough. They are fluffy, soft, and deep-fried to a golden color before being dusted with copious amounts of confectioners sugar. In France, beignets are made with choux pastry, but this beignet recipe is more like the American version found at Cafe Du Monde in New Orleans. These beignets taste like a delightful combination of a powder sugar donut, plus fried dough from the county fair, with Nutella thrown in for good measure.
What is the difference between a donut and a beignet?
Beignets tend to have more yeast and fewer eggs than traditional donut recipes, which makes them puff up more. Beignets are basically pillowy, fluffy donuts covered in confectioners sugar.
What is special about beignets?
Beignets are the official state donut of Louisiana. They are also easier to fill than donuts and can be stuffed with everything from Nutella to jam.
How to pronounce beignets?
Beignet is pronounced BEN-yays. As in, there's my good friend "Ben." And "yays!" these donuts are so amazing my Yay is plural!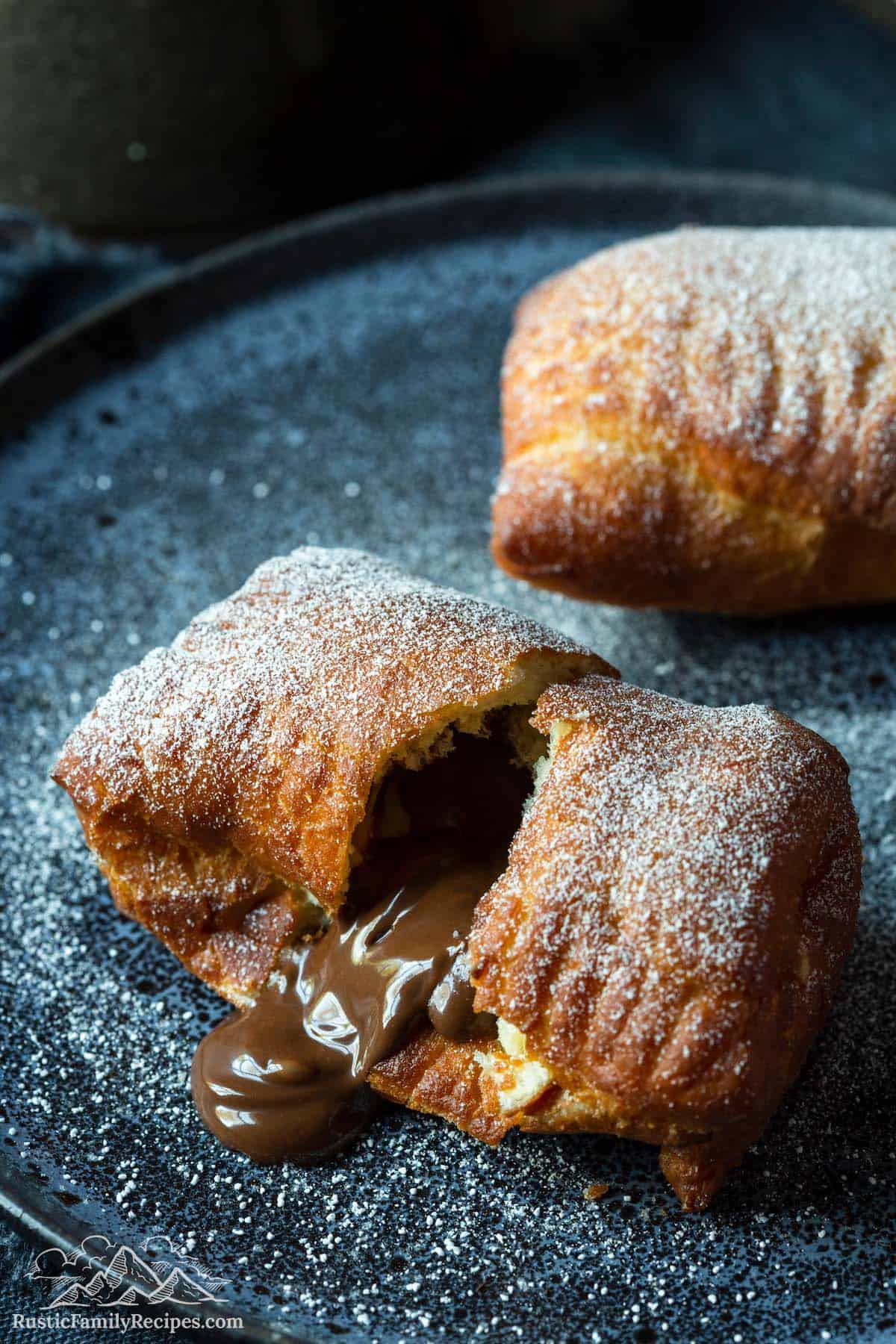 How to Make Beignets from Scratch
It is not difficult to make beignets at home, but it does require time and patience. Yeasted dough will not be rushed!
Make the Dough
The first thing you will need to do is make the dough. The method here is the same as for challah or any other bread dough. Proof the yeast in warm liquid, add the other ingredients, then knead the dough until it is smooth and bounces back when you press your thumb into it. That "bounce back" is what lets you know that yeast is getting to work. For full details on how to make the dough for this beignet recipe, check out the recipe card below.
Heat the Oil
After the dough has finished its rise, start heating the oil. I recommend doing this before you start shaping the beignets because oil does take a while to get hot. I also strongly recommend using a candy thermometer (affiliate link) attached to the side of the pot to monitor the temperature of your oil. It is important that the oil is hot enough to cook your donuts, but not so hot that it burns them or starts smoking. The ideal temperature for cooking these donuts is 345F-350F.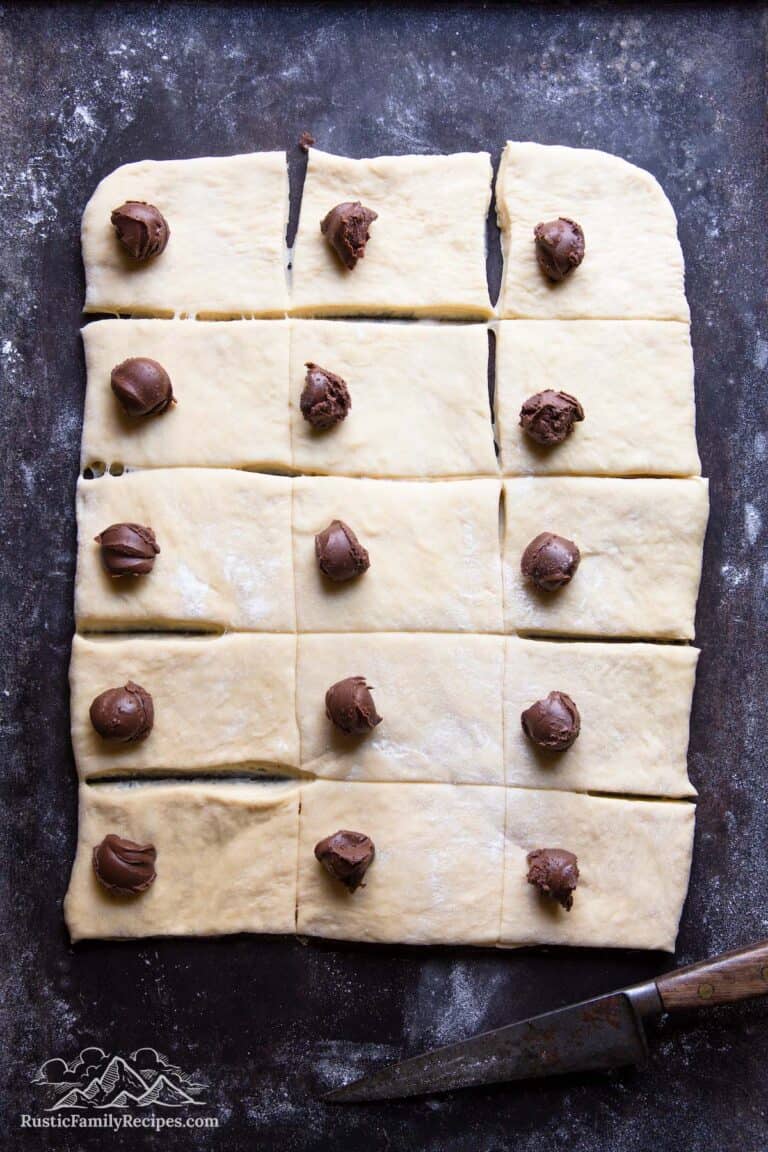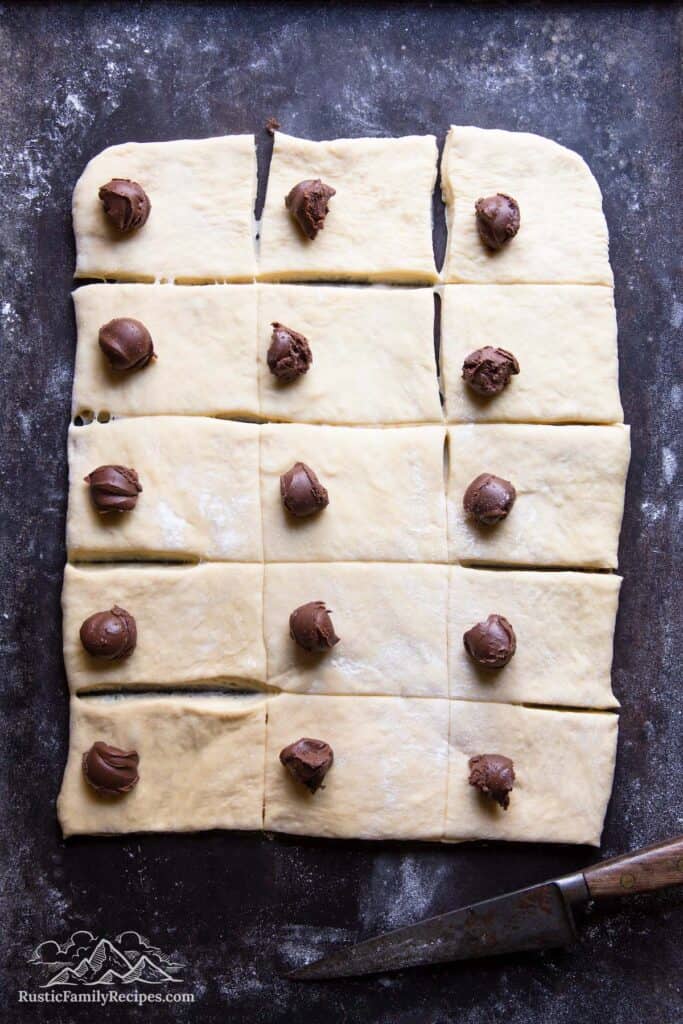 Shape the Beignets
While the oil is heating, roll out the dough until it is about 18 inches x 15 inches. Then with a pizza cutter or sharp knife, cut it into rectangles that are about 3 inches x 5 inches.
Place about 1 teaspoon of Nutella on one side of each rectangle. Then wet your fingers with a small amount of water and run it along the edges of a rectangle before folding it over to form the beignet. Press the edges of the dough together gently but firmly, then seal them together with the tines of a fork.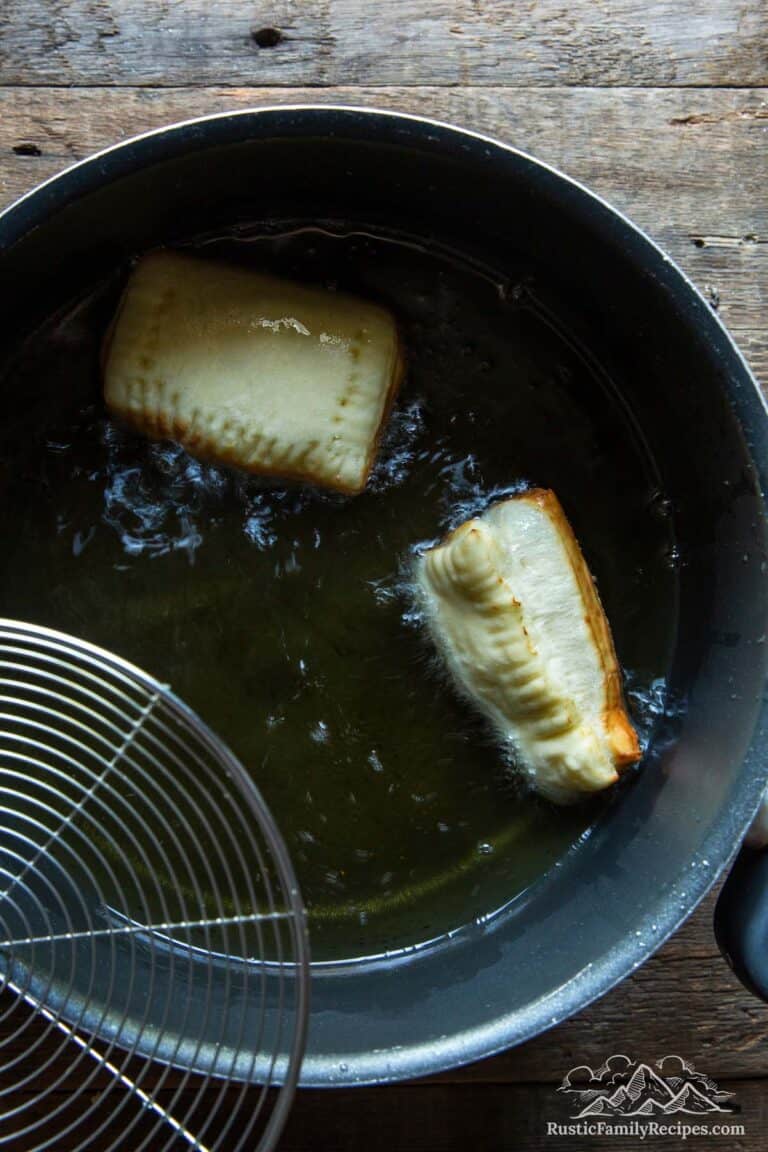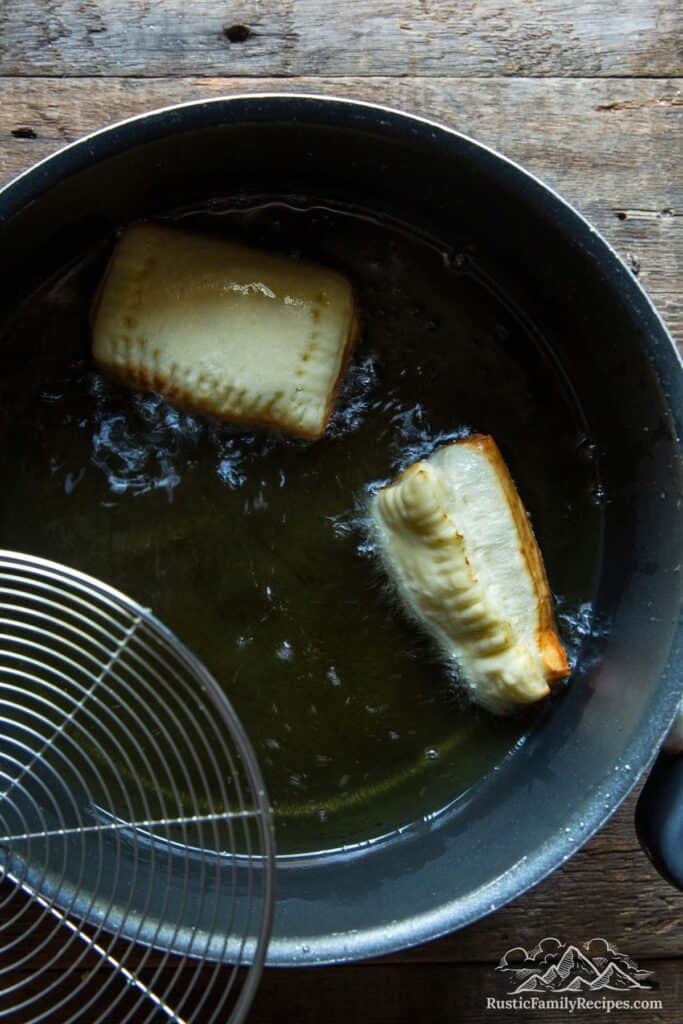 Fry Your Donuts!
Now it is time to fry your beignets. I cannot stress enough how important it is to pay attention while doing this. Hot oil makes delicious food but it is also dangerous. Don't let kids or pets run through the kitchen, and don't walk away from the oil. Think of it as a meditative practice – for the duration of your donut cooking time, there is only you, the beignets, and the oil. 🙂
Once the oil reaches 345F-350F fry your beignets two or three at a time. Gently place each beignet into the oil, quickly removing your hand after the dough has been placed in the pot. Do not drop the donuts in the oil from a height or it will splash and get on you. Trust me, I learned this the hard way and had oil burn marks on one of my hands for years to make me never forget this lesson!
Fry the donuts on each side for about 1-2 minutes. (This is where the oil temperature comes into play – if it is too hot your donuts will brown quickly before the insides can cook through and you'll have doughy donuts.) When the beignets are golden on both sides, use a metal slotted spoon (not plastic!) to remove them from the oil and place them on a large plate lined with paper towels to drain. You may need more than one plate. You can also just line your counter with a few layers of paper towel.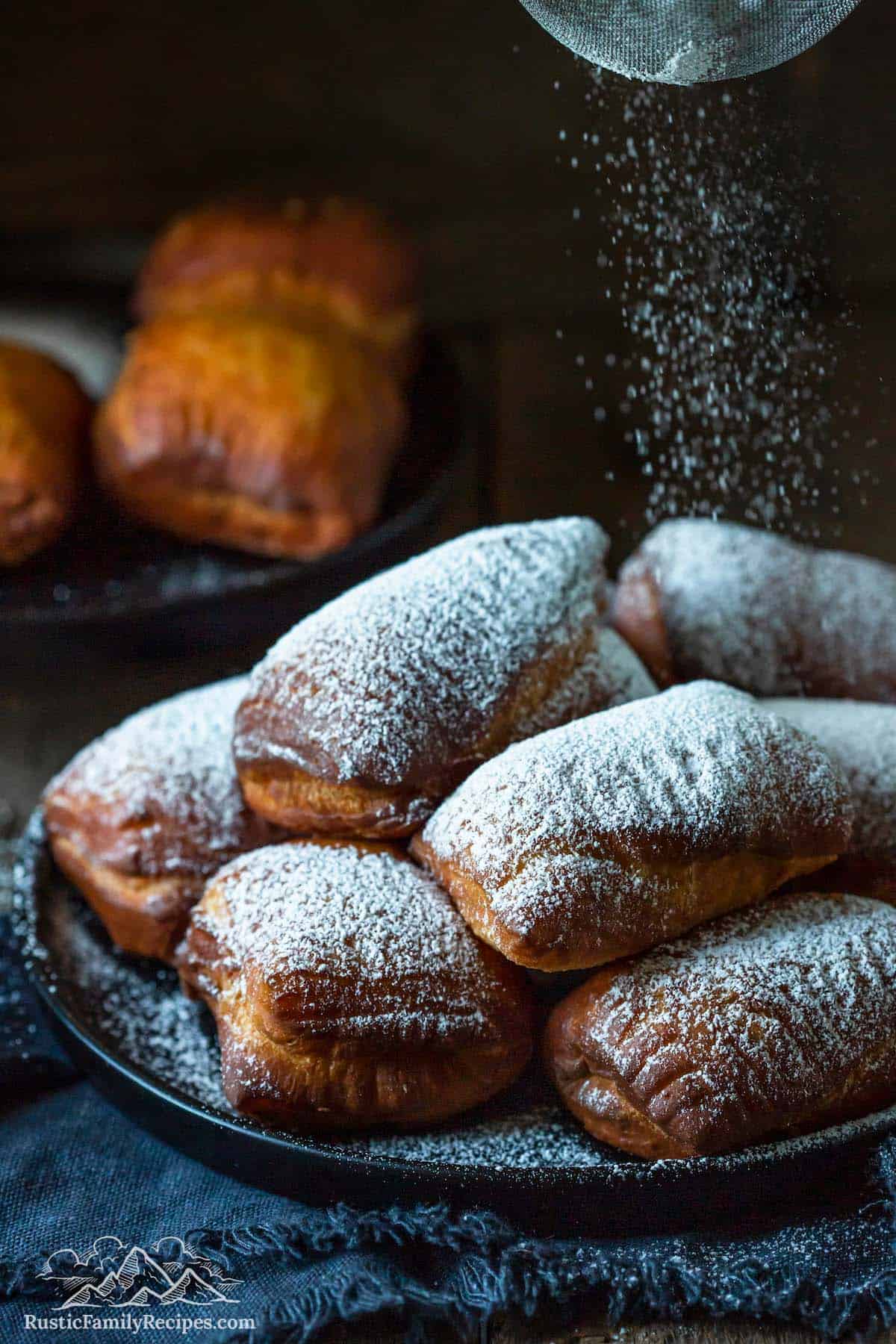 Dust with Sugar & Serve
Once all your donuts have been fried and had a few minutes to drain on paper towels, transfer them to a large plate and dust them with confectioners sugar. This part of the beignet recipe is fun for kids, especially if you give them a sifter to add the sugar.
How much sugar? It's up to you! I like a moderate amount of powdered sugar on my beignets, but the rest of my family goes to town. I mean, sometimes you can't even tell if there is a donut in there. But hey, making homemade beignets is not something we do every day so might as well go all-in on this treat.
What's the Best Oil for Frying?
Vegetable oil is the best oil for deep frying. This kind of oil is usually just labeled "vegetable oil" at the grocery store and is ideal for two reasons:
It has a high smoke point between 400F – 450F. The smoke point is the temperature at which an oil starts burning, therby creating smoke and a dangerous kitchen situation. Since these beignets are fried at 345F – 350F you won't come anywhere near the smoke point if you use vegetable oil. I recommend using a candy thermometer like this one. It will clip to the side of your pot so you can monitor the oil temperature.
It is inexpensive. This is good because you will need a lot of it for frying these donuts.
Can I Use Jam Instead of Nutella?
You sure can! Any kind of thick jam will work nicely with these. I would not recommend jelly because those tend to liquefy when the donuts are added to the hot oil, which makes it more likely that your beignets will burst open while they are frying. My favorite kinds of jam to use with these homemade donuts are blueberry, strawberry, peach, and apricot.
You can also stuff a square of milk chocolate inside each beignet instead of using Nutella. The chocolate will melt during frying! Just be sure your beignets are sealed well before adding them to the oil, otherwise, the chocolate will come out while they cook.
How to Store Extras
Beignets are best eaten the day they are made. If you really cannot make this happen, then you can store them on the counter in an airtight container for up to 1 day. They will NOT be as good the next day though.
This recipe makes about 24 beignets so if I don't have enough people to eat all the donuts I simply cut my dough in half before shaping the beignets, and store one half in the fridge to make more donuts the next day. The dough will be fine as long as you put it in a large airtight container where it will have room to expand and be protected from drying out. Literally, donuts for days!
Print
New Orleans Beignets with Nutella
This easy beignets recipe makes fluffy, deep-fried homemade donuts filled with melty Nutella! Dust them with confectioners sugar and dig in.
Author: Rustic Family Recipes
Prep Time:

2 hours

Cook Time:

30 minutes

Total Time:

2 hours 30 minutes

Yield:

24 beignets

Category:

Dessert

Method:

Deep Fry

Cuisine:

French
1 3/4 cups

warm milk

1 tablespoon

active-dry yeast

1/3 cup

granulated sugar

2 teaspoons

vanilla extract

2

eggs

1/4 cup

+

1 teaspoon

olive oil

1 1/2 teaspoons

salt

2 cups

bread flour

2 1/2

to

3

cups all-purpose flour

1/2 cup

Nutella
Vegetable oil for frying
Confectioners sugar for dusting
Instructions
Make the Dough
Proof the yeast. In a large bowl or the bowl of a stand mixer, combine the warm (not hot) milk, yeast and sugar. Let this mixture stand for a couple minutes.
Make the dough. Add the vanilla extract, eggs, 1/4 cup olive oil, and salt, and mix well. Add the bread flour and combine with a wooden spoon or with the paddle attachment of your mixer. Add the remaining all-purpose flour 1/2 cup at a time until the dough starts to form a ball and pulls away from the sides of your bowl.
Knead the dough. Turn the dough out onto a well-floured surface or switch to your dough hook. Knead the dough for 4-5 minutes, dusting with flour occasionally to prevent sticking, until you have a smooth, firm dough that bounces back when pressed with your thumb.
Allow to rise. Grease a large bowl with the remaining 1 teaspoon of olive oil. Put your dough in the bowl, turning once to coat. Cover with saran wrap and allow the dough to rise for 1 hour.
Heat the oil. In a large Dutch oven or heavy-duty pot, heat 5 inches of vegetable oil to 345F – 350F degrees F. (Use a candy thermometer attached to the side of the pot to judge the temperature. Dutch ovens are best since they regulate the temperature better than regular pots.) Keep an eye on the temperature and adjust the heat of your stove accordingly. You don't want to temperature to rise above 350F or the beignets will burn. Likewise, you don't want the temperature to drop below 345F or the beignets will not cook through.
Form the Beignets
Roll out and cut the dough. While the oil is heating roll out your dough on a lightly floured surface until it is about 18 x 15 inches. With a pizza cutter or a sharp knife, cut the dough into 3 x 5 inch rectangles.
Fill and shape the beignets. Using a teaspoon measure, place a ball of Nutella on one side of each rectangle. Center the Nutella in the middle of that side. Wet your fingers with a small amount of water, and then run them along one side of the rectangle. Fold the dough over the Nutella, pressing gently so that air doesn't get trapped inside. Seal the dough by pressing the edges together with the tines of a fork.
Fry the Beignets
Fry until golden. When the oil reaches 345 – 350 degrees F, fry the beignets, two or three at a time. Fry until the underside is a deep golden brown, about 1 minute. Turn the dough over and fry until that side is golden brown. Keep an eye on the temperature and adjust the heat as you go.
Drain. When finished remove the beignets from the oil with a slotted spoon and allow them to drain on a plate lined with paper towels.
Add sugar and serve! Dust with a generous amount of confectioners sugar and serve immediately.
Notes
Note: If you can't find bread flour you can use all-purpose instead. The bread flour does give the dough a nice chewy texture though.
Last Step:
Please
share a rating and comment
if you enjoyed this recipe! Your feedback helps this little blog thrive and continue providing free, high-quality recipes for you.
Keywords: donut recipe, cafe beignet, beignet recipe, new orleans beignets
More Nutella Desserts
This post may contain affiliate links. Please read our disclosure policy.