About Me: I have more than 20 years of cooking experience & share my favorite recipes on this blog.
Have a question? Please post a comment, I'm happy to help. 🙂
Make this easy No Churn Strawberry Ice Cream at home for a sweet treat filled with fresh strawberries. Creamy and full of flavor, this is the perfect scoop to enjoy all summer!
Strawberry ice cream is such an iconic flavor. I don't know about you, but around these parts it's one of our favorites! Seeing as I've been on a bit of a no churn ice cream bender lately, I set out to make my own. This is a simple recipe that uses fresh, juicy strawberries and condensed milk to make the freshest, creamiest homemade strawberry ice cream.
No Churn vs. Churn Ice Cream
So, what's the main difference between churn and no-churn ice cream? Let's dive in:
No churn ice cream requires, well, no churning. Also called American or Philadelphia style ice cream, no churn ice cream is made without an ice cream maker. Instead, the volume comes from whipping heavy cream, combined with sweetened condensed milk that's then frozen for a smooth, extra creamy texture.
Churned ice cream is made in an ice cream maker. The ice cream is churned in the machine while it freezes, bringing air into the mix that results in a fluffy, airy, and smooth ice cream texture.
Churned ice cream is prepared like a custard. Many homemade ice cream recipes call for granulated sugar and eggs, as the ice cream mixture is often cooked before chilling and churning. This allows the eggs to cook, and the sugar to dissolve, creating a custard-like base that then goes into the ice cream maker.
No churn ice cream uses different ingredients. No churn ice cream is made with sweetened condensed milk in place of regular sugar, and no eggs, as there isn't any cooking involved.
Key Ingredients
You only need 4 ingredients to make no churn strawberry ice cream. Here's an overview of what's involved, and be sure to check the recipe card for the exact amounts.
Heavy Whipping Cream – Heavy cream contains a high fat content that's key to making creamy no churn ice cream.
Sweetened Condensed Milk – Since this acts as the sugar in the recipe, make sure it's the sweetened kind, and not regular condensed milk.
Strawberries – Fresh sliced strawberries, plus more for garnish.
Dragon Fruit Powder – Dried dragon fruit powder is optional, for a brighter color.
Can I Use Frozen Strawberries?
Yes, frozen strawberries will also work. However, they'll need to be thawed first so that you can mash them as directed in the recipe.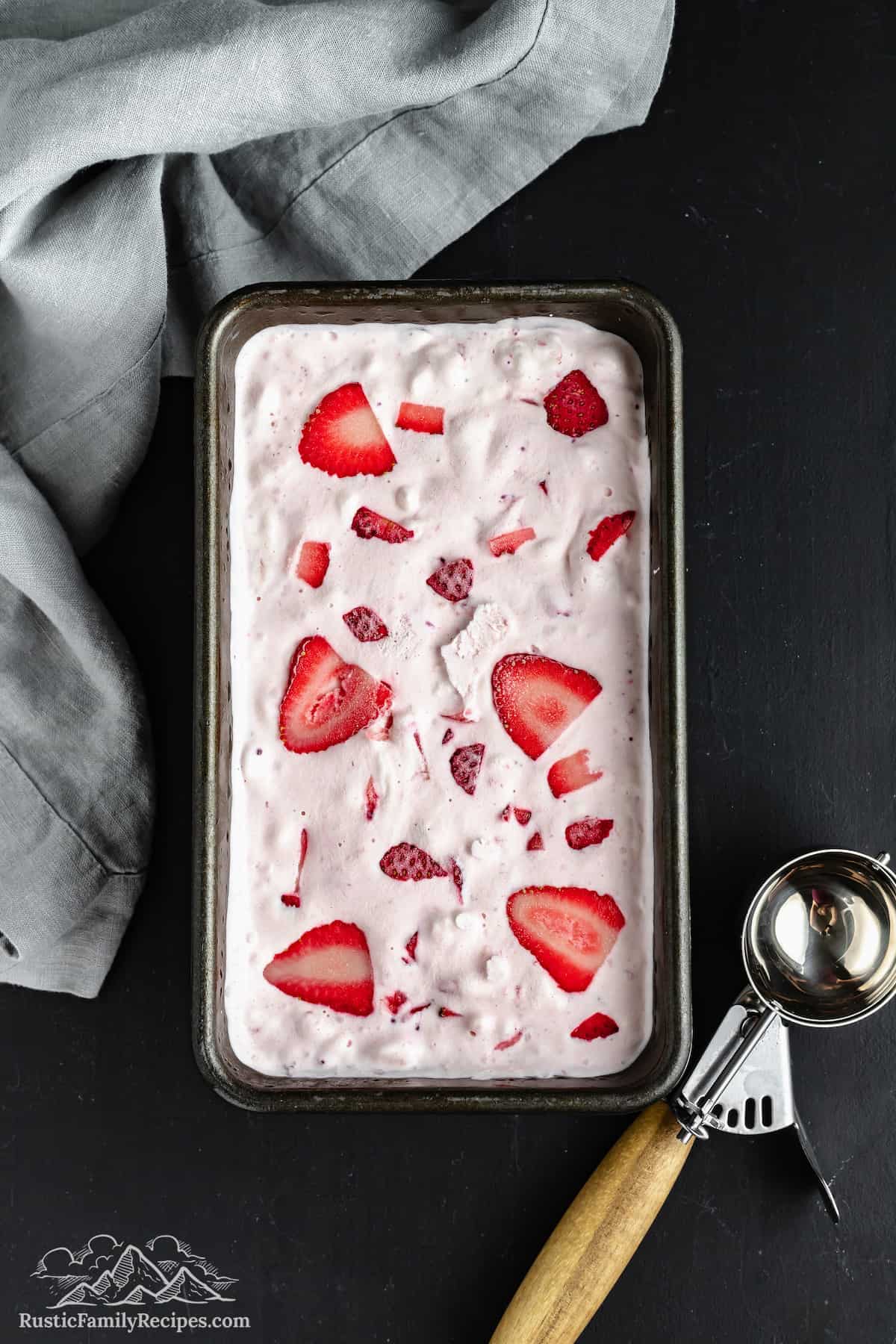 How to Make Strawberry Ice Cream
Here's how to make homemade strawberry ice cream in just four steps:
Prep the berries. Mash your strawberries in a bowl, or give them a few quick pulses in a food processor so that some chunks still remain. Stir in the sweet condensed milk and set this aside for now.
Whip the cream. Beat the whipping cream until stiff peaks form, then set this aside as well.
Add berry mixture. Fold your strawberry mixture into the whipped cream.
Freeze. Transfer your strawberry ice cream mixture to a loaf pan and smooth it over with a spatula. Garnish the top with a few strawberry slices, then cover the whole thing with foil and pop your ice cream into the freezer overnight. After at least 8 hours, serve a scoop with your favorite toppings!
Add More Color
One difference I've noticed when buying strawberry ice cream from the store, and while making my own at home, is that ice cream made with fresh berries tends to lack the vibrant pink color of less, ahem, natural strawberry ice creams.
I've remedied this in my homemade version with dragon fruit powder. This is a natural alternative to red food dyes that I love to use in recipes. You only need a small amount to achieve a beautiful pink hue, and it doesn't impact the flavor of the ice cream. You can read more about dragon fruit powder in my post about Frosted Animal Crackers, which I colored with pink frosting made using dragon fruit powder.
Tips for Success
Try these tips for the creamiest strawberry ice cream:
Use ripe strawberries. In-season strawberries are best! If you're making this ice cream out of season, or if you otherwise can't find fresh, ripe berries, I'd recommend using frozen berries instead.
Garnish berries will be frosty. If you use fresh strawberries to garnish the top of your ice cream before it is frozen, keep in mind that these will ice over.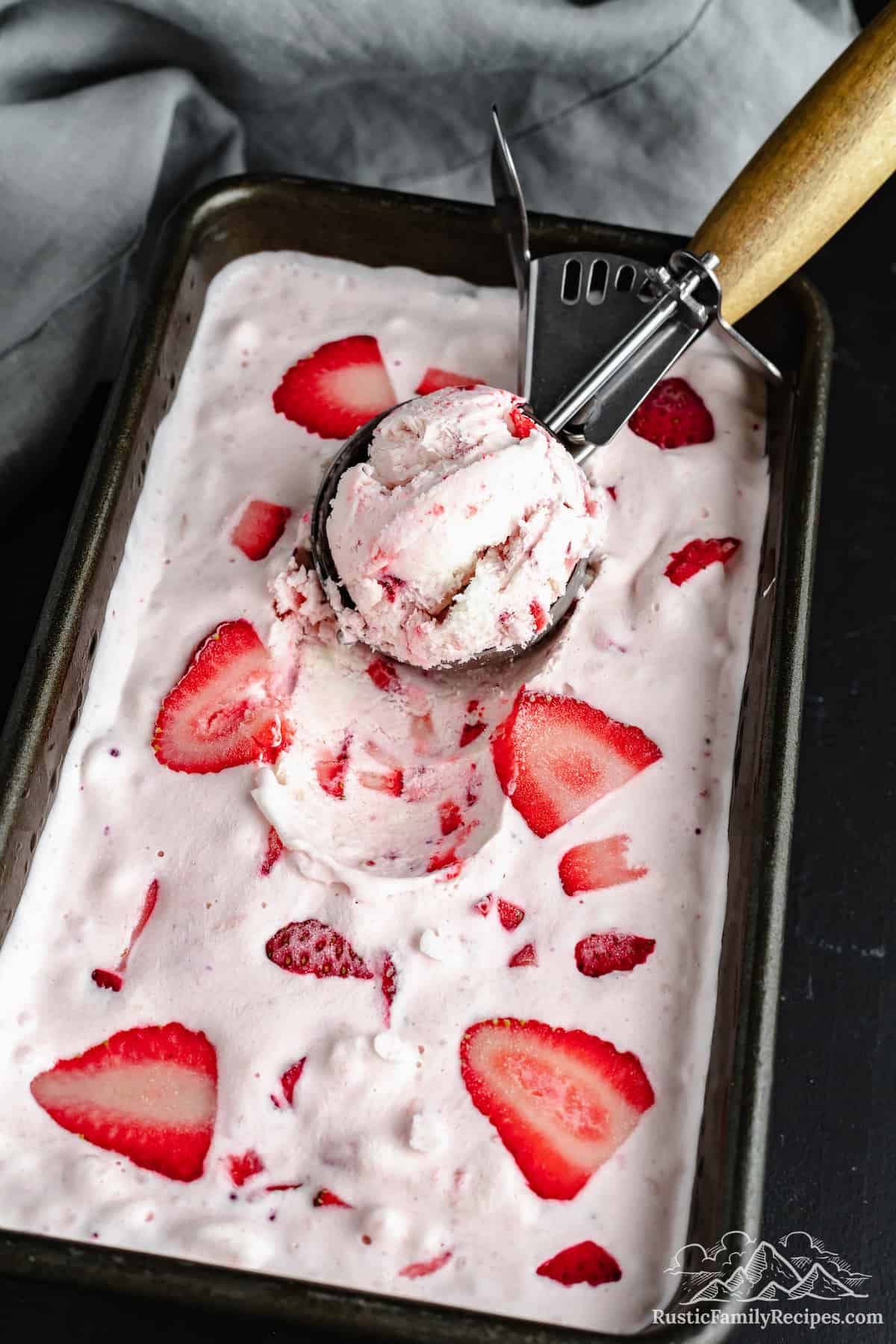 Ways to Enjoy Homemade Ice Cream
I love serving this ice cream for dessert, strawberries and cream-style with a swirl of maple-vanilla whipped cream. Or we make it a mixed-berry affair with some homemade blueberry sauce!
You can also serve your homemade ice cream with more favorite toppings:
Fresh fruit – In addition to fresh strawberries you could top your ice cream with blueberries, raspberries, blackberries, peach slices or even mango slices.
Chocolate sauce
Sprinkles
Crushed cookies – Oreos and Nilla wafers are especially nice!
Chocolate chips or white chocolate chips
Or enjoy a scoop of ice cream with one of these easy desserts:
How to Store
The best way to store homemade ice cream is to allow it to freeze fully, then transfer it to an airtight, freezer-safe container. No churn ice cream will stay fresh in the freezer for up to 30 days.
Preventing Freezer Burn
To help guard against freezer burn, I like to place a layer of saran wrap over the container, between the ice cream and the lid. This helps prevent the formation of ice crystals. Also, don't leave your ice cream in the freezer for too long – any longer than a month, and there's more likelihood that ice crystals will form.
Print
No Churn Strawberry Ice Cream
This homemade No Churn Strawberry Ice Cream is a sweet frozen treat filled with fresh strawberries! The perfect creamy scoop to enjoy all summer.
Author: Rustic Family Recipes
Prep Time:

15 minutes

Freeze Time:

8 hours

Total Time:

8 hours 15 minutes

Yield:

4 cups

Category:

Dessert

Method:

Freeze

Cuisine:

American
2 cups

heavy whipping cream

14 oz

can sweetened condensed milk

3 cups

sliced fresh strawberries, plus more for garnish

1

–

2

teaspoons dried dragon fruit powder (optional for a brighter color)
Instructions
Prep the berries. In a medium bowl, mash the strawberries with a fold or a few pulses from an electric mixer (making sure to leave chunks). Stir in condensed milk. Set aside.
Whip the cream. Add the whipping cream to a large mixing bowl. Using an electric mixer, beat on medium-high speed for 3 minutes or until a stiff peak forms. Set aside.
Add berry mixture. Slowly fold the strawberry mixture into the whipped cream. Stir until fully combined.
Freeze. Pour into a 9×5 loaf pan or freezer safe container. Smooth out the top with a spatula or spoon. Add a few sliced strawberries on top for garnish. Cover with foil. Place the freezer for at least 8 hours or overnight.
Serve! Add toppings if desired, like whipped cream or fresh berries.
Notes
Store leftovers in an airtight container in the freezer for up to 30 days.
Last Step:
Please
share a rating and comment
if you enjoyed this recipe! Your feedback helps this little blog thrive and continue providing free, high-quality recipes for you.
Keywords: homemade strawberry ice cream, frozen desserts, no churn ice cream