This homemade cotton candy ice cream has chunks of blue velvet cake worked into the batter. It's a creamy no-churn ice cream bursting with gorgeous pink and blue colors!
It was a balmy 40 degrees Fahrenheit this week and while that probably sounds unbearably cold if you're from the south, in my neck of the woods in February? That's t-shirt weather baby. Well, almost. It's more of t-shirt and sweatshirt weather. Still, the warmer temps had me feeling all spring-like, so I decided to use some of the blue velvet cake I'd stashed in my freezer to make cotton candy ice cream.
This creamy homemade ice cream is super easy to make. You don't even need to churn it in an ice cream machine. The gorgeous blue and pink hues come from blue matcha powder and dragon fruit powder, both of which I love to use in desserts. If you don't want to make a blue velvet cake for this confection you could add chunks of blue matcha sugar cookies instead, or even broken up pieces of these frosted animal cookies!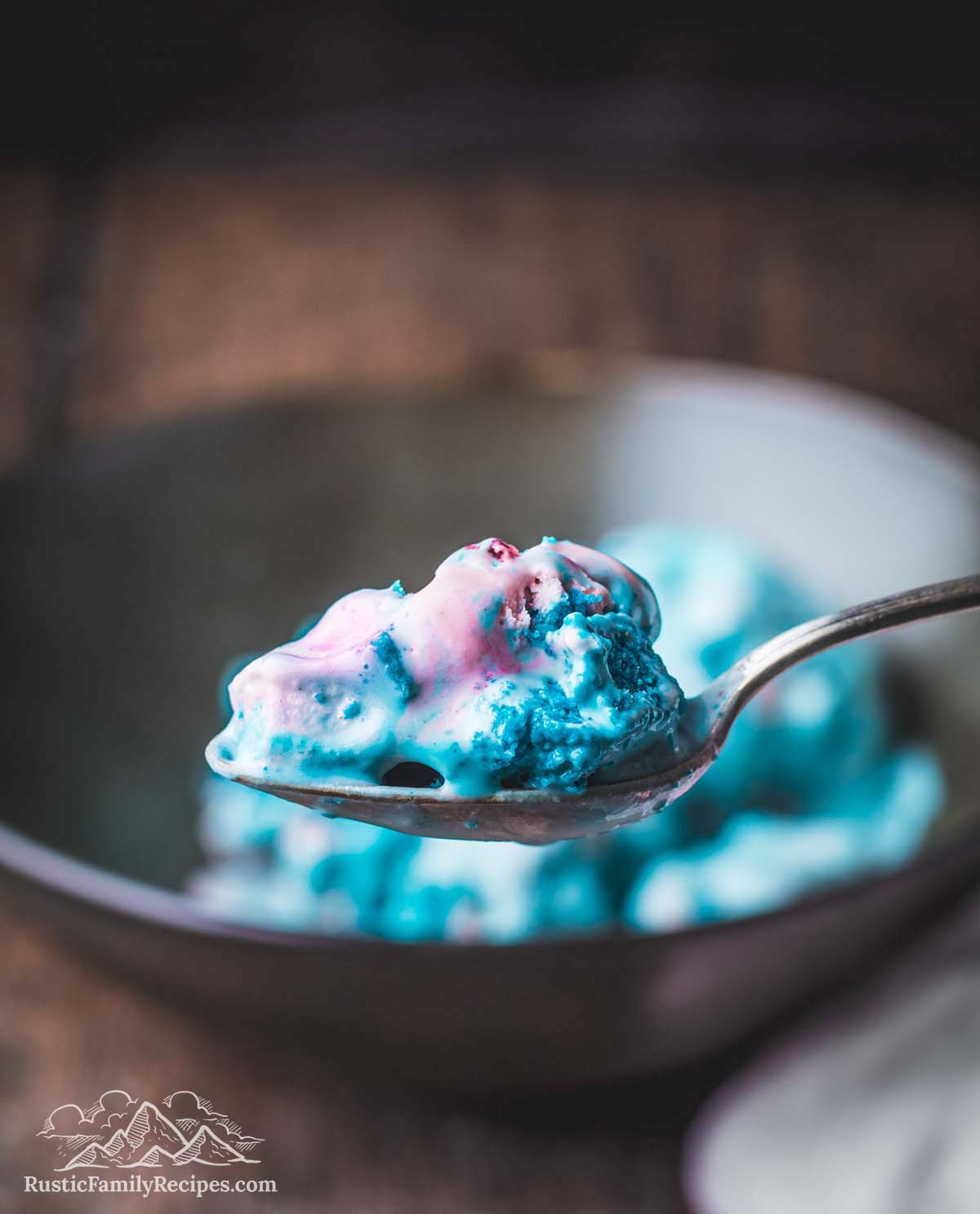 What Flavor is Cotton Candy Ice Cream?
Cotton candy ice cream tastes like the fluffy cotton candy you can buy at fairs in the summertime. You can find cotton candy extract at Amazon (affiliate link) pretty easily! Or if you don't want to wait for your extract to arrive, you can just leave it out of this ice cream recipe. You'll still have beautiful pink and blue homemade ice cream, it just won't taste like cotton candy.
How Do You Make the Pink and Blue Swirls?
The pink and blue swirls look quite fancy, don't they? But guess what, it is simple to do! Since this is no-churn ice cream, all you have to do is make a pink ice cream base and a blue ice cream base. You then scoop them into a loaf pan side-by-side, alternating the colors. Pop it into the freezer and give it several hours to freeze solid, then scoop away.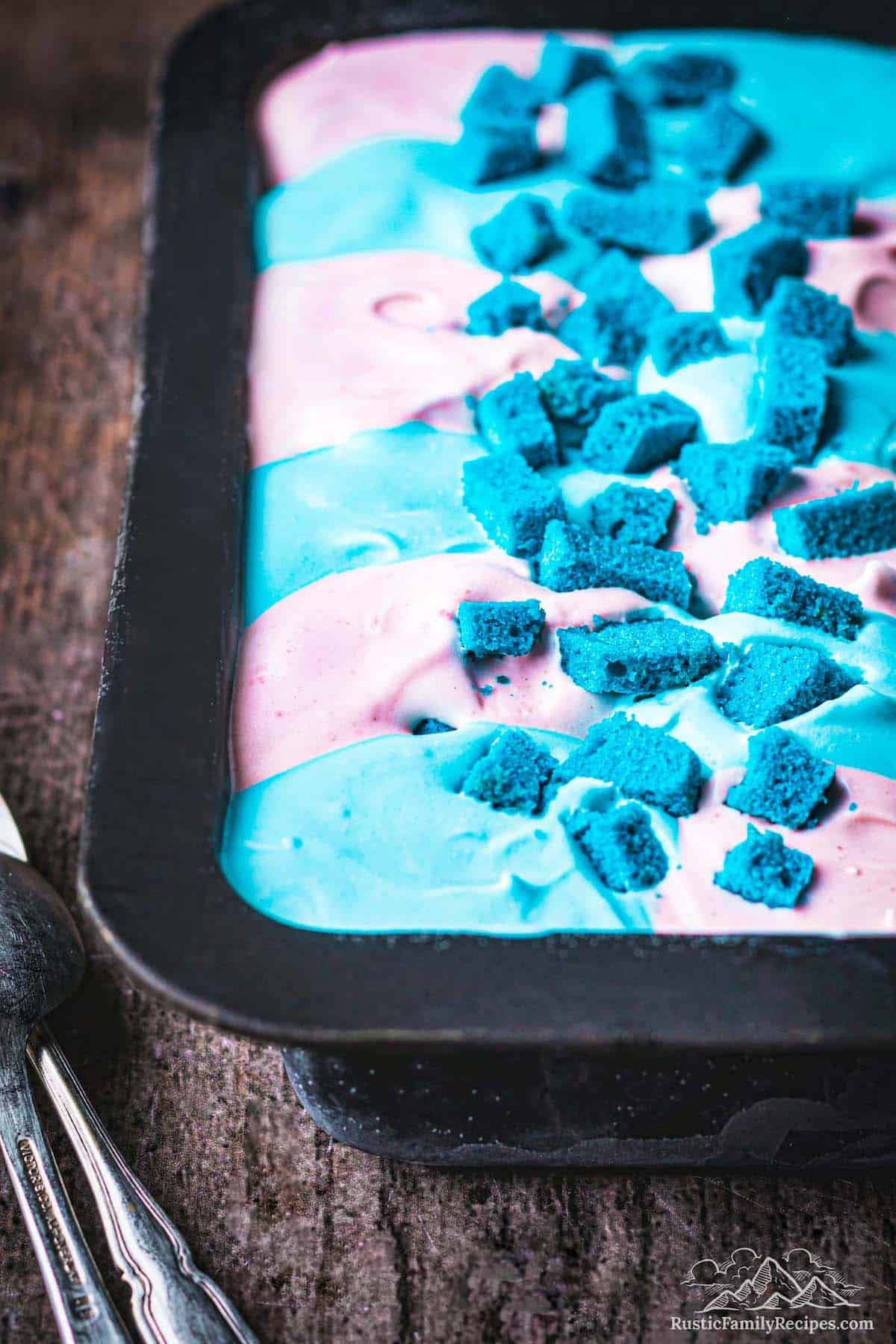 Mix in Ideas – There are So Many!
One of the best things about making your own ice cream is that you can be as creative as you want with the mix-ins and completely customize them to your own preferences. I used blue velvet cake here because I had some in the freezer, but as I mentioned earlier you could also use my blue matcha sugar cookies or frosted animal crackers if you wanted to work in a different homemade treat.
Here are some more ideas:
Golden Oreos, Nillas, or Vanilla Creme Cookies – Break the cookies into chunks and add them to the ice cream batter.
Marshmallows – Either mini marshmallows or jumbo marshmallows cut into bite-sized pieces.
Donuts – Cake donuts would probably work best for this.
Berries – You could add chopped strawberries, whole blueberries or raspberries.
Brownies – Got some extra brownies in the freezer? I often work these homemade brownies into ice cream!
Candy – Chopped Kit Kat's might be fun to add to this ice cream, or whatever other candy you like.
Blueberry Sauce – Add a blueberry swirl using this simple blueberry sauce.
Nuts – If you like nuts in your ice cream, chopped pistachios or walnuts would be tasty.
Sprinkles – Want even more color? Add some rainbow sprinkles!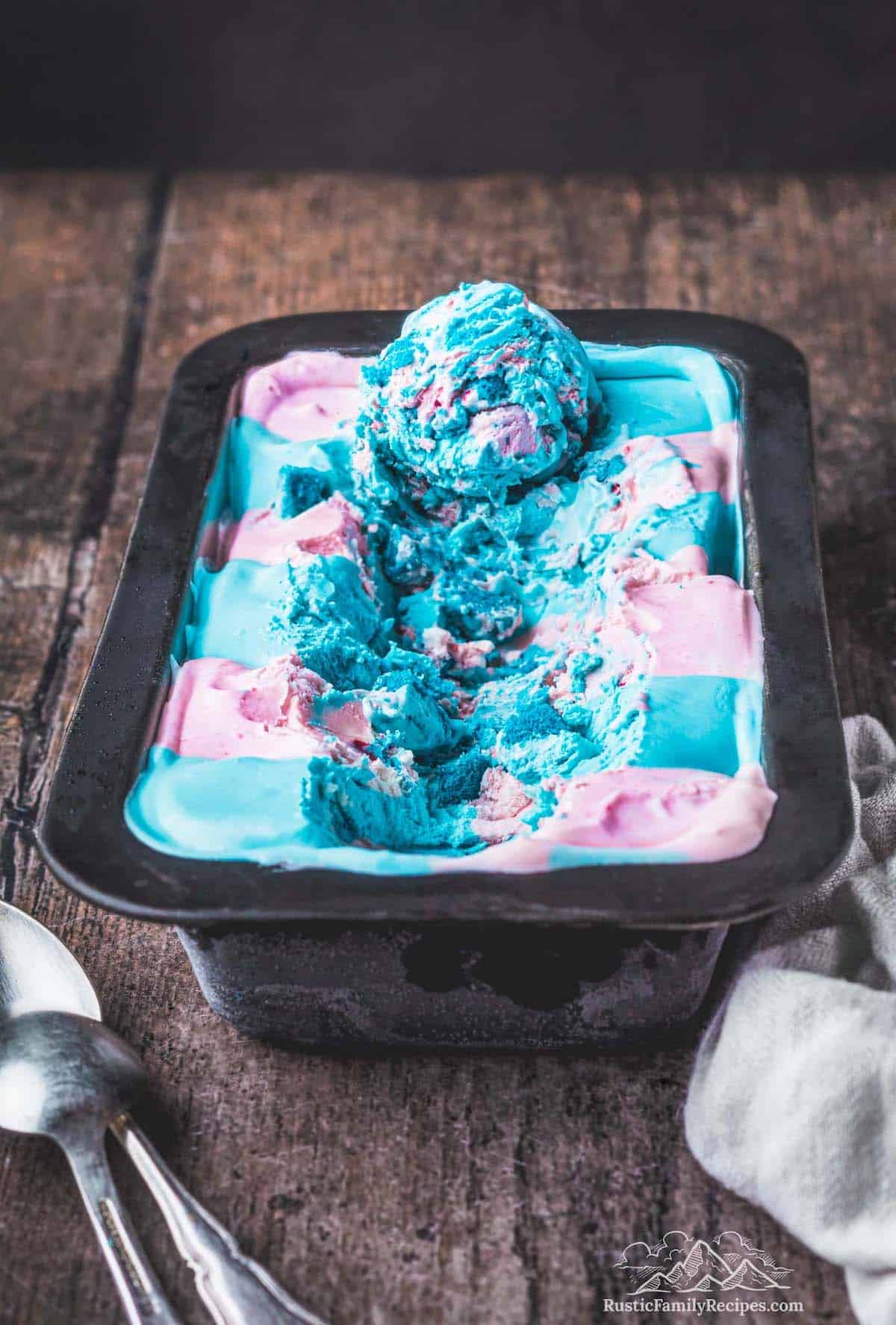 Do I Have to Use a Loaf Pan?
No, you don't have to use a loaf pan to freeze this ice cream. If you have a similarly sized freezer-safe container you can assemble your ice cream in that instead! I used a loaf pan because it was deeper than my tupperware containers, which made it easier to assemble the layers of ice cream batter and mix-ins.
How to Store Homemade Ice Cream
Once your ice cream has frozen solid, I recommend transferring it to an airtight freezer-safe container. Store it in the freezer for up to 1 month. Homemade ice cream is softer than storebought ice cream and also forms ice crystals in the freezer quicker, so make sure you don't leave it in the freezer for too long to prevent freezer burn from happening.
How Do I Prevent Freezer Burn on My Ice Cream?
I usually add a piece of saran wrap to the top of the ice cream before placing the container lid on top and sealing everything together. The thin layer of plastic helps prevent freezer burn and crystal formation.
Print
No-Churn Cotton Candy Ice Cream with Blue Velvet Cake
This homemade cotton candy ice cream has chunks of blue velvet cake worked into the batter. It's a creamy no-churn ice cream bursting with gorgeous pink and blue colors!
Author: Rustic Family Recipes
Prep Time:

10 minutes

Freezing Time:

10 hours

Total Time:

10 hours 10 minutes

Yield:

4-6 servings

Category:

Dessert

Method:

Freezer

Cuisine:

American
2 cups

heavy whipping cream, cold

14 oz

can sweetened condensed milk, cold

2 teaspoons

cotton candy extract

1 teaspoon

vanilla extract

1 teaspoon

dragon fruit powder

1 teaspoon

butterfly pea powder

1 cup

of Naked Blue Velvet Cake pieces (optional)
Instructions
Beat the whipping cream. In a large bowl or stand mixer bowl, beat the heavy whipping cream just until it forms stiff peaks.
Add other ice cream base ingredients. Add the sweetened condensed milk, cotton candy, and vanilla extract into the whipped cream and beat just until they're fully combined.
Add the colors. Divide mixture into 2 separate bowls. Add the dragon fruit powder to one bowl and the butterfly pea powder to the other bowl and mix until combined.
Assemble a layer of ice cream. In a loaf pan or container, start dropping ice cream mixture alternatively from each bowl by spoonfuls.
Add your mix-ins. Once you have the bottom of the container covered, sprinkle half of the naked blue velvet cake pieces on top of the ice cream.
Add another layer of ice cream and remaining cake pieces. Repeat with one more layer of ice cream spoonfuls and top with the other half of cake pieces.
Freeze. Place the container in the freezer and freeze overnight or for 8-10 hours.
Notes
Once your ice cream has frozen solid, transfer it to an airtight freezer-safe container. Store it in the freezer for up to 1 month.
Keywords: blue ice cream, pink ice cream, cake batter ice cream, rainbow ice cream, matcha ice cream