About Me: I have more than 20 years of cooking experience & share my favorite recipes on this blog.
Have a question? Please post a comment, I'm happy to help. 🙂
Making ice cream from scratch is easier than you think, and so worth it with recipes like Bourbon Vanilla Ice Cream! This smooth and creamy homemade vanilla ice cream with lashings of boozy bourbon is the perfect grown-up dessert.
When we're kids, everyone dreams of all the freedom that comes with growing up. This recipe for homemade vanilla ice cream is, for me, the pinnacle of living out those childhood aspirations: I can make all the ice cream I want, and I can eat as much as I like. And with adulthood comes one more indulgence: I can put bourbon in it! 🙃
Why Make Ice Cream From Scratch?
You may be asking yourself, is it worth making ice cream from scratch? And the answer is, yes. Here are the main reasons I love homemade ice cream:
You can put booze in it. There are just some ice cream variations that you won't find in a store.
It's delicious. Like most things when they're made fresh, the flavor of homemade ice cream can't be beat. There's no additives or thickeners or artificial ingredients, and it makes a huge difference.
It's easier than you think. You don't even need an ice cream maker!
Key Ingredients
Another win for this homemade ice cream? You only need 4 common ingredients. Below is an overview, and be sure to check the recipe card for the full amounts.
Heavy Whipping Cream – This provides the high fat content needed for extra creamy ice cream.
Sweetened Condensed Milk – It wouldn't be no-churn ice cream without it. Using sweetened condensed milk solves the problem of bringing sugar into the mix, without a grainy texture.
Vanilla Extract – Since vanilla is the star of the show, stick with pure vanilla extract for the best flavor (avoid imitation vanilla).
Bourbon – Your brand of choice. Some popular ones are Maker's Mark, Knob Creek, Wild Turkey, and Jack Daniels.
Can I Use Other Kinds of Alcohol?
Yes! This ice cream recipe will work with other liquors such as rum, brandy or cognac.
What Does Alcohol Do in Ice Cream?
Adding alcohol in ice cream isn't just for fun and flavor (although it is fun, and the flavor is amazing). It actually serves a practical purpose, too. Alcohol enhances the texture of homemade ice cream. If you've ever stored liquor in the freezer, you'll know it doesn't freeze – adding alcohol to ice cream means a lower freezing point, which leads to less ice crystals, and creamier ice cream.
Of course, in ice cream as in life, there's a delicate balance between just enough and too much of a good thing. Adding too much alcohol can prevent the ice cream from freezing at all.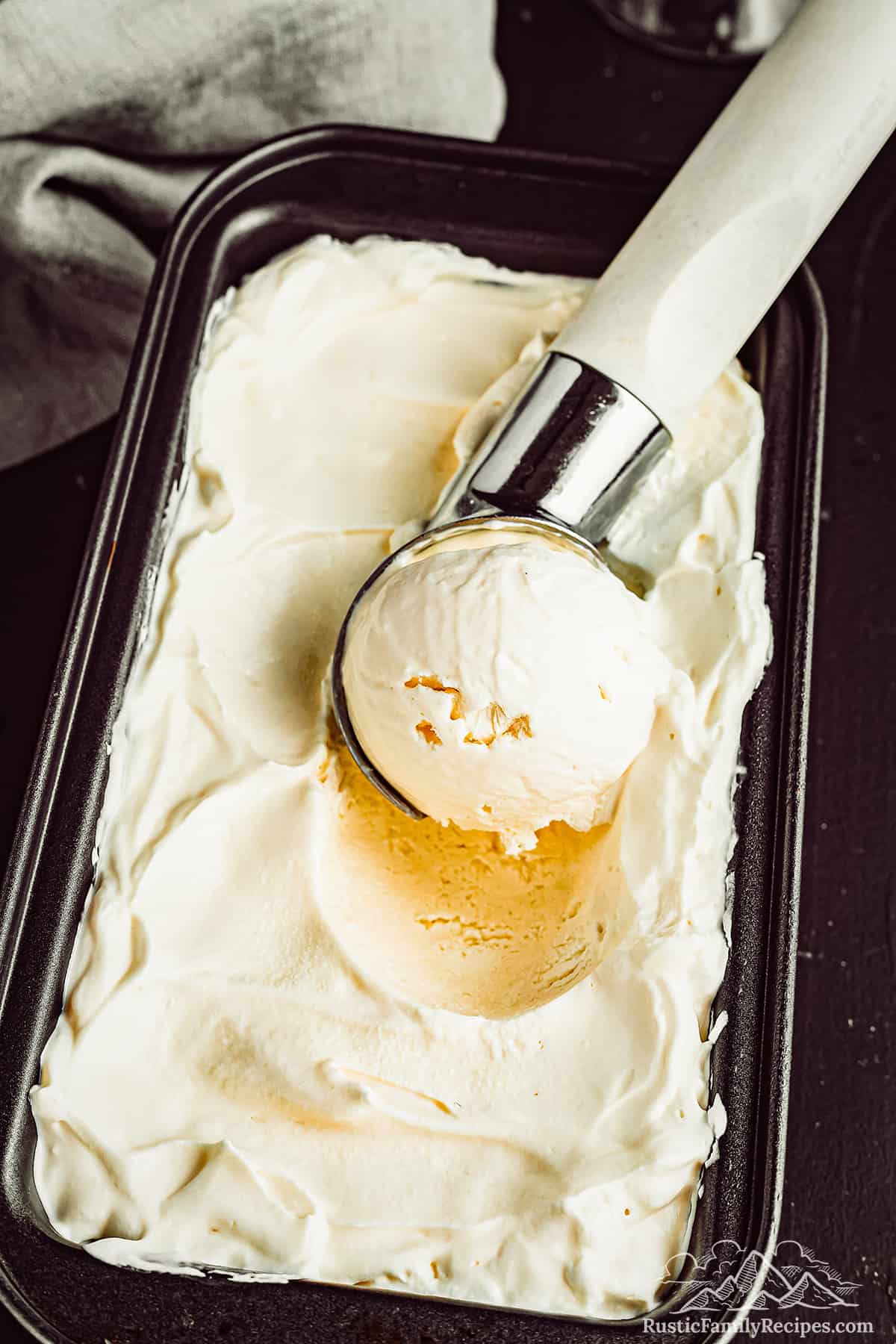 How to Make Vanilla Ice Cream With Bourbon
How easy is it to make ice cream at home? Allow me to demonstrate:
Whip the cream. In one bowl, whip the heavy cream using an electric mixer, until a stiff peak forms.
Combine remaining ingredients. In another, smaller bowl, combine the condensed milk, vanilla extract and bourbon. Next, gradually fold in the freshly whipped cream.
Freeze. Transfer your ice cream mixture to a loaf pan and smooth out the top. Cover the pan with foil and pop it into the freezer overnight, or at least 8 hours.
Serve. Get your ice cream scoop and enjoy your homemade ice cream with your favorite desserts and toppings. I've included some suggestions in the section later on.
Tips for Success
Here are some extra tips when making homemade ice cream:
Can I use a different pan? You can use any freezer-safe pan to freeze your ice cream, if you don't have a loaf pan. Loaf pans are convenient since they're deeper, but any similar sized pan will do.
Don't leave your ice cream in the freezer for ages. Most homemade ice cream recipes will keep in the freezer for up to 30 days or so. After this, they're more likely to fall victim to freezer burn. Even with the added bourbon to help with ice crystals, homemade ice cream doesn't have as many additives as store- bought, so it is best consumed within 30 days.
Ways to Enjoy Homemade Ice Cream
Making my own ice cream is just the best, as I can make batches to have on hand any time an occasion calls for it. This bourbon vanilla ice cream is delicious for sneaking a spoonful (or bowlful) all on its own, or you can enjoy it with your favorite toppings or desserts.
Enjoy your homemade ice cream with toppings:
Caramelized apples
Caramel sauce or chocolate fudge sauce
Sprinkles
Or with loads of desserts. Here are more ways to serve it:
How to Store
After your ice cream has had a chance to freeze fully, transferring it to an airtight container will keep it fresh for up to one month. Keep in mind that homemade ice cream will always be softer than store bought, and for this reason it's a good idea to take extra measures to prevent freezer burn. See the next section for tips.
Preventing Freezer Burn
The best way to prevent freezer burn is to not leave your homemade ice cream in the freezer too long. As an extra precaution, after you've transferred the ice cream to a sealable container, place a layer of saran wrap over the ice cream before closing the lid (this helps prevent crystal formation).
Print
No-Churn Bourbon Vanilla Ice Cream
Making ice cream from scratch is so worth it with recipes like this No Churn Bourbon Vanilla Ice Cream! Smooth and creamy homemade vanilla ice cream with lashings of boozy bourbon is the perfect adult dessert.
Author: Rustic Family Recipes
Prep Time:

10 minutes

Freeze Time:

8 hours

Total Time:

8 hours 10 minutes

Yield:

4 cups

Category:

Dessert

Method:

Mix

Cuisine:

American
2 cups

heavy whipping cream

14 oz

can sweetened condensed milk

2 tablespoons

vanilla extract

3 tablespoons

bourbon
Instructions
Whip the cream. Add the whipping cream to a large mixing bowl. Using an electric mixer, beat on medium-high speed for 3 minutes or until a stiff peak forms. Set aside.
Combine remaining ingredients. In a small bowl, mix together the condensed milk, vanilla extract and bourbon. Slowly fold into the whipped cream until fully combined.
Freeze. Pour into a 9×5 loaf pan or freezer safe container. Smooth out the top with a spatula or spoon. Cover with foil. Place the freezer for at least 8 hours or overnight.
Serve. Add your favorite toppings if desired, like chocolate sauce and sprinkles!
Notes
Store leftovers in an airtight container in the freezer for up to 30 days.
Last Step:
Please
share a rating and comment
if you enjoyed this recipe! Your feedback helps this little blog thrive and continue providing free, high-quality recipes for you.
Keywords: homemade vanilla ice cream, no churn ice cream, boozy ice cream