This easy blue velvet cake is fluffy, moist, and absolutely delicious! It's an intensely blue cake lightly covered with a simple vanilla frosting and decorated with fresh berries.
When the weather is frigid and the sun doesn't shine for days it's easy to feel a little low. But you know what always cheers me right up? Colorful food! I mean, it's hard to feel blue when you're eating a blue matcha sugar cookie. Or, in this case, a fluffy slice of homemade blue velvet cake topped with just the right amount of vanilla cream cheese frosting. Add a cup of steaming tea and a few episodes of The Mandalorian into the mix and I'm in heaven.
Does this qualify as eating my feelings? Maybe. Am I ok with that? Yup.
Why You'll Love this Blue Velvet Cake Recipe
Easy. You won't need any fancy techniques to make this bright blue layer cake. Everything is mixed together in your stand mixer

(affiliate link)

(or you can use a bowl), then just pour into cake pans and bake! A simple cream cheese frosting seals the deal.
Naturally colored. Many recipes use blue food dye to get the distinctive "blue velvet" cake color. There's nothing wrong with that, but when I'm fixing to make something edible and blue I prefer to use blue matcha, which is also known as butterfly pea powder. It's natural, adds tons of color, and has a subtle floral flavor that is totally delightful in desserts.
Moist & Fluffy. This cake is tender, moist, and fluffy. Every time I make it the entire thing gets devoured within a couple of days. That is saying something because I have a small family!
Flavorful. Every slice of this blue velvet cake has the perfect amount of sweetness, plus a subtle undertone of flowers thanks to the butterfly pea powder.
Impressive! Even though this recipe is incredibly simple, the resulting color will wow anyone you serve this cake to. Folks don't expect to eat blue cake, so a fluffy, flavorful piece of blue velvet is a real treat.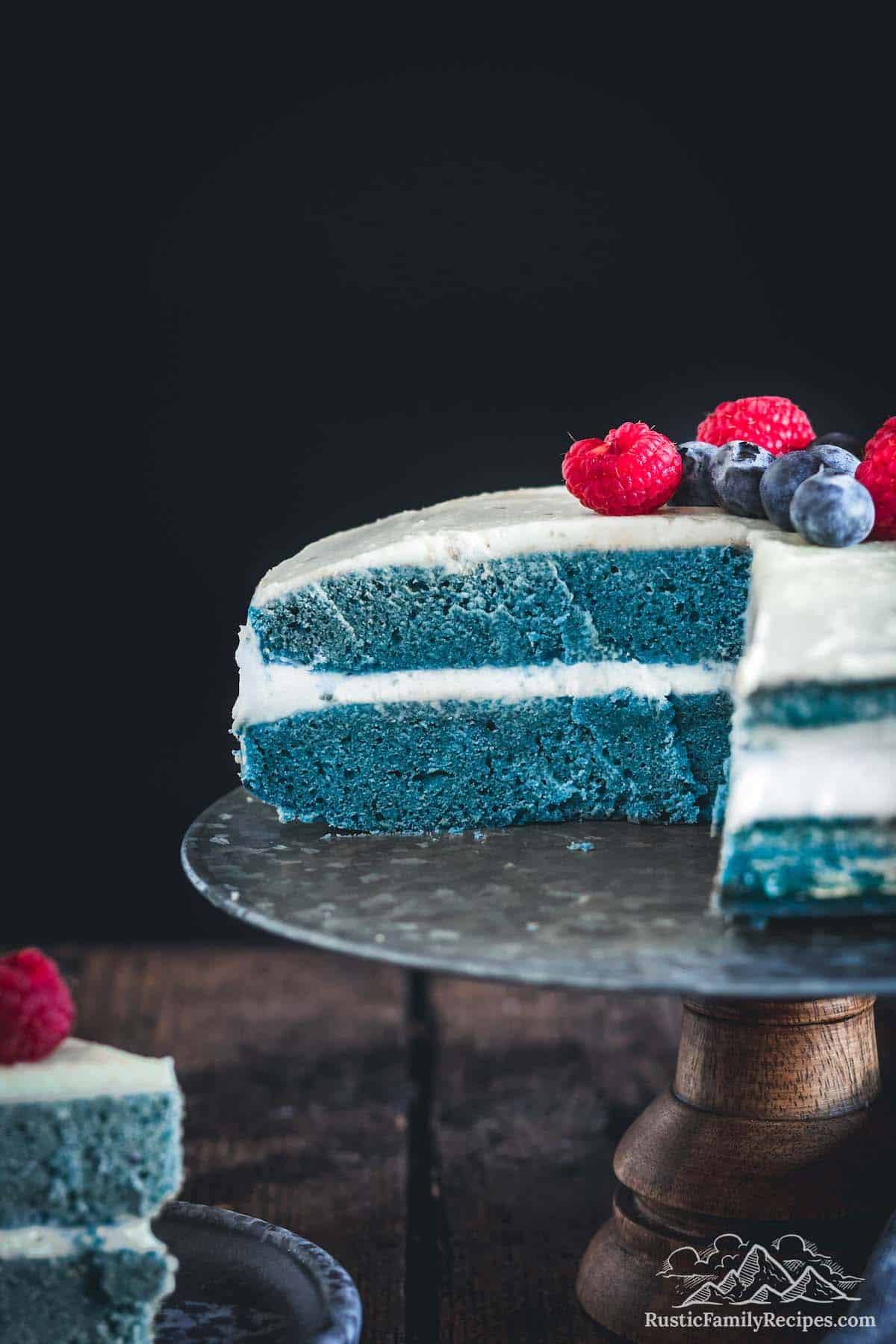 What is Blue Velvet Cake?
Blue velvet cake is similar to red velvet cake: both are fluffy vanilla cakes with a dash of cocoa powder and bright color. The color is usually added with food dye, but as I mentioned in my Frosted Animal Crackers recipe, I enjoy using natural alternatives when possible. As a result, the blue coloring in this cake is added with blue matcha powder made from butterfly pea flowers. Blue matcha has a subtle floral flavor that is quite lovely in desserts! I like to use this blue matcha powder (affiliate link).
I actually debated whether I should call this a blue velvet cake or a Baby Yoda cake. If you can't tell, we are big Star Wars fans in this house! I think Grogu would definitely help himself to a slice of this cake pronto. (Actually, he would probably eat the entire cake while we weren't looking, now that I think about it.)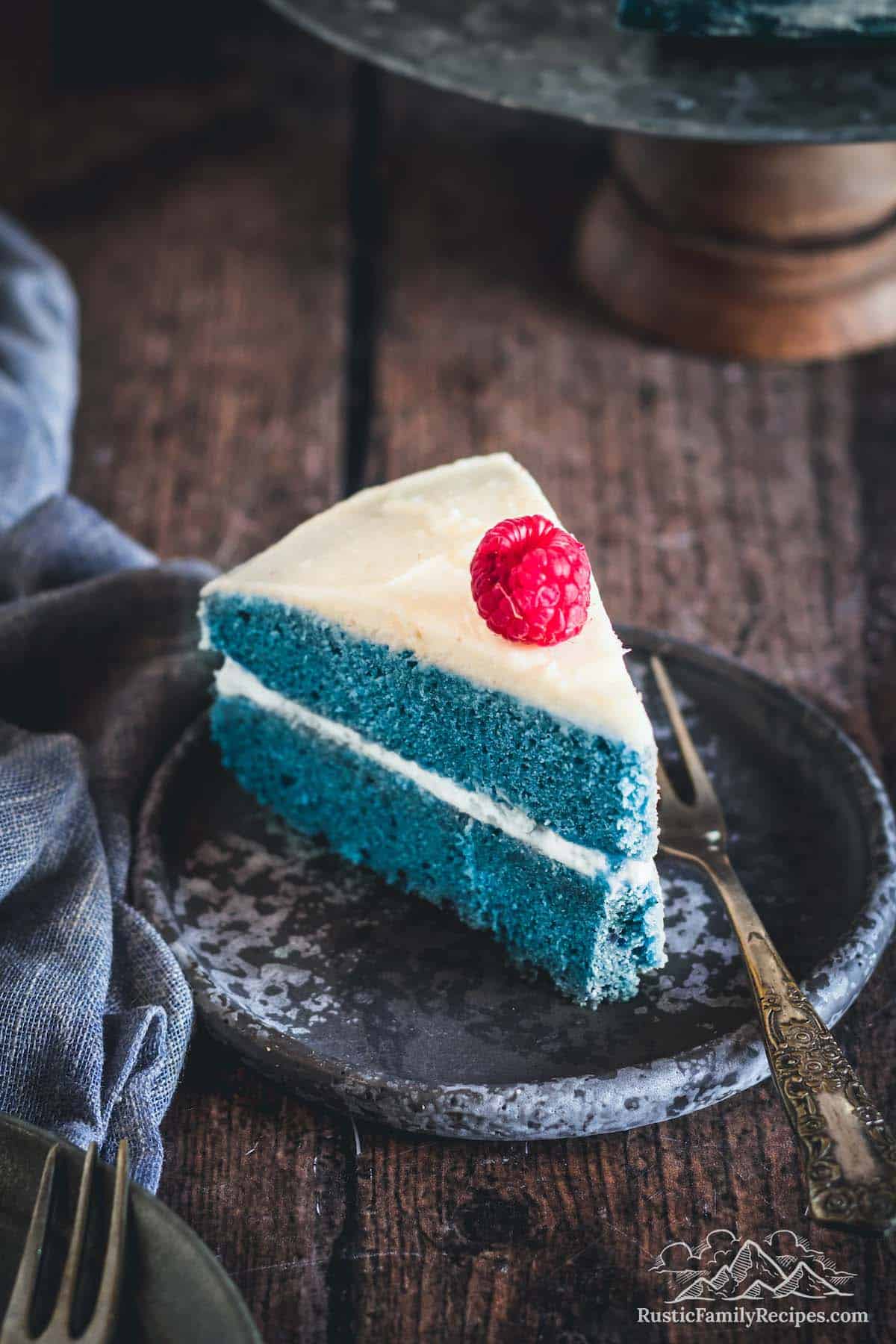 What is a Naked Cake?
When I told my husband I was making a "naked" cake he was super confused. Naked cake? What's that? Was I trying to be scandalous?
However, naked cake is a legit thing! It's basically a cake with minimal frosting where some of the cake layers are exposed. These kinds of cakes have been popular since around 2013 when Milk Bar owner Christina Tossi began making them for her bakery.
There are actually two kinds of naked cake: semi-naked and true naked. This blue velvet cake is technically semi-naked because there is some frosting on the outer sides of the cake. If I had only put frosting in between the layers and left the sides completely exposed, then it would be a true naked cake.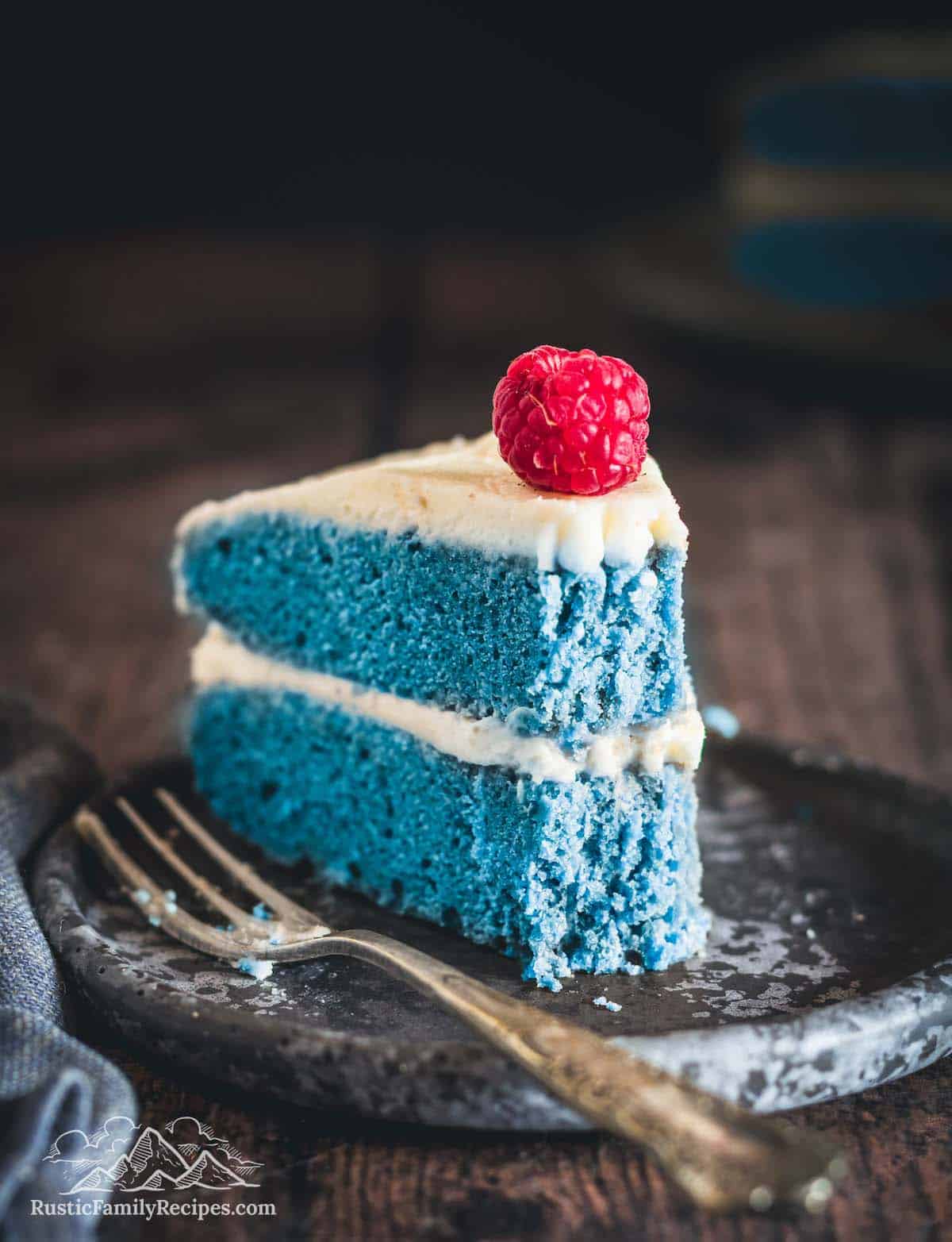 Tips for Success
Prep your pans well. It is important to line the bottom of your cake pans with parchment paper and to also grease them well with PAM or your preferred baking spray. This will make it easier to depan them after they have finished baking. Let the cakes cool a bit before you try to remove them from the pans!
How do I tell when the cakes are done? I like to insert a toothpick into the center of the cake and also press the center of each cake gently with my fingertips. If the toothpick only has crumbs on it and the cake springs back after you have given it a quick press, the cake is done. If there is wet batter on your tester or the cake stays indented after you've pressed it, then the cake needs a few more minutes to finish baking.
Cool completely before frosting. It is very important that you give your cakes time to cool before you add the frosting. If you try to frost them while they are still warm your frosting will melt.
How to Store Blue Velvet Cake
Fridge: Store the frosted cake in the refrigerator for up to 5 days. First place the cake in the fridge for about an hour until the frosting has hardened up a bit, then loosely cover it with saran wrap. When you are ready to eat some, you can warm a slice in the microwave for about 15 seconds if you want to soften the frosting again.
Freezer: You can also freeze this cake in individual slices. Wrap each slice in plastic wrap and place them in an airtight, freezer-safe container. They will keep for up to 2 months. Let each slice thaw on the counter for 1 hour before eating.
Print
Naked Blue Velvet Cake
This easy blue velvet cake is made with butterfly pea powder, also known as blue matcha. It's an intensely blue cake lightly covered with a simple vanilla frosting and decorated with fresh berries.
Author: Rustic Family Recipes
Prep Time:

15 minutes

Cook Time:

35 minutes

Total Time:

50 minutes

Yield:

8-10 slices

Category:

Cake

Method:

Oven

Cuisine:

American
For the cake:
4

whole eggs, at room temperature

2

egg yolks, at room temperature

2 teaspoons

vanilla extract

1 1/4 cups

buttermilk

3 cups

cake flour

2 tablespoons

butterfly pea powder

2 cups

sugar

4 1/2 teaspoons

baking powder

1/2 teaspoon

kosher salt

2

sticks unsalted butter (

8 ounces

), at room temperature
For the cream cheese frosting:
1

stick (4oz) unsalted butter, softened

8 oz

cream cheese, room temperature

4 cups

powdered sugar

1 teaspoon

vanilla extract
Fresh berries, to decorate
Instructions
Make the Cake
Prep your tools. Preheat the oven to 350°F. Grease two 8-inch round cake pans and line with parchment paper.
Combine eggs, vanilla, and some of the buttermilk. In a medium bowl, combine the eggs, yolks, vanilla, and 1/4 cup of the buttermilk. Mix well, then set aside.
Mix dry ingredients. In a large bowl, sift together the cake flour, butterfly pea powder, sugar, baking powder, and salt. Mix well, then set aside.
Make the cake batter. In the bowl of a stand mixer, briefly beat the butter. Add the dry ingredients and the remaining 1 cup of buttermilk. Mix on low until well blended, then raise the speed and beat until light and fluffy, about 2 minutes.
Add egg mixture. Turn speed to low and gradually add egg mixture, mixing until well incorporated.
Bake. Divide the batter evenly among the 2 pans and bake for 30-40 minutes or until a tester inserted in the center comes out clean and the middle of each cake springs back when you press it gently & quickly with a fingertip. Test the cake at the 30 minute mark, then again at the 35 minute mark.
Cool. Once they're done, let the cakes cool for 10-15 minutes before removing them from the pans to cool completely.
Make the Cream Cheese Frosting & Assemble
Beat the butter. Using an electric mixer on medium speed, beat the butter until light and fluffy.
Add remaining ingredients. Mix in the cream cheese, powdered sugar, and vanilla extract and beat until combined. Start slow so that the powdered sugar doesn't fly out of the bowl, then increase the speed to medium high until the frosting is smooth.
If your frosting is too thick, you can add milk 1/2 tablespoon at a time until it reaches your desired consistency.
Similarly, if the frosting is too thin for your liking, you can add additional powdered sugar 1 tablespoon at a time.
Assemble and decorate. Spread the frosting between the layers and on the top and sides of the cooled cake. Garnish, if desired, with fresh berries.
Notes
Store the frosted cake in the refrigerator for up to 5 days. You can also freeze this cake in individual slices. Wrap each slice in plastic wrap and store in the freezer for up to 1 month. Let each slice thaw for 1 hour before eating.
This recipe is adapted from a vanilla buttermilk cake recipe found in Sky High: Irresistible Triple-Layer Cakes, by Alisa Huntsman and Peter Wynne (affiliate link).
Last Step:
Please
share a rating and comment
if you enjoyed this recipe! Your feedback helps this little blog thrive and continue providing free, high-quality recipes for you.
Keywords: blue velvet cake, naked cake, blue matcha cake, butterfly pea cake
Filed Under:
This post may contain affiliate links. Please read our disclosure policy.