These mulitas are essentially quesadillas – but they're extra, if you know what I mean. Just look at those layers! Make them with leftover birria meat, pork carnitas, shredded chicken, or even carne asada steak.
Mulitas are one of my favorite ways to use up leftover meat while also treating myself to food that feels like it's straight out of a Mexican restaurant. Corn tortillas are stuffed with leftover meat, cheese, and refried beans, then fried in olive oil until golden. Once everything is cooked, that top layer of crispy tortilla is pulled pack so that you can stuff guacamole and pico de gallo inside the mulita. Finish everything off with some sour cream on top, more guacamole and salsa, plus a squeeze of fresh lime juice.
Sounds tasty right? That's because it is my friend! This recipe has #allthethings.
Why You'll Love This Mulitas Recipe
Easy. Making a mulitas is just as easy as making quesadillas. If you can place cheese and leftover meat inside two tortillas and lightly fry them on the stove, you can make mulitas.
Decadent. The fixings are what make mulitas so delightful. Not only are we stuffing our favorite fixings on top of each mulita, but we're stuffing them inside too!
Satisfying. Thanks to the leftover meat, refried beans and cheese, there is plenty of protein in these mulitas. Between that and all the yummy fixings, eating one of these is ultra satisfying.
What is a Mulita? How is it Different from a Quesadilla?
Mulitas are Mexican "sandwich tacos" that are similar to quesadillas. Both of these dishes fill tortillas with cheese, then warm everything on the stove until the cheese has melted. You can make both of them with corn or flour tortillas, as well as add other things like meat, guacamole, sour cream, salsa etc.
The main difference between mulitas and quesadillas is that mulitas are fried in oil, while quesadillas are simply warmed on the grill. They also usually include Oaxaca cheese vs. quesadillas, which can be made with any kind of cheese.
Mulitas are street food and the word "mulitas" literally means "little mules." This name refers to the way tortillas are stuffed with fillings and then transferred from the street vendor to the consumer. The tortillas carry all the fillings to the consumer just like a mule carries things.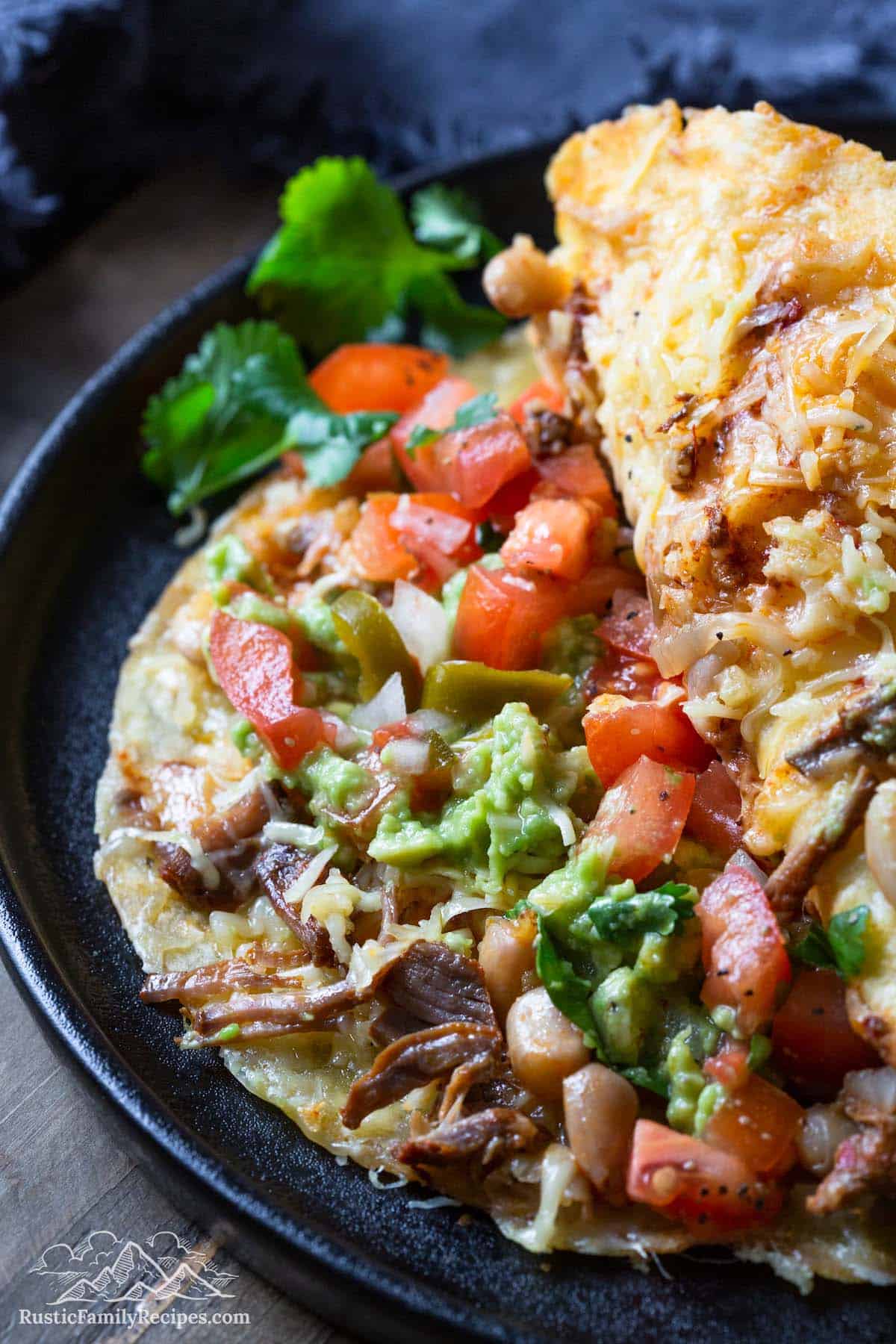 What's in a Mulita?
One of the best things about mulitas is how easy they are to customize wit your preferred fillings. Here is a quick run down of options! If you scroll down to the recipe card below you'll also see what I put in the mulitas shown here.
Meat: Usually mulitas have meat in them, though you could also use cooked tofu. For carnivore options I recommend leftover birria meat, pork carnitas, diced carne asada steak, choliro or cochinita pibil. You can also use leftover shredded chicken. For a vegetarian option, you could also use scrambled tofu, or use vegetarian chorizo.
Cheese: Traditionally a mulita will include Oaxaca cheese, which is a kind of Mexican cheese that melts like mozzarella. If you can't find Oaxaca cheese, the closest equivalent is Monterey Jack cheese. You can add other kinds of cheese to compliment the Oaxaca, such as cheddar cheese or a Mexican cheese blend.
Beans: You can use refried beans (frijoles refritos) or frijoles de la olla with the liquid drained off. You can also use canned refried beans.
Other fillings: You can get creative here! I have added leftover Mexican rice and vegetarian "dirty" rice to mulitas, for example.
Toppings & Garnishes: These are stuffed inside the mulita after it has been fried, then also added on top. Guacamole and pico de gallo salsa are favorites, along with fresh, chopped cilantro, sour cream and lime wedges. You can also add pickled red onions!
Adding Some Spice to Canned Beans
You don't have to do this step, but I like to add some extra spice to canned refried beans for another layer of flavor. Here's how:
Empty a 16-oz can of refried beans into a small skillet over medium-low heat.
Add 1/2 teaspoon ground cumin and 1 teaspoon smoked paprika along with a pinch of kosher salt and a dash of ground black pepper.
Mix everything up with a spatula or wooden spoon, and heat until the beans are warm.
Use them in your mulitas!
This extra step takes less than 5 minutes and makes these mulitas even more delicious!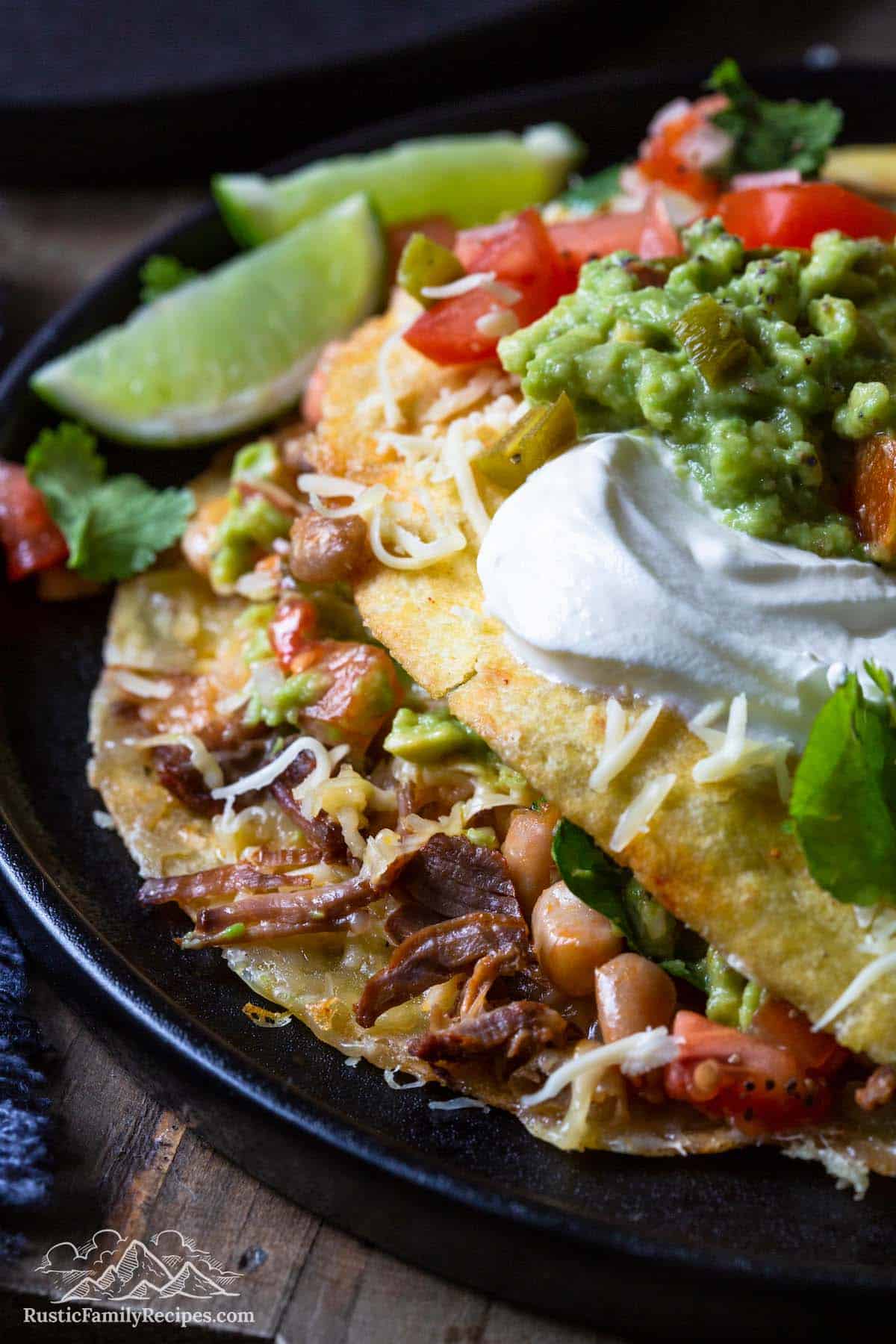 Serving Suggestions
Mulitas have so much to them that they are pretty much a meal in and of themselves. But perhaps you are serving them at a Mexican themed gathering and want to add some other things to compliment the mulitas? In that case, I recommend taquitos, tacos dorados or quesabirra tacos. You could also serve chicken birria tacos on the side.
For drinks, I recommend blood orange margaritas or prickly pear margaritas. For the kids, a refreshing Roy Rogers drink or an Arnold Palmer drink is always fun!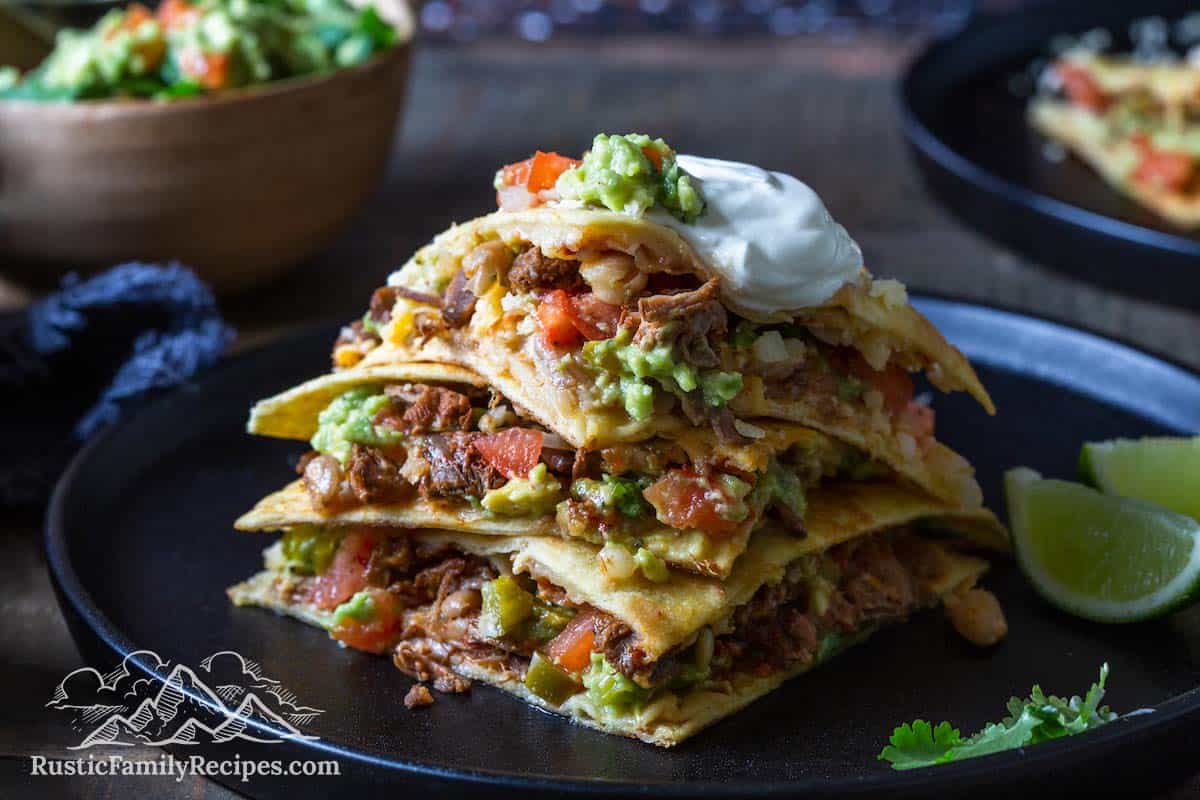 Can I Store and Reheat Leftovers?
Mulitas are best eaten right after they are made, but if you really must store extras, do so before you add the extra toppings. (So before you add guacamole, salsa, sour cream etc.) Let the mulitas cool, then store them in an airtight container in the fridge for up to 2 days and reheat them in an oven at 350F for about 10 minutes. Then proceed to add your garnishes/toppings as usual.
More Mexican Recipes to Try
Mulitas
This easy mulitas recipe is a great way to use up extra meat and also treat yourself to a super satisfying Mexican dinner!
Ingredients
1 ½ to 2

cups

leftover birria meat*

8

corn tortillas

,

2 for each mulita**

1

cup

Oaxaca or Monterey jack cheese

½

cup

cheddar cheese

,

plus more for serving

½

cup

refried beans, frijoles de la olla with the liquid drained off, or use your preferred brand of canned refried beans

Olive oil

,

as needed for frying

For serving: guacamole, pico de gallo and sour cream, lime wedges
Instructions
Line a large plate with paper towels. Set aside.

Warm the oil. Heat about 1 tablespoon of olive oil in a medium skillet over medium heat. You will need to do this for each mulita.

Assemble the mulitas. For each mulita, spread 1/8 cup of refried peans on one tortilla. Top with about 1/3 cup of meat. Spread the meat out a bit so that it covers the entire tortilla. Add about 1/4 cup of the oaxaca cheese, 1/8 cup of the cheddar cheese. Top with another tortilla. Brush the top of this tortilla with a bit of olive oil.

Fry the mulitas. Place the mulita in the heated oil with the tortilla that has the beans on it on the bottom. Cook over medium heat until the cheese starts to melt, then carefully flip the stuffed tortillas over with a spatula. Gently press the tortillas down with the back end of the spatula. Keep flipping the stuffed tortillas until the cheese is melted and the edges of the tortillas are golden and crispy.

Drain. Transfer finished mulita to the lined plate to drain while you finish the remaining mulitas. Depending on how large your skillet is, you may be able to do two mulitas at a time.

Serve! Place each mulita on a plate and gently lift the top tortilla. Add guacamole and pico de gallo to the inside to taste. Close and top with a sprinkle of the remaining oaxaca cheese, additional guacamole, pico and sour cream to taste. Serve immediately with lime wedges on the side.
Last Step:
Please
share a rating and comment
if you enjoyed this recipe! Your feedback helps this little blog thrive and continue providing free, high-quality recipes for you.
Notes
*You can also use pork carnitas or carne asada steak!
**You can also use taco sized flour tortillas. Taco sized tortillas are about 4-5 inches in diameter.
Nutrition
Serving:
1
mulita
|
Calories:
420
kcal
|
Carbohydrates:
27
g
|
Protein:
34
g
|
Fat:
19
g
|
Saturated Fat:
10
g
|
Polyunsaturated Fat:
1
g
|
Monounsaturated Fat:
6
g
|
Cholesterol:
97
mg
|
Sodium:
523
mg
|
Potassium:
425
mg
|
Fiber:
5
g
|
Sugar:
1
g
|
Vitamin A:
385
IU
|
Calcium:
376
mg
|
Iron:
3
mg
Nutritional info is an estimate and provided as a courtesy. Values may vary according to the ingredients and tools used. Please use your preferred nutritional calculator for more detailed info.
Did you make this recipe?
💖 I love hearing how my recipes came out for others! If you tried this recipe, please share a comment. 💖
Filed Under:
This post may contain affiliate links. Please read our disclosure policy.