Moon Milk is a soothing night-time drink I make when I'm having trouble sleeping. It takes minutes to make and I always serve it with a cookie. (Because cookies are relaxing too, right? Let's say yes.)
Although I'm usually a pretty good sleeper, every so often I get a case of the can't-stop-thinking nighttime jitters. When that happens, I find that nothing soothes the body, mind, and soul like the simple ritual of warm milk and cookies. My grandmother always swore by this "remedy." If we ever came downstairs and told her we couldn't sleep, she'd start warming milk and getting the cookie jar down while listening to whatever was on our minds. A few minutes later, we'd settle at the table with mugs of leche de sueños (dream milk) and little stacks of cookies.
To this day, I make that soothing nighttime beverage for myself when I can't sleep, though I've since learned that it's more often called "moon milk." I think both names are lovely – and equally accurate! Warm milk combined with the sweetness of maple, the fragrance of cinnamon and cardamom, and a touch of ashwagandha has a way of welcoming good dreams.
What is Moon Milk?
Moon Milk is a warm drink that comes from Ayurvedic traditions. It is used as a natural remedy to promote restful sleep. Usually, it is made with cow milk, honey, and cinnamon, but there are many variations. Some include turmeric, ashwagandha, cardamom, ginger, and even ghee or coconut oil. Other herbs such as chamomile are sometimes added in the West as well. It really depends on your flavor preferences and what works best for you.
What's in this Recipe?
My version of moon milk includes the following:
Milk – I prefer cow milk for this recipe because it froths so nicely, but you can also use plant-based milk.
Maple Syrup – To add some sweetness to the drink. You can also use honey or agave.
Ashwagandha – To promote relaxation.
Cinnamon – For flavor, but also adds anti-inflammatory properties to the drink.
Cardamom – Also for flavor, though it too has anti-inflammatory properties.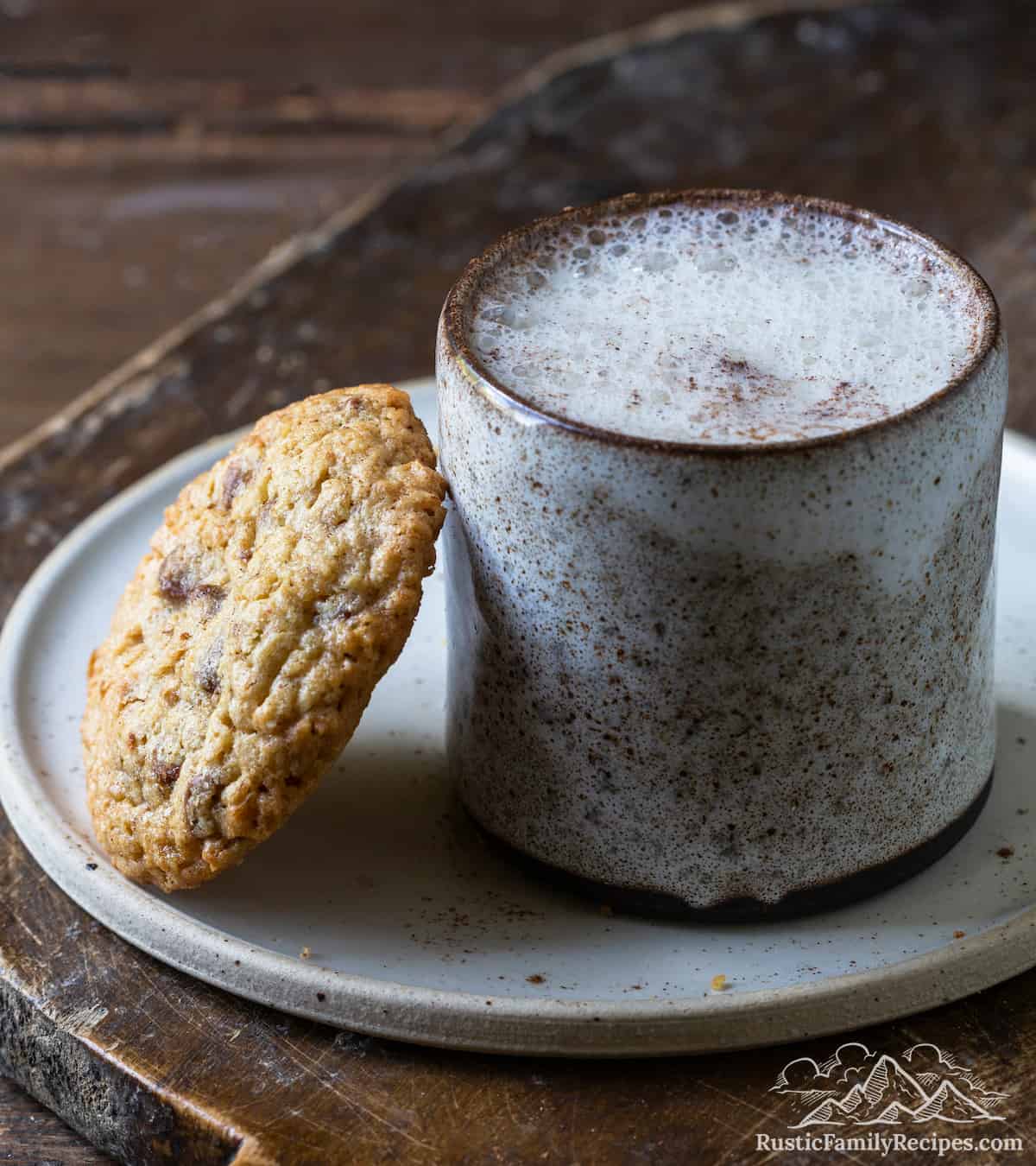 What is Ashwagandha?
Ashwagandha is an Ayurvedic herb that has been used for thousands of years to relieve stress. The word "ashwagandha" means "smell of the horse" in Sanskrit, which refers to both the herb's smell and the belief that it can improve your strength so that you are strong like a horse.
Although my grandmother used ashwagandha in her leche de sueños, I didn't really learn about it in depth until I started reading herbalist Rosemary Gladstar's books as an adult. She uses this adaptogen frequently in beverages and tonics. In her book Herbal Remedies for Vibrant Health, she writes: "Ashwagandha has a long reputation for clearing the mind, calming the nervous system, and promoting deep sleep." (pg. 29) My favorite brand of ashwagandha is this powder by Terrasoul (affiliate link).
In terms of scientifically verified evidence, research is still underway. Some studies have found it to be beneficial, others have not. The results seem to vary from person to person. Pregnant and nursing women, as well as people preparing for surgery, or with thyroid or autoimmune disorders, should not take ashwagandha. And even if you don't have any of these concerns you should still check with your health care provider before adding herbs to your routine, especially if you take other supplements or medications.
At this point, I should note that I am not a medical professional and am not recommending ashwagandha to treat any issues. In fact, you can leave ashwagandha out of this drink entirely and still reap the rewards from the warm milk, which is soothing in and of itself.
What does ashwagandha taste like?
Ashwagandha has an earthy, slightly bitter taste. This is why it's only used in small amounts and often paired with a sweetener.
Tips for Success
Start with a bit of sweetness. Everyone has different preferences when it comes to sweetness. I recommend starting with 1 teaspoon of your preferred sweetener, then adjusting from there as needed. I tend to prefer drinks that are not very sweet, so I will generally only use 1 teaspoon.
Add some froth. It is not essential to froth your milk, but I think it makes this drink cozier. You can add froth by mixing the milk vigorously with a whisk, or by using a handheld frother.
Sprinkle cinnamon on top. Also not essential, but I personally love getting a whiff of cinnamon as I drink my moon milk. Just at a bit though! Too much cinnamon top will quickly overpower your drink.
What Goes with Moon Milk?
I'm a big fan of enjoying moon milk with cookies. It doesn't matter whether they are storebought or homemade, though if you have something in the cookie jar you might as well raid it! (My grandmother always had a tin of Danish Cookies in her pantry "for emergencies.")
Here are some of my favorite cookie recipes:
Print
Moon Milk
Moon Milk is a soothing night-time drink I make when I'm having trouble sleeping. It takes minutes to make and I always serve it with a cookie.
Author: Rustic Family Recipes
Prep Time:

1 minutes

Cook Time:

4 minutes

Total Time:

5 minutes

Yield:

1 mug

Category:

Drinks

Method:

Stovetop

Cuisine:

Ayurvedic/American
1 1/2 cups

milk

1/4 teaspoon

organic ashwagandha root powder (optional)
Pinch of ground cinnamon
Scant pinch of ground cardamom

1

–

2

teaspoons of pure maple syrup, or to taste. You can add more if you want it to be sweeter.
Instructions
Warm the milk. In a medium saucepan over medium heat, warm the milk.
Add the spices. Add the ashwagandha, cinnamon, and cardamom. Whisk into the milk and heat for another 1 minutes.
Add the maple syrup. Whisk the milk vigorously to create a froth on top. (You can also use a frother if you have one.)
Pour into a mug and serve. Sprinkle a tiny amount of cinnamon on top if desired.
Last Step:
Please
share a rating and comment
if you enjoyed this recipe! Your feedback helps this little blog thrive and continue providing free, high-quality recipes for you.
Keywords: moon milk recipe, insomnia milk, bedtime drink
Filed Under:
This post may contain affiliate links. Please read our disclosure policy.