This creamy millet porridge is coziness in a bowl and perfect for every season! Top with maple syrup and fresh berries in the summer, or your favorite jam and dried fruits in the winter.
Living simply calls for simple recipes, and this one is as effortless as it gets. Who doesn't love a hearty bowl of porridge? It's no wonder Goldilocks polished off three bear-sized bowls of the stuff.
An instant belly-filler, porridges and oatmeals are a breakfast staple in our house. Lately we've been loving this millet porridge with fruit that uses nutrient-dense millet, fresh fruit, and homemade cinnamon sugar. While boiling your millet does take some patience, your home will be filled the most incredible aroma. When my son was a toddler we would sometimes go to a Waldorf playgroup and they always had millet and applesauce simmering on the stove. The welcoming, cozy smell of that food was always one of my favorite things!
Millet porridge is packed with nutrients and can be served hot in the winter or cold in the summer. You can switch out the toppings depending on preference or the season!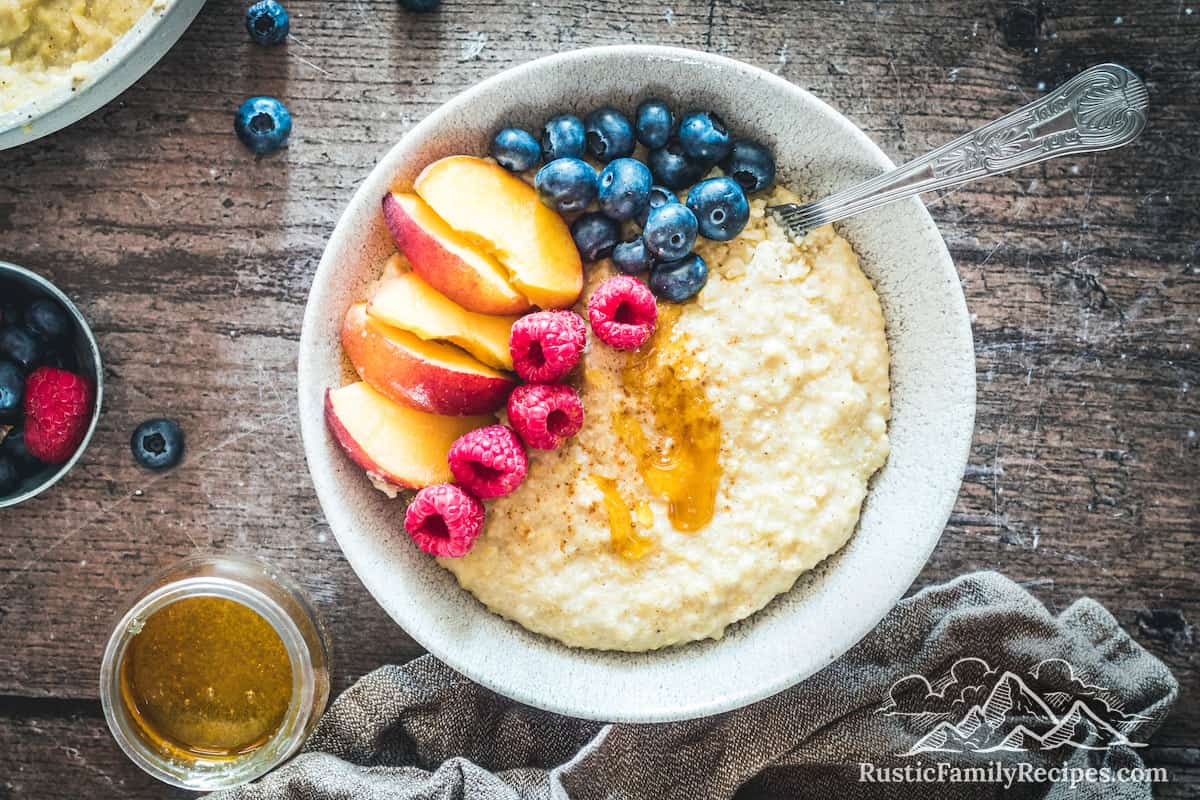 What is Millet?
Millet is a small, round and hardy ancient grain common in Asian and African countries, but is quickly growing in popularity stateside, as well as in our household! While it looks seed-like, millet is in fact a cereal grain, loaded with nutritional value that will kickstart your morning.
There are many varieties of millet, but I've found the easiest one to come by and also the most tasty is pearl millet. You can pick some up in the organic food or international food aisles of many grocery stores. These little powerhouse pearls have such a great texture and are super filling.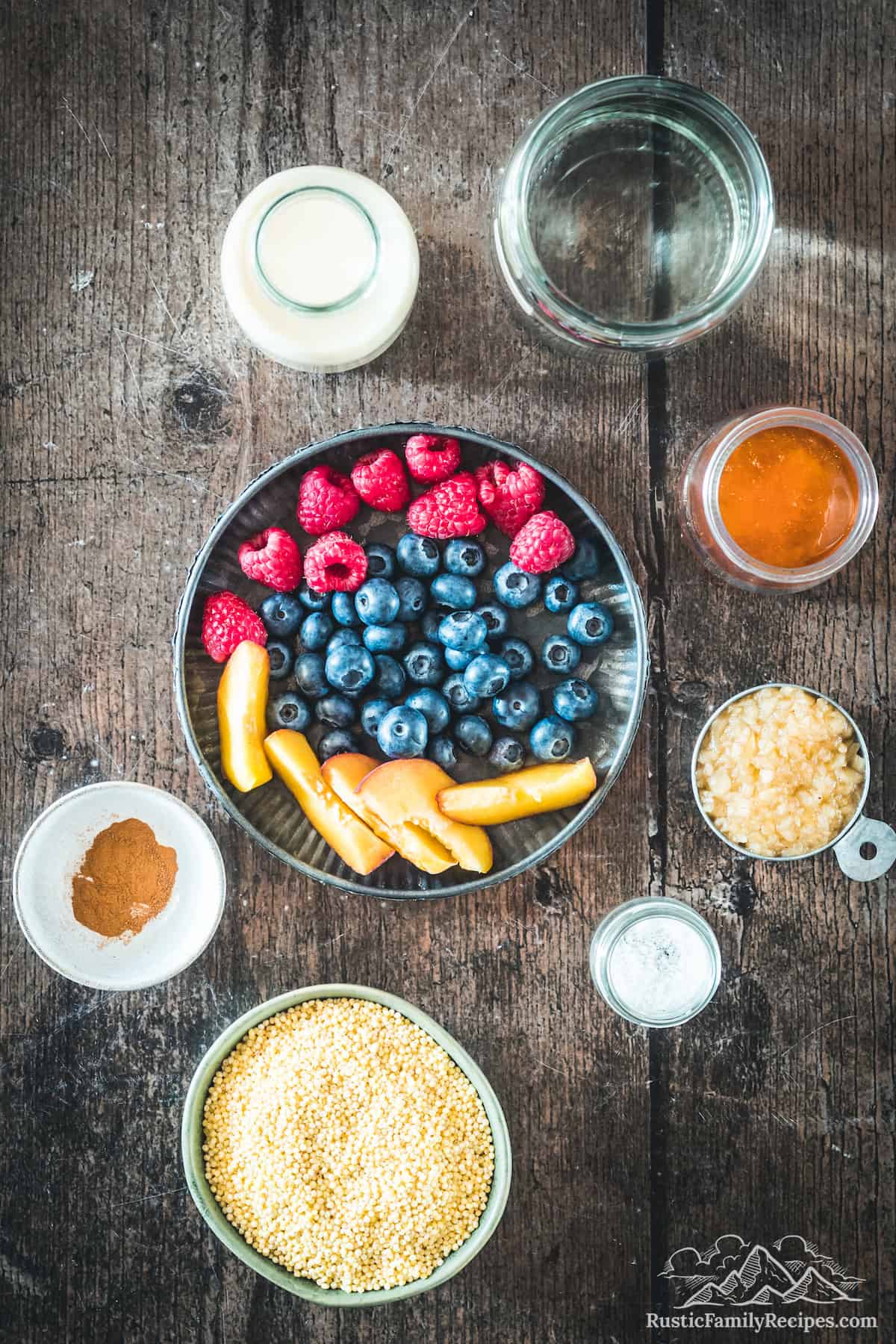 What You'll Need
Pearl Millet: I use pearl millet as it's most common, but other types of millet are equally nutritious and suitable.
Water
Kosher Salt: for balancing the flavors
Cinnamon: Fresh ground or pre-ground, you'll also blend your cinnamon with some sugar for serving.
Milk: Any milk variety will do, but you can use alternatives like almond, oat, or coconut milk to keep things dairy-free and add an extra punch of earthy flavor.
Agave: This can be substituted with honey or maple syrup if needed.
Applesauce: I find sugar-free or unsweetened is best since you can still customize the level of sweetness using the maple syrup/cinnamon sugar when serving.
Fresh Fruits: Choose your favorite fruit topping, or get creative! Strawberries, blueberries, peaches, and raspberries work really well— alone or in combos.
Maple Syrup: for serving (you can also use agave or honey)
Cinnamon Sugar: also for serving
How to Make Millet Porridge
Ingredients at the ready? Here's how to make creamy millet porridge with fresh fruit in next to no time.
Prep your millet: Add the millet, water, cinnamon and salt to a medium saucepan. Bring to a boil over medium-high heat, stirring occasionally. Once it boils, reduce heat to low and cover the pot. Simmer for about 18 minutes, until all the water has been absorbed.
Prep your toppings: While your millet is cooking, you can use this time to chop up your preferred fruits or berries and set them aside for later. Peaches, apples, bananas, and berries are great fresh fruit options.
Add the flavor: Add the milk, agave and applesauce. Stir well, then raise the heat to medium-low and simmer, uncovered, for about 10 minutes. Don't forget to stir often! You'll know your millet is cooked when it is a soft, creamy texture (and smells amazing!).
Serve topped with chopped fresh fruits, a drizzle of maple syrup and a sprinkle of cinnamon sugar.
Tips for Success
I find it's best to be conservative when adding sweet toppings like maple syrup and cinnamon sugar. You can always add more to taste, but it becomes hard to take away if you over-sweeten the porridge.
You can easily make your own homemade cinnamon sugar to use when serving. Store it in an airtight container or jar, as it has tons of uses in the kitchen!
Millet porridge can become gooey and sticky if it's cooked for too long. We're going for rich and creamy here, so keep a close eye and set a timer if needed.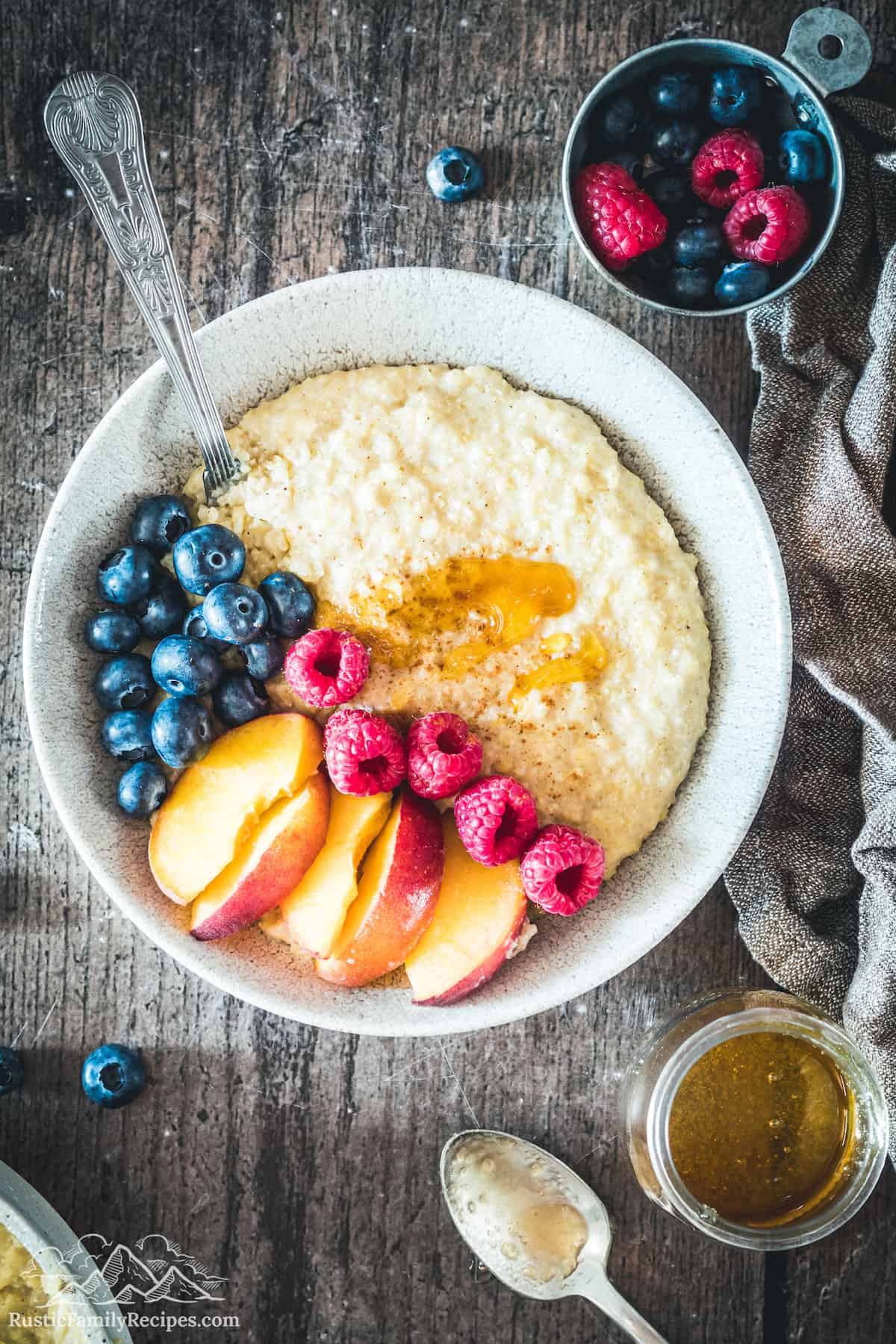 Serving Suggestions
The sky really is the limit when it comes to serving millet porridge. You can experiment with flavors and topping combinations depending on what's available to you. Some suggestions are:
Pecan nuts, hazelnuts, crushed macadamia nuts
Cranberries, raisins, goji berries or other dried fruit
Flax, pumpkin, or chia seeds (for a boost of omega-3 fatty acids)
Jams, preserves, or even a homemade blueberry sauce
Toasted coconut flakes, diced pineapple or mango for a tropical twist
As filling as it is by itself, millet porridge goes great alongside other breakfast favorites like these Mile High Popovers.
How to Store and Reheat Leftovers
Leftover millet porridge can be refrigerated or frozen and reheated. Similar to leftover Steel Cut Oats, you can use the following methods for easy storing.
To refrigerate: Store millet in an airtight container and place in the refrigerator for up to 5 days. You can also serve millet porridge cold, like overnight oats!
To freeze: Millet can be frozen in a freezer-safe container for 3-4 months. For an easy grab-and-go option, spoon individual portions into a muffin tin, freeze and then pop them out to store in freezer bags.
To reheat: Place cold millet in a saucepan with 3-4 tablespoons of water or milk. Cook, stirring, over medium heat for 3-5 minutes, until just heated through. You can also reheat millet in the microwave using the same method, just remember to stop and give it a good stir halfway through.
Print
Millet Porridge with Fresh Fruit Recipe
Hearty and nutritious millet porridge, naturally sweetened and topped with fresh fruit.
Author: Rustic Family Recipes
Prep Time:

5 minutes

Cook Time:

35 minutes

Total Time:

40 minutes

Yield:

3-4

Category:

Breakfast

Method:

Stovetop

Cuisine:

American
3 cups

water

1 cup

millet, rinsed

1/4 teaspoon

ground cinnamon
Generous pinch of kosher salt

1 cup

milk

3 tablespoons

agave

1/4 cup

applesauce
Fresh fruits for topping: strawberries, blueberries, peaches, raspberries.
Maple Syrup for serving
Cinnamon sugar for serving
Instructions
Combine 1 cup of millet with 3 cups of water in a medium saucepan. Add a hefty pinch of salt and a quarter (¼) teaspoon cinnamon to the mix. Bring to a boil over medium-high heat, giving it the occasional stir.
Once your millet reaches the boil, reduce the heat to low and cover the pot. The millet will need to simmer for +/- 18 minutes, until all the water is absorbed.
When the millet has absorbed all the water in the pan, add 1 cup of your milk of choice. Stir in 3 tablespoons of agave (honey or maple syrup will also work) as well as ¼ cup unsweetened applesauce.
When everything is combined, raise the heat to medium-low and simmer, uncovered, for about 10 minutes. The porridge is done when the millet is soft and creamy.
Allow your millet to cool for a few minutes before serving. Top with chopped fresh fruit, a drizzle of maple syrup (alternatively honey or agave), and a sprinkle of cinnamon sugar.
Enjoy! Leftover porridge can be stored in an airtight container and refrigerated for up to 5 days, or frozen for 3-4 months.
Last Step:
Please
share a rating and comment
if you enjoyed this recipe! Your feedback helps this little blog thrive and continue providing free, high-quality recipes for you.
Keywords: pearl millet, millet porridge, how to cook millet
Filed Under:
This post may contain affiliate links. Please read our disclosure policy.