Extremely simple but nonetheless delicious, telera bread rolls are the blank canvas all your Mexican sandwiches need from now on. With only five ingredients, their taste and soft texture will surprise you. They're the perfect soft bread roll to make any filling shine.
Teleras aren't meant to have an awful lot of flavor, otherwise, their taste would overpower any fillings used. They're only lightly salty, but that doesn't make them any less delicious. Most Mexican bakeries carry them, but they're actually extremely easy to make as long as you're not in a rush.
Requiring only 5 ingredients, think of their simplicity as a gift from the bread gods. The process has both mercy on amateur home bakers and is extremely versatile for all kinds of fillings like chorizo and potatoes, carnitas, barbacoa, birria, ham and cheese – you name it.
Once you nail how to make teleras, you'll be on your way to making pambazos, tortas ahogadas, guajolotas, tecolotas, and all kinds of tortas. Especially if you're thinking about using saucy fillings, teleras' absorbent but soft crumb will become your new best friend.
This lightly golden bread is so perfect you may start using it for all your sandwiches, even if they're not particularly Mexican!
What is Telera Bread?
Teleras are a type of torta (Mexican sandwich) bread made with all-purpose flour. Their flatness and three-column look are its most iconic characteristics. Once baked, it's only lightly golden and keeps a slightly flour-dusted appearance. The crust is soft, the same as the interior. However, the crumb is relatively dense because it's supposed to hold in moisture from different fillings without falling apart too quickly. Despite this, it has the right amount of fluffiness. Taste-wise, it's plain and only lightly salted, perfect for the filling ingredients to shine right through.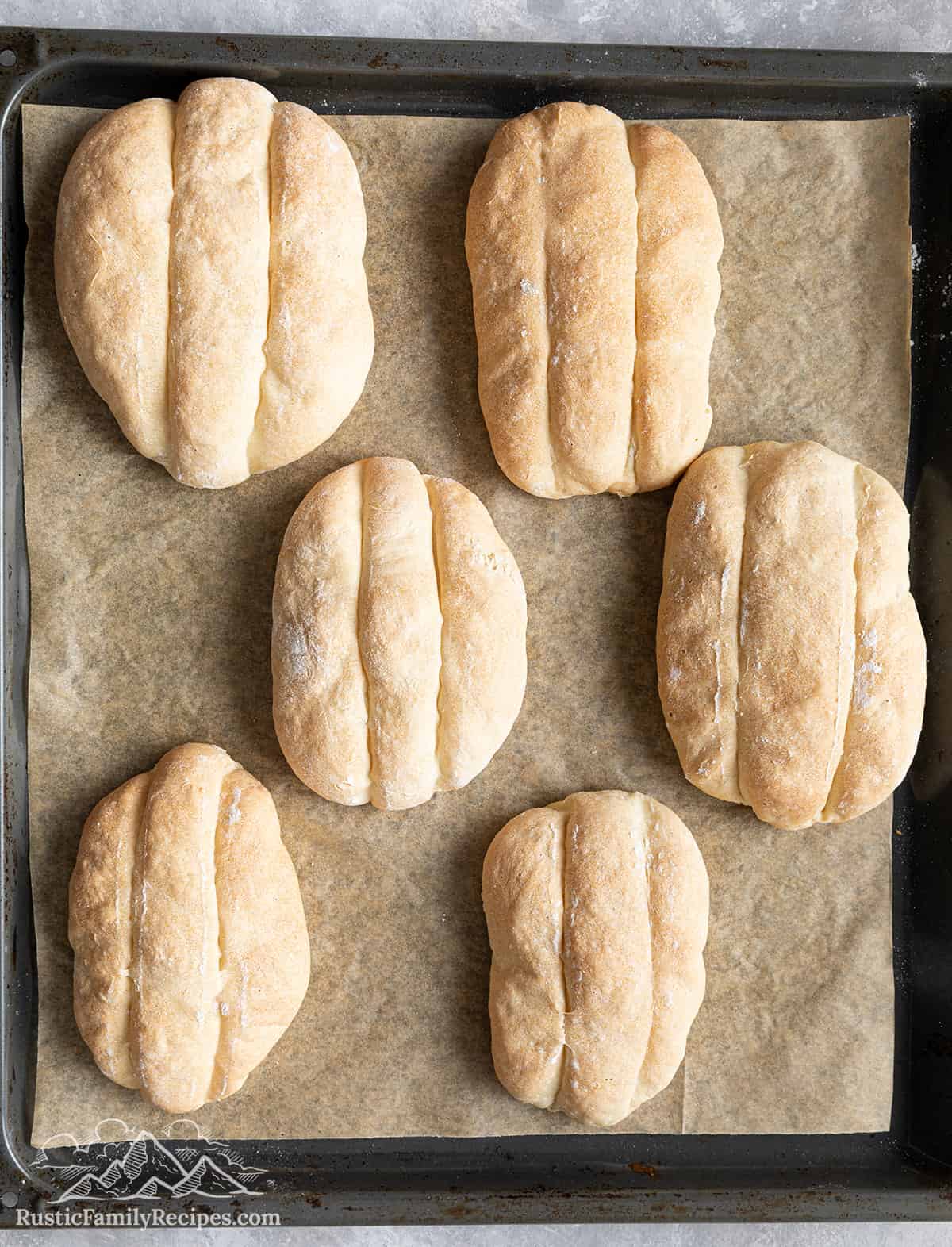 What is the Difference Between Telera and Bolillo?
Telera and bolillo are types of bread for tortas. They can even be used interchangeably for some recipes, but that doesn't mean their differences aren't significant.
Teleras are much flatter than bolillos. They're also relatively oblong or slightly rectangular in shape as long as the edges are round. They have a much lighter crumb in comparison to bolillo. Their exterior is softer and smoother, with two dents or markings that visually section the bread into thirds. While they can hold lots of liquid from the filling, they pale next to bolillos.
On the other hand, bolillo is definitely more elongated and has pointy edges. It has one central score and is much puffier than teleras. The crumb is much denser, making it perfect for moist fillings and sauces because it will keep its shape longer. The exterior, however, is much harder and crunchier than teleras.
Recipe Ingredients
Making telera only requires 5 other ingredients, which can only speak for the bread's simplicity. Here's everything you need:
Flour – Use all-purpose. Unless you're at a specialty shop, it's uncommon to find other kinds of flour in Mexico. Bakers rarely use a different kind. No substitutes. Higher protein-content flours will make the bread much lighter, which we don't want. Whole-grain flour will change the flavor too much.
Active dry yeast – It can be used interchangeably for instant dry yeast. The only difference is that using active dry yeast needs to be dissolved in water first. It will also require the dough to rest for an additional 15-20 minutes.
Salt
Water
Butter – Make sure it's unsalted butter, otherwise, the telera will turn out very salty.
How to Make Telera Bread from Scratch
Teleras are easy to make and the key ingredient is time. As long as you're not in a rush, a warm batch of freshly baked teleras will appear on your counter soon. Let's begin!
Mix the dry ingredients. Mix the flour, yeast, sugar, and salt in a large bowl of an electric stand mixer. Use the hook attachment to whisk the ingredients until well combined. If you don't have a stand mixer, it's okay. Just use a whisk.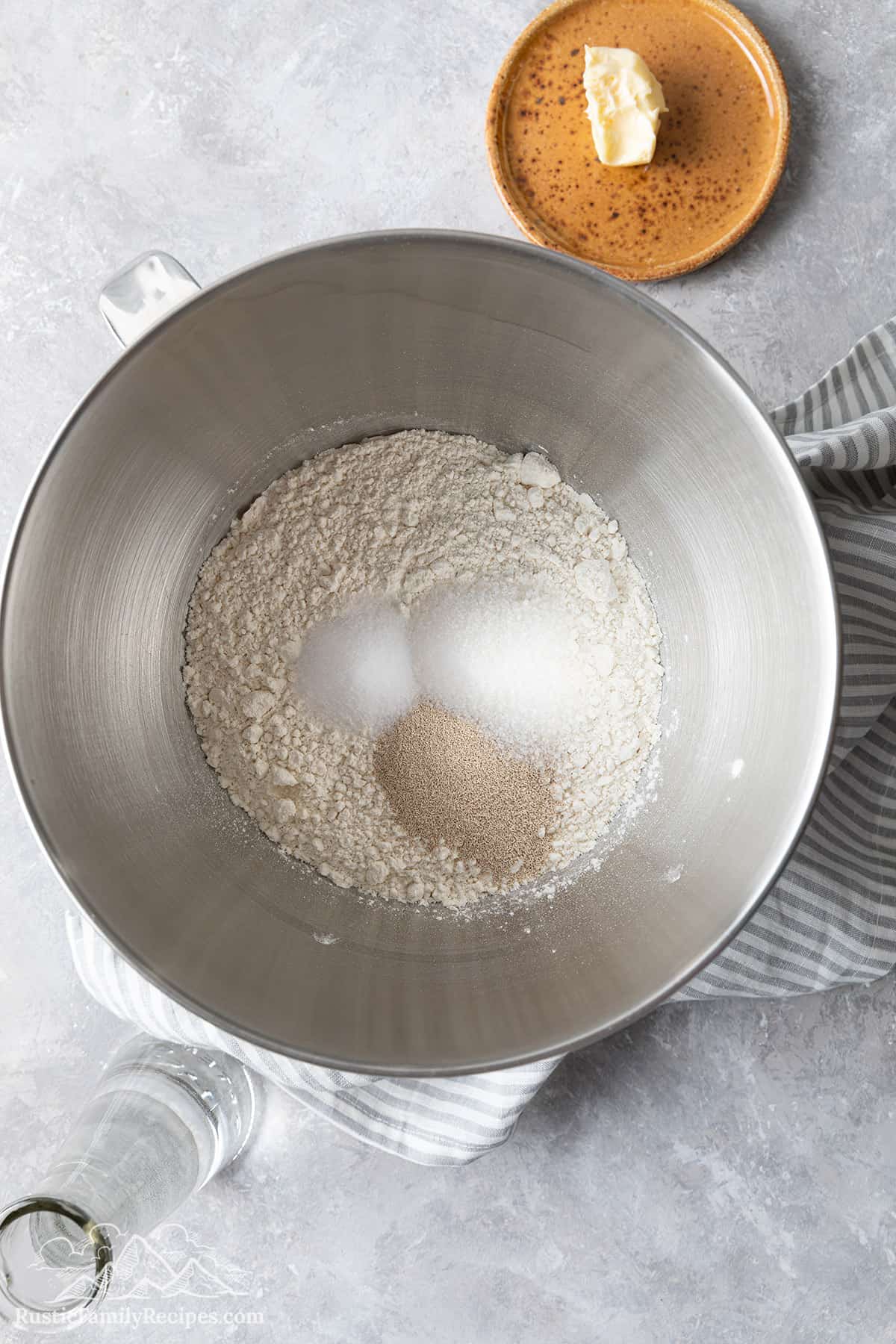 Knead the dough. Add lukewarm water and set the stand-mixer on low speed. When the ingredients have combined, add the butter and continue kneading for another 7 minutes. If you're doing it by hand, knead the dough for 8 minutes, add the butter, and continue kneading for another 8 minutes.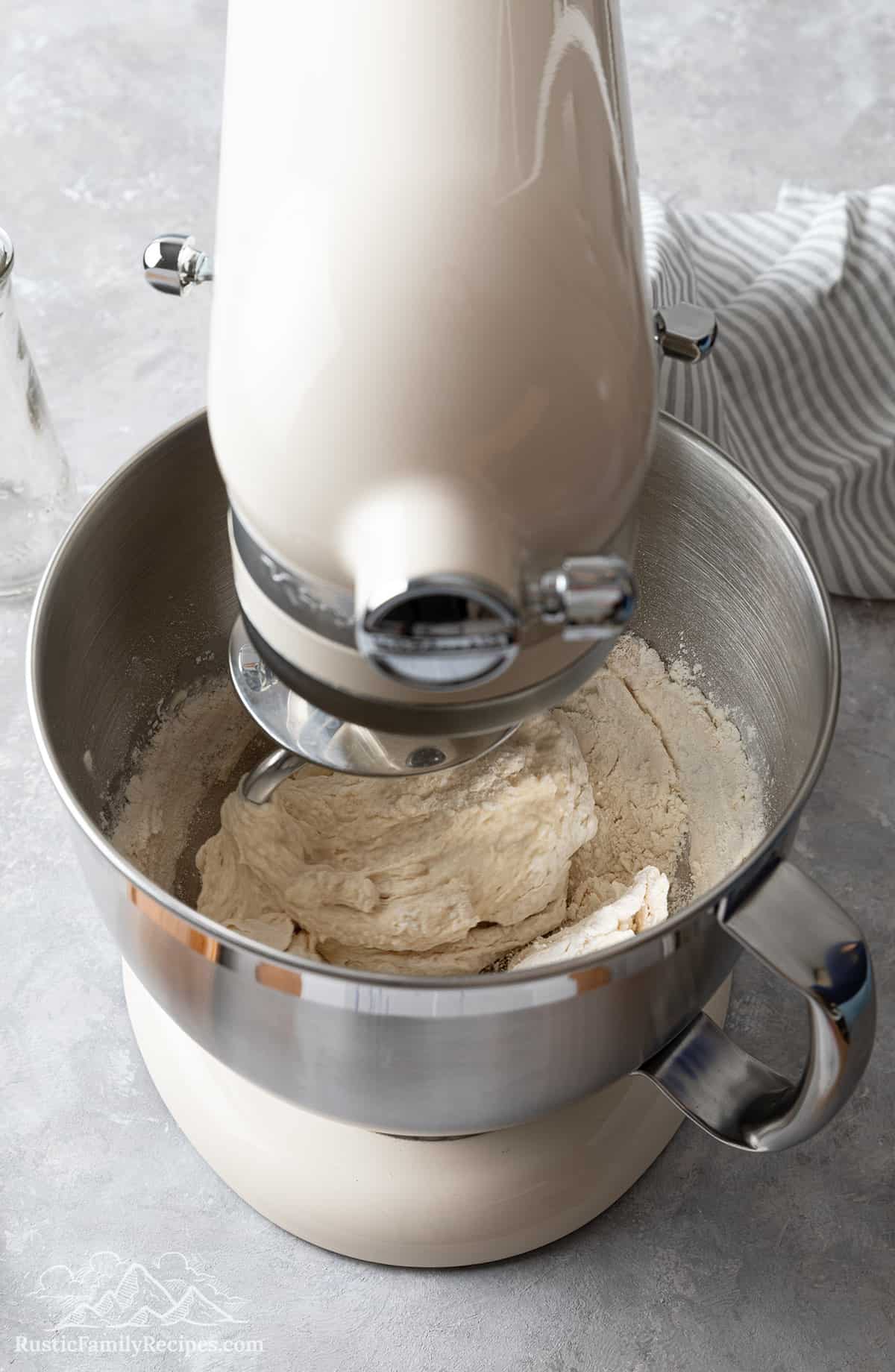 Let it rest. Cover the bowl with a cloth or plastic wrap and let it rest in a warm place for about 45 minutes, or until doubled in size. If it's a cold day or your kitchen is just chilly, preheat the oven to 250 F for 15 minutes and then turn off the heat. Place the covered bowl (only if you're using a kitchen towel) in the oven and let the dough rise in there. The residual warmth will help your dough rise much quicker.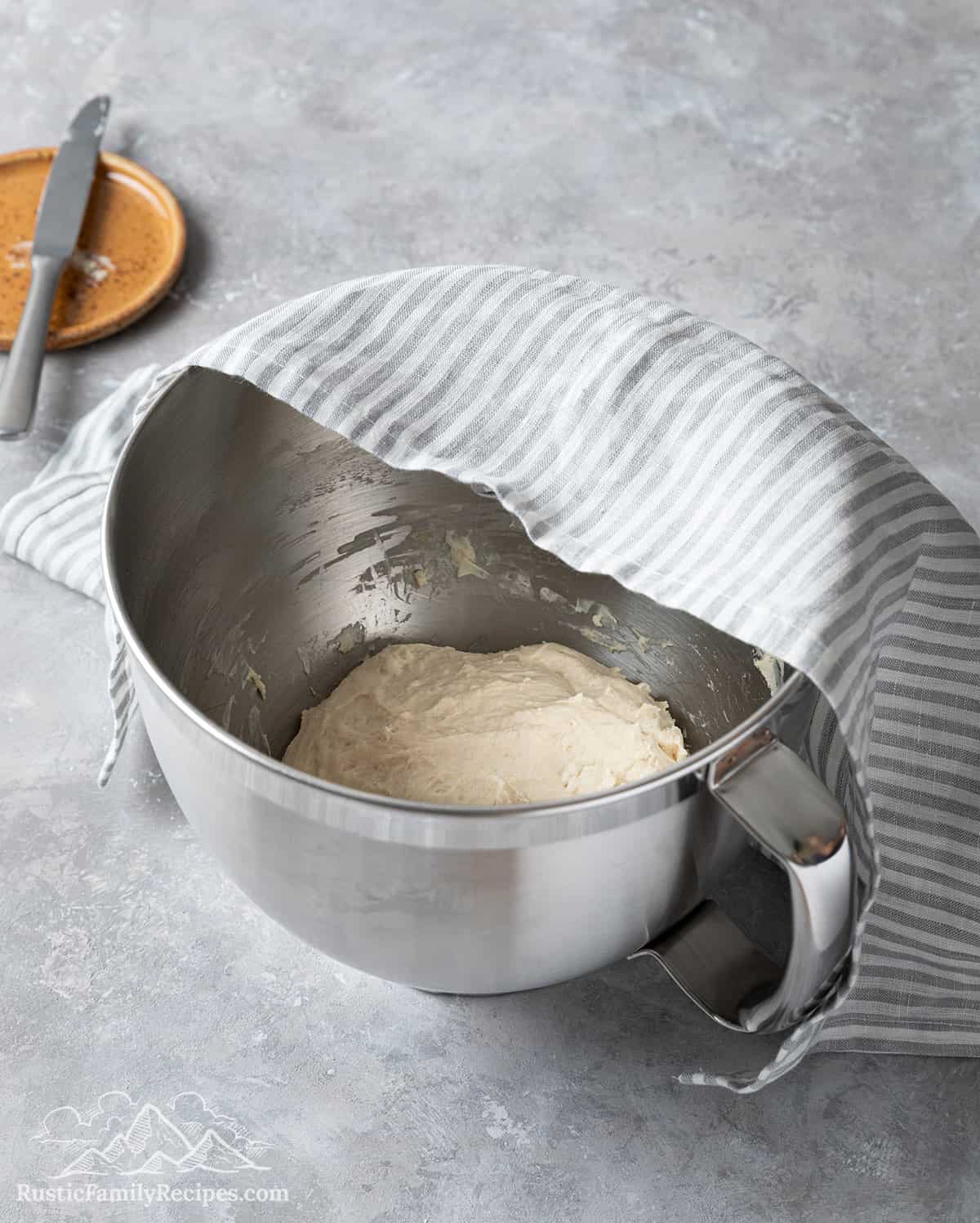 Divide the dough. Punch the dough to remove any excess air. Section it into 8 equal pieces and roll them into balls. Sprinkle them with flour and set them on a flat surface. Then cover them with a clean kitchen towel and let them rest for another 10 minutes.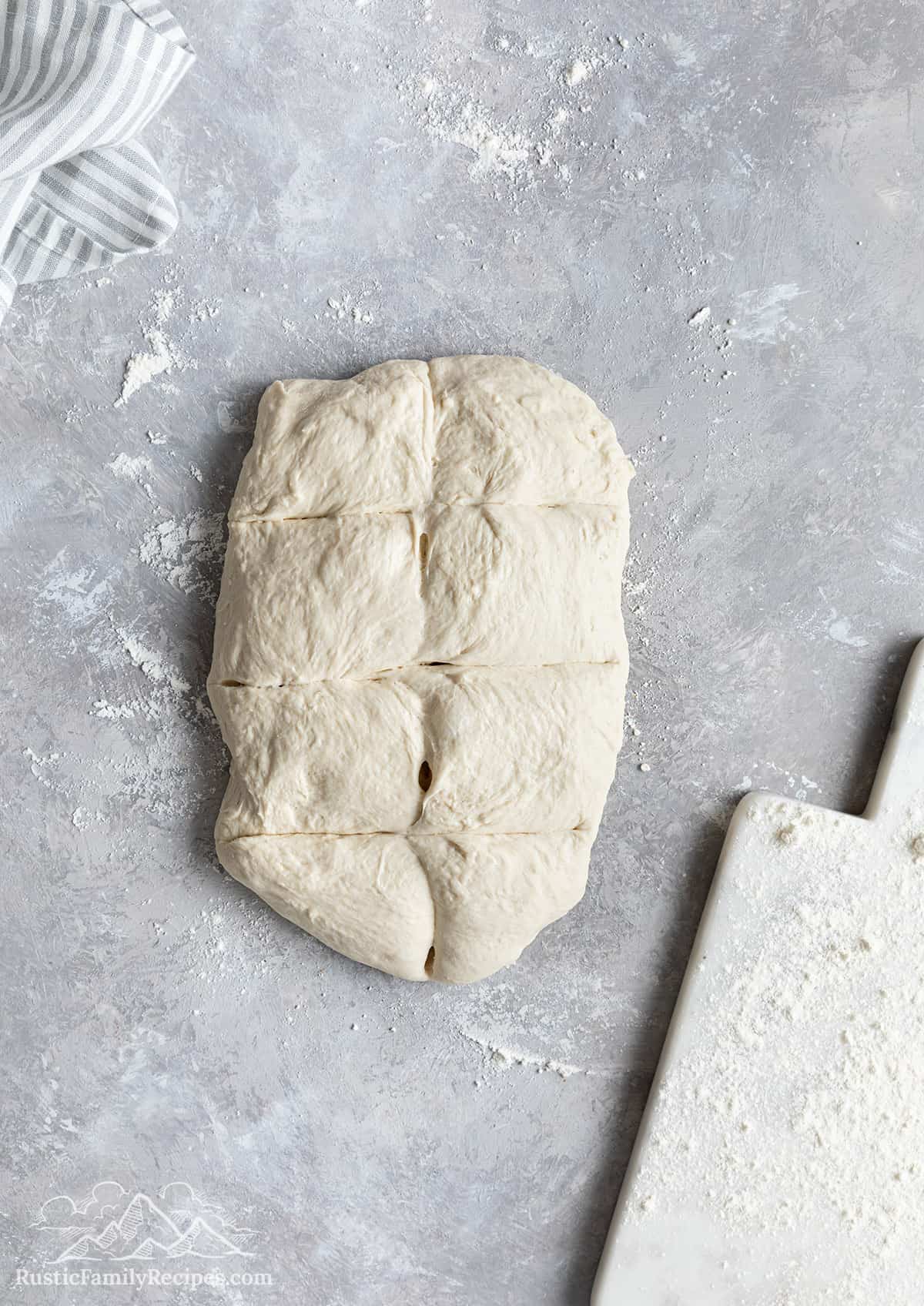 Stretch the dough. Gently pull on the opposite ends of the dough to elongate its shape. It should be oblong and about 1″ thick. Do this for each ball of dough.
Shape the dough. Use a straw to firmly press each piece of dough along the longest edge twice, parallel to each other. Press down while applying some pressure without cutting through the dough. They should now look like they've been sectioned into thirds.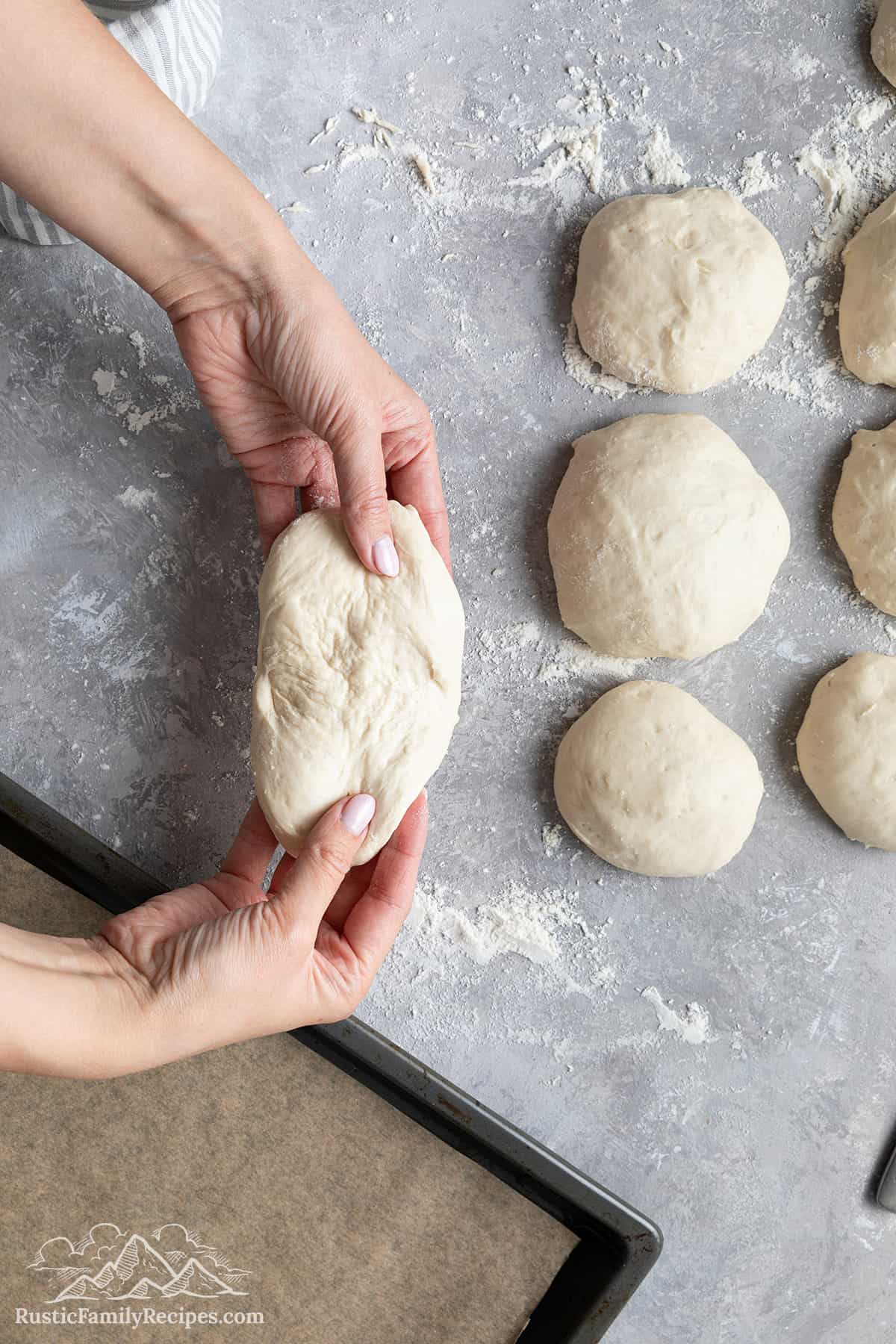 Let it rise. Line a baking tray with parchment paper and arrange each piece of dough inside. There should be about 3-4″ of space between each one. Cover with a clean kitchen towel and let the dough rise for another 30 minutes.
Bake. Preheat the oven to 400 F and bake for 15-20 minutes or until lightly golden. Let them cool completely before slicing. Enjoy!
Tips for Success
Especially if you don't consider yourself an all-star bread baker, here are some tips to help you start you succeed with teleras:
Proof your yeast. Place your active dry yeast in a small bowl and add some warm water. Mix until well combined and let it sit for 10-15 minutes or until it's nice and foamy. This will activate the yeast. If it doesn't foam, its living organisms are "dead," so your bread won't rise. You don't need to do this for instant dry yeast.
Keep the dough away from cold places. Your dough will take much longer to rise on a cold surface or area. If you're cooking, place it near the stove or even preheat the oven to 250 F for 15 minutes and then turn it off. The residual heat will be an optimal environment to rise the dough in.
Don't let it rest too long. Don't let telera dough rise overnight because your bread will have a strong, fermented taste. For the first rise, let it rest until it has doubled in size. For the second, for a maximum of one hour.
Poke it. When kneading by hand, it's harder to tell if the dough is ready. Once you poke the dough and the dent springs back, it's ready. If you stop kneading before that, you'll end up with a dense, dry, and crumbly bread.
Use a pencil or ruler. If you don't have a straw, a clean pencil or ruler can help you create the dents/markings on the loafs.
Add more water. Depending on the climate in your area, you may need to add more water to the dough. If when you're kneading, the dough is too dry and isn't coming together smoothly, you need more water.
Ways to Use Telera Bread
Teleras can be used interchangeably with other kinds of Mexican bread like bolillo and birote to make tortas (sandwiches). These are some of the most traditional sandwiches you can make with them:
Pambazos – Teleras are dipped into a chile sauce and grilled to make them extra crispy. They're then filled with a delicious chorizo and potatoes mixture, shredded lettuce, pickled red onion, salsa, Mexican crema, and cotija cheese.
Tortas ahogadas – They're filled with carnitas, red onion, guacamole, cotija cheese, and are bathed in a spicy red tomato-based sauce.
Guajolotas – Believe it or not, this is a torta filled with tamales. Use your favorite kind of savory tamal for it. You can even add some extra salsa and cotija cheese, but traditional guajolotas are plain.
Tecolotas – Fill it with breaded beef or chicken and your favorite chilaquiles. Add crema and cotija cheese, and red onion. Enjoy!
Ham and cheese tortas – Spread each half with mayonnaise and then add ham, cheese, lettuce, tomato, and lots of avocado.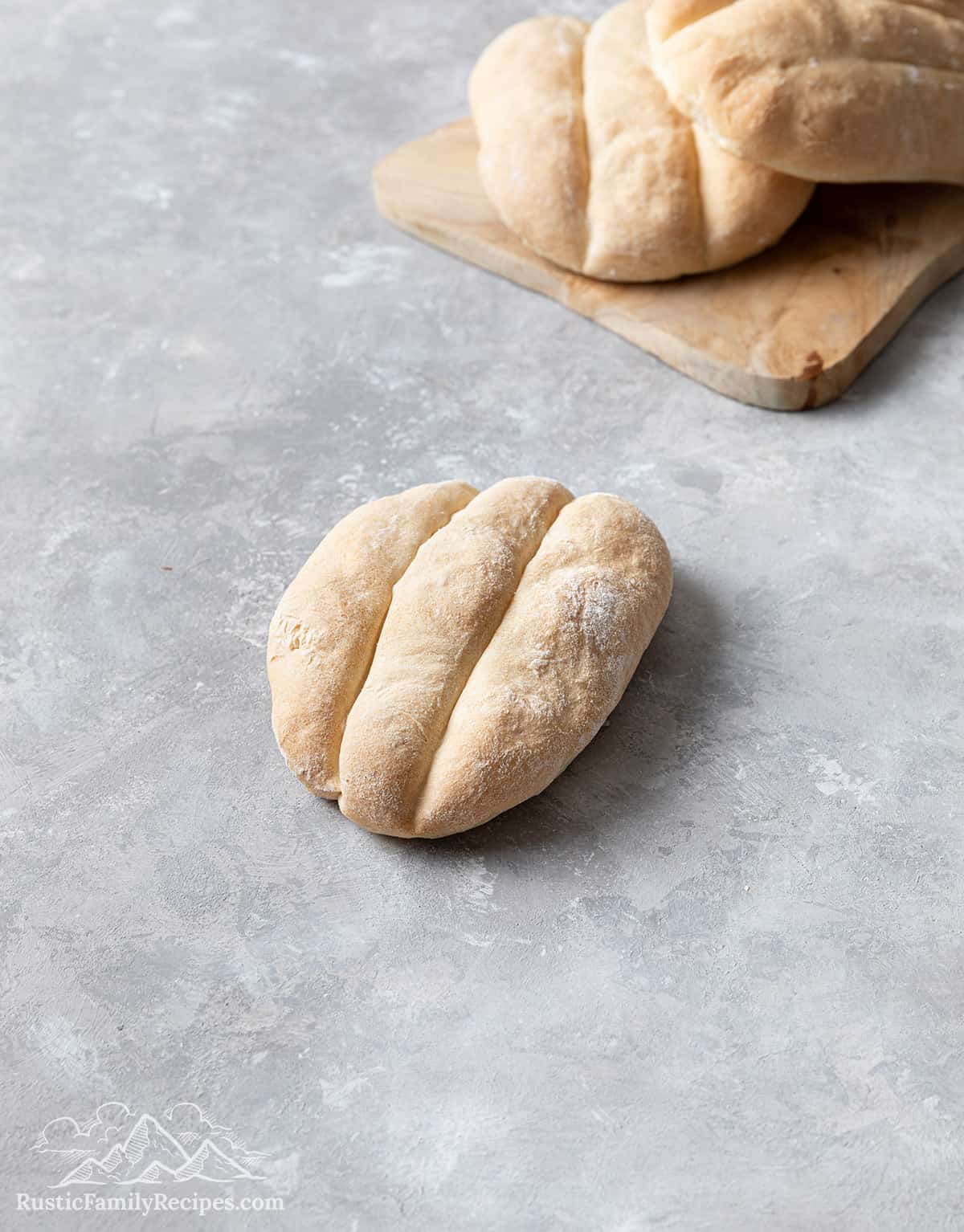 How to Store
Place the teleras in a paper bag or an airtight container at room temperature for up to 3 days. If they harden a little, sprinkle them with water and microwave them in 5-second increments until they've softened again. Don't place them in the fridge because they'll dry out.
Can I Freeze It?
Yes. Wrap each telera in plastic wrap and place them in a freezer-friendly bag or container. They can be frozen for up to 3 months. Transfer them into the fridge overnight one day before you're ready to eat them. The next morning, set them on the counter and let them come to room temperature.
Print
Mexican Telera Bread
Teleras are the blank canvas all your Mexican sandwiches need from now on. With only 5 ingredients, their taste and texture is delightful!
Author: Rustic Family Recipes
Prep Time:

1 hour

Cook Time:

20 minutes

Total Time:

1 hour 20 minutes

Yield:

8 rolls

Category:

Bread

Method:

Oven

Cuisine:

Mexican
3 ½ cup

all-purpose flour

2 tsp

active dry yeast

1 ½ tsp

salt

1 tbsp

granulated sugar

1 ¼ cup

lukewarm water

1 tbsp

softened butter
Instructions
Mix the dry ingredients. In a large bowl of an electric stand mixer fitted with a hook attachment whisk together: all-purpose flour, active dry yeast, salt, and sugar.
Knead the dough. Add lukewarm water and start kneading the dough on low. Once the ingredients have combined, add the softened butter and continue kneading the dough for 7 more minutes on low.
Let it rest. Cover the bowl with a cloth and set aside in a warm place to let the dough rise -approx. 45 minutes. The dough should double in size.
Divide the dough. Punch the dough to remove any excess air, shape it into 8 pieces and roll each piece into a ball. Line them on a chopping board sprinkled with flour and cover with a cloth, leaving them to raise for approx. 10 minutes.
Shape the dough. Pull each ball at the opposite sides to create an oblong shape, gently pressing at the top. Take a glass straw or a metal straw (or use a round, thin spoon handle), and firmly press each piece of dough along the longest edge twice, parallel to each other. Press all the way to the bottom but don't cut through the dough.
Let it rise. Place each roll on an oven-sized baking tray lined with parchment paper, cover with a cloth and set aside for 30 minutes to rise.
Bake. While the dough is rising, preheat the oven to 400°F. Bake for 15-20 minutes, or until golden. Cool completely before slicing.
Notes
Let the dough rest for an additional 10-15 minutes if it hasn't doubled in size during the first rise. The temperature in your area may be affecting it. If needed, transfer it away from cold surfaces like marble countertops.
Make mini teleras by dividing the dough into more portions.
Last Step:
Please
share a rating and comment
if you enjoyed this recipe! Your feedback helps this little blog thrive and continue providing free, high-quality recipes for you.
Keywords: telera bread, telera roll, teleras
Filed Under:
More Mexican Recipes to Try
This post may contain affiliate links. Please read our disclosure policy.