About Me: I have more than 20 years of cooking experience & share my favorite recipes on this blog.
Have a question? Please post a comment, I'm happy to help. 🙂
This simple maple mazapan recipe makes compulsively eatable Mexican peanut candy. With no cooking required and only 5 ingredients, this is pretty much a foolproof candy recipe.
This easy mazapan recipe is based upon a peanut candy that my Nana used to make around the holidays. She was always making little goodies and during the festive season, she went that extra mile by shaping candies into fun shapes that she knew would delight her grandchildren. Back then she would use stainless steel cookie cutters, but I like to use mini pop-out cutters shaped like animals.
If you are new to making candy this is a great one to start with because it requires zero cooking and comes together in only a few minutes (time spent making cute shapes not included). Mazapan is an excellent holiday gift idea too!
What is Mazapan?
Mazapan is a Mexican candy made with peanuts and sugar. The most popular brand is called "De La Rosa" and it is sold in rounds wrapped in cellophane. The candy has a distinct peanut flavor and is a little crumbly when you put it in your mouth.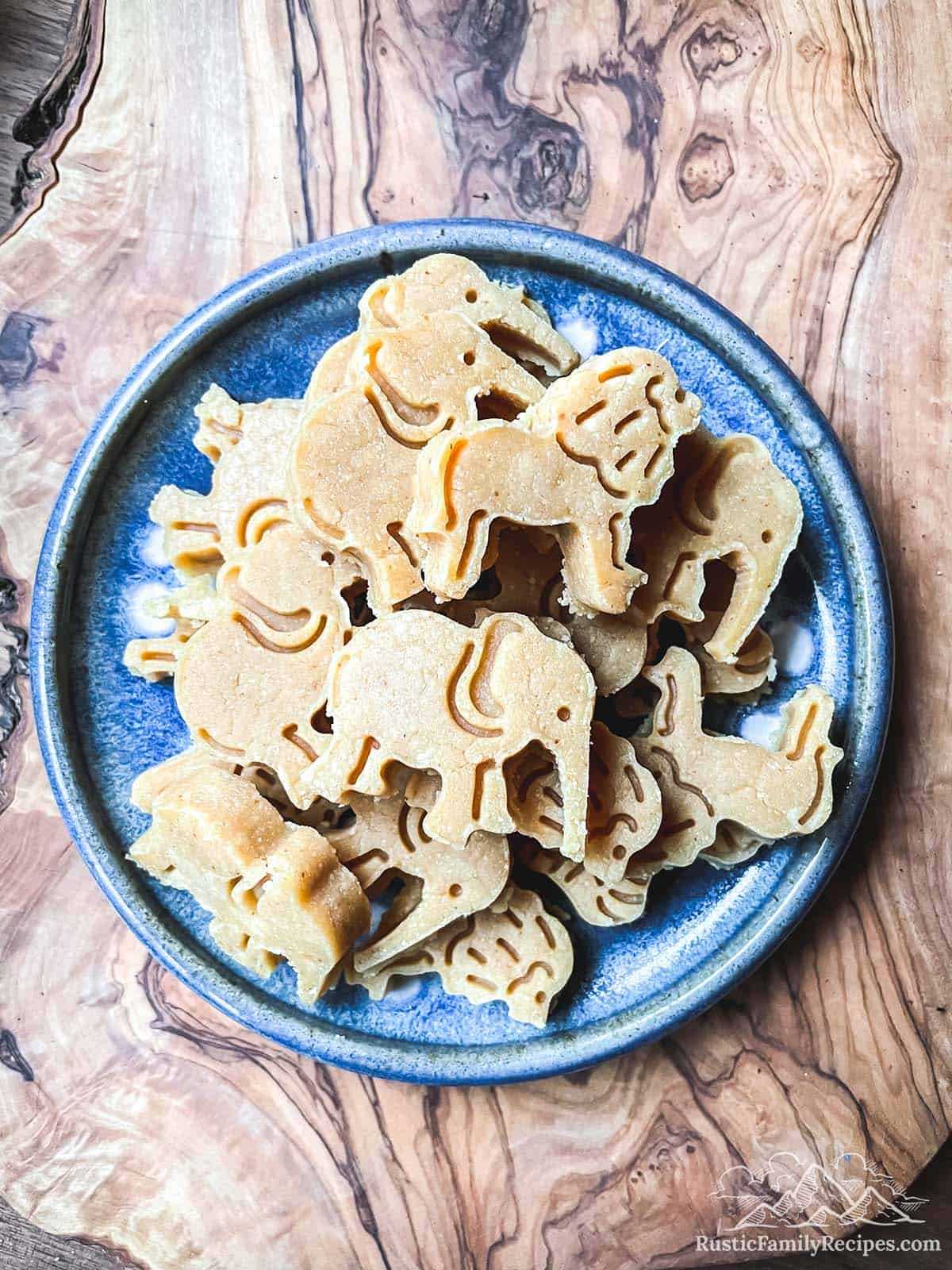 Is This An Authentic Mexican Candy Recipe?
If by "authentic" you mean "does it taste exactly like De La Rosa Mazapan" then the answer is probably no. De La Rosa Mazapan is composed of only 3 ingredients (sugar, peanuts, and "artificial flavors") and has a more crumbly texture.
By contrast, my recipe includes maple syrup and peanut butter, then a bit of water to give the candy a slightly fudgy texture that's easier to mold into different shapes. (If you want to achieve a more traditional texture, you can leave the water out at the end.) The candy tastes very similar to De La Rosa mazapan but has a hint of maple and a touch of saltiness. It's incredibly tasty!
What You'll Need
Ingredients
Roasted peanuts – I know most of the recipes out there will recommend unsalted peanuts, but I strongly disagree with this. In my opinion salted peanuts bring out the sweetness of this candy and enhance the maple flavor.
Maple syrup – I often use maple to add dimension and sweetness to recipes. Make sure you use pure maple syrup, not the synthetic stuff.
Confectioners sugar – You cannot use regular sugar for this recipe, only powdered sugar will work.
Peanut butter – Use a creamy Jiffy peanut butter. Natural peanut butters tend to separate and don't work as well with this recipe.
Water
Tools
You will need two things to make mazapan:
Food processor – You'll use this to combine all the ingredients together until the candy can be shaped.
A mold to shape the candy – I used the pop-out cookie cutters linked above for the mazapan shown here, but I have also used a silicone mold to shape the candy into small logs that can then be sliced into smaller pieces. You can use anything really, even saran wrap that allows you to roll the candy into a log with your hands. Aside from cookie cutters and saran wrap, I do recommend using a silicone mold because it makes it easier to remove the candy. (The mold I linked here just peels away from the candy.)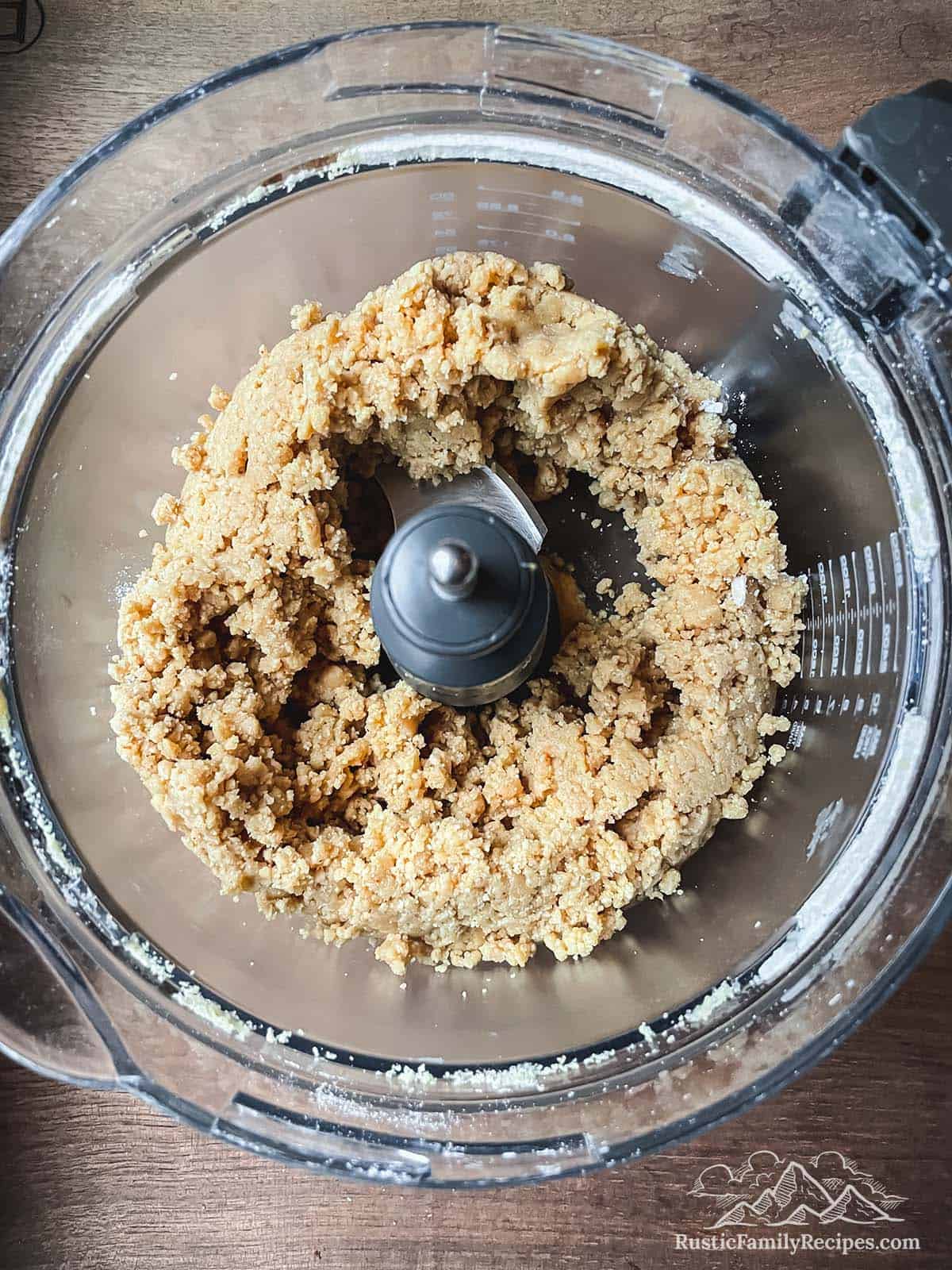 Tips for Success
Be firm. While this candy is incredibly easy to make, you can go wrong towards the end if you are not firm enough when shaping the candies. You really need to press the dough together, whether this is to pack it into a mold or pat it out into a disc to cut out shapes with a cookie cutter.
Get creative. There are so many ways you can shape this candy! The simpliest method is to divide the dough into fourths, then wrap it in saran wrap and use your hands to shape it into a log. You can also shape the candy into a flat disc and go to town with cookie cutters, cookie stamps, you name it.
Frequently Asked Questions
Are mazapan and marzipan the same thing?
No, they are not the same thing. Mazapan is made with peanuts and traditionally has a more crumbly texture than marzipan, which is a French confection made with almonds.
How do you pronounce mazapan?
We always pronounced it mah-zah-pahn.
How do you eat mazapan?
You can eat it just like regular candy, or you can add it to other recipes like cheesecake or use it in frosting to add a peanuty flavor. I sometimes will melt it with a bit of milk and add it to my coffee, or make it into a creamy atole (a masa-based hot drink from Mexico). I will try to share my recipes for these last two uses in particular!
How much candy does this recipe make?
It depends on how you shape the dough. If you are forming it into logs with saran wrap, then I'd say it makes about 4-5 logs that can be sliced into individual servings. If you are using the silicone mold I linked above, then it will fill the entire mold and make about 12 logs. If you are making small bite sizes candies like the ones shown here, then it makes 35-40 candies depending on their size.
How to Store Homemade Mazapan
Fridge: Place your mazapan in an airtight container and store it in the fridge. It will keep for up to 7 days.
Freezer: You can also freeze mazapan in an airtight, freezer-safe container for up to 3 months. Eat it straight from the freezer as a frozen treat, thaw overnight in the fridge, or thaw for a few hours on the counter.
Maple Mazapan (Mexican Peanut Candy)
This simple Maple Mazapan recipe makes compulsively eatable Mexican peanut candy.
Ingredients
3

cups

roasted salted peanuts

4

tablespoons

pure maple syrup

2

cups

confectioners sugar

3

tablespoons

smooth Jiffy peanut butter

3-4

tablespoons

water
Instructions
Mix the peanuts and sugar. In a food processor combine the peanuts and sugar until they are a fine, crumbly texture resembling bread crumbs.

Add the peanut butter. Pulse until combined.

Pour in the maple syrup. With the lid still on your food processor, remove the top piece of the lid that allows you to safely add ingredients to the bowl while the processor is running. Turn on the processor and pour the syrup in.

Scrape down the sides. Turn off the food processor and scrape down the sides of the bowl with a spatula or spoon, then replace the lid and pulse a few more times.

Add water. With the lid still on, remove the top piece that will let you add water safely. With the processor turned on, pour in the water 1 tablespoon at a time, until the entire mixture comes together into a rough dough that holds its shape. (See the photo in my blog post.) You can test this by turning off your processor and pinching a piece of dough between your fingers. If it holds its shape, it's done.

Shape the candy. Use your desired mold to shape the mazapan. If you are using a silicone mold or saran wrap, make sure you press the mazapan together. You should press it quite firmly to pack the candy into the mold. This will help it hold its shape.

If you are using a push-out cookie press or cookie cutter, scoop the desired amount of dough into your hands and firmly press it into a flat disc as if you were going to cut out cookie shapes. Then simply use your cutter to create the shape.

Gently remove the mazapan from the mold and set it aside as you shape the remainder of the dough.

Serve. Once you have finished shaping all your candies they are ready to eat!
Last Step:
Please
share a rating and comment
if you enjoyed this recipe! Your feedback helps this little blog thrive and continue providing free, high-quality recipes for you.
Notes
Storage: Place the mazapan in an airtight container and store in the fridge for up to 7 days. You can also freeze it in an airtight, freezer-safe container for up to 3 months.
Nutrition
Calories:
99
kcal
|
Carbohydrates:
10
g
|
Protein:
3
g
|
Fat:
6
g
|
Saturated Fat:
1
g
|
Polyunsaturated Fat:
2
g
|
Monounsaturated Fat:
3
g
|
Sodium:
53
mg
|
Potassium:
96
mg
|
Fiber:
1
g
|
Sugar:
7
g
|
Calcium:
14
mg
|
Iron:
0.3
mg
Nutritional info is an estimate and provided as a courtesy. Values may vary according to the ingredients and tools used. Please use your preferred nutritional calculator for more detailed info.
Did you make this recipe?
💖 I love hearing how my recipes came out for others! If you tried this recipe, please share a comment. 💖
Filed Under: